Amazing Autumnal Art
We have been trying out observational drawing and painting and this week we have enjoyed looking closely at pumpkins and different coloured squash. We spotted lots of detail to add to our pictures, speckles, lines, knobbly stalks, and lots of beautiful autumn colours.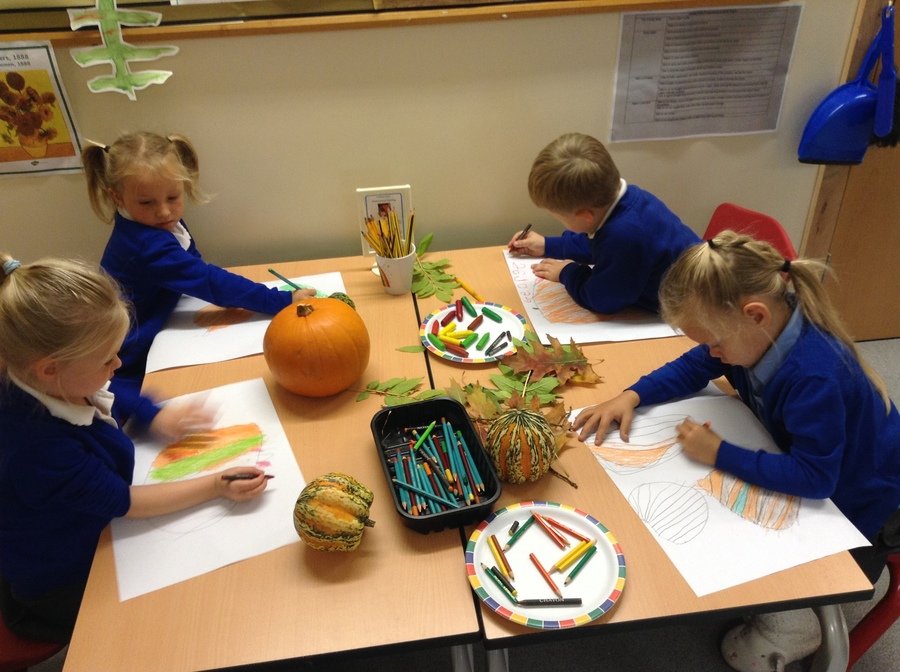 Terrific Technology
We have been learning how to use programmable toys and this week we have been set the challenge of thinking about which route our robots will take to get from one obstacle to another. These children decided to construct a very long tunnel- but how many times would they need to select the forward function that would allow Constructabot to get all the way through?
They worked together to estimate. At first they said '5', he got stuck in the middle of the tunnel and had to be rescued. They started again, 'this time we need even more, 10" he came to a stop almost near the end of the tunnel, 'we still need more, we need past 10 even"
We found out that it takes 13 moves forward to get Constructabot all the way through that tunnel. Great team work and incredible estimating.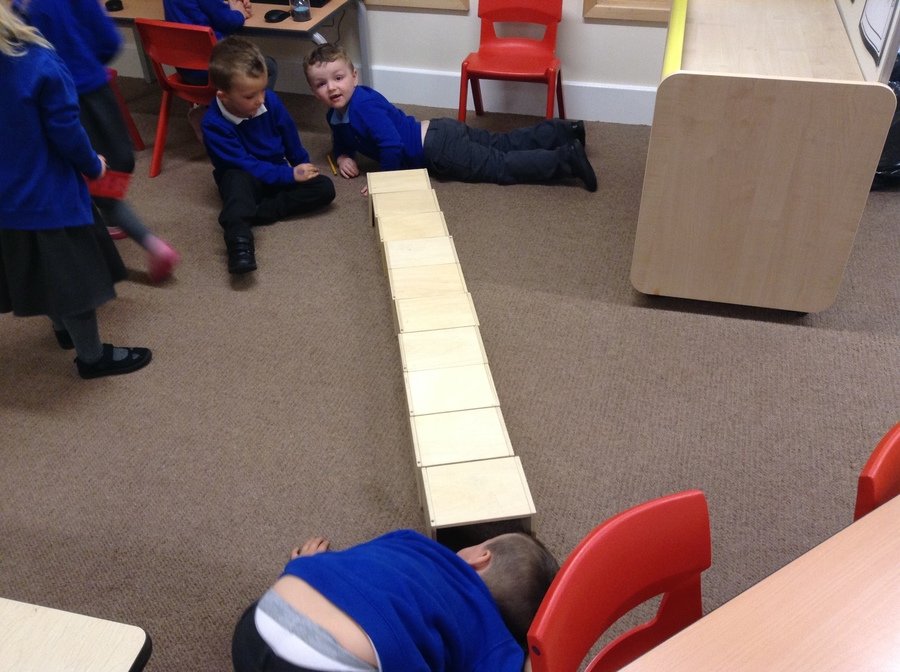 Read Write Inc relay anyone?
Mrs Fitzpatrick's group have been learning some very tricky sounds that we call 'special friends' this week. They are special because whenever they stand next to each other they make a new sound. So far we have explored the digraphs 'sh' 'ch' 'th' and 'qu'. Today we played a relay race game- choose a picture card, put it in the correct hoop and then tag your friend.
We were amazing of course!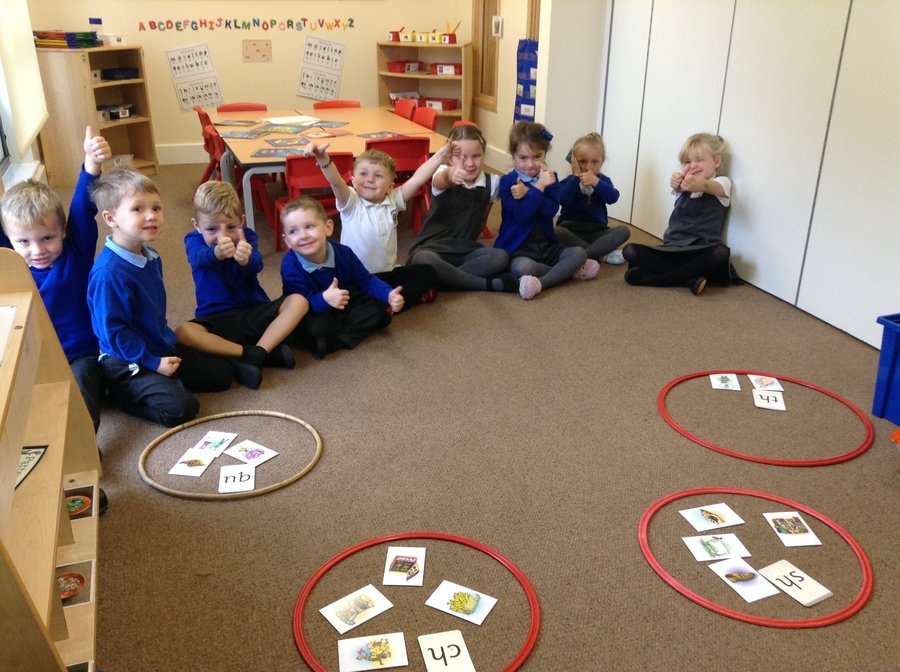 Amazing Architects
Just look at this amazing castle. It has a moat and a special walk way for visitors to cross over the water. Look how carefully he is consulting his castle design. Talking about our designs helped us to pick the bricks that were the best shape. We discovered that cylinders make the best towers.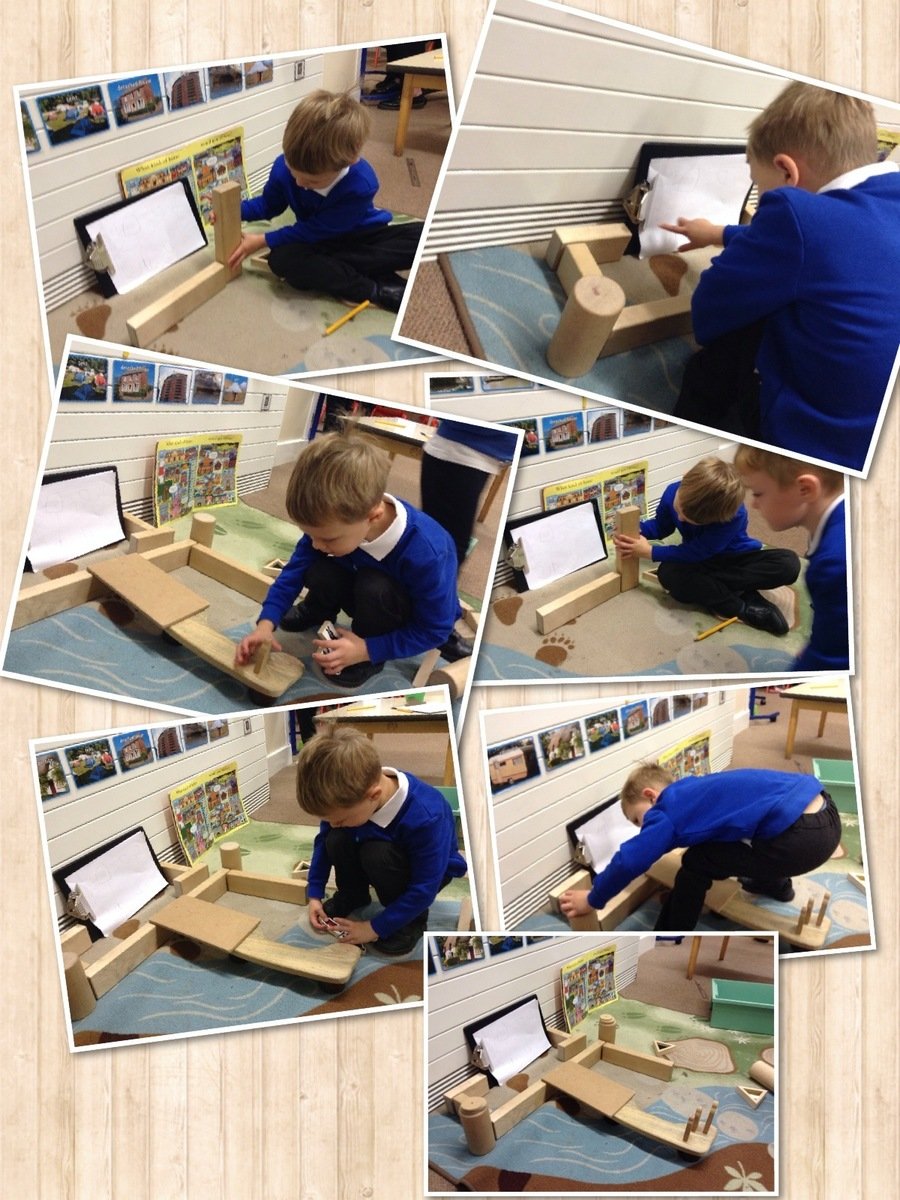 Amazing Architects
This week our focus has been constructing with a purpose in mind. We looked at different buildings and the places we would like to live. The children had to design their own building and then select suitable materials and resources to build it. You know things are serious when a pencil goes behind the ear!
"This is my block of flats and it has 54 levels. I live at the top and to get there you need to go on the elevator. Look I have used these measurers to make the elevator that can take you up"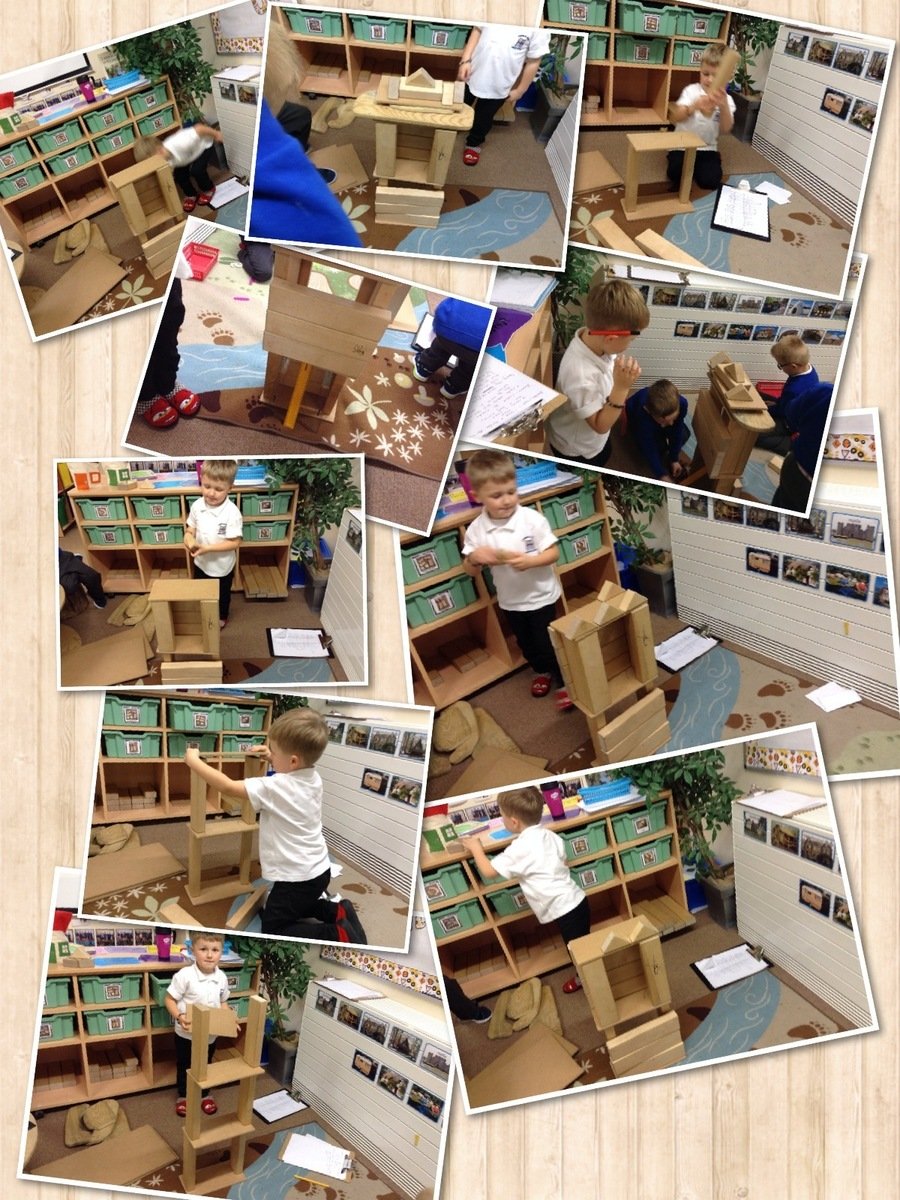 Design and Build
Just look at this amazing robot. Very careful design and then selection of the correct shaped resources "i need a circle for his head". Another budding designer we think, great work.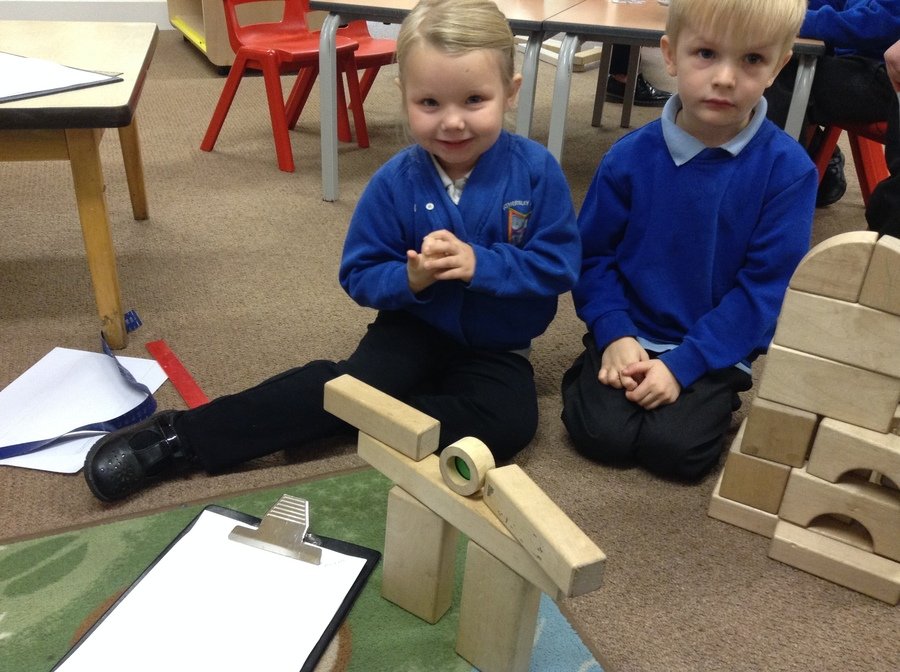 F2 have had a very busy autumnal kind of week. We used lots of different materials to create our own pictures and patterns. Just look at this amazing picture of circles, starting with a small one and getting bigger.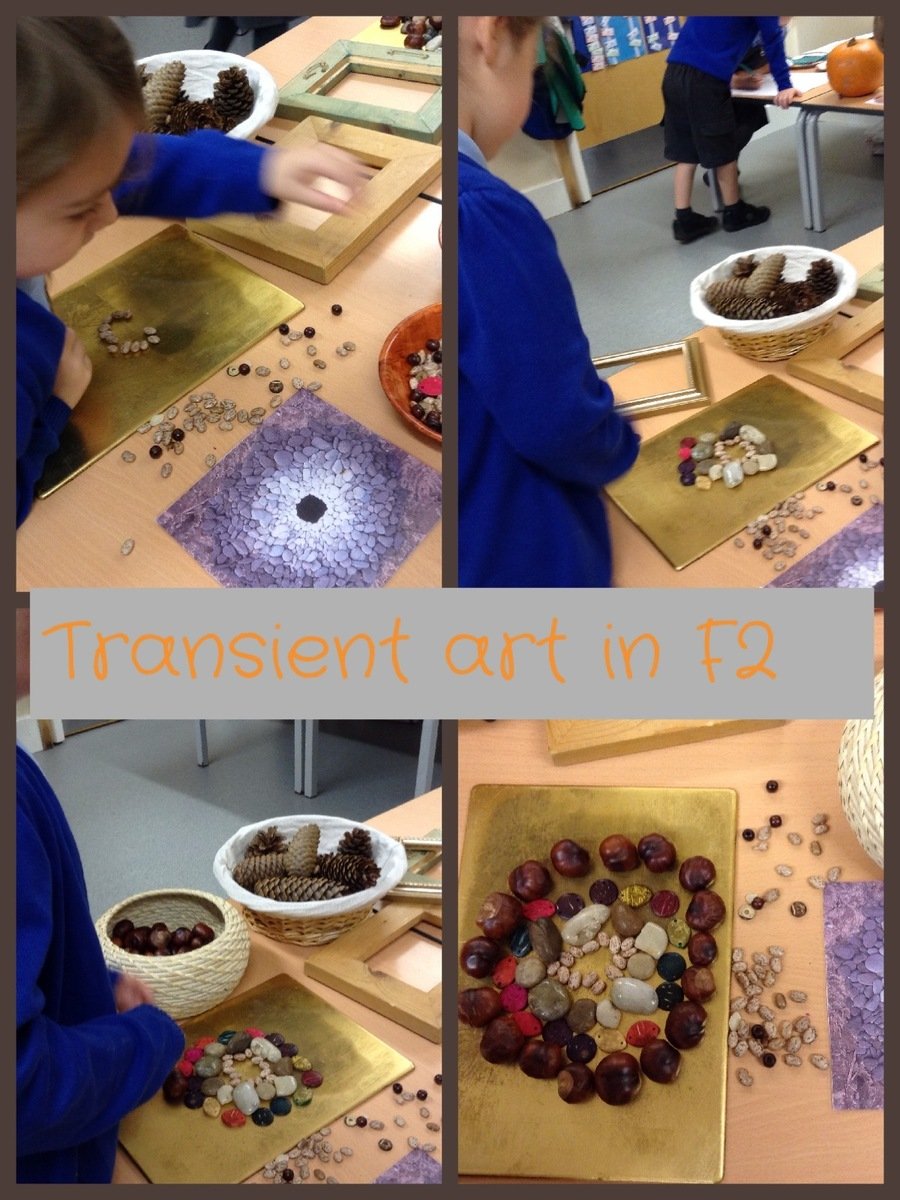 A huge welcome back to children in F1, both old a new. They have done really well at settling in and getting to know each other. We have been very busy having fun and exploring our new learning environments over the past couple of weeks.
Light & Shadow Learning Adventure
This week we noticed that if we stand in front of the smart board the projector creates our shadow on to the board. We have some colourful blocks in our building area and some children were holding these up to the board to see what happened. We wanted to make shadow buildings, but the bricks were too low down on the floor. How could we make them higher? "Lets gets a table"...still not high enough, "lets gets bricks and build a tower until it is high enough"...
Just look at the result, stunning! Well done F2 for your collaborative working and problem solving. We really do have some budding scientists in our class.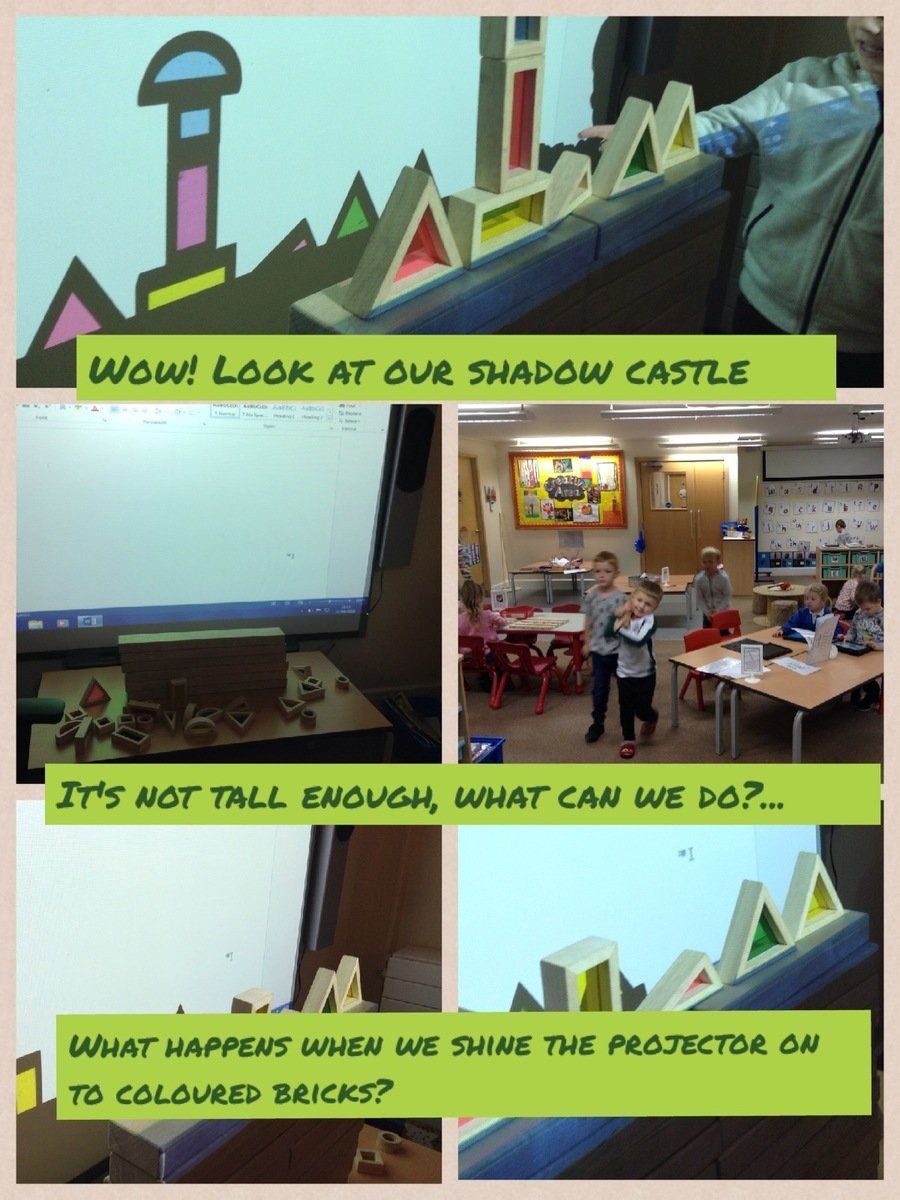 The Brick Machine...
The learning focus in our construction area this week was:
To construct with a purpose in mind...
To manipulate materials to achieve a planned effect...
Well we think this group of boys have definitely our expectations don't you? They discovered that the bricks slide down the wooden road tracks we have. They lay them on the floor at first and tried to fit bricks between them. "We could stand them up like ladders" "Yeah and you drop the bricks down, it can be a brick machine" "Yeah a brick machine for making really tall towers" "Towers that are bigger than us even!"
We have been incredibly busy in F2 and here are just some of the pictures of our learning so far. We have explored colour and colour mixing with different types of brushes and tools. We have created our own colours with powder paint. We have explored shape and worked together to create different homes and buildings. We have been very busy writing names, words. letters and numbers. Creating patterns on the light box and even a maze on the iPad. We have acted out stories and rhymes, been building outside and even had time for counting, sorting, ordering numbers- phew, it's hard work in full time school you know!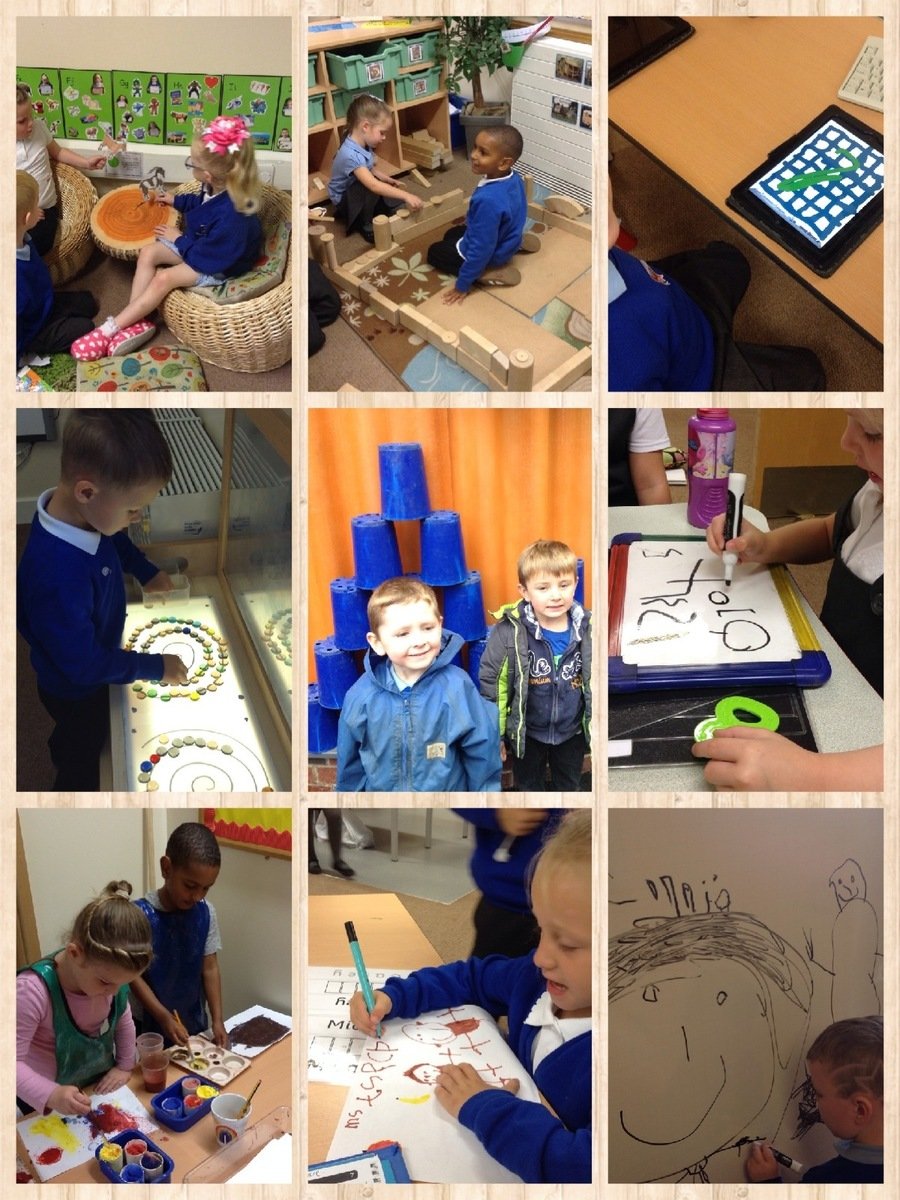 A huge well done to all of the children who have settled well into our setting. It is nice to welcome new faces into F1 and into F2. The children who stay at school all day have settled well and we are very proud of them (and their parents, there were not many tears this year)
We have been very busy exploring our new learning areas and hope to share as much of this as possible with you on this page. Please check in as much as you can. We will share learning links here with you that you can use to support learning at home. We also look forward to welcoming you all to our learning morning and afternoon sessions this term.