Thank You!
We were delighted today to present our fundraising cheque to the Barnsley Hospital Charity for their Tiny Hearts Appeal. Thank you to everyone for your donations which will make a huge difference to this very worthwhile cause.
Our Christmas Themed Charity Day
The children and staff really got into the festive spirit with our Christmas themed non-uniform day in aid of the N.E.S (The National Elf Service). We had a wide range of fantastic outfits and a festive spirit was truly in the air.
Our School
Please click on the links to the left to find out more information about who's who in our school, the curriculum and extra-curricular activities that we offer.
We had some absolutely amazing entries in our Easter competition. What a creative group of children we have at our school!
Congratulations to these children who all won prizes for their efforts in the Easter egg/hat/bonnet competition. Everyone who entered made a tremendous effort and it was incredibly hard for the judges to choose. Well done everyone and thank you to all the grown ups who helped.
A HUGE thank you to everyone for supporting our Comic Relief Red Nose Day fundraising efforts. Thanks to your donations and the sale of red noses we have managed to raise £276 for this very worthwhile cause. Well done!
World Book Day was the most enormous fun. We read our favourite books and dressed up as our favourite book characters.
It was wonderful to welcome Mr Kaye for assembly today. There was great excitement too as there was a quiz with super prizes after his story!
Congratulations to all these children who have managed to achieve 100% attendance in the Autumn term. Well done!
These 10 children were a credit to themselves and our school recently on their visit to a local community luncheon group. After singing a selection of carols and songs they enjoyed lunch with the group. Well done to everyone!
A big thanks to these children who sang beautifully at St. Helen's Church ahead of the Christmas lights switch on. Thanks also to all the Parents and adults who supported the event.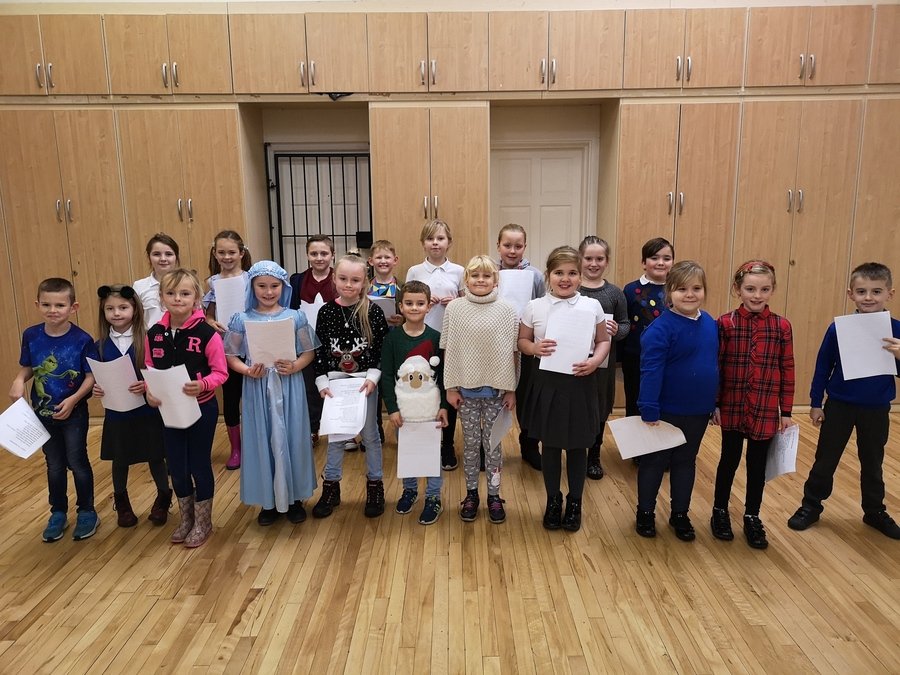 Congratulations to these three designers who won a competition being run by ENGIE, the building contractors who are currently working on site close to school. All the children who entered tried really hard and Vicki from ENGIE said it was tricky to choose. Each child received a goody bag, a certificate and the school received a framed thank you too. Well done everyone :)
Wow! These children are absolutely amazing! They have managed to dodge illness and not have any days off ALL year achieving 100% attendance. Well done everyone. As a reward they received a 'goody bag'. Can you set yourself the 100% challenge for next year?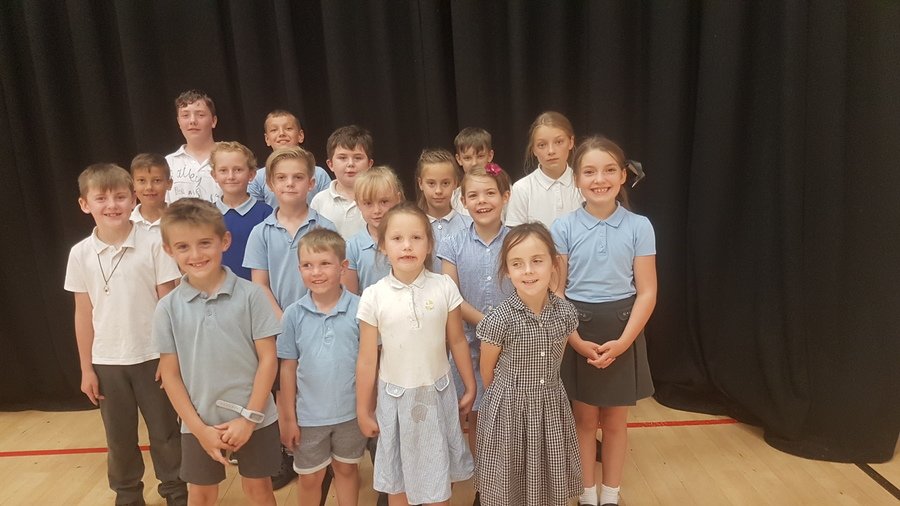 Congratulations to these children who were able to achieve 100% attendance for the Summer term!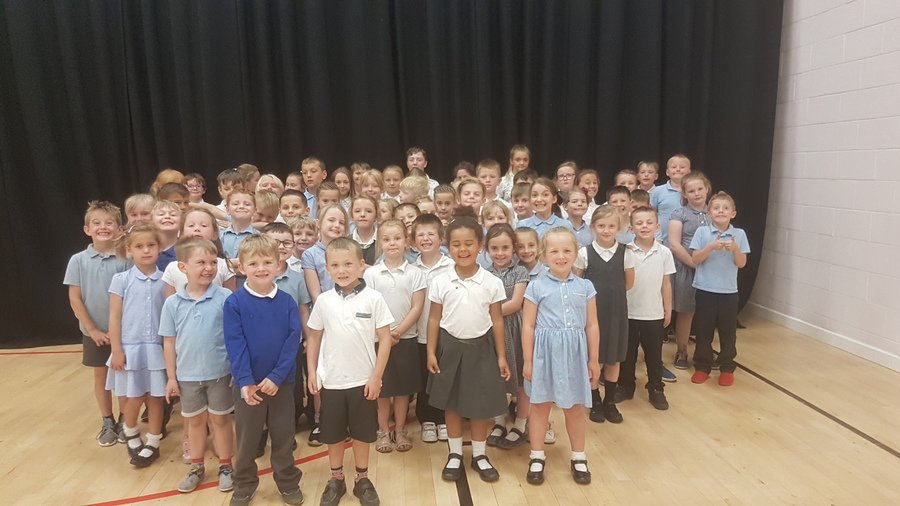 Today we have said a very sad farewell to Mrs Whiteley who, after 18 years at Athersley South, has made the very difficult decision to leave in order to return to a full time teaching role in Leeds. We will miss her enormously and couldn't let her go without preparing a special leaving assembly and video.
Congratulations to these children who all achieved 100% attendance in the Spring Term 2018. They even managed to battle through the terrible snow we had in February. Well done everyone! The challenge is now set for the summer term - how many children will achieve 100% attendance?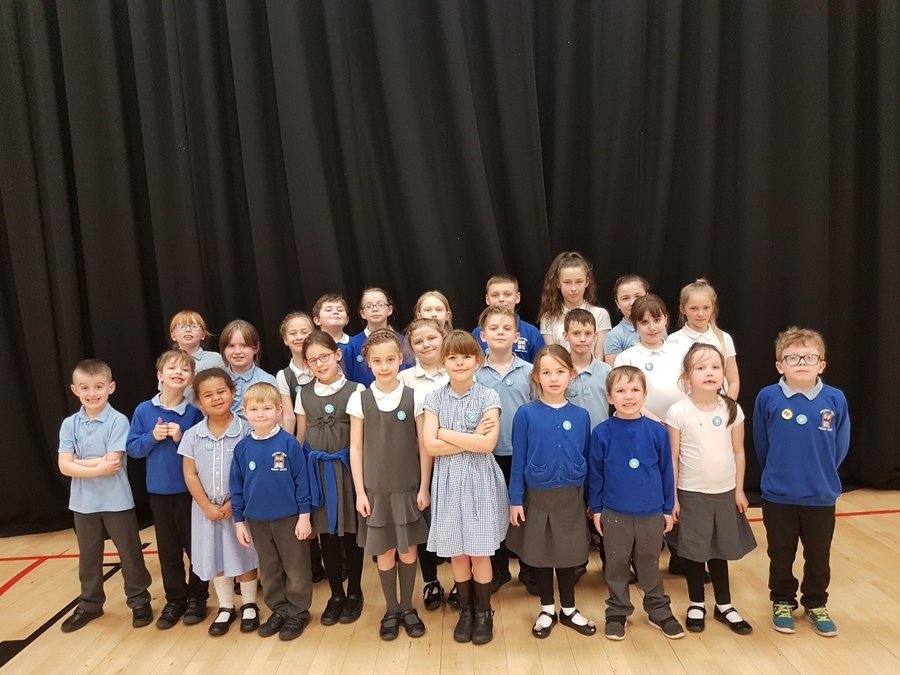 WOW! These children have not missed a day at school all year, from September 2017 to Easter 2018. What a fantastic achievement! The challenge now is to maintain 100% for the entire summer term too.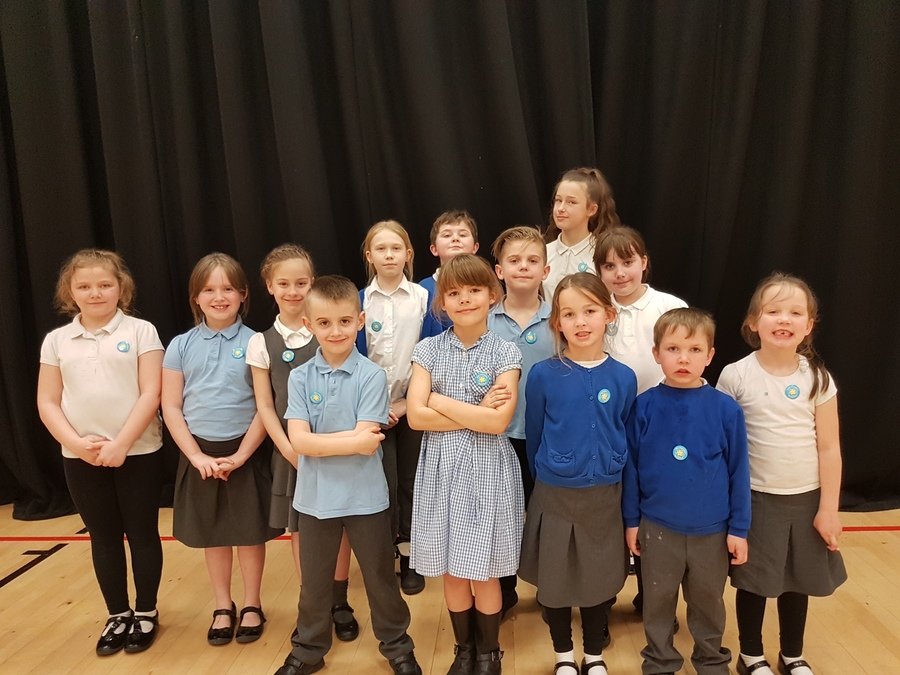 These AMAZING pupils all achieved 100% attendance for the WHOLE school year 2016-17. What a fantastic achievement, well done!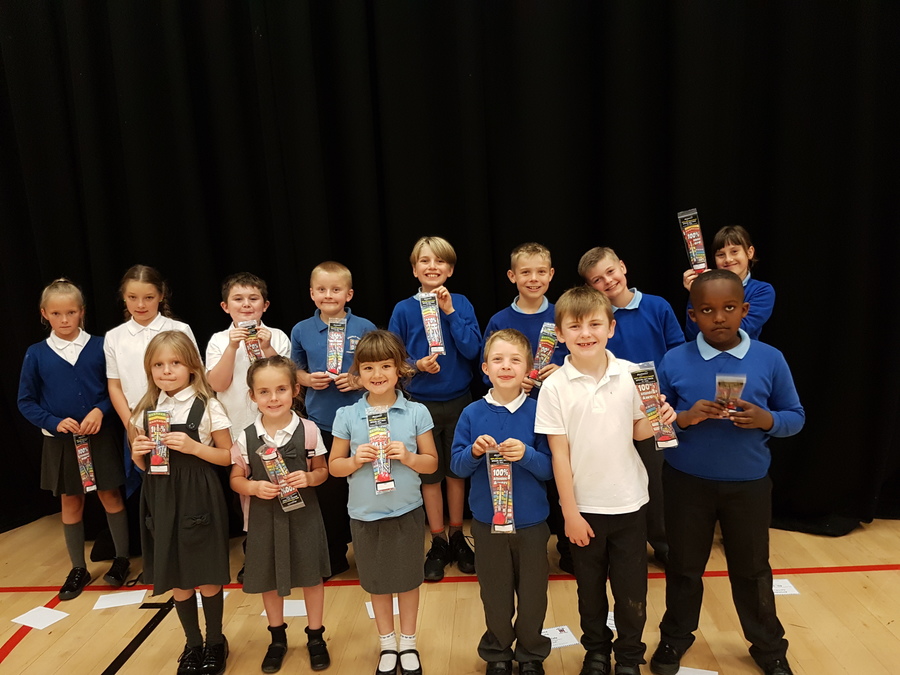 So today we say goodbye to Mrs Guest who has worked at ASPS for 20 years! She has been an absolute star and we are truly going to miss her.
Congratulations to all the children who are Vultures. They were the best performing team last term and were rewarded with a visit to Barnsley Bowl.
We all know that attending school is very important. We are very proud of these children because their attendance has improved during the last term. They all received a special certificate and they had a tea party with Mrs Midgley and Mrs Fowler our EWO.
Today KS1 and Y3/4 were entertained by a group of musicians from the music service. As well as telling the children about the instruments, they were also making the children aware of the instruments that they can learn to play. Any child interested in learning to play an instrument should contact the school office for further information.
We were delighted to welcome Mr Kaye to assembly today. Unfortunately, due to other commitments, this will be Mr Kaye's last visit this academic year. However, that could only mean one thing...the much anticipated end of year quiz! The children demonstrated excellent recall of the stories Mr Kaye has shared throughout the year and some children were even lucky enough to win one of the top prizes. Thank you Mr Kaye, we look forward to seeing you again in September.
Over the past few years Mrs Cherry has worked a day a week with our Y5&6 children supporting them to achieve their very best. We are truly grateful for Mrs Cherry's hard work, her enthusiasm and dedication to the children at Athersley South. Staff and pupils will miss you enormously Mrs Cherry and we hope you'll still pop in to see us.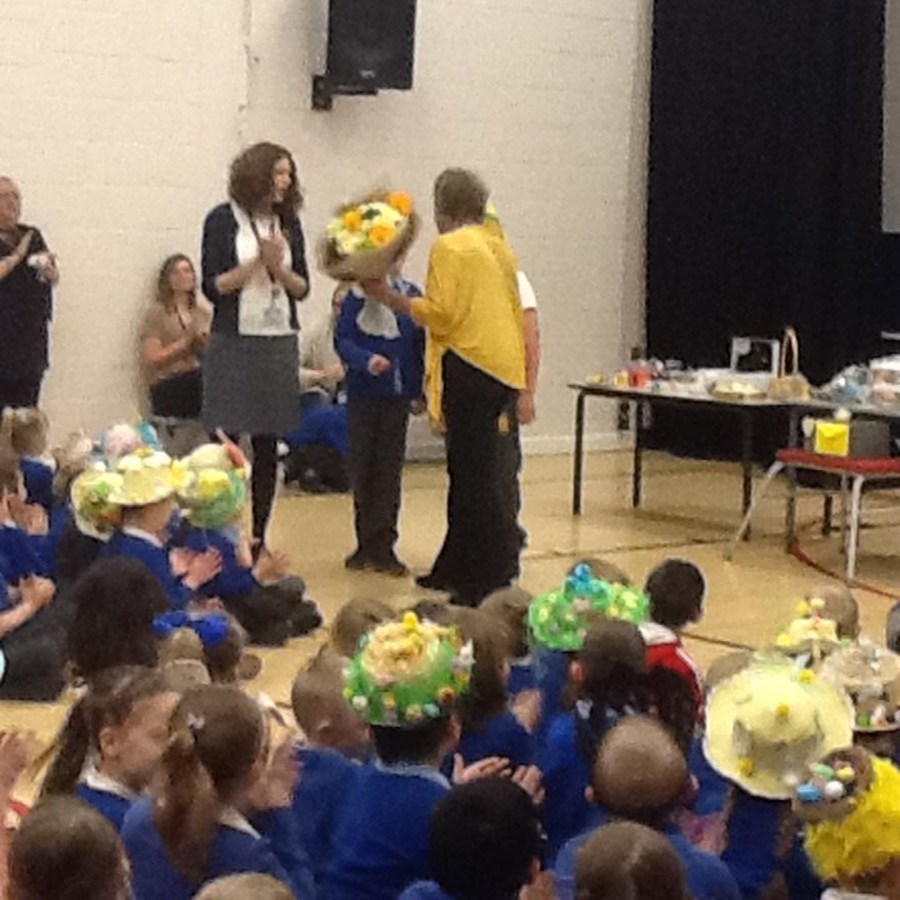 Today we said goodbye and good luck to Mr Horton.
We were delighted to welcome Mr Kaye into school again this morning to lead assembly. Mr Kaye told us a story from the Bible and it reminded us that if we have a worry, a concern, or a problem we should tell someone. As usual we also enjoyed singing along to the 'boom box'. At the end of assembly, Mr Kaye presented us with a book containing bible stories for us to share and use within school. Thanks Mr Kaye :)
Congratulations to all those who managed to achieve 100% attendance in the Autumn Term. You can all wear your badges with pride.
Today in assembly we said goodbye to Mrs Stephanie Carson who has worked in our EYFS for 19 years. Her endless enthusiasm and caring nature has ensured she has been an invaluable member of the team. Stephanie, we'll miss you but are glad that you'll continue to be involved in school as a Governor.
Hawks were the winning team for the Autumn Term.
They had a fantastic afternoon with an entertainer learning circus skills.
Father Marshall from St Helen's Church celebrated harvest with us this week. A big THANK YOU to everyone who sent in food donations. Father Marshall will be distributing this within the community.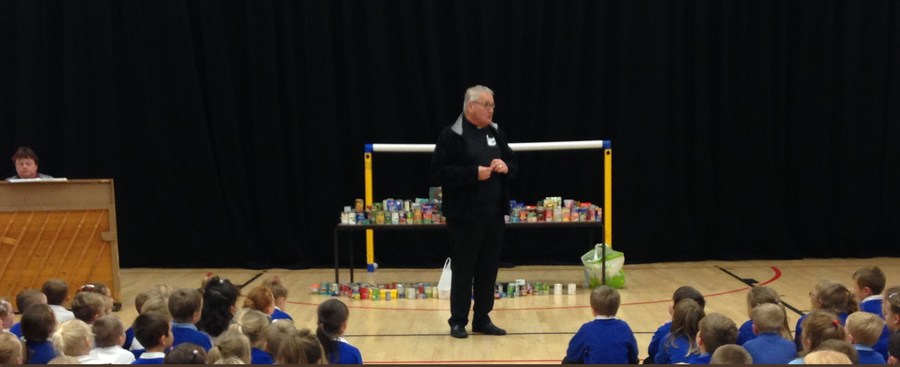 We were pleased to welcome Mark Reasbeck from the New Life Church into assembly today. Using a bag of hats and two jackets he really made us think about his theme 'Take off the old coat and put on the new'.