Praise Page
Amazing artists and athletes, marvellous mathematicians, super scientists and wonderful writers. These and other fantastic learners will all appear here on our Praise Page.
In group 4, this young lady was our learner of the week. She has tried really hard with ALL of her work and she is very tidy too! Well done.
Our fabulous Key Worker children have done an amazing job of their gardening project. The fruits of their labours have started to show with our first radish harvest.
This young man has made outstanding progress in his RWI sessions and is working super hard to learn lots of sounds!
The writing in F2 today has been AMAZING! There's been lots of 'fred in the head' sounding out happening and these two boys in particular have really impressed!
There's no stopping these two boys with their writing. They are both putting in lots of effort and you can really see a difference! Keep it up!
This diary entry has been very well written and a lot of thought has gone into the word choices. Well done!
This young lady, who is only in F2, has written an amazing story today, using her 'Fred talk' to help her sound out the words. It's amazing, an author of the future for sure!
Well done to our school council members who today worked with TWIGGS ground contractors to conduct a litter pick on the path behind school. Behaviour was exemplary and the local environment has been enhanced as a result of their efforts!
These two young men have worked fantastically hard with their writing this week and the results are amazing. Well done boys :)
This young lady in Year 1 has been trying really hard with her handwriting and it is much improved. Well done!
These two boys from F2 have been super creative, making up a story using resources, taking photographs of their work and then annotating their pictures to share their ideas with others.
Congratulations to these amazing children who have successfully completed their bikeability training this week, despite the weather's efforts to thwart their participation! Thanks too to Active Barnsley who once again supported and trained our children.
This young lady from Y2 has written a fabulous story this week. Well done!
Congratulations to this young man who has today been announced as the winner of a poetry competition run by Carlton Community College! We are all so very proud of you!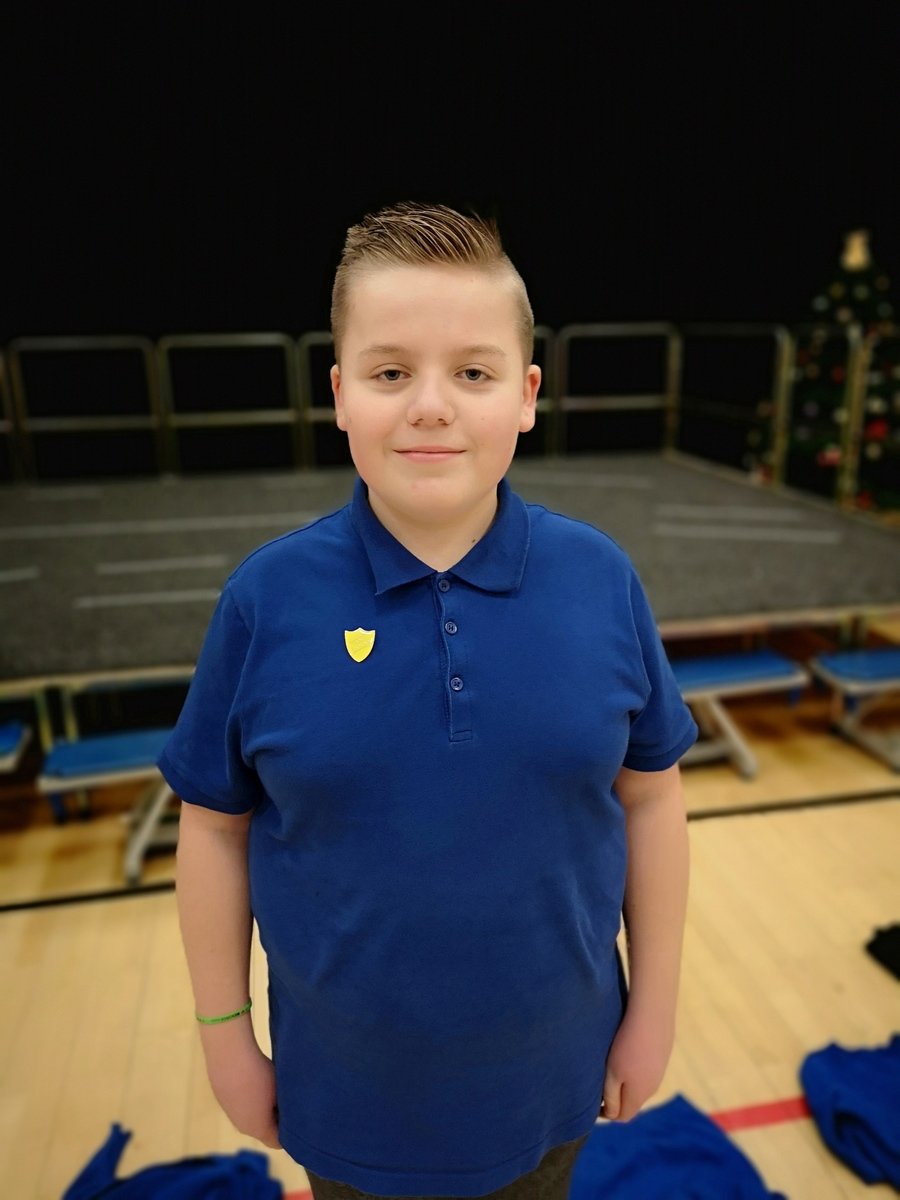 Have you ever seen a snail quite like this? We think it is brilliant and this young man has taken great care at the creative table in F2 to make it. Fantastic!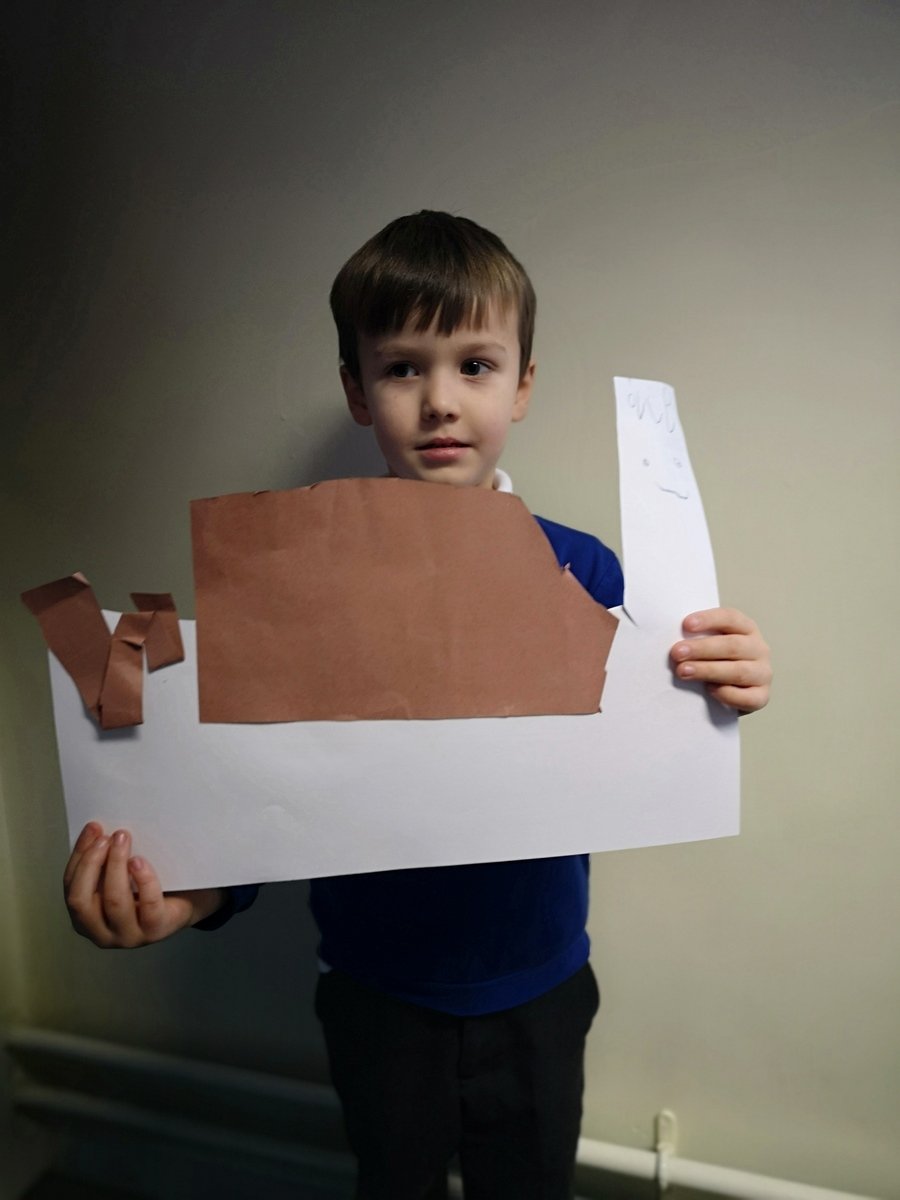 These three have been brilliant builders, working together to create mini masterpieces out of lego with Mrs Walch and all for a good cause. We have uploaded their photos as part of a social media campaign being run by Lego who will donate lego to local hospitals for every uploaded photo. Well done boys!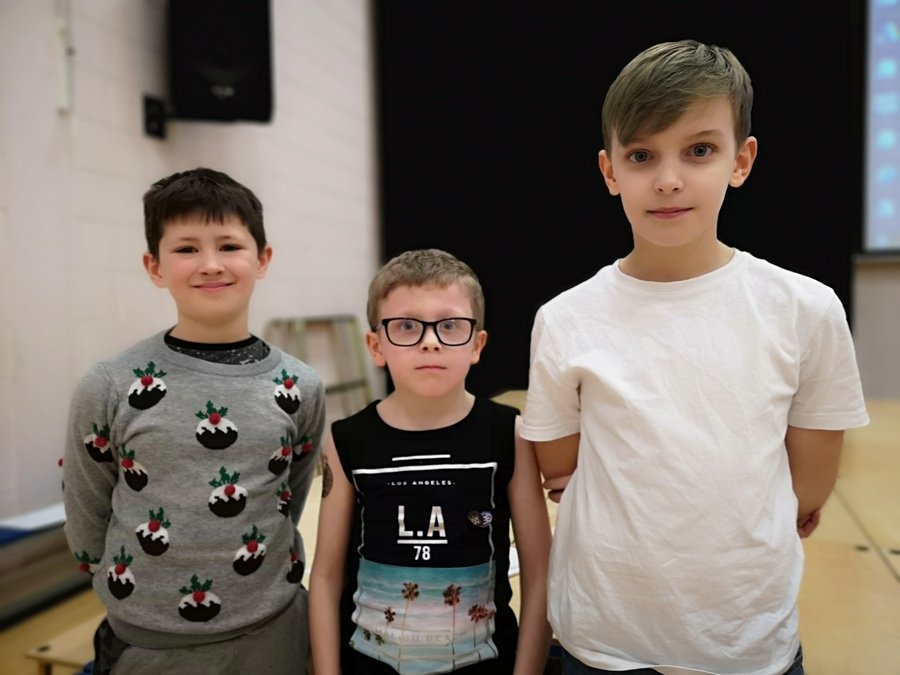 This talented young lady in F2 has been very busy in the creative area and was rightly very proud of herself. Her dog even had a collar and lead, well done!
This young man in Y1 has demonstrated AMAZING writing skills today. He has written down a whole story that he has been learning orally without missing anything out.
Absolutely superb!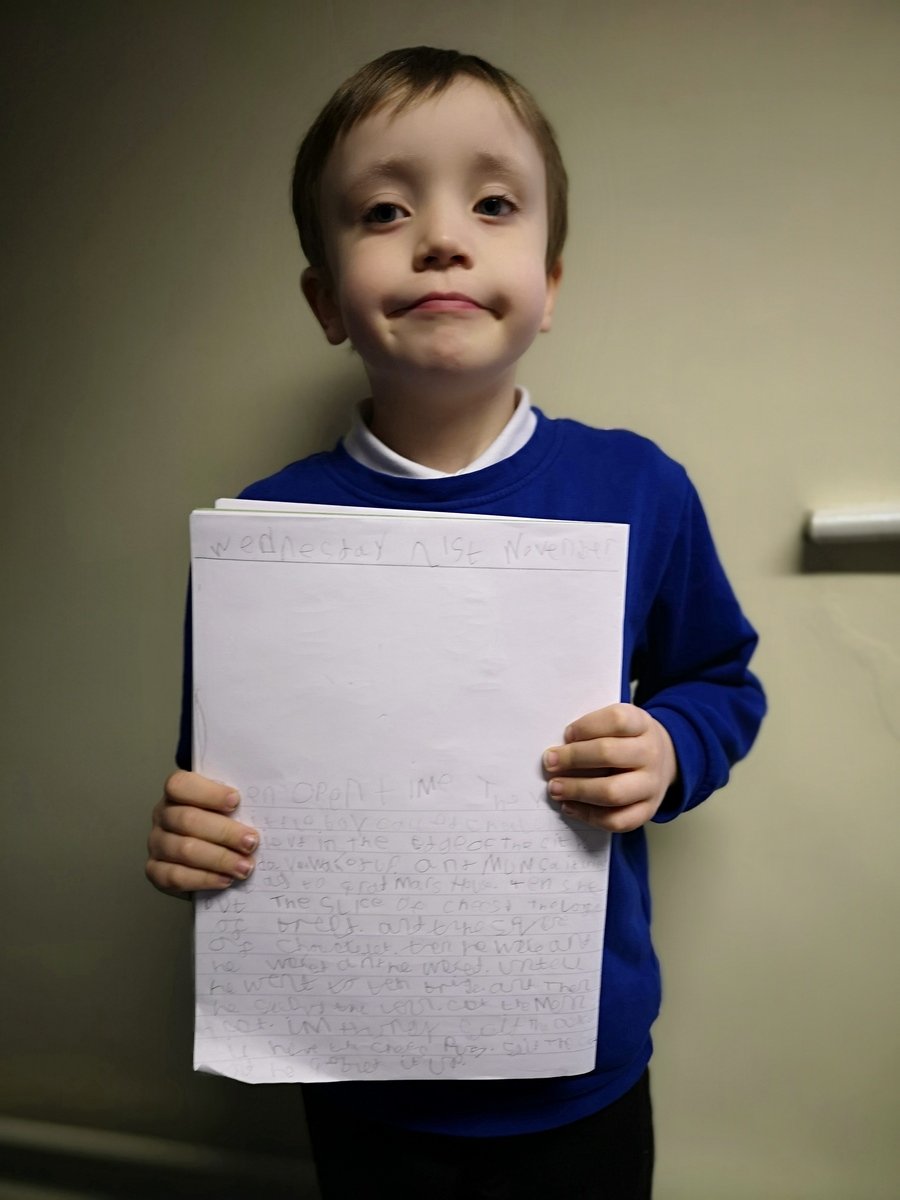 These three Y1 children came to see me to show off their fantastic Halloween and Bonfire Night writing. They had tried really hard to write super sentences and to include adjectives. Well done!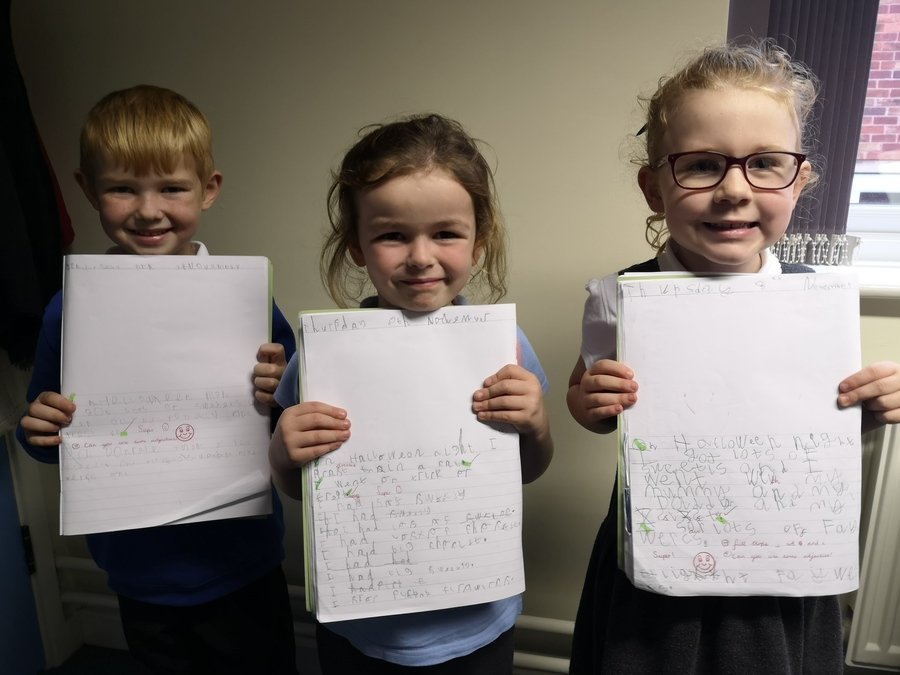 Congratulations to Class 3 and Class 7 who are the first winners of the sports trophy this year :) Fabulous skills, team work, listening to and following instructions and a great attitude to PE helped them achieve the most points. Well done.
Amazing success in our first tournament of the new year today as we entered two teams to the Y3/4 Multi-Skills event at Netherwood. It was a fantastic result as our two teams finished in first and second places. Well done to all of our superstars who were so successful!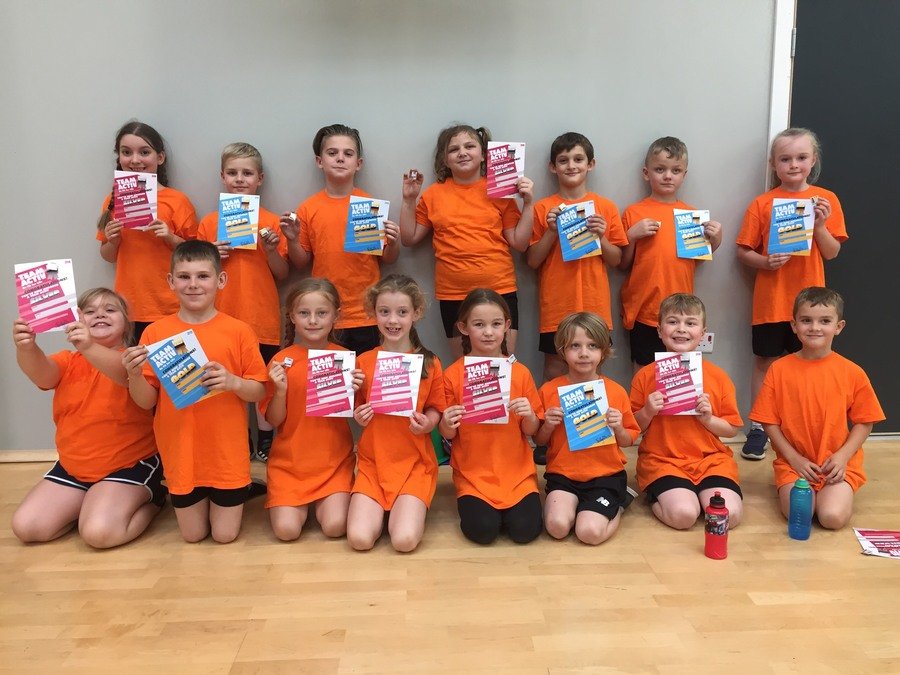 Every year pupils are invited to attend Barnsley School district wide football trials. We are delighted this year that this young man was successful and subsequently has been chosen to represent Barnsley at football this season at school association level as part of the under 11s team. As is the time honoured tradition, he was presented with his Association tie by Mr Gates, Chairperson of Barnsley & District Schools FA, in an assembly at school today to celebrate this amazing achievement. Well done!
This young man worked extremely hard to design and build a model this afternoon. Lots of thought and concentration went into his work.
Congratulations to this star writer!
What an amazing piece he has written!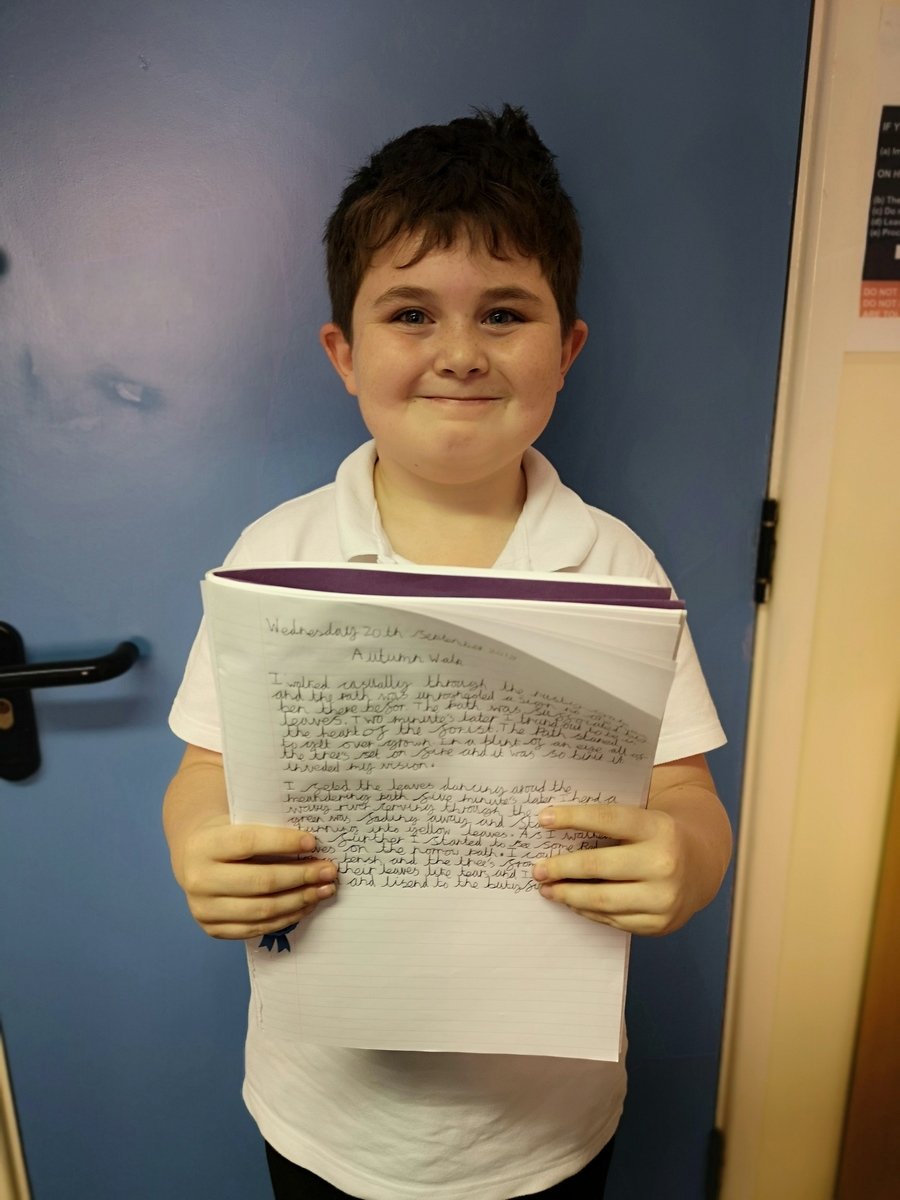 This young man has amazed Mrs Sanderson and Mr Wheelwright with his efforts in writing over the last couple of days. His choice of language and the phrases he has used are brilliant!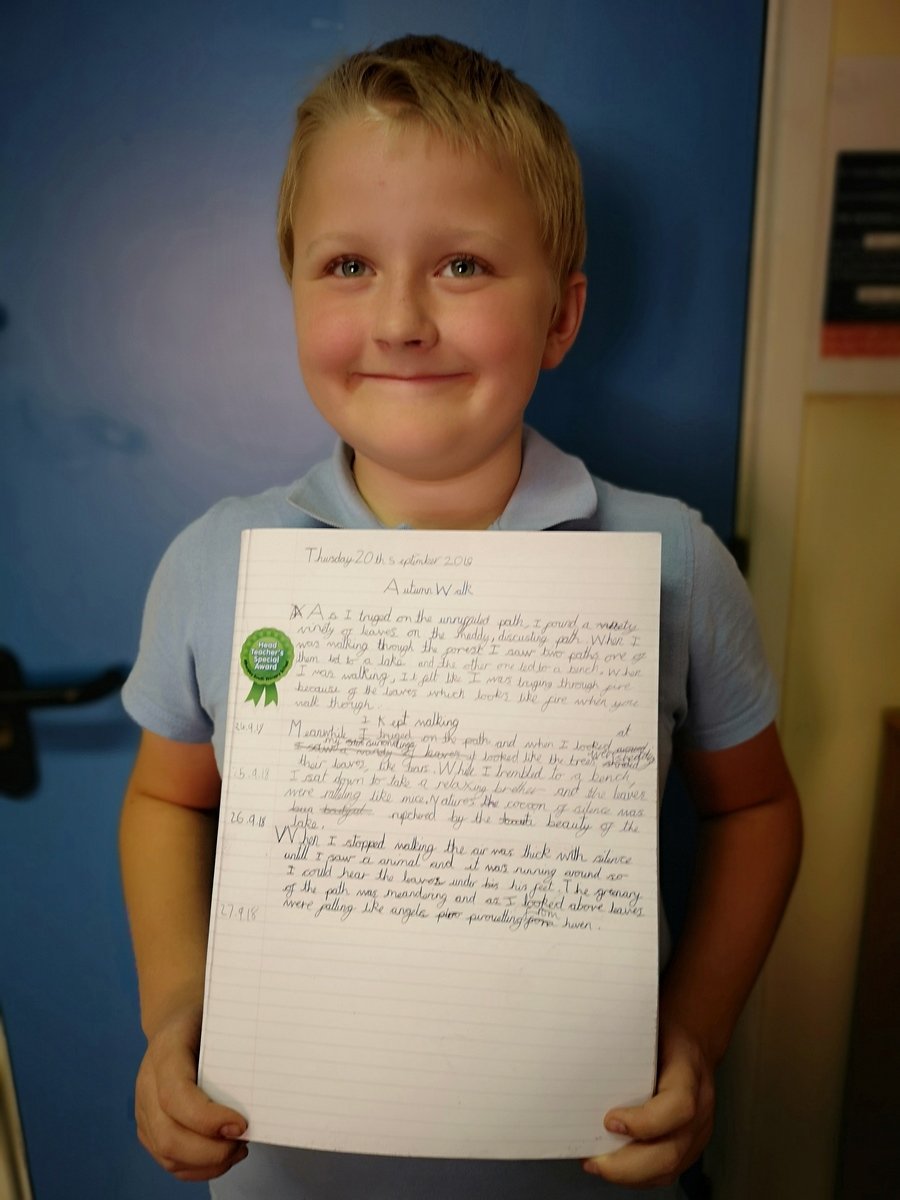 Falcons were the winning team in the Summer so they have begun this school year with an afternoon of circus skills with Mr Dan! Well done Falcons!
Here are many of our Y6 children enjoying the sunshine after SATS week. They all worked so hard and we are very proud of them all.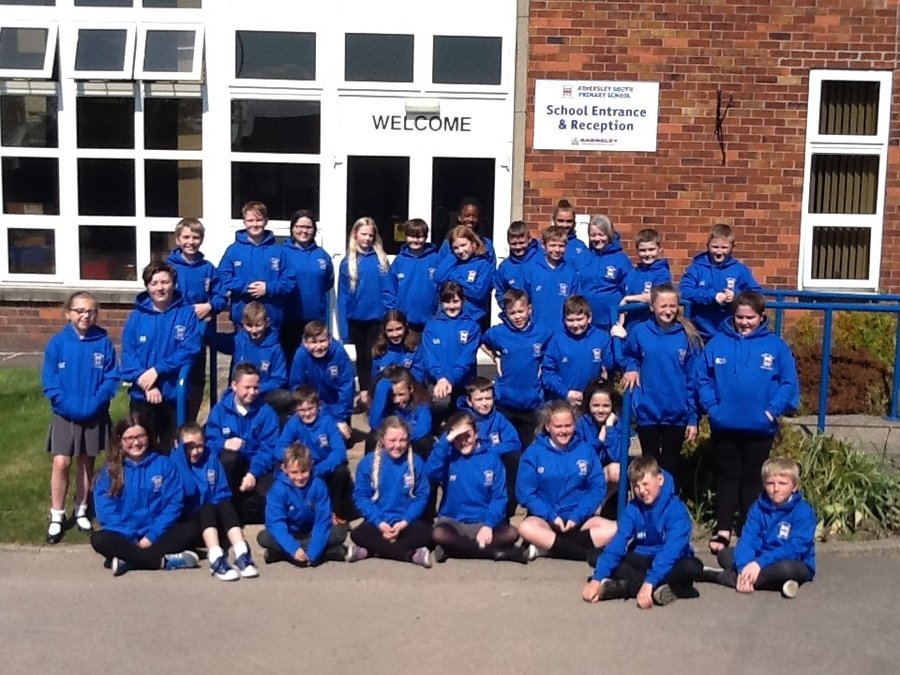 At art club this week, the children used natural materials to make works of art. Mrs Whiteley and the children think that they looked wonderful - what do you think?
As Barnsley Champions these sporting stars were invited to the South Yorkshire Schools final in Sheffield to compete against 7 other teams. Their attitude, effort and commitment to fair play was brilliant and although unsuccessful in lifting the trophy, all thoroughly enjoyed themselves. Well done for being a real credit to yourselves and our school.
This young man has created a twisted fairy tale and it's great!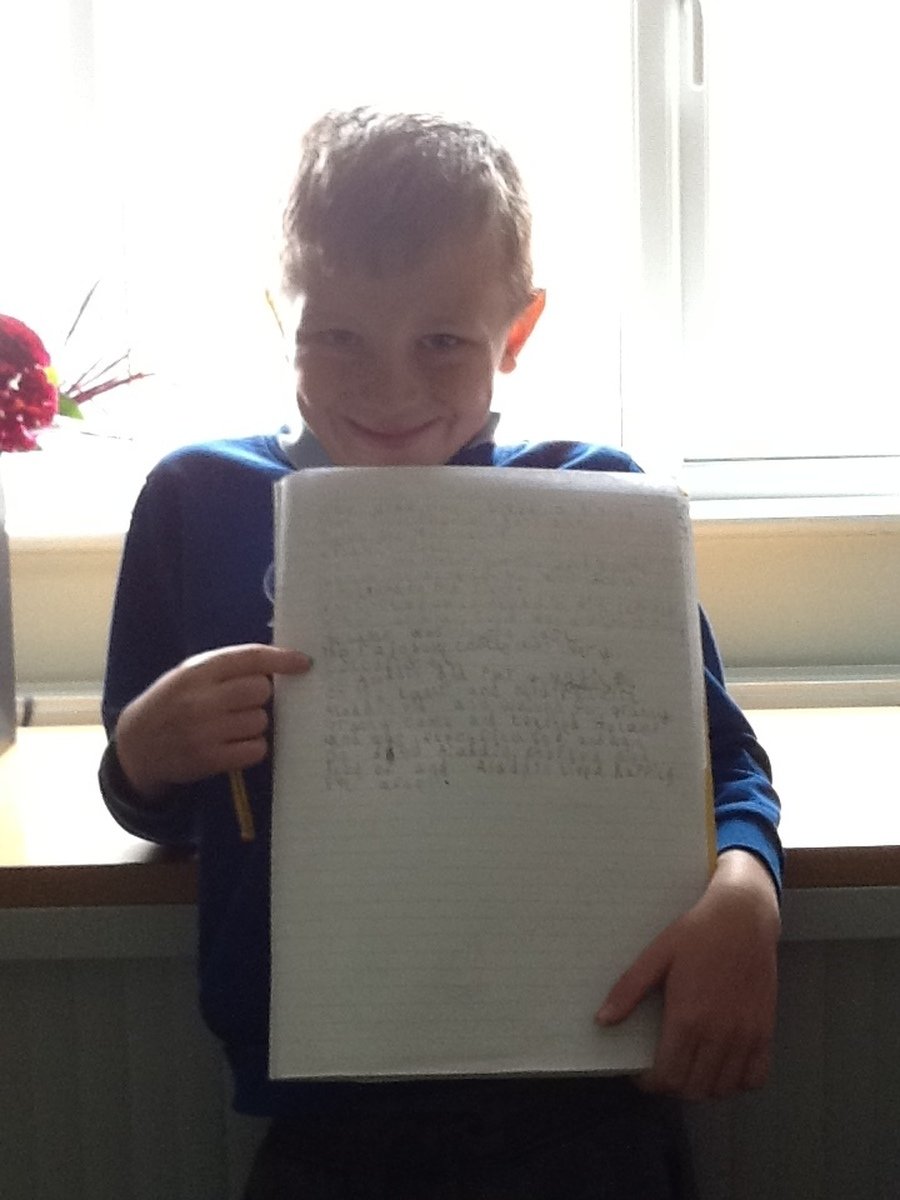 Mrs Whiteley could not believe her eyes in whole school assembly. Four classes - class 1, 2,3 and 4 - all achieved 100% attendance this week. Well done to you all.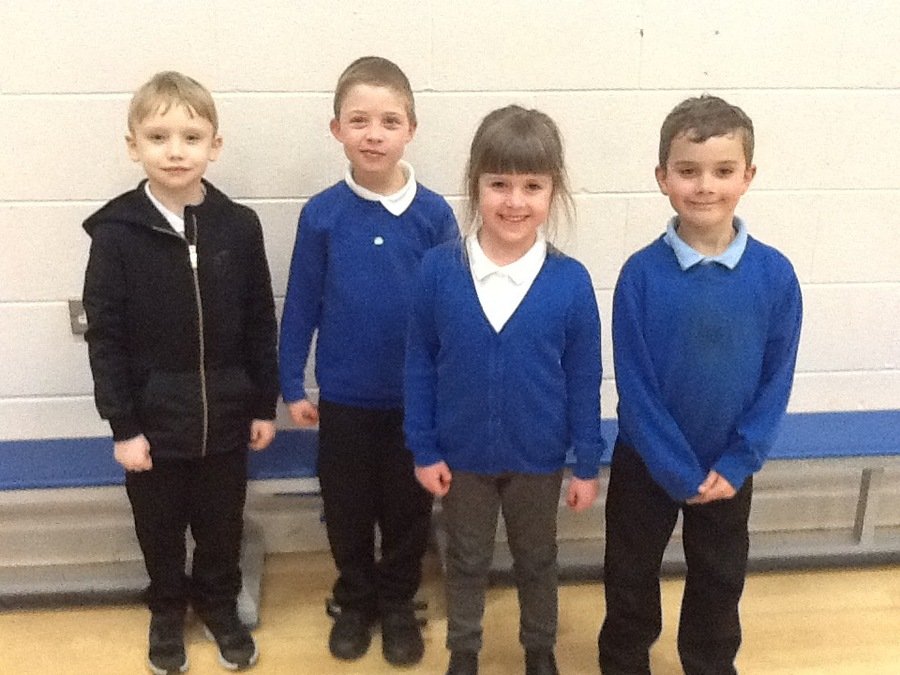 These two children from Class 5 have written some excellent non-chronological reports. They have really thought about using persuasive language. Well done to you both.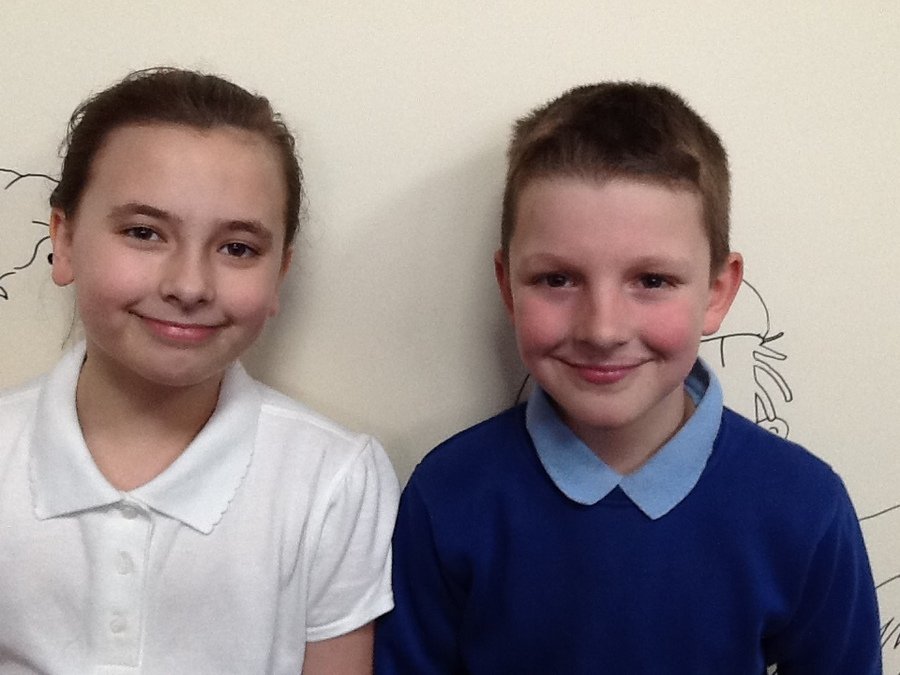 This is a photograph of a brilliant reader. He has amazed Mr Gledhill and Mrs Whiteley with his super reading. Well done :-)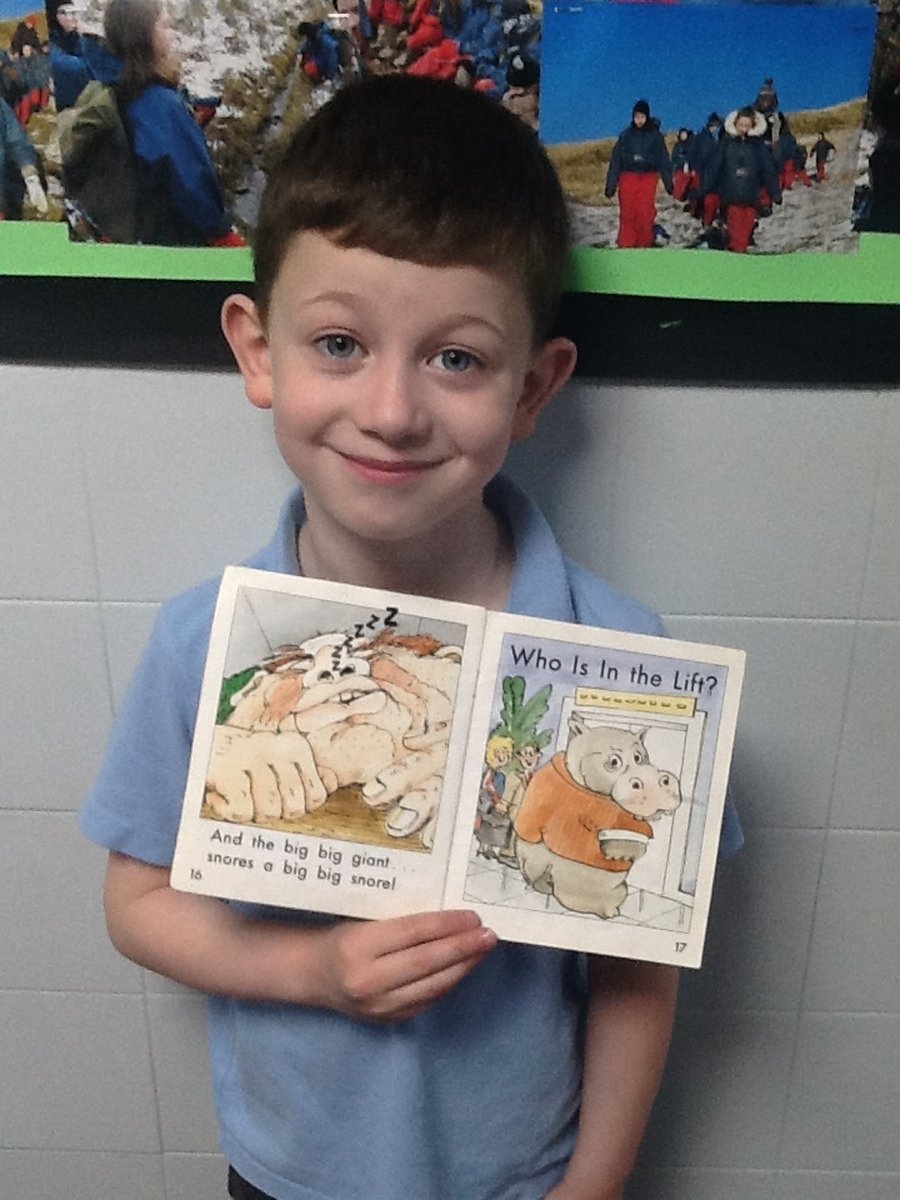 This young man has designed some very exciting rides. Next week, he is going to write a leaflet using some of the descriptive language he has found to persuade you to visit.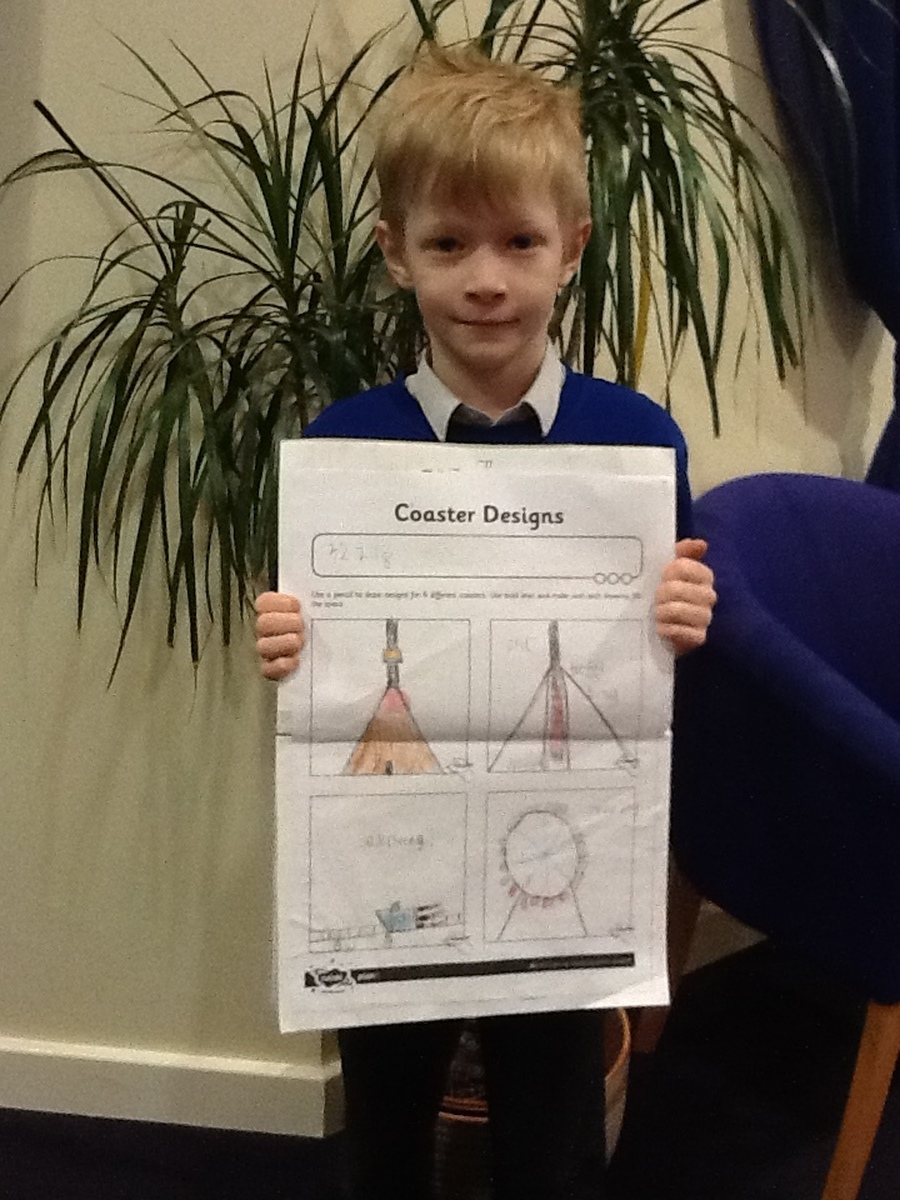 The Cooking Club made delicious ham and pepper pizzas this week - yum, yum
Wow - Look at this wonderful outfit. This young lady from FS2 has spent the day making this amazing Cinderella costume.
Over a week, these children developed their ability to ride safely on their bikes. They progressed from riding on the playground to riding around Athersley - Brilliant
Young Voices 2018 - A big 'Well Done' to all the children and staff who joined over 5000 children in a Young Voices performance at Sheffield Arena. After weeks of practising, they were able to show off their wonderful singing and dance moves.
This young lady is a very talented writer. She really thinks carefully about the reader. It is a real joy to read her work.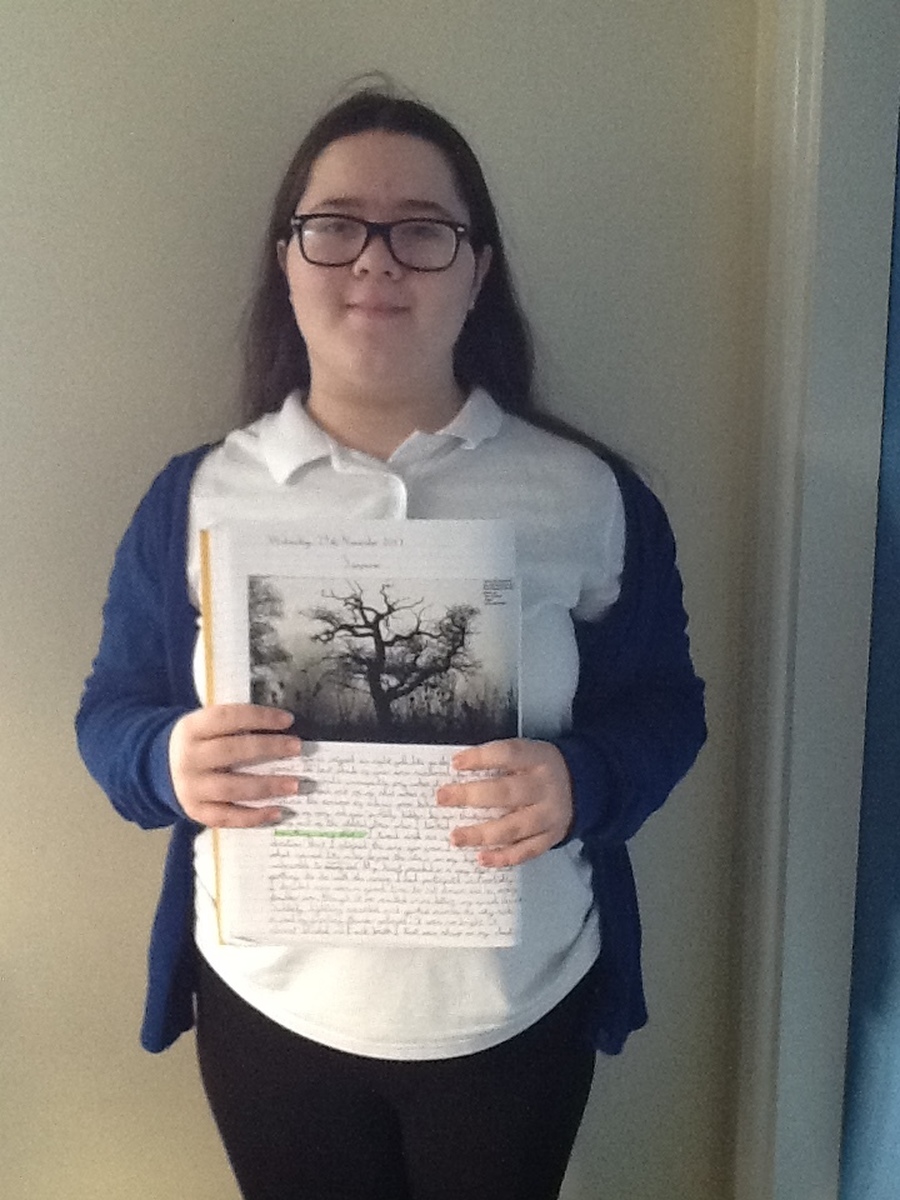 The sewing on this calendar required lots of thought and patience. It looks amazing - well done.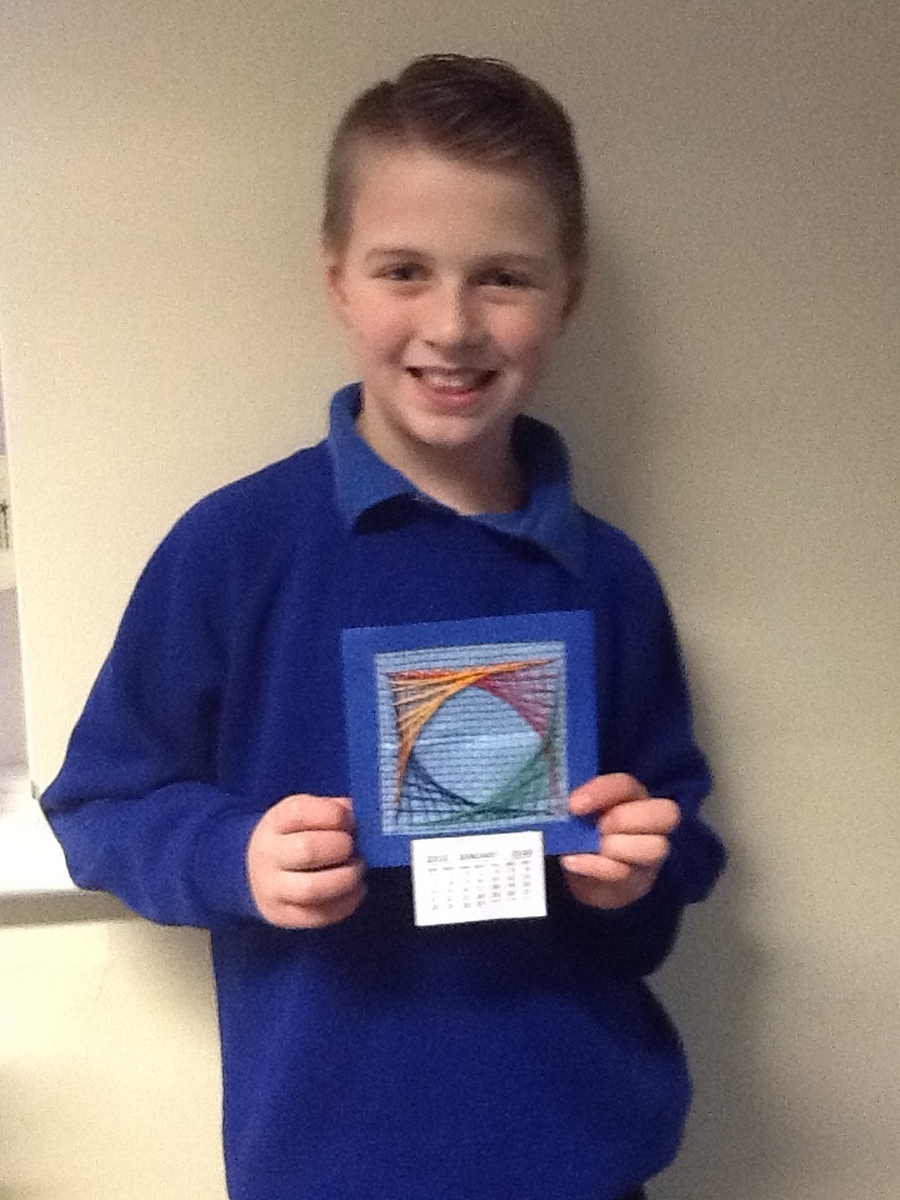 The KS2 Christmas concert allowed our KS2 children to showcase their talents. There was singing, percussion, ocarinas and some lovely readings. Well done to you all.
The KS1 Christmas concert signalled the start of Christmas. Once again, great acting and singing.
A big thank you to our Road Safety Team who delivered a very informative road safety assembly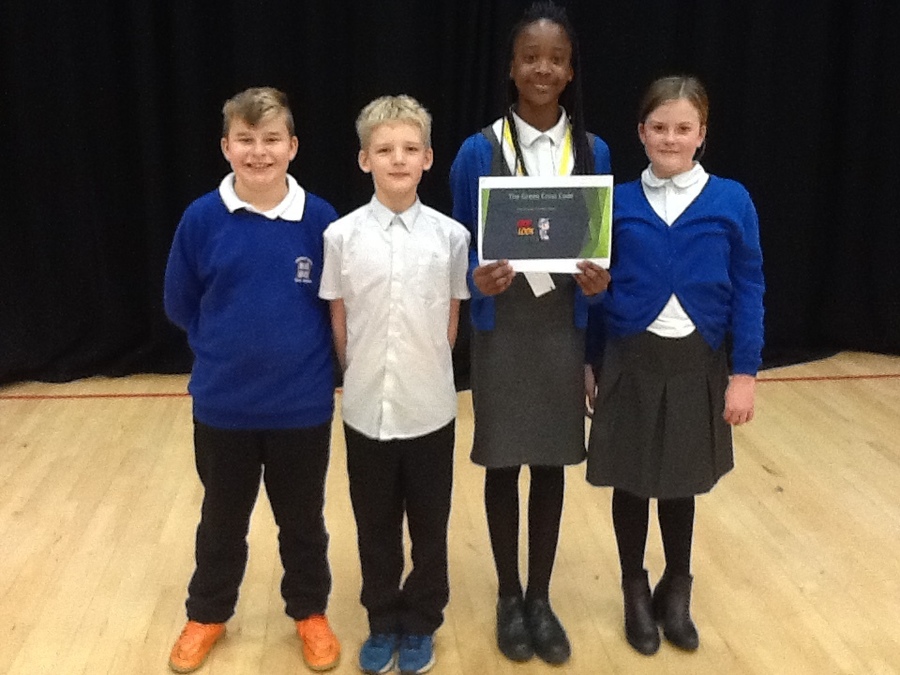 Is there no stopping this young lady - wonderful maths and thoughtful writing. Keep it up!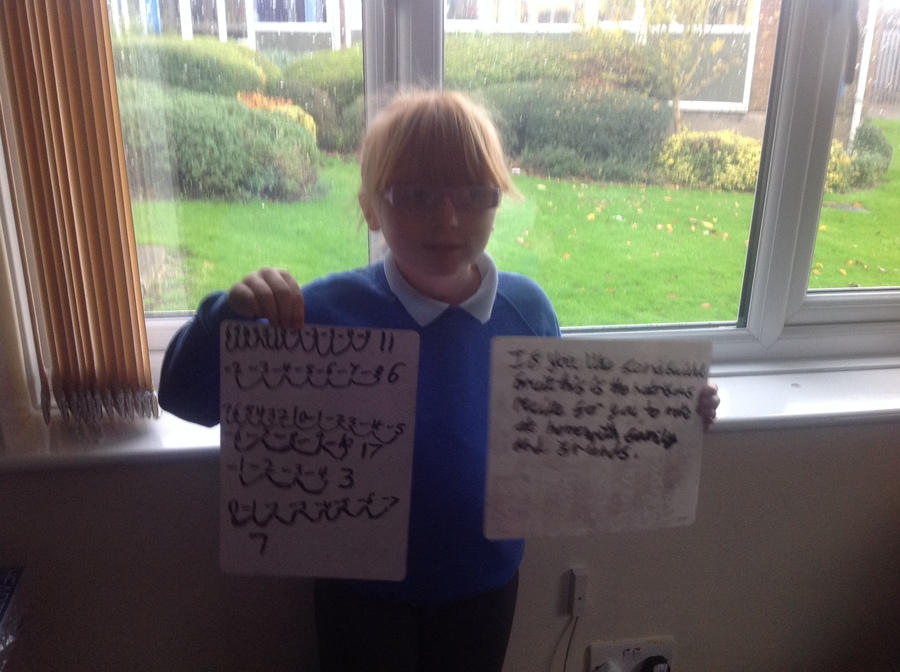 We are very proud of this great mathematician this week -well done :)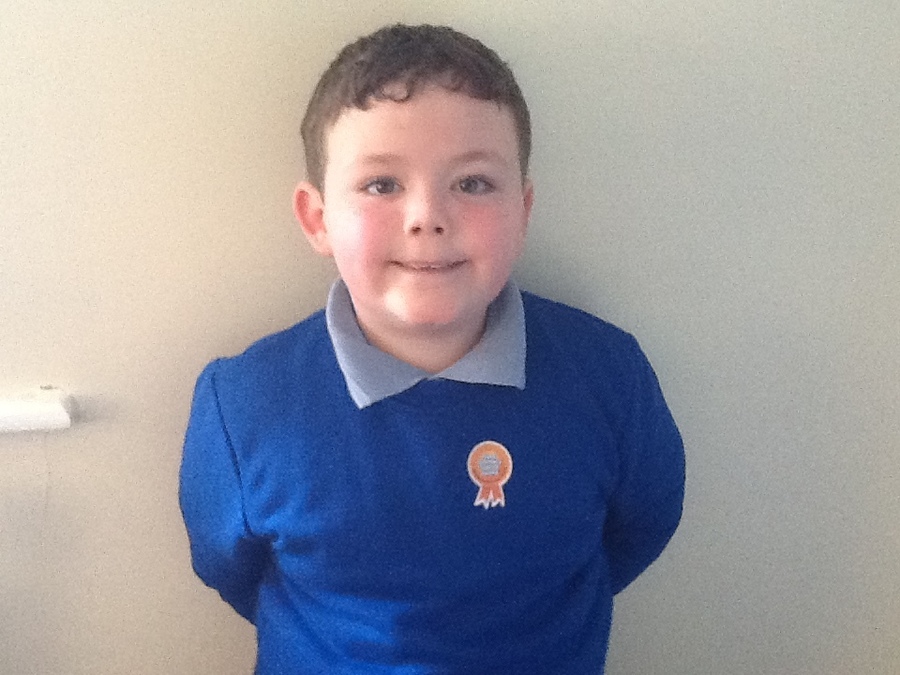 These two young ladies have been chosen to play for Barnsley Girls Football Team. A huge well done to you both.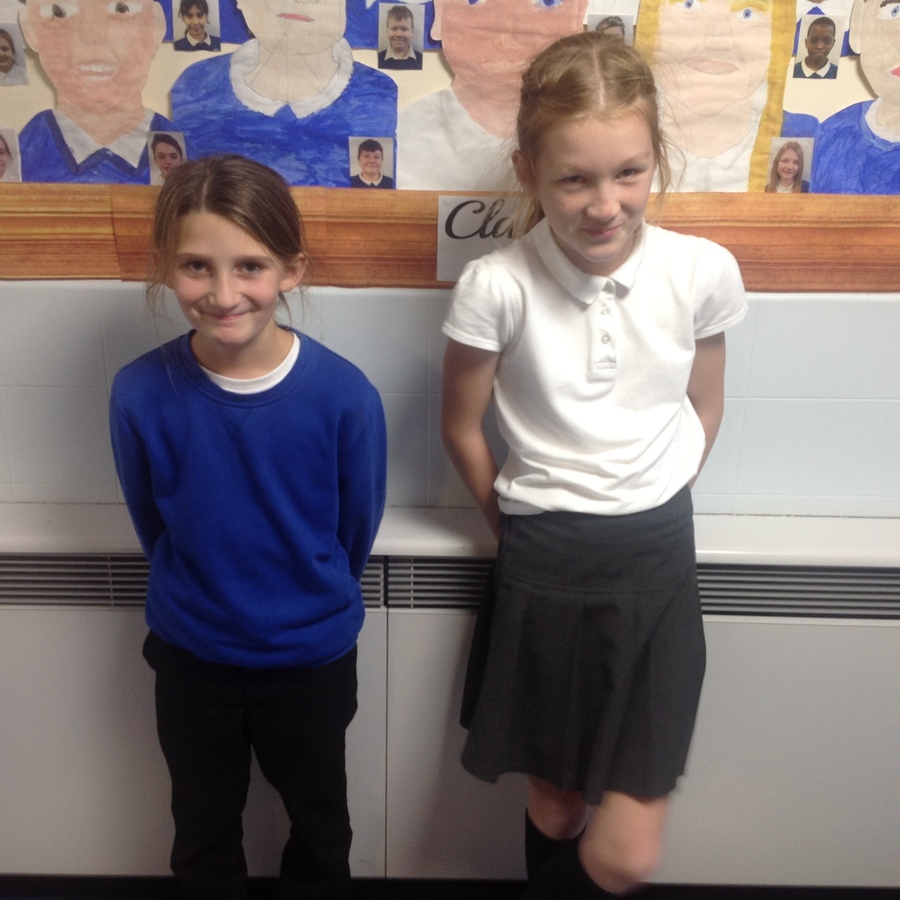 Year 2 and Year 6 enjoyed paired reading in the library today. It was great to see them working together and listening carefully to each other.
Well done to all the children who have played in scrap shed this term. It is great to see you all playing so nicely together.
Well done to this young lady who completed the library reading challenge this summer. Well done.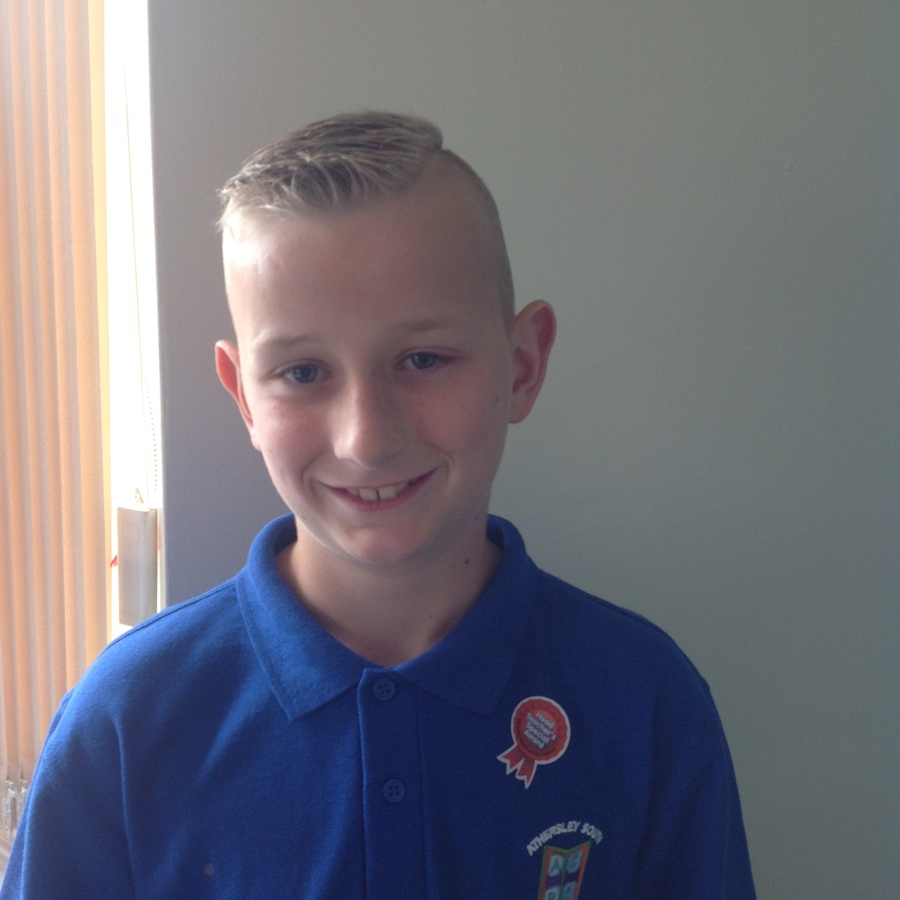 This young man has tried exceptionally hard this week in literacy. He has used some wonderful descriptive phrases in his first draft. See what you think: As I trudged through the heavy blanket of snow it tried to swallow by cold legs. Desperate to find the meandering path which looked to have pretty much disappeared I wondered into unknown territory.
At the Team Activ sports awards, Mr Gorner received a commendation in the adult sports leader category. Here he is with our 2017 elite athletes.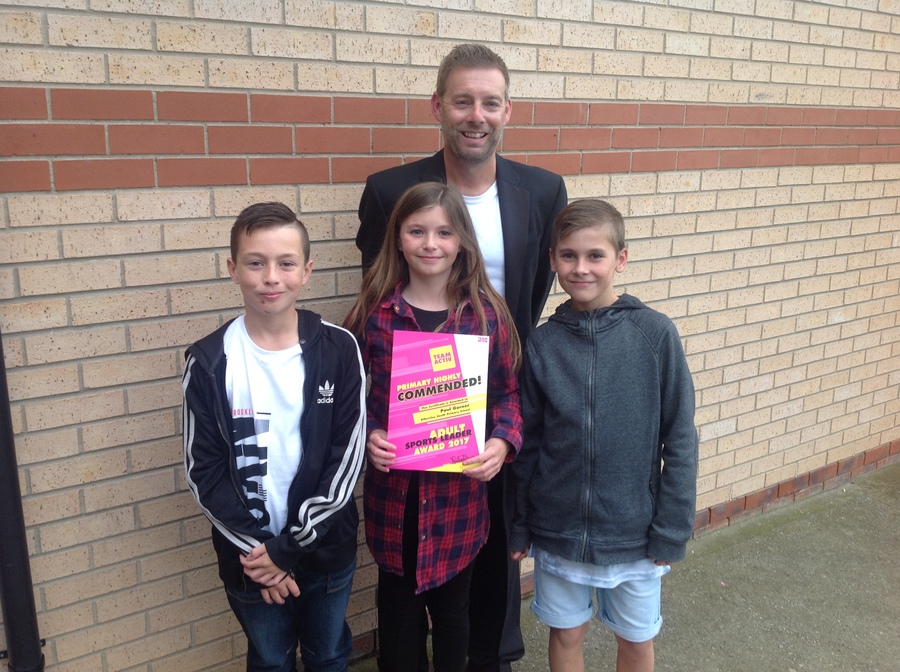 Ahoy there! These Y1 children have been writing some amazing Pirate stories. They are absolutely brilliant!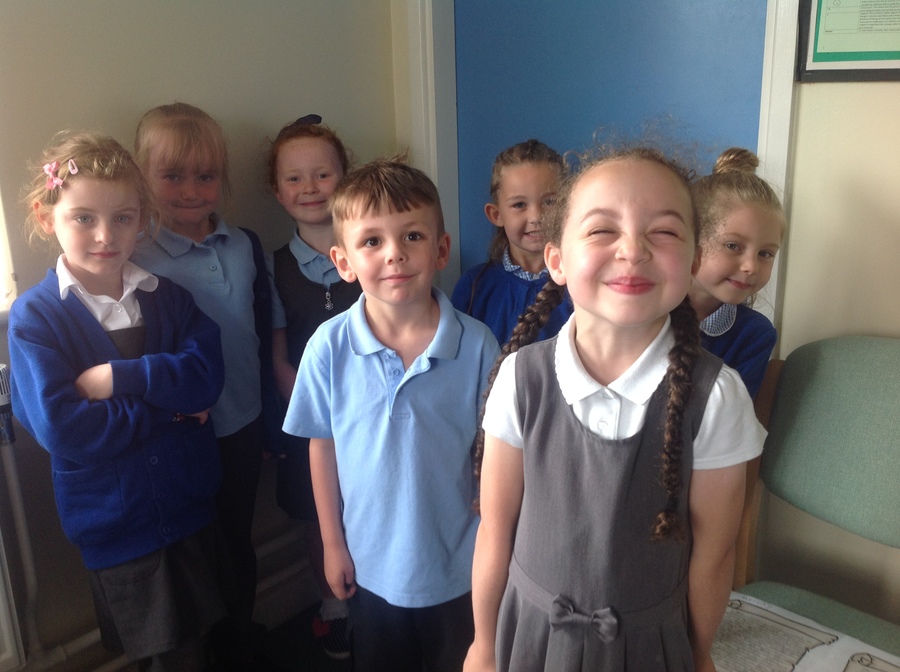 These children were amazing mathematicians today when they worked out some complex function machines.
We are so proud of this young lady. She has worked so hard with her writing this year and because of this she has made excellent progress. Well done.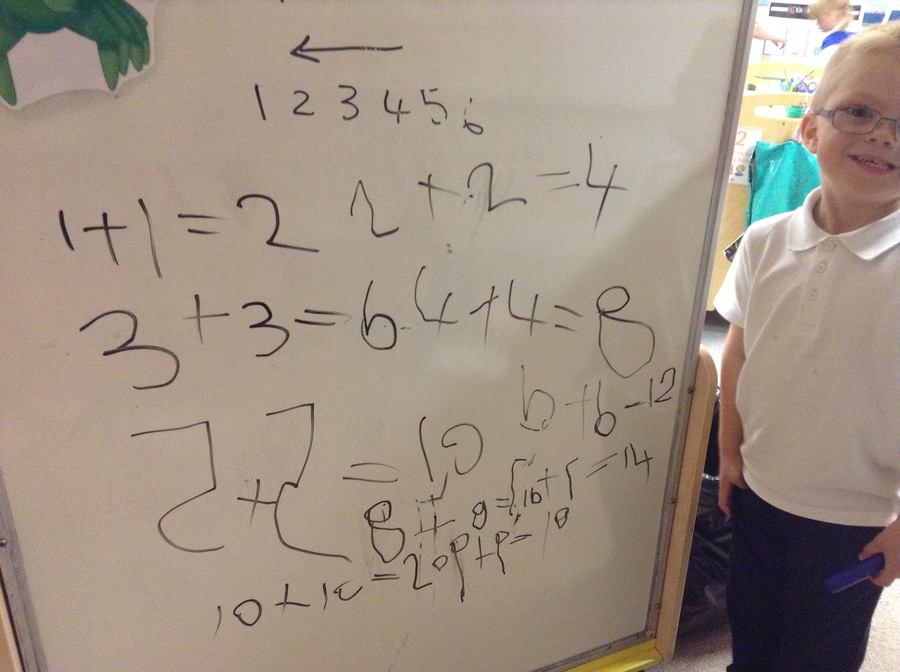 These FS children were very proud of their writing - well done girls
Class 9 are the top attenders this week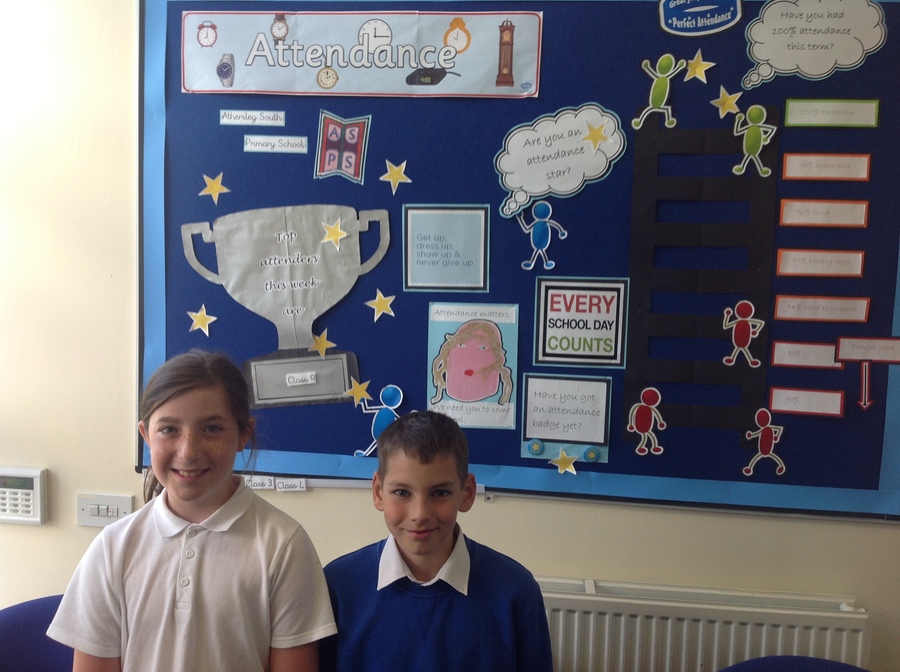 We love to find out about the activities that children do at home. This young man likes to build things. Look at the brilliant television set that he made out of box. Look closely at his screen, what kind of programme is on the television today?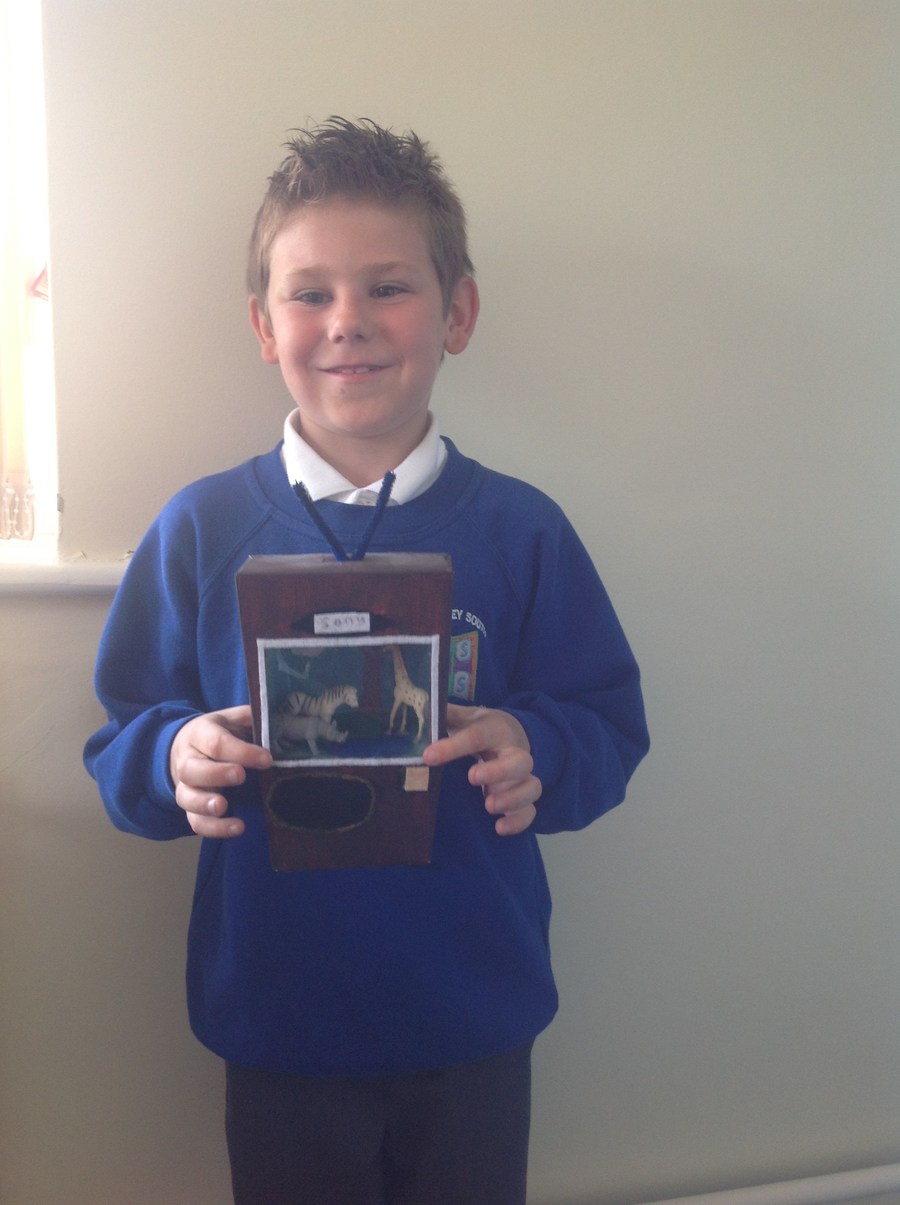 We all know that attending school is very important. We are very proud of these children because their attendance has improved during the last term. They all received a special certificate and they had a tea party with their parents and our PSA, Mrs Midgley .
This week it is the Chelsea Flower Show. Art Club have produced some some great flowers of their own for the Barnsley in Bloom art competition - Good luck to you all.
More great learning going on in Y6 and FS2 this week. You are all superstars :)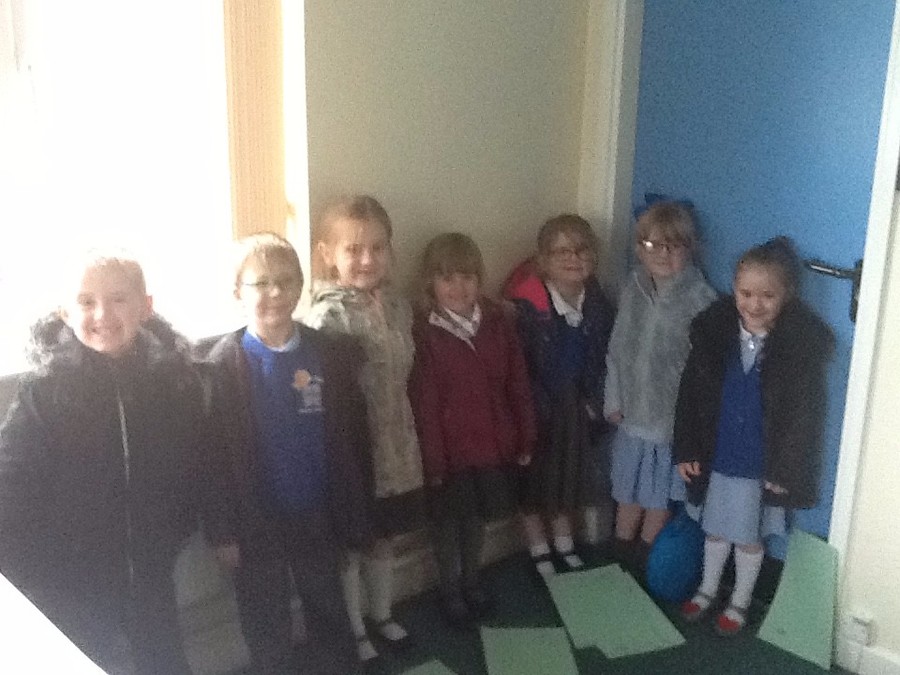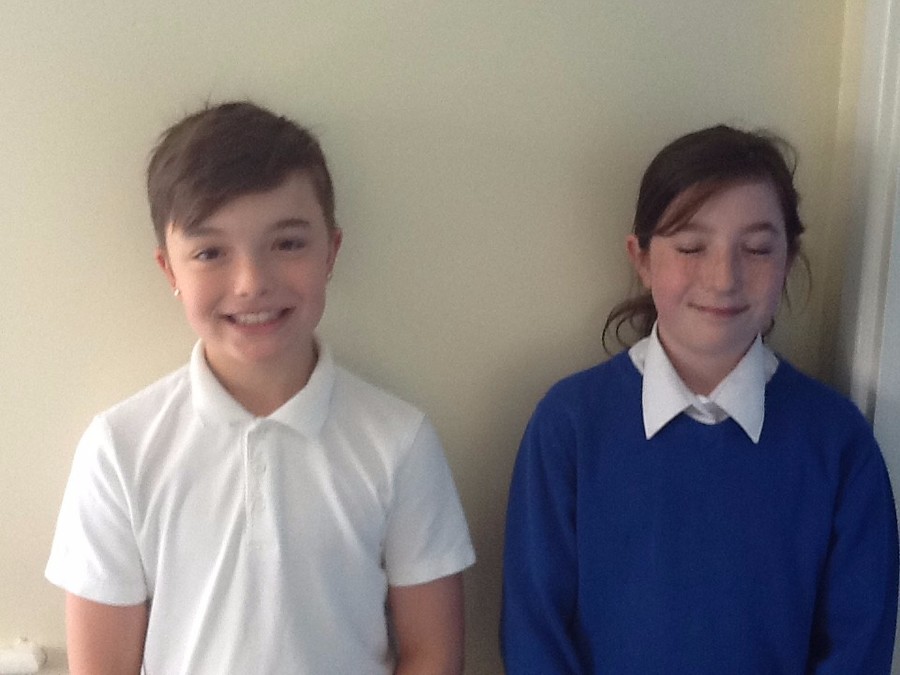 These boys have worked so hard week. We are so proud of their perseverance on this mathematical task. They had to use the twelve pentominoes (five squares) to make a perimeter fence which had the largest area. Well done to you both.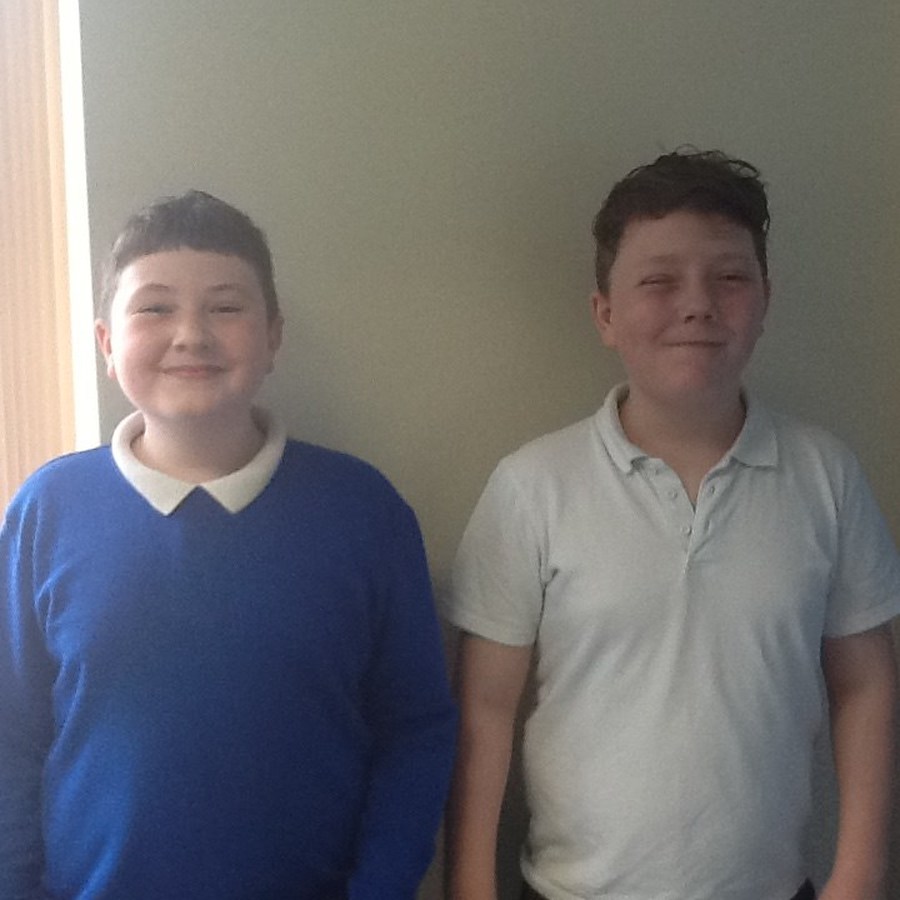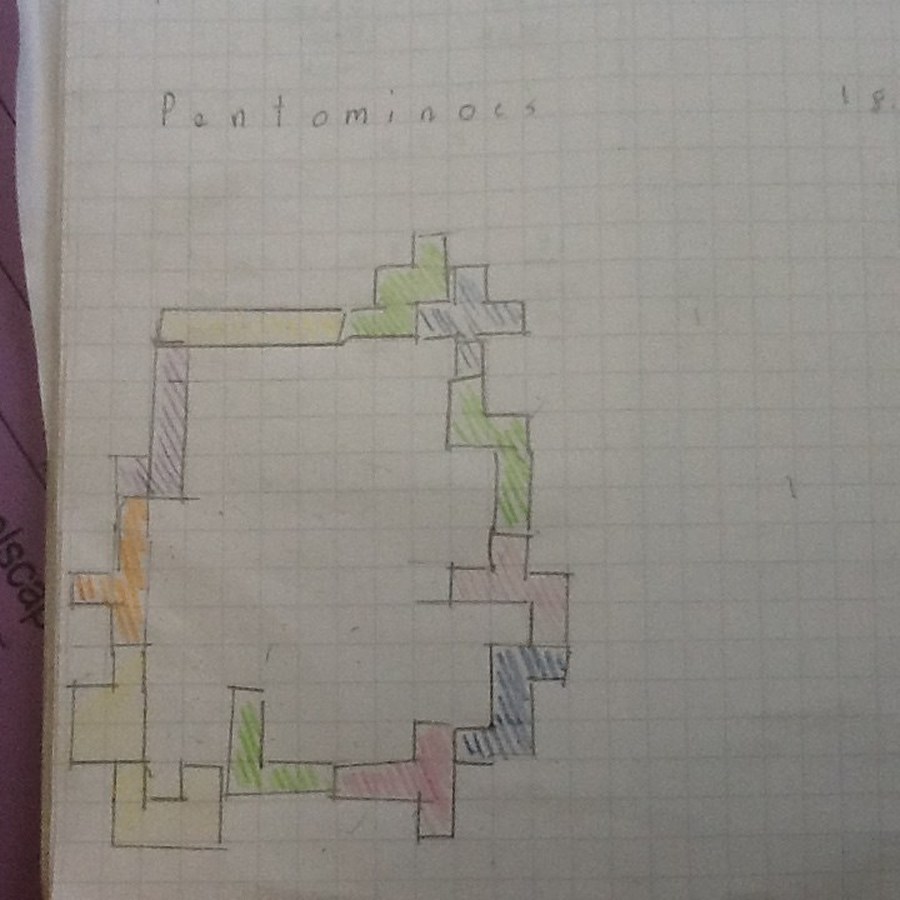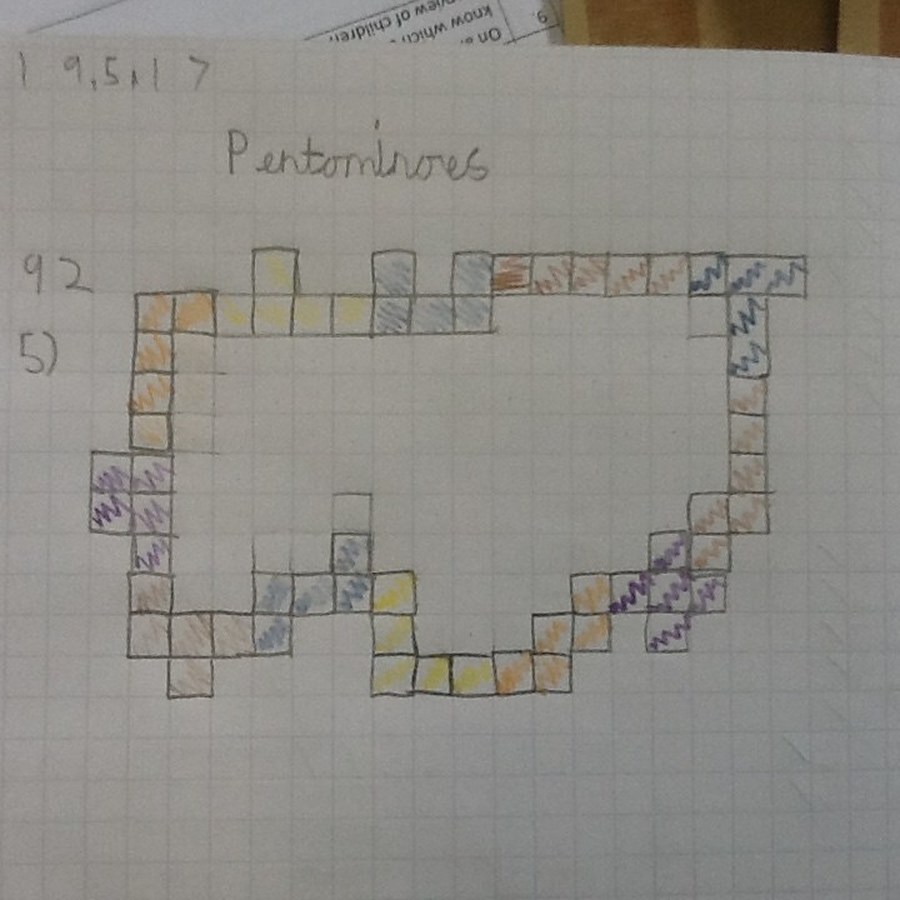 A huge well done to all our spring term 100% attenders.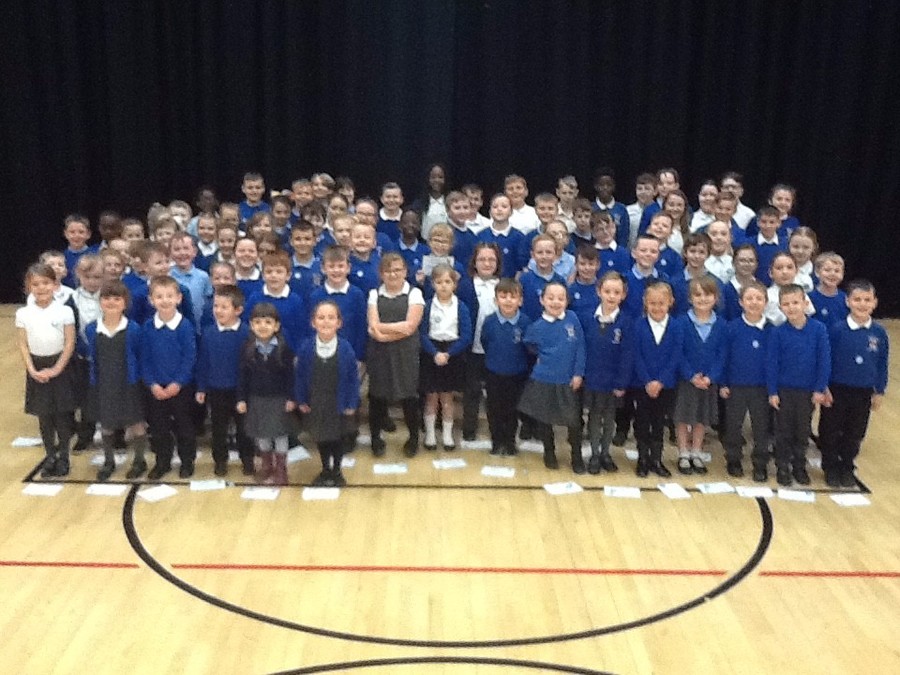 This young lady from F1 has written a super sentence!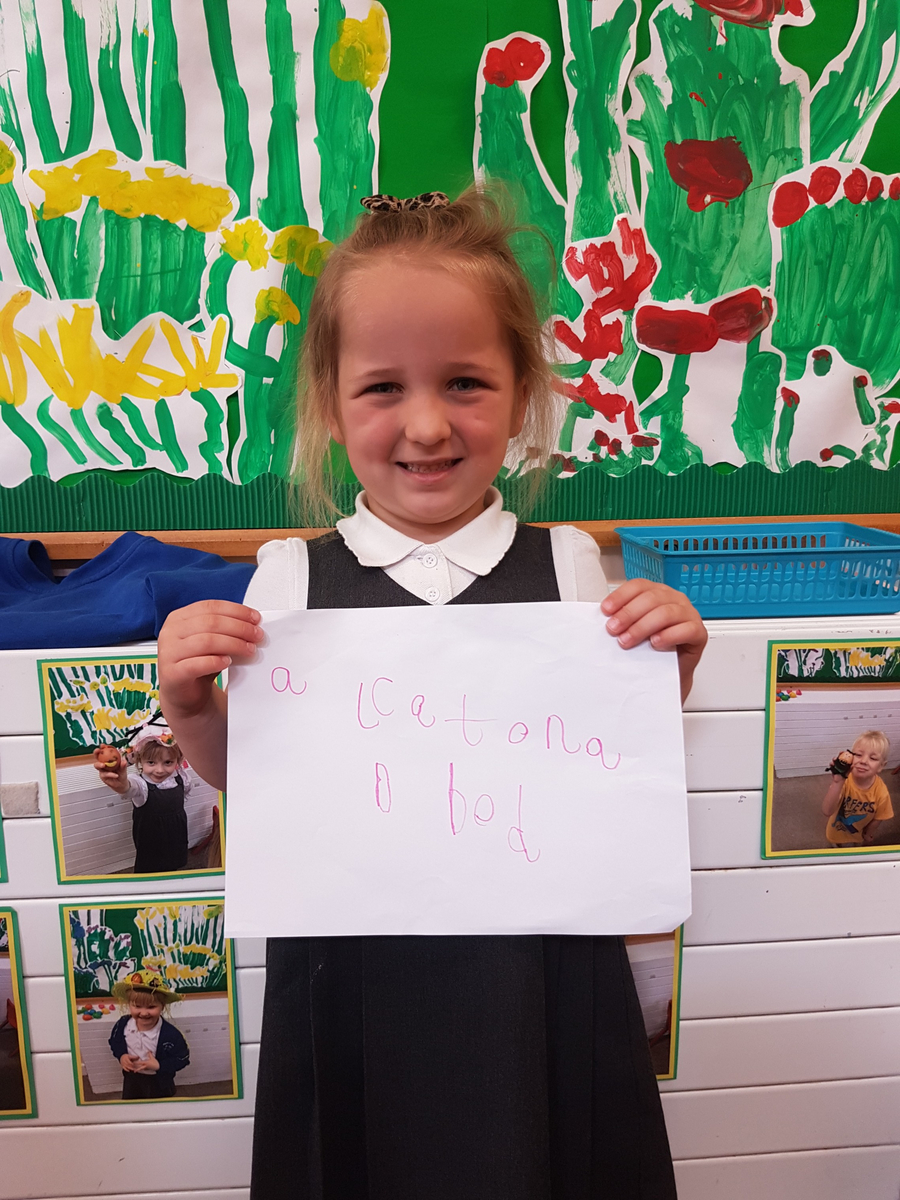 Classes 3 and 6 are the winners of Mr Gorner's class sports trophy this term.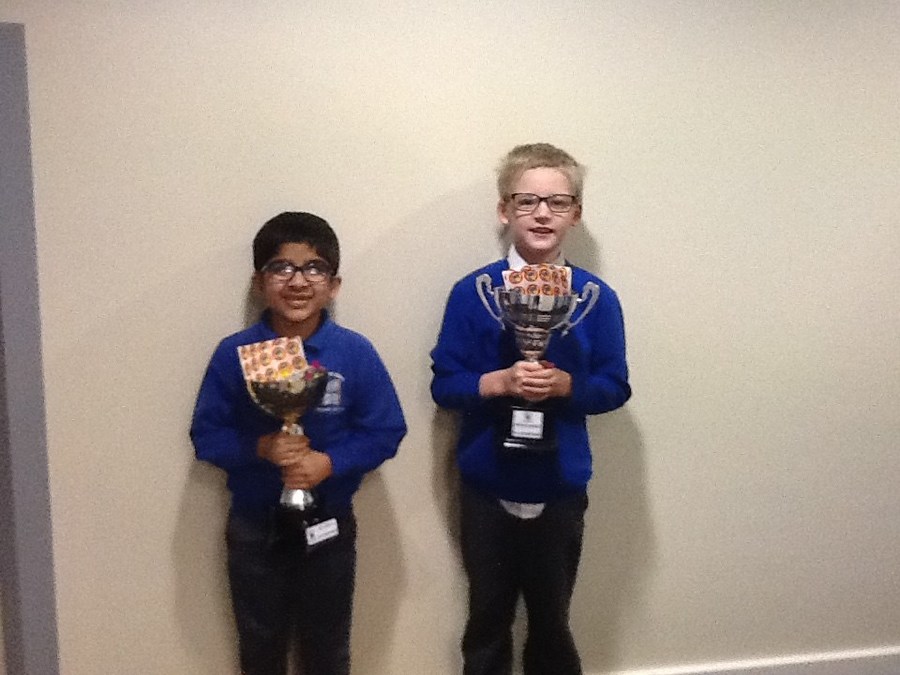 A brilliant attitude to learning from this young man this week - big well done, especially for this spellings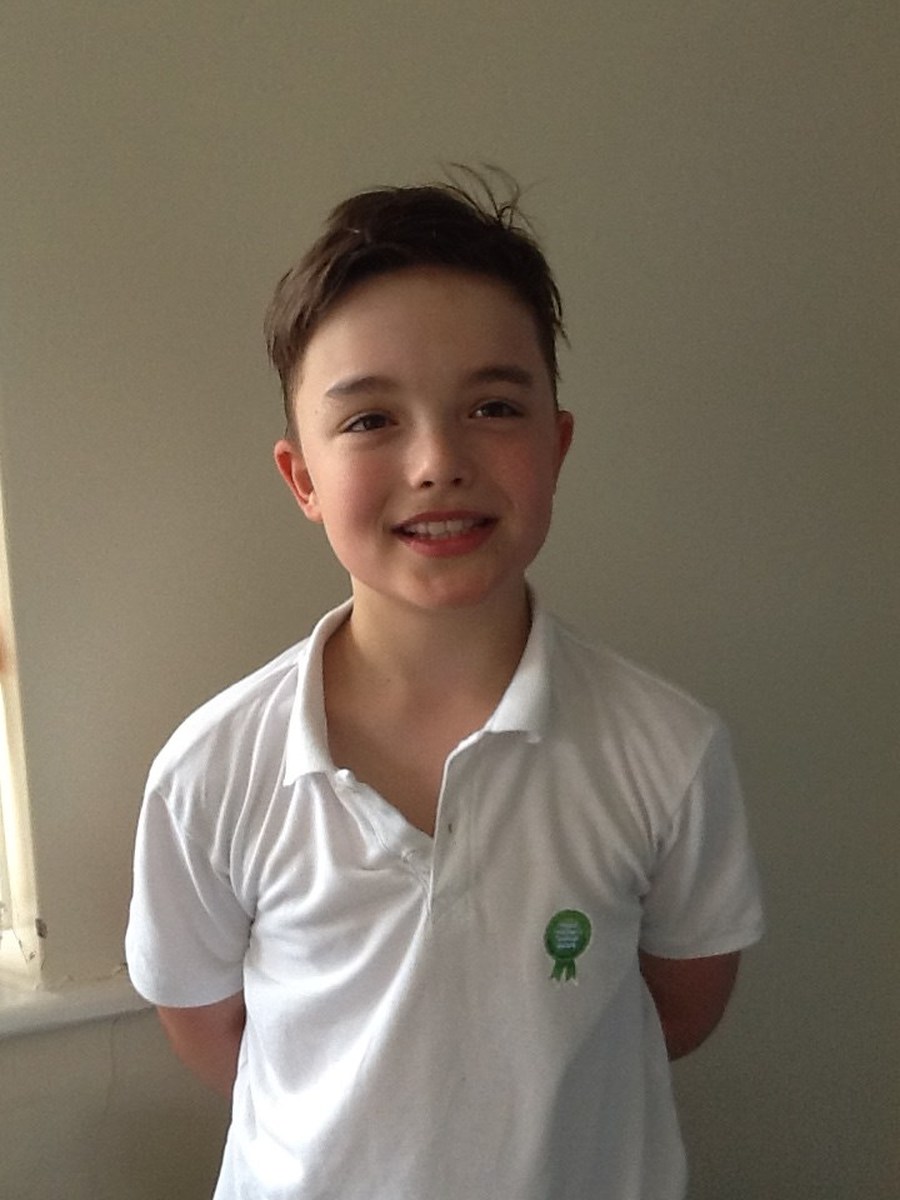 This young man has tried so hard to learn this spellings over the last few weeks. Well done - keep up the great work.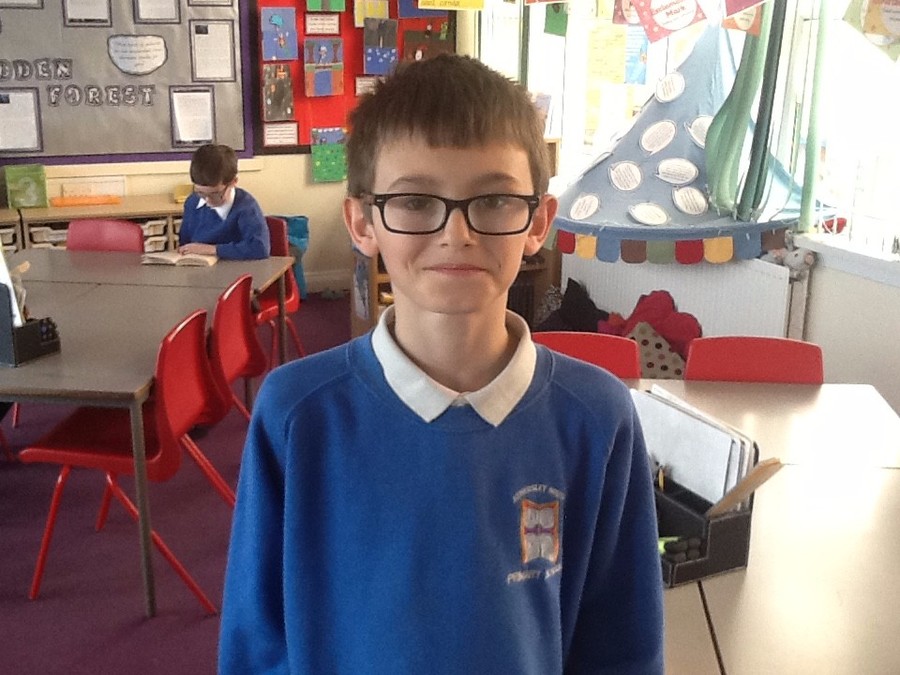 Attendance - Class 6 and Class 8 are our top attenders this week with 98.4%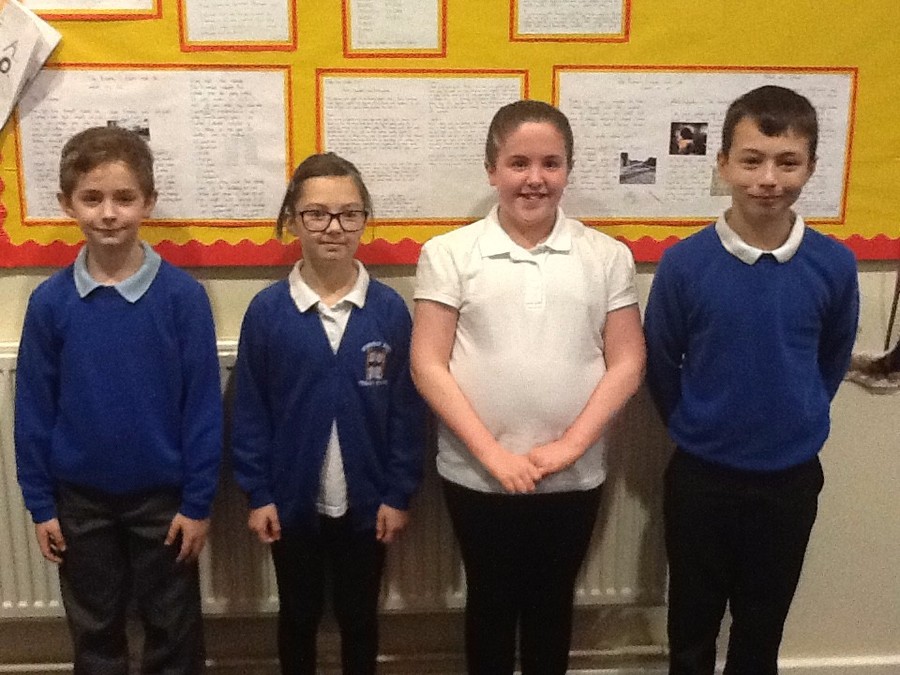 These fantastic FS2 children have been counting using number lines today. They were all very excited about developing this new skill.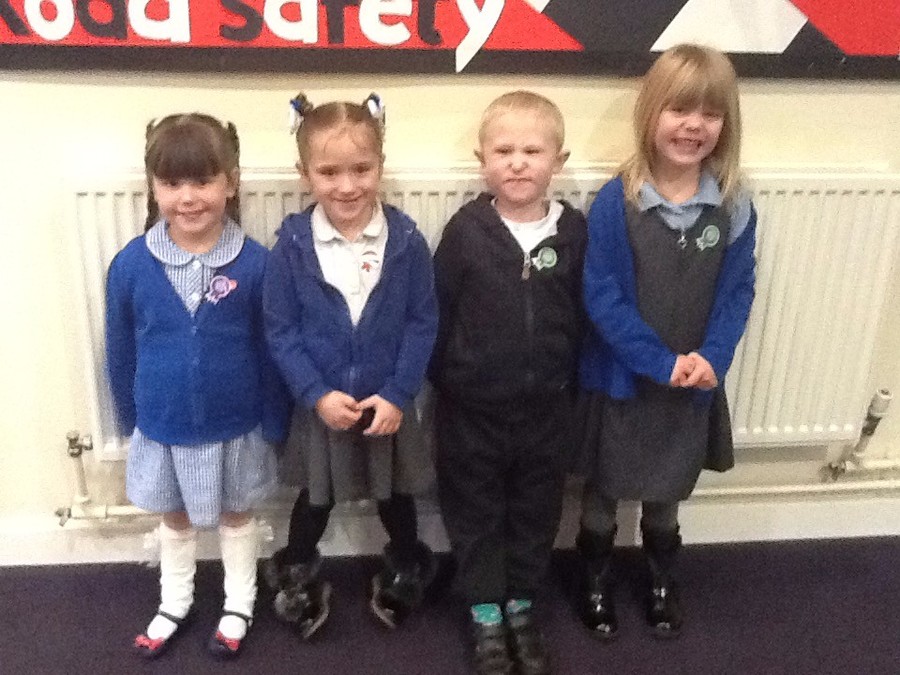 This young lady has really made an effort to learn her spellings - well done. We hope that this great attitude to learning will continue.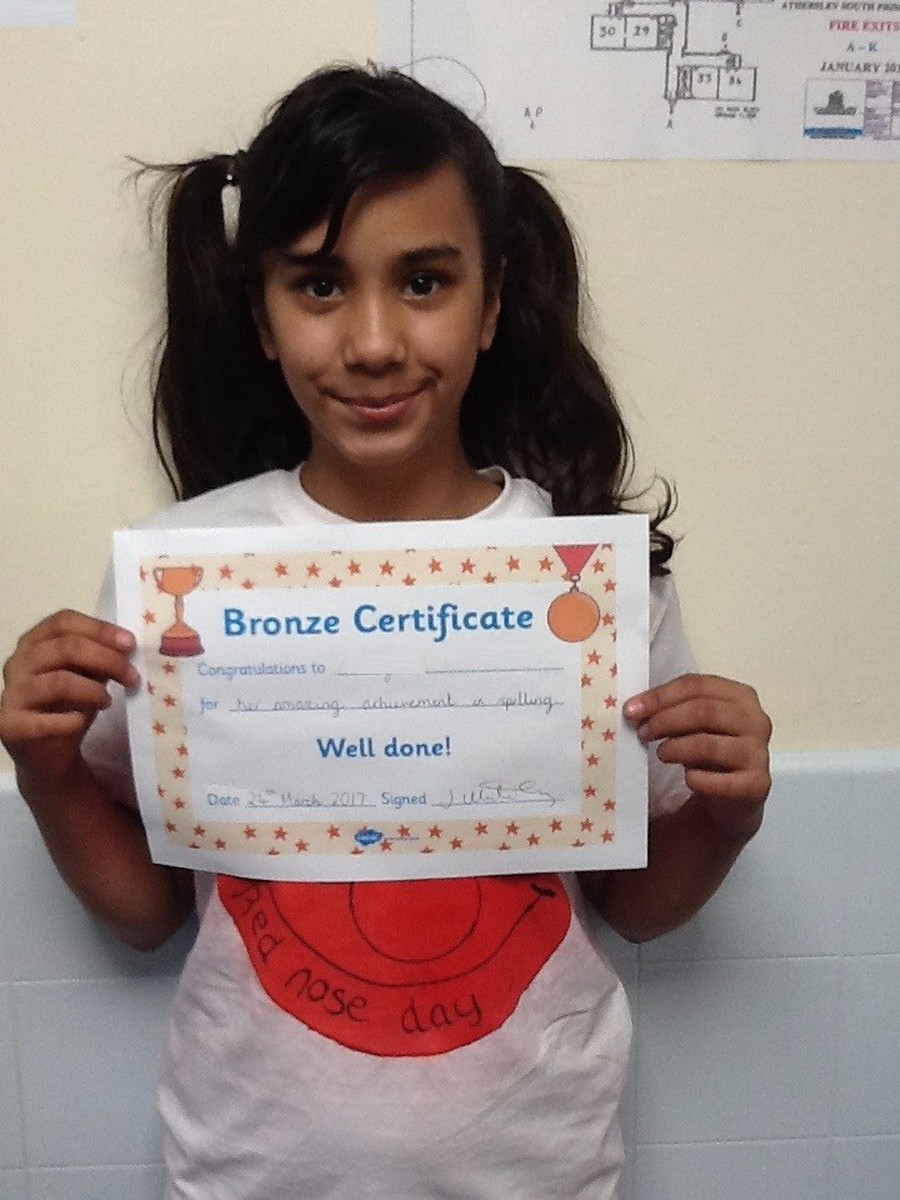 Mrs Midgley, who oversees attendance, was dancing around on Friday as THREE classes had 100% attendance. Well done to classes 4, 6, and 7.
This young man has worked so hard on his writing over the last few months. We are VERY proud of him.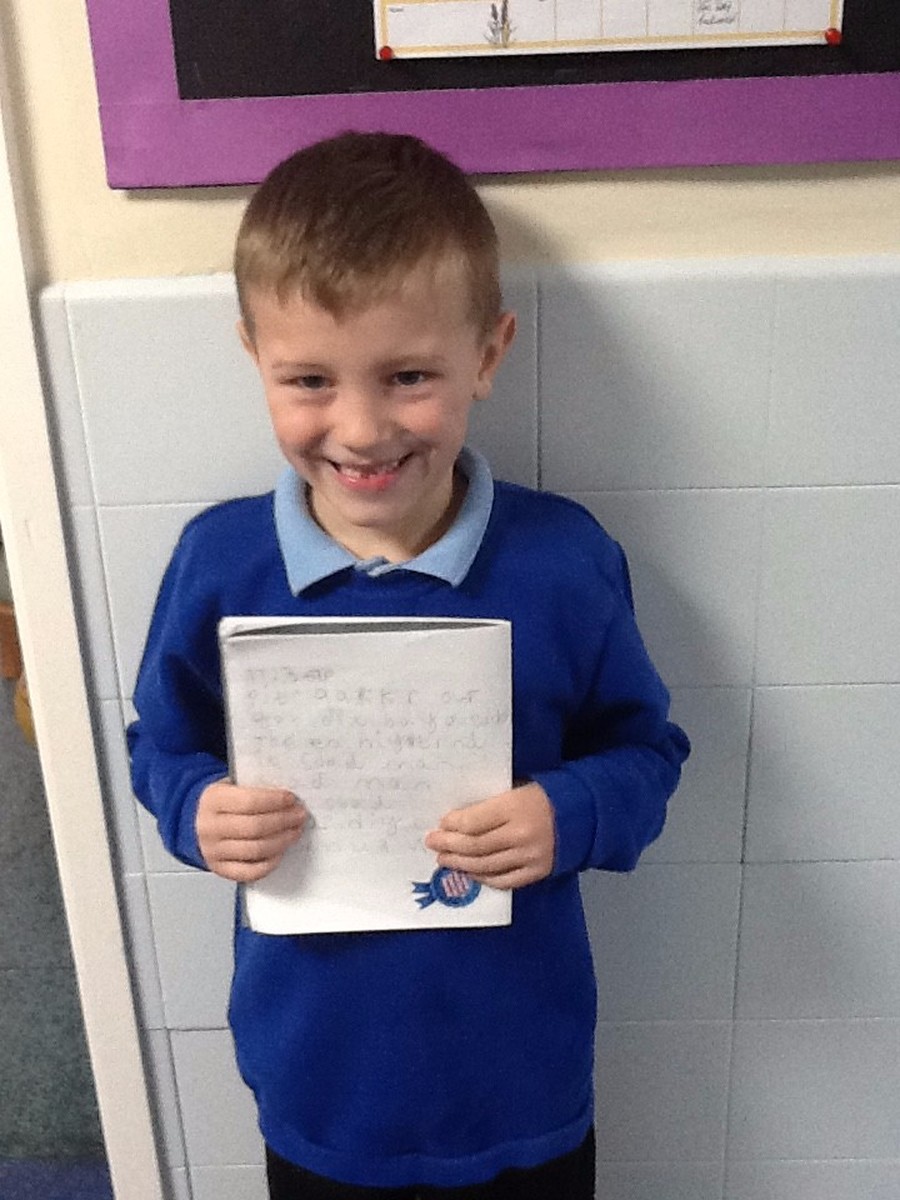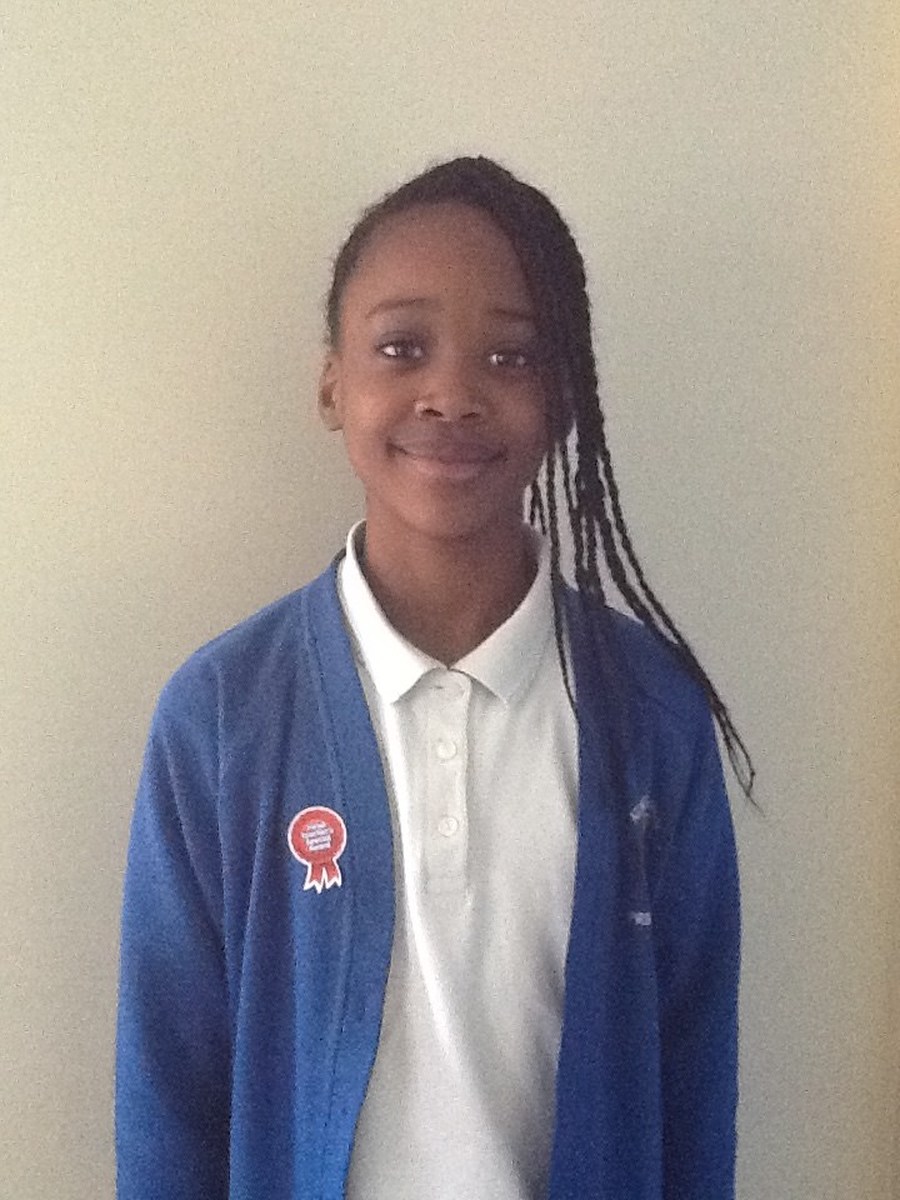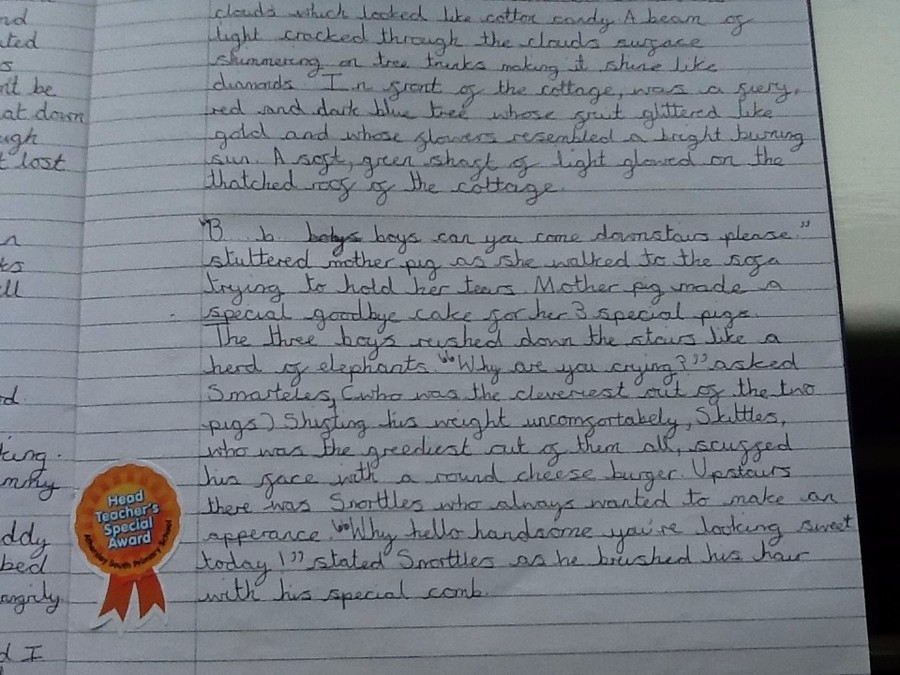 Congratulations to Class 8 and Class 4 for having 100% attendance this week. For Class 8 this is the second week in a row - wow!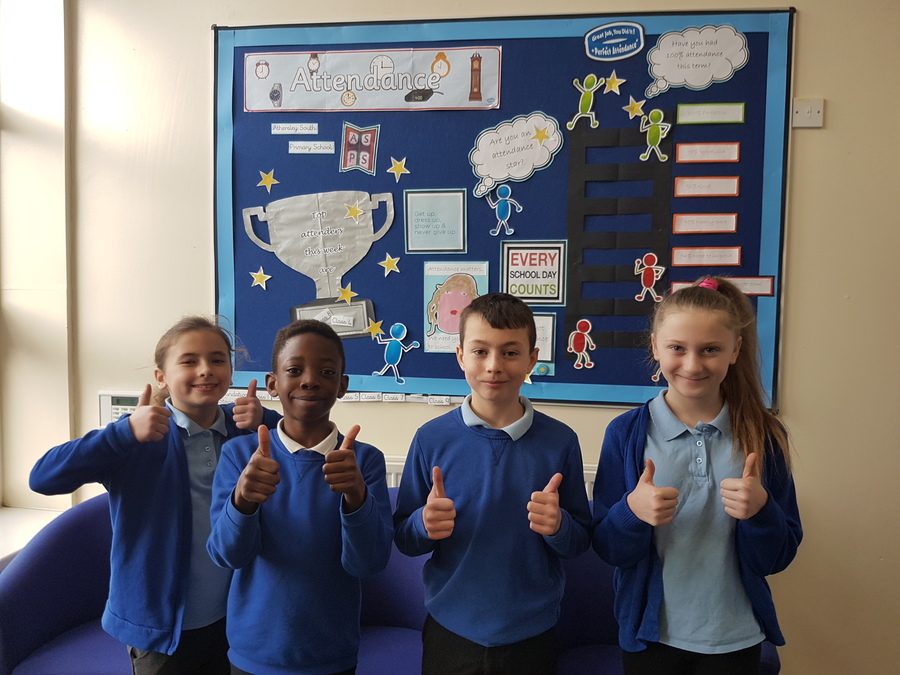 Top Attenders this week are Class 8 with 100% attendance.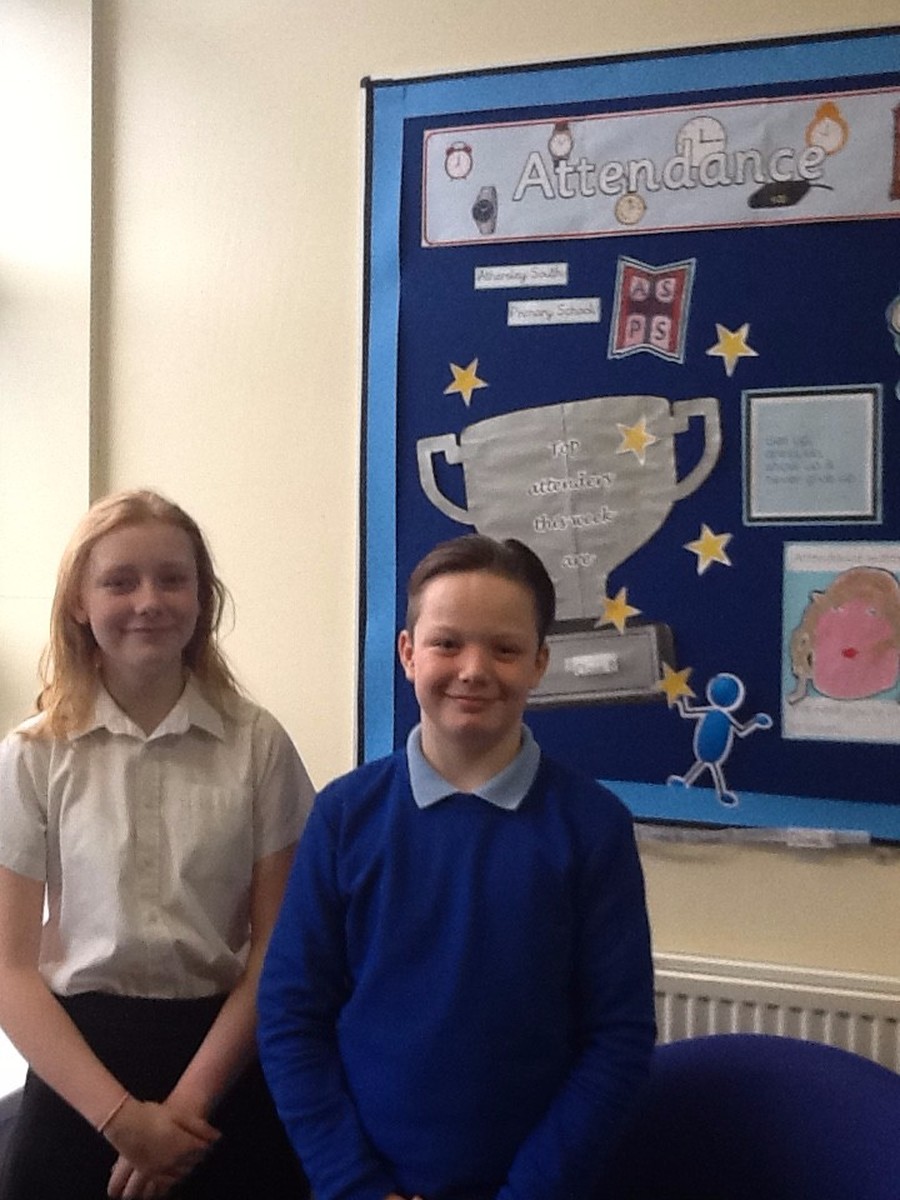 Great writing to an author on World Book Day. Well done!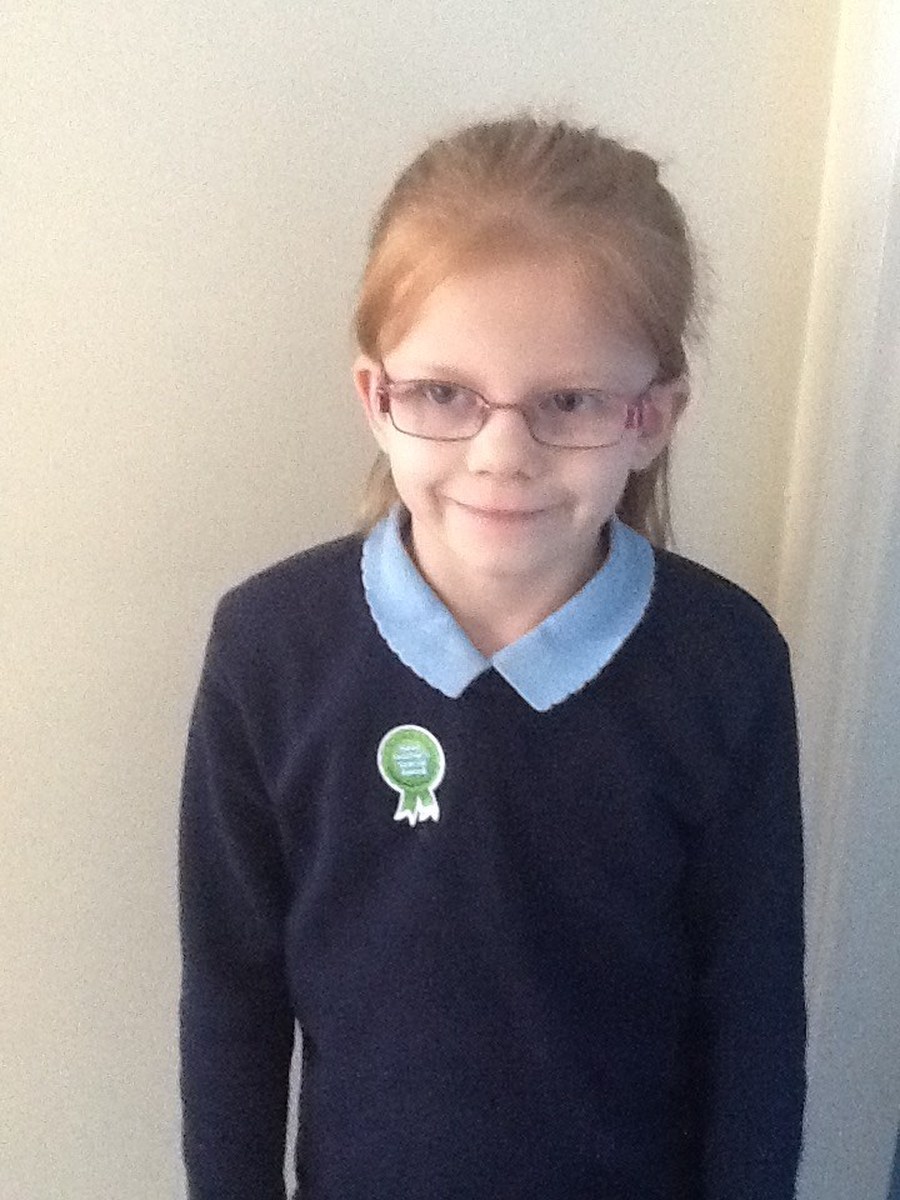 This young lady has written an amazing story about one of her favourite Roald Dahl characters. A fantastic story about Fantastic Mr Fox!
Please see the Home Page for the Ullswater Residential photographs.
Bikeability
During the week beginning 6th February some of our Y5 children developed their ability to ride a bike safey on the road in some very difficult weather conditions. The following email was sent from the coaches who worked with our Bikeability children.
Hi Mrs Whiteley

I just want to say what a fantastic set of children we've had this week during Bikeability. They have been so well behaved and made some amazing progress out on the roads (in very difficult conditions, e.g. weather, and very busy roads) Their behaviour all week has been perfection! I feel as though I needed to send you this email to show just how impressed we were with the children overall! They have made it a real pleasure to teach this week!

Thank you for having us, we will see you next year!
At lunchtime the children can play their own games on the playground, they can use the scrap shed equipment to build structures, they can join in the games organised by the dinner supervisors and our Young Playground Leaders or they can go into the quiet area. This lunchtime these two reception child decided that they would go to the quiet area. They were very proud of the Lego model that they had made together. Well done girls for being such a great team.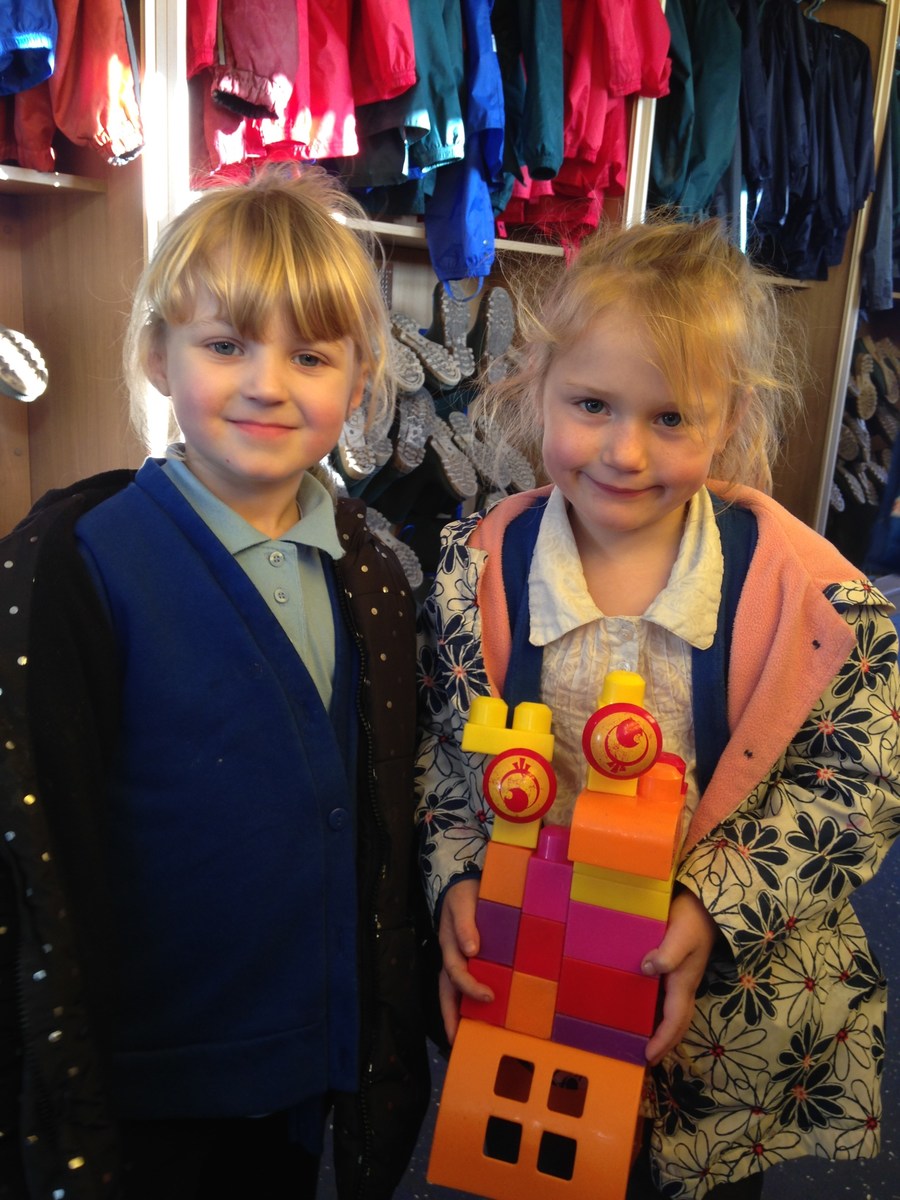 Great writing this week in Y5. These two children in particular have thought really carefully about their sentence structure. It was a pleasure to read.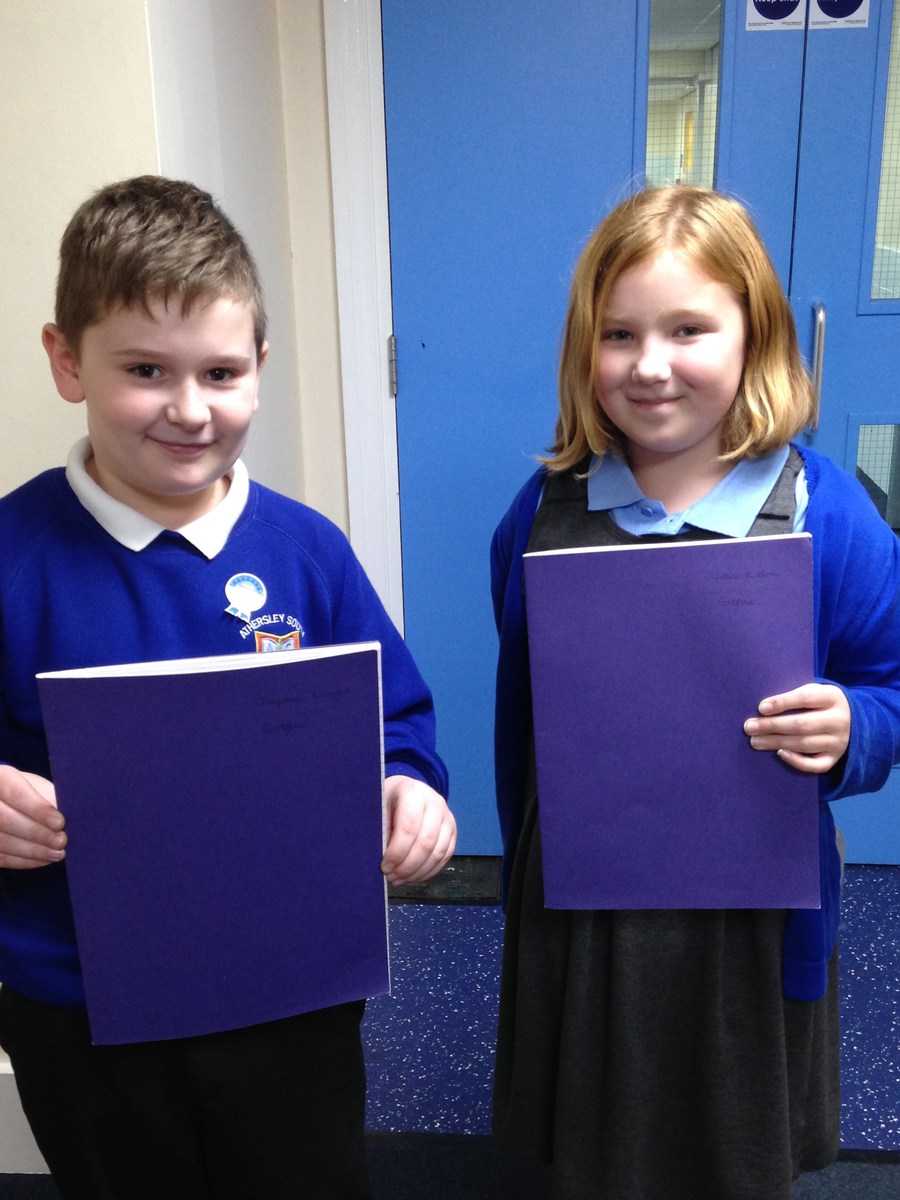 'This young lady was so keen to impress she completed some extra maths work at home. Fantastic!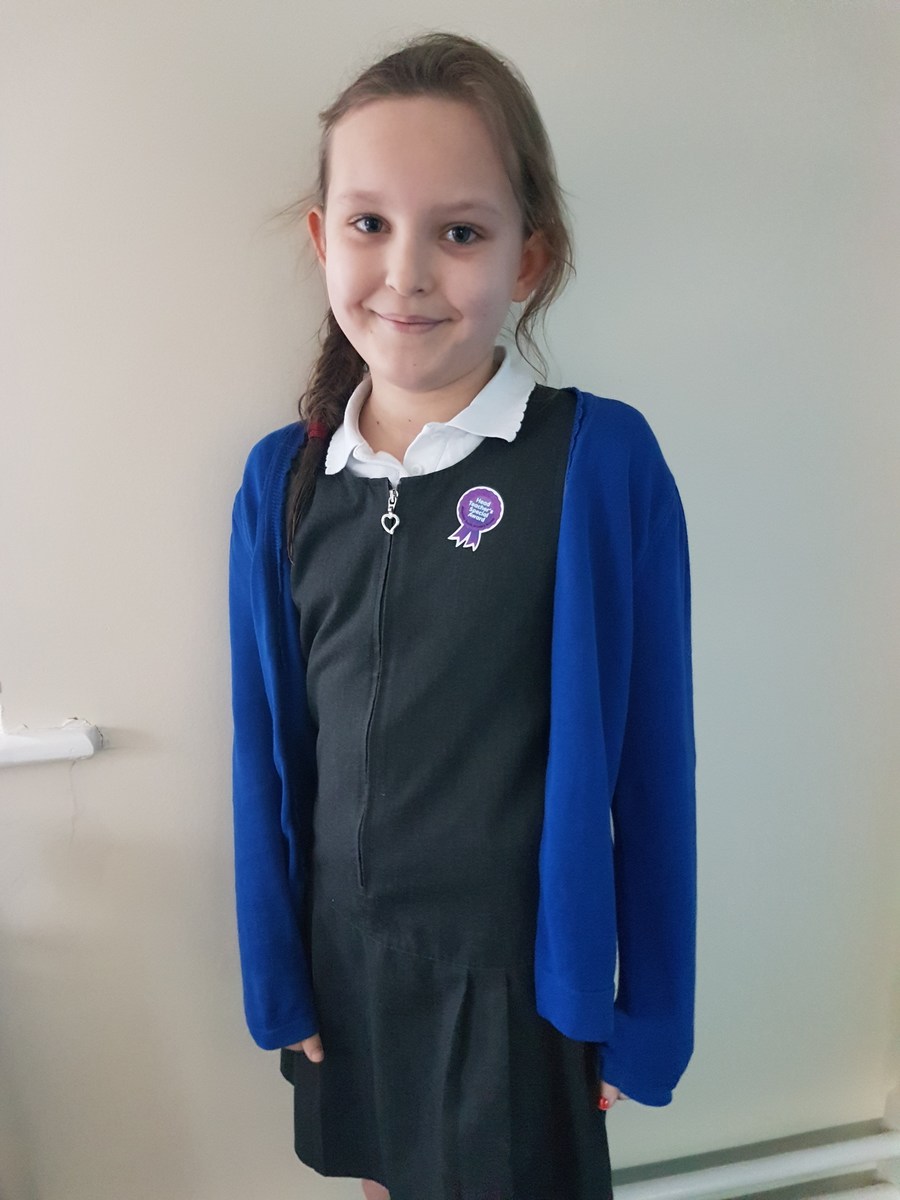 Meet our Y2 Mathemagician who has achieved full marks on a
mental maths test. Wow!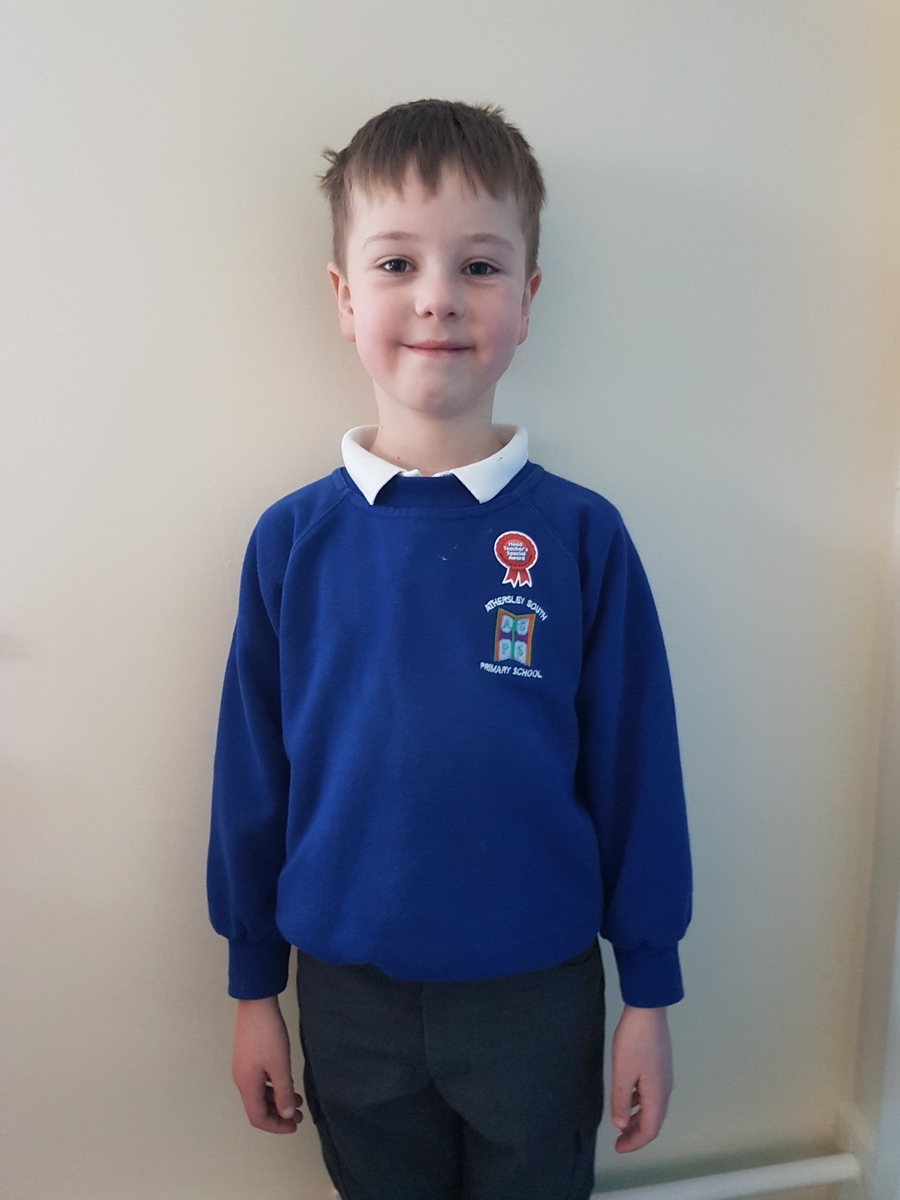 These Y1 writers have worked independently to write some super sentences.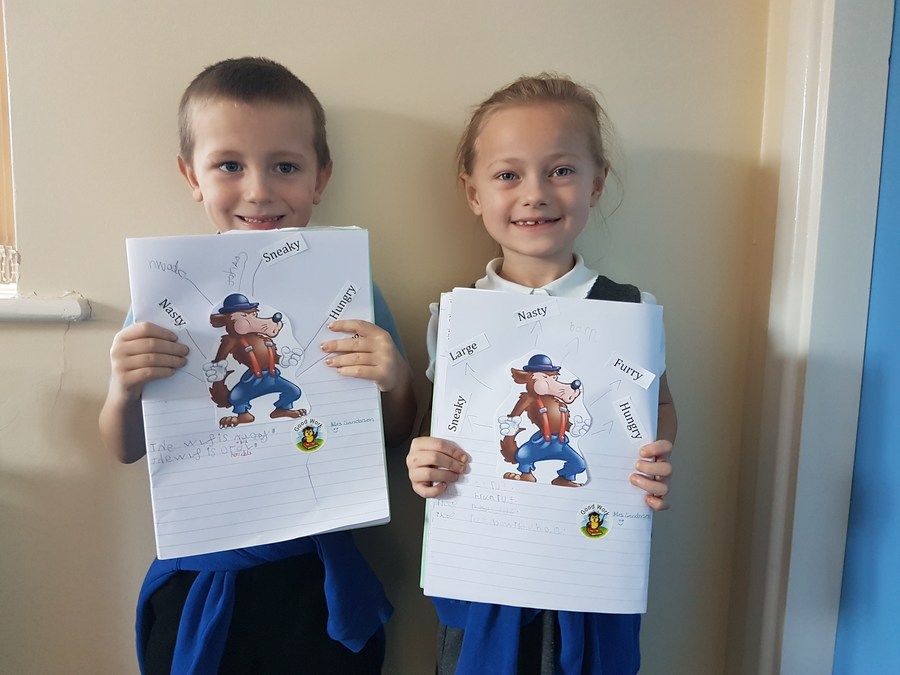 This young lady impressed Miss Smith with her mathematical knowledge today. - Well done!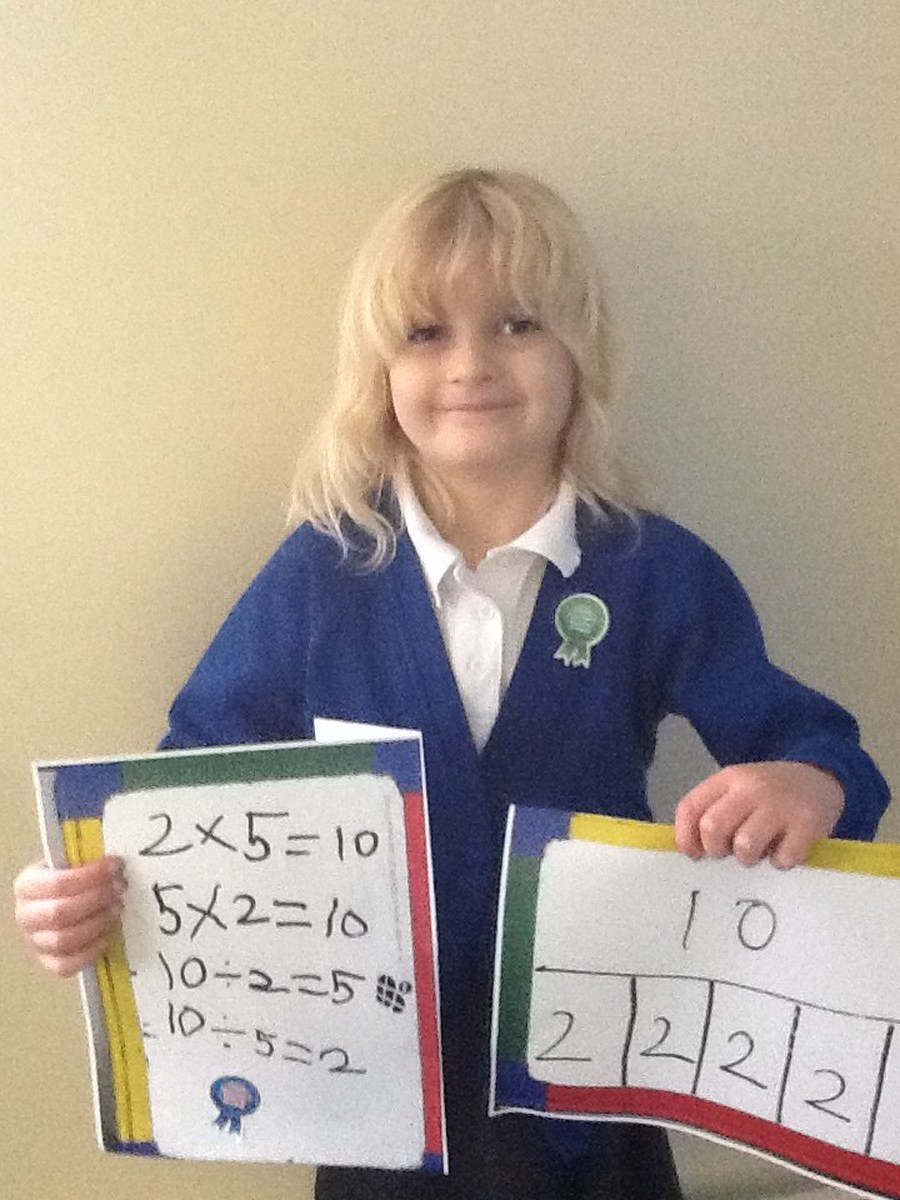 We are very proud of all the children and staff who attended the Young Voices concert at Sheffield Arena on Friday 13th January. In total 5011 children sang in the choir. Our children sang beautifully, danced with energy and their behaviour was outstanding. A truly wonderful event.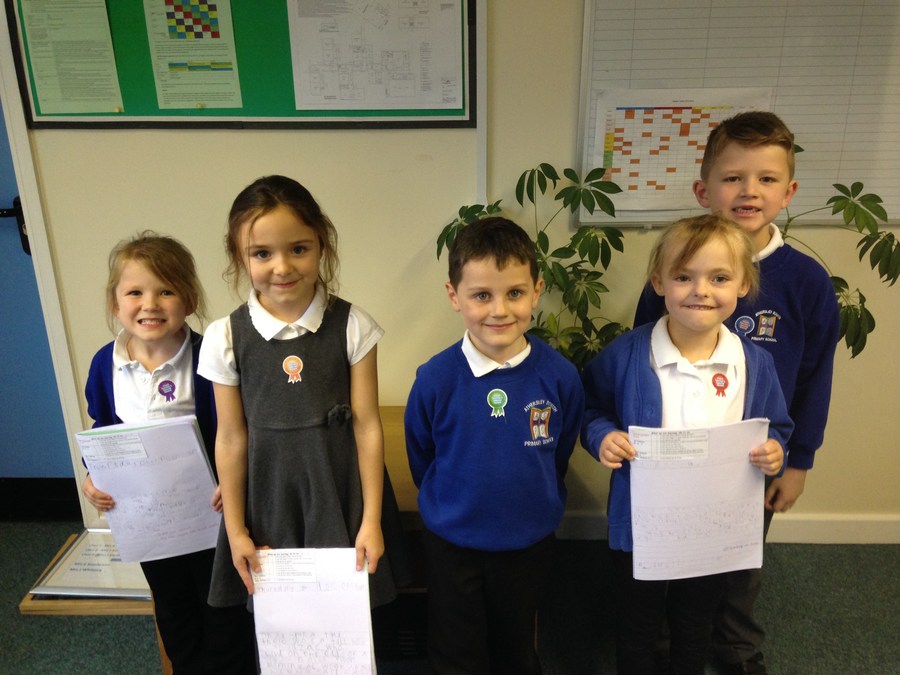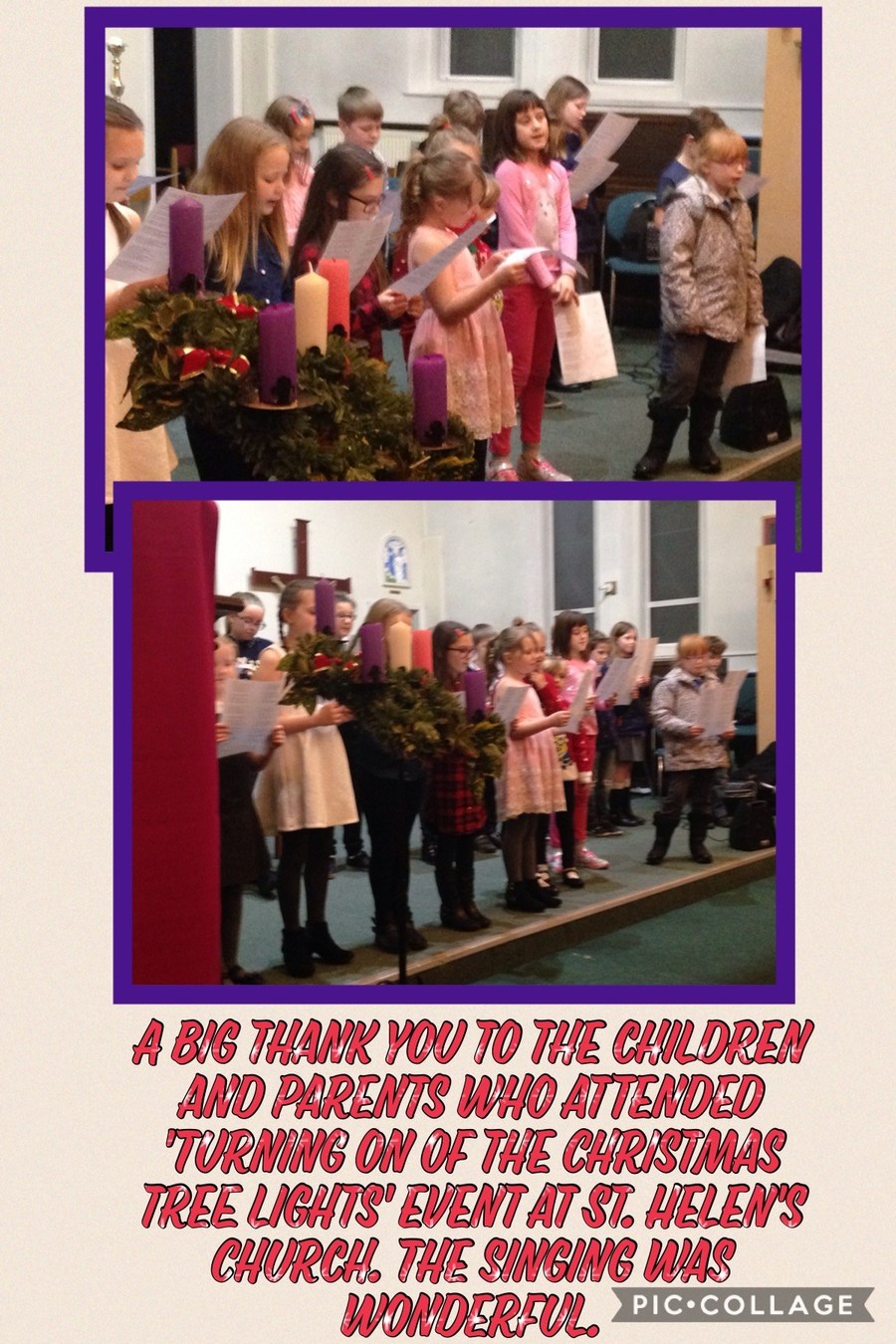 KS2 carol concert at the church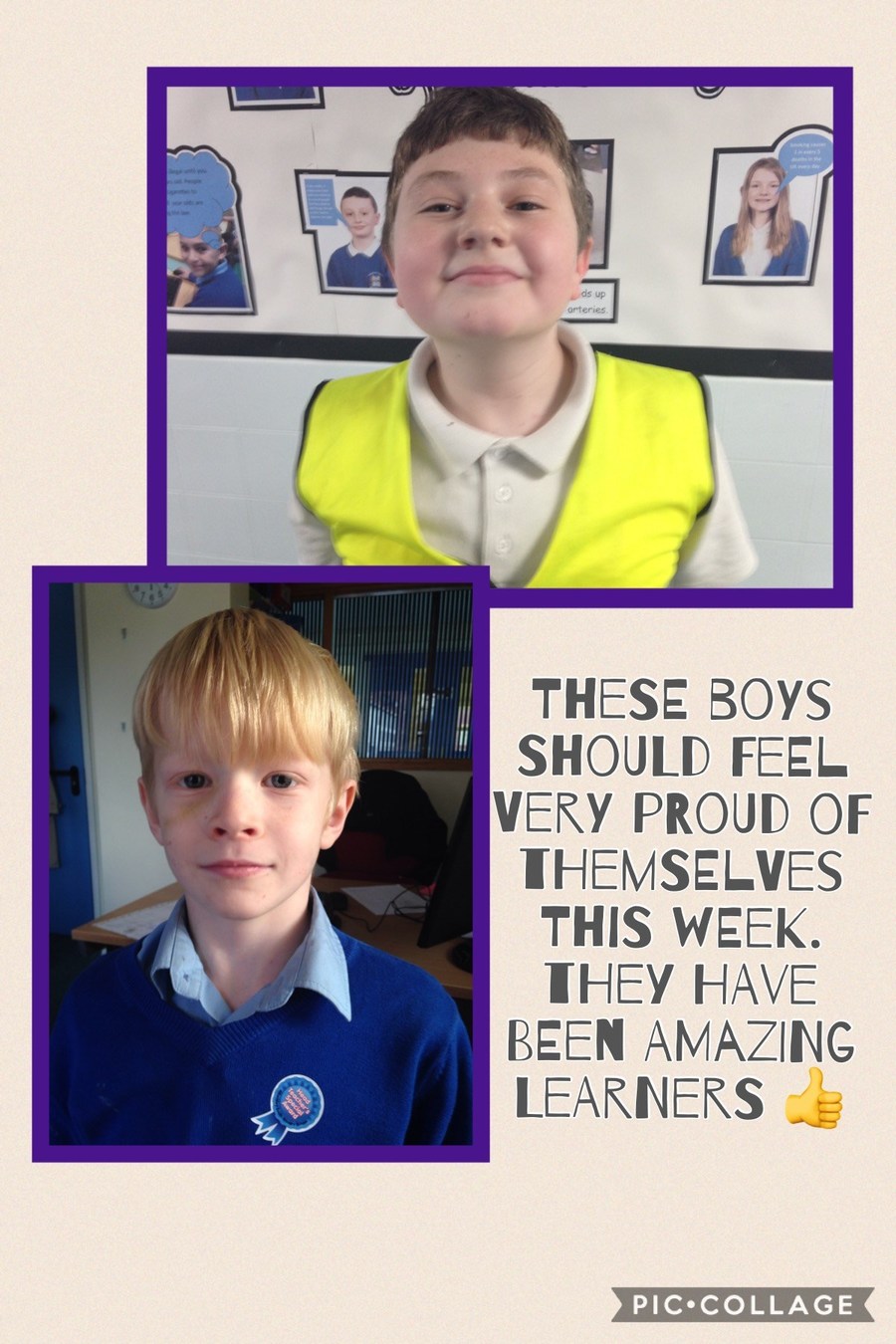 At Athersley South Primary we have some very kind children. This young man's kindness impressed one of our dinner ladies a couple of weeks ago and this young lady impressed Mrs Belfield when she helped a child in distress on the playground. Well done!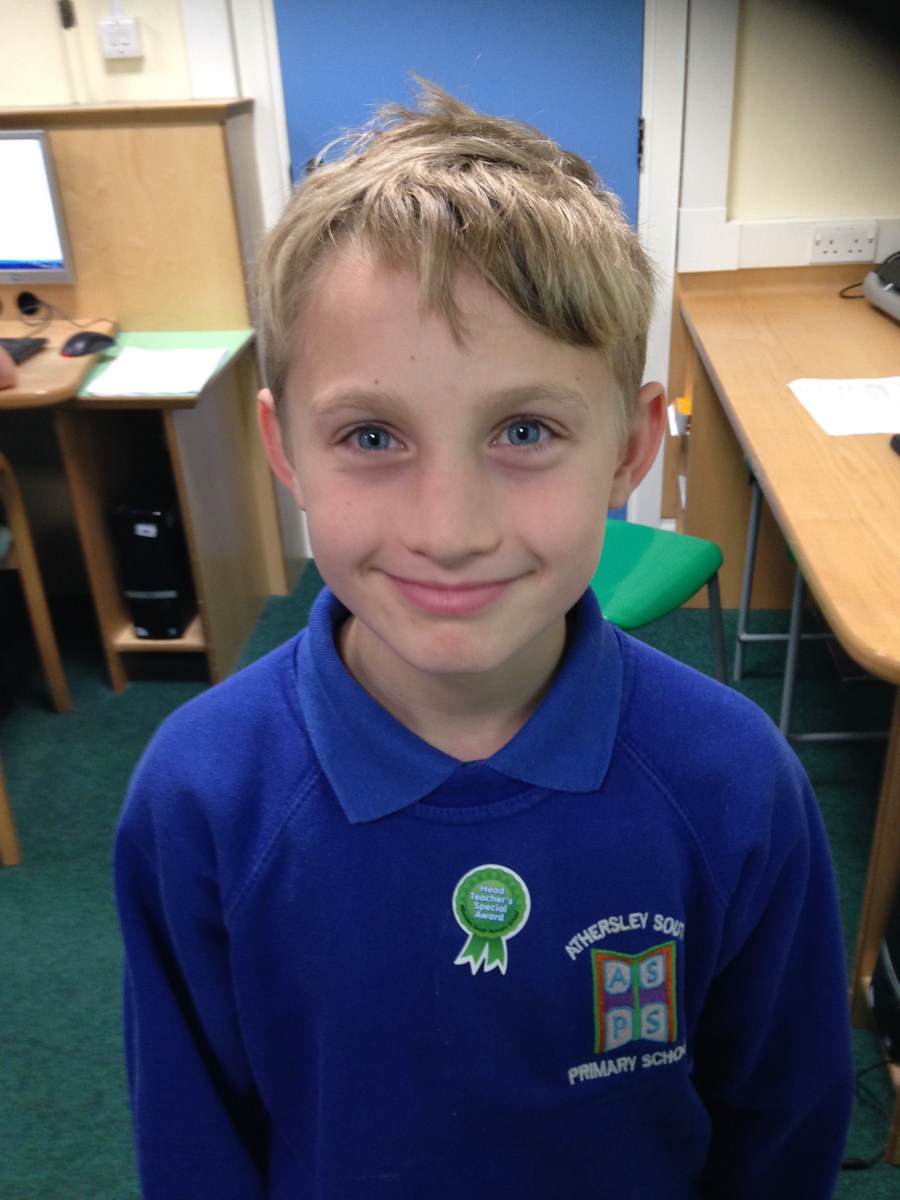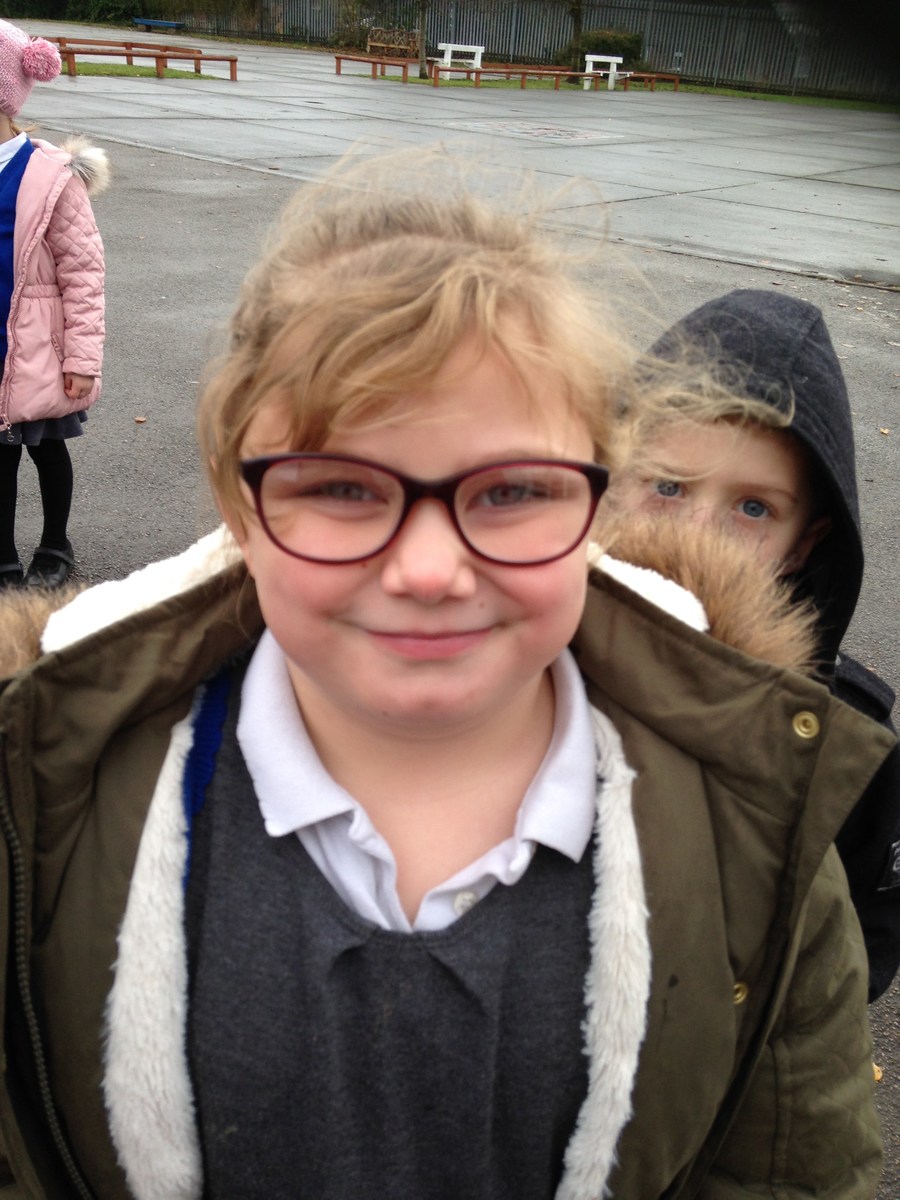 Congratulations and well done to these 'out of school' sporting superstars, Look at these football and karate awards - amazing!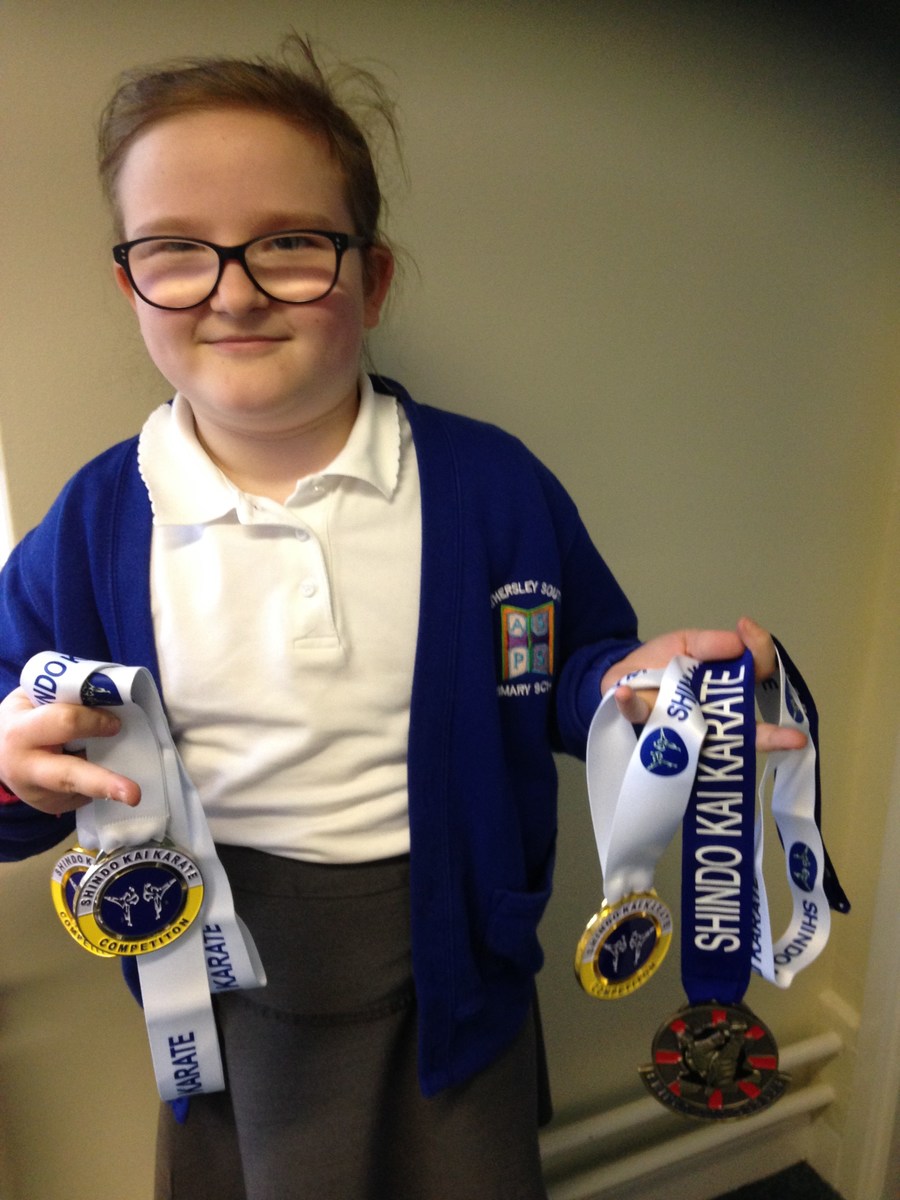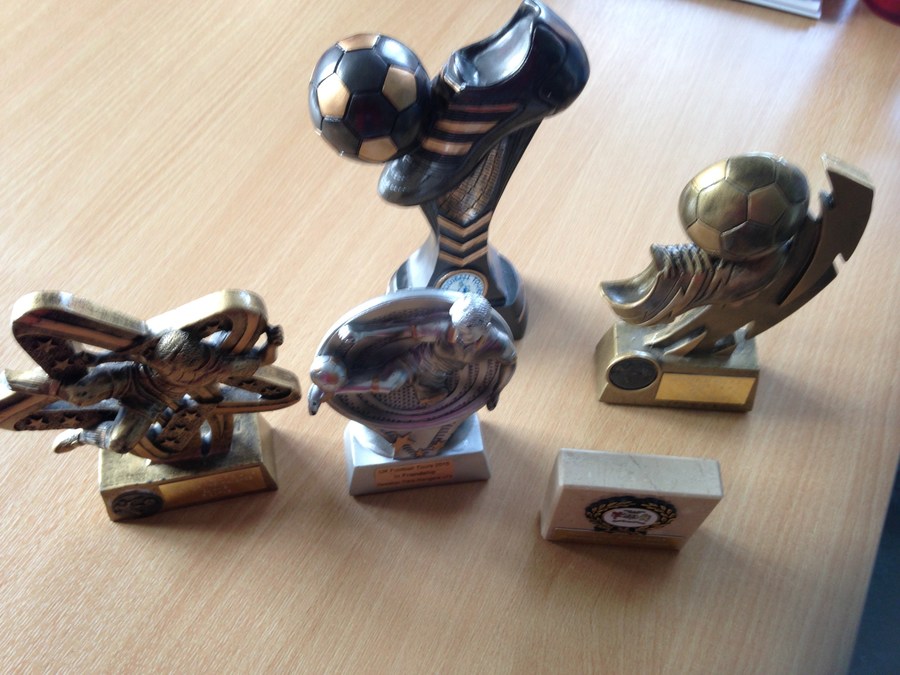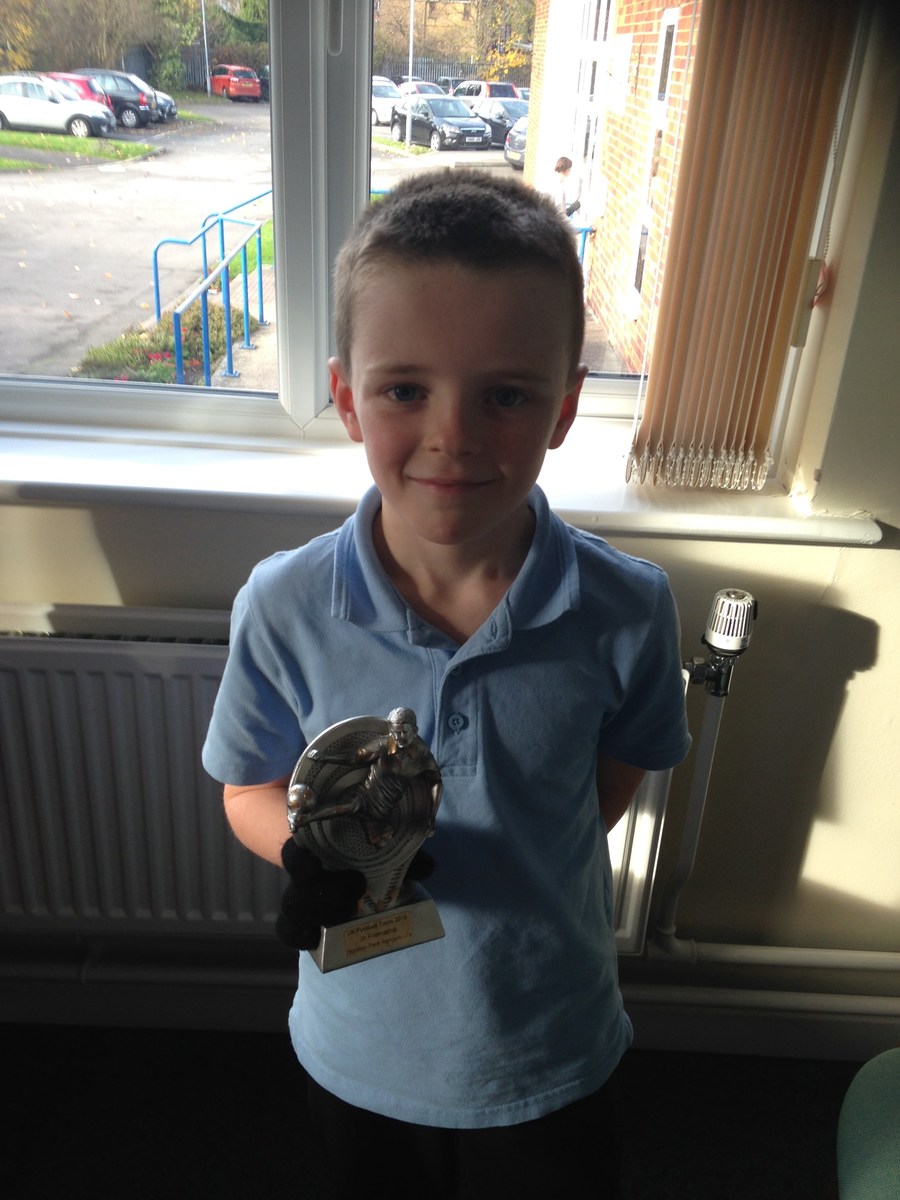 It is great to see children and their parents joining in our Cook and Eat sessions this term. It always smells delicious in the art room!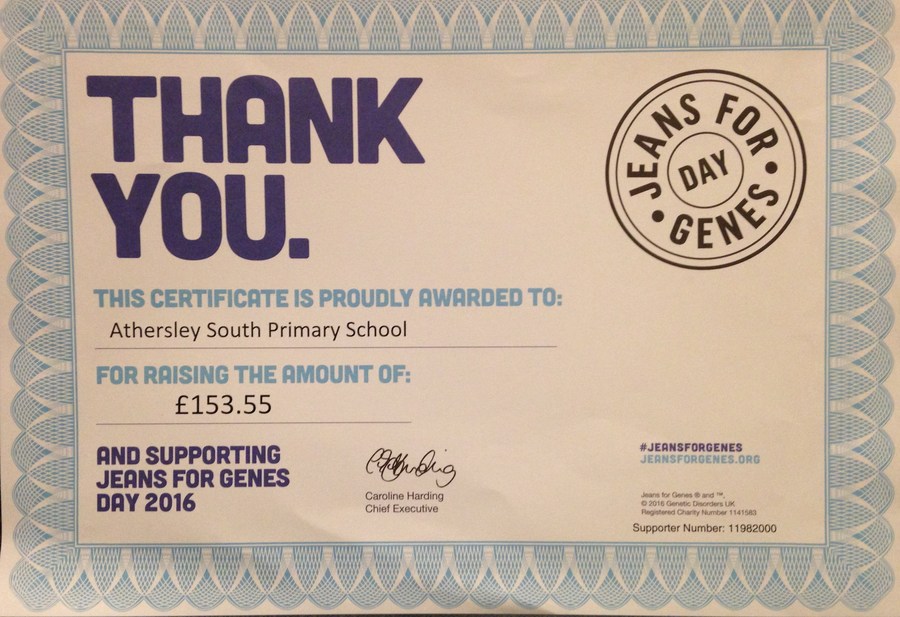 On Sunday 16th October Miss Milner completed the Major Series Challenge. During the10km assault course, in the rain, she crossed muddy bogs, a cargo net, haystack jumps and went under barbed wire. She completed it in all in 1 hour and 27 mins. She was 14th women out of 588 and 86th out of the1187 competitors. Miss Milner you are an assault course superstar. Well done.
The last week of the October half term was very busy in Mrs Whiteley and Mrs Sanderson's office. Lots of great learners came to share their amazing learning. It was wonderful to see :)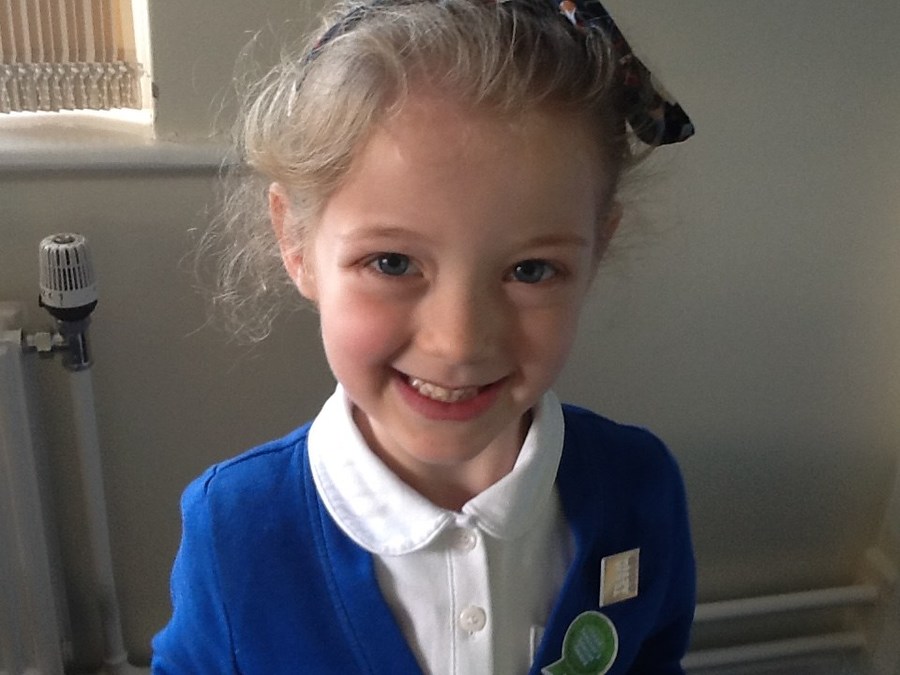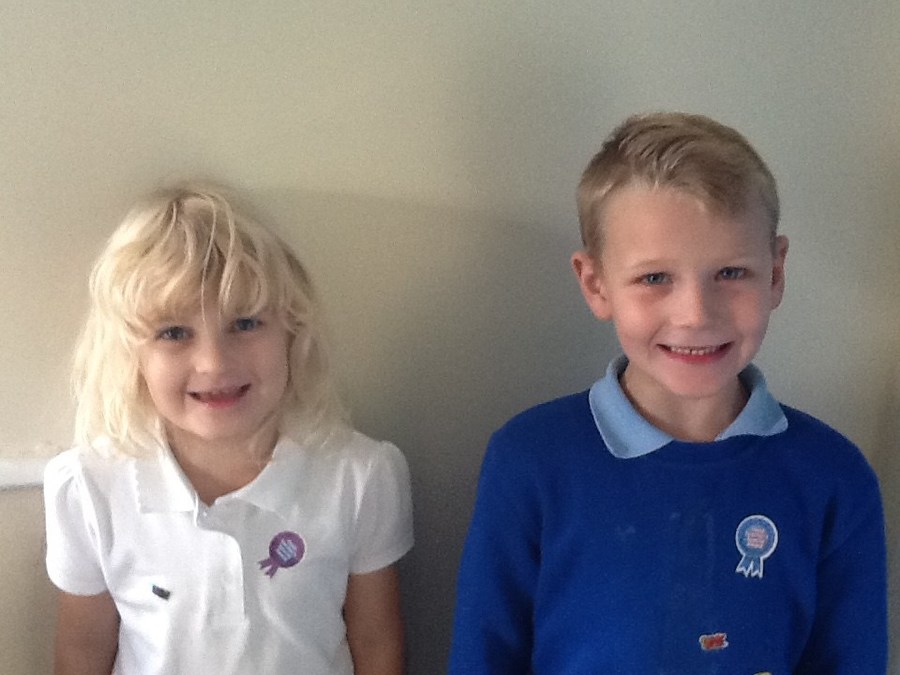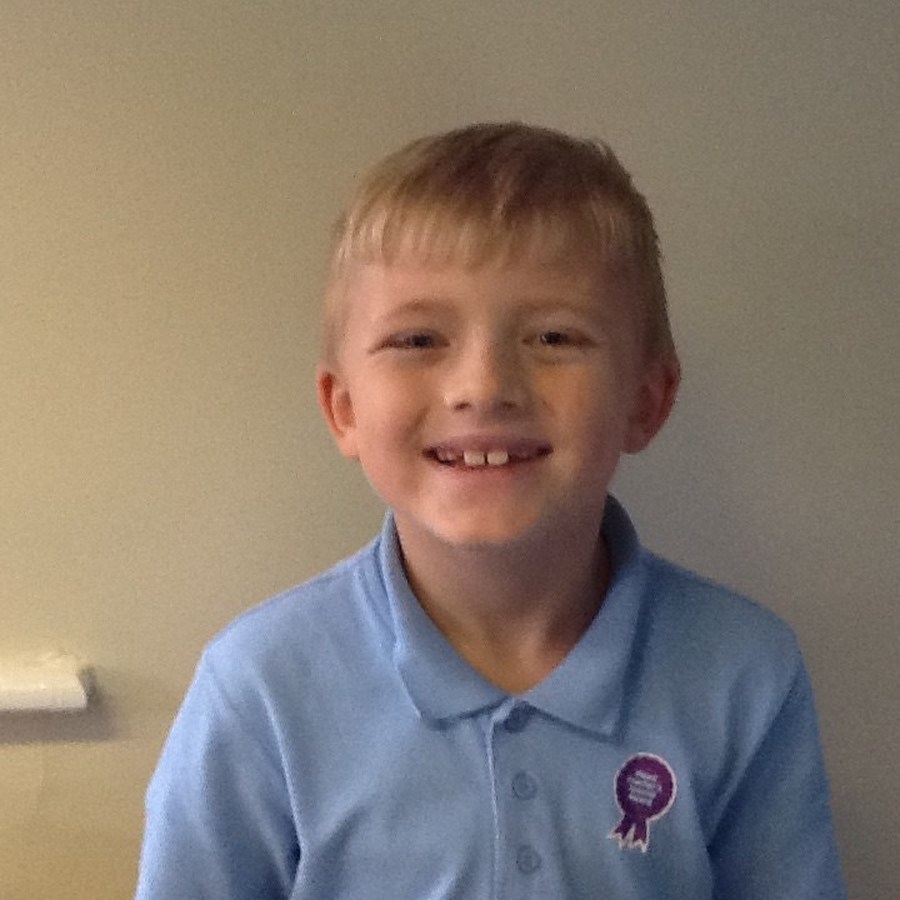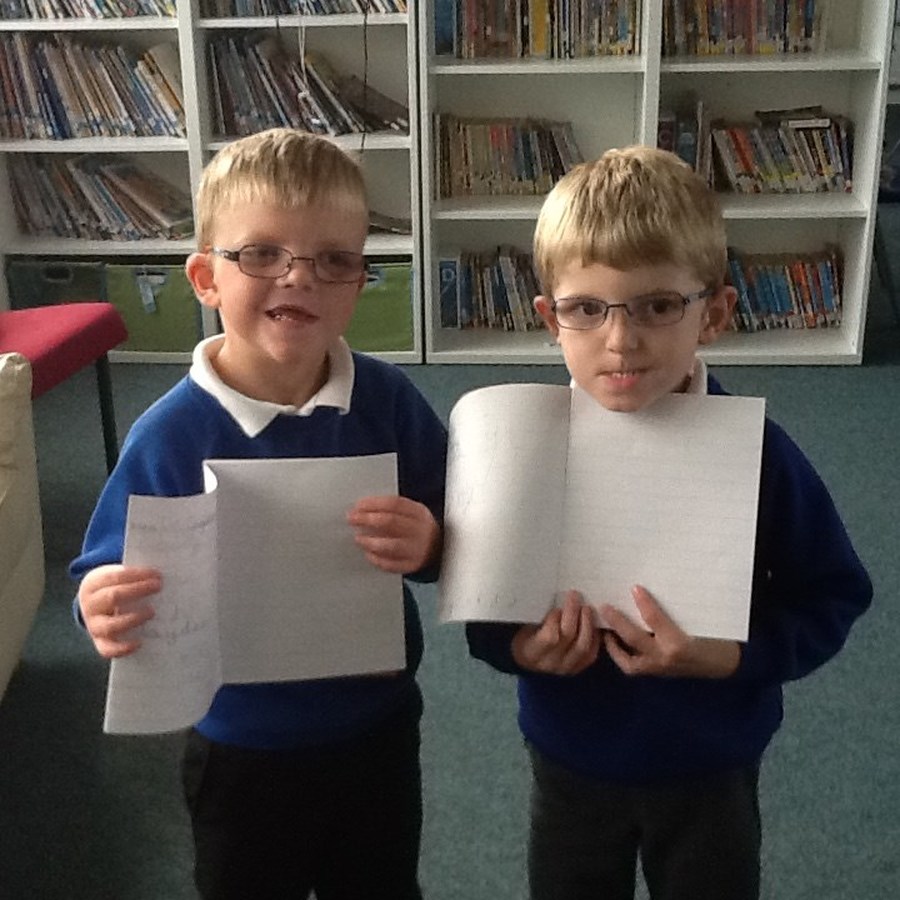 Meet the Cross Country Runners who braved some horrendous weather to complete at Rabbit Ings Country Park. A HUGE well done to everyone.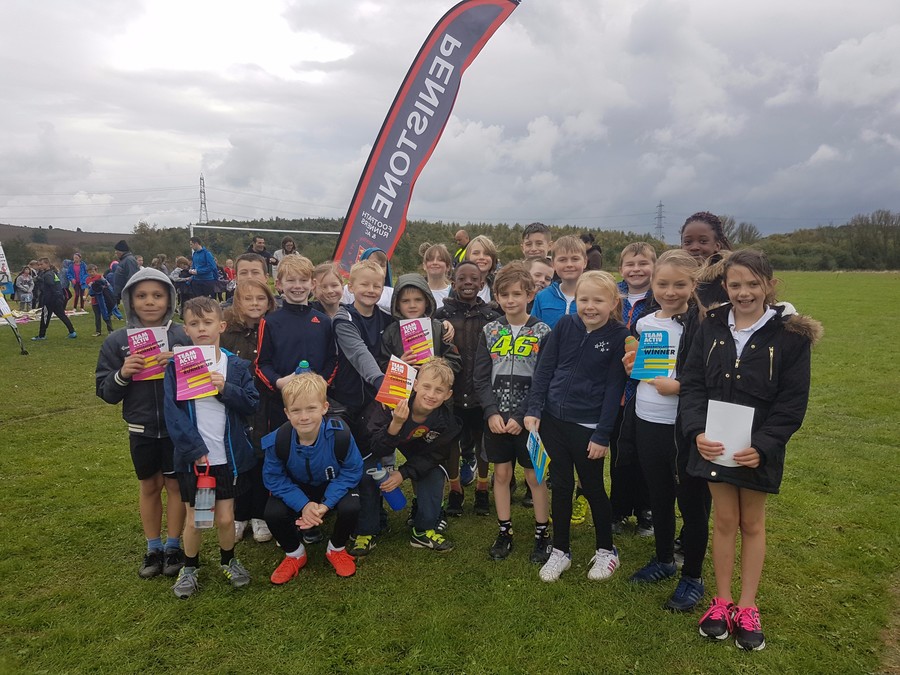 Great writing in FS2 - well done.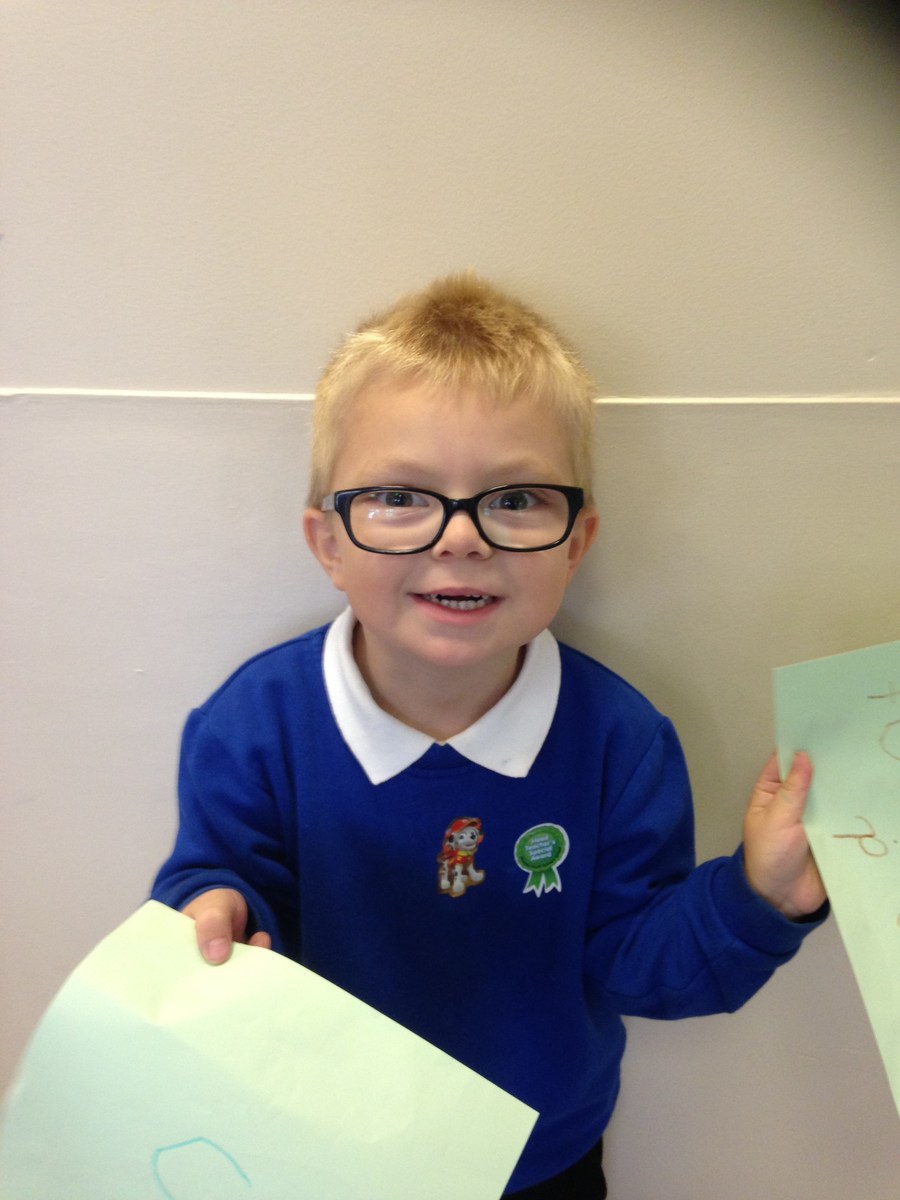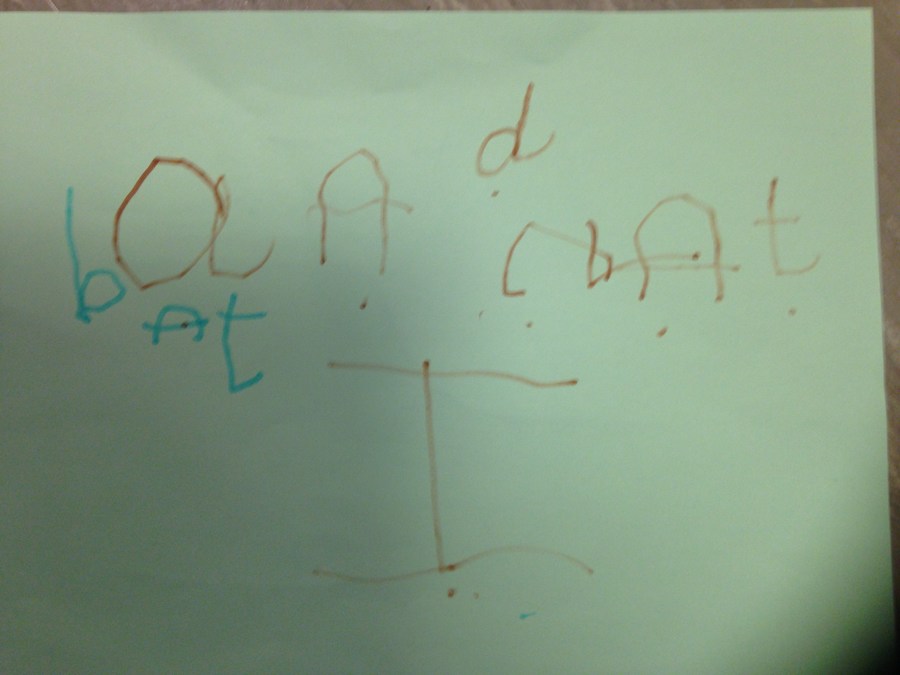 These children have been doing lots of extra learning at home - very impressive. Keep up the excellent attitude!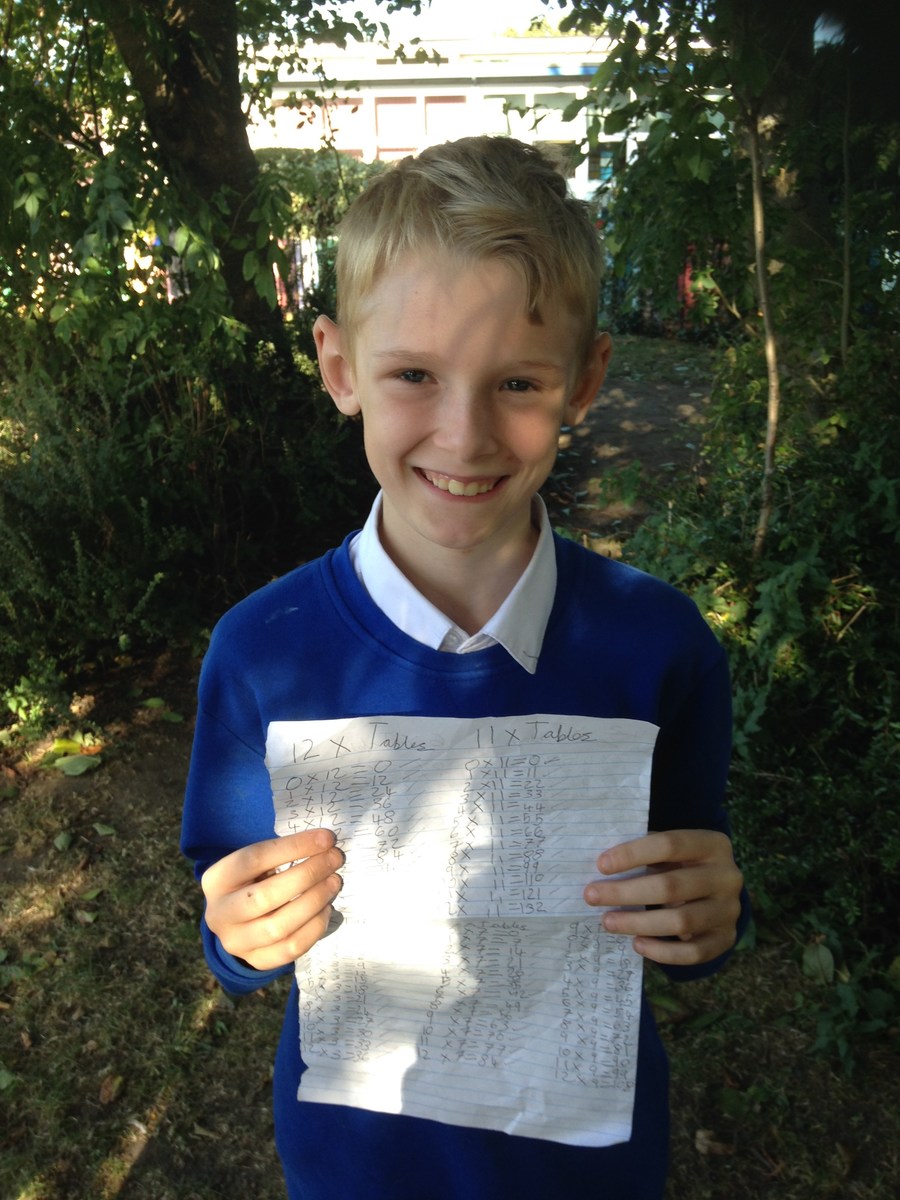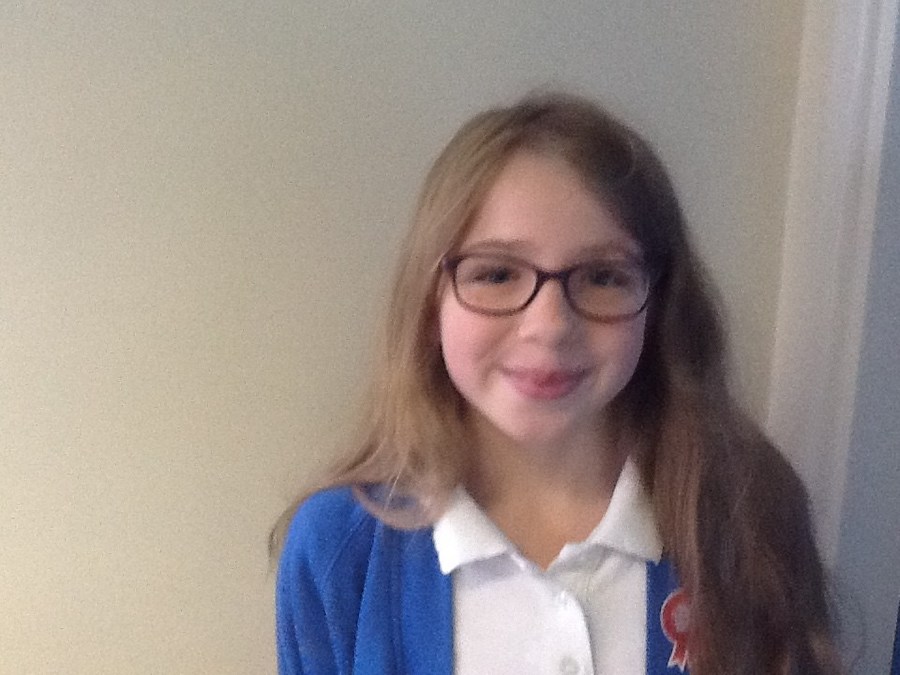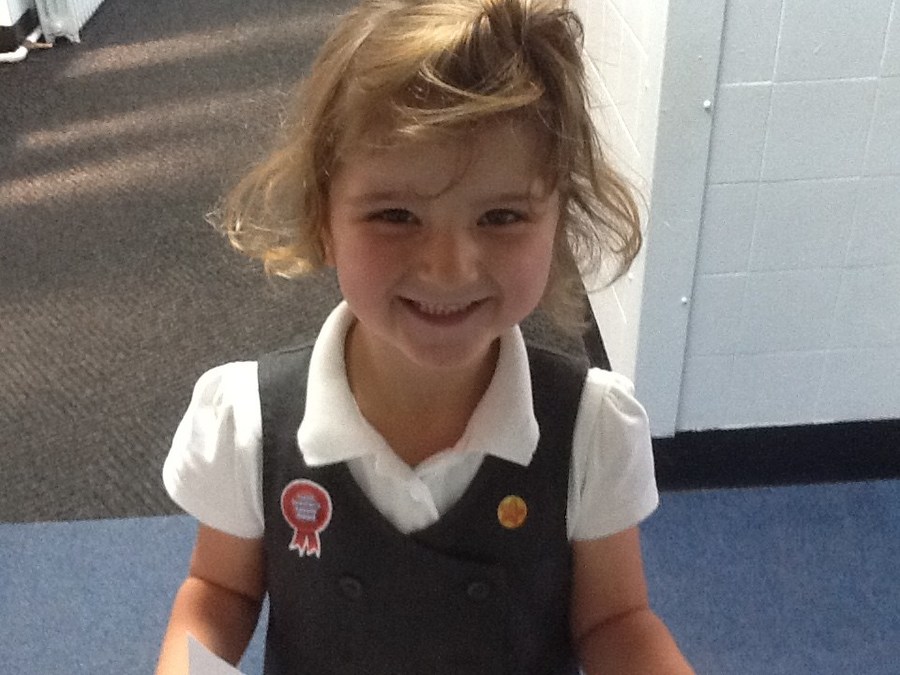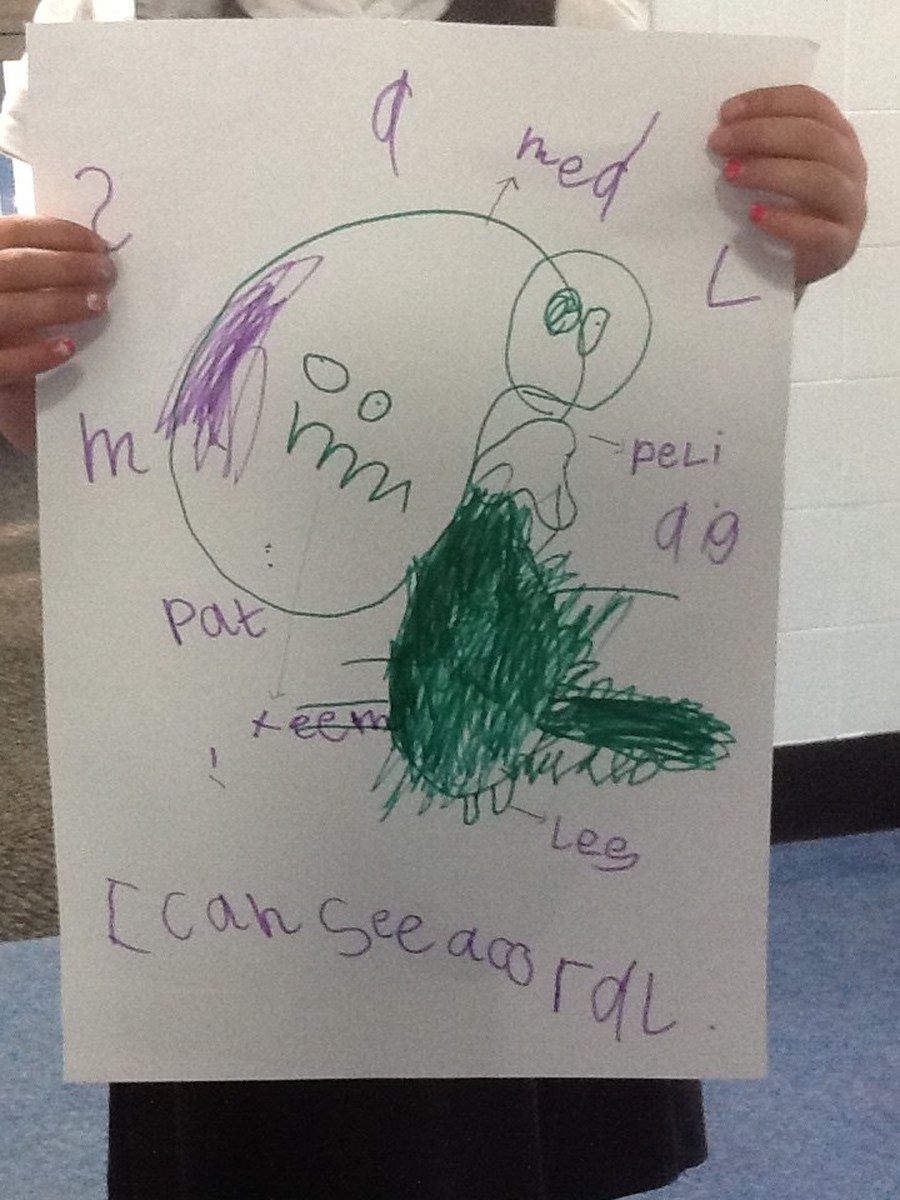 Mrs Twist's maths groups have been working on fractions of numbers this week and these three children have worked exceptionally hard. They had to find fractions of numbers that added together to make given amounts. For example 43 can be made like this (1/3 of 66) + (1/4 of 12) + (3/4 of 24)Well done to you all.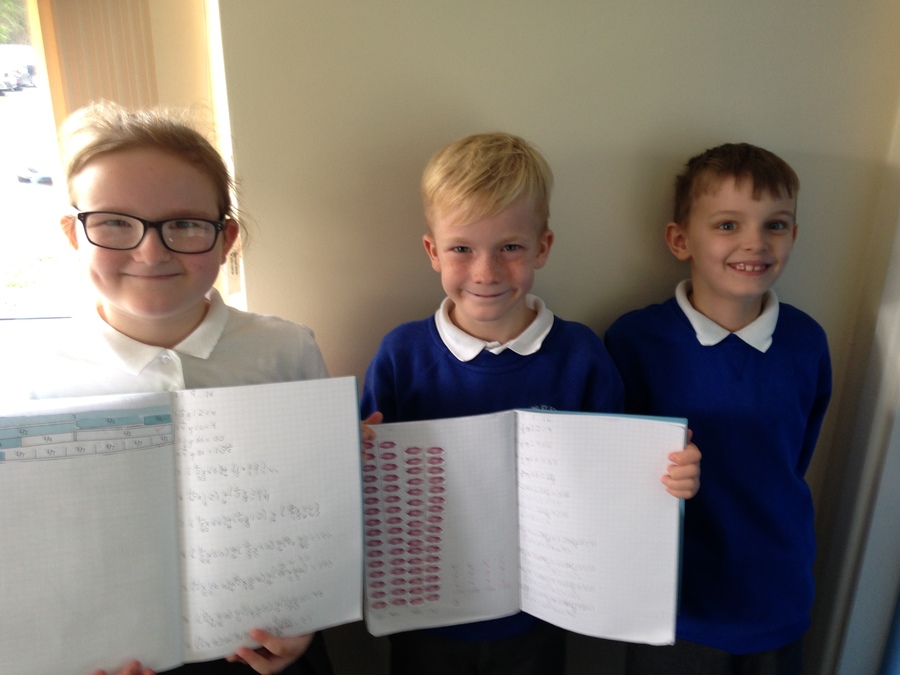 Great work in maths but not just with normal number, she used Roman numerals. Very impressive:)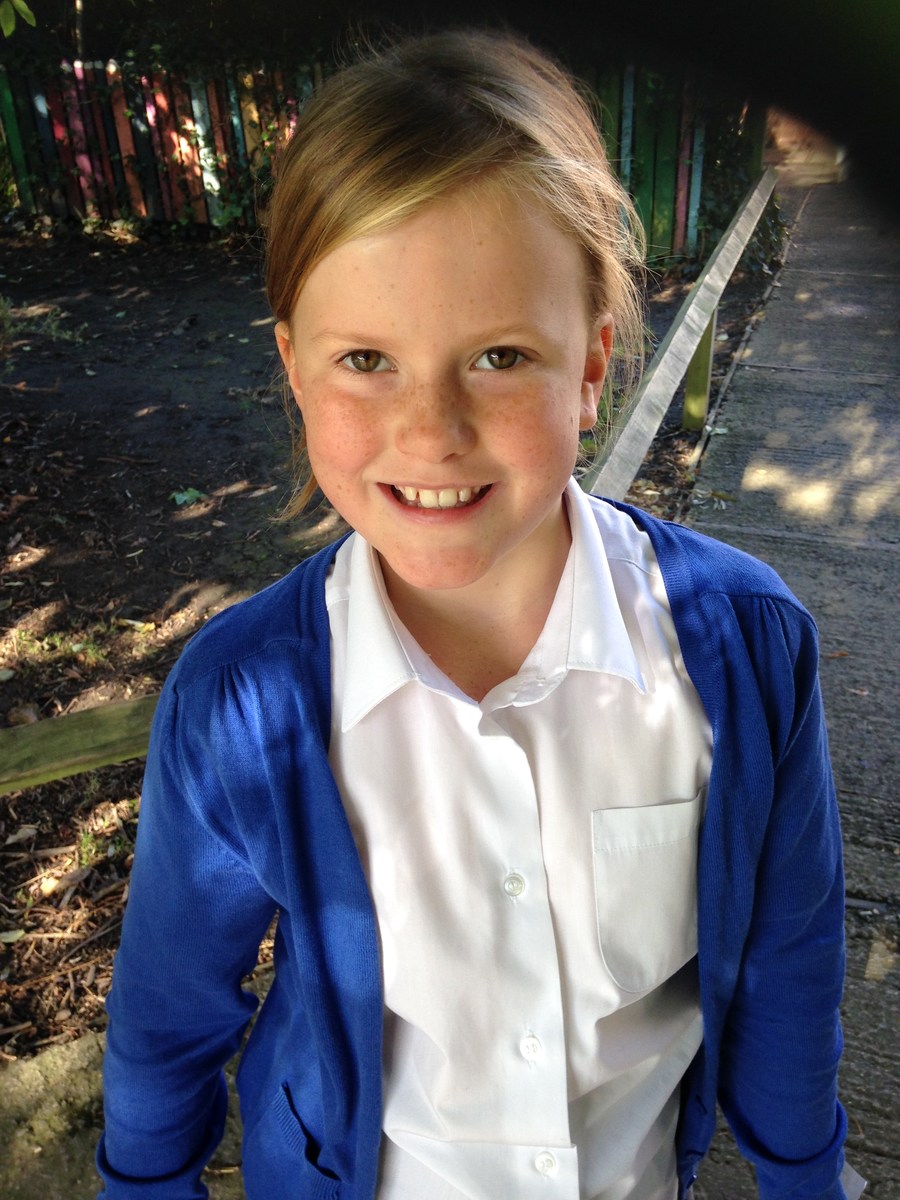 The children in Y5/6 have been writing stories based on The Borrowers. This young lady has tried so hard with her first piece of writing of the year. I hope that her amazing attitude continues - well done.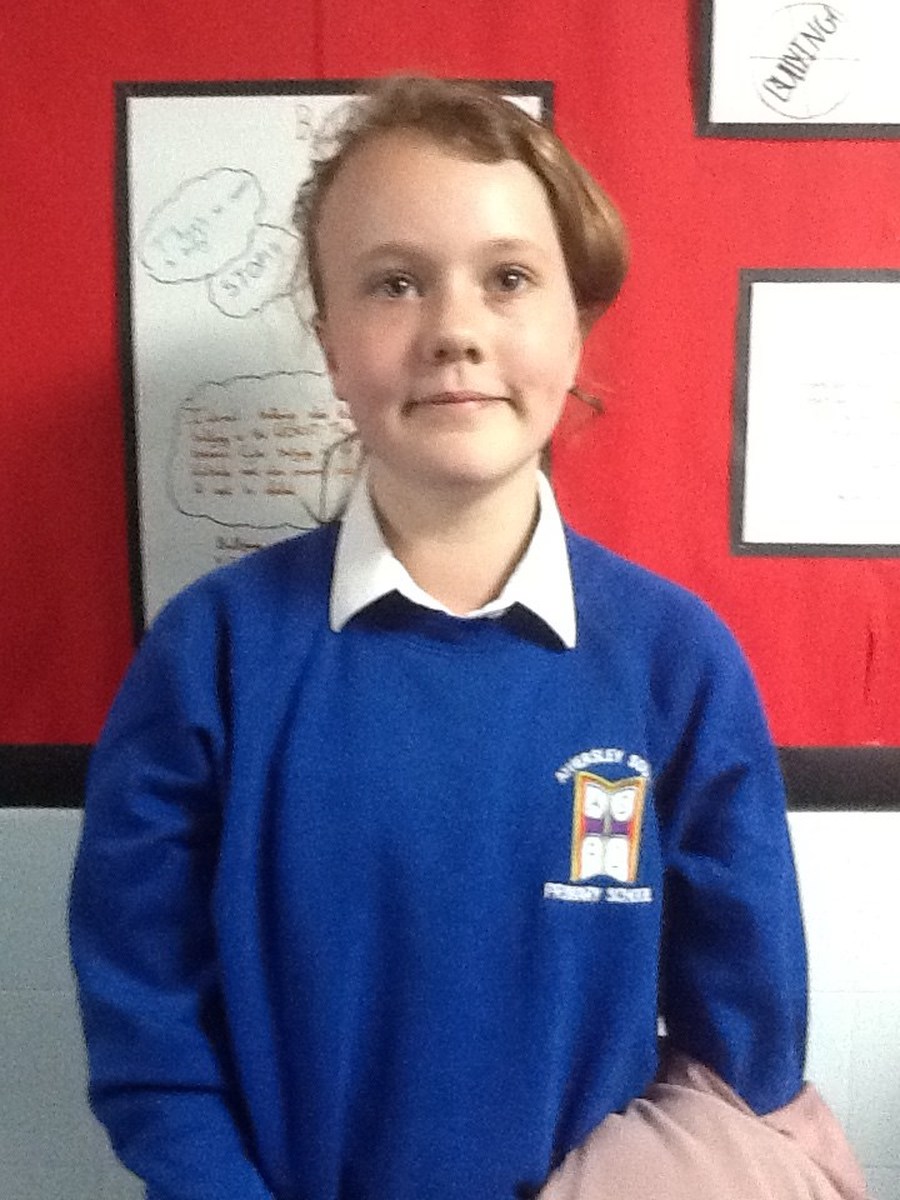 This young lady has already impressed Miss Stanley with her amazing writing skills. What a fantastic start to the year!
Congratulations to all these children who achieved 100% attendance in the Summer Term.
Wear your badges with pride :)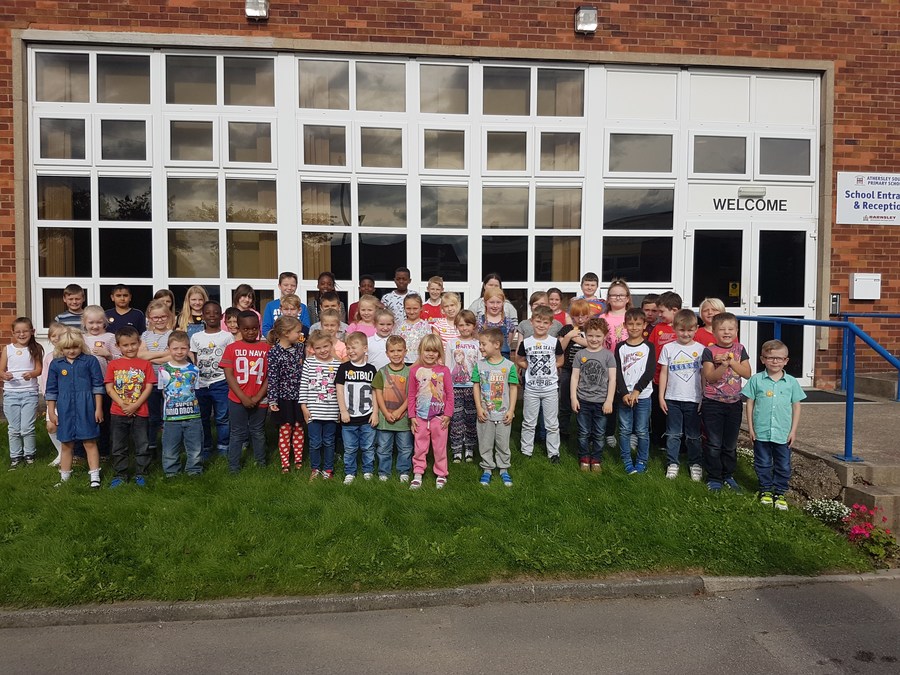 September 2016, the new academic year is here and everyone has settled quickly thanks to the summer transition fortnight. Now we can start to celebrate all the amazing children we have at our school and their learning journeys. We've made some changes this year too. Children chosen as Learners of the Week will now dine on the 'Top Table' in the dining room as well as receiving their certificate during assembly on a Friday. As in previous years, we very much hope you are able to join us in assembly if your child is to receive an award.
We have moved to our new classes two weeks and two days before the end of the summer term. These boys have already impressed their new teachers with their excellent writing.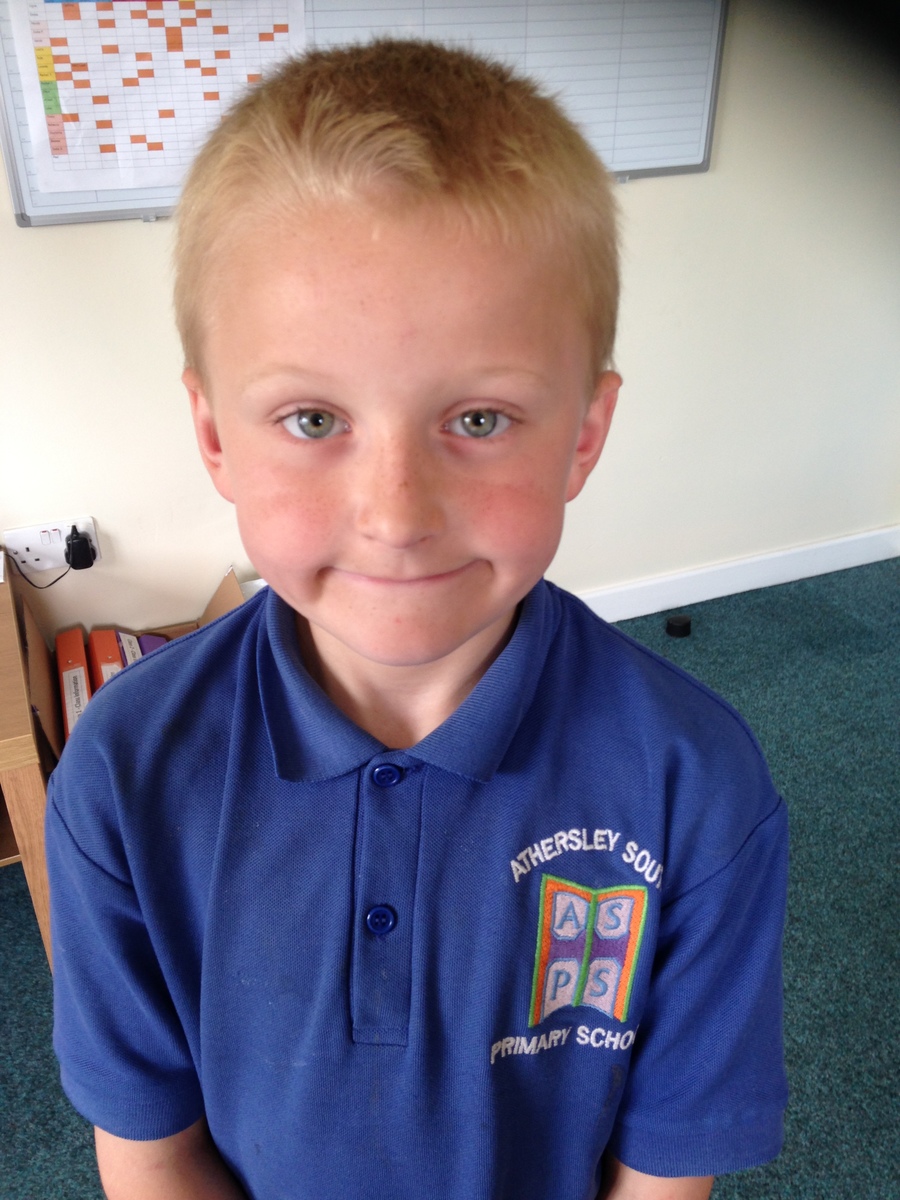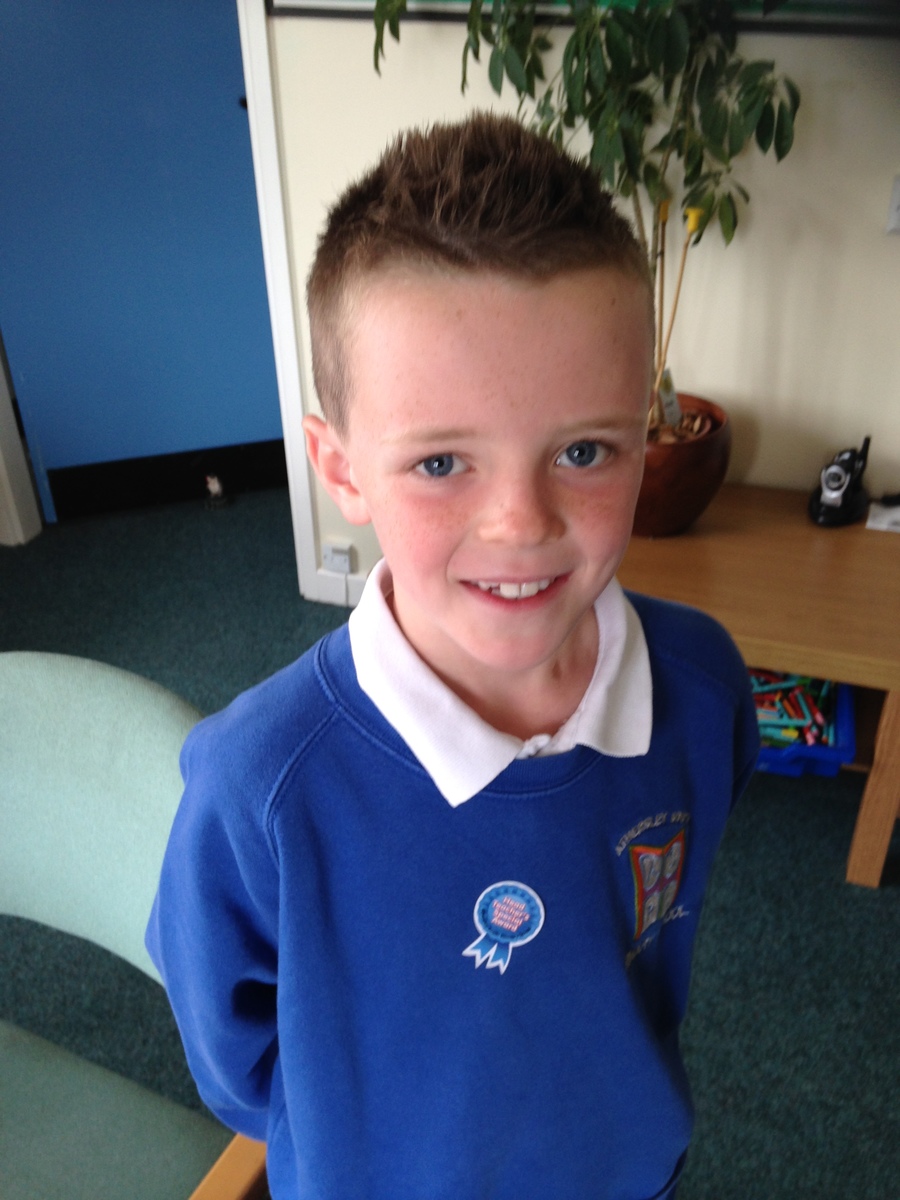 Our School's Got Talent winners received their trophies this week.
Once again, well done.
Well done to all the classes for producing some wonderful vegetables this year. A very big congratulations to Class 6 for winning the 'Gardening Class of the Year' award. I hope you enjoyed tasting them.
A big 'thank you and well done' to these Y6 boys. They have rebuilt the bug hotel in EYFS. Now our FS1 and FS2 children will be able go insect hunting again.
Wonderful Writer!
This young man's writing just keeps getting better and better!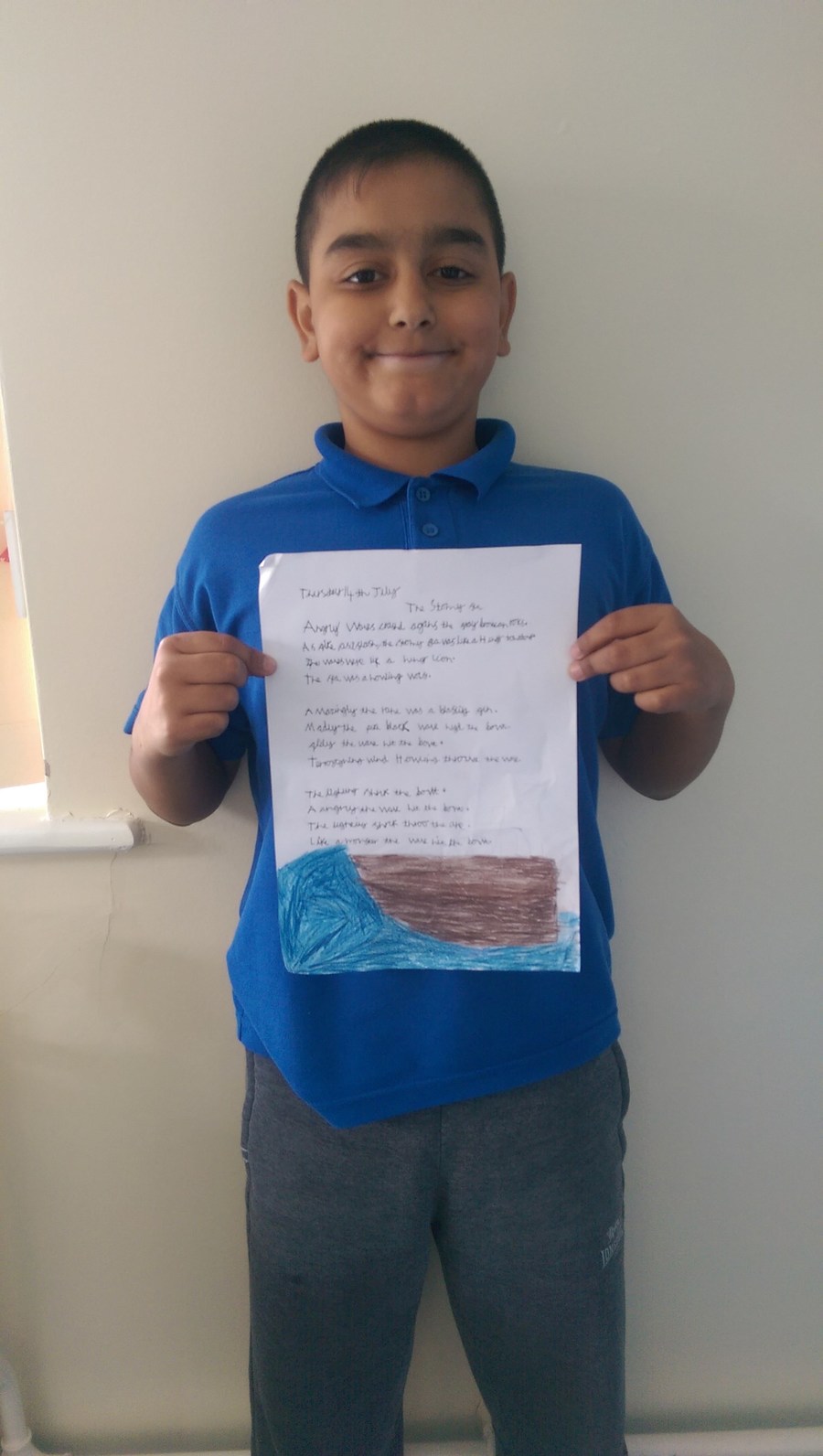 Well done to all our Y3/4 athletes who came 4th at Dorothy Hyman this week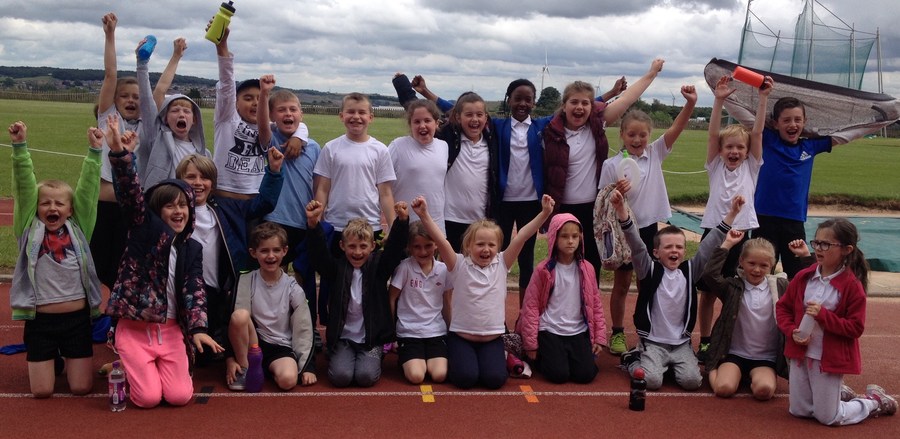 It is here again...School's Got Talent. The presenters, the audience, the judges and, of course, the acts.
The whole school voted and the winners of this year's School's Got Talent were.. in 1st place a superb song and dance routine, in 2nd place a magnificent, magic act and in 3rd place the cool kickboxers. Well done to you all.
This term Class 2 and Class 8 are Mr Gorner's PE champions. They have shown a willingness to listen and develop their skills throughout the term and they have shown great team spirit.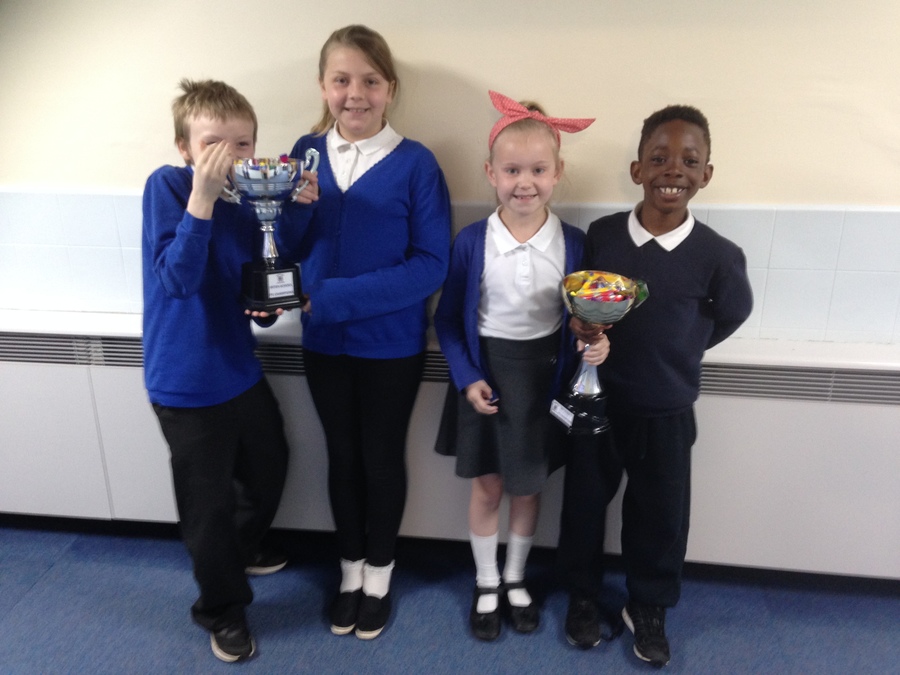 Well done to the amazing key stage one athletes who won their latest competition at Dorothy Hyman stadium!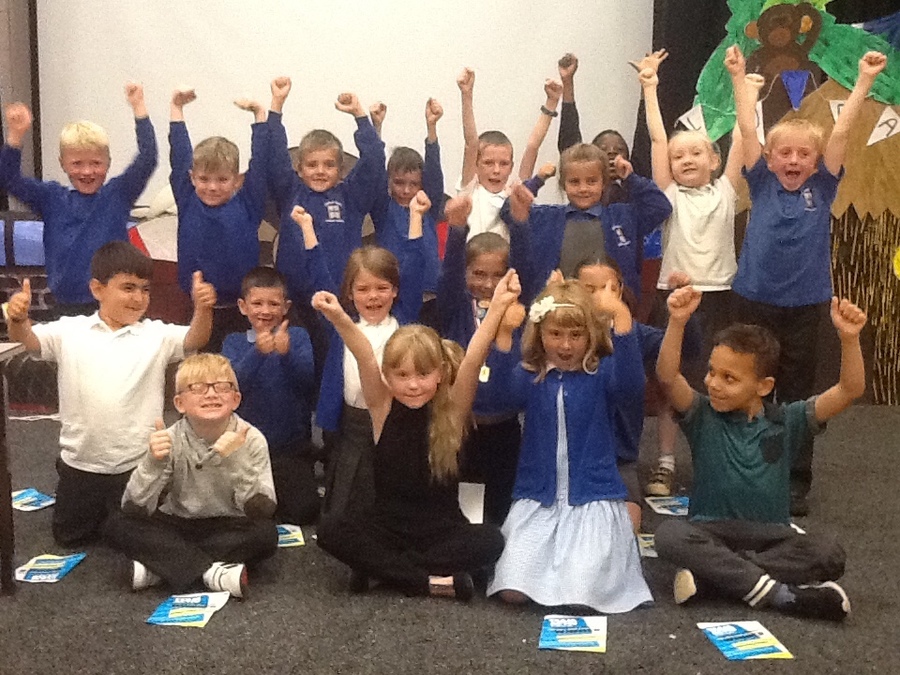 Y3/4 have been making sandwiches this week using bread that they made - They looked delicious (yum, yum)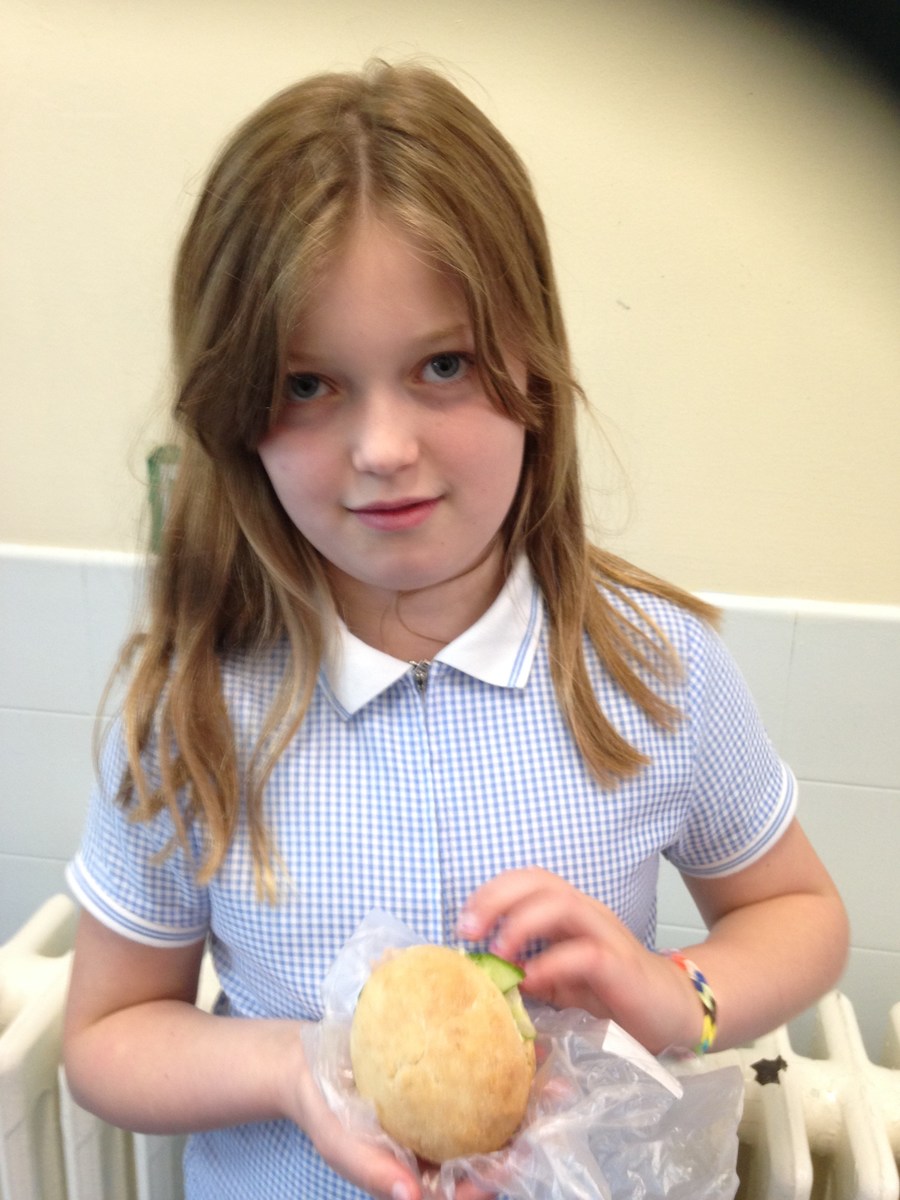 Our RE topic this term is 'What can be learned from significant people of faith' and Y56 are looking at both the Sikhism and Islam. Mr Singh kindly visited school to talk about Sikhism. After a whole school assembly, he worked with the three Y56 classes. The children asked some very good questions to further their understanding of the Sikh faith.
It's Show Night - Pirates of the Curry Bean. Well done to all the actors, dancers and the choir as they all made the show a huge success. Thank you to all the staff because without their help, there would be no show.
Sports Day - Well done to all the children and staff for making it a fantastic morning. Vultures were the overall winners
Well done to all the Y5/6 athletes who attends the athletics competition at Dorothy Hyman - They came third :)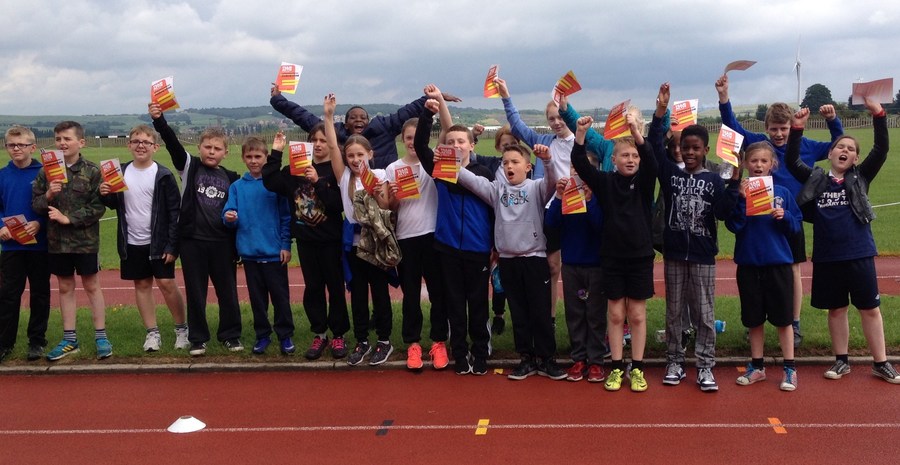 Being creative in FS2 - This is a model of a person in a swimming pool. They have just jumped off a very high diving board (I don't think I would have been that brave!)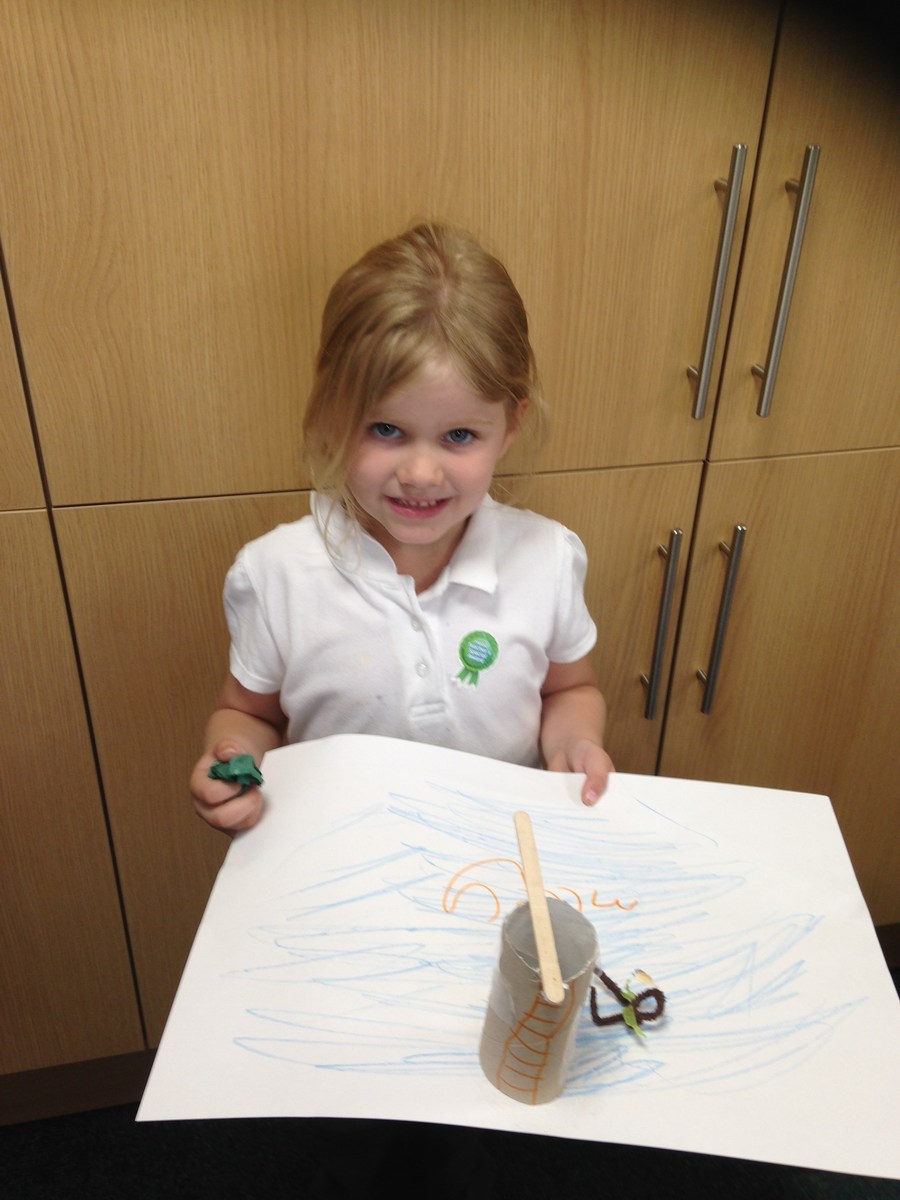 It is difficult to see on the photograph but his young lady had produced some superb writing. Well done.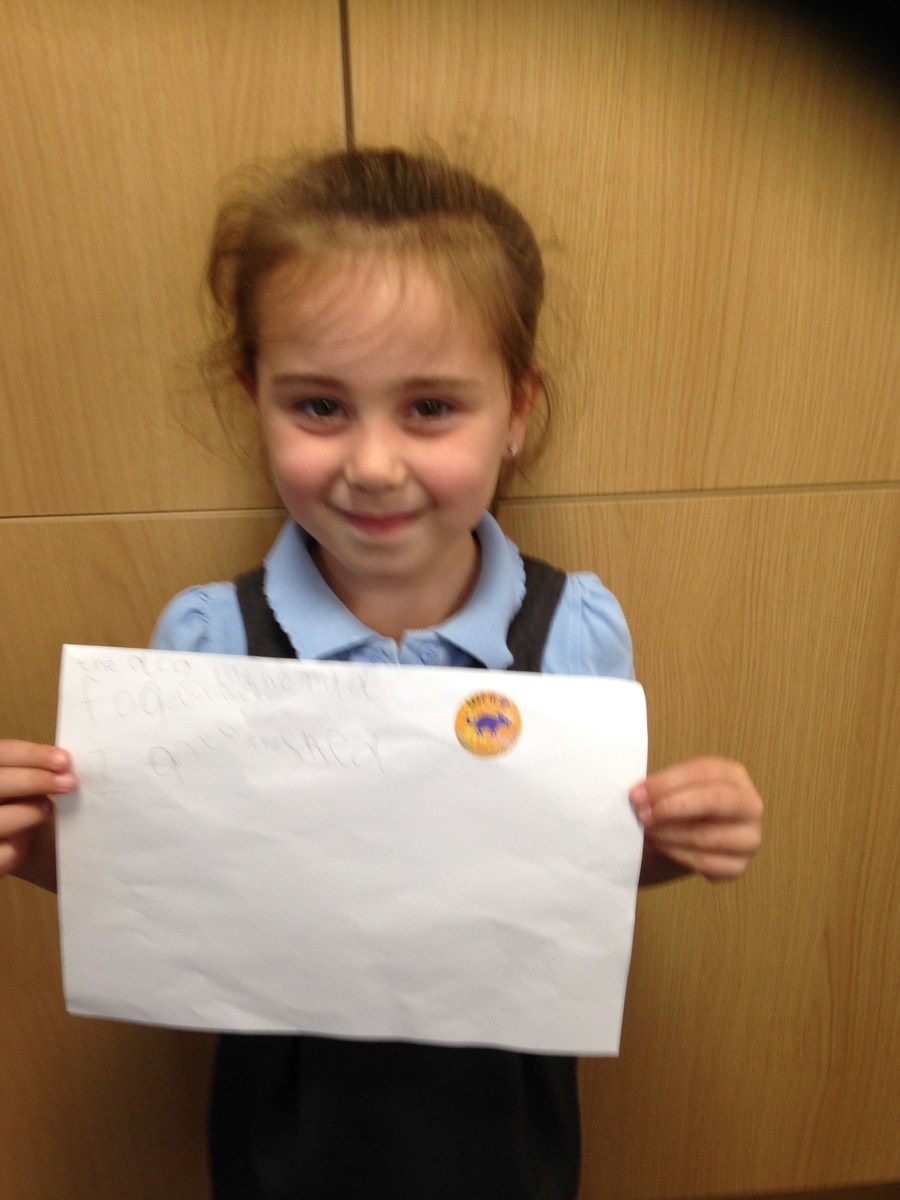 These Y4 children have worked well as a team and have been very resilient too. They have been great problem solvers. Well done, keep it up.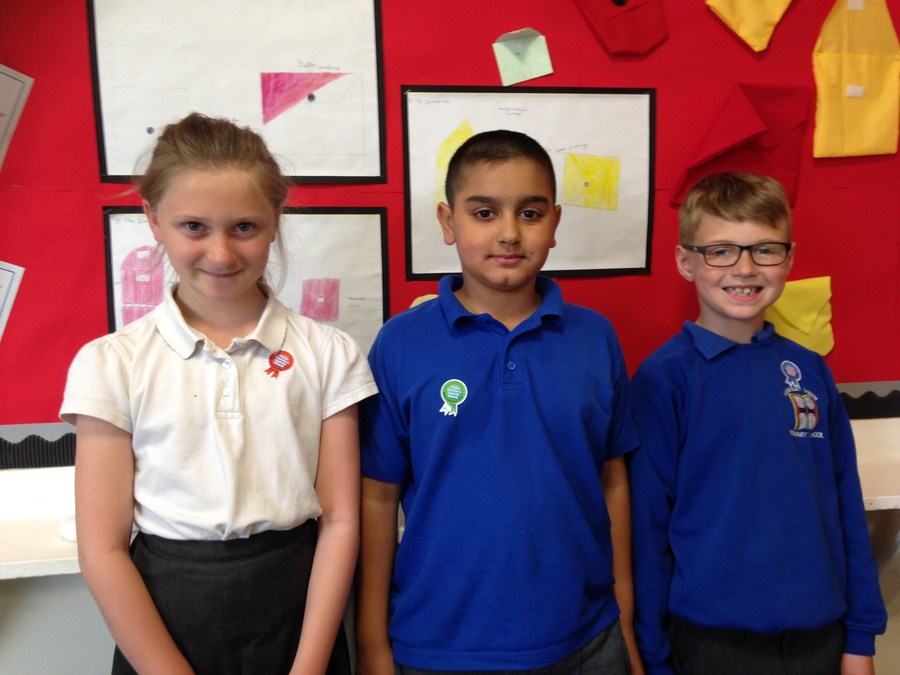 It is Arts Week!. This year the theme is Pirates of the Curry Bean as that is the name of our summer production. Class 6 have been making coordinate treasure maps in groups. Not only did these children work well together as a team but they where able to explain the route to the golden treasure using the 8 points of the compass and coordinates. Well done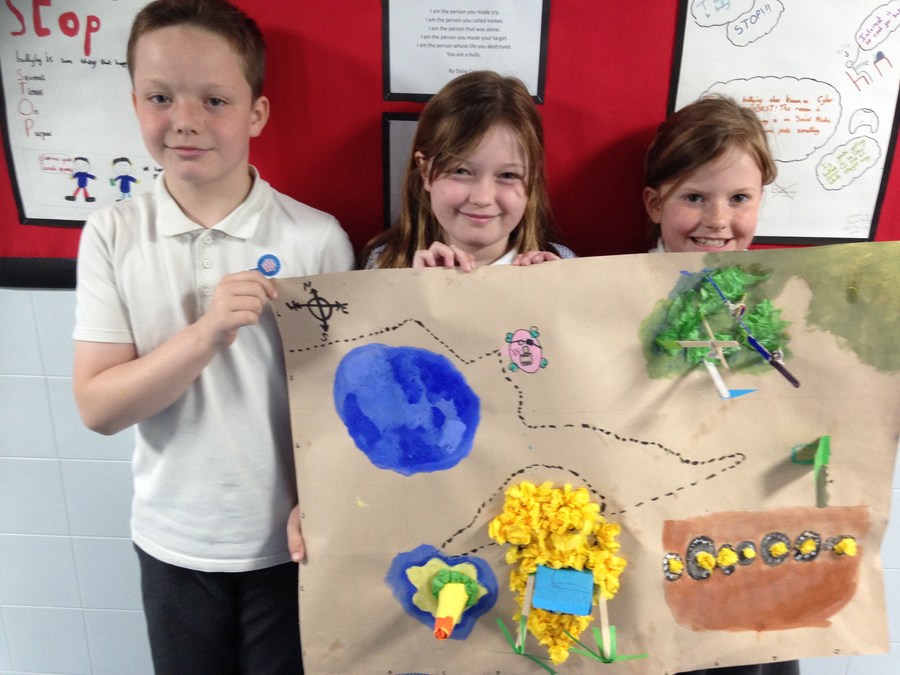 Staff have been very busy this weekend. A big well done to Miss Shaw who came third in the Senior Women's 400 m Yorkshire Track and Field Championship on Sunday 15th May. Also Mrs Walch ran a marathon this weekend in the Dales. Well done to you both.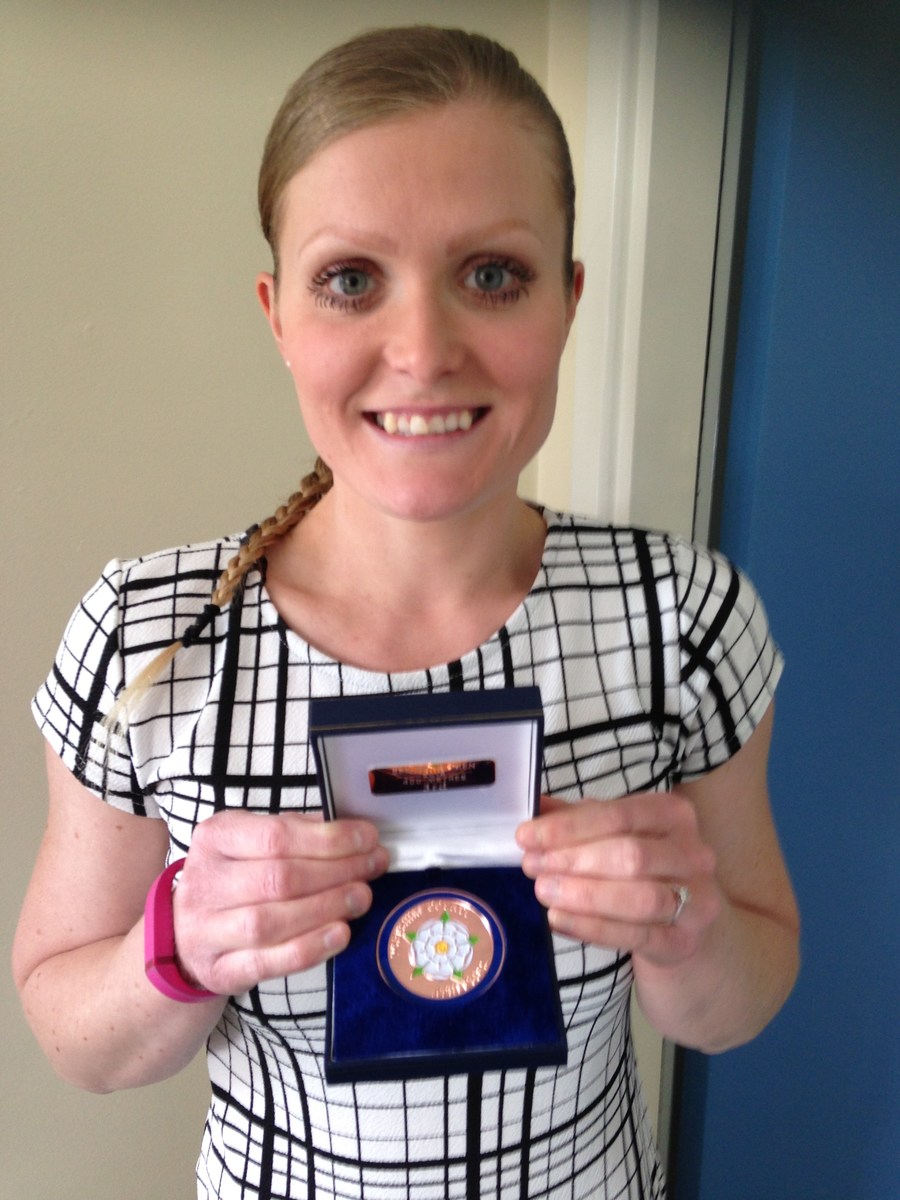 These FS2 children have produced some excellent writing. They have thought really carefully about sounding out every word. Well done to you all.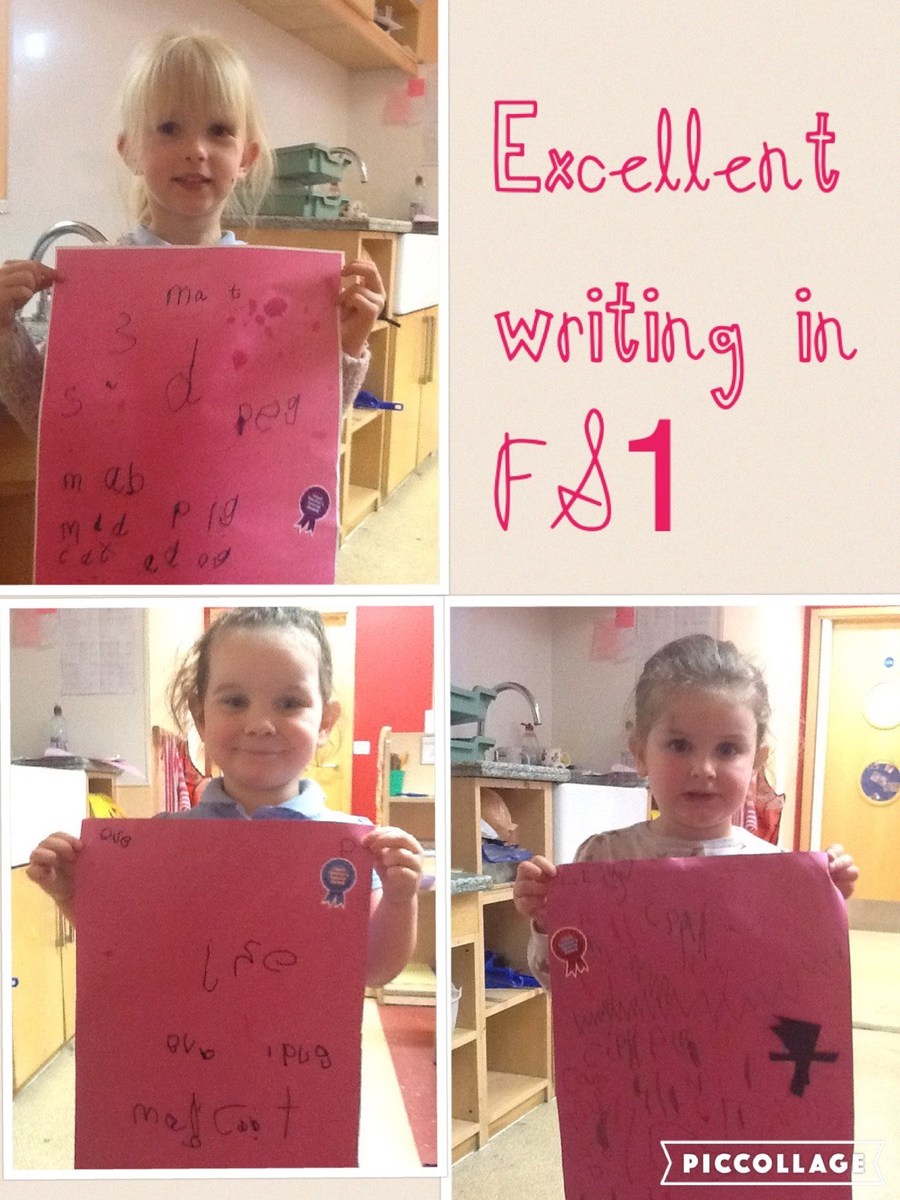 This piece of writing is so descriptive. It really does paint a picture in the reader's mind. Well done.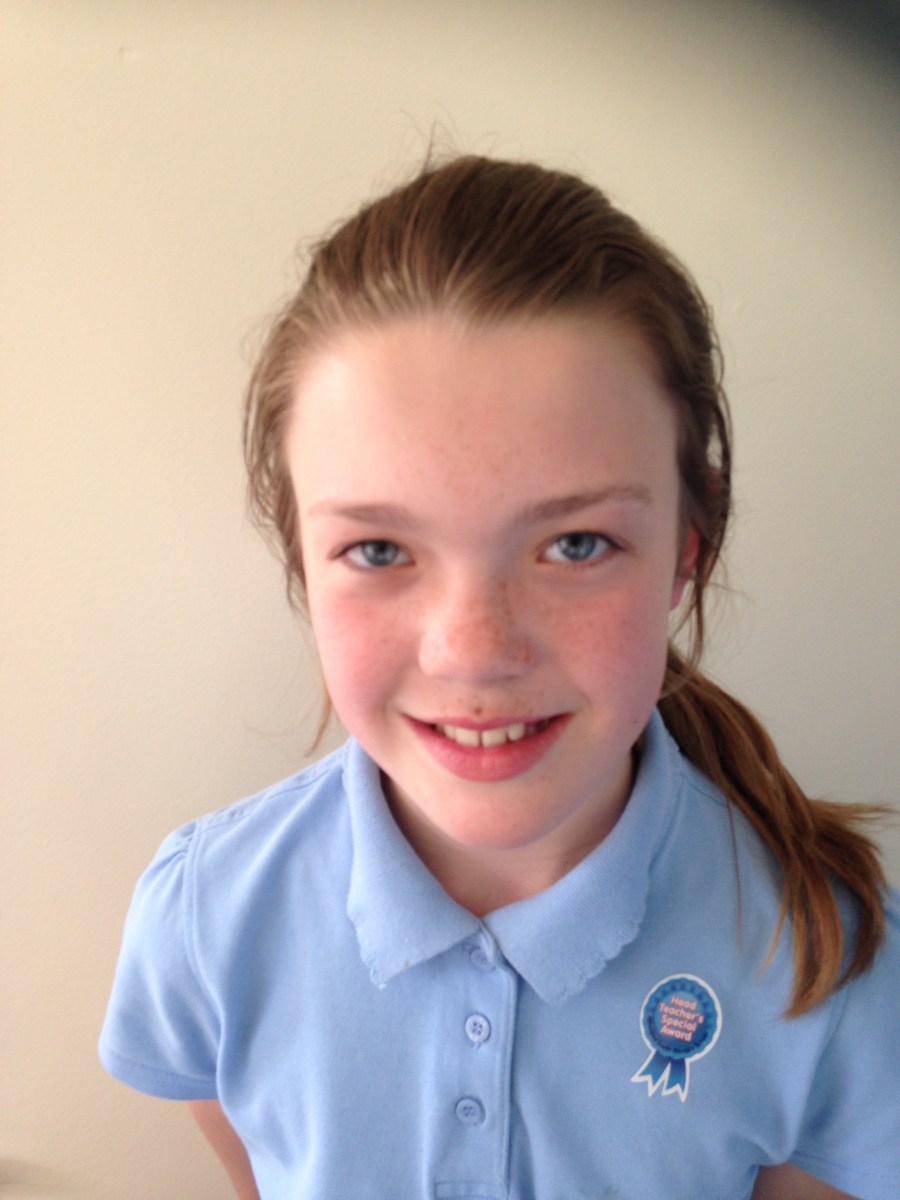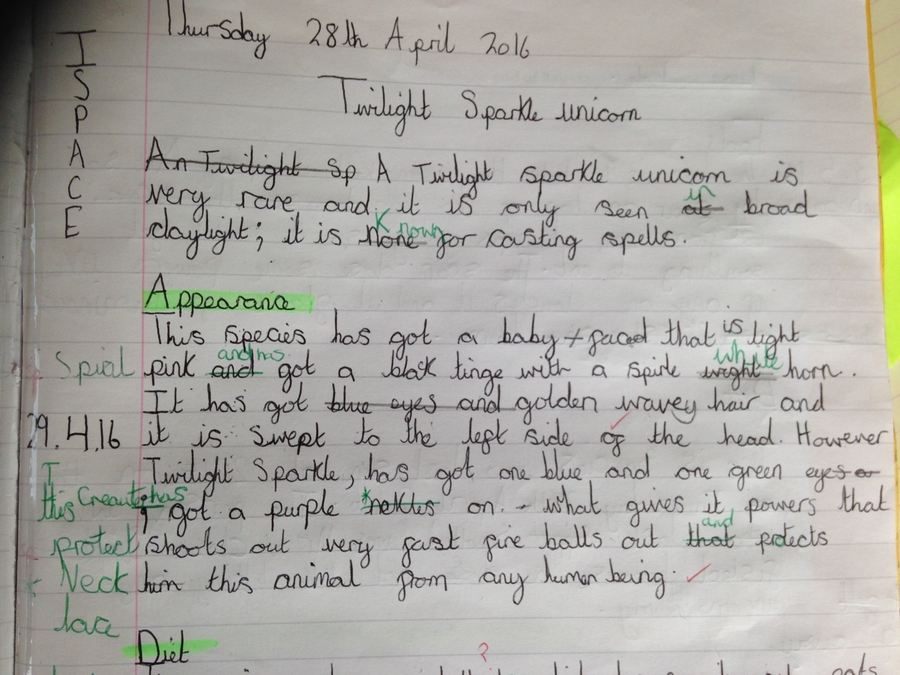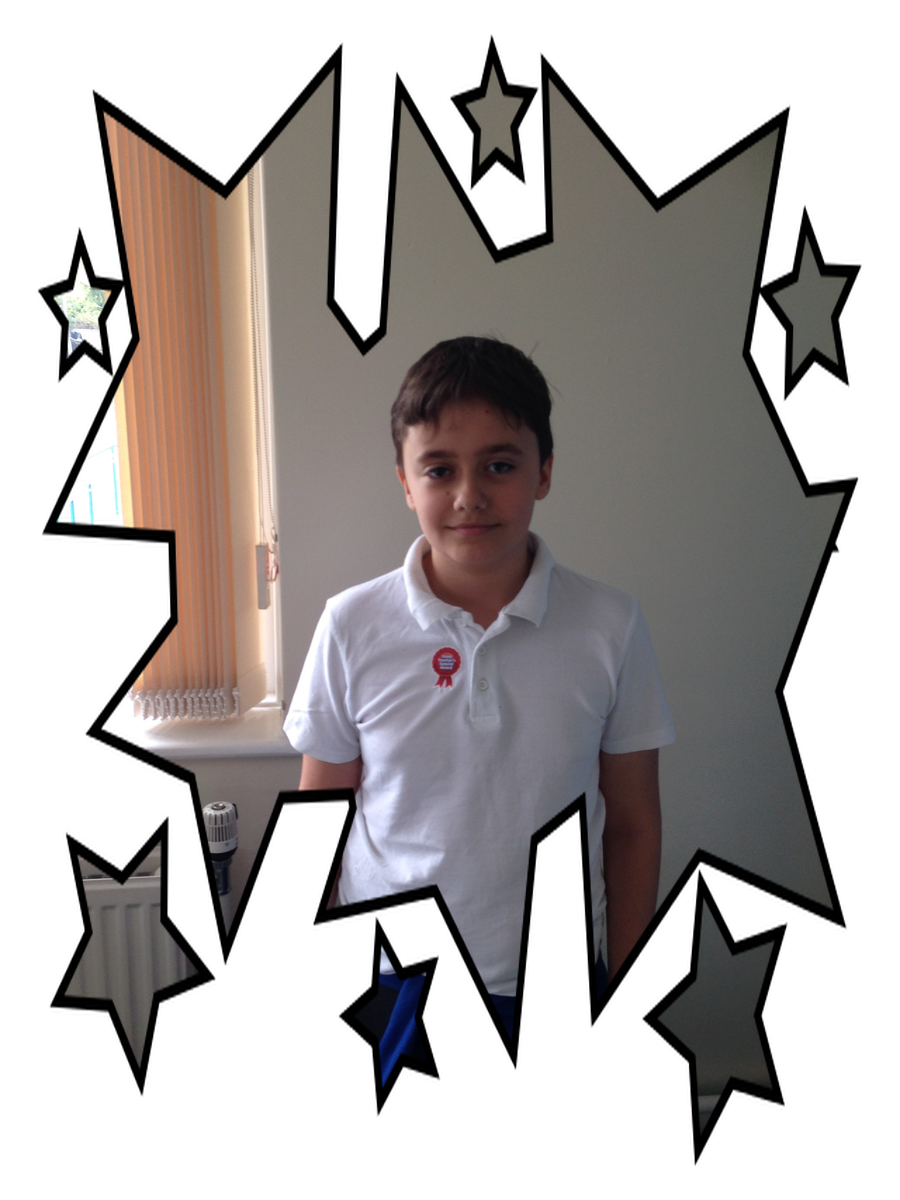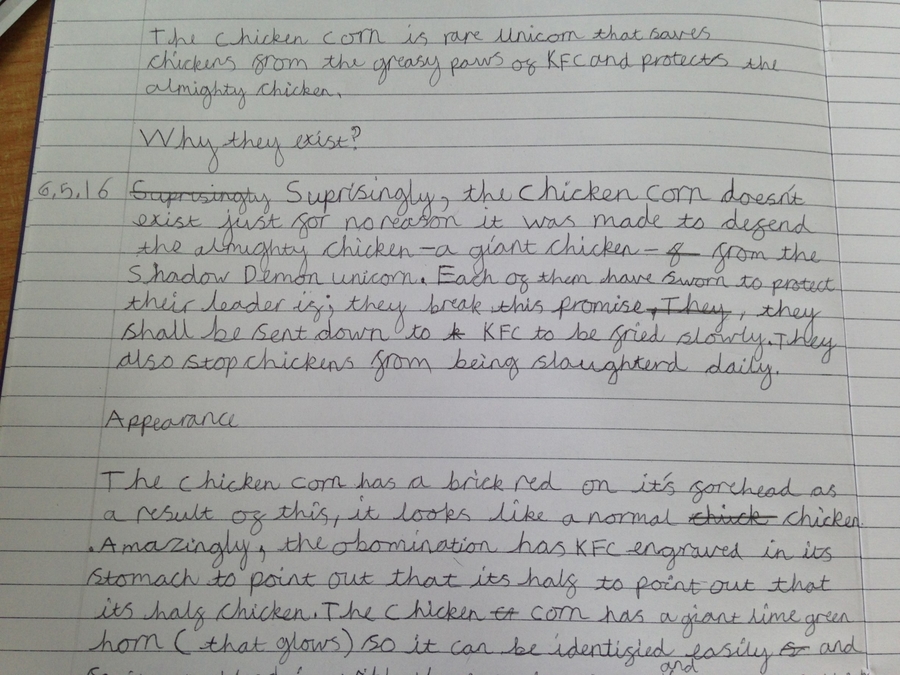 These two individuals have really impressed Mrs Chambers with their instructional writing. If you're stuck on how to make a delicious tasting wrap, these are the children to consult. With their use of well chosen vocabulary their instructions will have your mouth watering! Well done!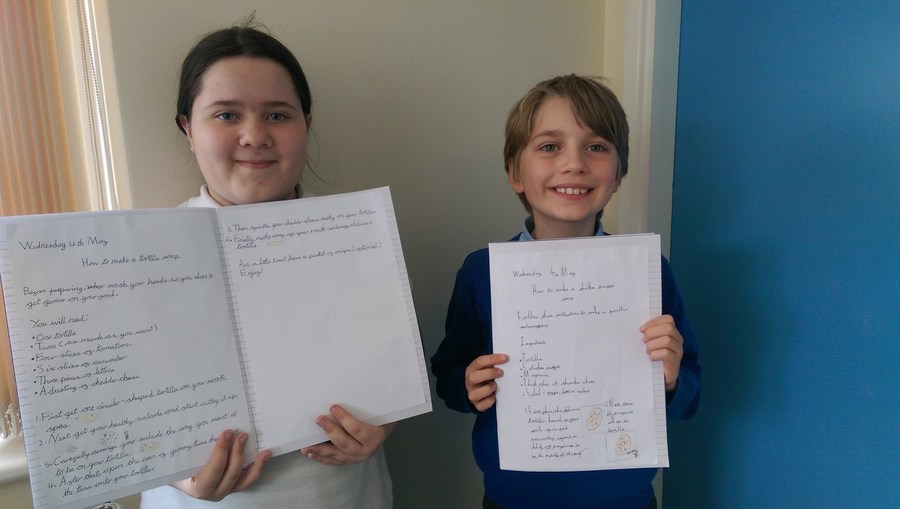 Writing about sunbathing in FS2. Let's hope the sun comes out soon.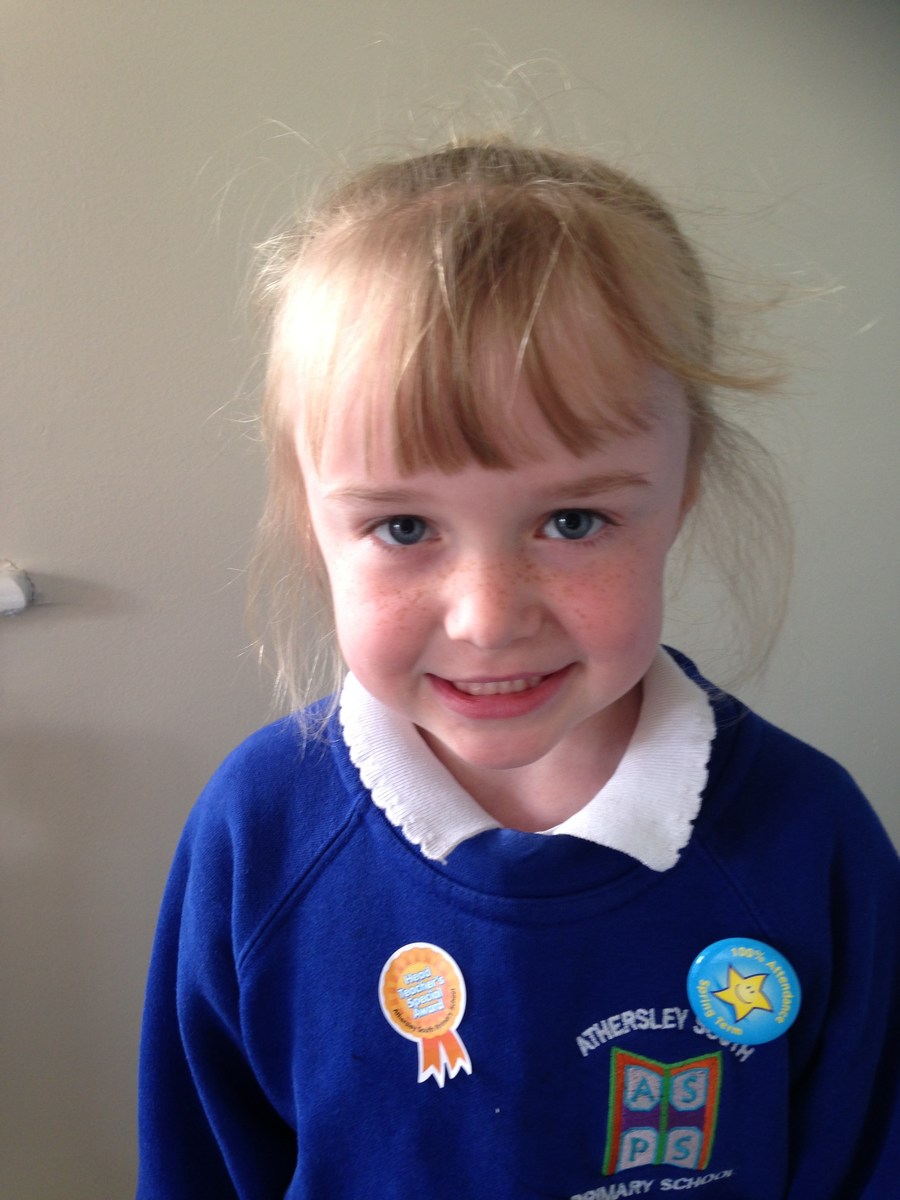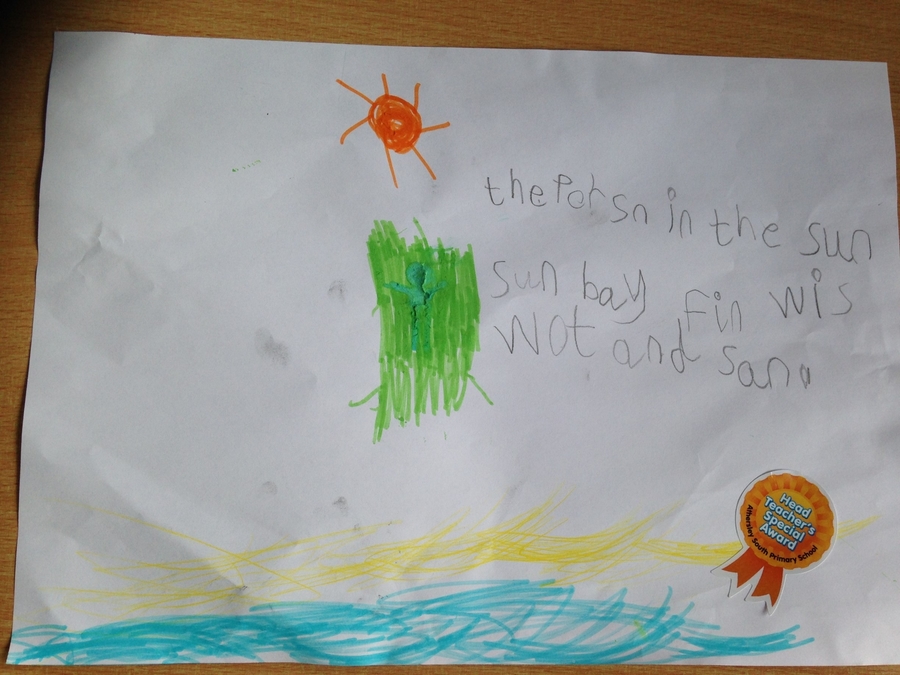 These children all got 100% attendance in the spring term- Well done all of you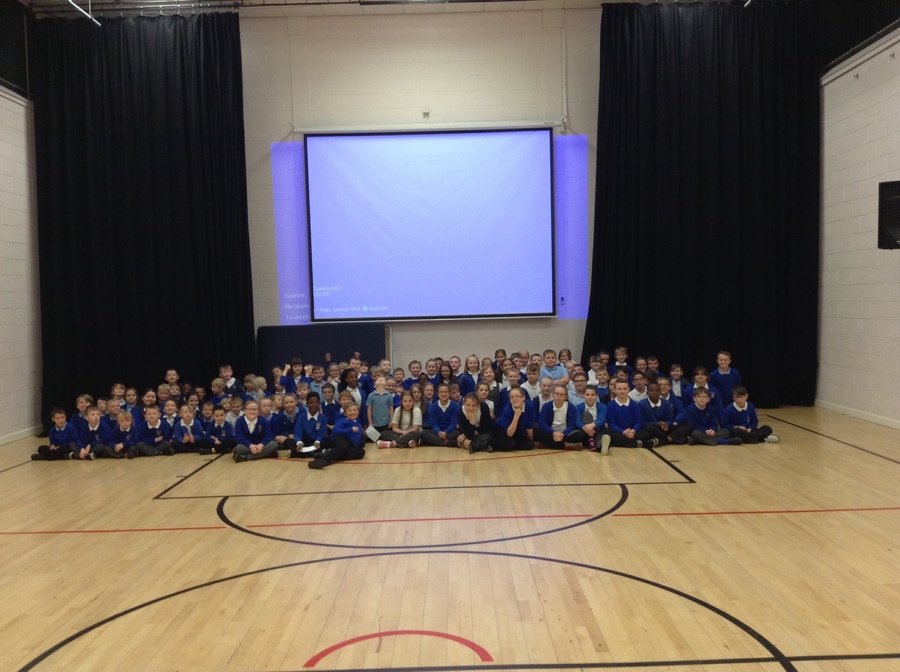 This is the first time our Y3/4 children have entered a hockey tournament. Both teams tried really hard. Team A played so well that they came third in the league. We are proud of you all.
Class 2 have been writing some wonderful stories about aliens. This alien had a magic lamp. His wish was never to go to the damp, dark, dull earth ever again.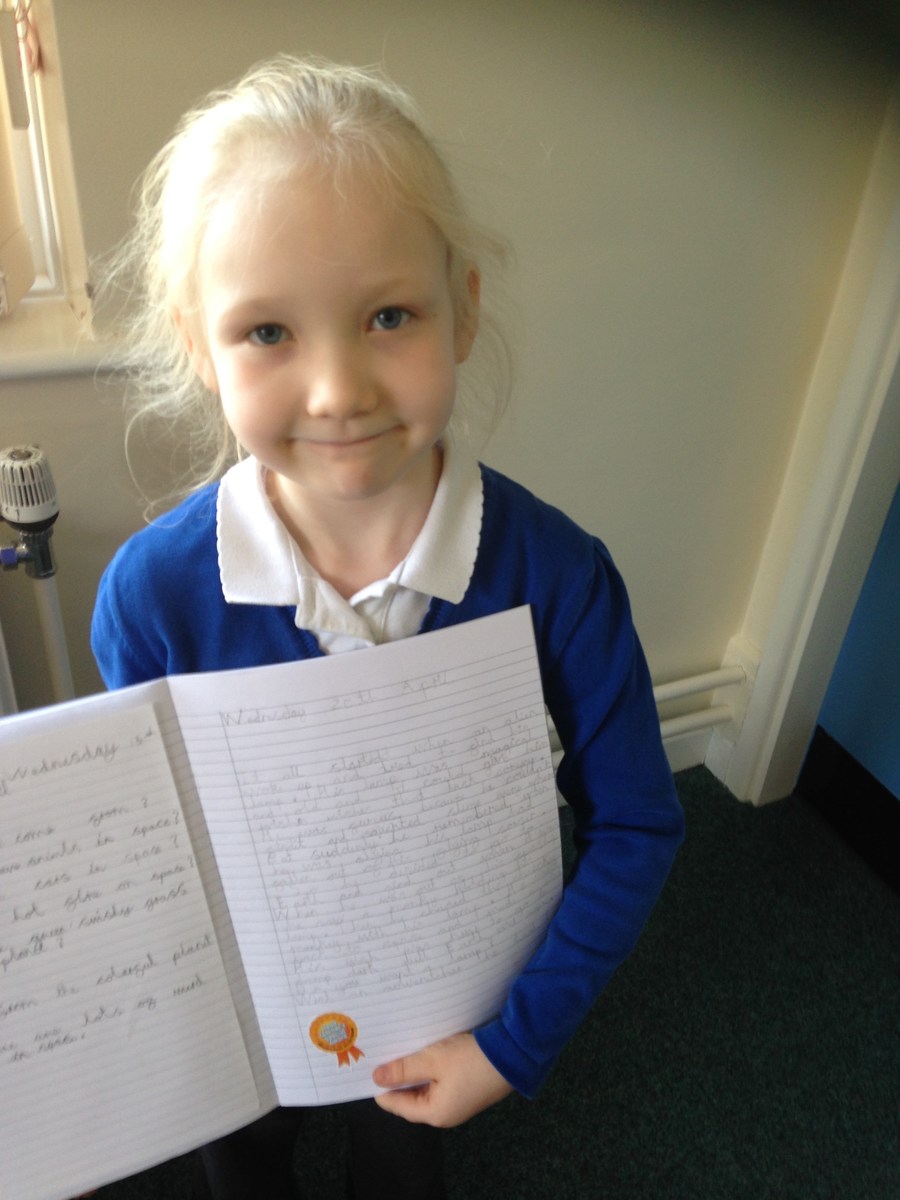 Miss Pell's Read Write Inc group have been looking at 'ai' this week. Can you find 'ai' in the sentence Snail in the rain?
This young man has made excellent progress in writing this year - well done.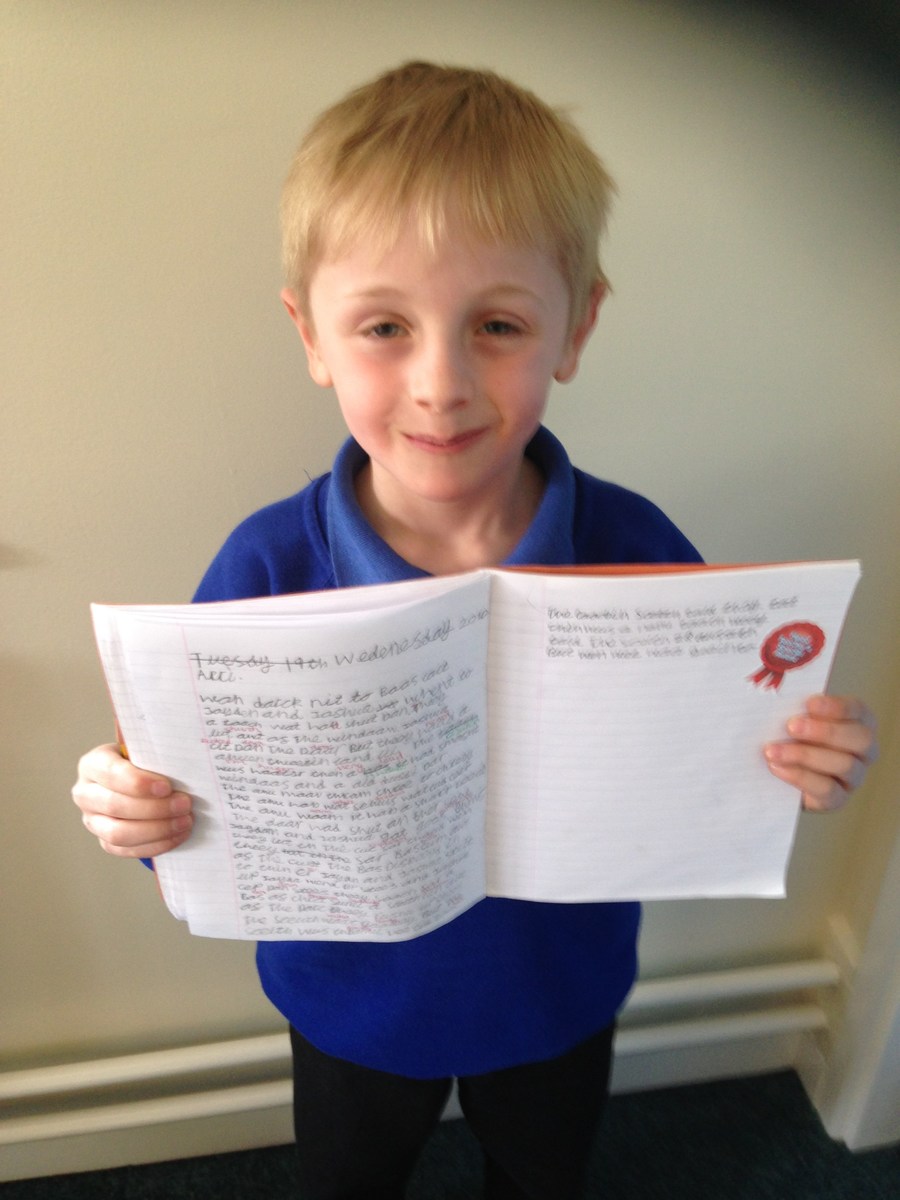 15th April 16 - Because our basketball team made it to the Y5/6 Barnsley basketball final, Team Activ invited the children to the Sheffield Sharks V Surrey Scorchers British Basketball League game in Sheffield. There were another three school teams there too. Before the main game our children played semi final matches against another school on the main court and they won (The girls and boys played separate games and their scores were then added together) . They played the final at half time in front of the 700 spectators who were watching the Sheffield Sharks game. They came second overall so a big well done to all of them for being so skilful and enthusiastic. Look at the pictures below to see them playing before the game, watching the Sharks game, playing at half time and then meeting the players.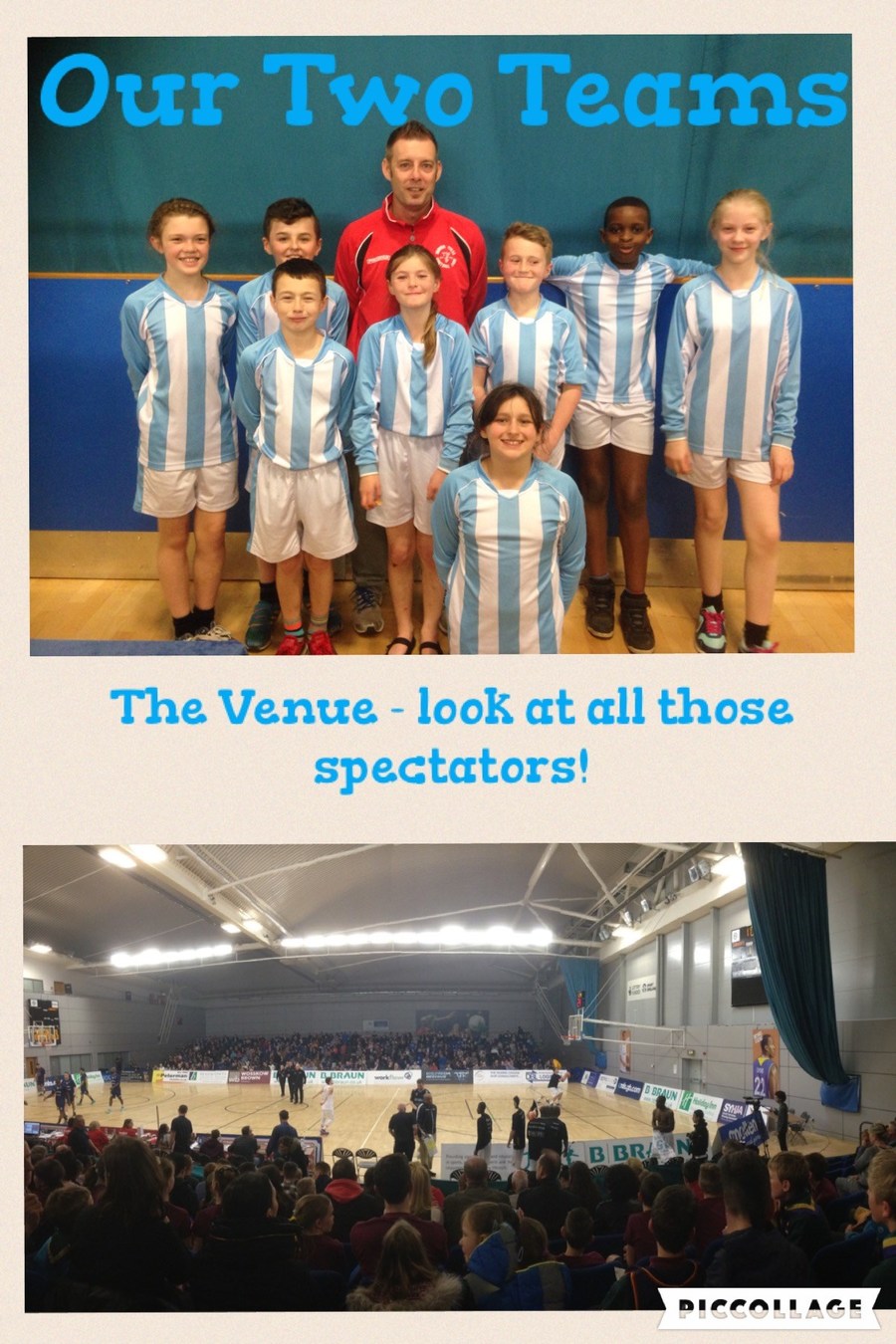 Wow! look at how much this handwriting has improved during the last year.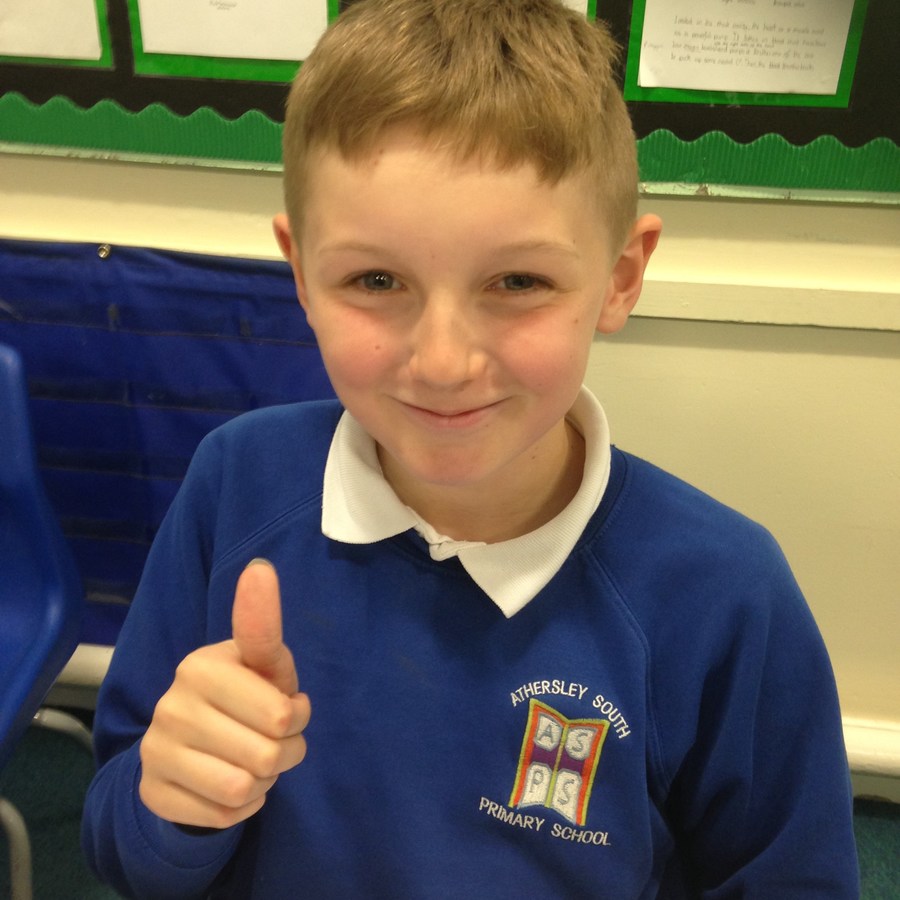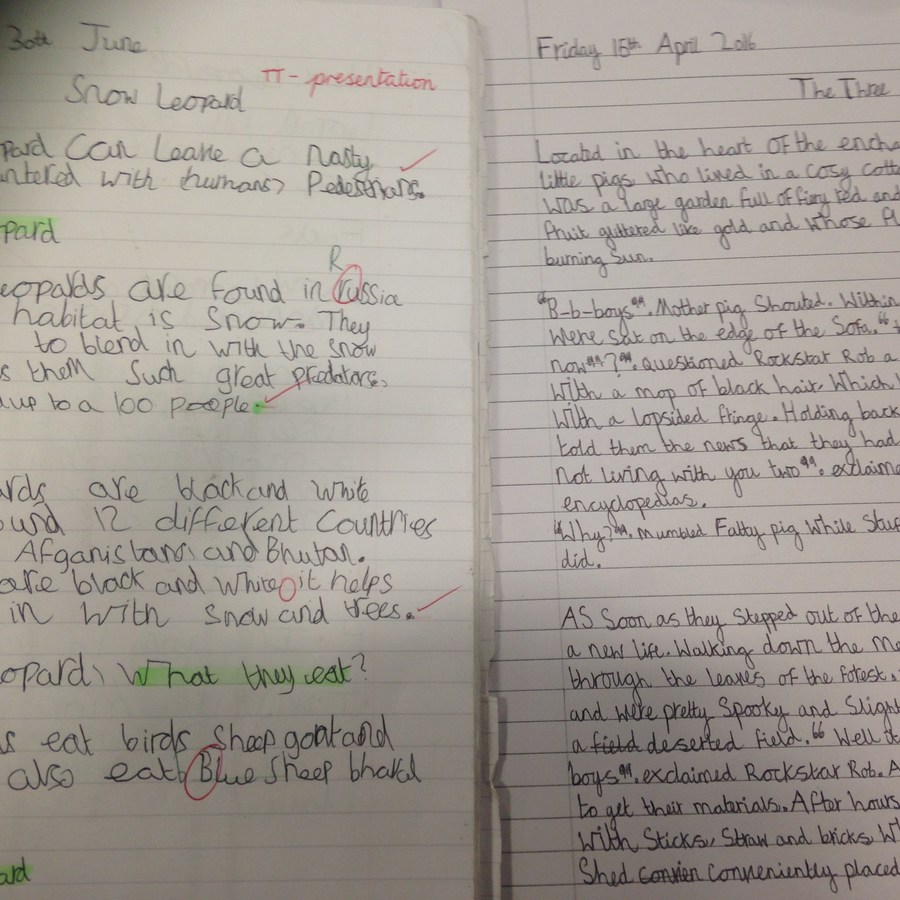 Scrap Shed Play - Great to see FS2 playing together and making good choices at lunchtime.
A brilliant science write up - well done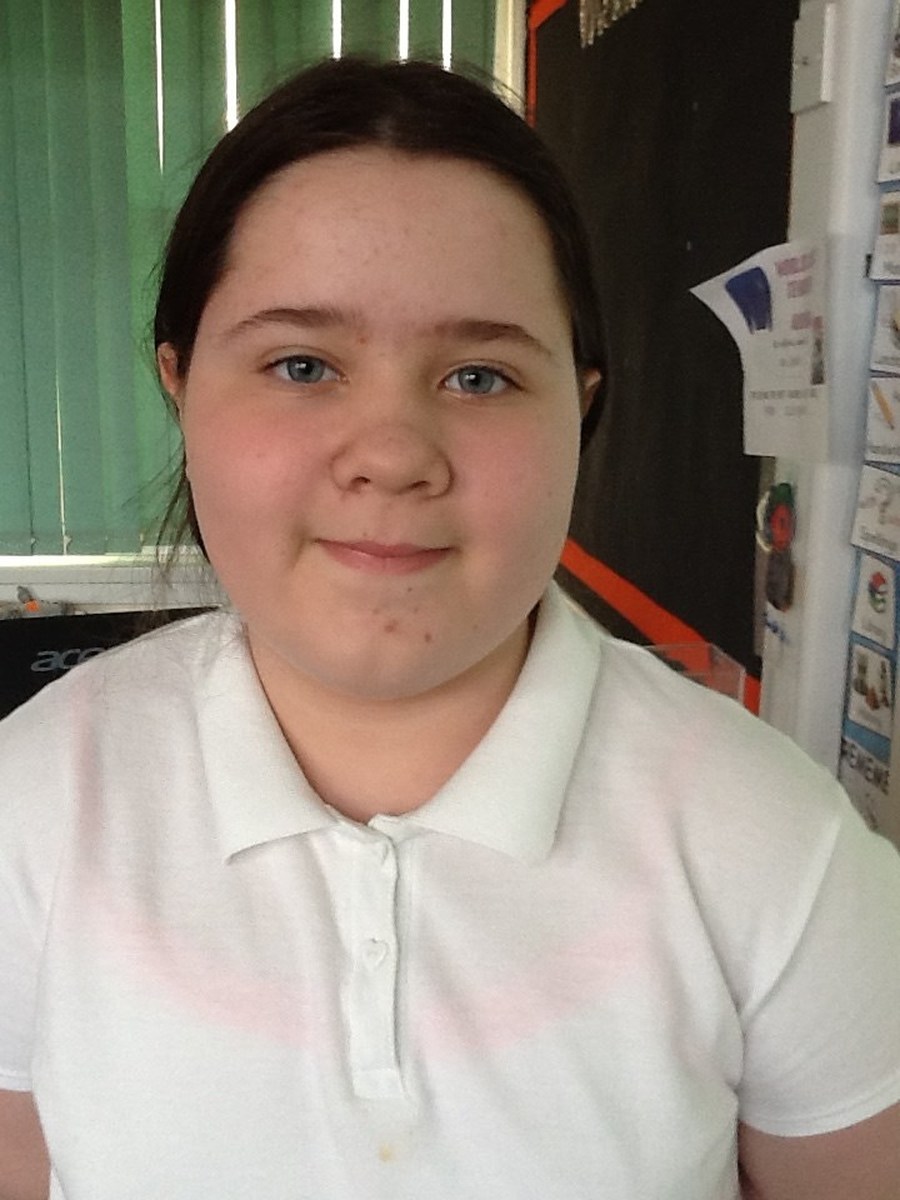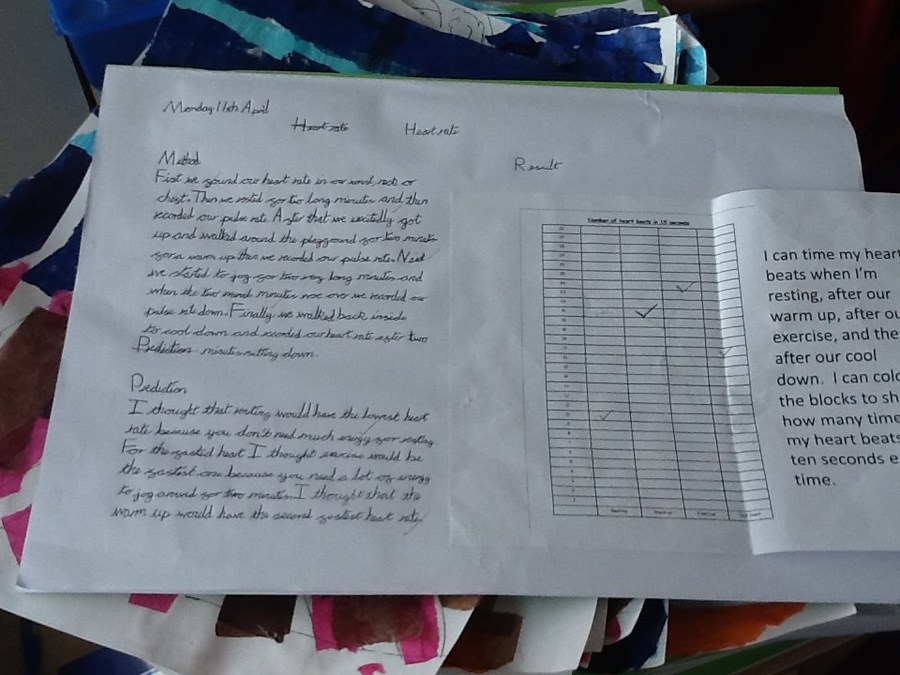 Finding out about the human skeleton in Class 6. Look at the carefully labelled diagram below to find out the names of the bones in your body.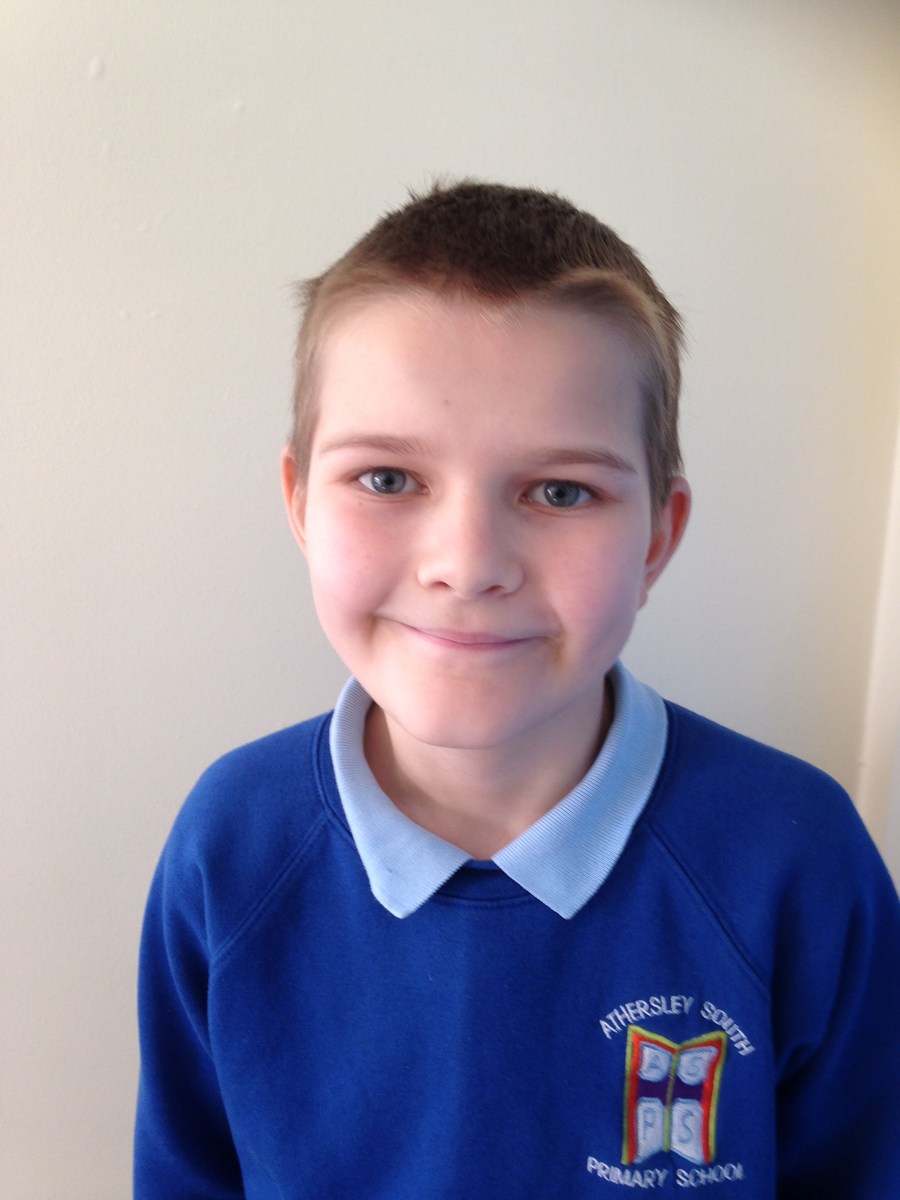 Spring Term PE Champions - Class 2 and Class 4. The children have worked well both individually and in a team and they have tried hard to develop their PE skills - Brilliant!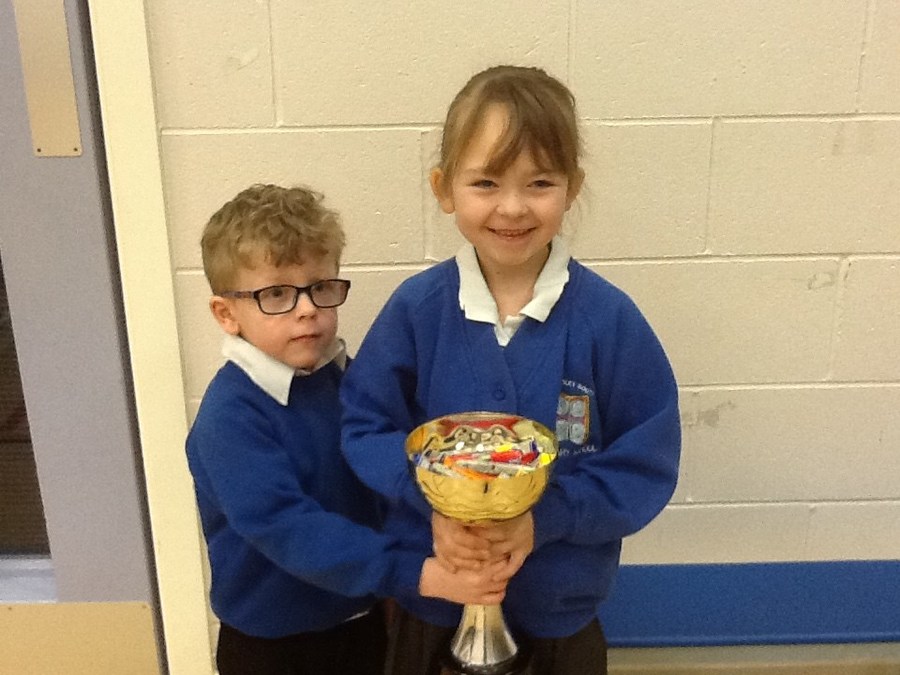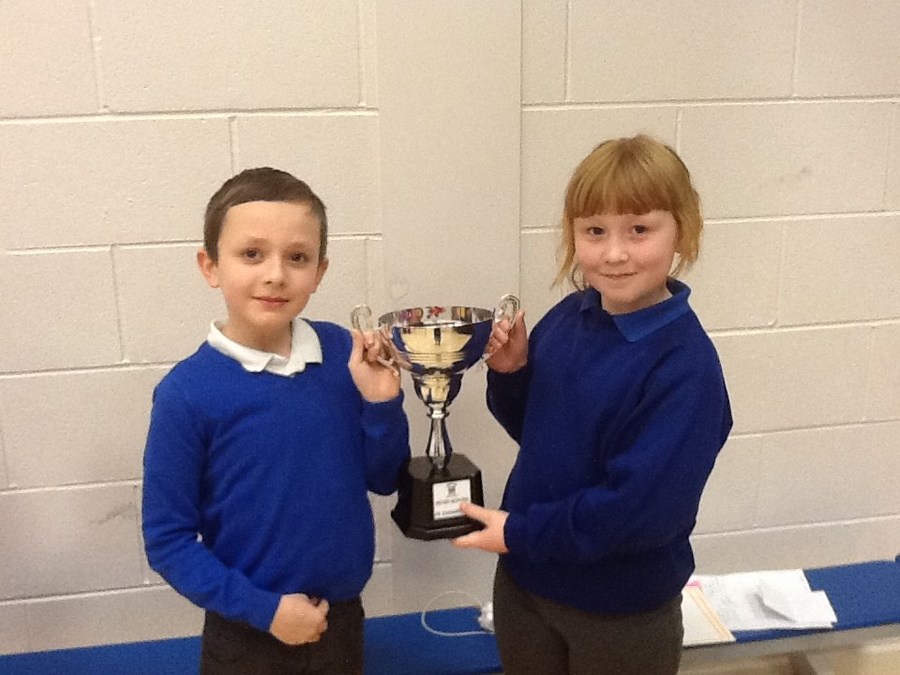 We like to celebrate great achievements that happen out of school. Look at these amazing Karate medals. Well done!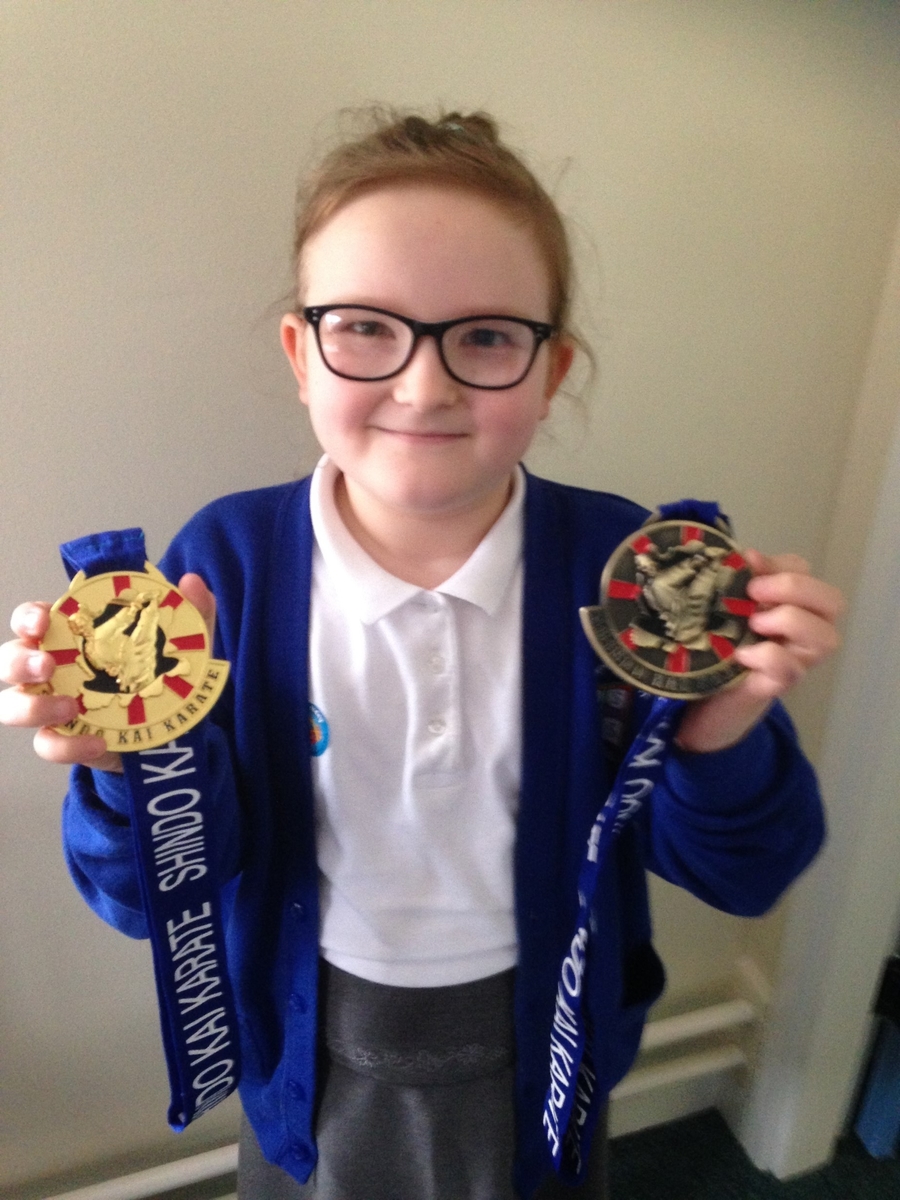 These boys have really worked hard with their reading. Fantastic boys - keep it up!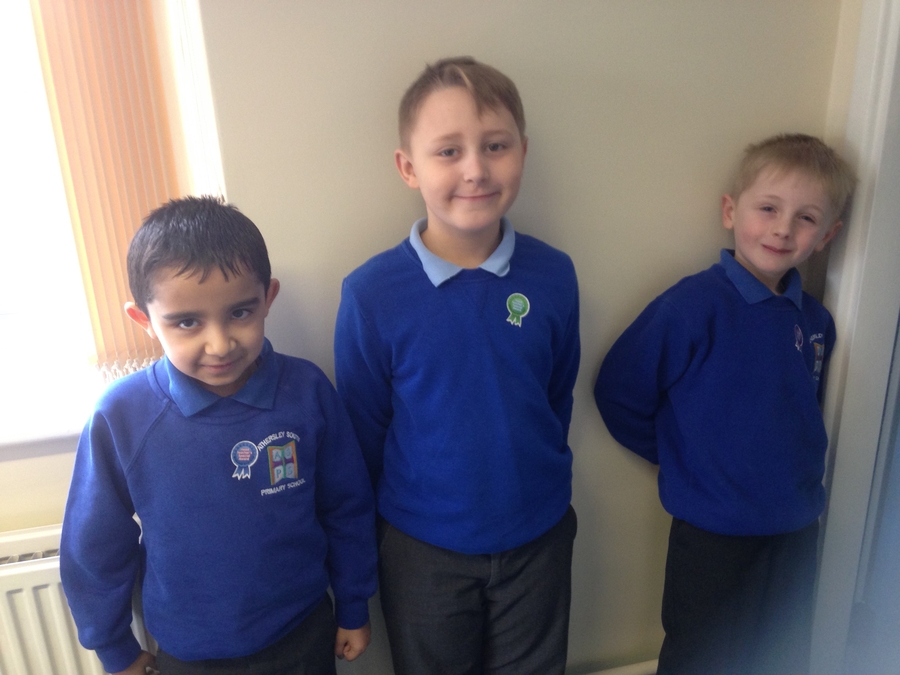 These Y4 children have thought very carefully about the features of a non chronological report - Great writing, well done.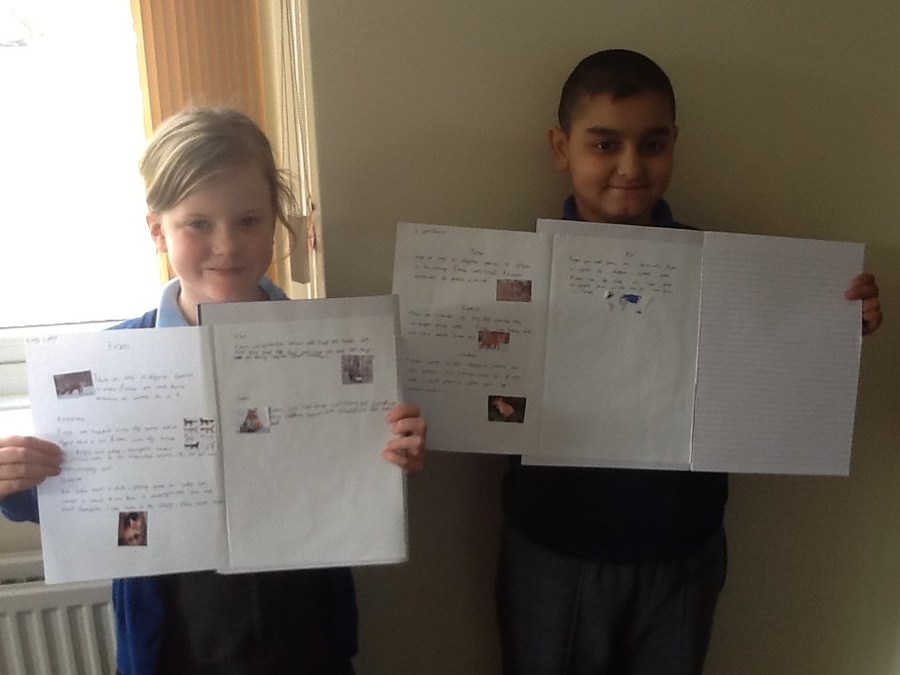 Excellent angle maths in Y4 - Well done.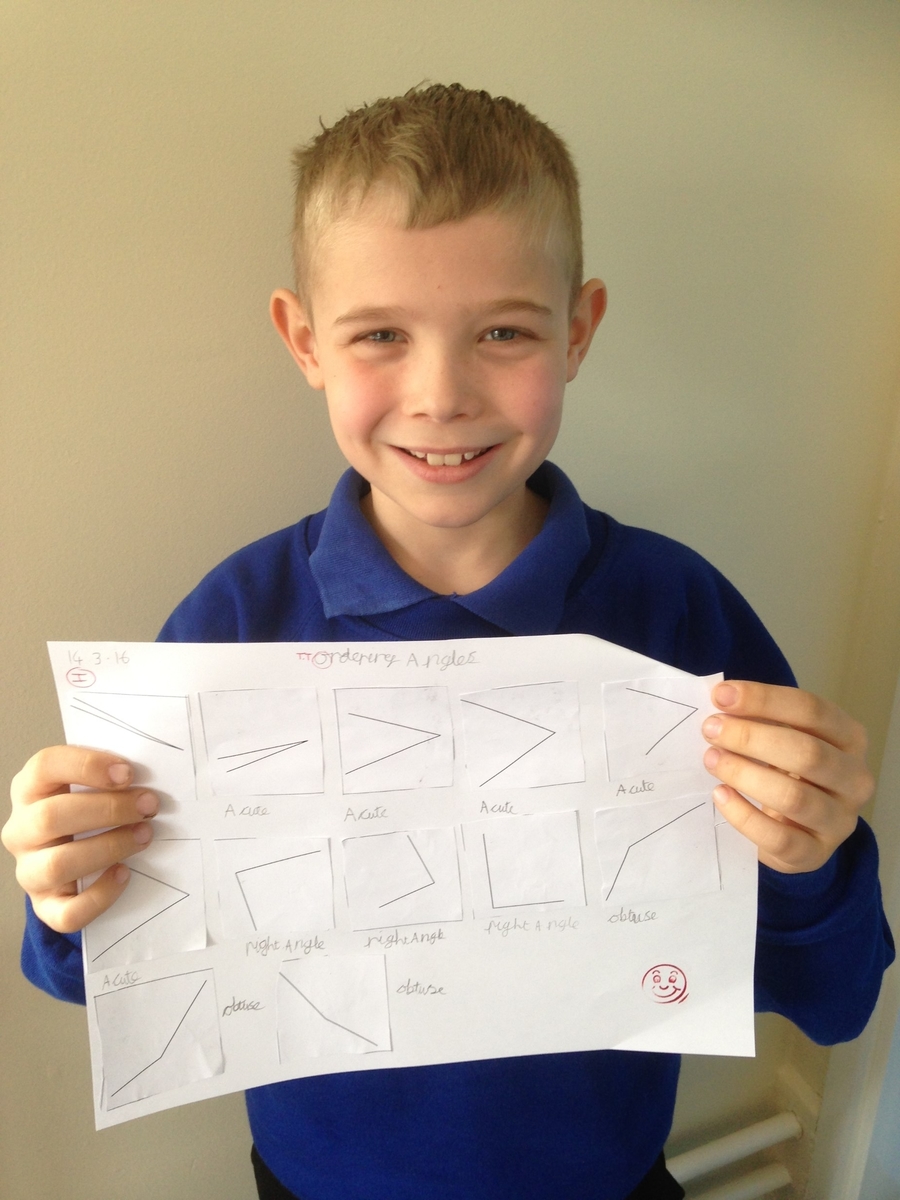 A very proud young lady - She is making great progress in reading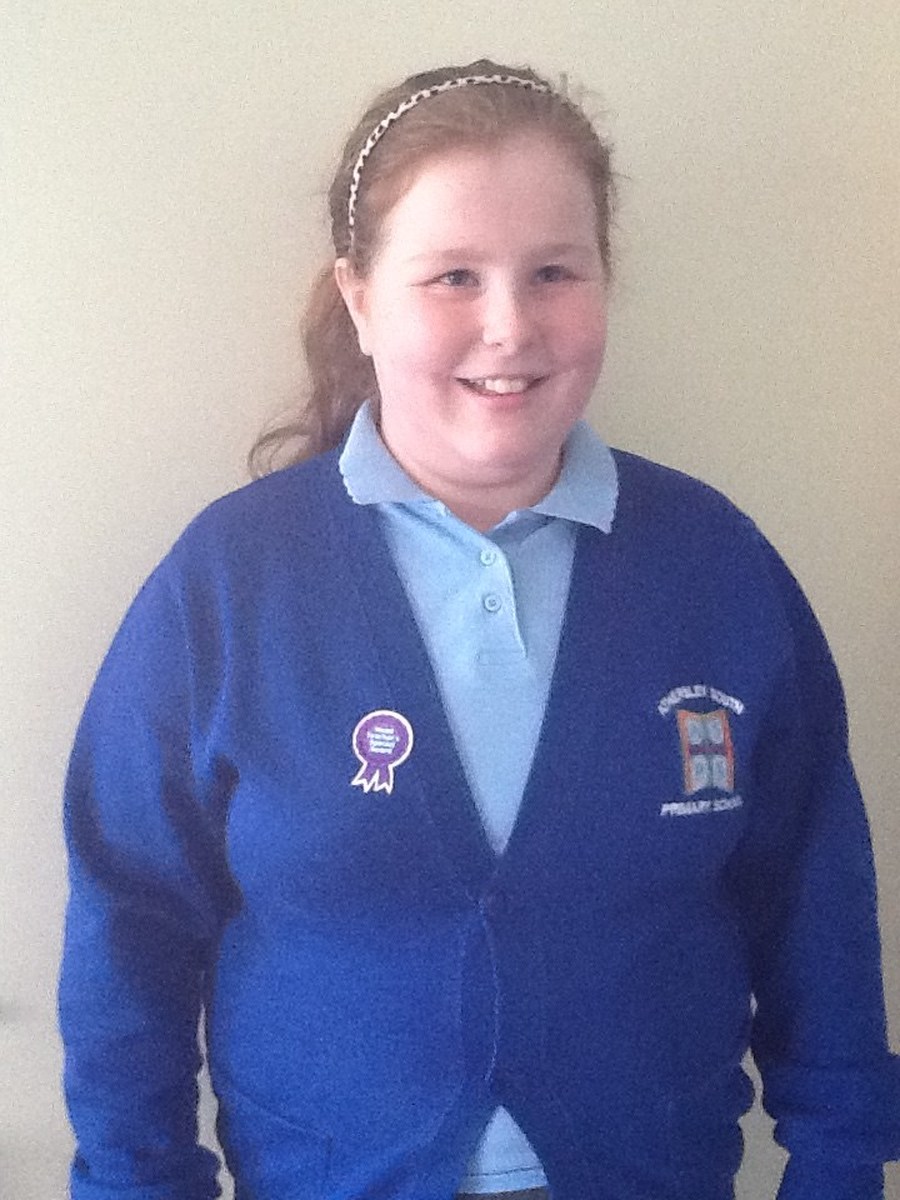 These Y5 girls have worked so hard on creating descriptive poems.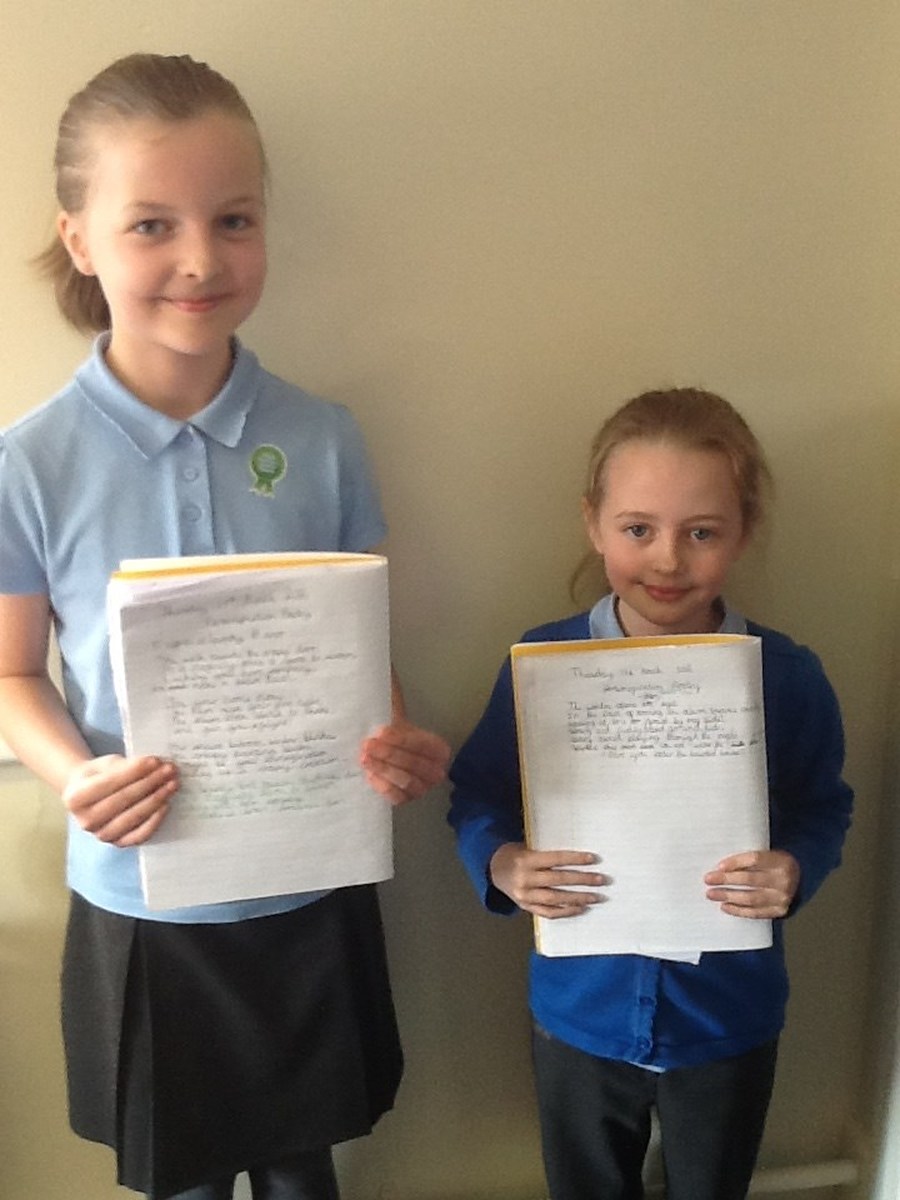 Marvellous Mathematicians - 72 out of 72 in 100 seconds!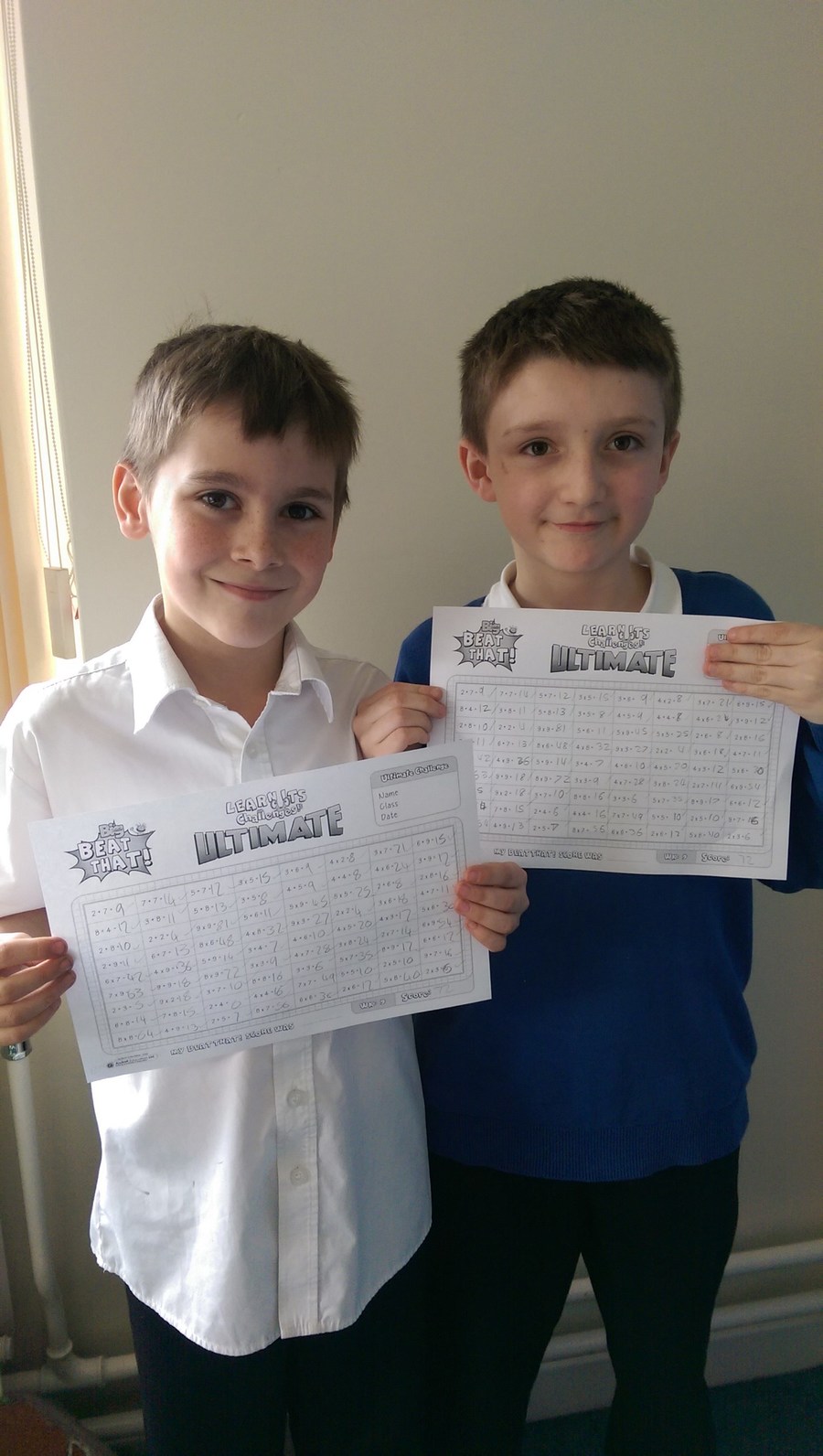 This is another amazing piece of work completed at home! Fantastic work!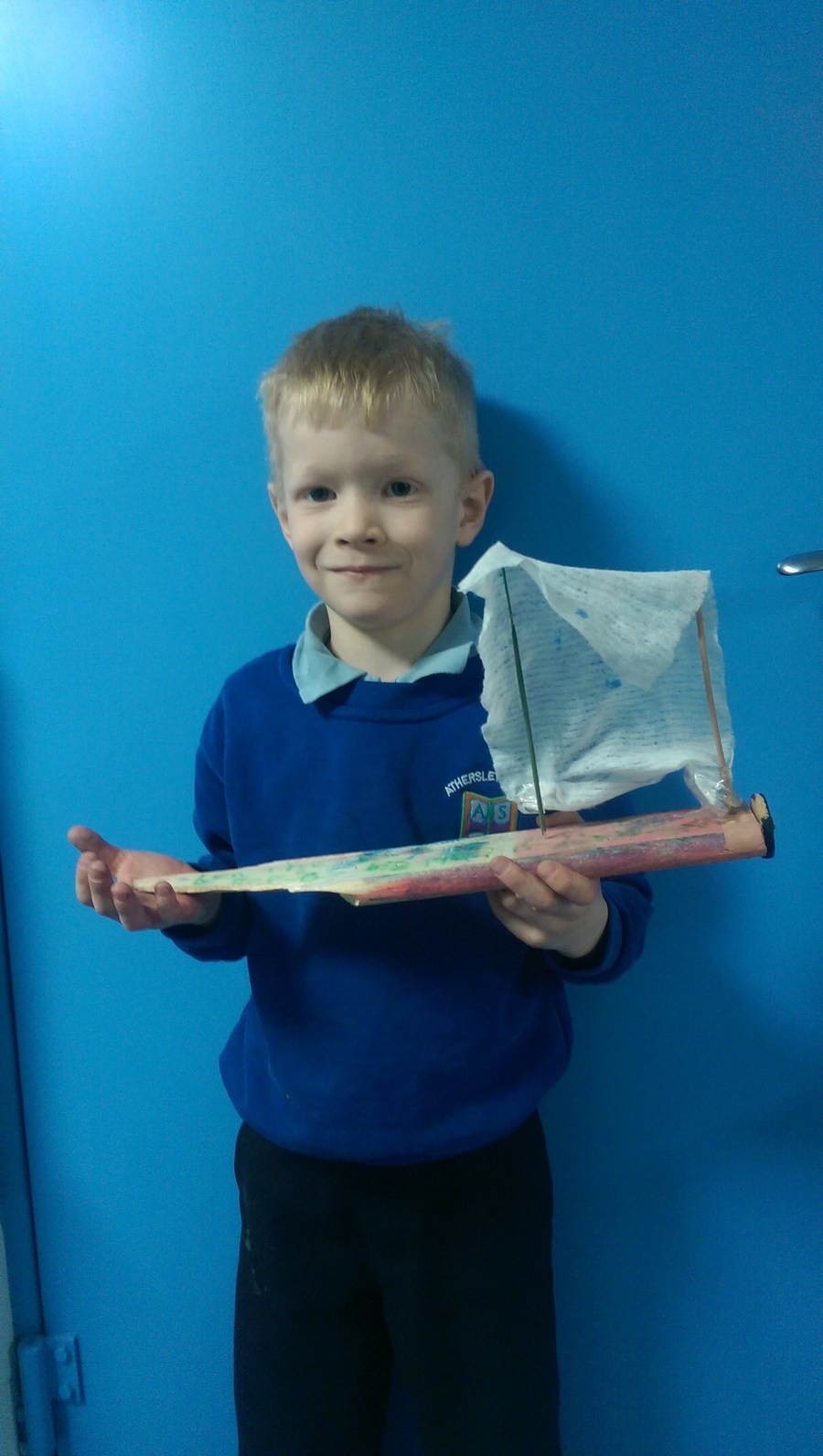 World Book Day 2016- It was such a difficult job being a judge this year but Mrs Midgley and Mrs Hyko managed it and here are this years winners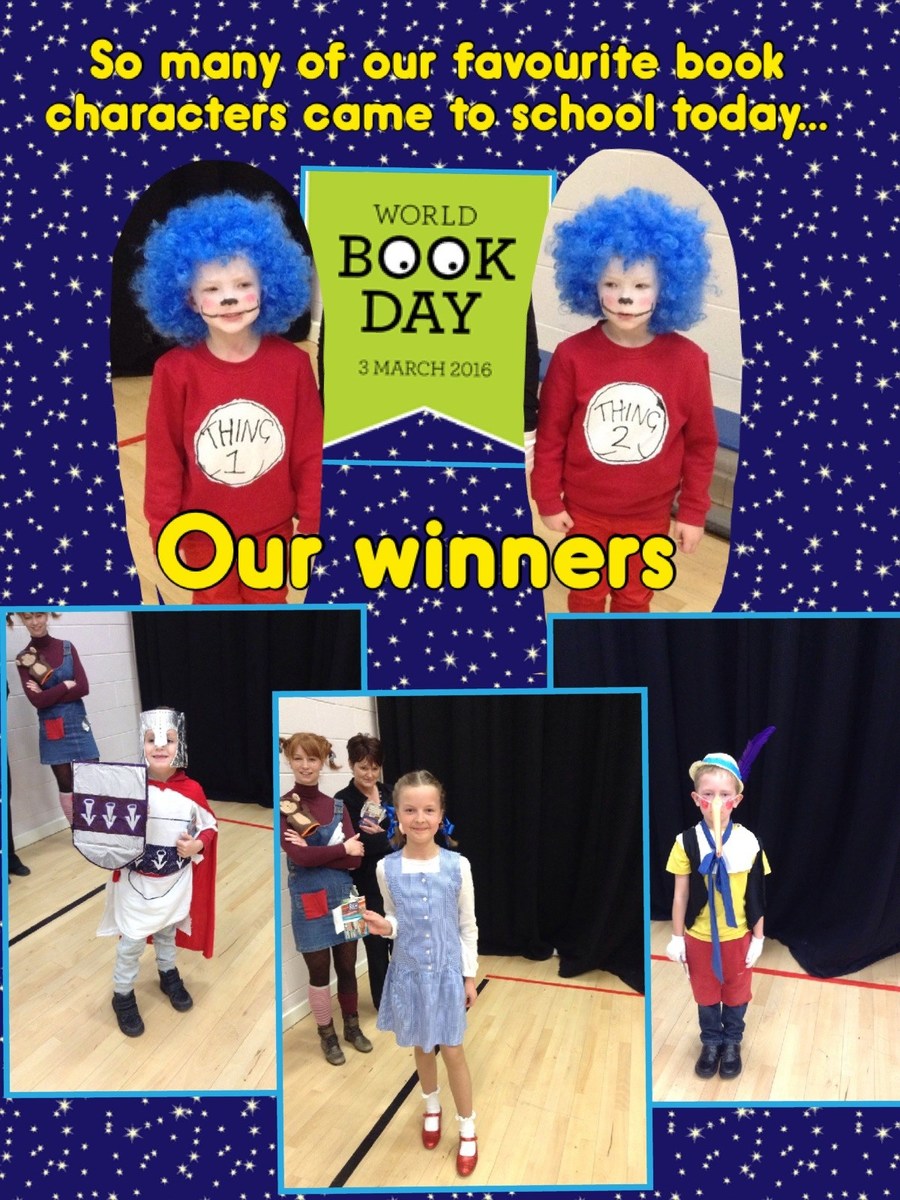 World Book Day 2016
An amazing effort was made by all of our pupils and staff, take a look...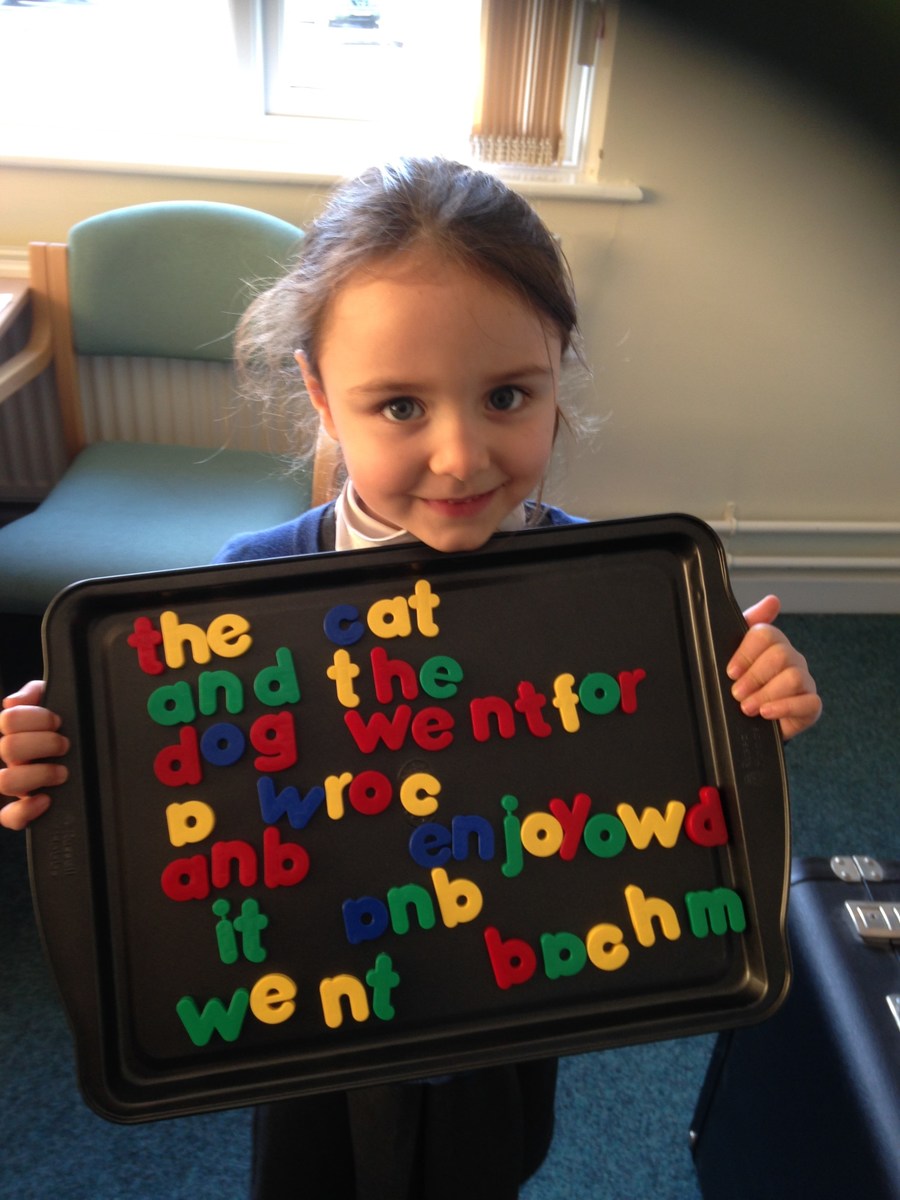 Not just content with learning about volcanoes at school, this young man went home and produced a detailed PowerPoint - well done.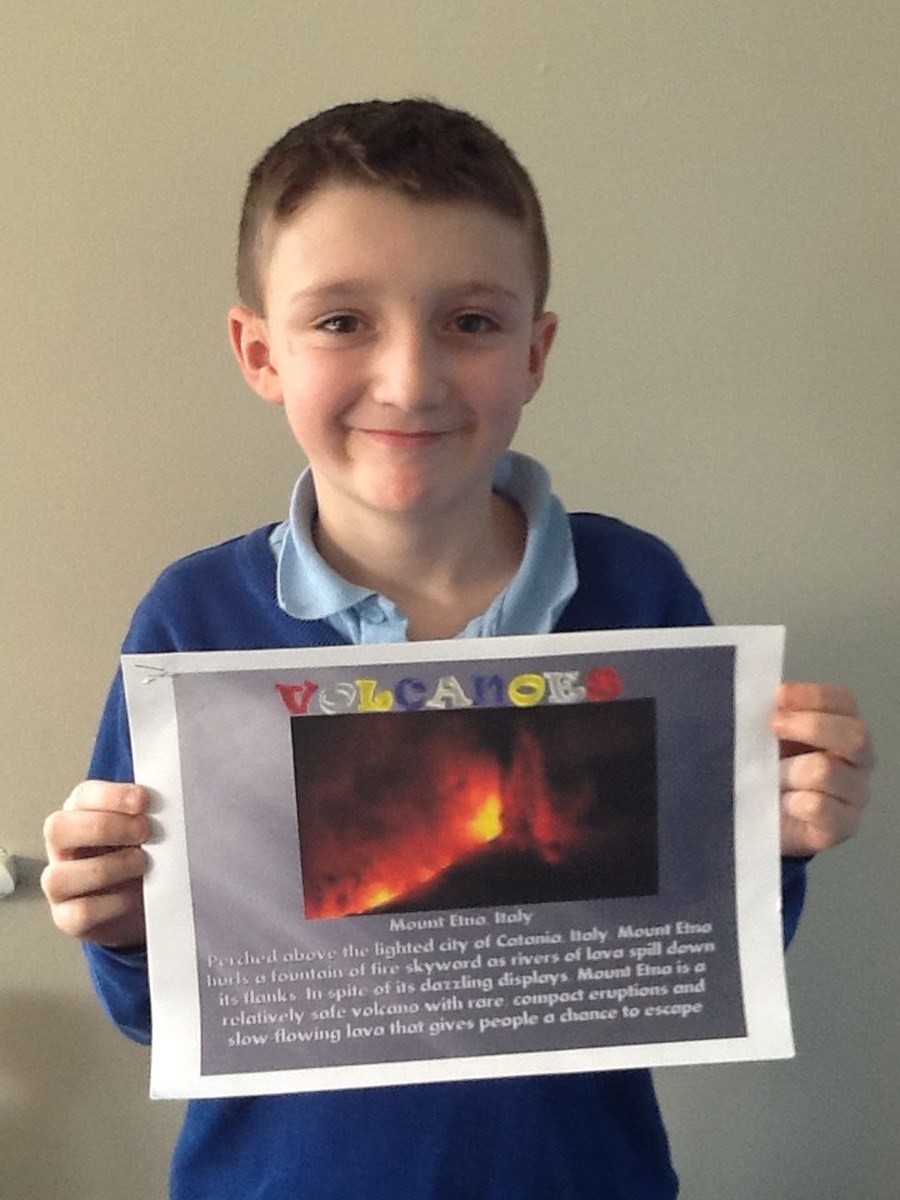 Discovering mathematical patterns in Y2 with fantastic enthusiasm.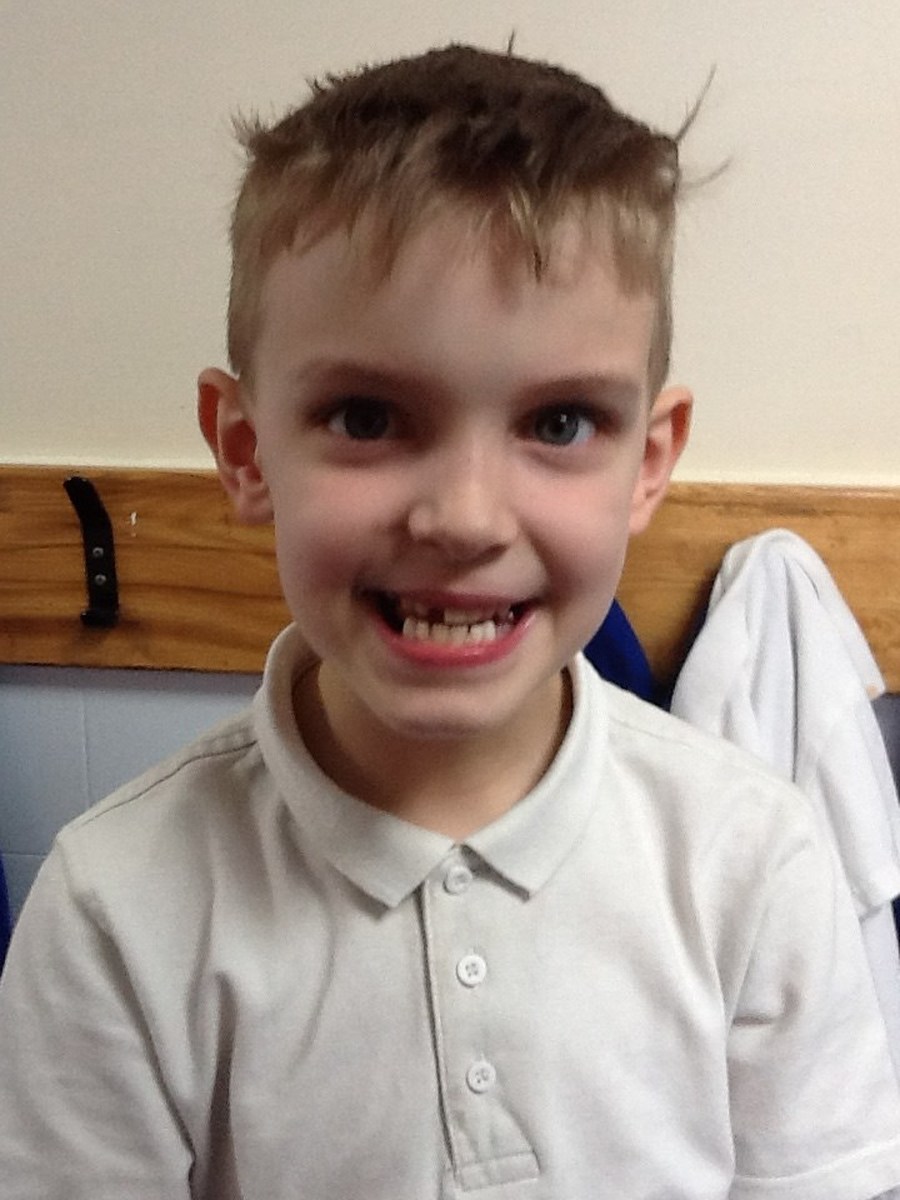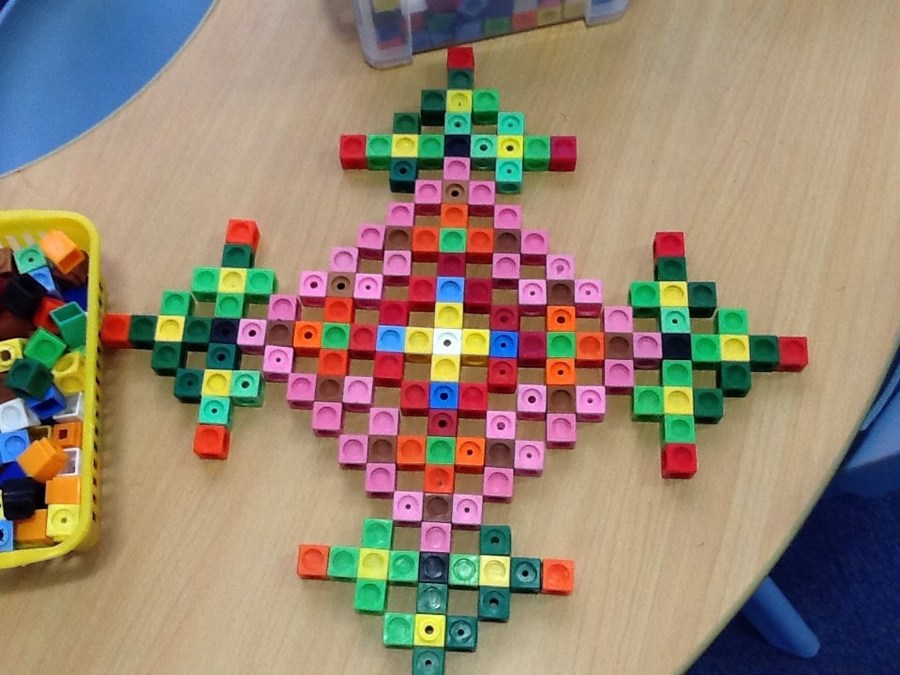 Multi-skills Stars - Well done to these children who were
crowned champions after finishing in 1st place.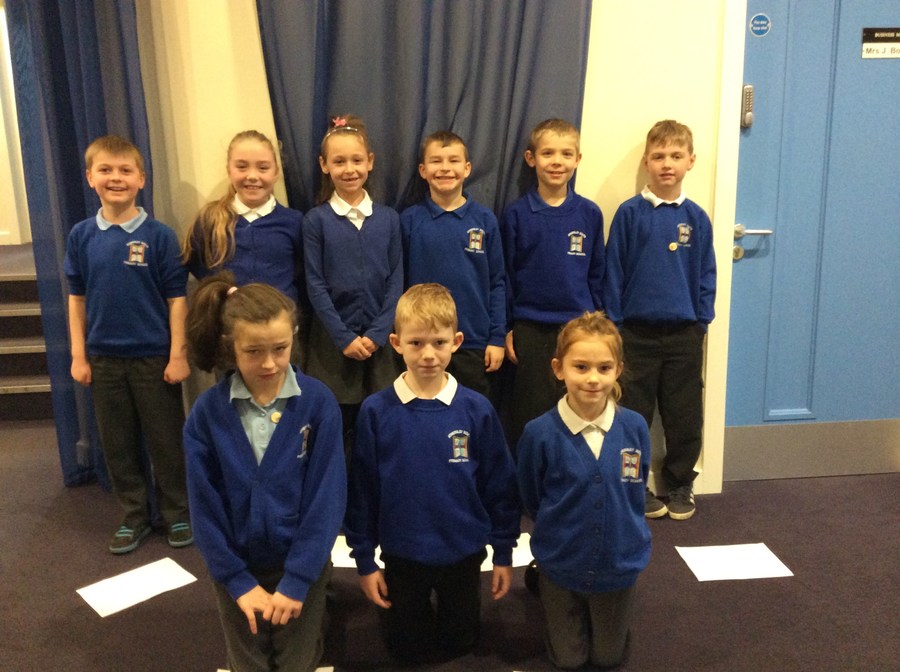 These children all tried their very best in the recent cross country event at Cannon Hall. Well done everyone for great effort and behaviour!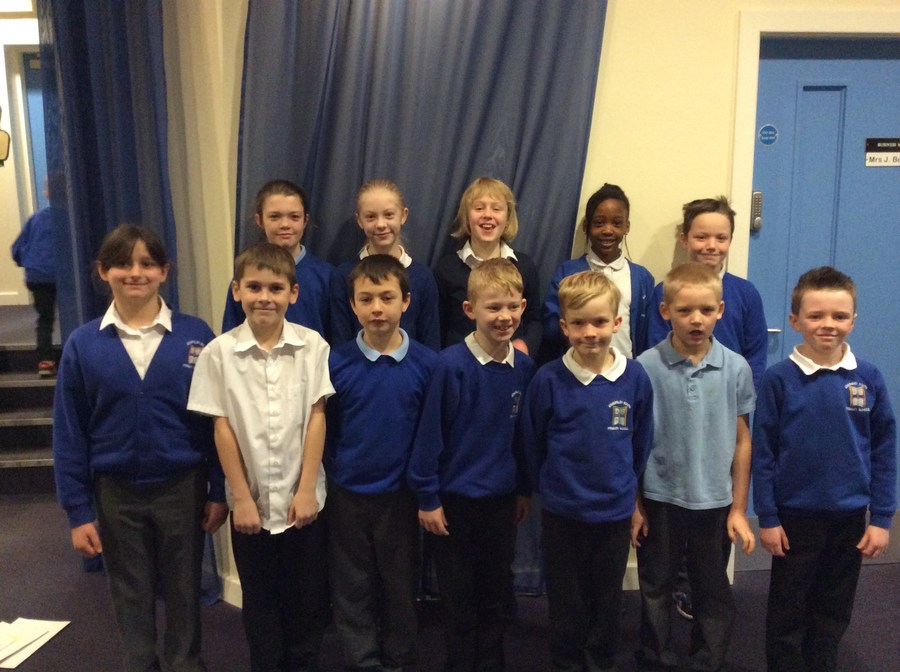 Well done to Mr Vajai, our Premises Manager, for gaining a
certificate after recently completing a course :)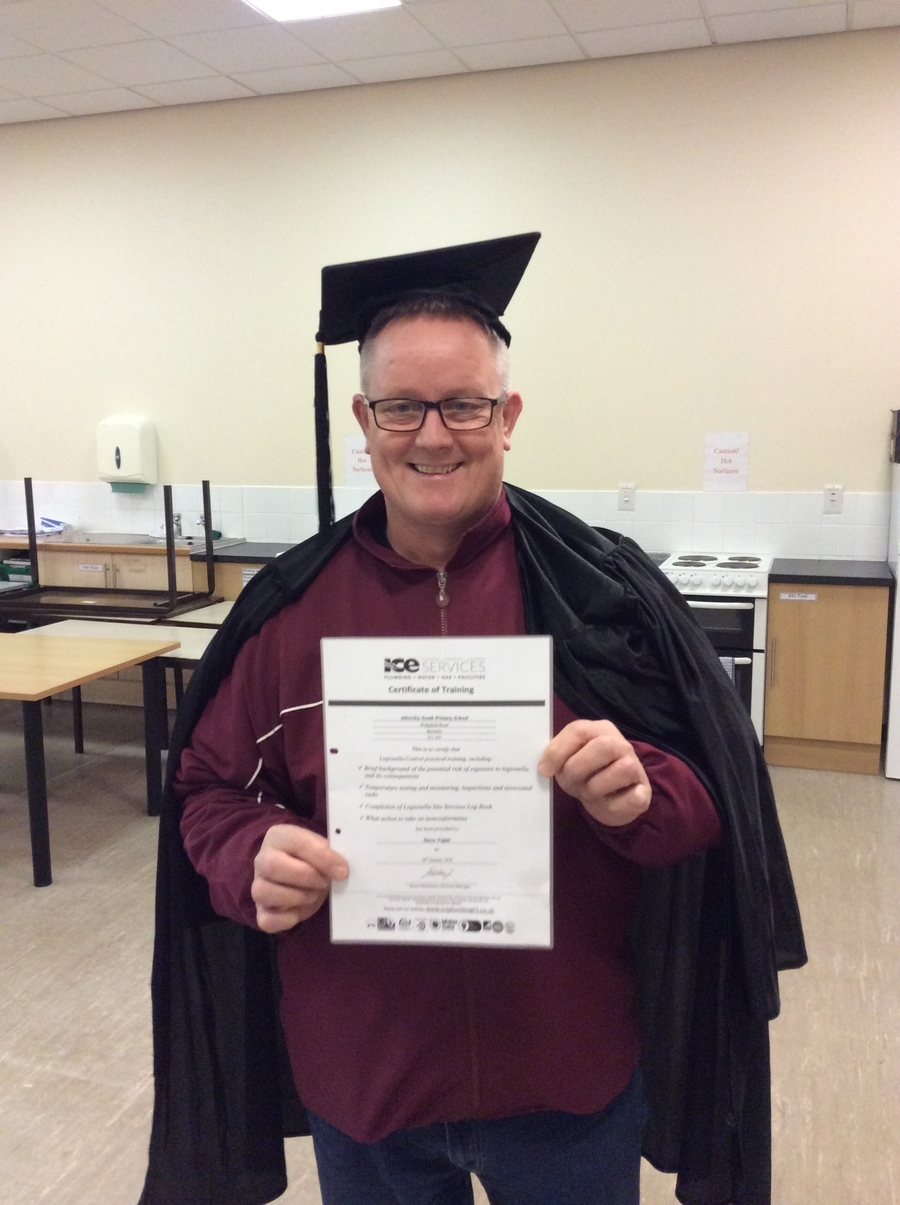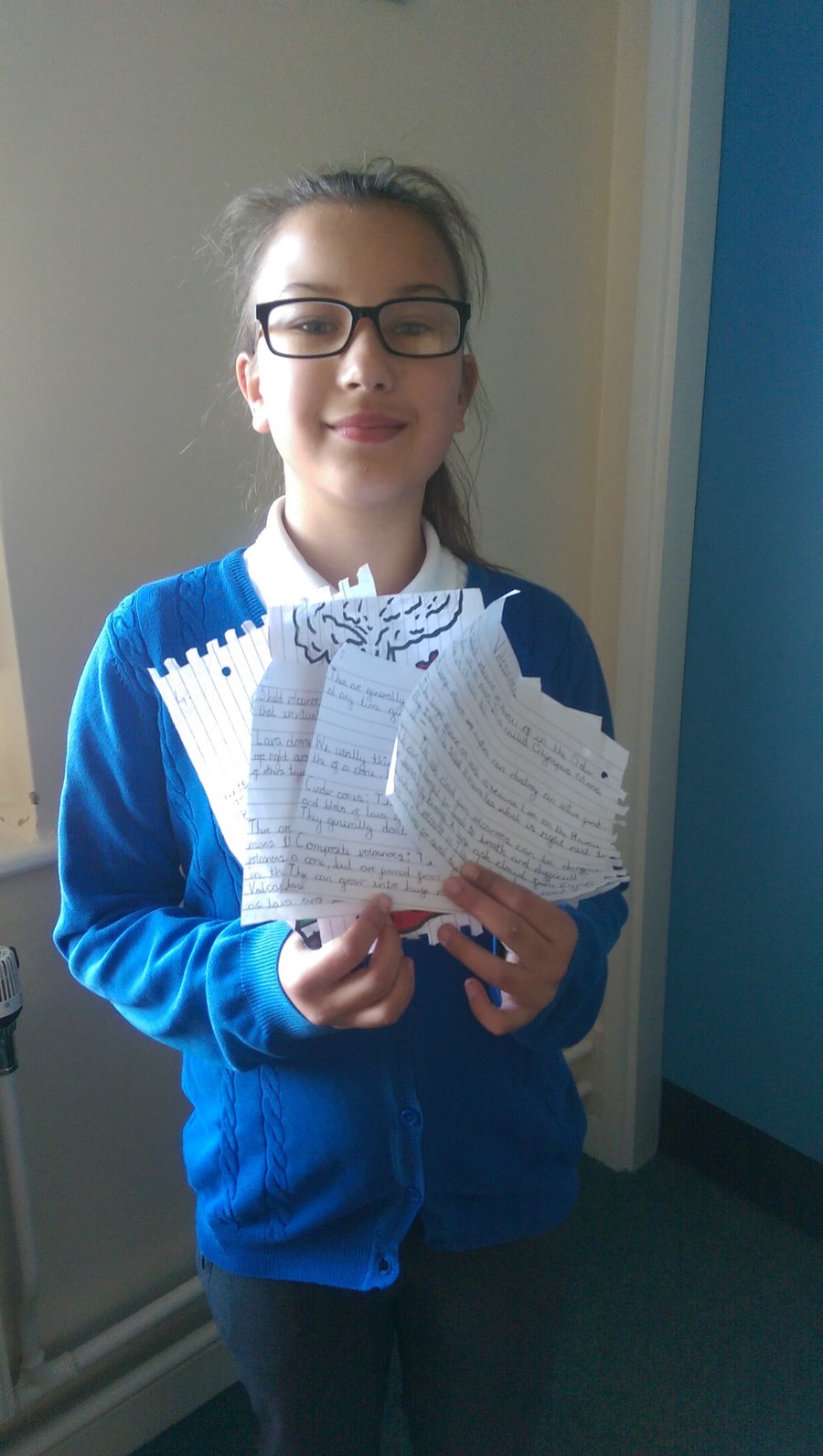 For the second time this week I've been amazed by someone extending their learning at home. This work about volcanoes is very detailed and interesting. Well done:)
This young lady has been working incredibly hard at home to complete this!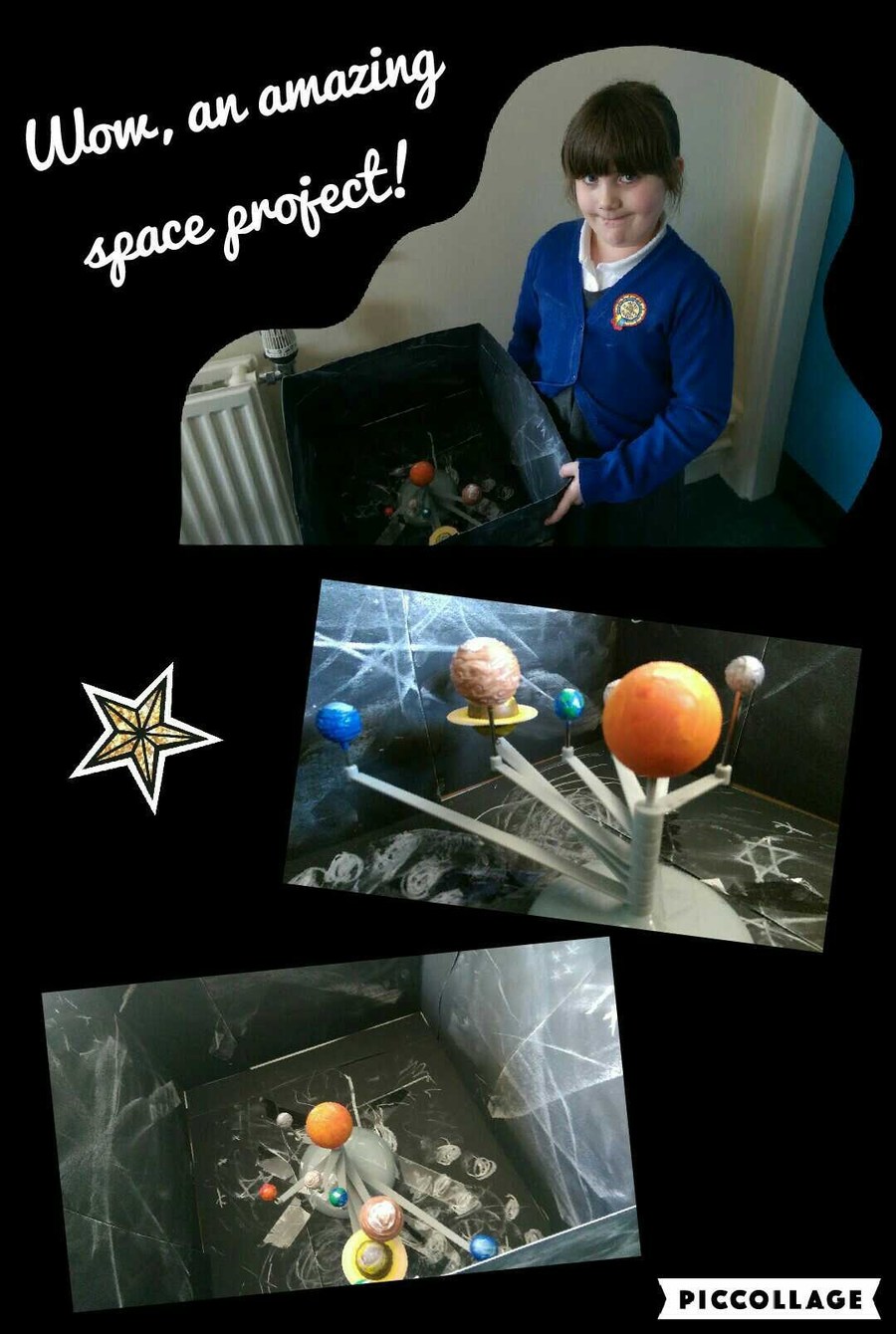 Wow! Fabulous effort in writing :)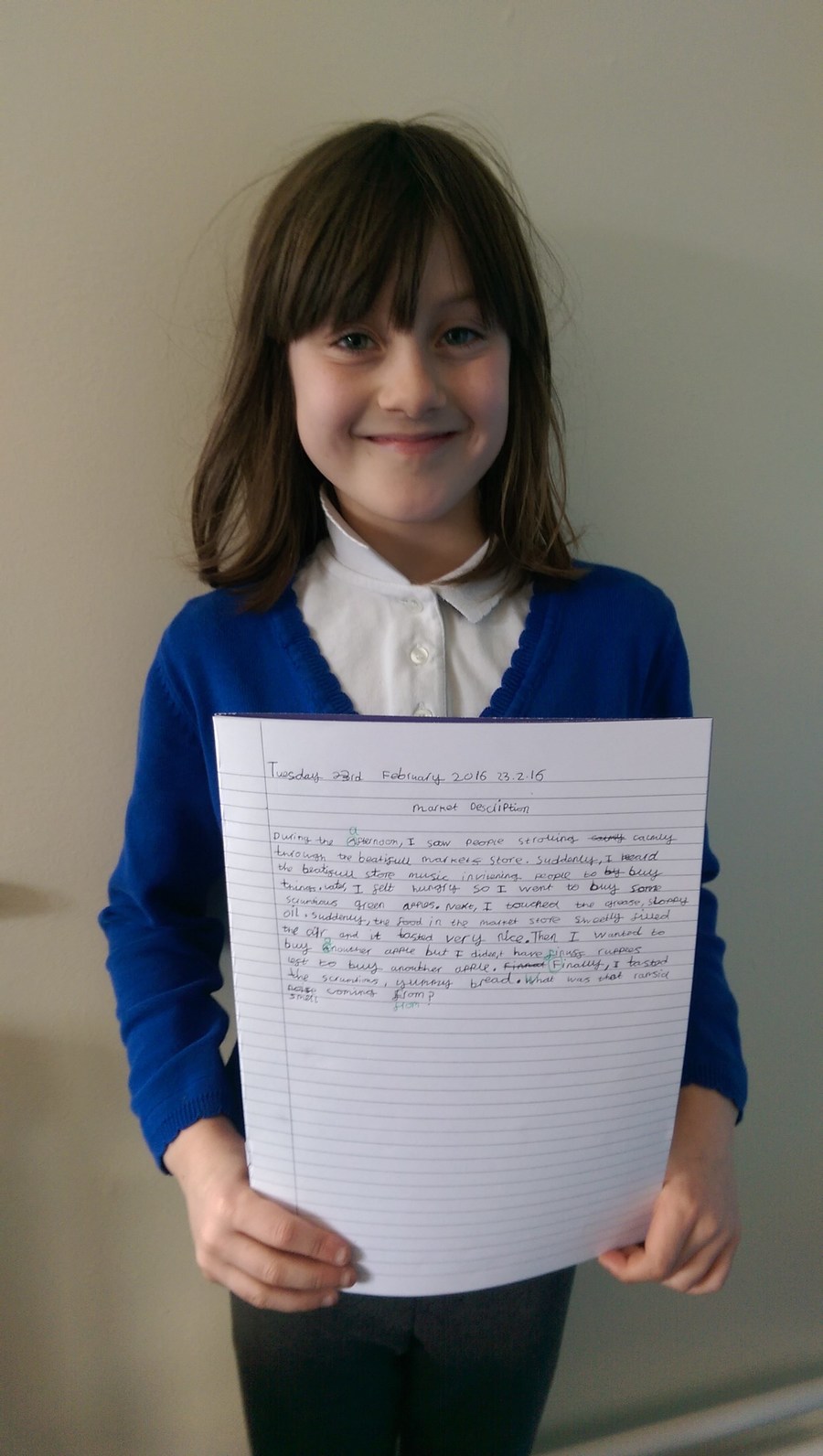 Hello to our new playground leaders. These two boys were absent last week when the rest of our Playground Leaders were introduced. They too completed a 6 hour course where they found out how to support our youngest children during their outdoor learning. They know all about cooperating, sharing, equality and how to solve conflicts. A very big well done for all your hard work- look out for them outside, they will be wearing special hats remember!. Tbese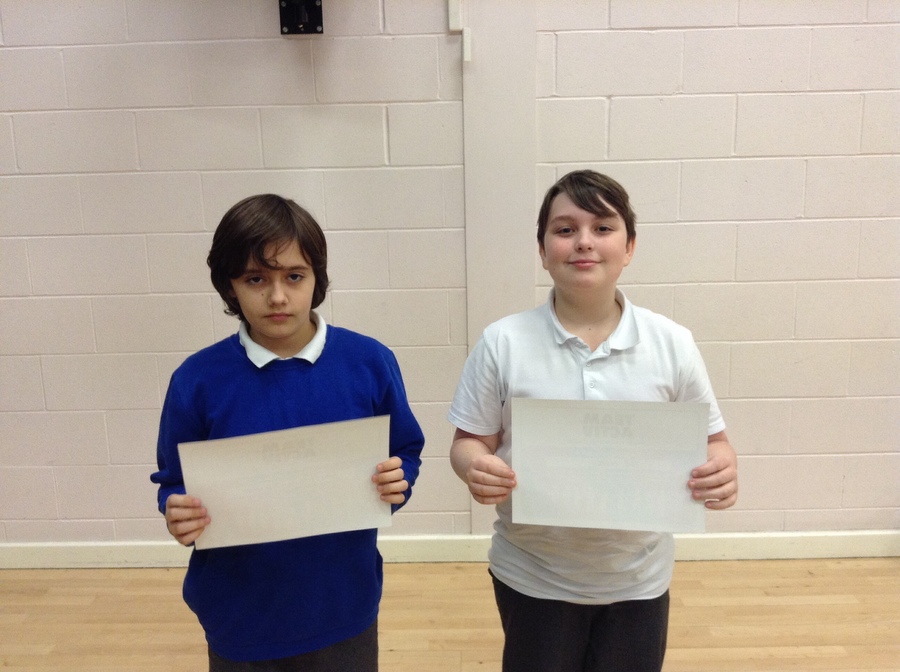 29th January - The Y1/2 Athletics Team came 1st in the tournament today. There were around 20 teams and they won virtually every race. An excellent result, well done!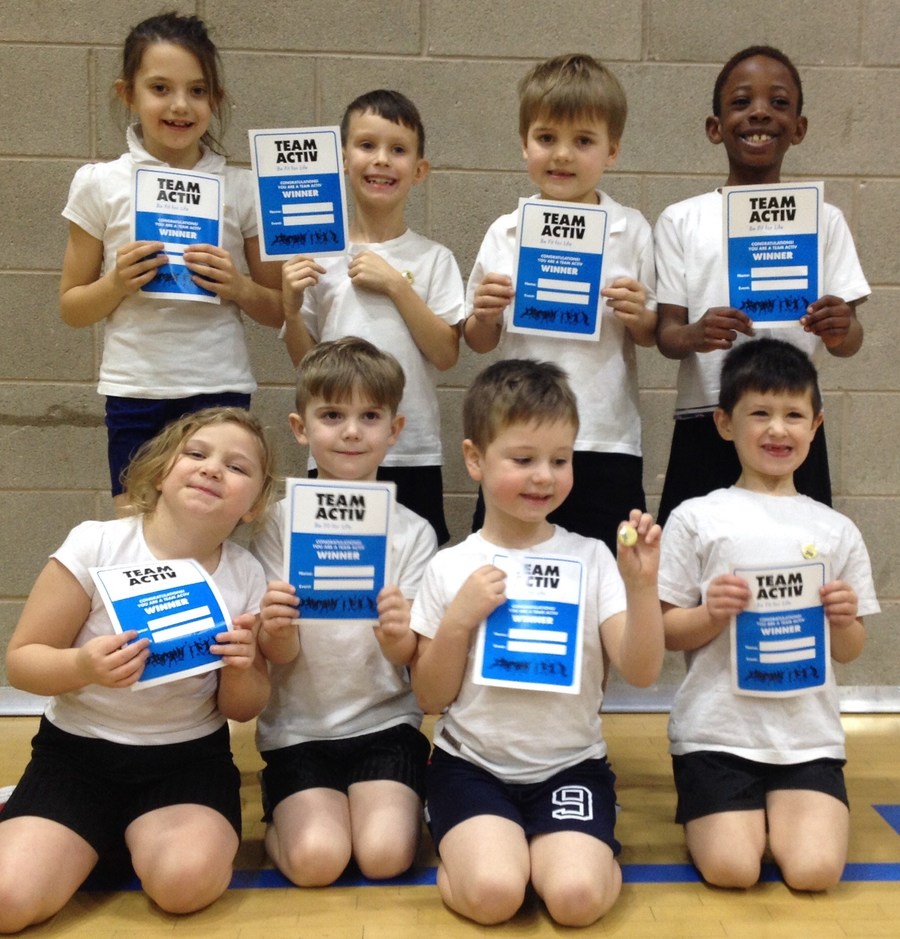 27th January - The Y3/4 team came 3rd out of 12 schools in the Relay Tournament. Well done to your all.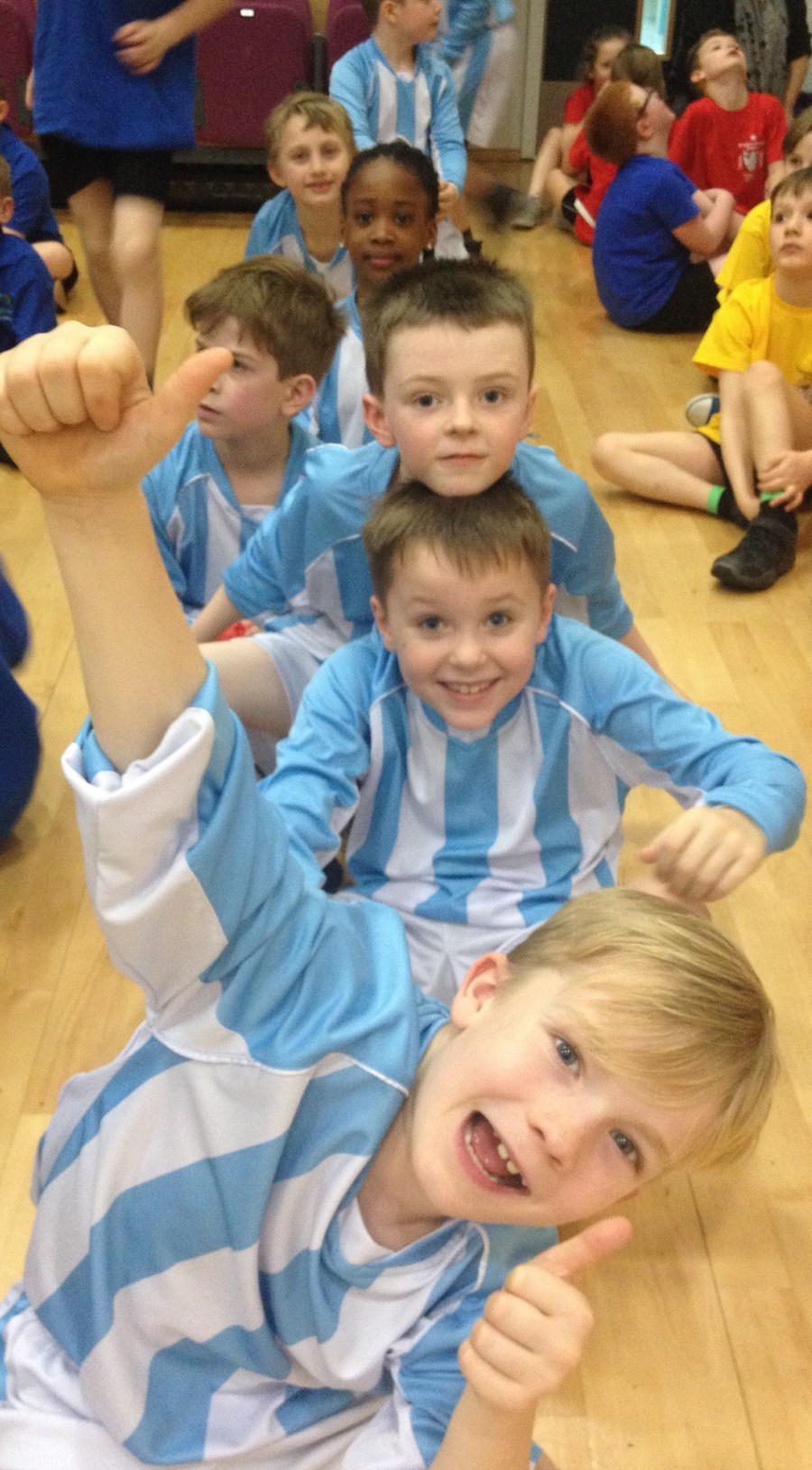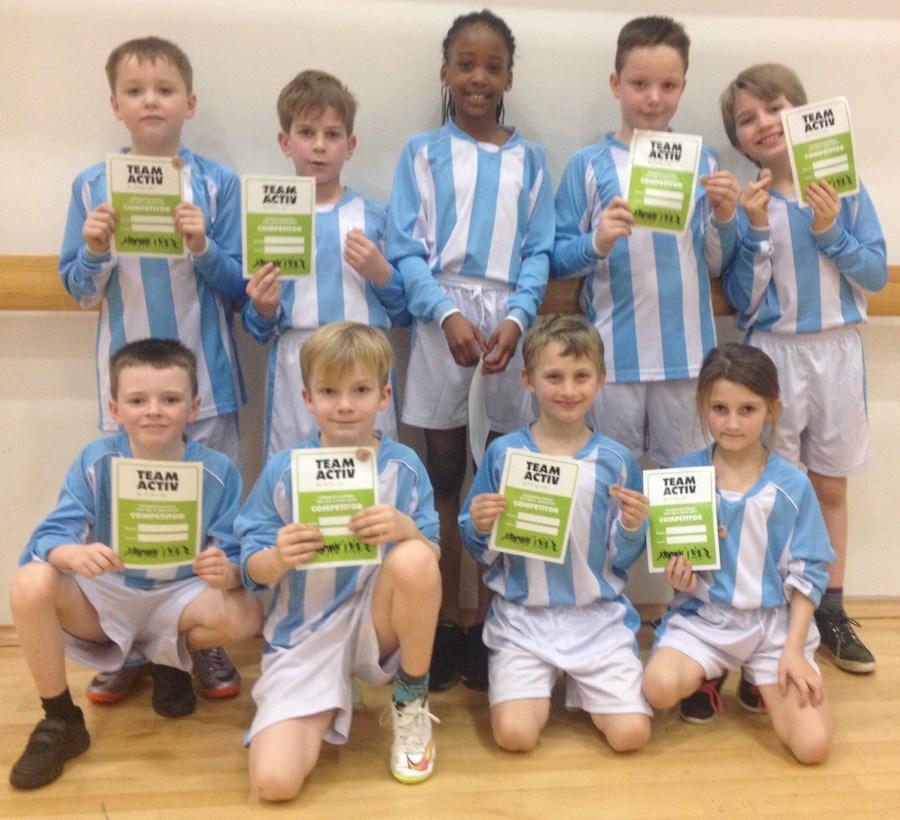 As part of their six hour training programme our Young Playground Leaders had to demonstrate that they are able to organise games for children to play. They successfully completed this final challenge so they will be setting up games on the playground very soon.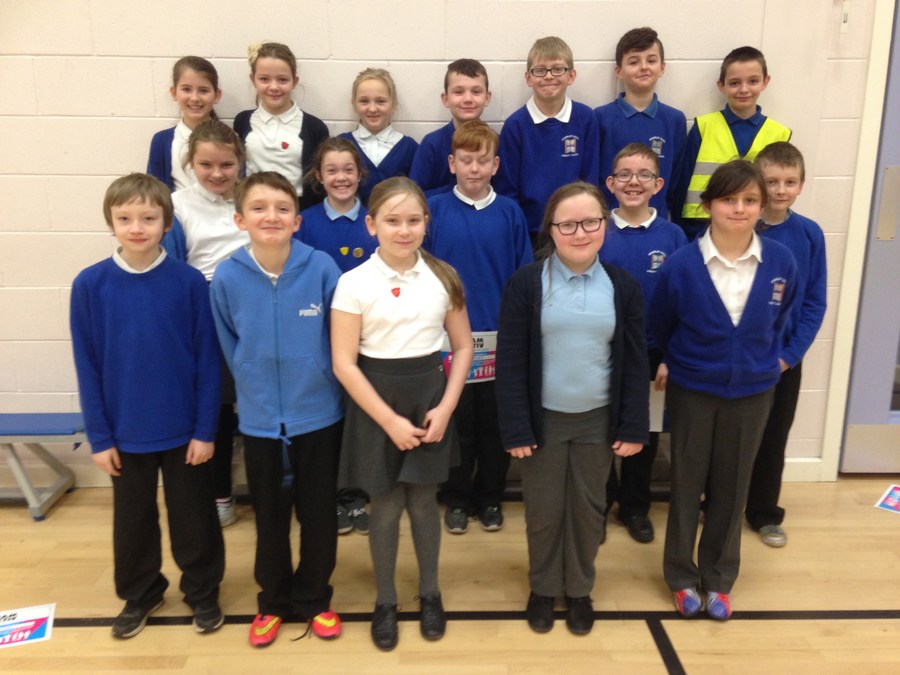 The top piece is from July and the bottom is from January, Just look at how the handwriting has improved. Well done, keep up the excellent work.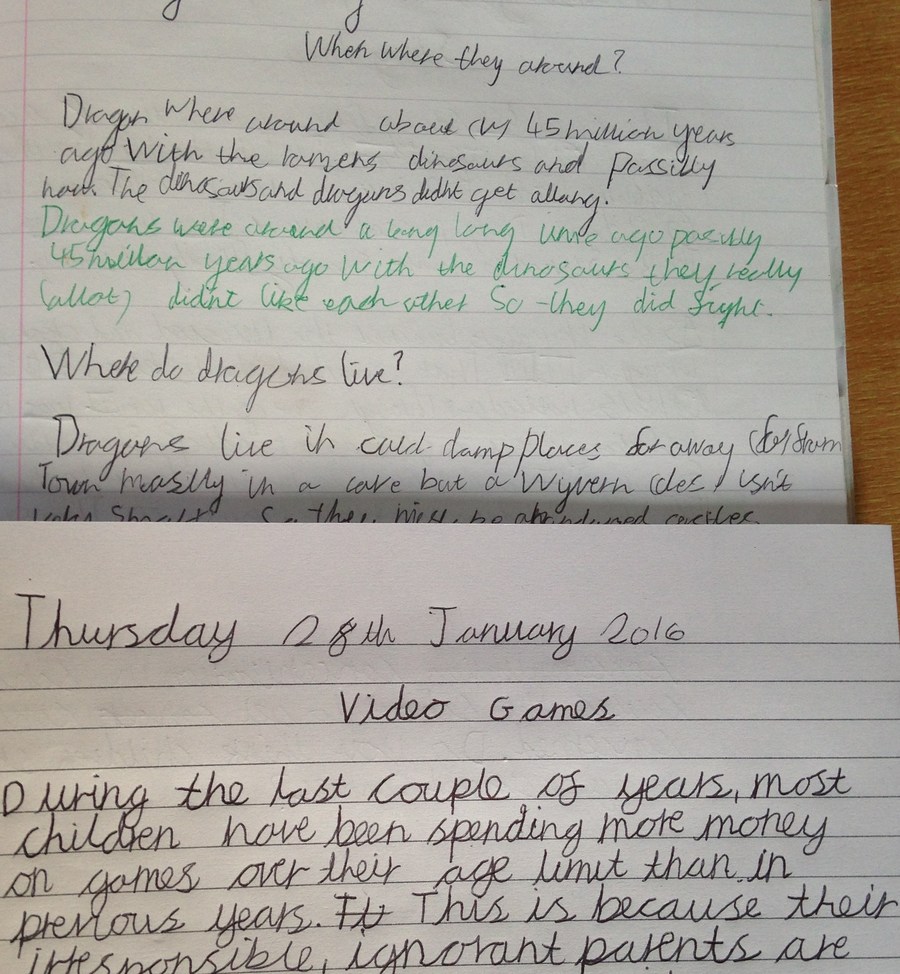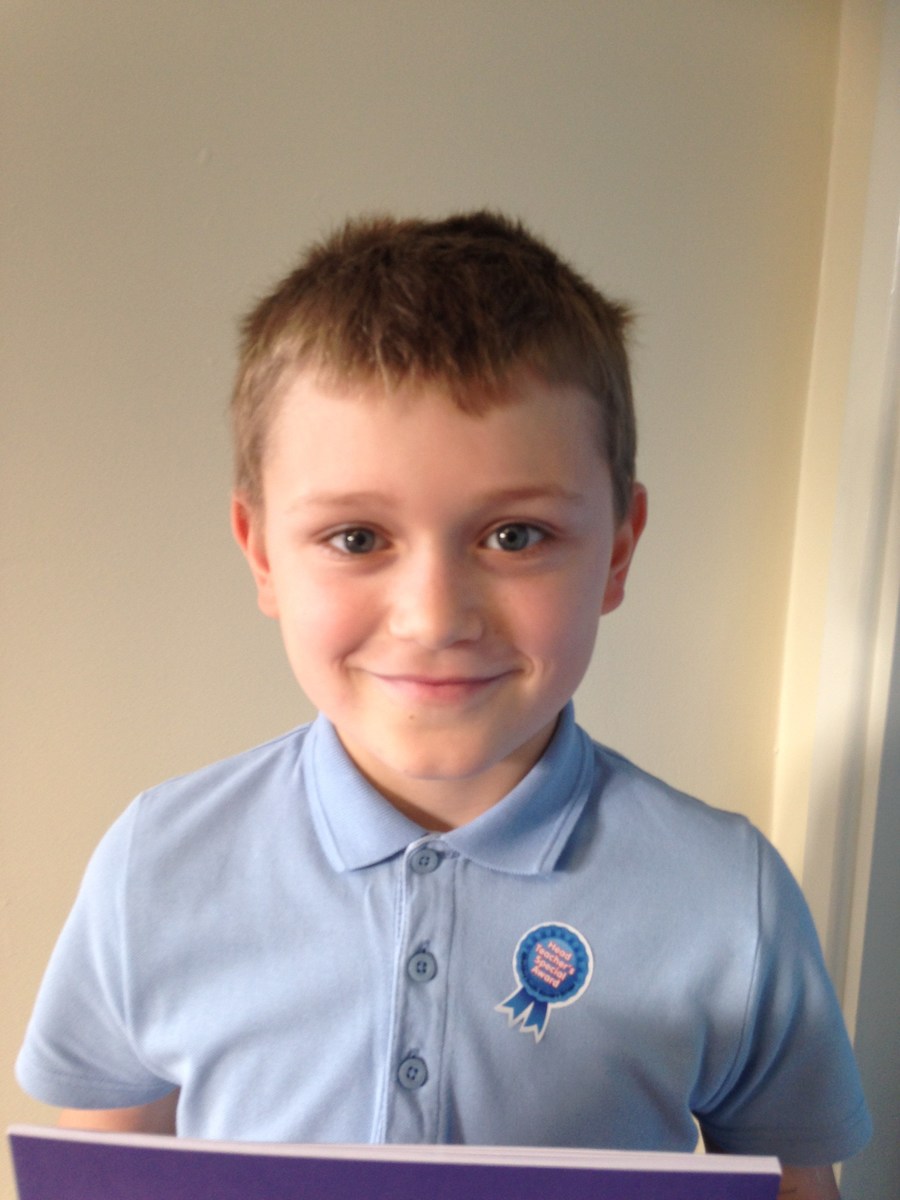 A fantastic piece of persuasive writing. I wonder if the language he has used would persuade you?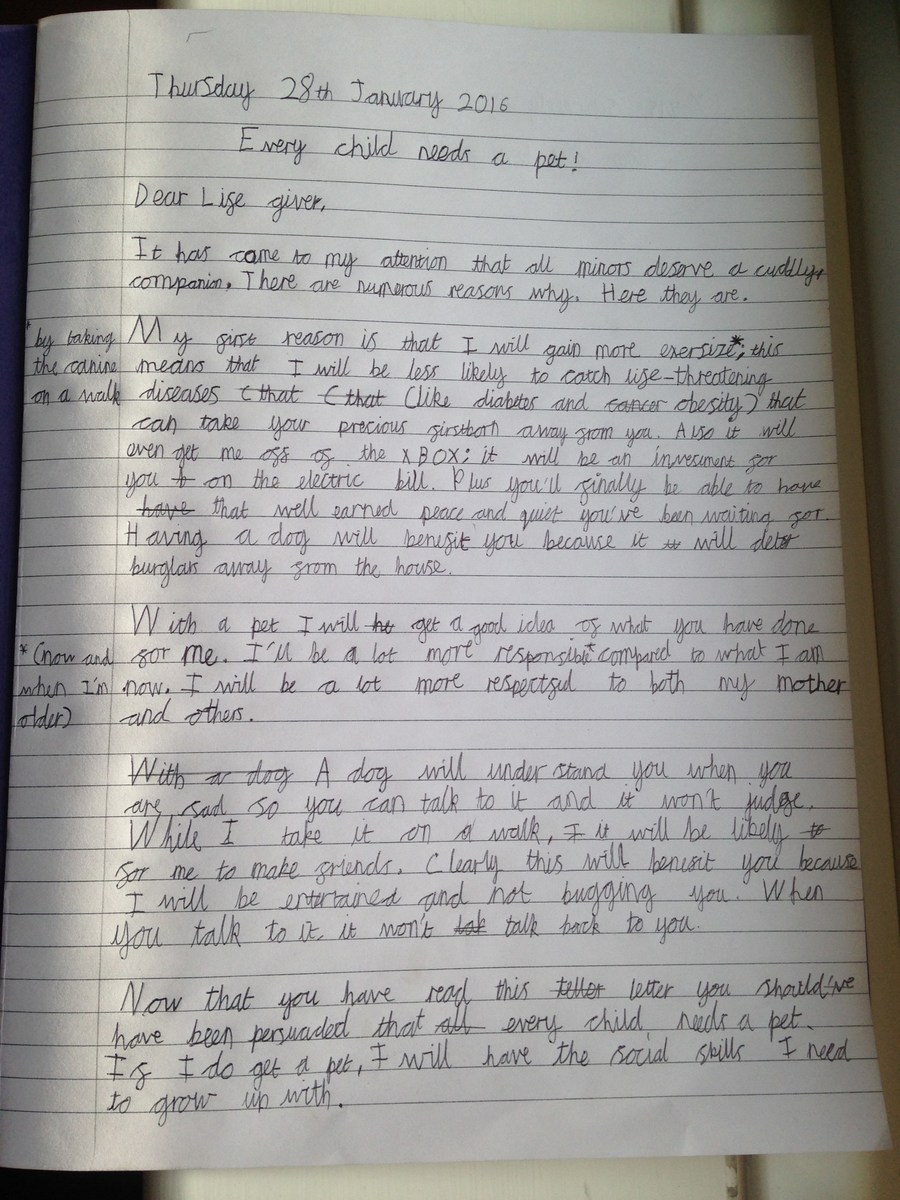 23rd February Y5/6 Singing in the Community - Y5/6 went to the church this afternoon to sing to Athersley Cares Community group. Some of the children also performed pieces on the clarinet.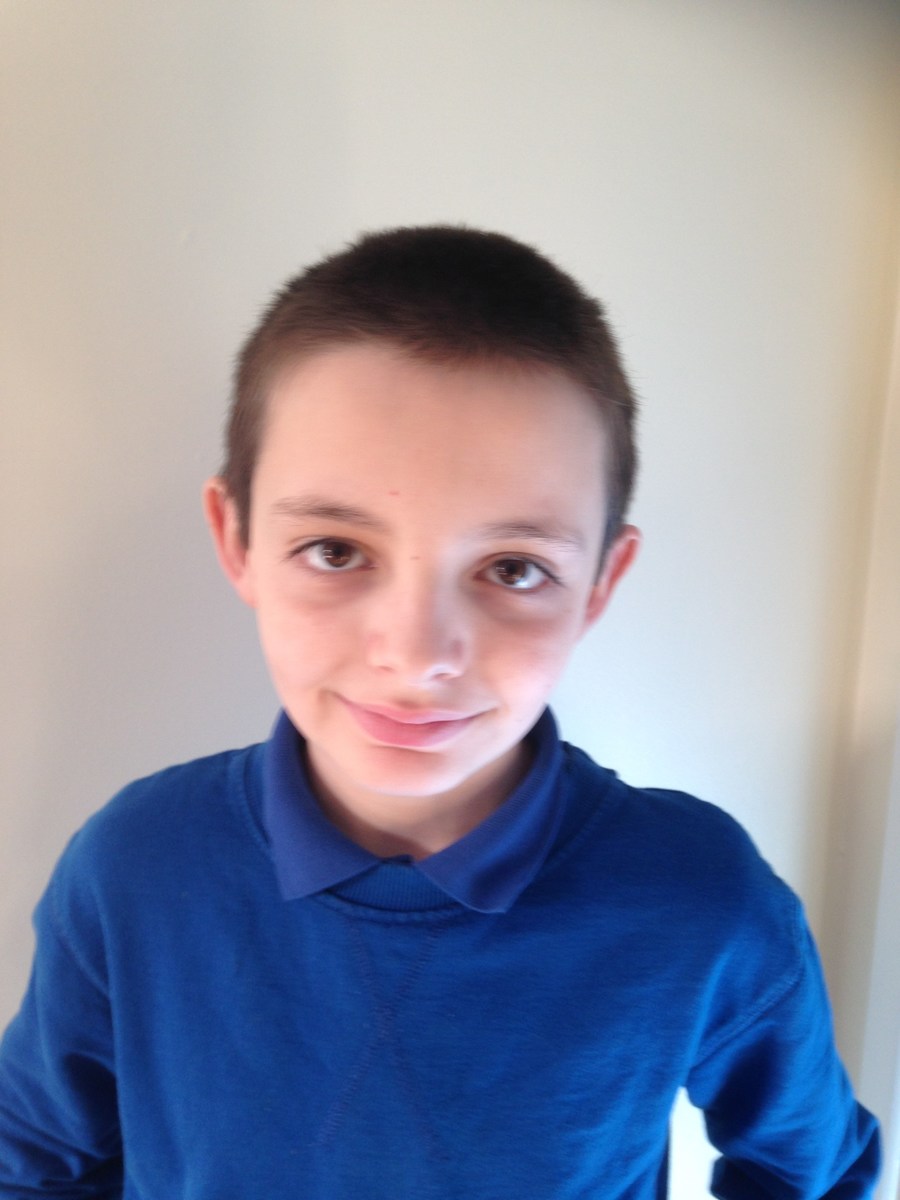 22nd January - The Y56 Basketball Team were great today coming first in their league. They won one game 30 - 2, wow!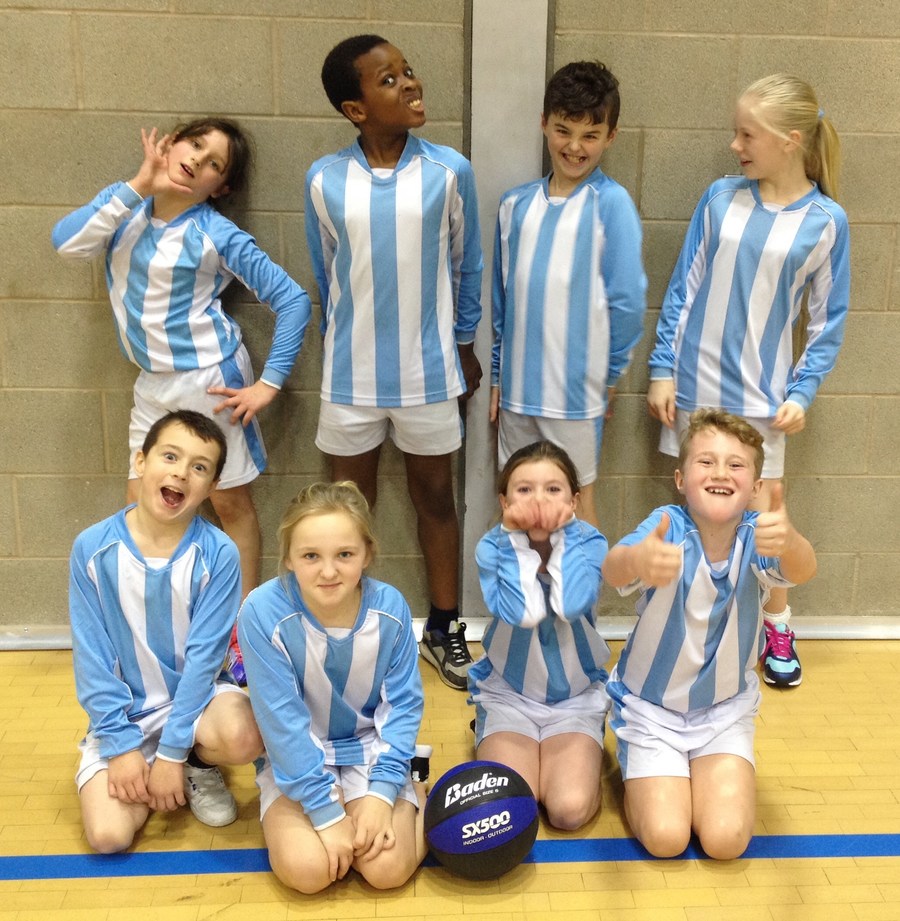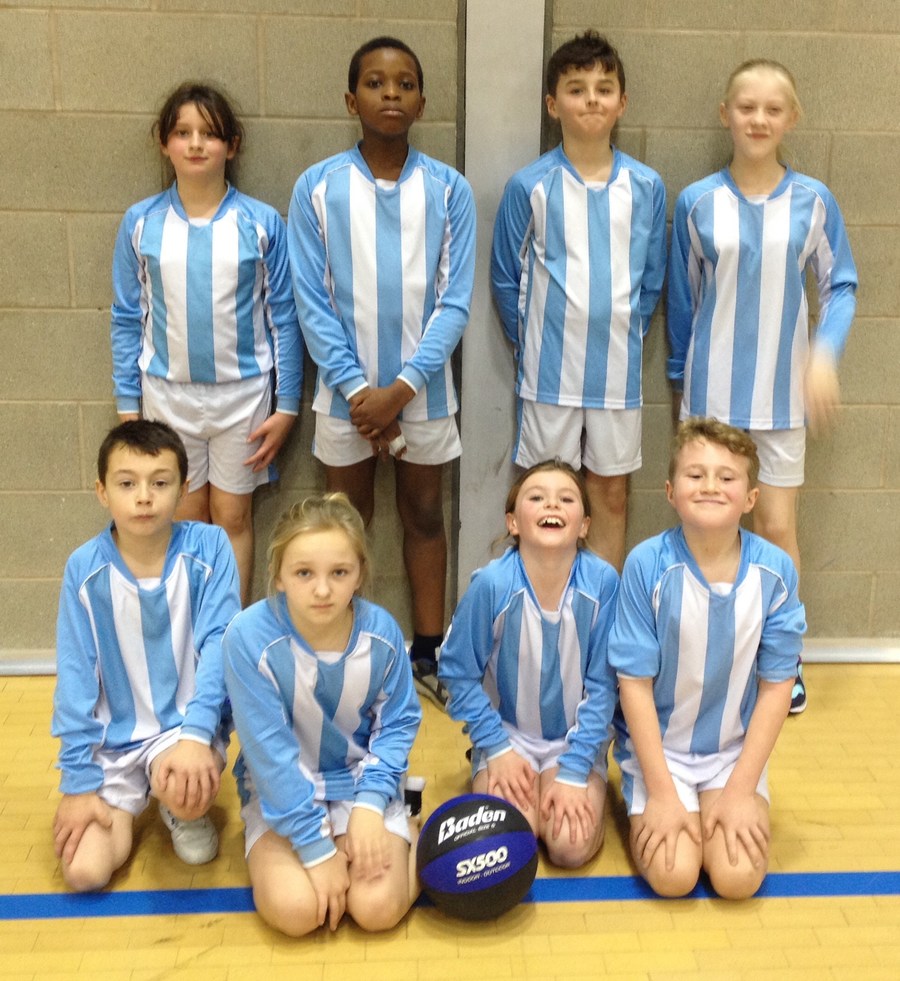 Class 6 Designers
These children have been thinking carefully about their designs and making prototypes for their purses and wallets.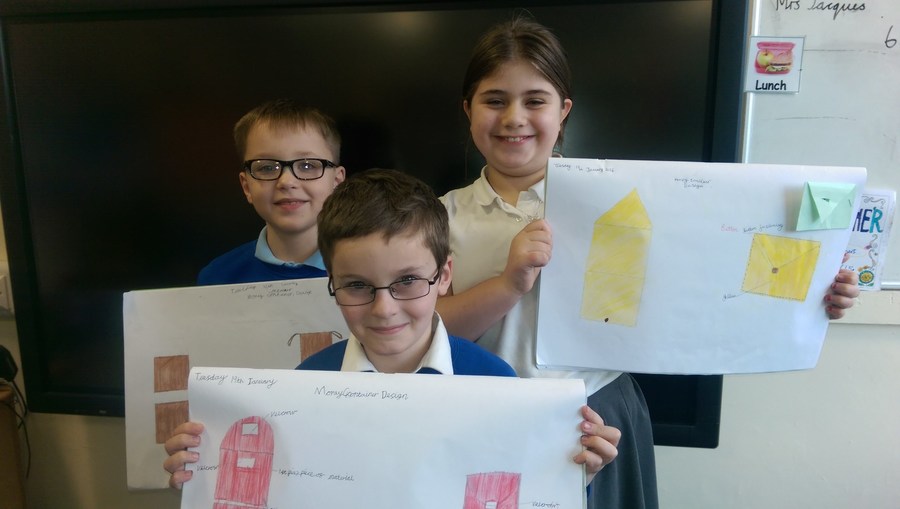 Young Leaders - Twenty of our Y6 children are participating in the Young Leaders programme run by Team Activ. After completing six hours training they will have the skills and knowledge to enable them to set up and run games at lunchtime and playtime. Well done to you all.
FS2 have been writing speech bubbles. Spiderman is telling us that he is going to spin a web - so watch out!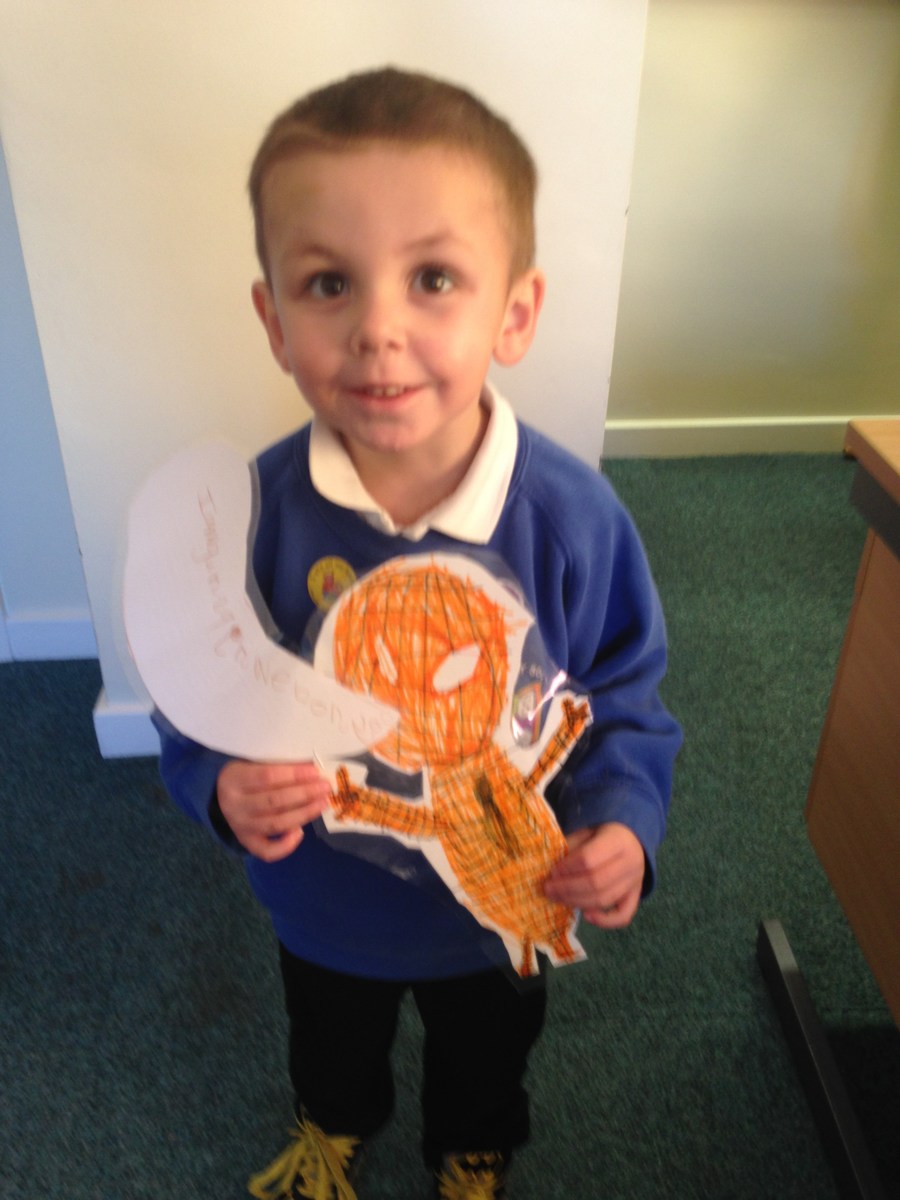 Y3/4 have been writing winter poems. This young man went home and wrote his own wonderful winter acrostic poem. Why don't you have a go at writing one yourself.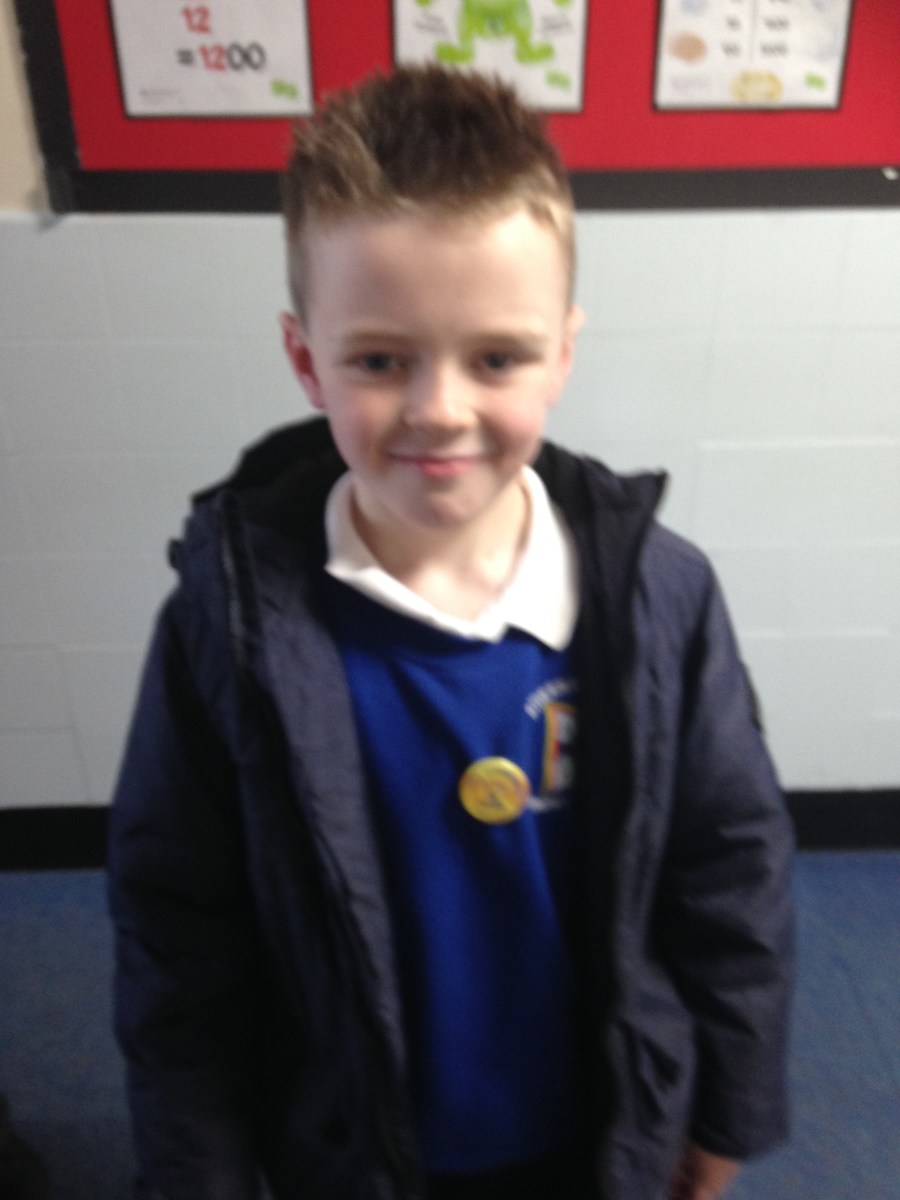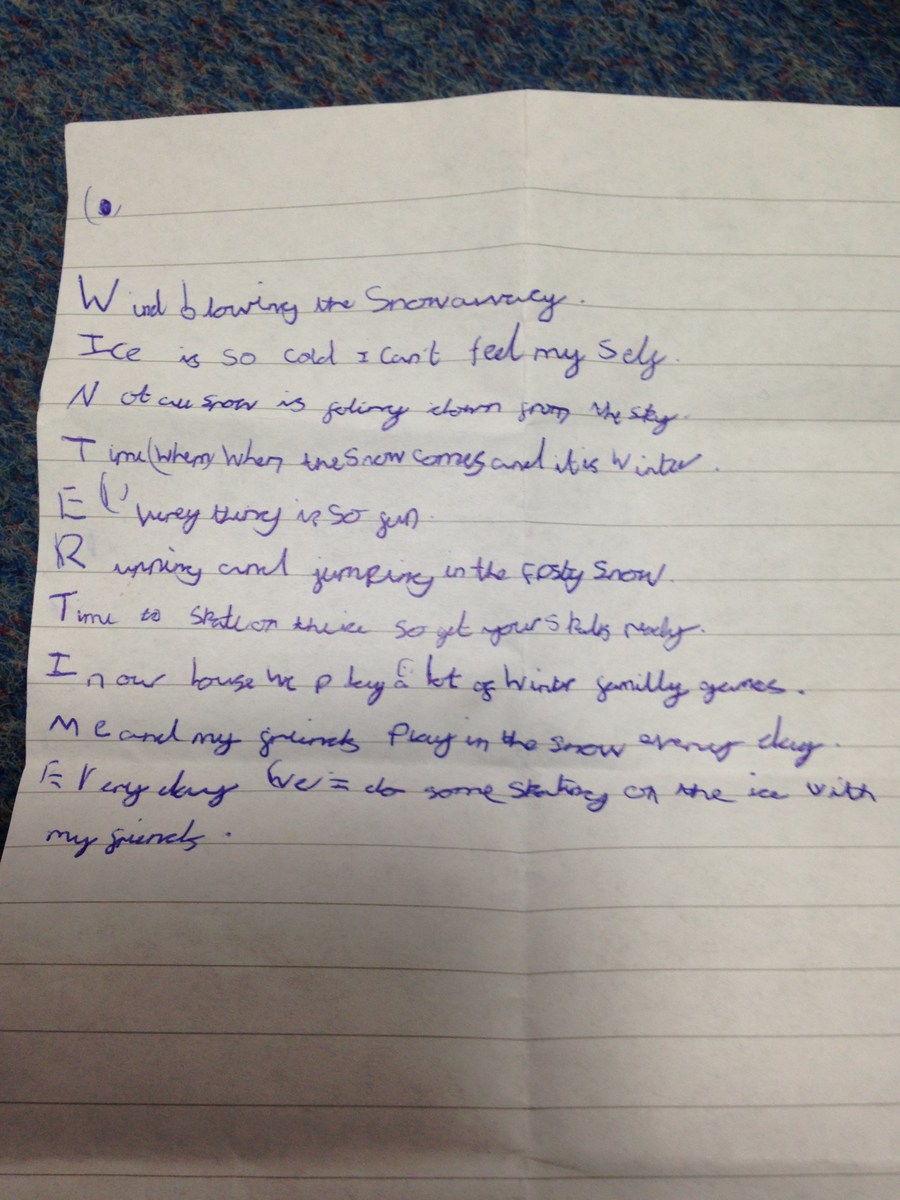 This young lady used her phonics knowledge to read a book. She was so proud of herself and we were all proud of her too.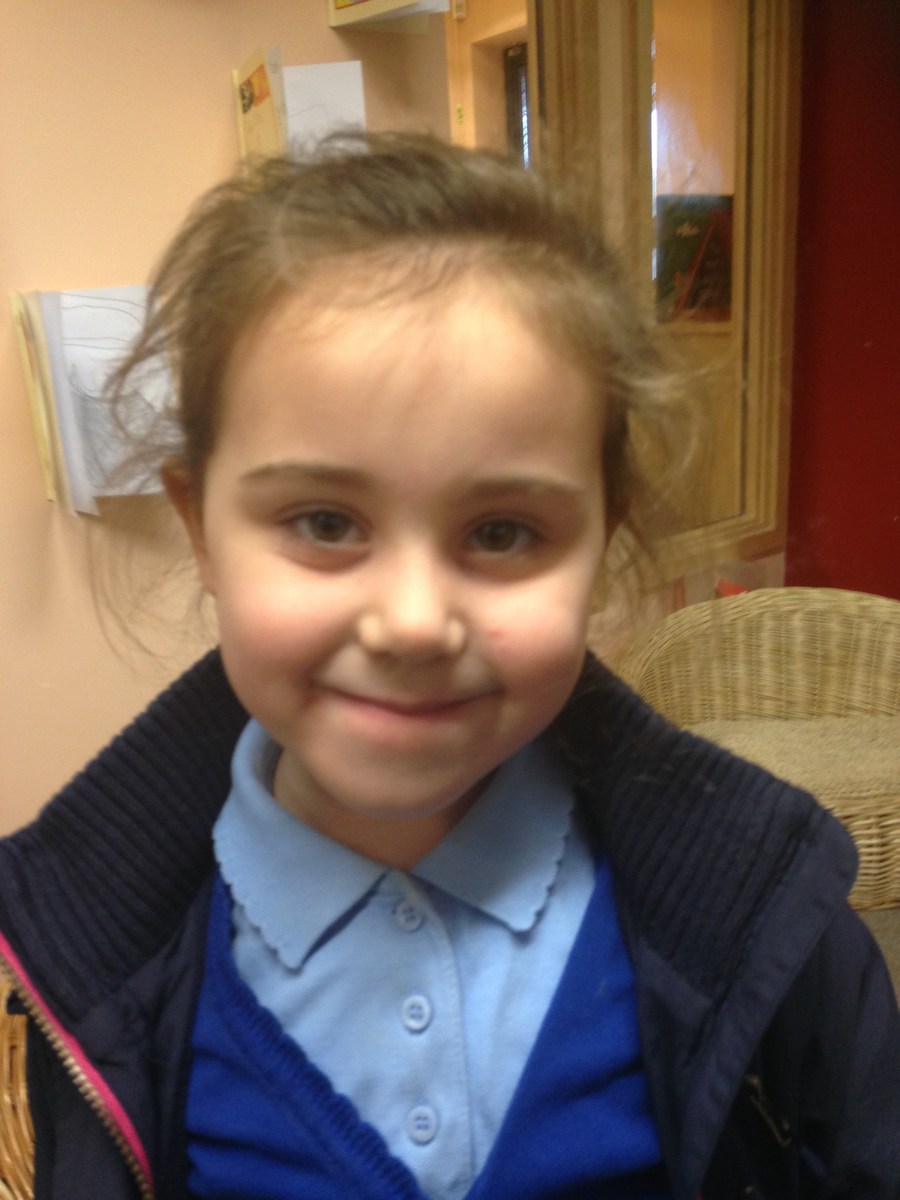 All our Year 4 children have attended swimming lessons for the last term. They have all been fantastic and today they were presented with their various awards. Congratulations Y4!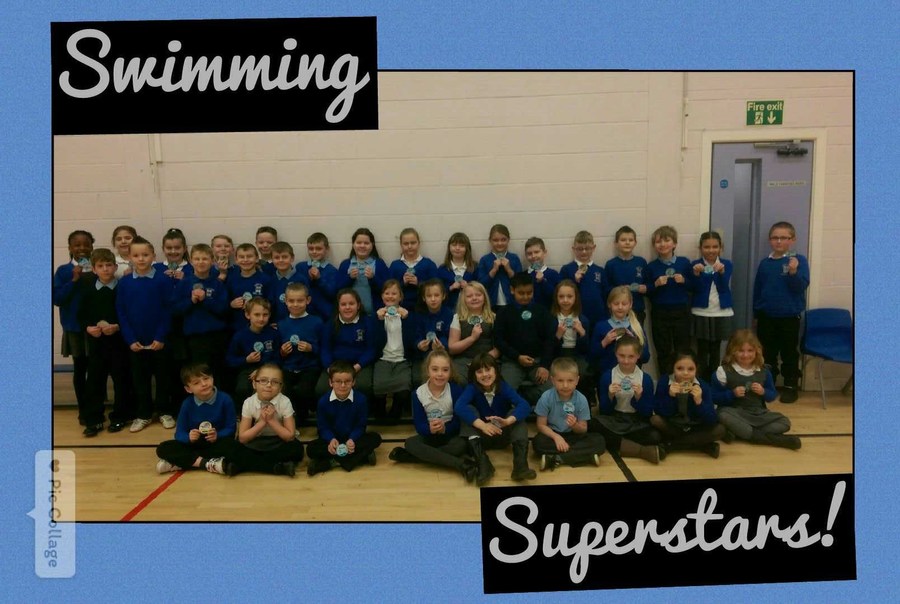 Autumn Term 100% attenders - Well done to you all. Your 100% attendance badge is on its way.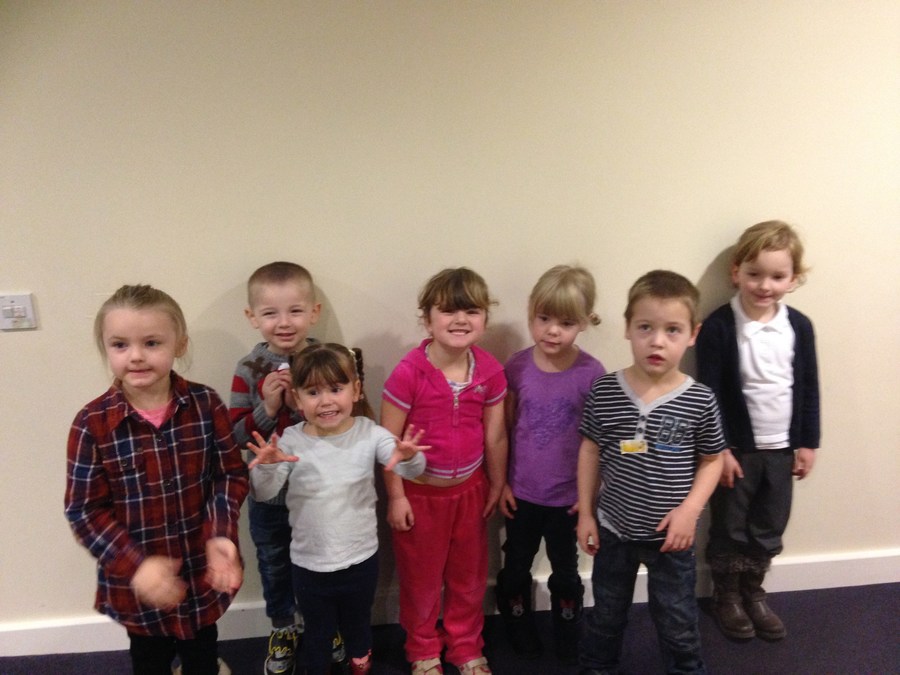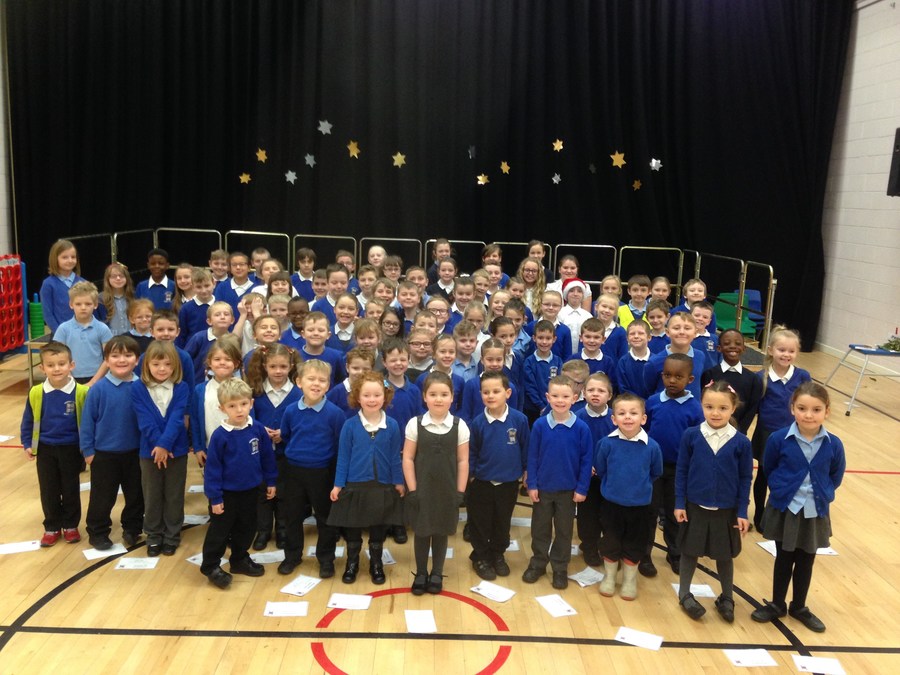 Mr Gorner's PE Classes of the Term - Well done to Classes 2 and 7.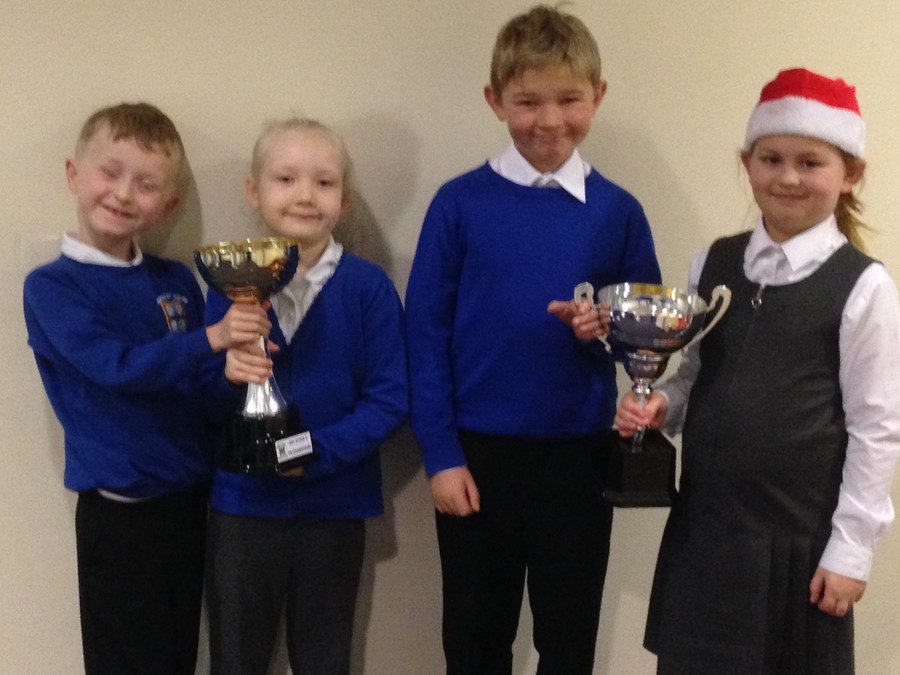 Carols and Crafts - A BIG thank you to TAPS for helping everyone make a Christmas bauble. The total raised from our craft sale will be announced in January.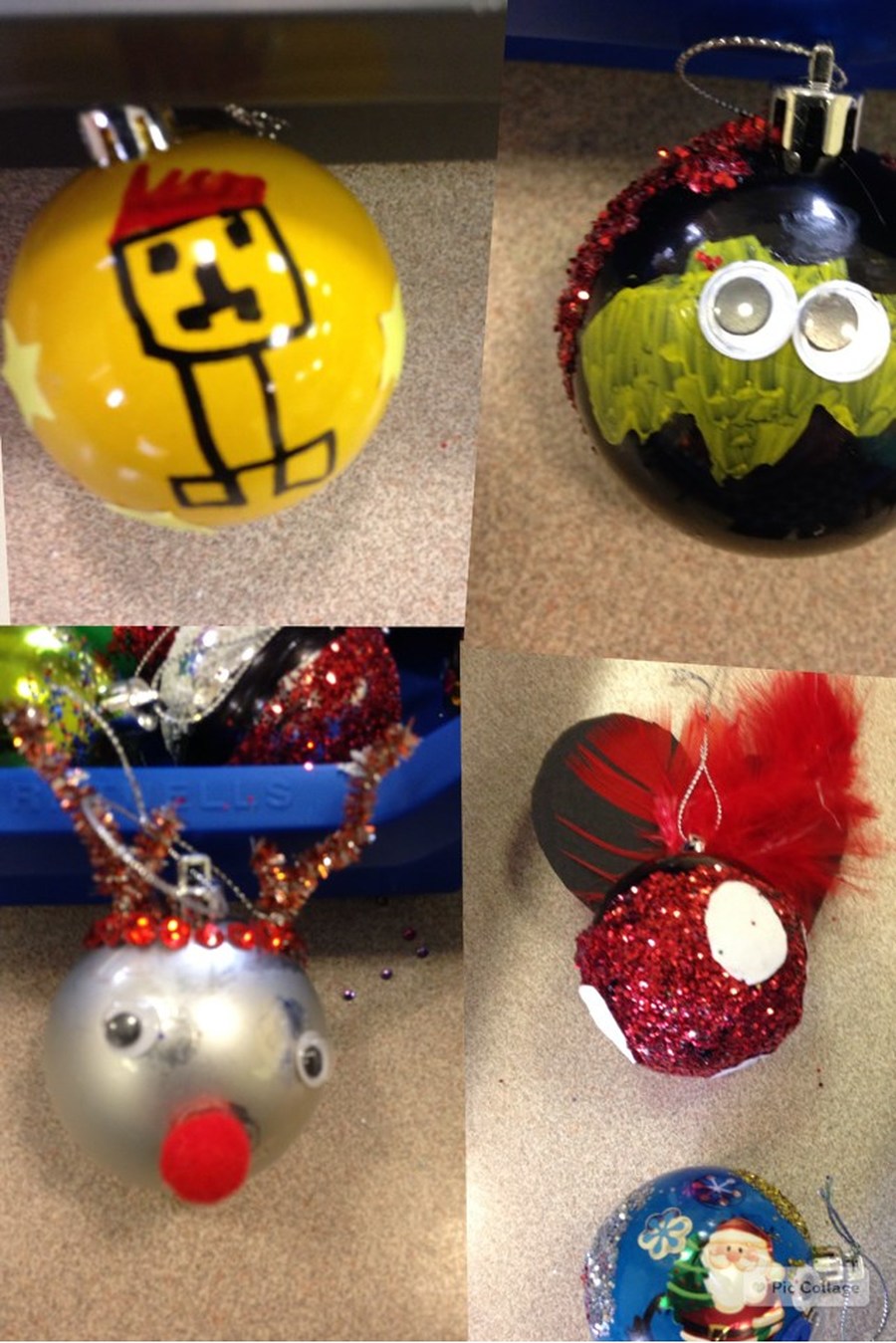 Thank you to all the Children and Parents who attended the Christmas lights switch on at St. Helen's Church. Father Marshall and the members of the community thoroughly enjoyed the carols and you were a credit to the school.
Miss Smith has been exceptionally pleased with
these children this week. Wonderful writing plus
super efforts and scores in SPAG!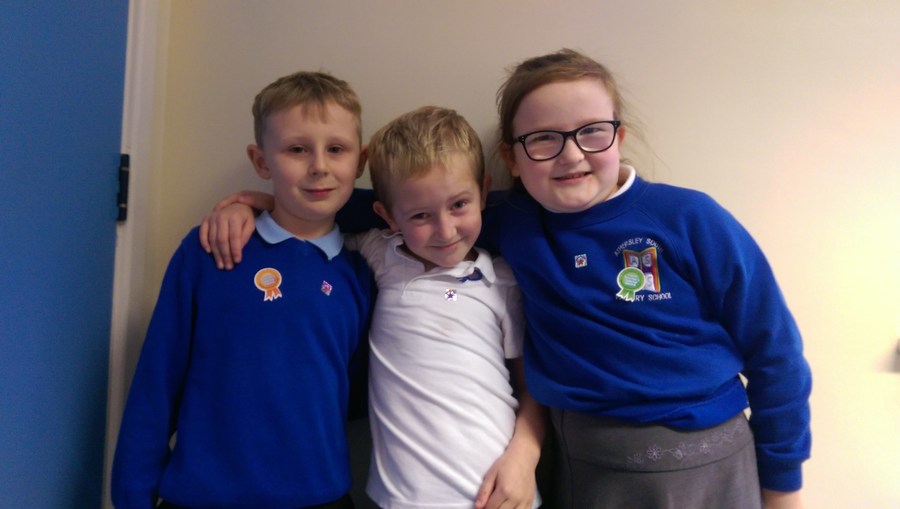 Breaking News!.......Our work with the archaeologists has been published within an archaeological society's book!
This young man has amazed Miss Stanley with his writing this week. Well done!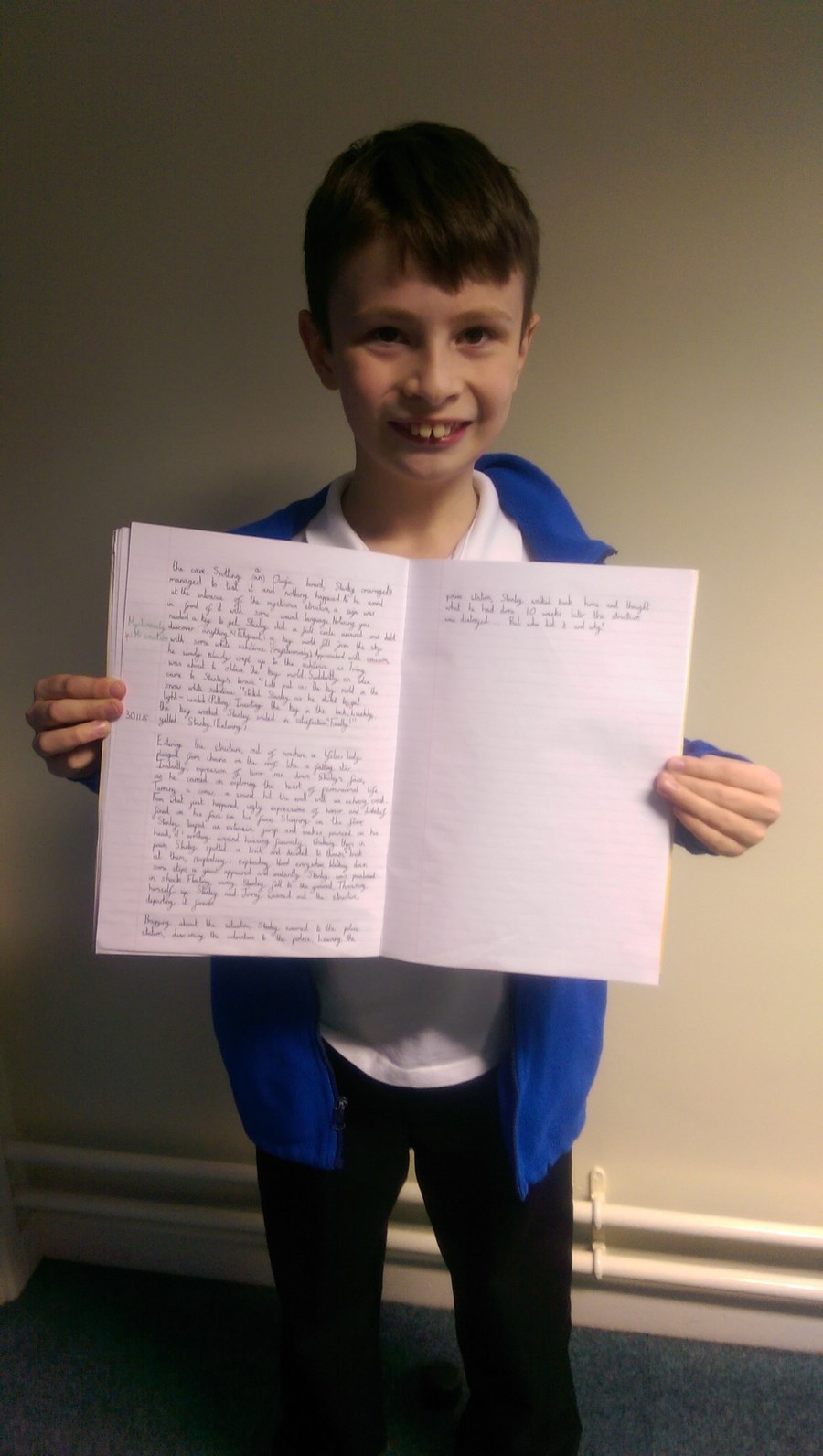 Praise Page
Amazing artists and athletes, marvellous mathematicians, super scientists and wonderful writers. These and other fantastic learners will all appear here on our Praise Page.
Meet the KS1 athletic superstars who this week won the
Barnsley Inter-School Athletics Tournament.
Well done too to Mr Gorner and Miss Shaw for coaching our athletes.
CHAMPIONS - FABULOUS!
Well done to our Y34 Athletics Team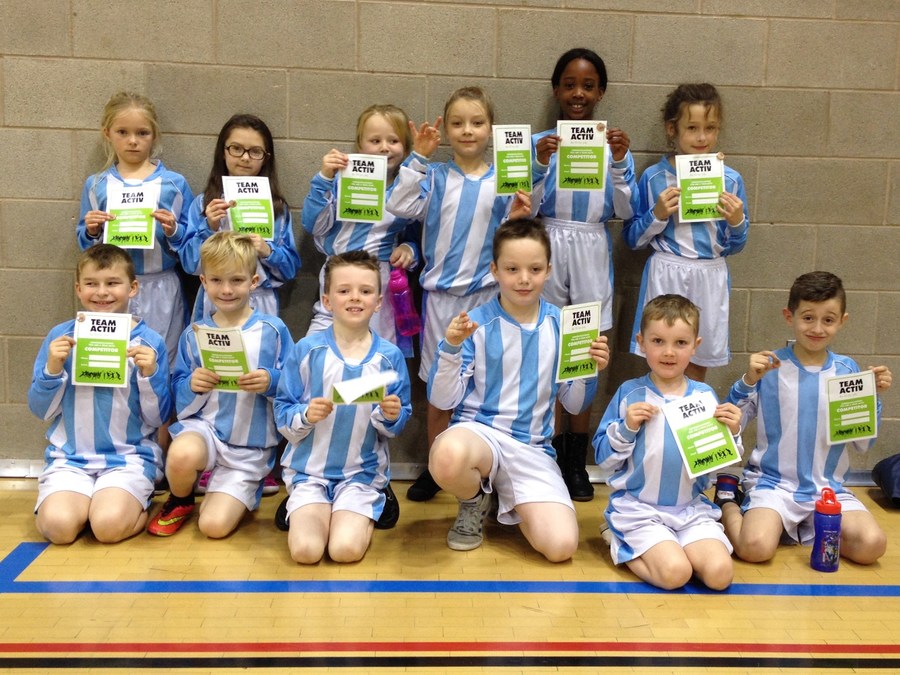 A very big thumbs up to our Y56 Sport Hal Athletics Team who are through to the Barnsley final after coming first out of twelve schools.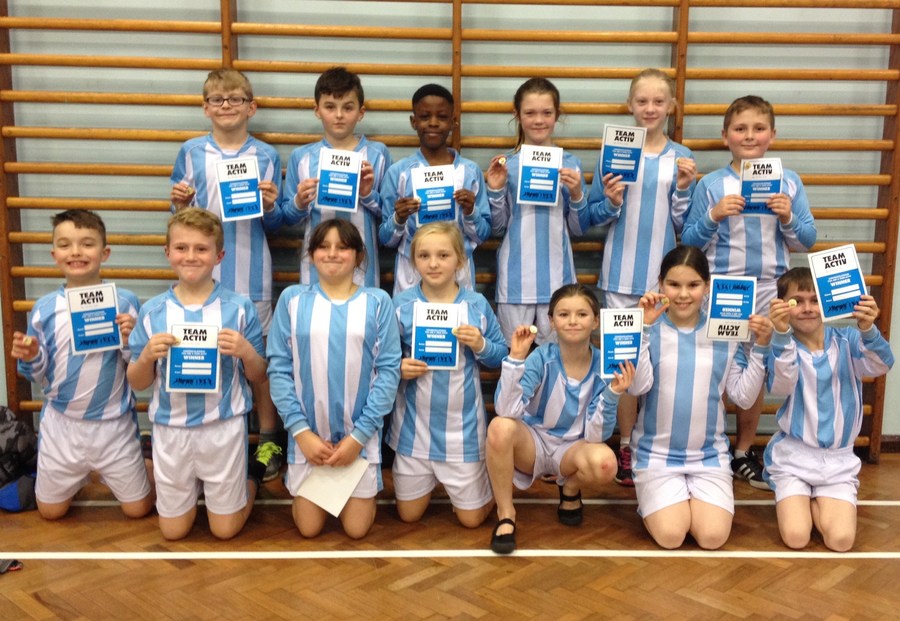 Well done for trying so hard, especially in reading and writing. You should feel very proud of yourself. Keep up the good work.
It is wonderful when children decide to continue their learning at home. This young lady produced an information text about parts of the body. Well done.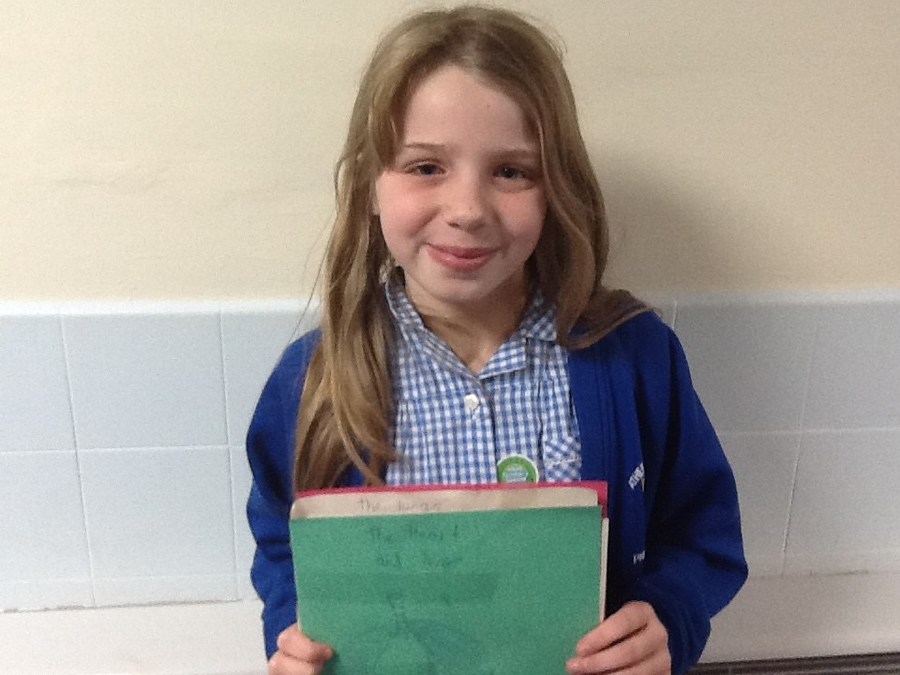 In FS2 they have been reading about The Billy Goats Gruff. Here is a great picture of a pirate troll. It is difficult to see in the photo but around the side of the picture it says that it is a big, ugly, scary troll. Great description around a fantastic picture - well done.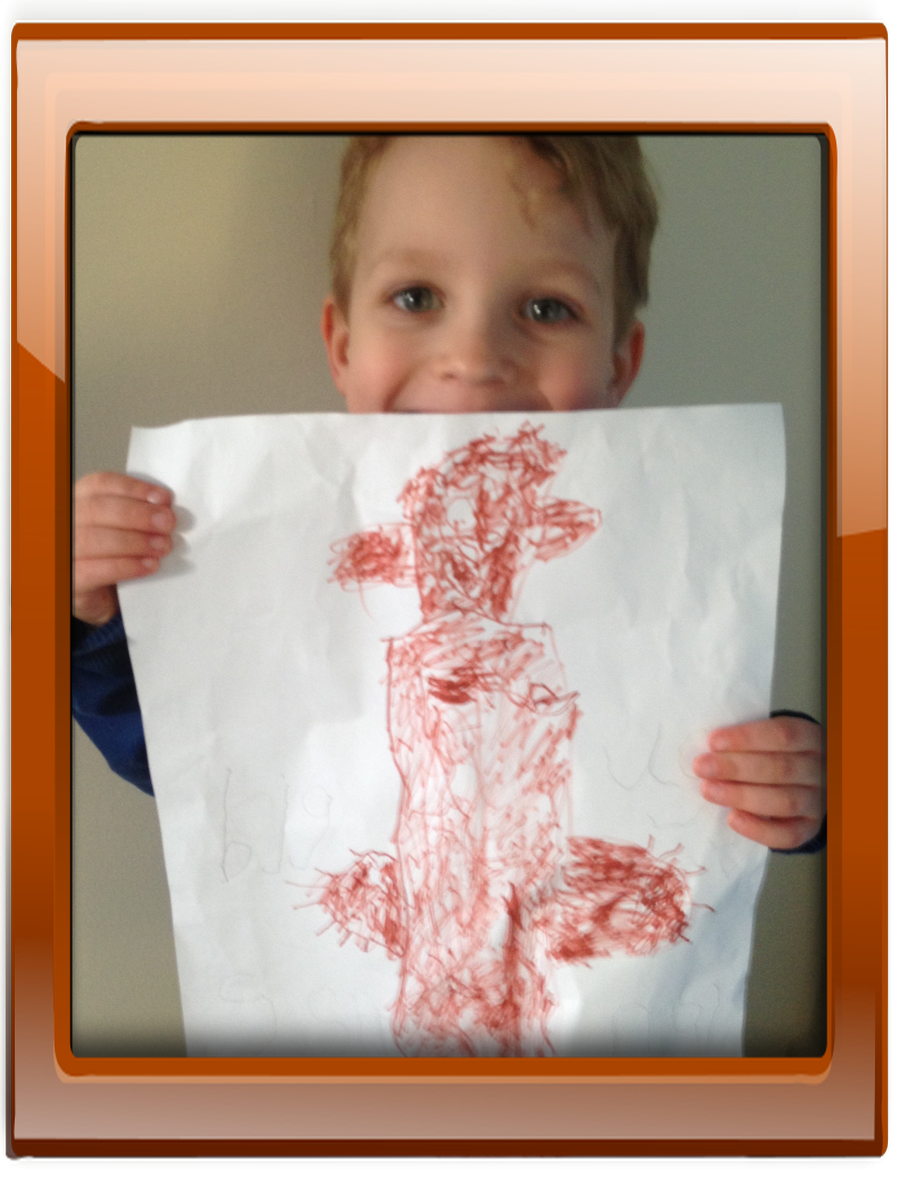 Fabulous Learning in F2.
The children in F2 have been writing names, labels, captions, sentences and one young man even wrote his own story book.
Fabulous Learning in F2
The children have been trying really hard this week to use their Read, Write, Inc sounds to put writing on their pictures. They have been writing names, labels, captions and this young man even wrote his own story book, take a look...
A Fabulous Friday!
Along with thanking everyone for participating enthusiastically in our Children in Need day, we also gave extra praise to a number of our children in assembly this morning. FS2 have the class of the week trophy and our Learners of the Week also received their certificates. Miss Shaw was also on hand to award certificates to our Y3/4 cross country runners who participated at Cannon Hall this week. Thanks to the Parents that were able to attend. Well done all :)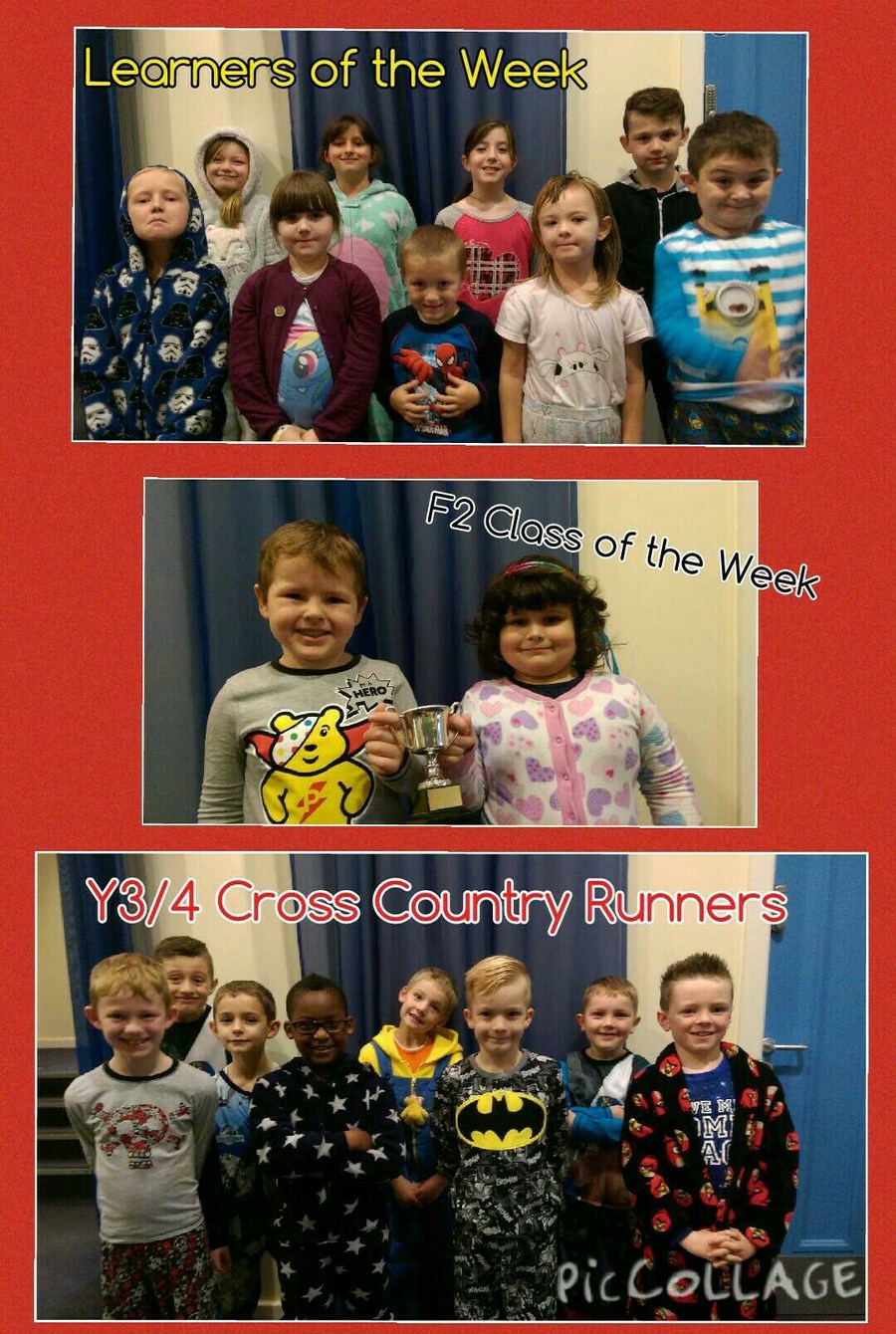 Another fantastic Y6 writer. The great description paints a detailed picture in your mind. Keep it up.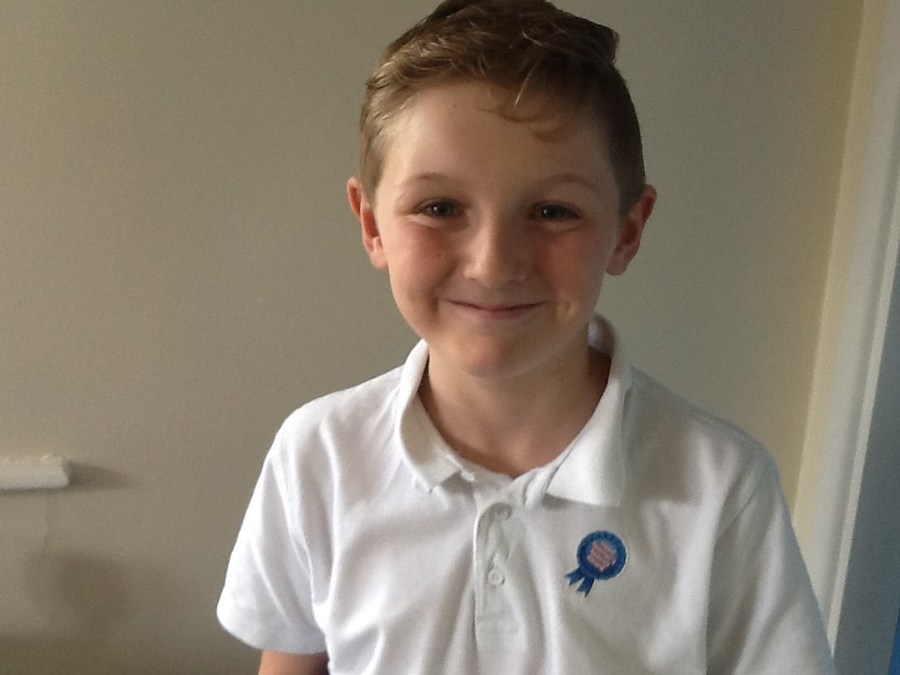 KS1 Extreme Machine Expert Designer!
KS1 have been creating amazing extreme machines in Design Technology and this young lady has been particularly creative. Well done!
The Autumn 1 Inter School PE Champions are Class 1 and Class 6. These classes have shown great skill, excellent behaviour and teamwork in Mr Gorner's PE lessons. Well done to you all.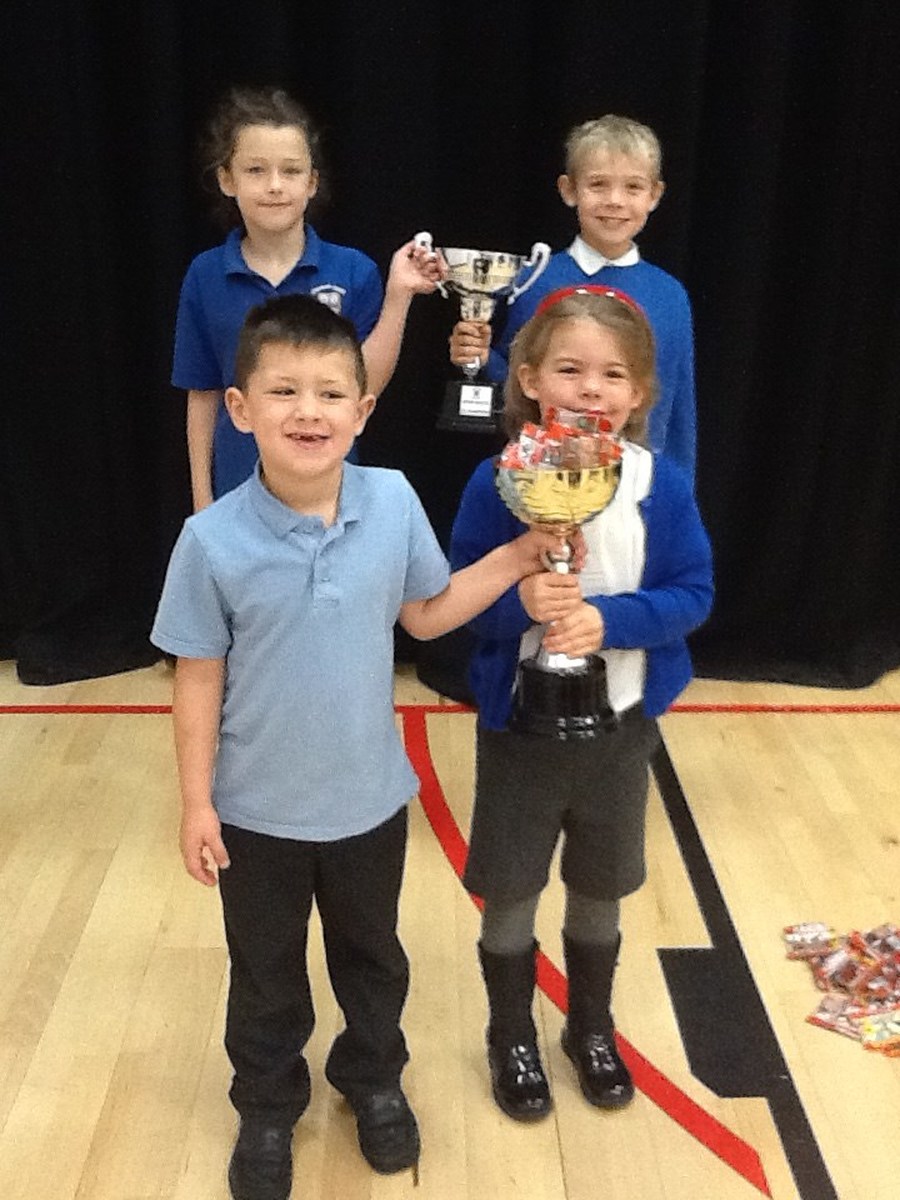 Read this detailed Y6 recount. It really does paint a picture in your mind (Not sure about Miss Stanley babbling on though! ;)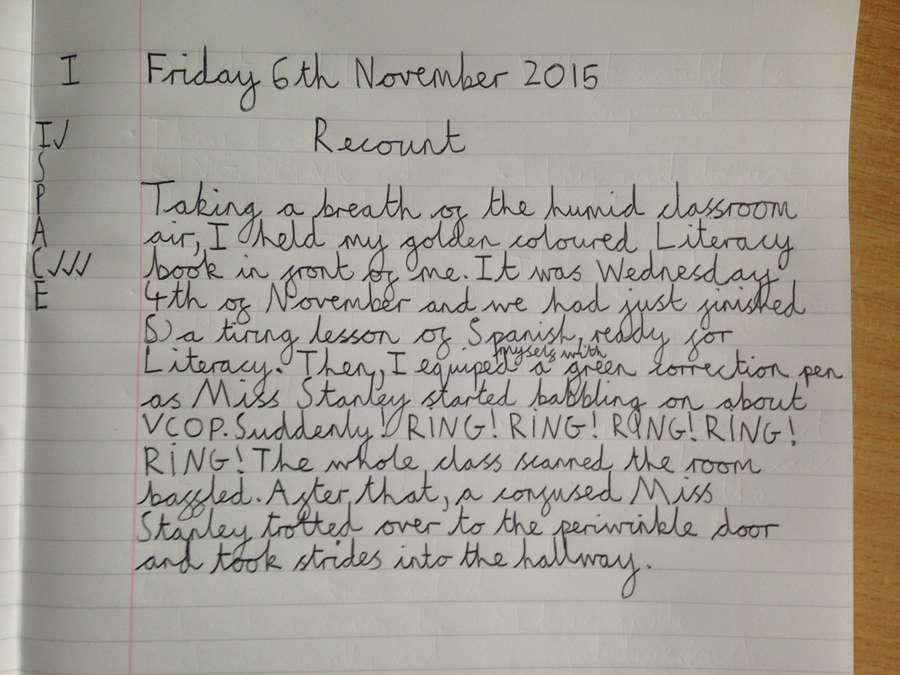 Rose, from The Cooperative, announced the winners of the Class 6 Bonfire Poetry Competition on Friday. The runners up received a tasty treat and the winner won a bonfire night hamper - yum! Well done to everyone who wrote a poem.
The Y3/4 football team wanted to do a cool pose. They look very pleased with themselves and they should be as they came 3rd in their league in the Barnsley football final on Thursday 6th November.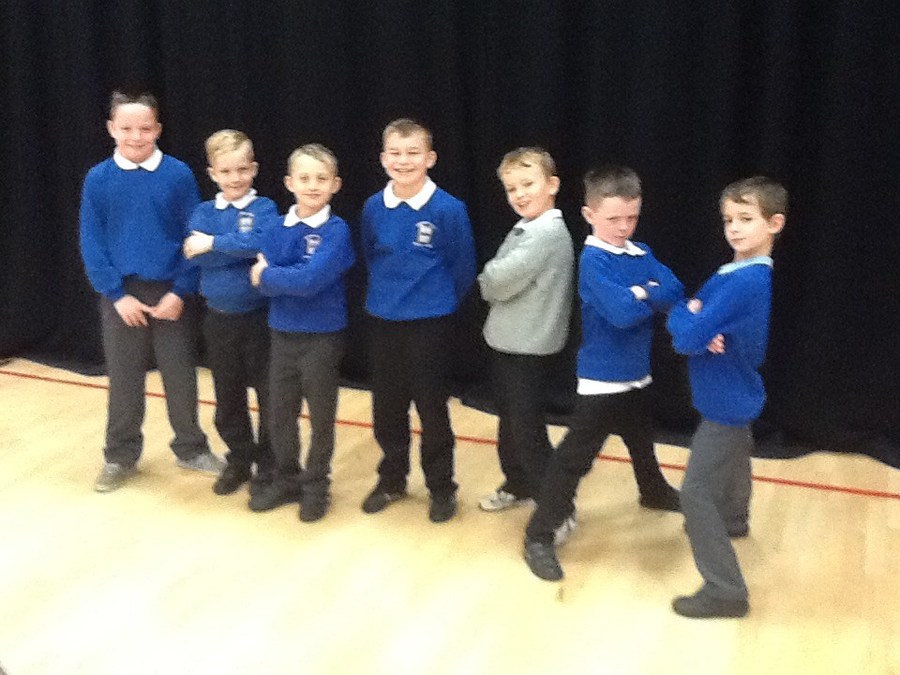 This young lady made cakes for a care home bonfire party and they sent her a card to say thank you. I wonder if you have done something kind for someone this week.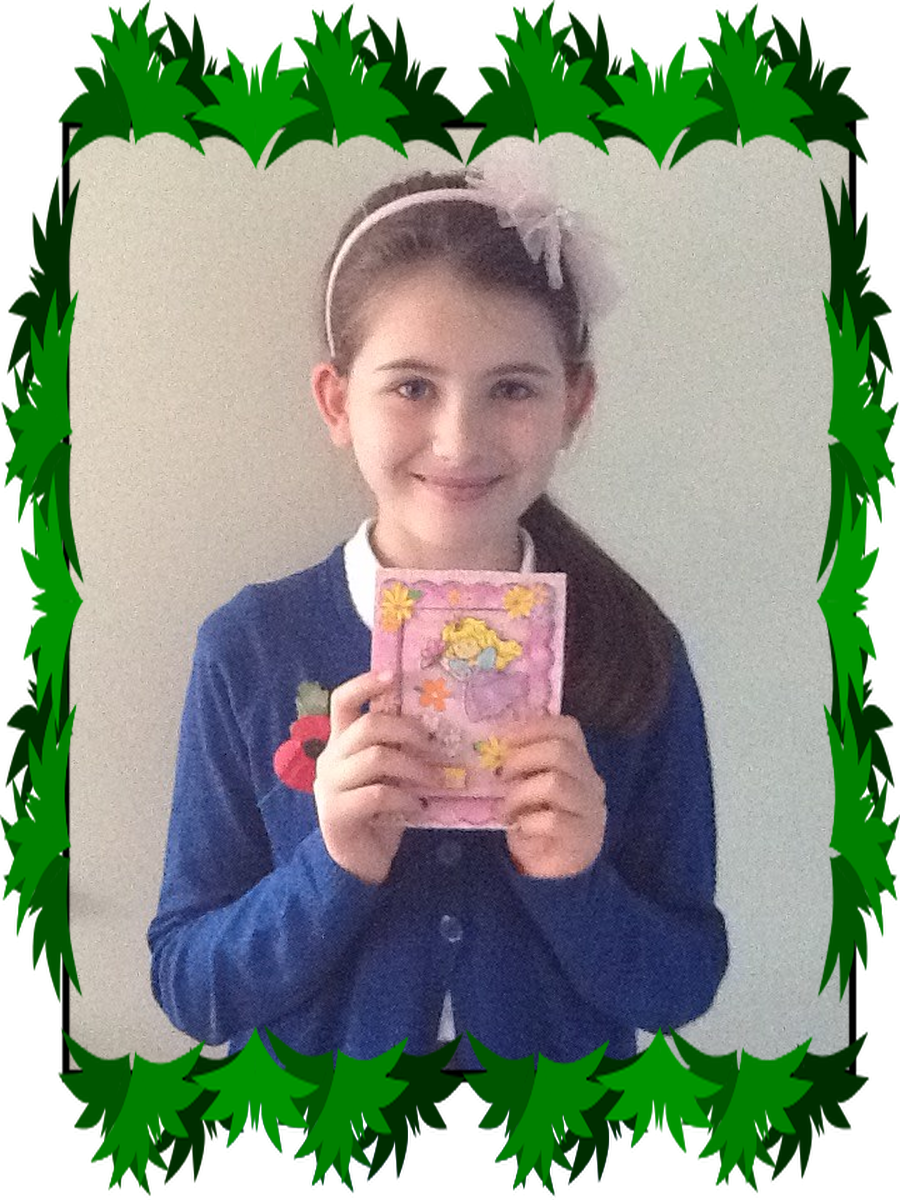 Using number facts to help work out other answers in FS2 such as if 2 + 2 =4, then 20 + 20 = 40,200 + 200 = 400 and 2000 + 2000 = 4000. Brilliant!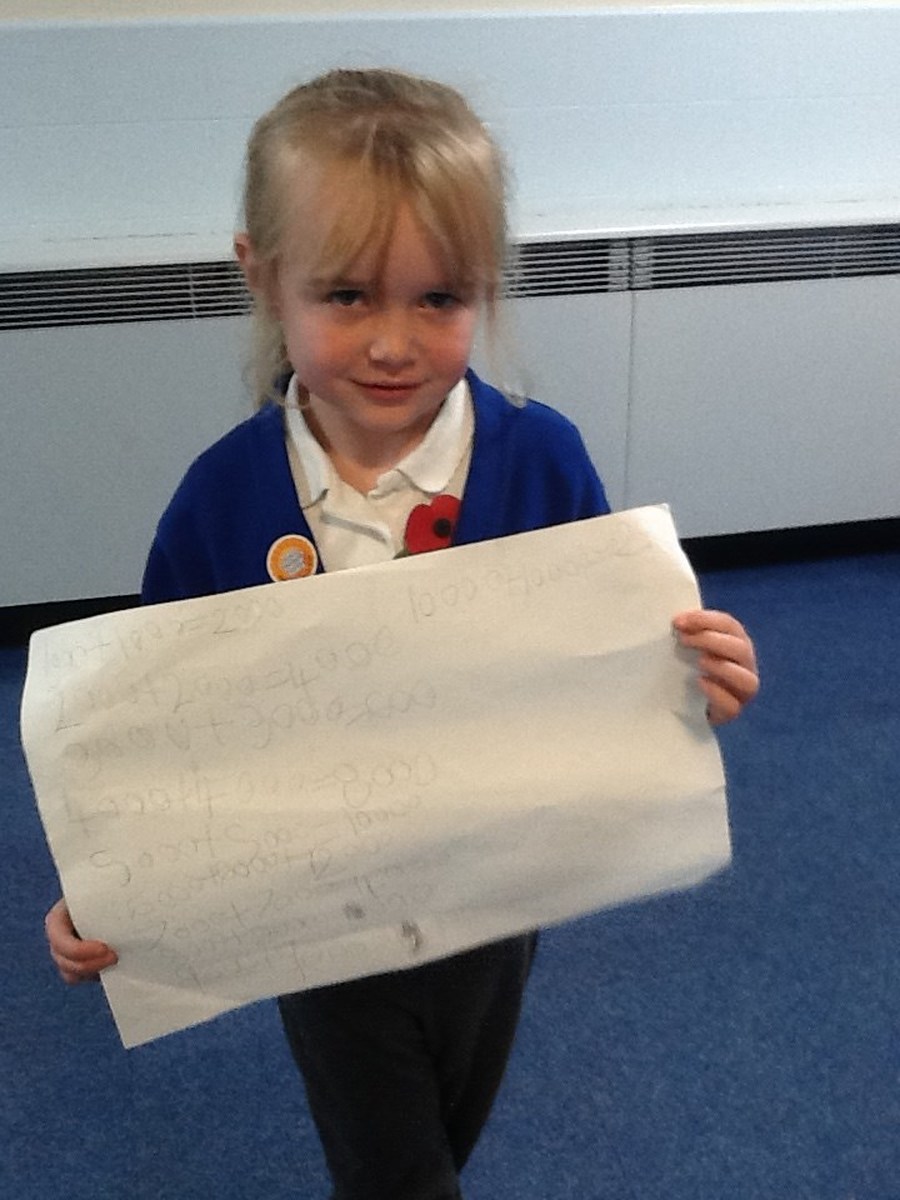 Great learning this week - well done.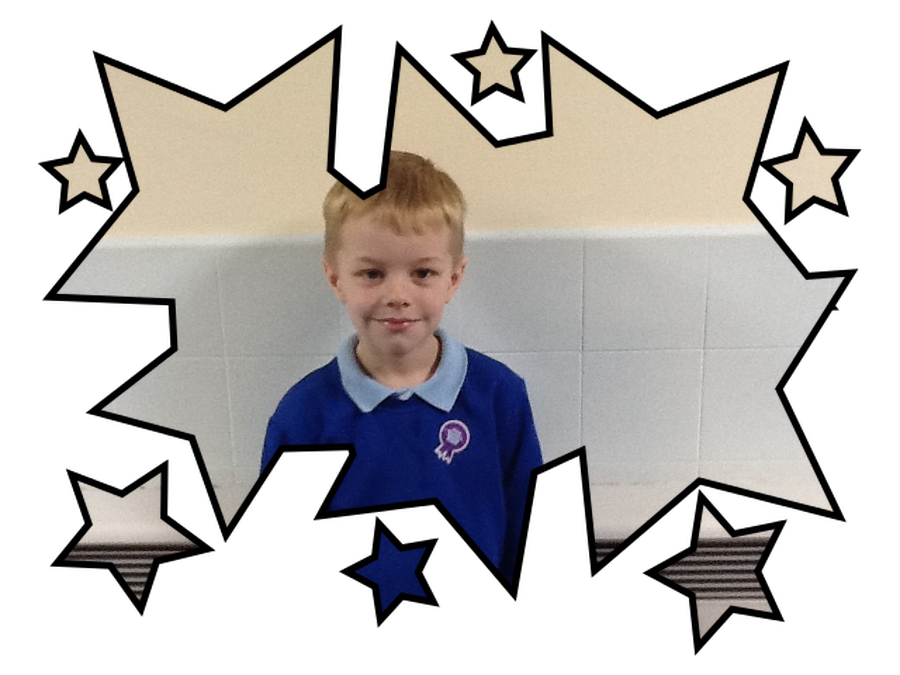 Sporting Update - 23rd October
* The two Year 5/6 football teams played well with one finishing 2nd and the other finishing 3rd.

* The KS2 cross country children tried really hard.
The Year 3 boys came 4th, 7th and 10th, a Year 4 girl came 3rd, a Year 4 boy came 10th, a Year 5 boy came 9th and a Year 6 girl came 6th. These children all qualified for the Barnsley Finals after Christmas

* Our Year 3 boys finished 2nd in the team event and qualified for the South Yorkshire Finals.
October 22nd - These children have been to school every day this half term. You should all feel very proud of yourselves.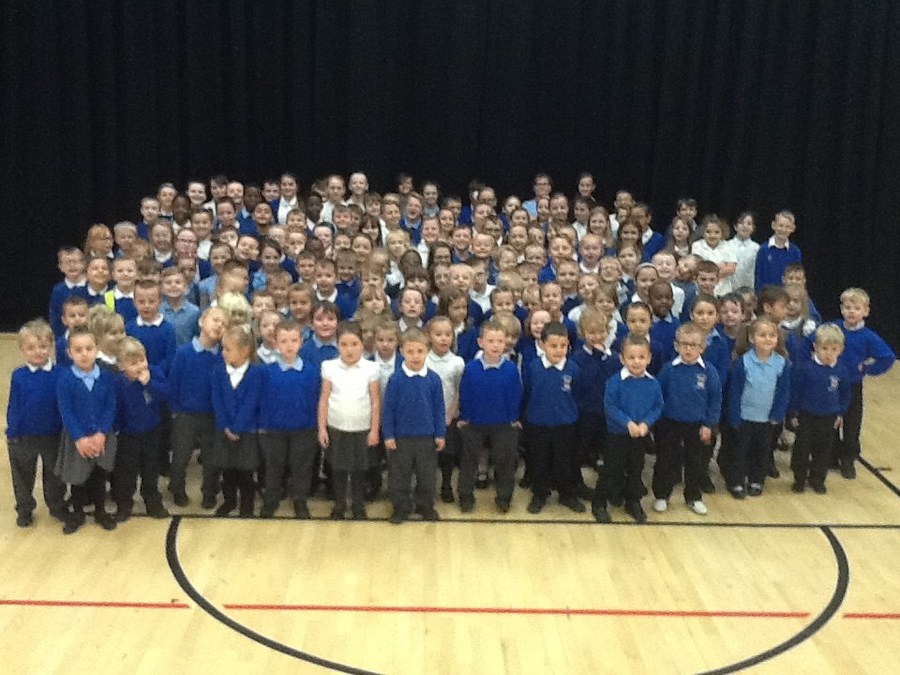 An amazing 'extreme machine'.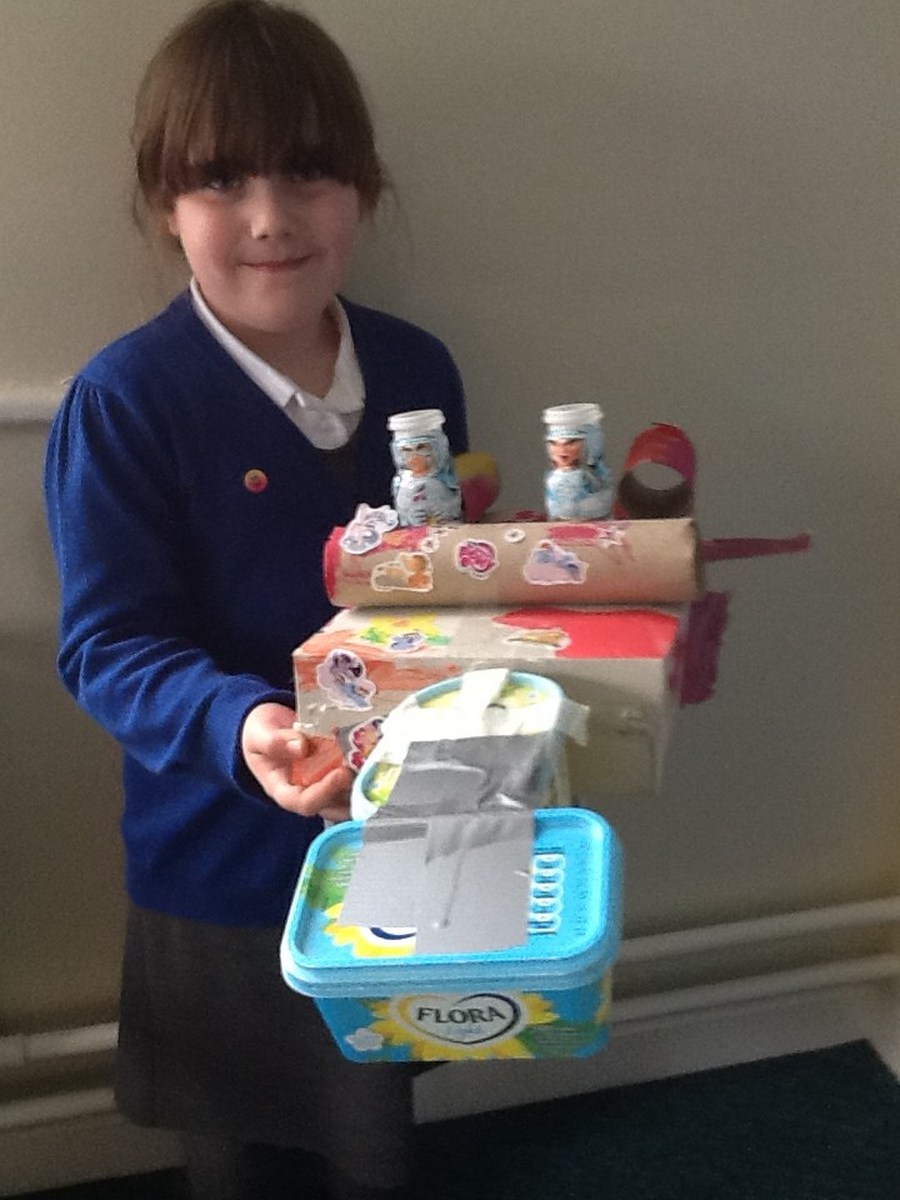 This young lady has only been learning the flute for a short time but she can already play a lovely tune. Well done.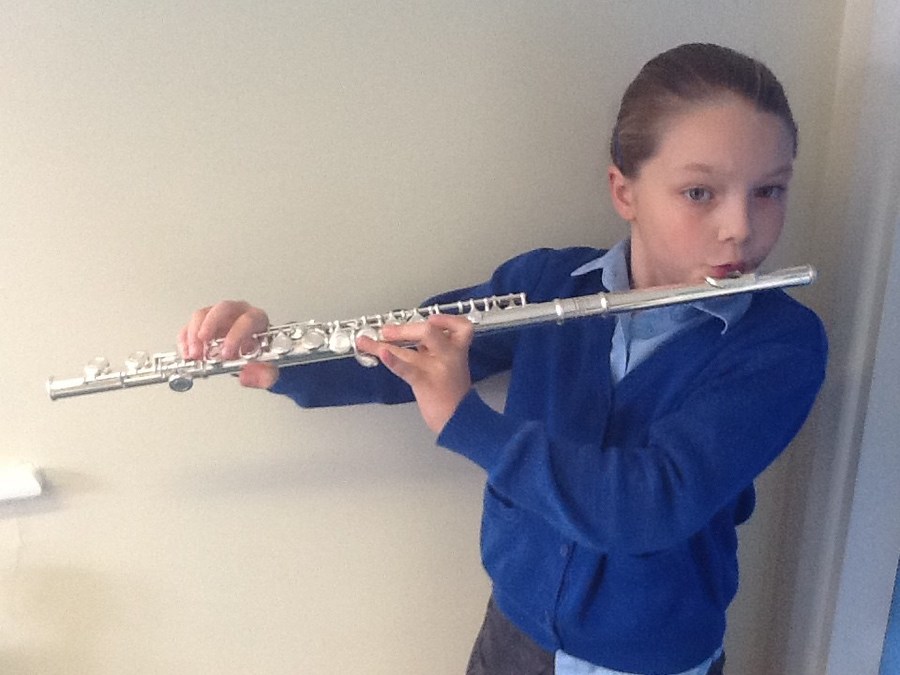 We love it when children do extra learning at home. Well done, keep it up.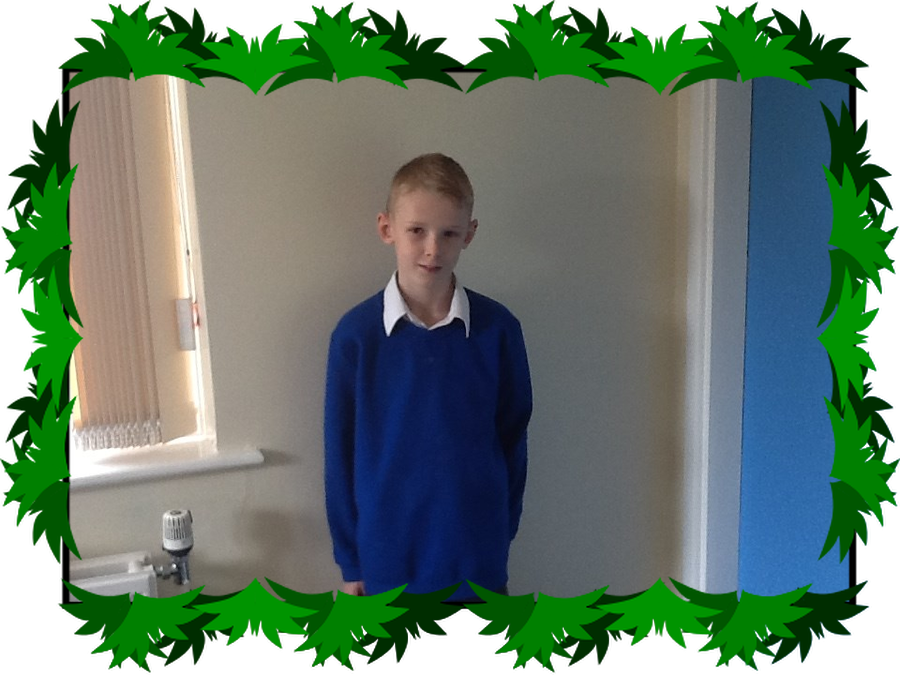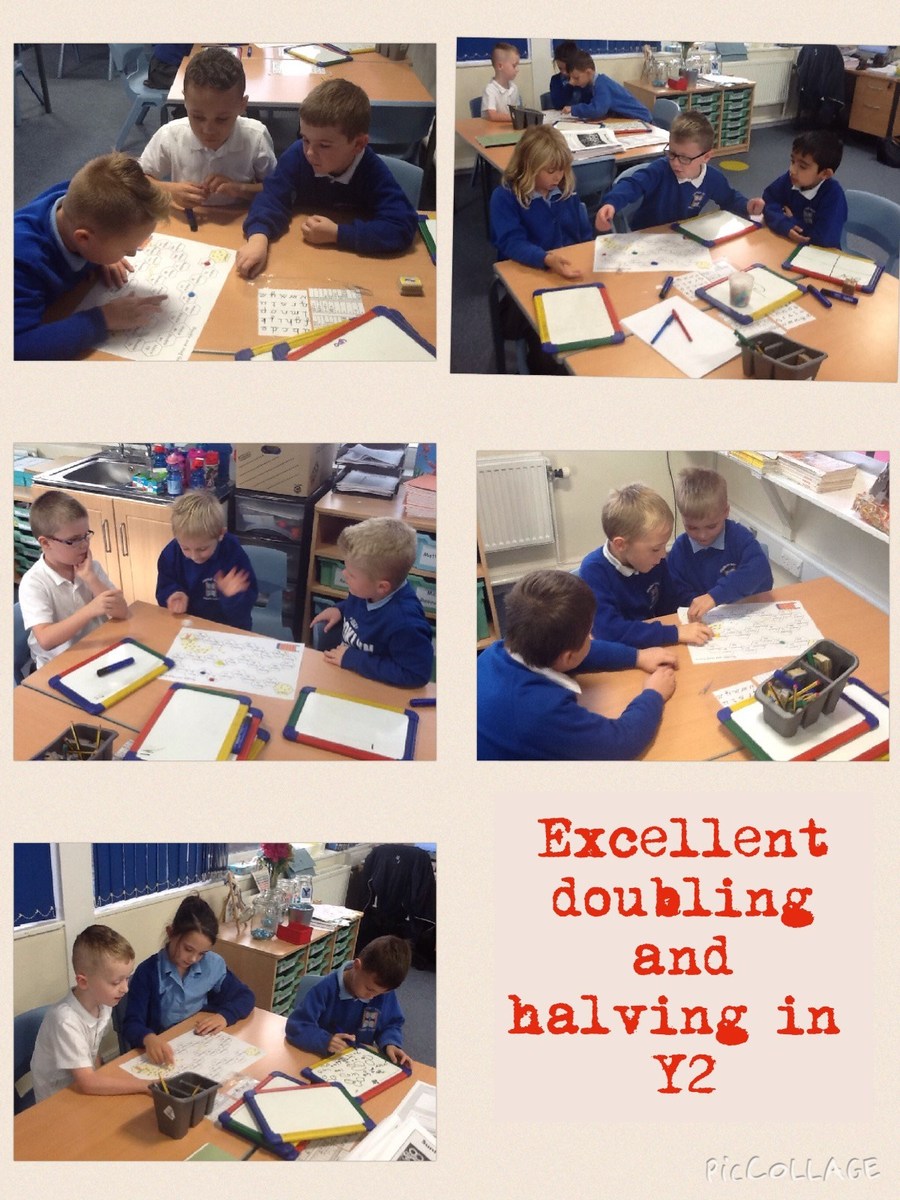 Forest Schools Activity
This week the forest schools activity was to create a spectrum of colour using only leaves. Class 9 worked collaboratively in four teams and each presented their work in a different way. The team work that was evident this week was amazing and in one group where there was a discussion about different options for presentation, the group chose to vote to make the outcome fair. All children participated and I was really proud of the way the whole class conducted themselves.
Well done for continuing your learning at home. Keep it up.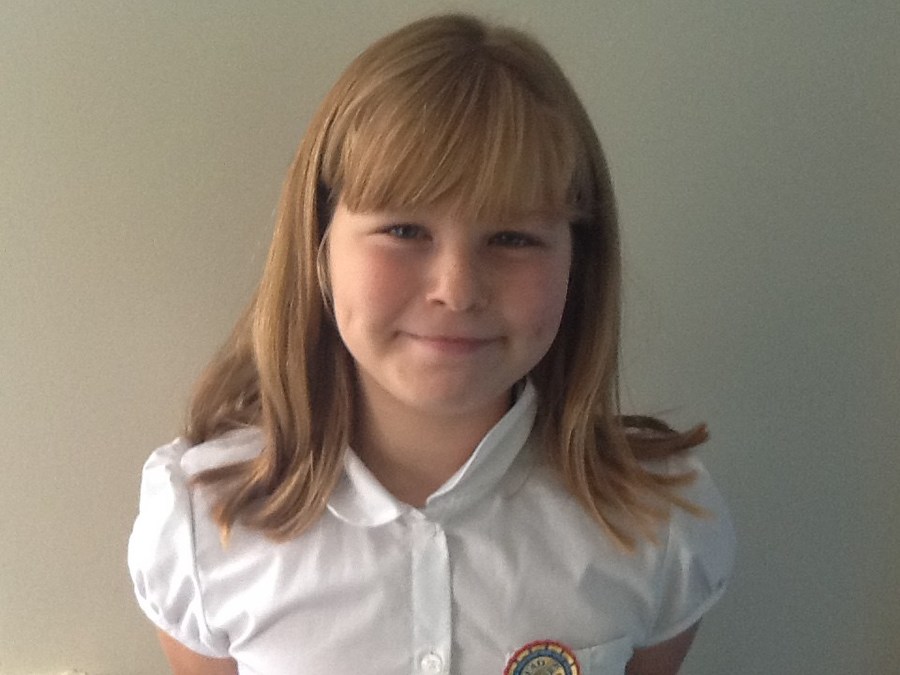 How far can you swim? This young lady can swim one mile which is the same as 64 lengths. An amazing achievement - well done.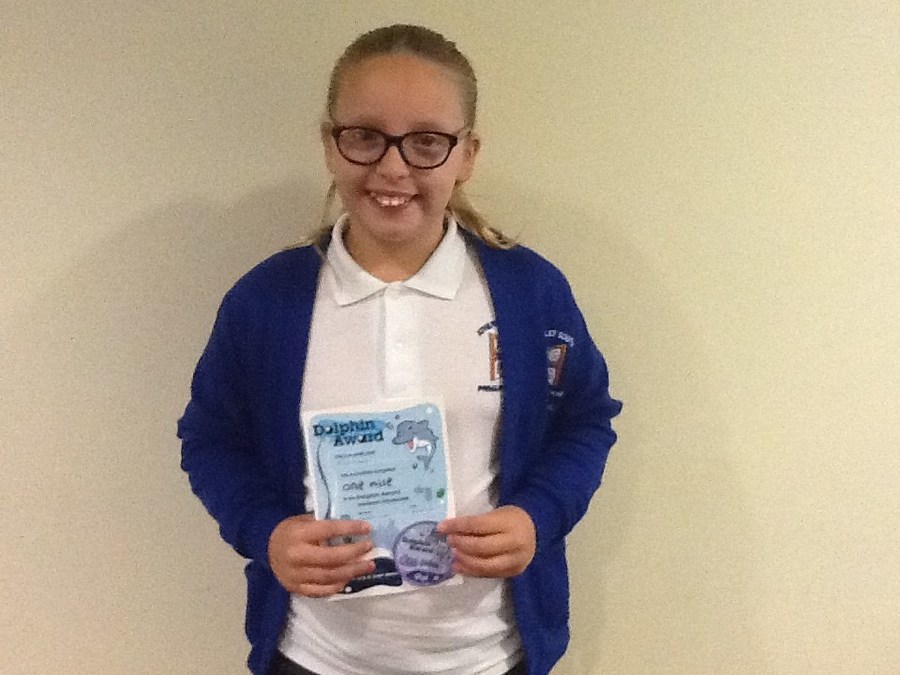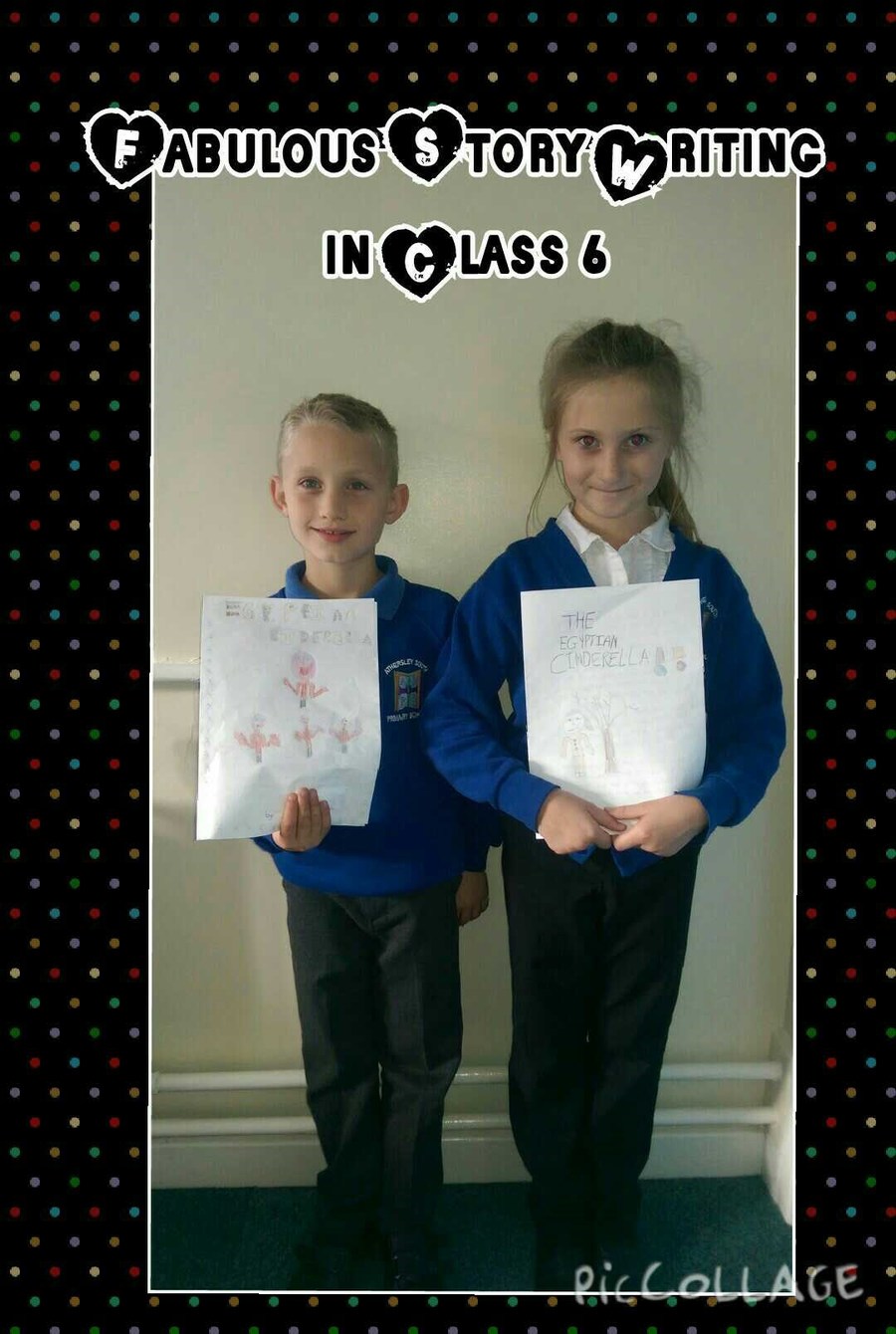 September/October Cook and Eat Sessions - It is great to see so many parents coming into school to cook with their children. Every week a delicious smell fills the corridors.
Below you will see two brilliant mathematicians. Fantastic effort girls.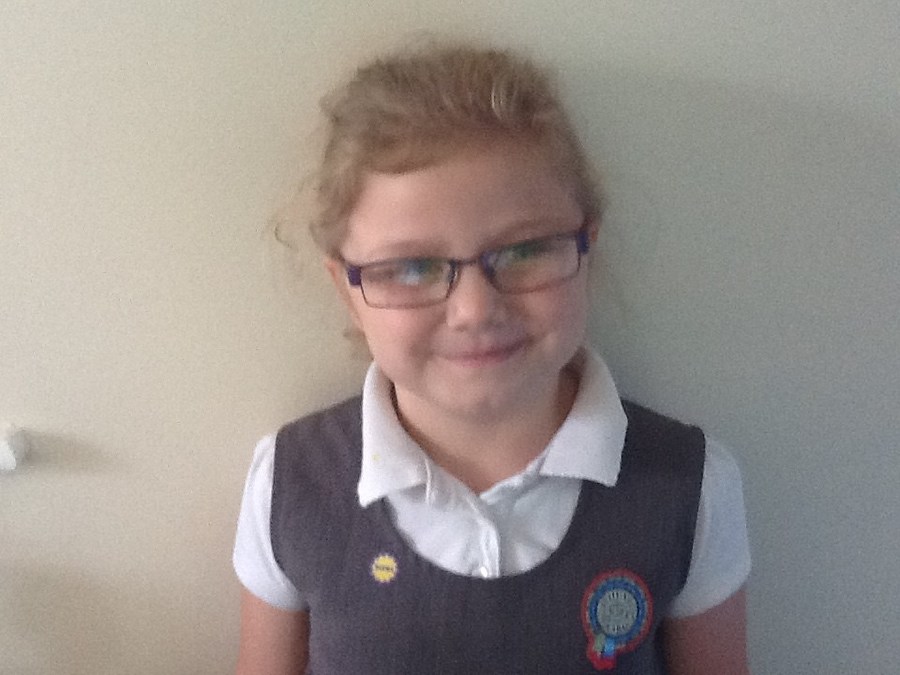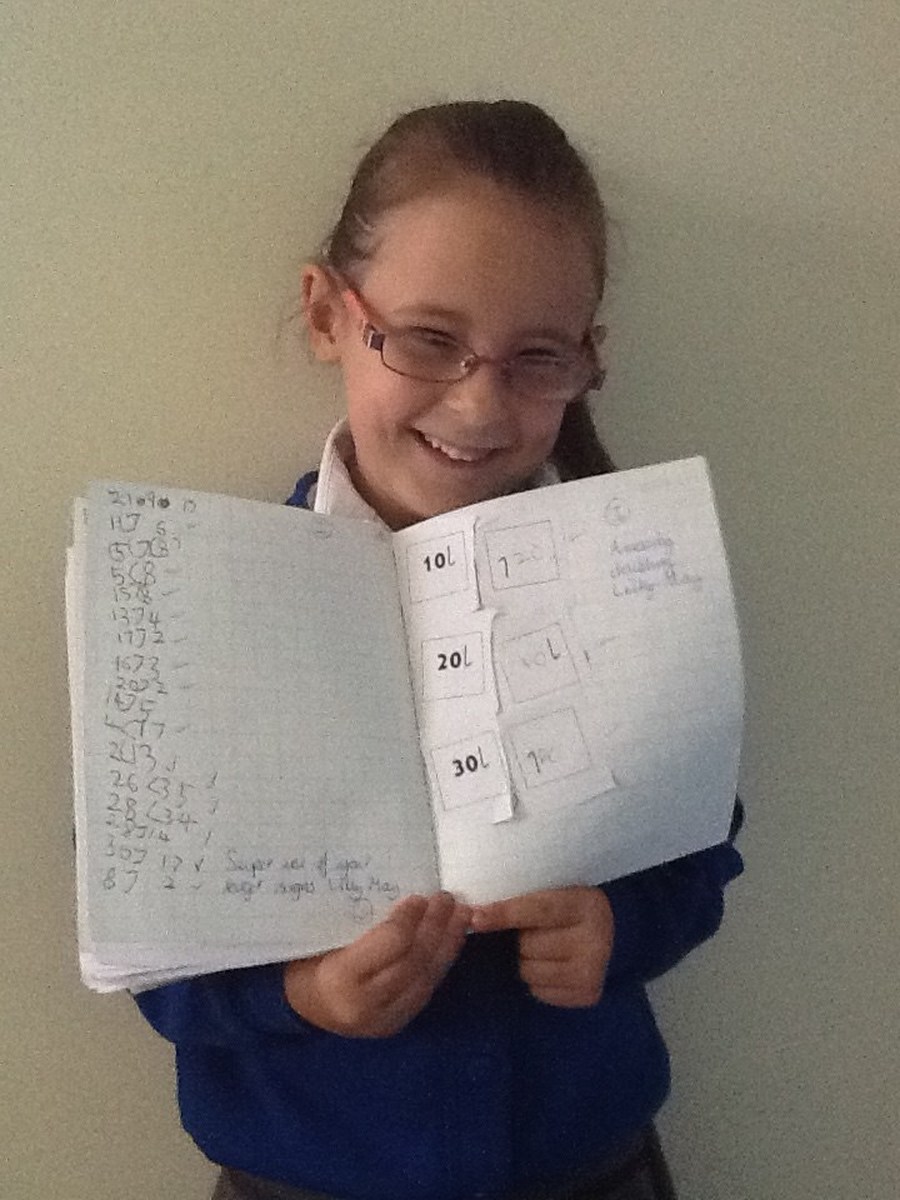 17th September Picking Plums. At lunchtime today a group of Y56 children picked plums from our plum tree. They picked over 350 so everyone in school could try one - yum!
9th September - A big thank you to the lunchtime gardeners who helped to weed our raised beds this week.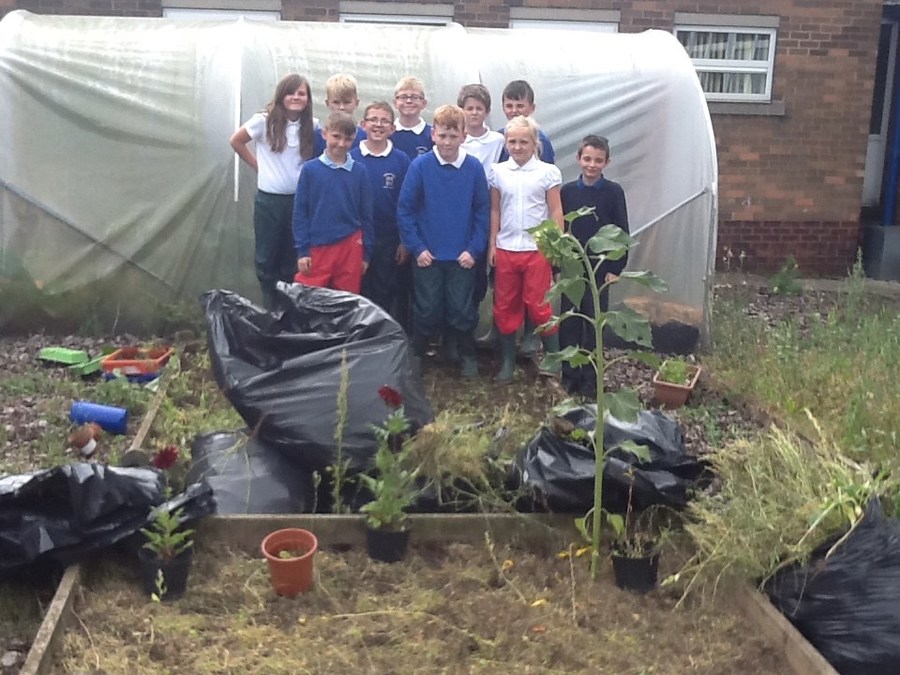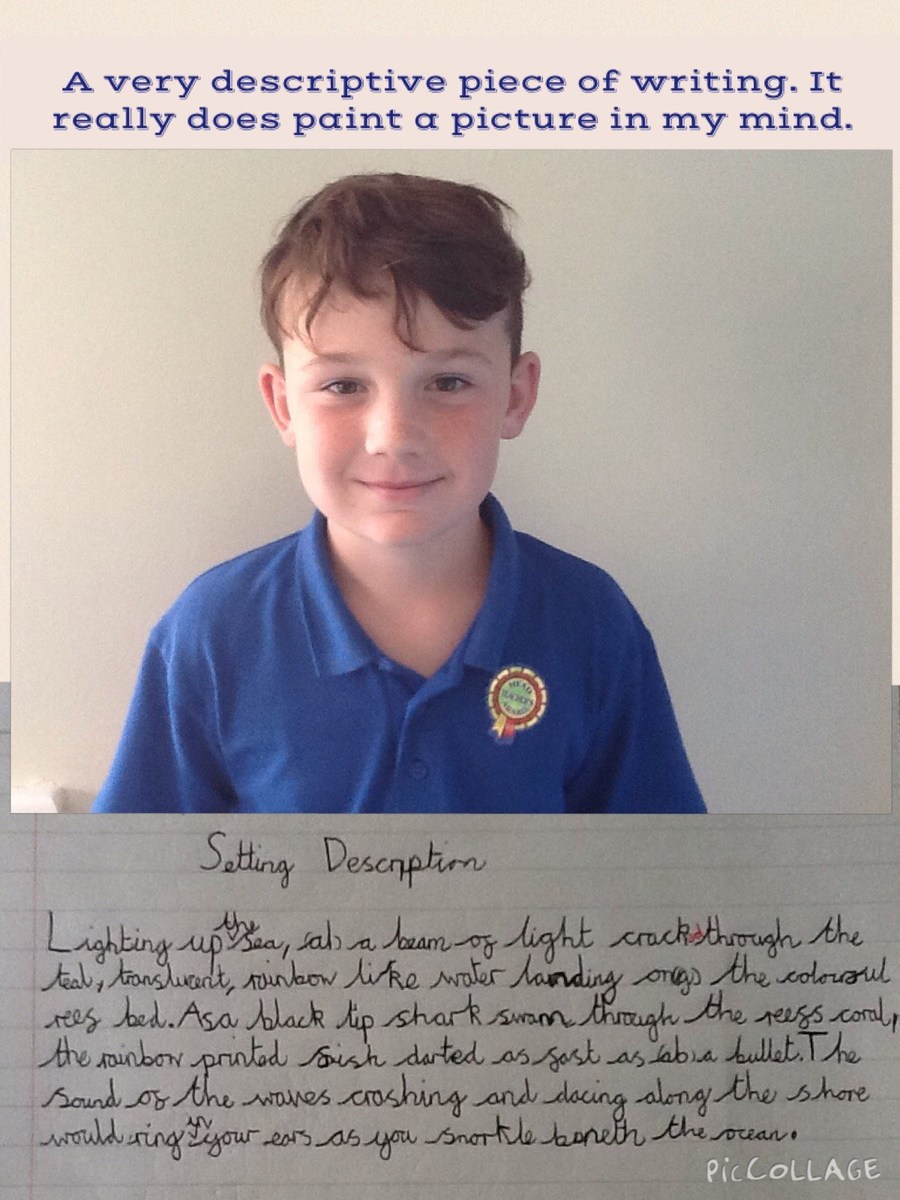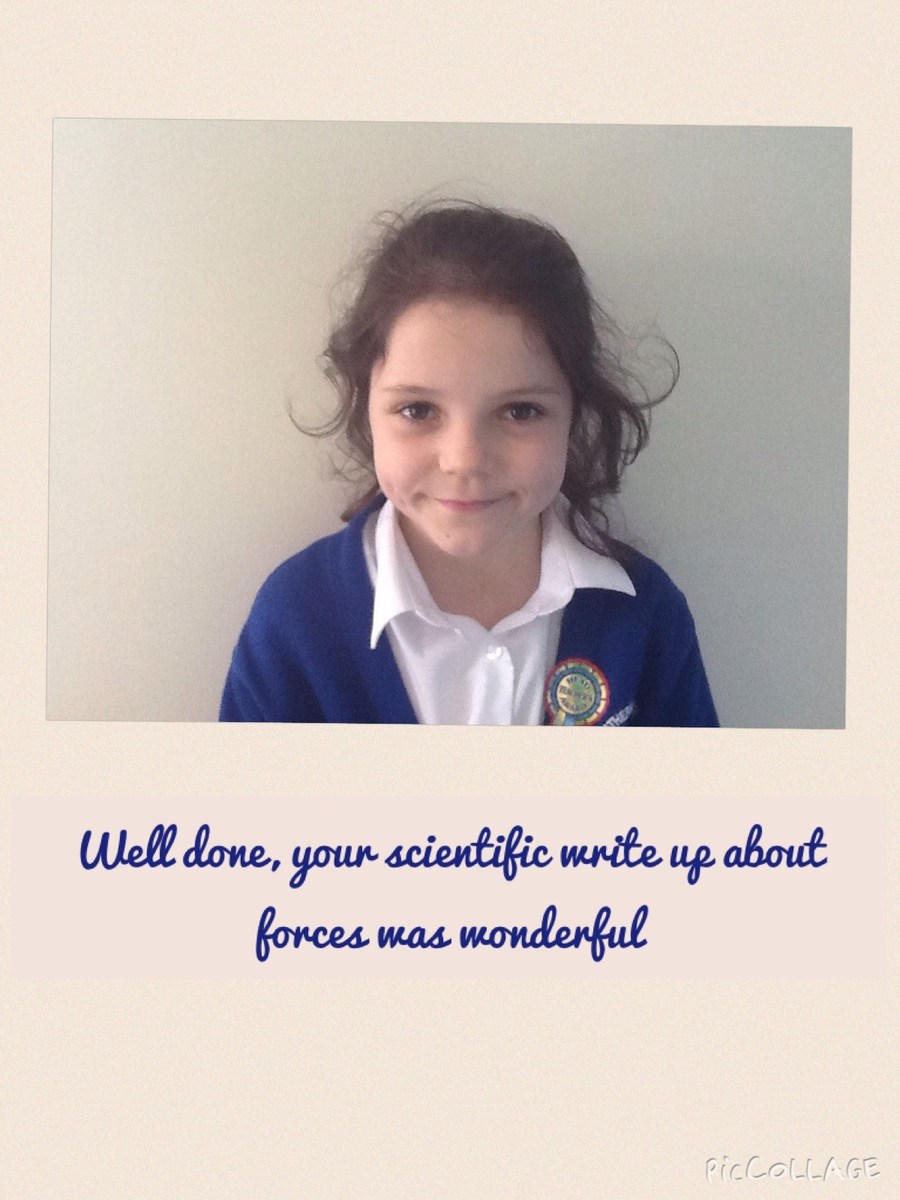 17th July 2015
Despite it being their last week in school the Y6 children who have not
yet left to join their secondary school have continue to work hard.
Look at what they've created....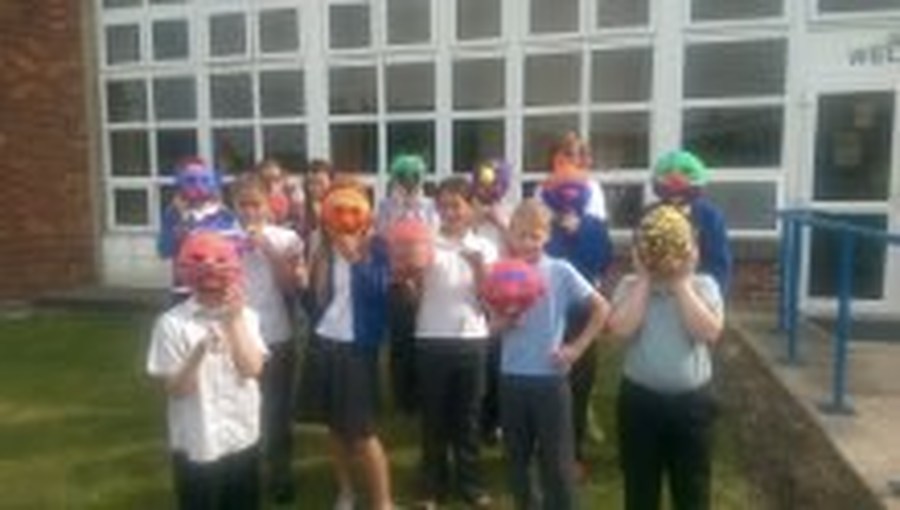 There's been some marvellous maths
happening this afternoon!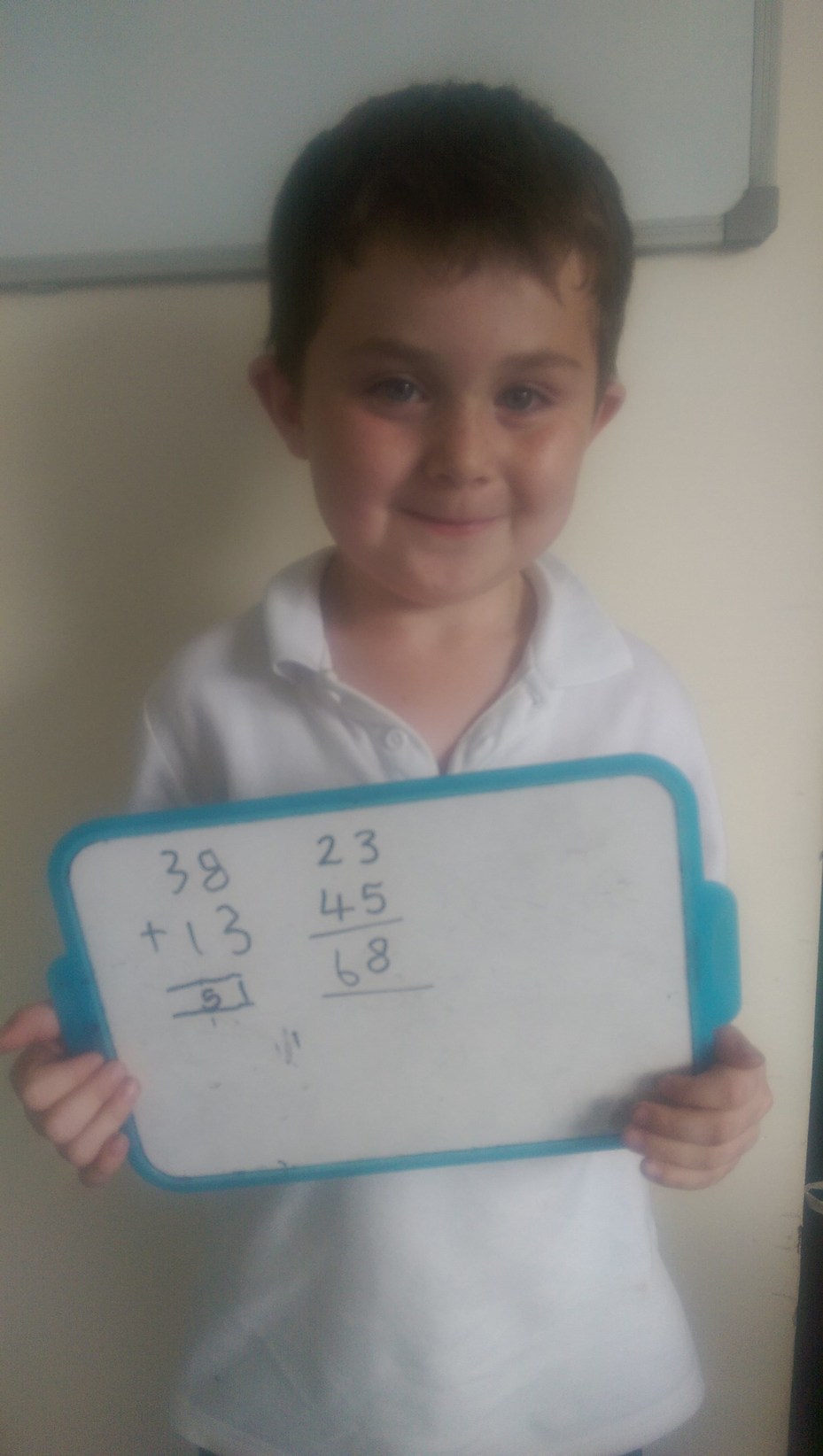 All these children have been involved in a Circle of Friends this term. We are very proud of you for being so kind and friendly.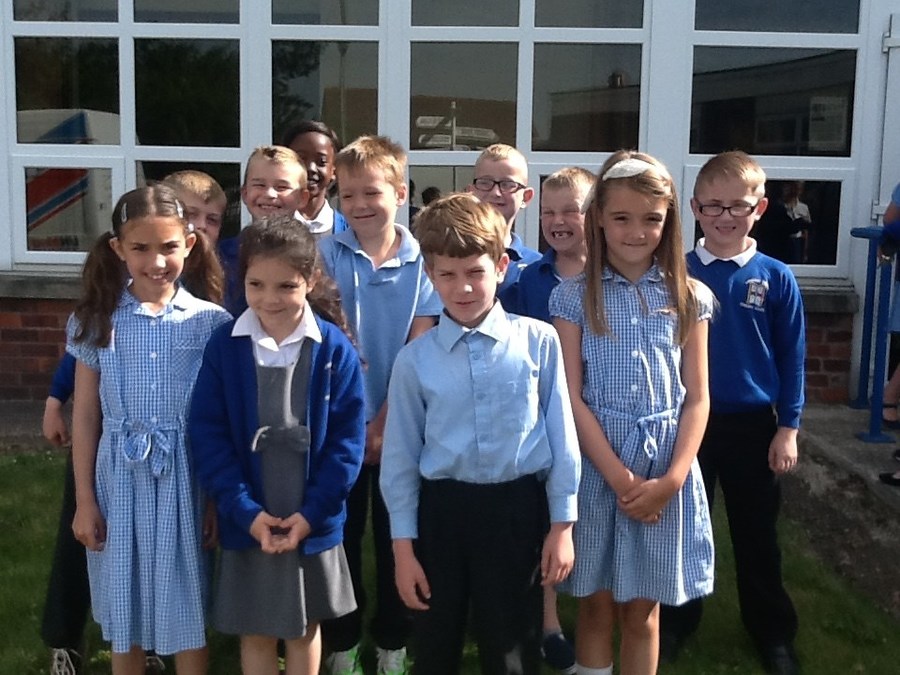 During the transition weeks KS2 are all working on a Mayan topic. The girls used lots of persuasive language in their Chichen Itza travel brochure and they have tried extremely hard to join up their letters using the new handwriting scheme - well done.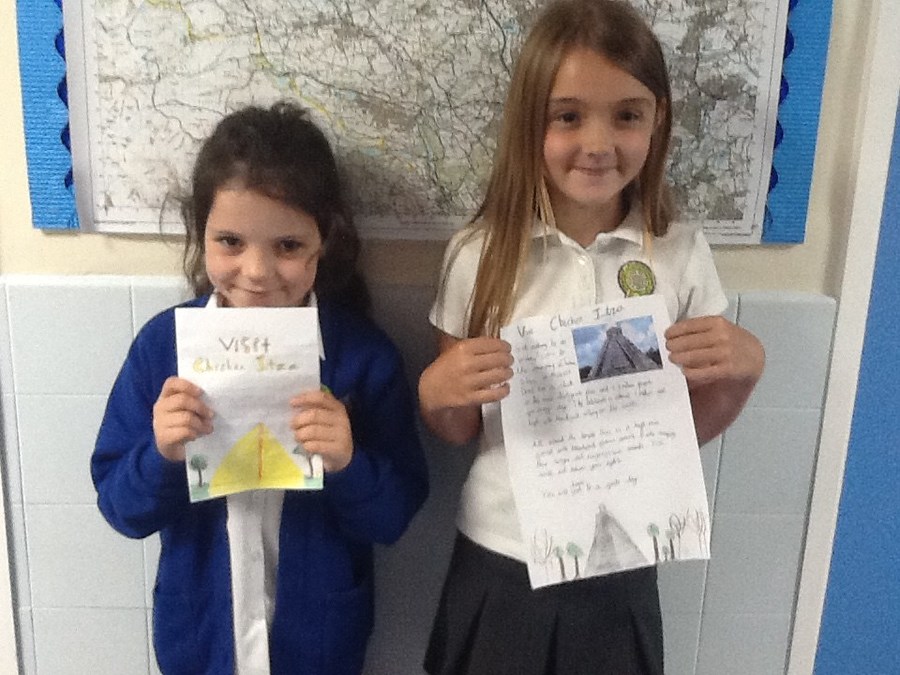 SCHOOL'S GOT TALENT
Well done to all the children who took part in this year's School's Got Talent. You were brilliant:)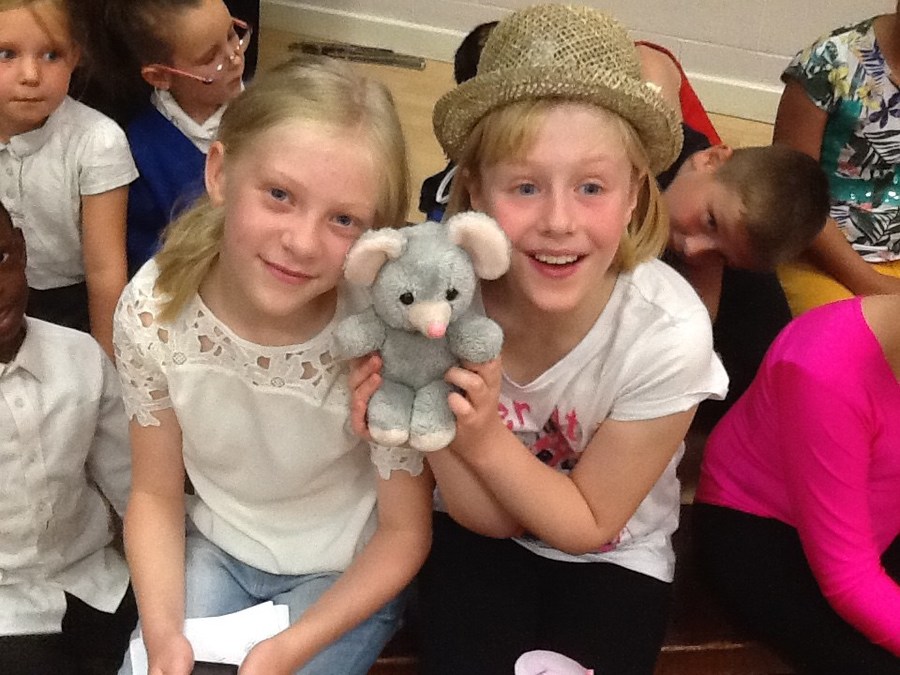 3rd, 2nd and 1st place goes to...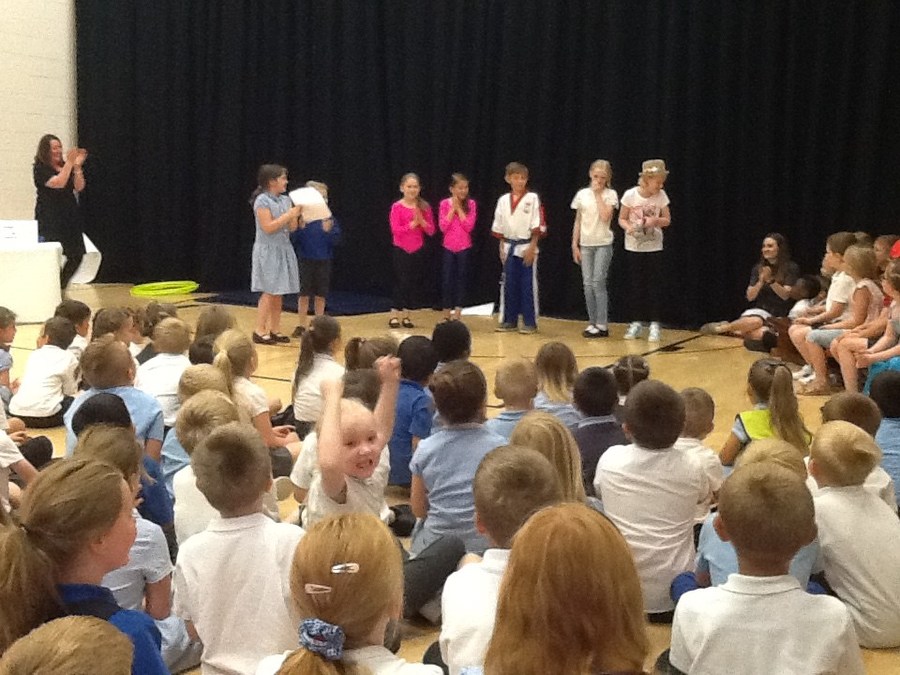 The competitors, the audience, the presenters and the judges.
Vegetable Growing Competition - Once again it is that time of year when every class has to share the what they have grown in their bed. There was an interesting selection on show this year! Class 9 were the overall winners but well done to you all.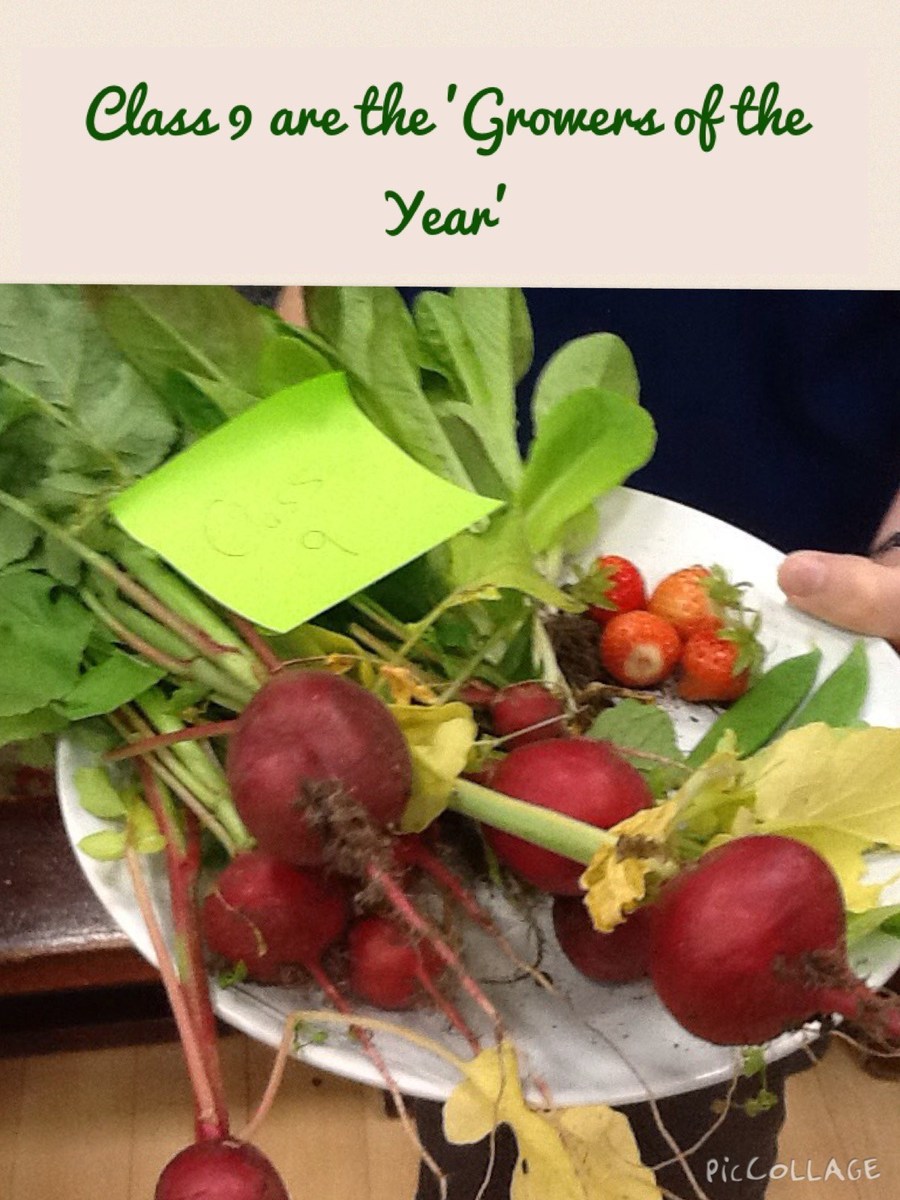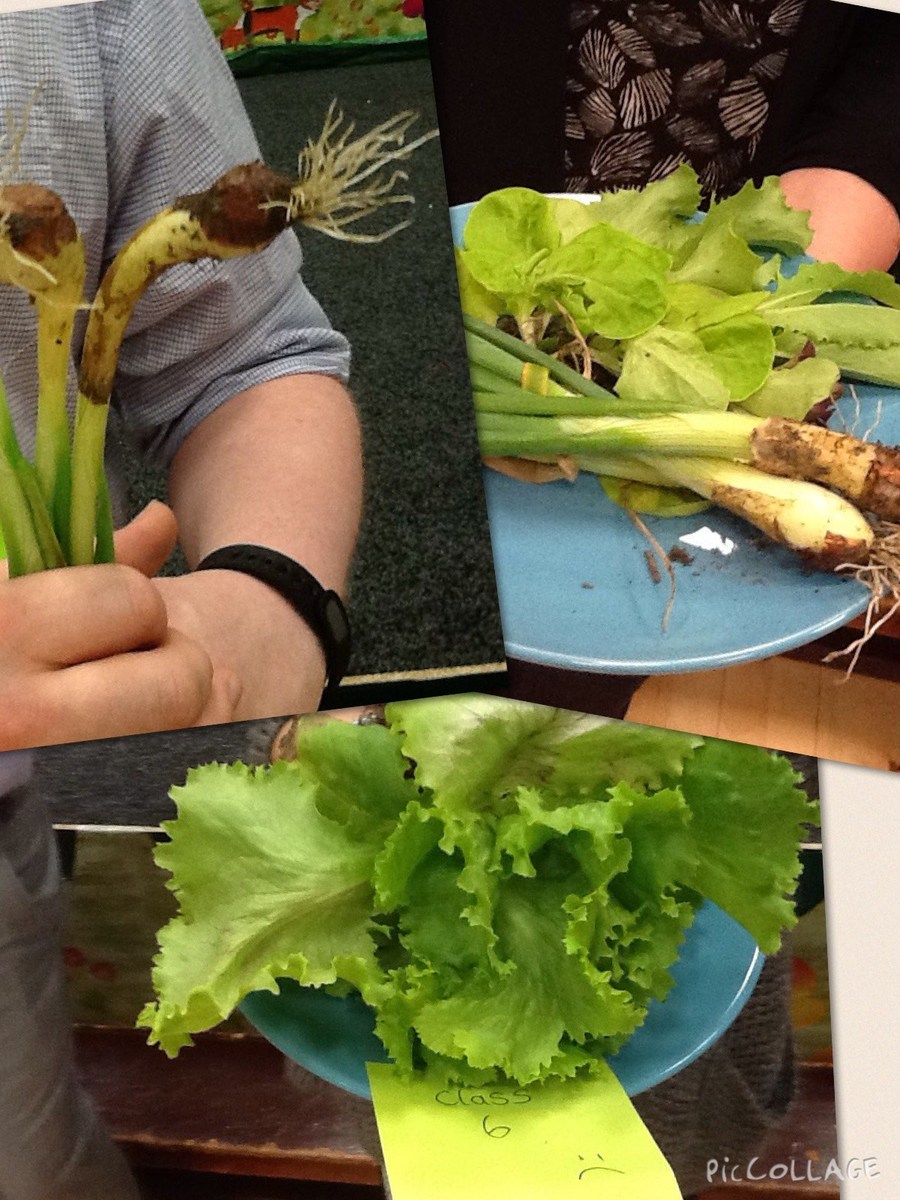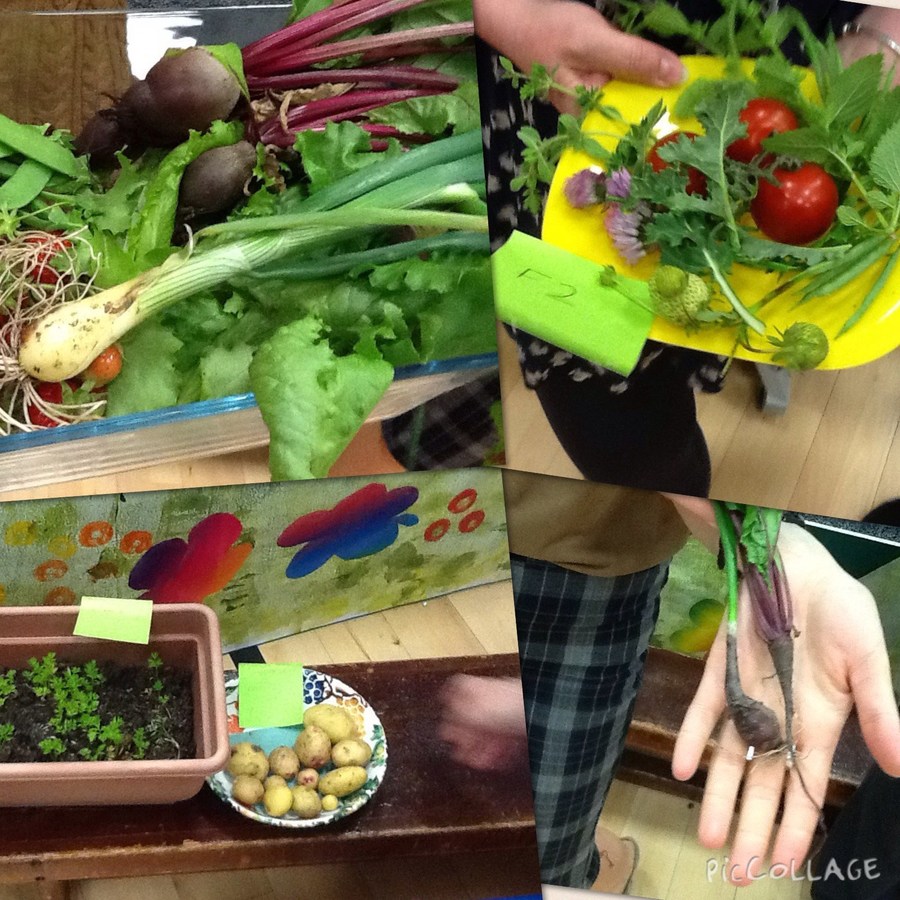 Class 3 are this term's winners of the KS1 PE trophy. They all look very proud!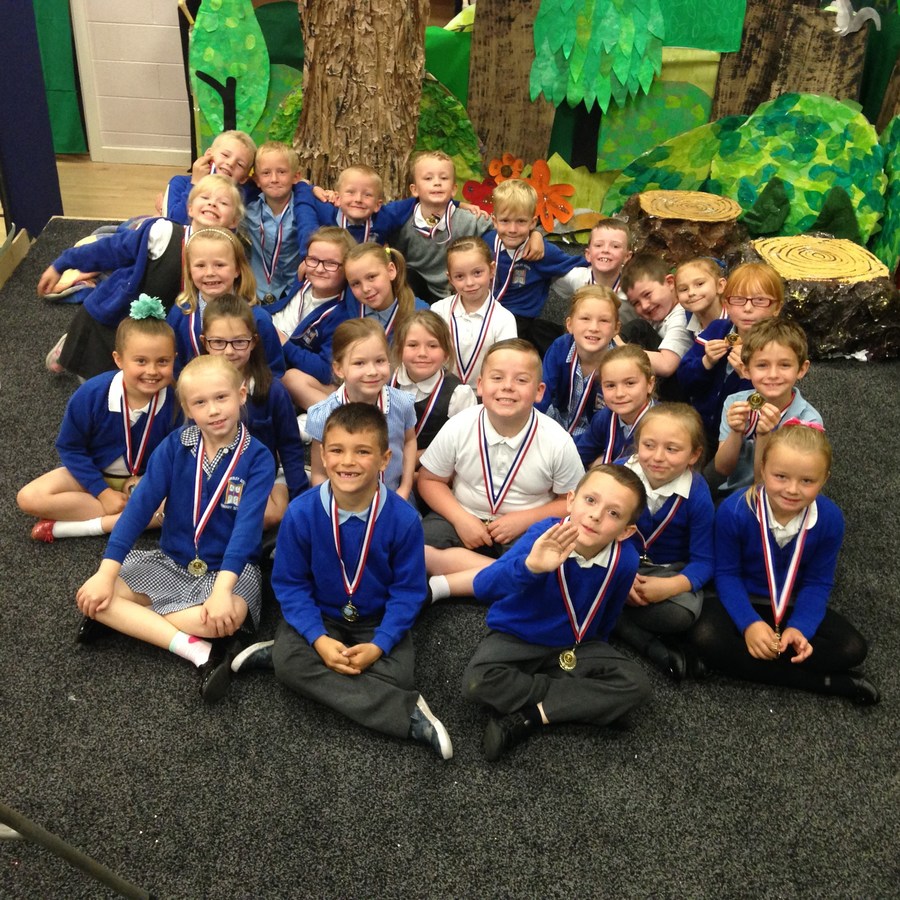 A BIG well done to Class 8. This week they joined schools from across Barnsley to play their cornets in an end of year concert. It was a truly wonderful experience for the children, staff and parents. Also Class 8 are this term's KS2 PE trophy winners. Gosh, you must all be exhausted!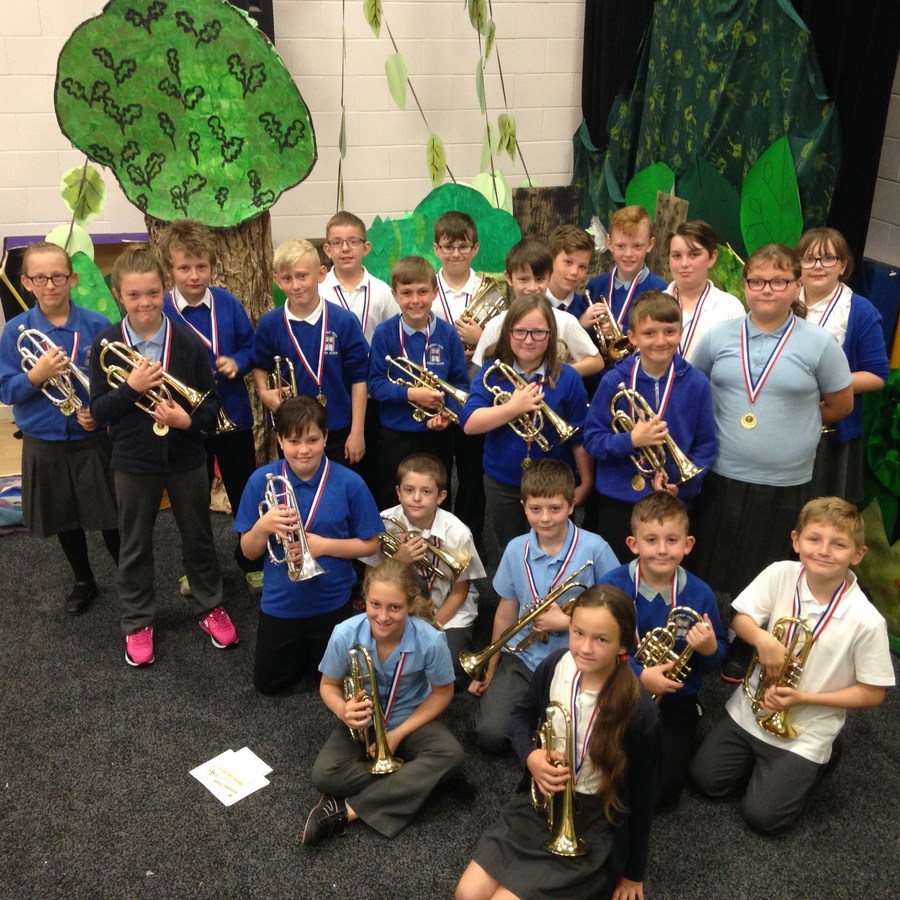 Well done to our Y5/6 Athletics Barnsley Finalists. You were amazing.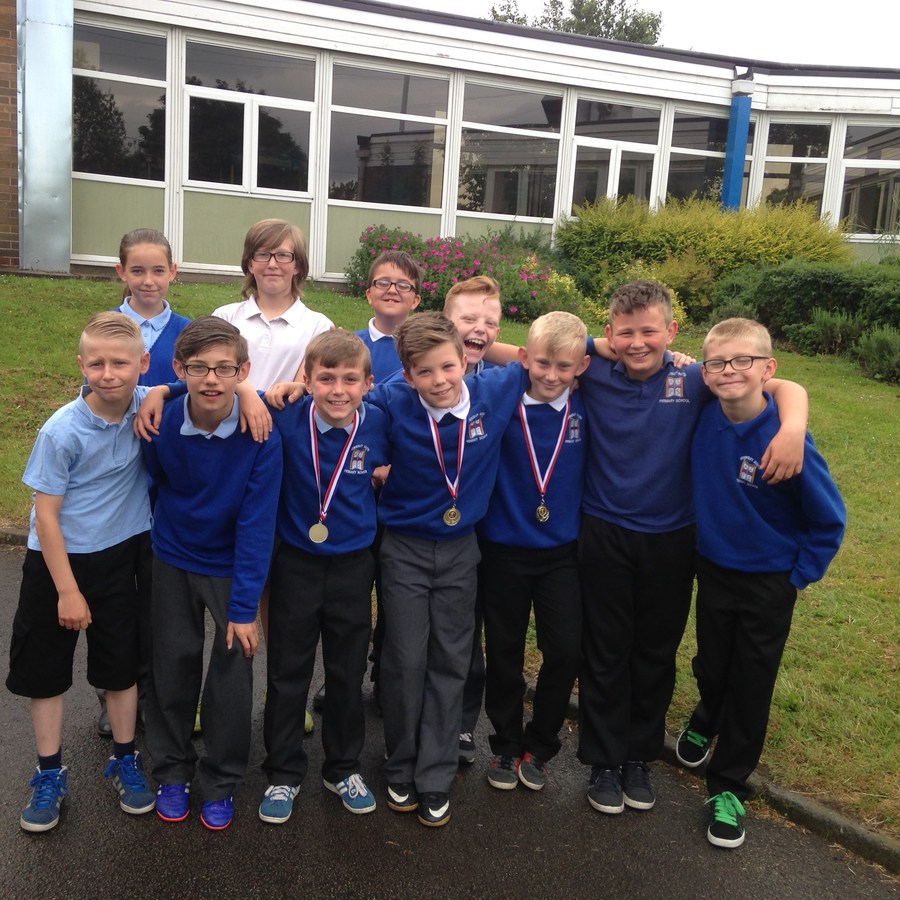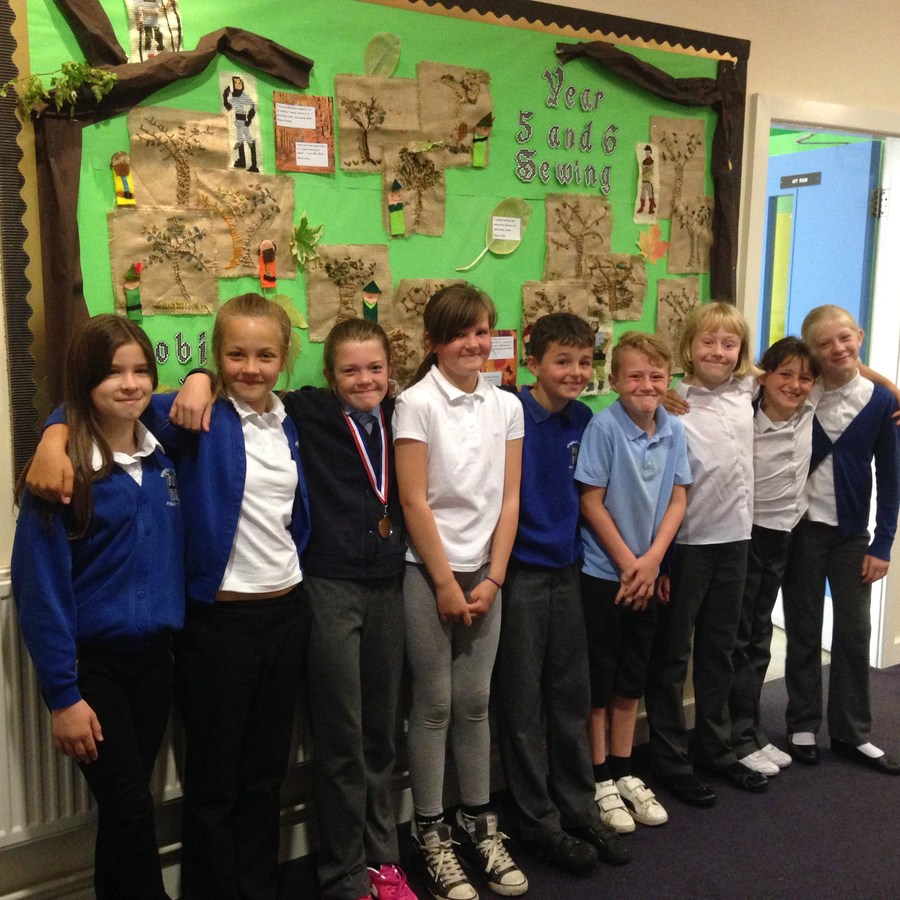 Our Basketball Team were 2nd in the Barnsley finals. Great team spirit - well done.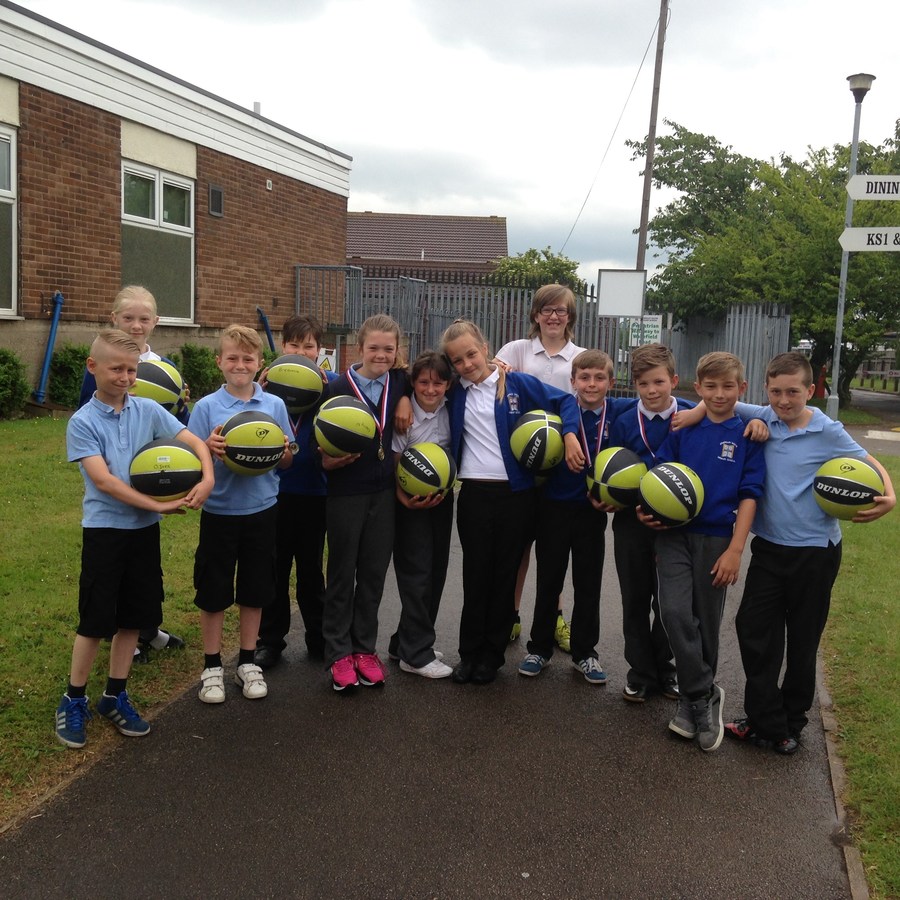 Our summer show this year was Robin and the Sherwood Hoodies. Well done to all our talented children and staff who worked so hard to make this comic production such a success. The Mayor and Mayoress of Barnsley and Mr Iredale attended the Friday evening production and they thoroughly enjoyed it. If you saw it, we hope you enjoyed it too.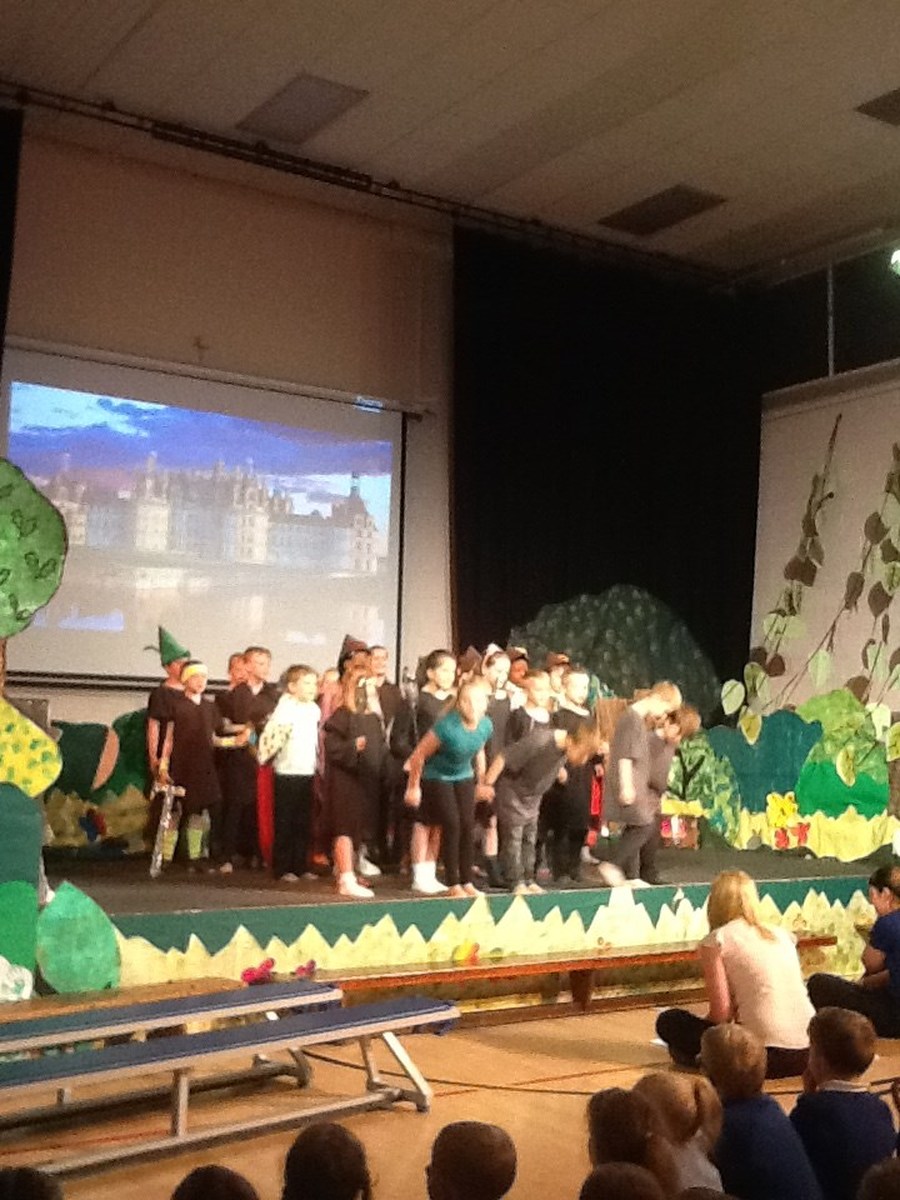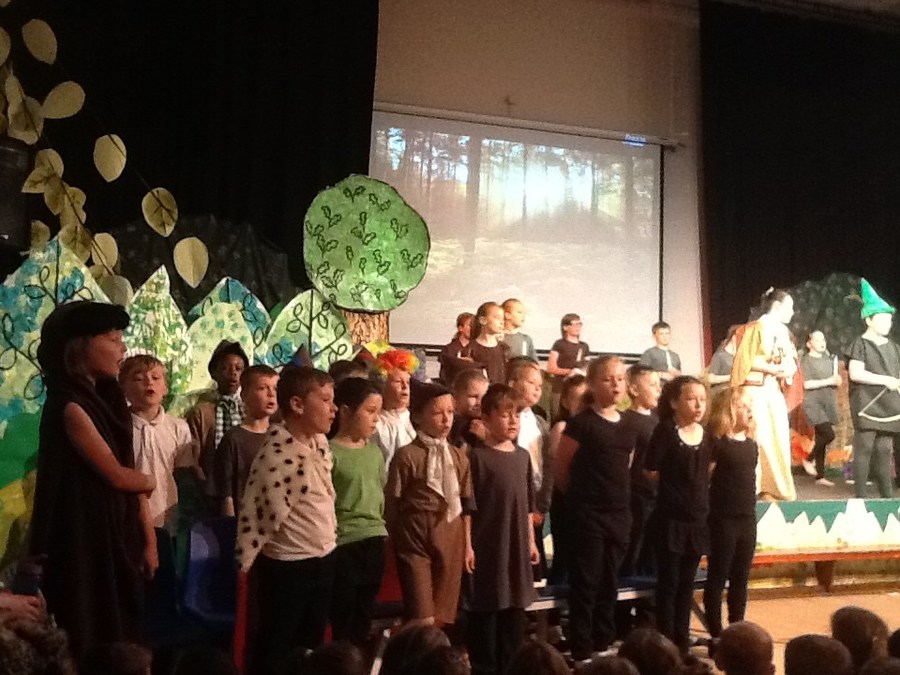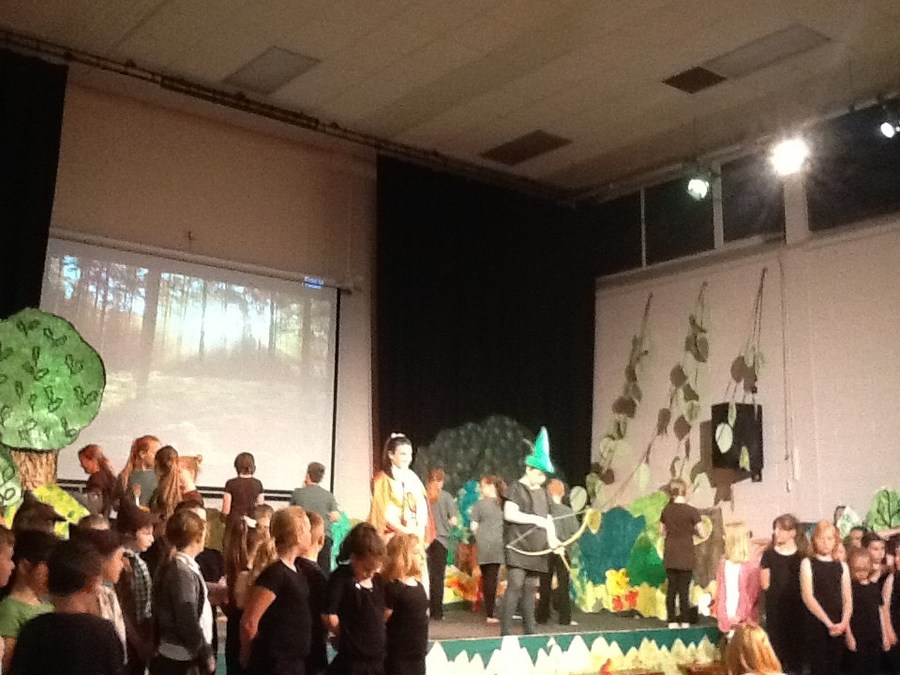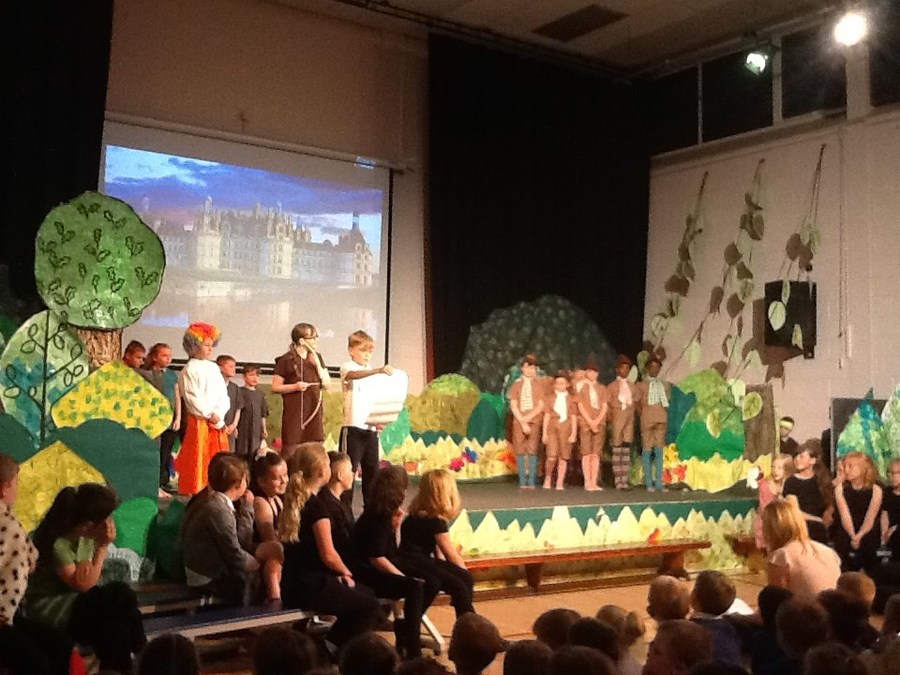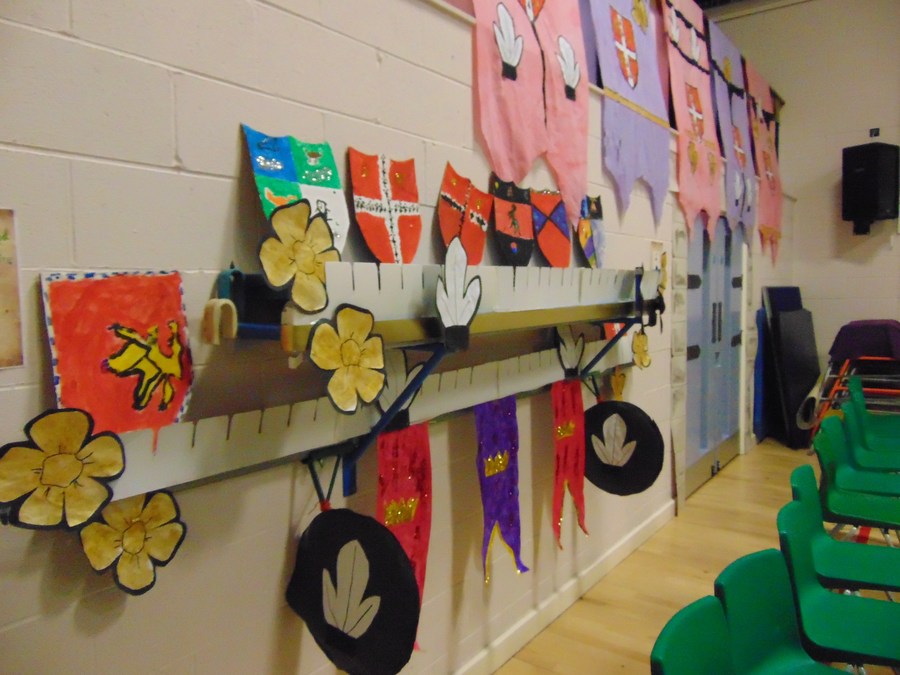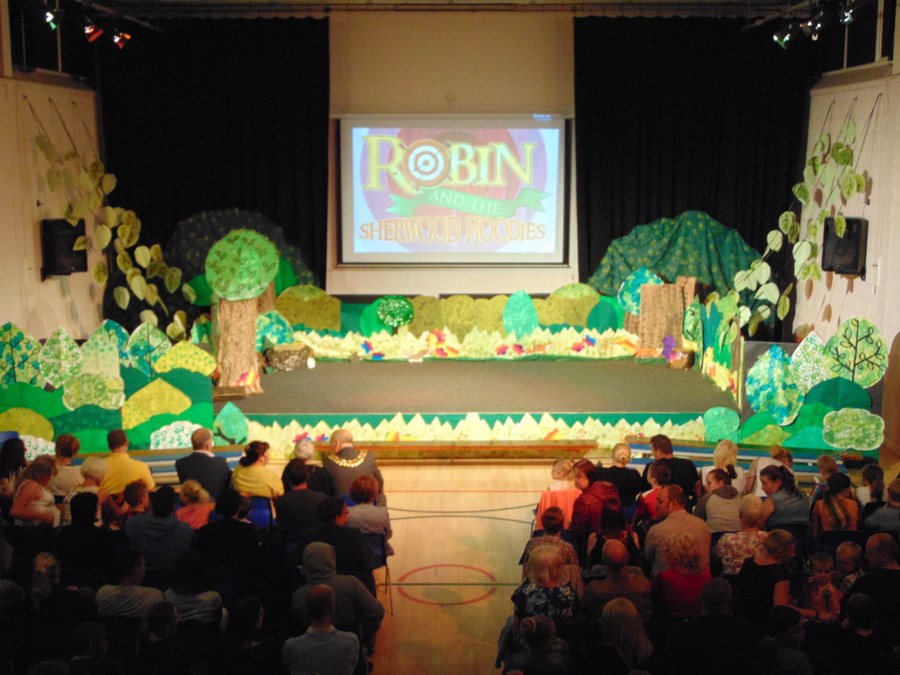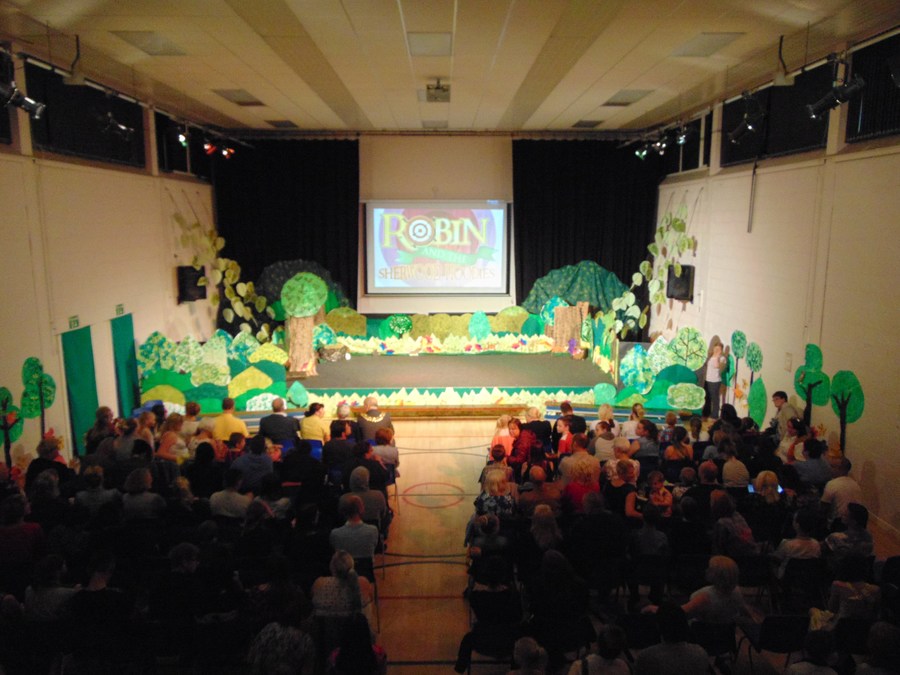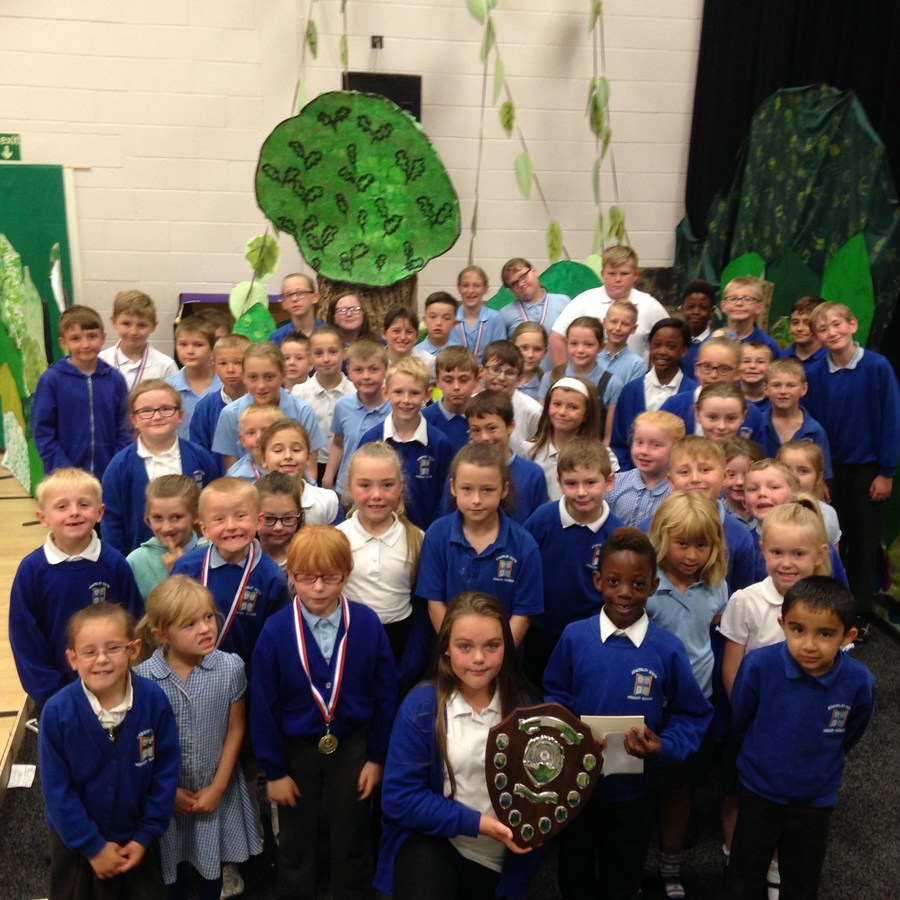 Hawks were the Sports Day overall winners - A great team effort.
Great to see that the learning that took place in a Class 8 perspective art lesson last week has been put to good use. Your dad will be impressed.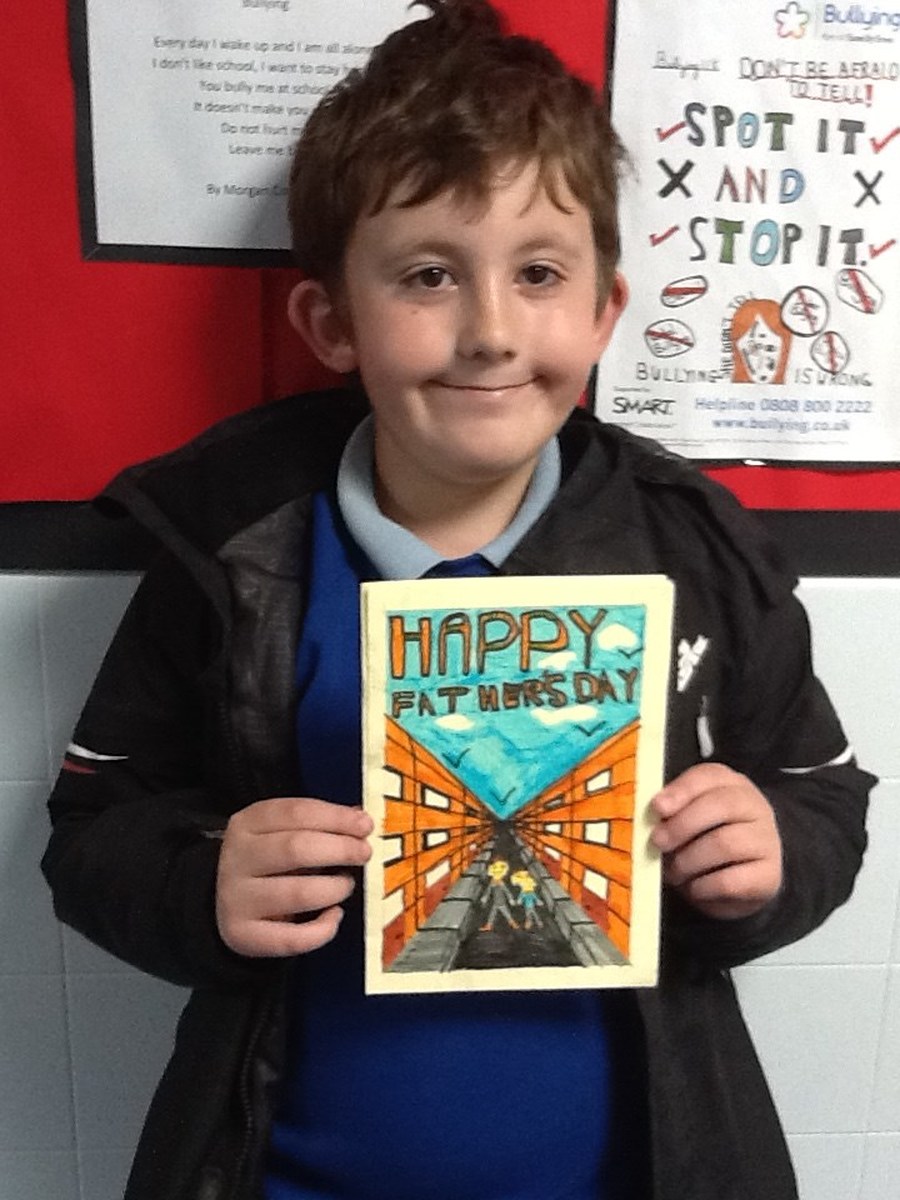 Meet the Barnsley KS1 Athletics Champions. Well done, you are all superstars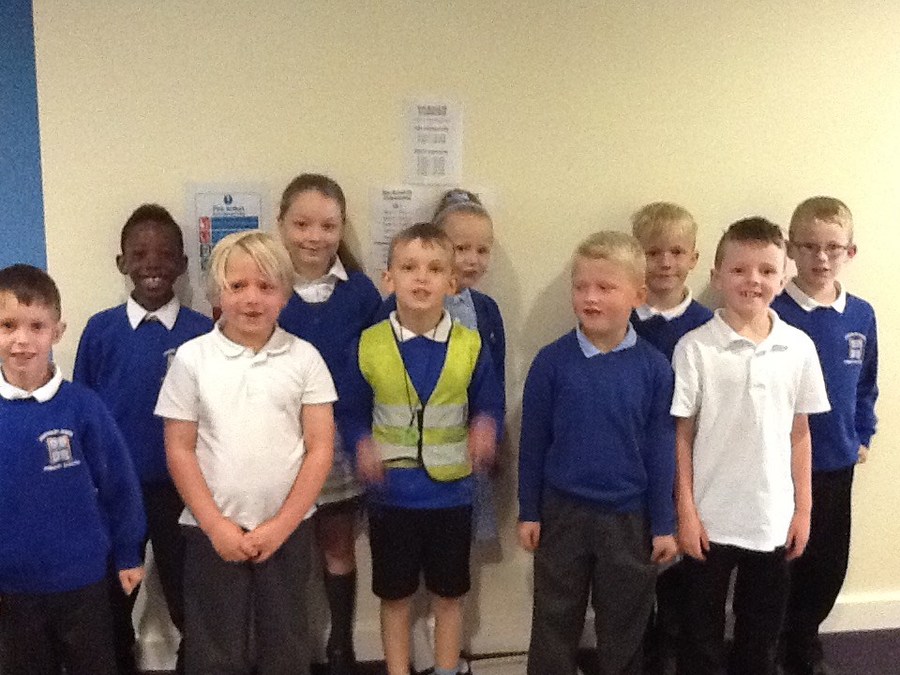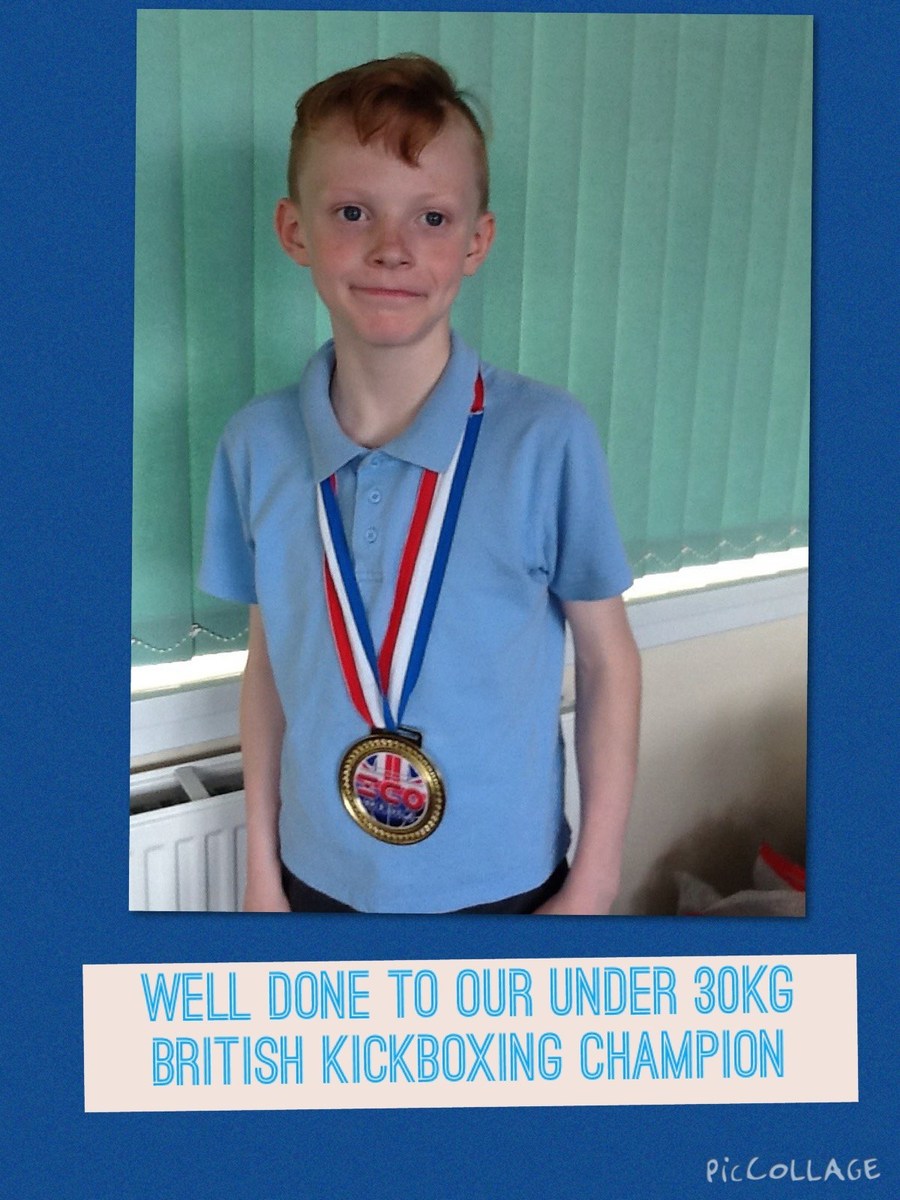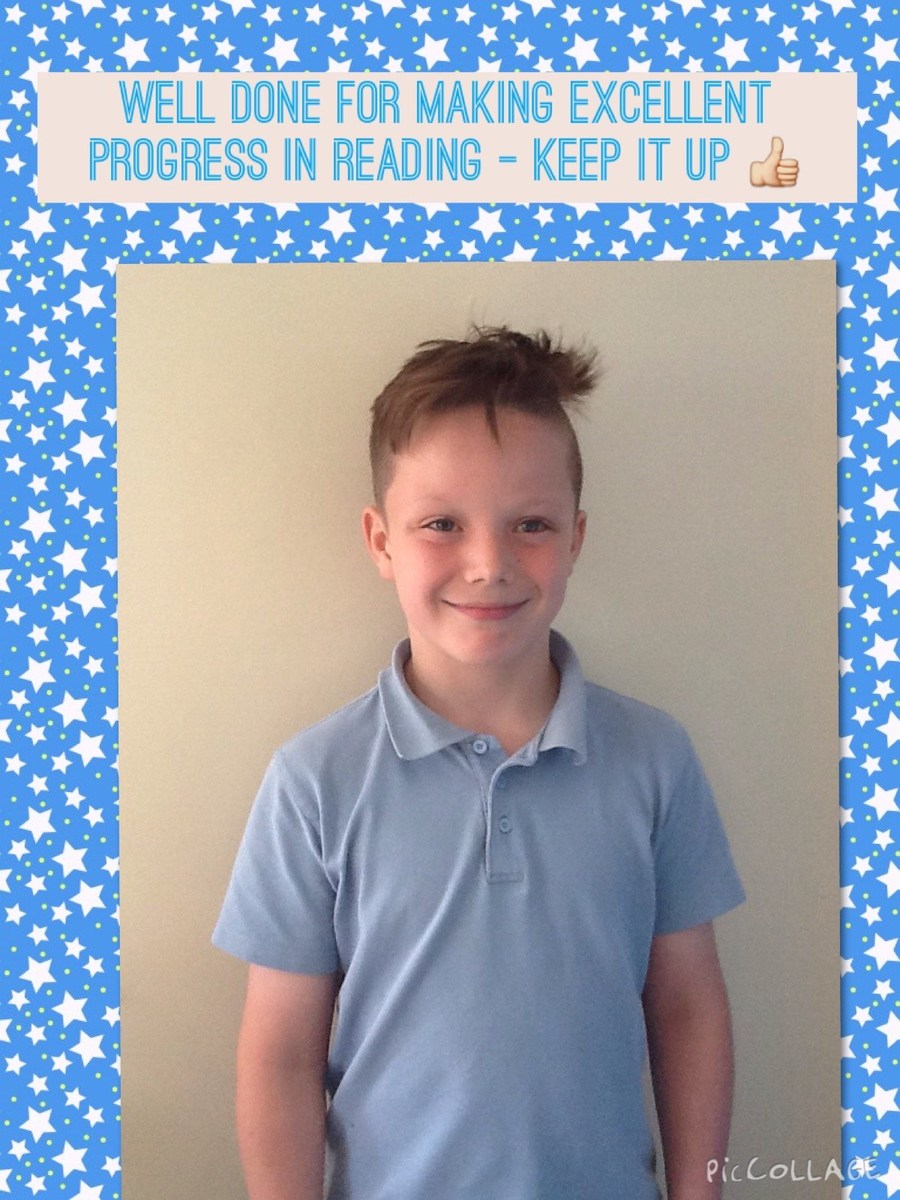 The artist Pete Deakin came into school and worked with Y34 to produce some amazing food related art work for the dining room. When you go in to eat your dinner, count how many different fruit and vegetables you can see.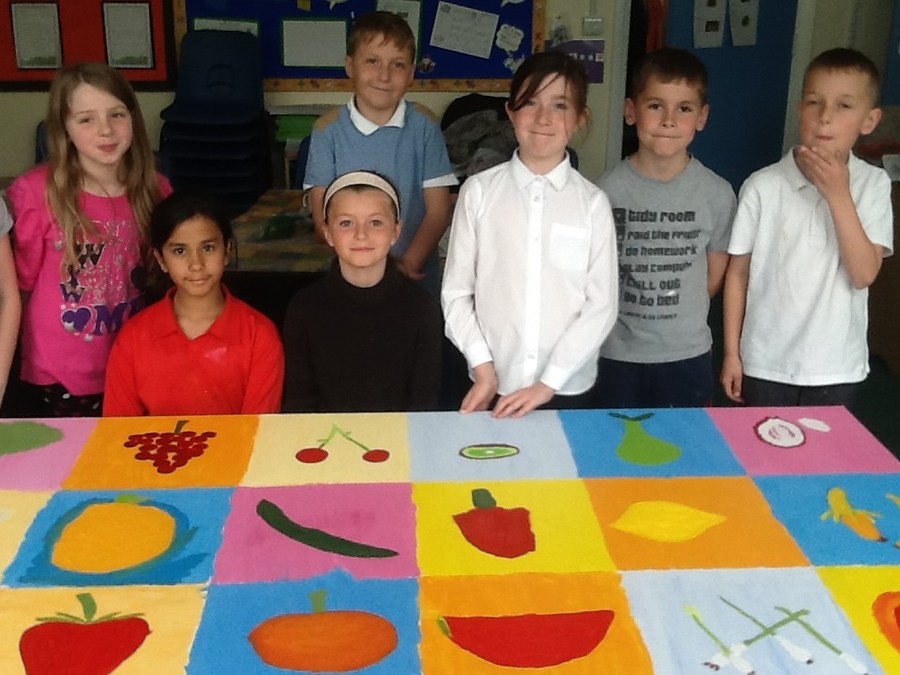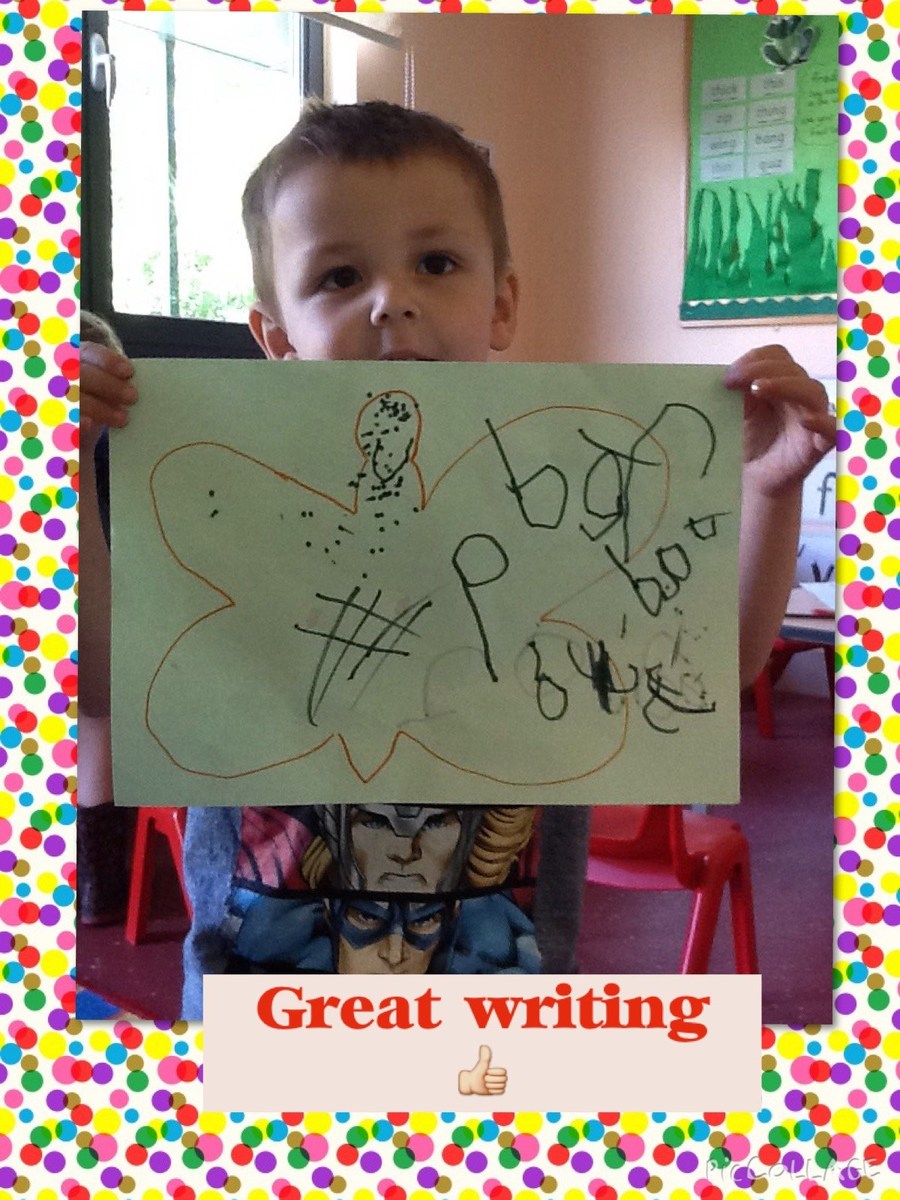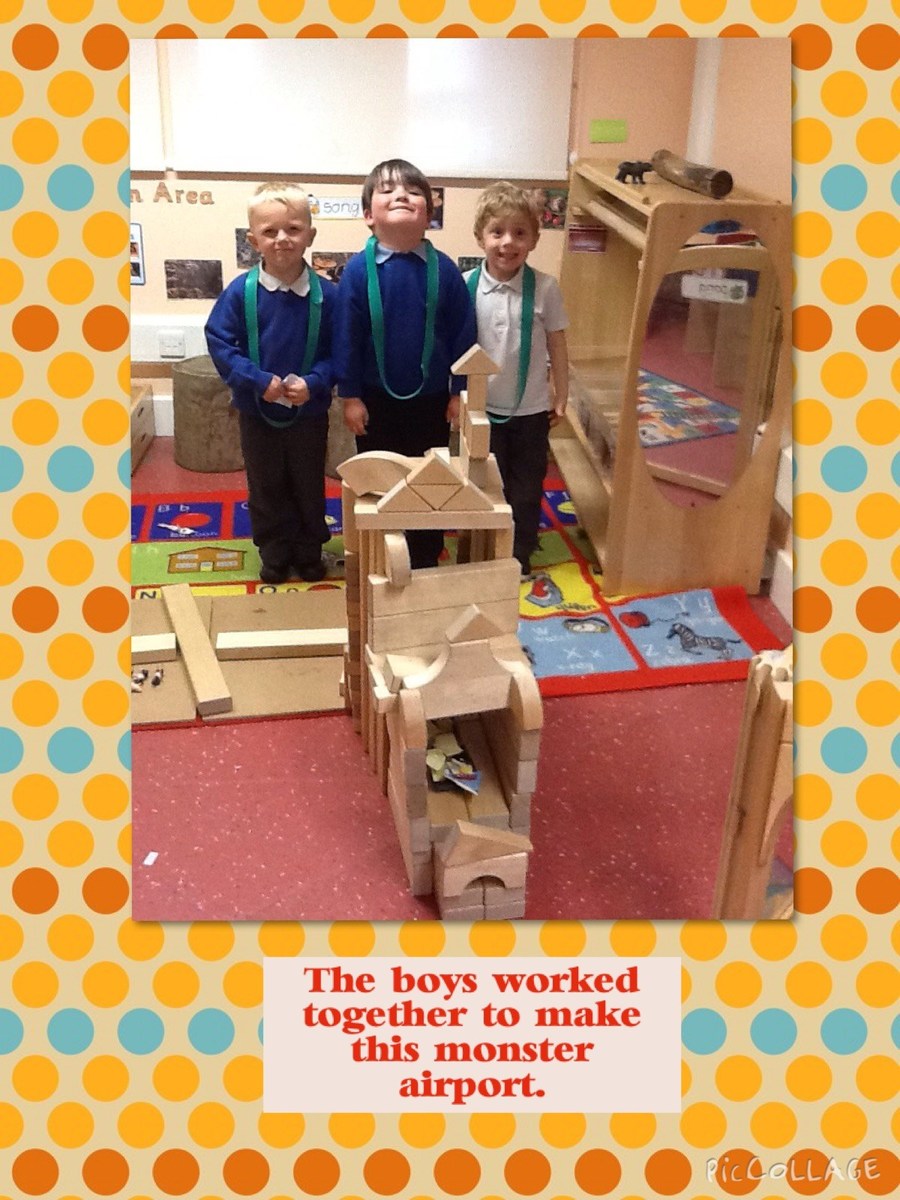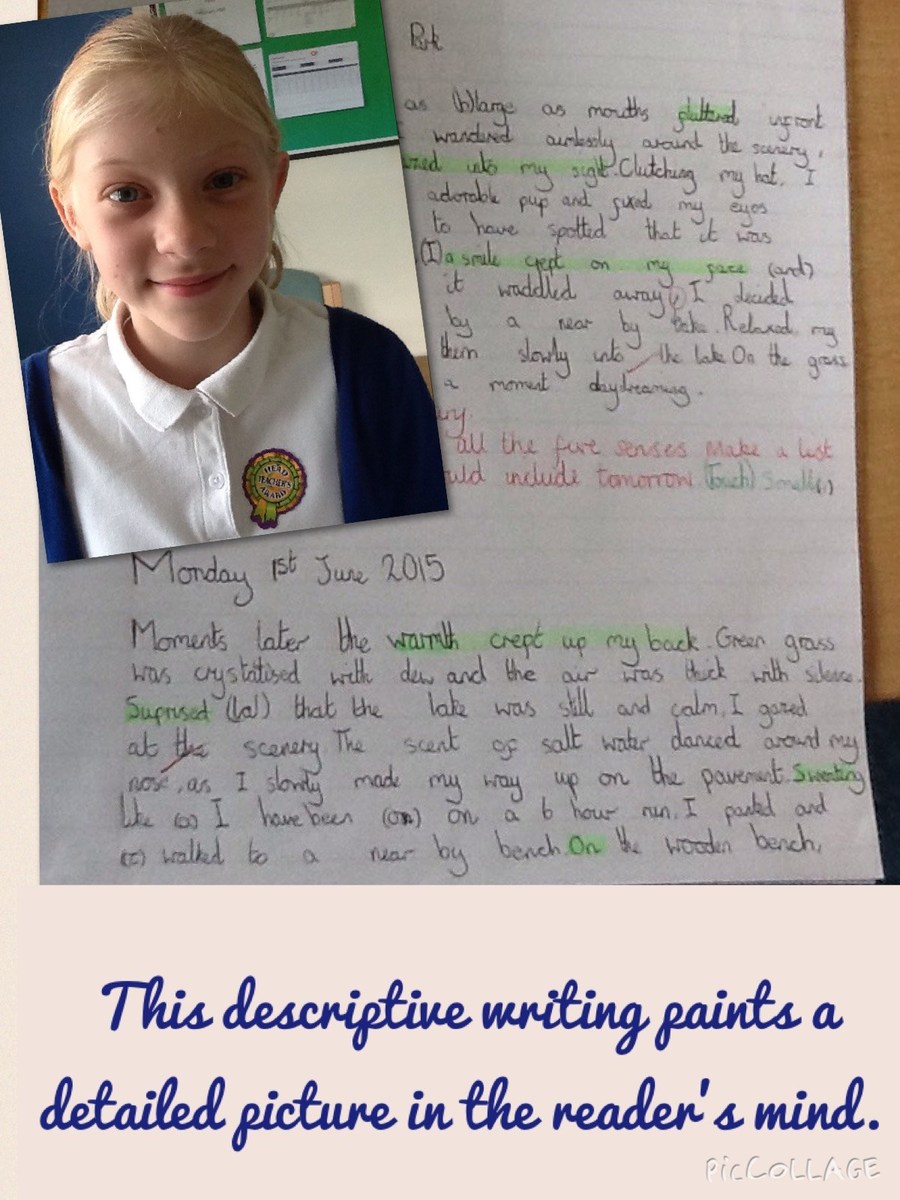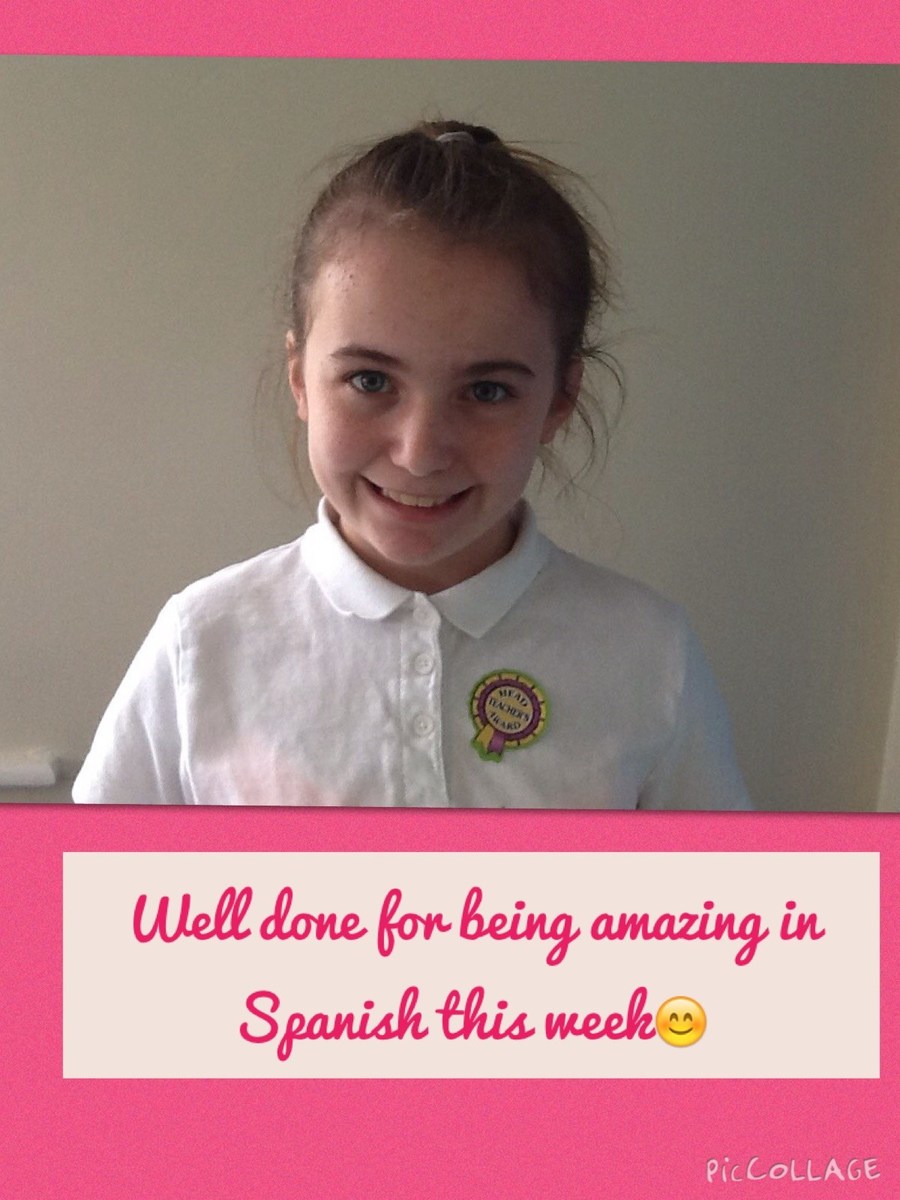 Arts Week
This year our summer show is Robin and the Sherwood Hoodies. During the arts week the children across school were involved in a range of art activities linked to the theme. The actors, choir and the dancers spent the week practising and the set and props teams worked hard to produce the backdrop.
Our PE champions this half term are classes 1 and 8. Well done to both classes. I wonder who will be next to win the trophy of sweets?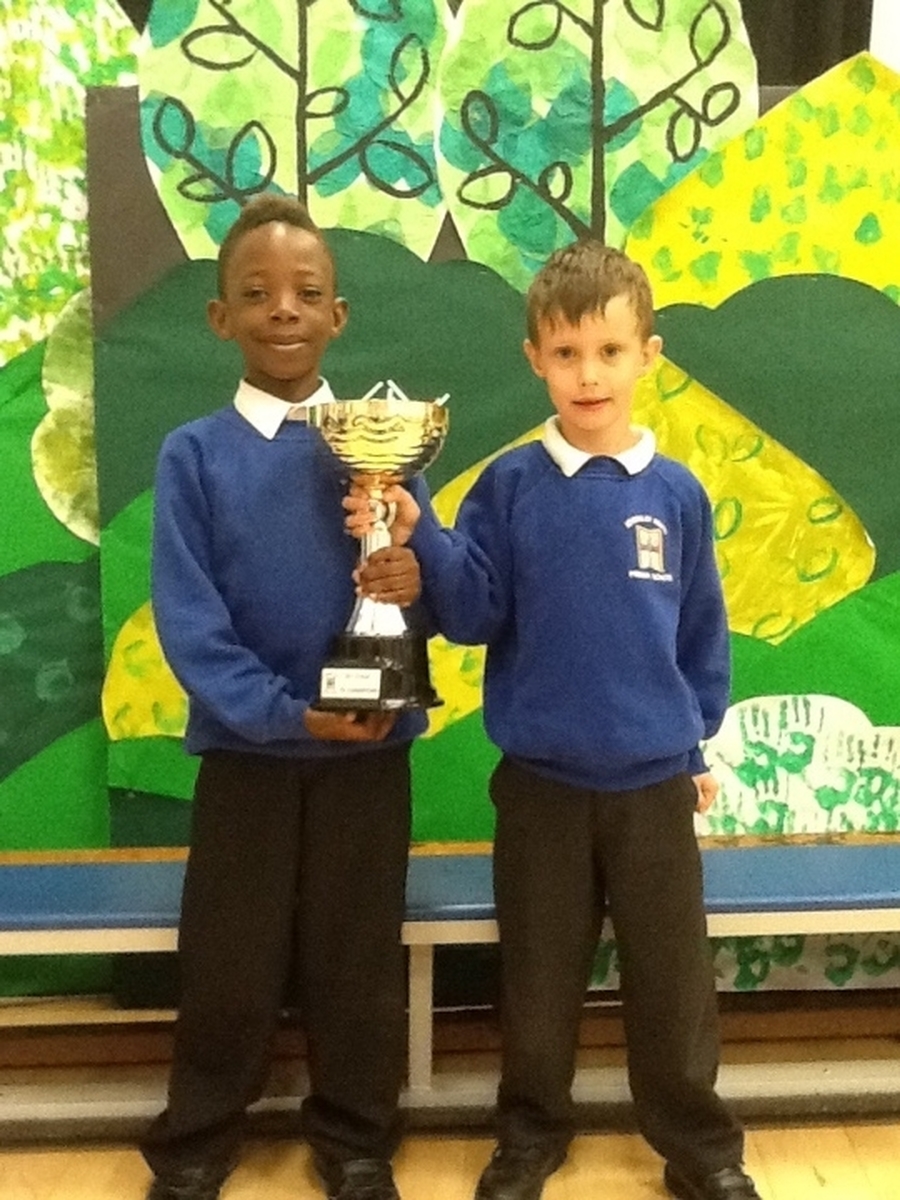 3rd June 15 - Well done to the cricket team for their superb behaviour and attitude this week at Shaw Lane. The team worked brilliantly together and Mr Gorner and Mrs Walton said they were a credit to our school! Well done boys.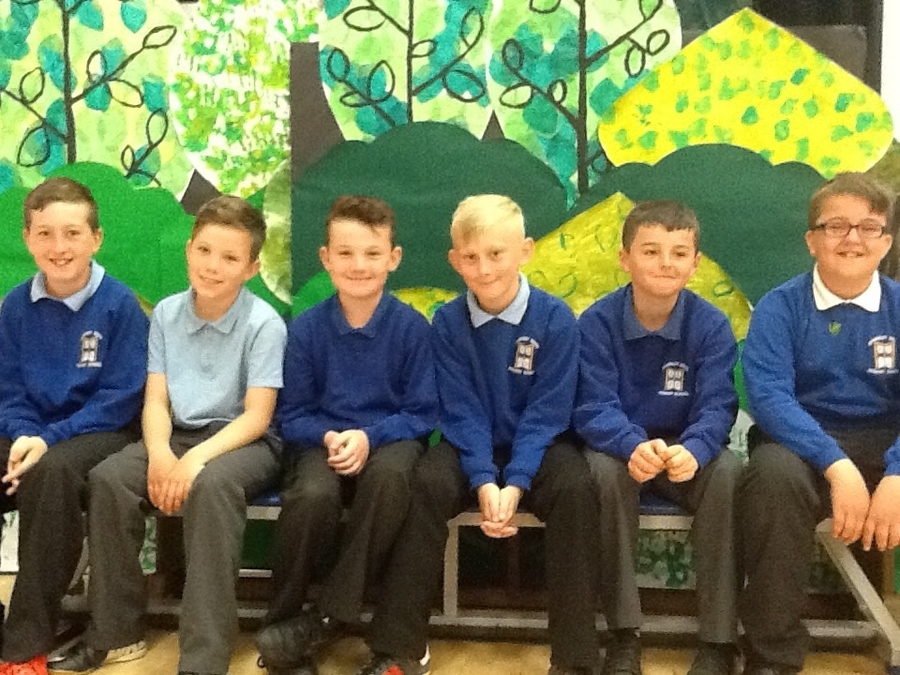 The girls thought really carefully while making this very, very long number line in FS2.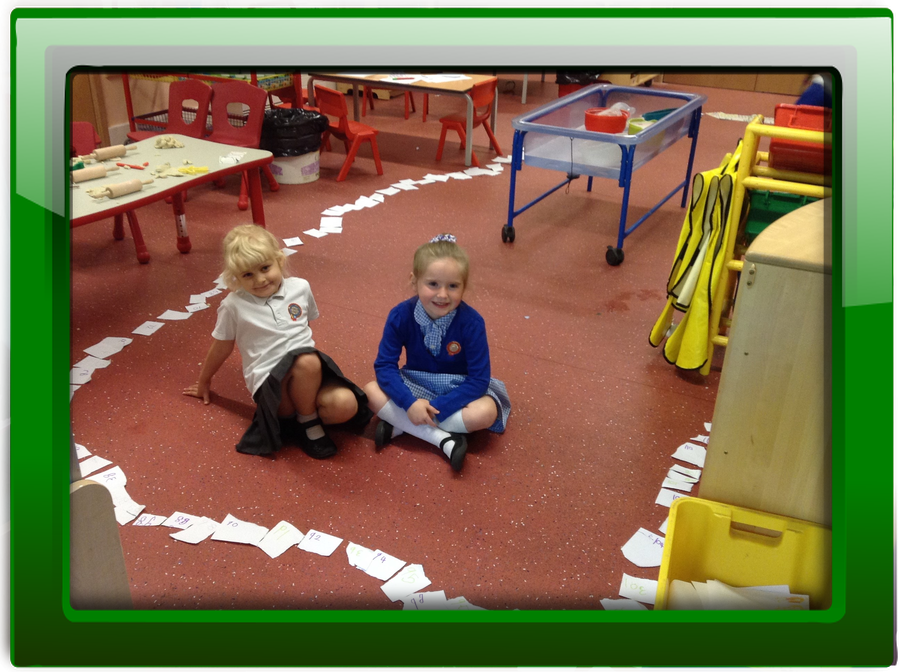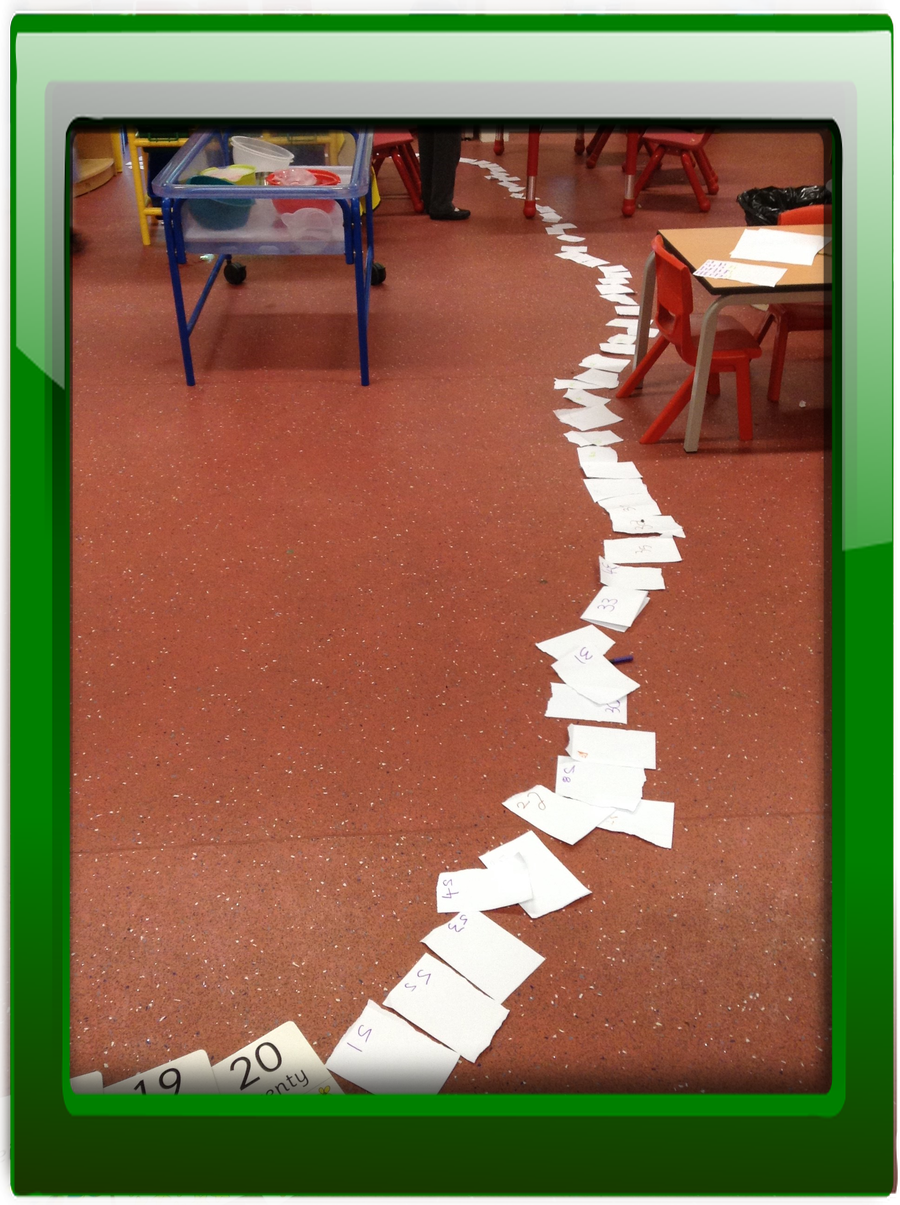 Well done Hawks for being the summer half term's winning team. As their reward they all went out into the woodland to play Forest School games and toast marshmallows.
It was wonderful to see the children in KS1 working together on this triangle tower building team challenge. Look out for the picture of the winning groups.
Read this very informative recount of the Y34 trip to Magna. A great read!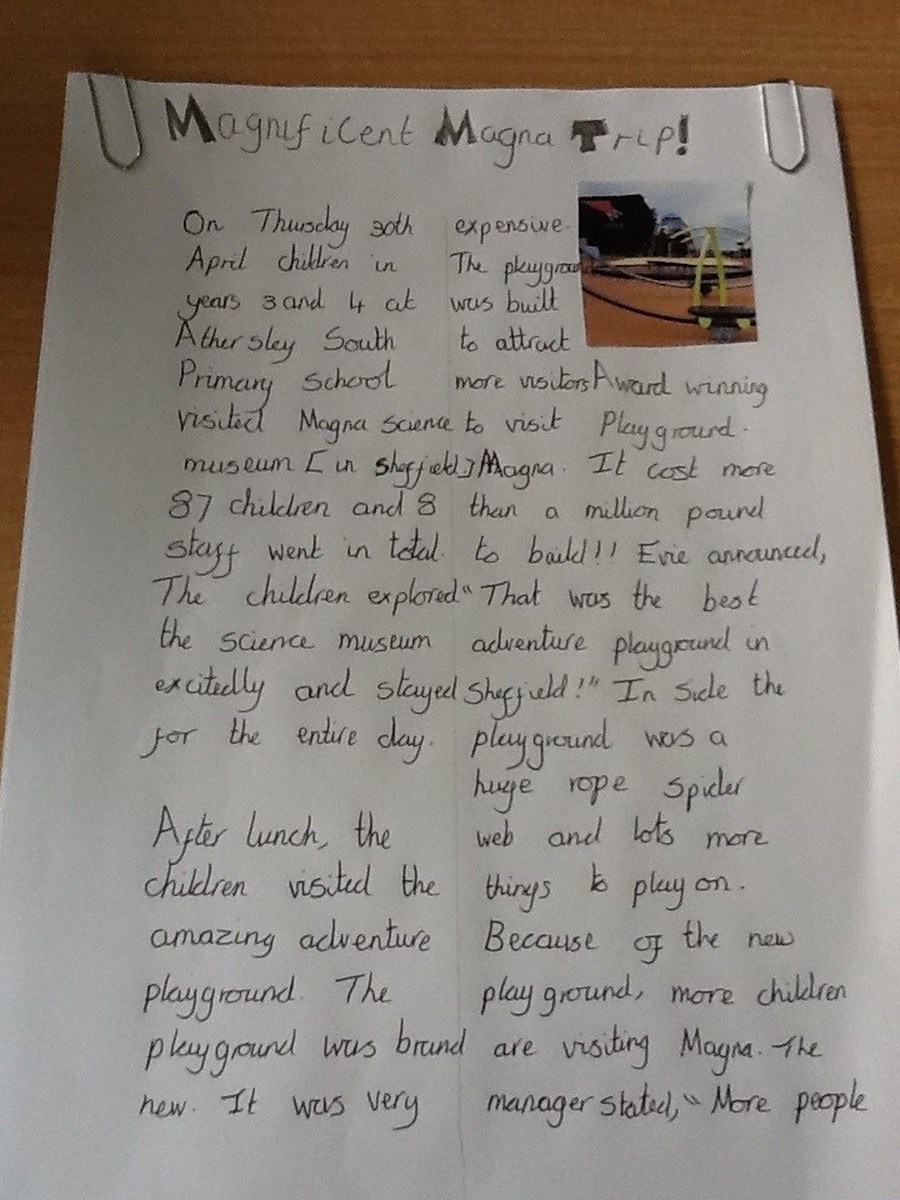 A BIG thank you to everyone who helped us raise an amazing £3,500 for the NSPCC May 2015
We are so proud of you for working hard in literacy. Keep it up.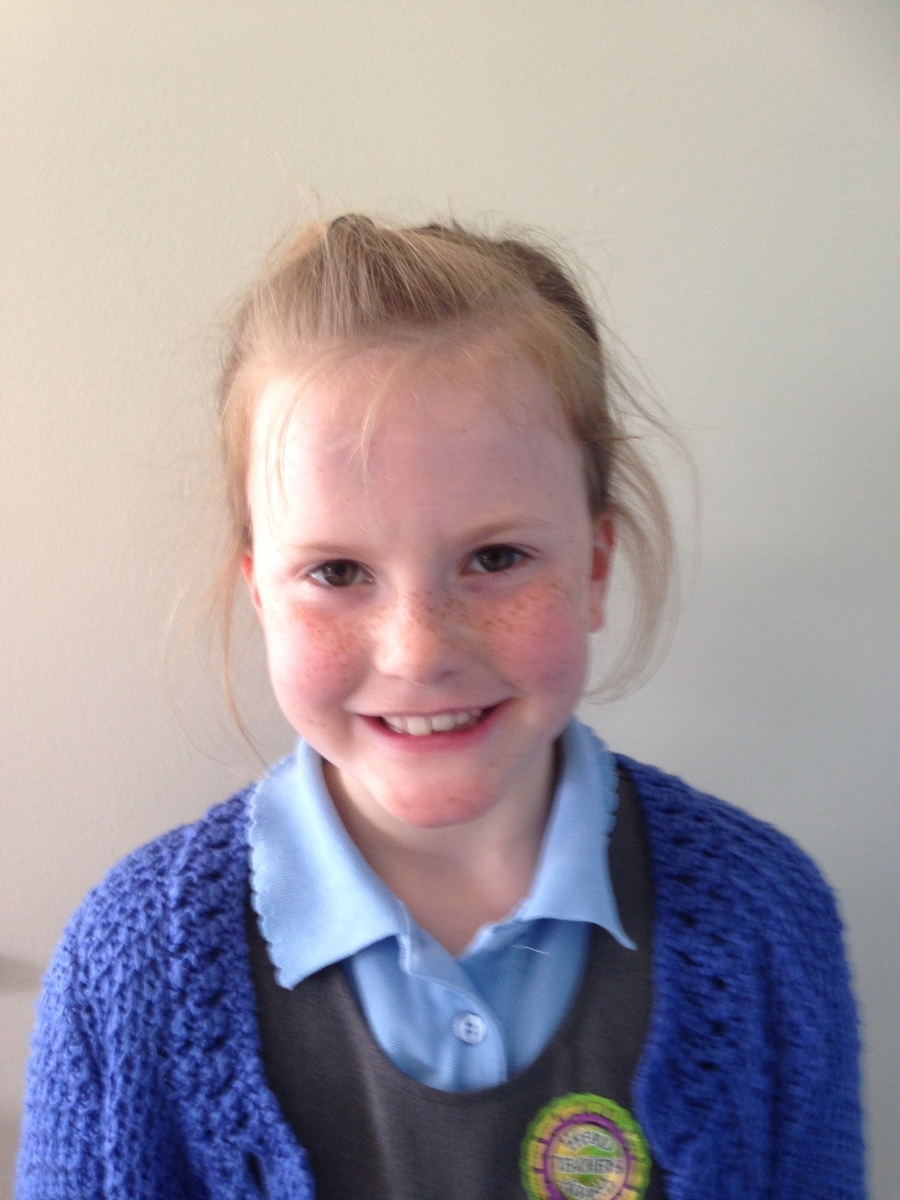 Well done to the Year 3/4 Tag Rugby team who finished 3rd in the Tag Rugby tournament which was held at Barnsley College.
This young lady has just passed her Grade 1 Clarinet exam. Well done, we are very proud of you.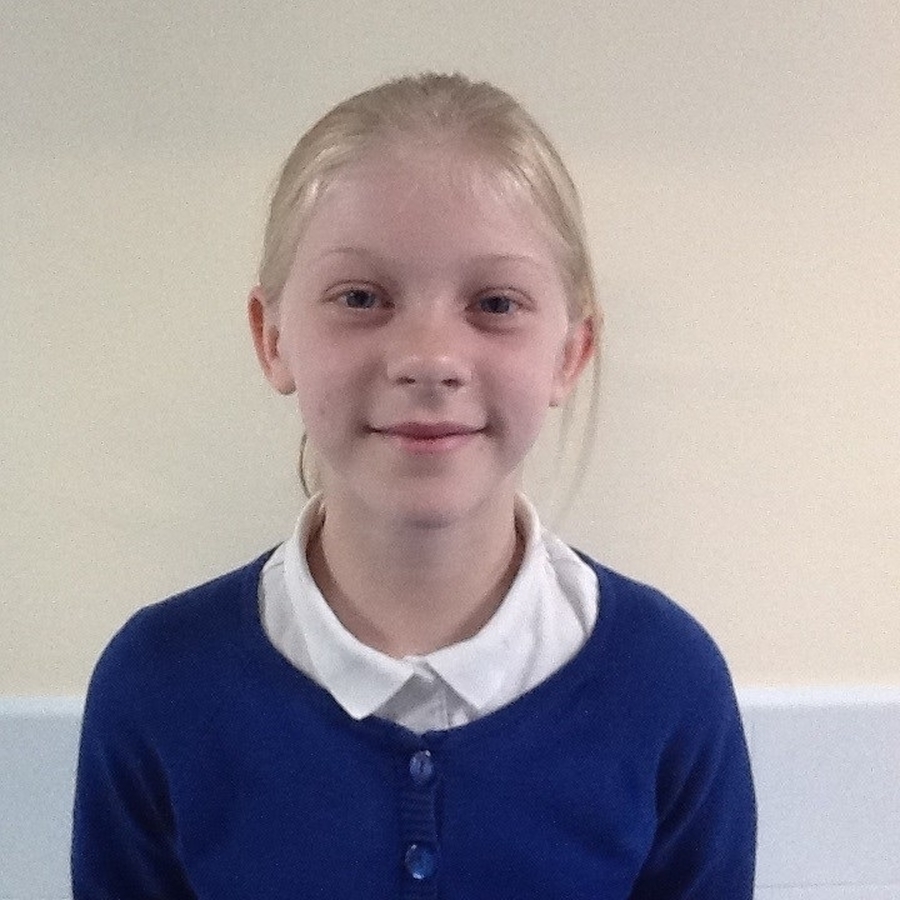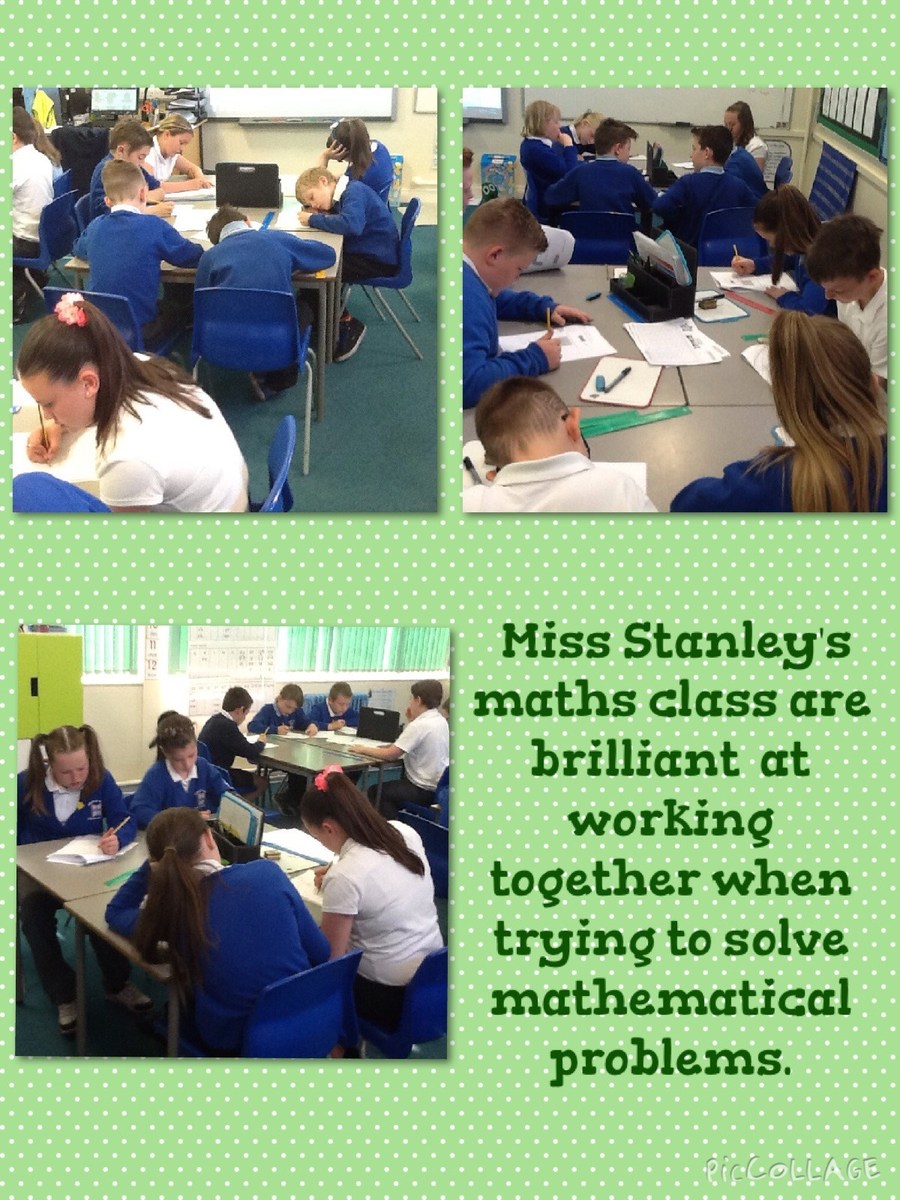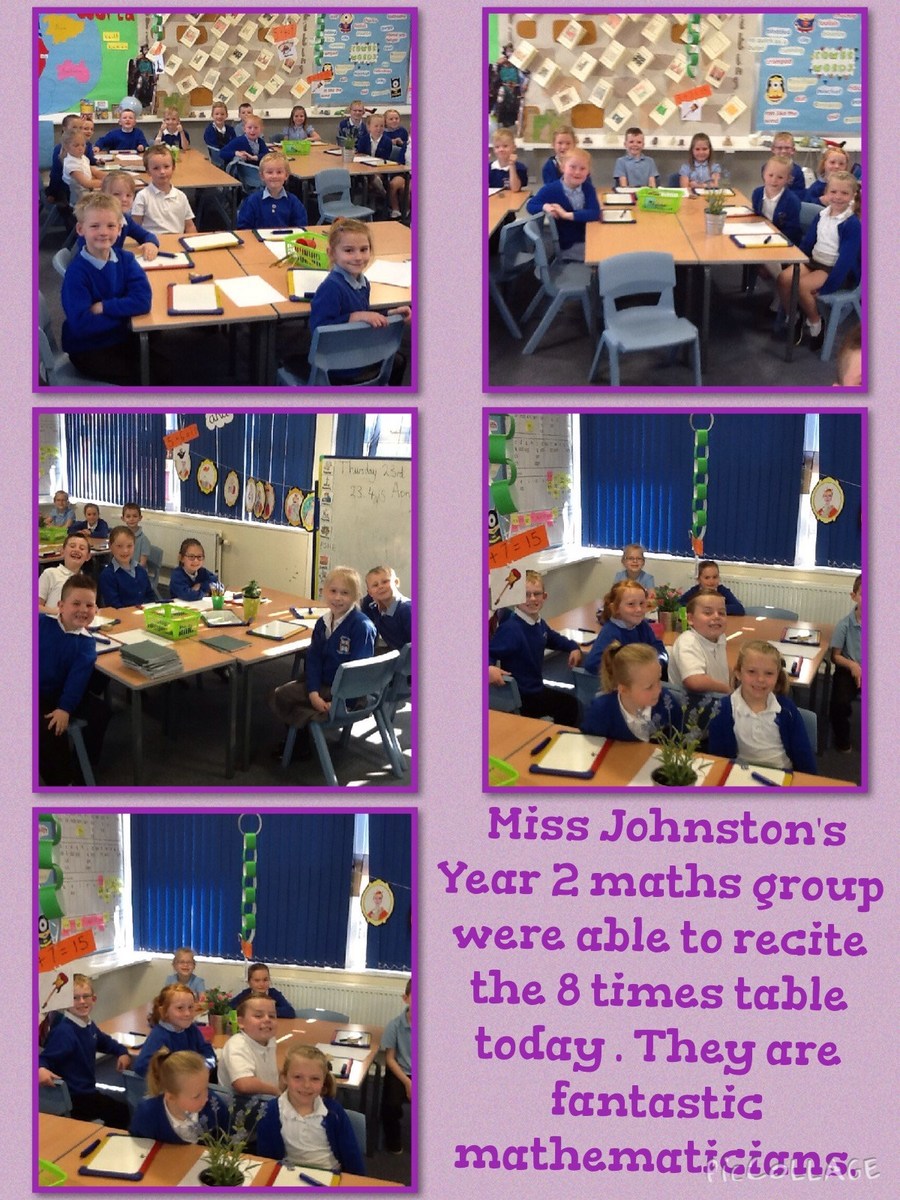 Two children in Class 3 have written a riddle. Can you work it out?
It is round and fat. It is surrounded by black. It is like a giant ball. Some people think it is made of cheese.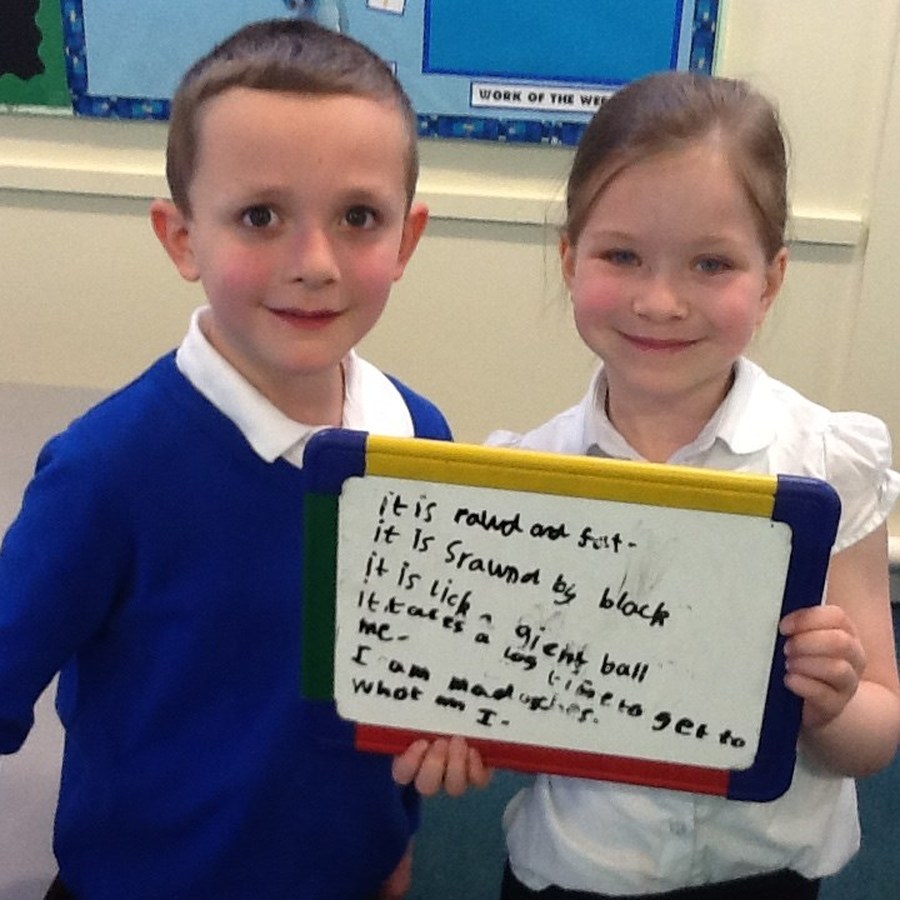 Amazing progress in reading - You should feel very proud of yourself.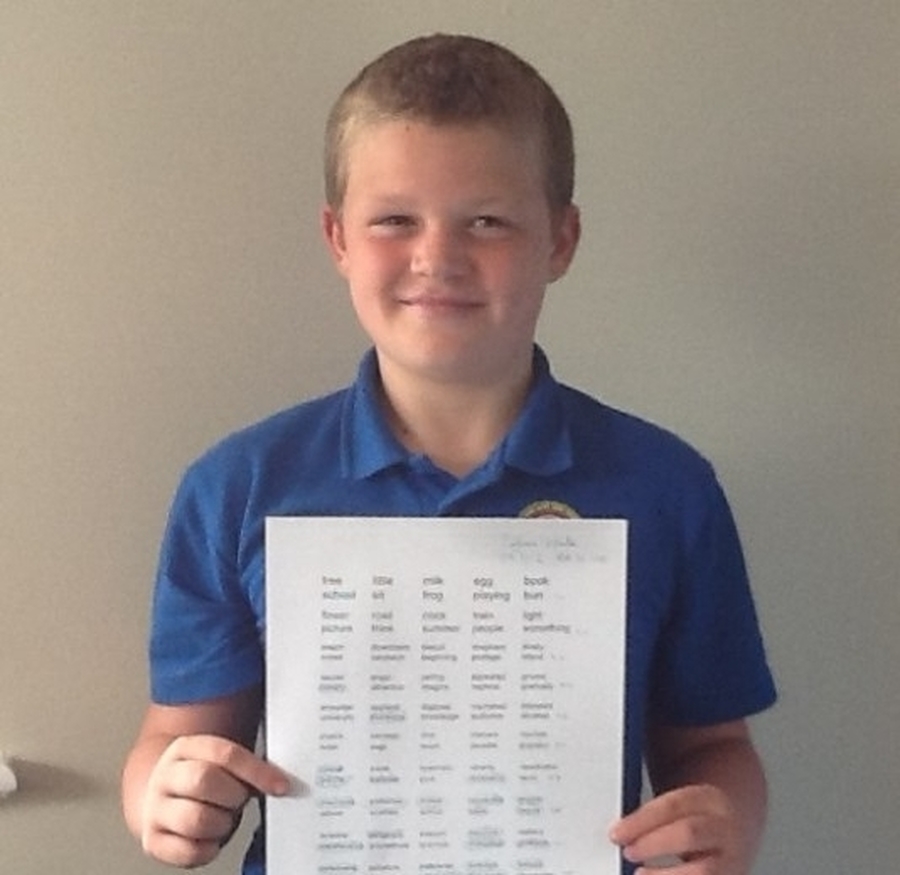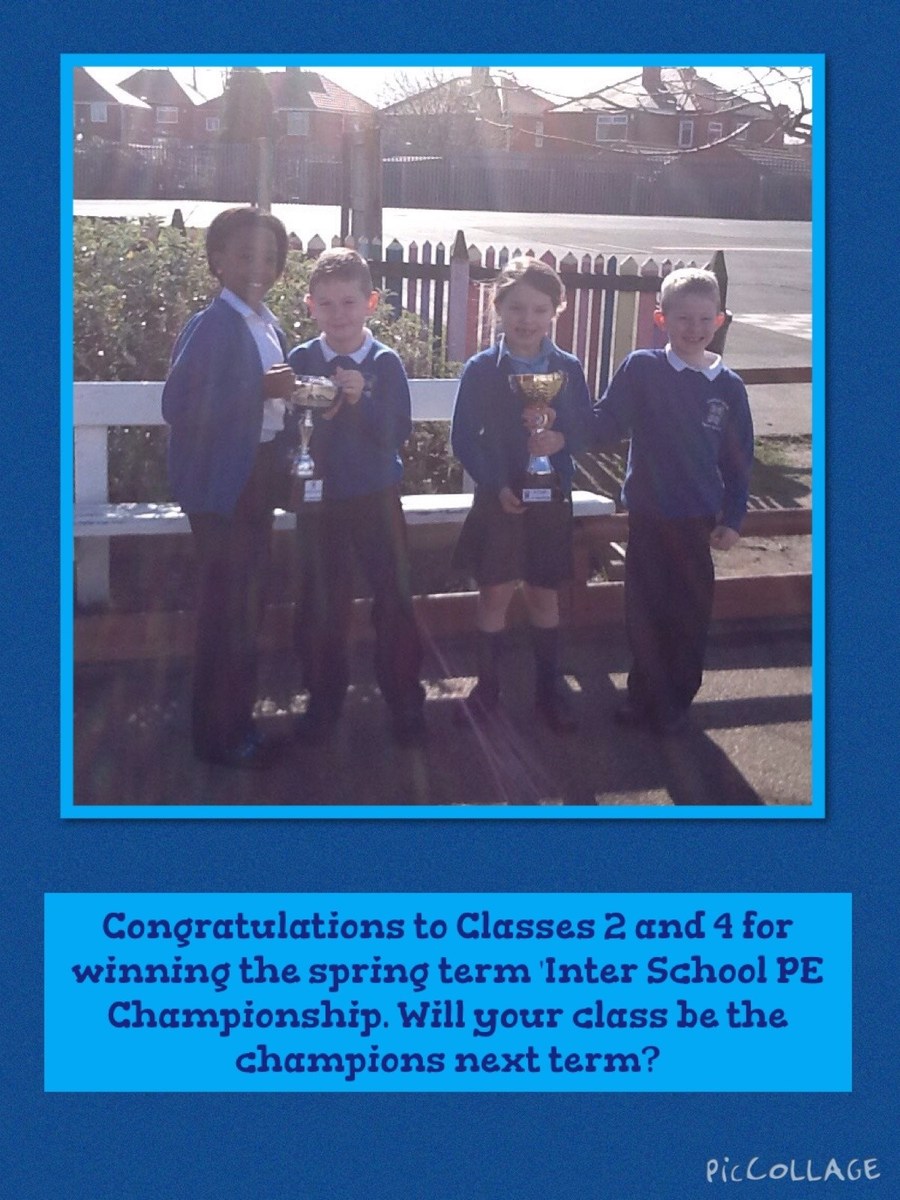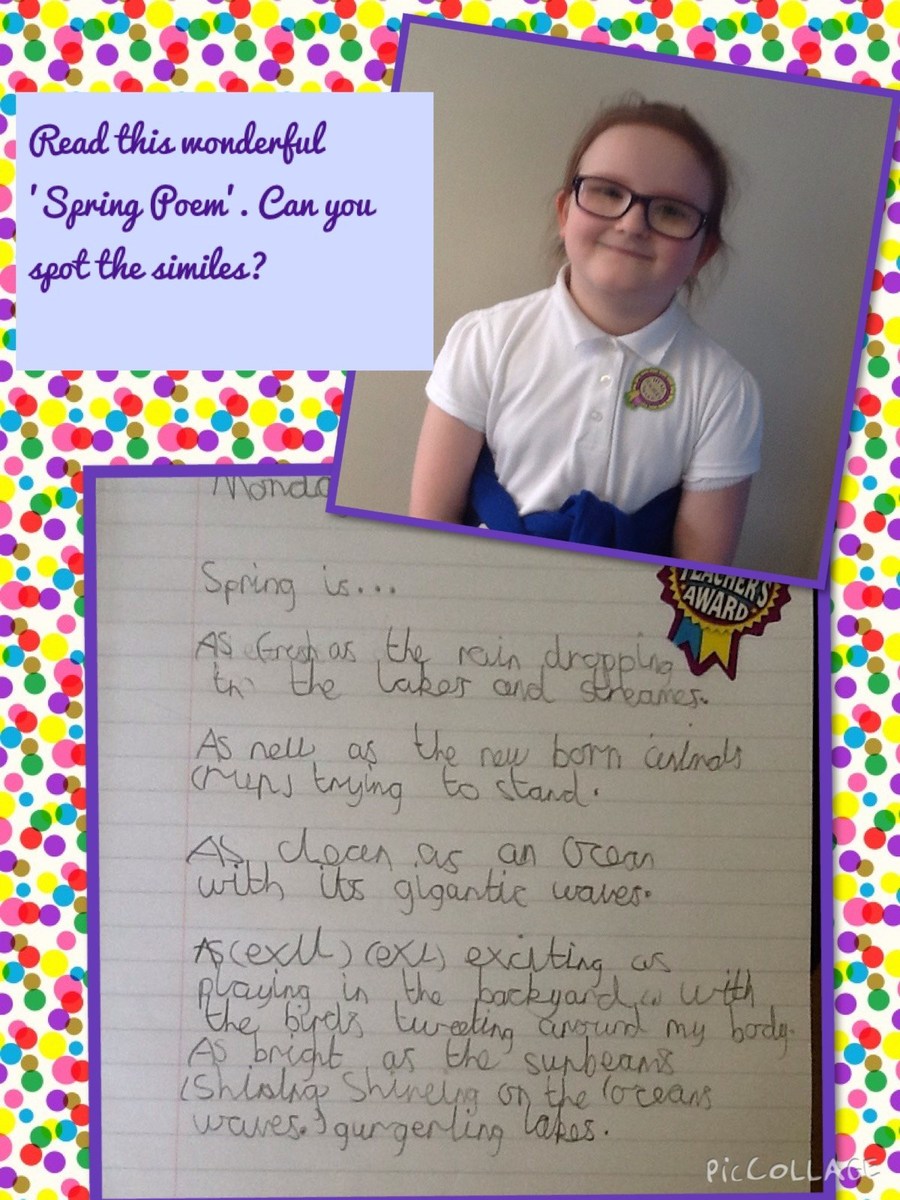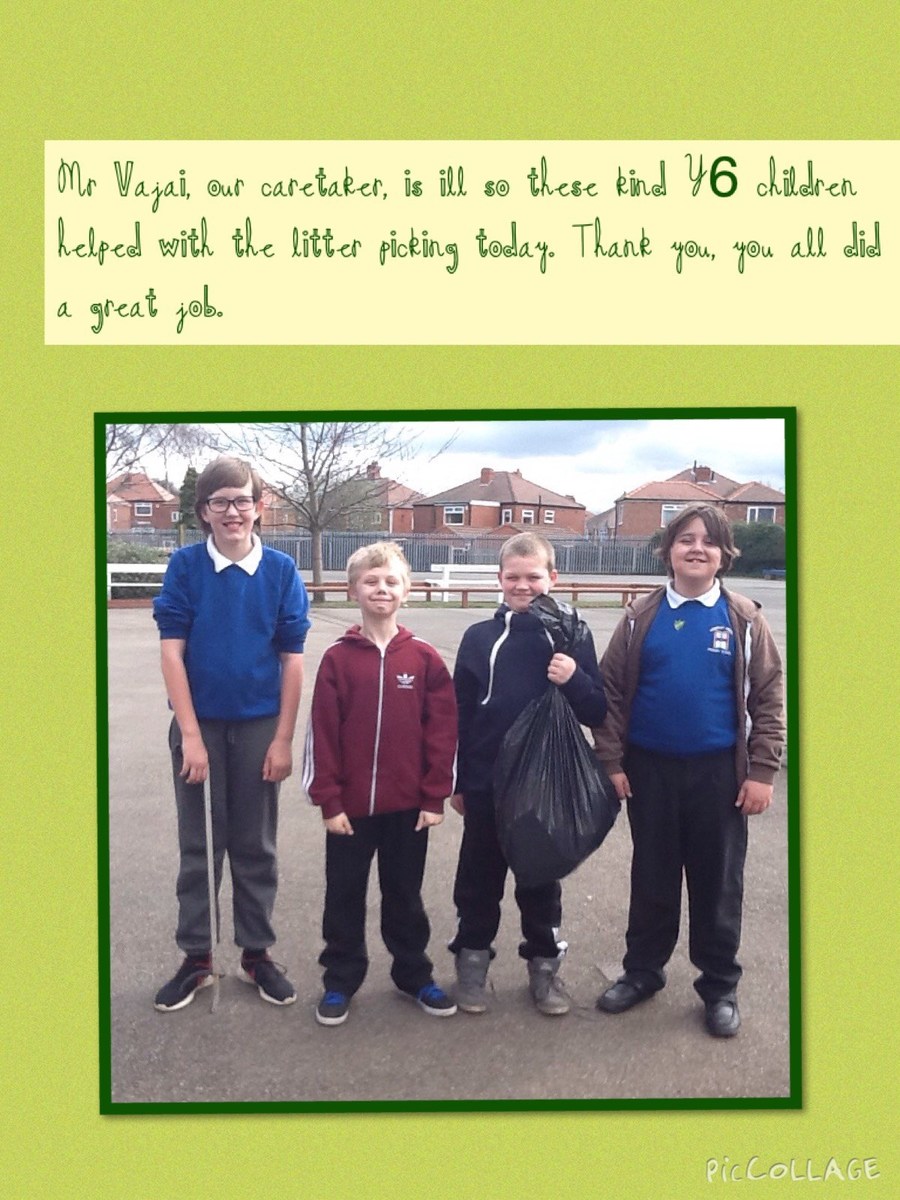 When this young man saw Mrs Whiteley on the corridor he told her how much he loves to read. Later he shared a book with Mrs Sanderson and she could see that he is a great reader. Well done - keep on reading.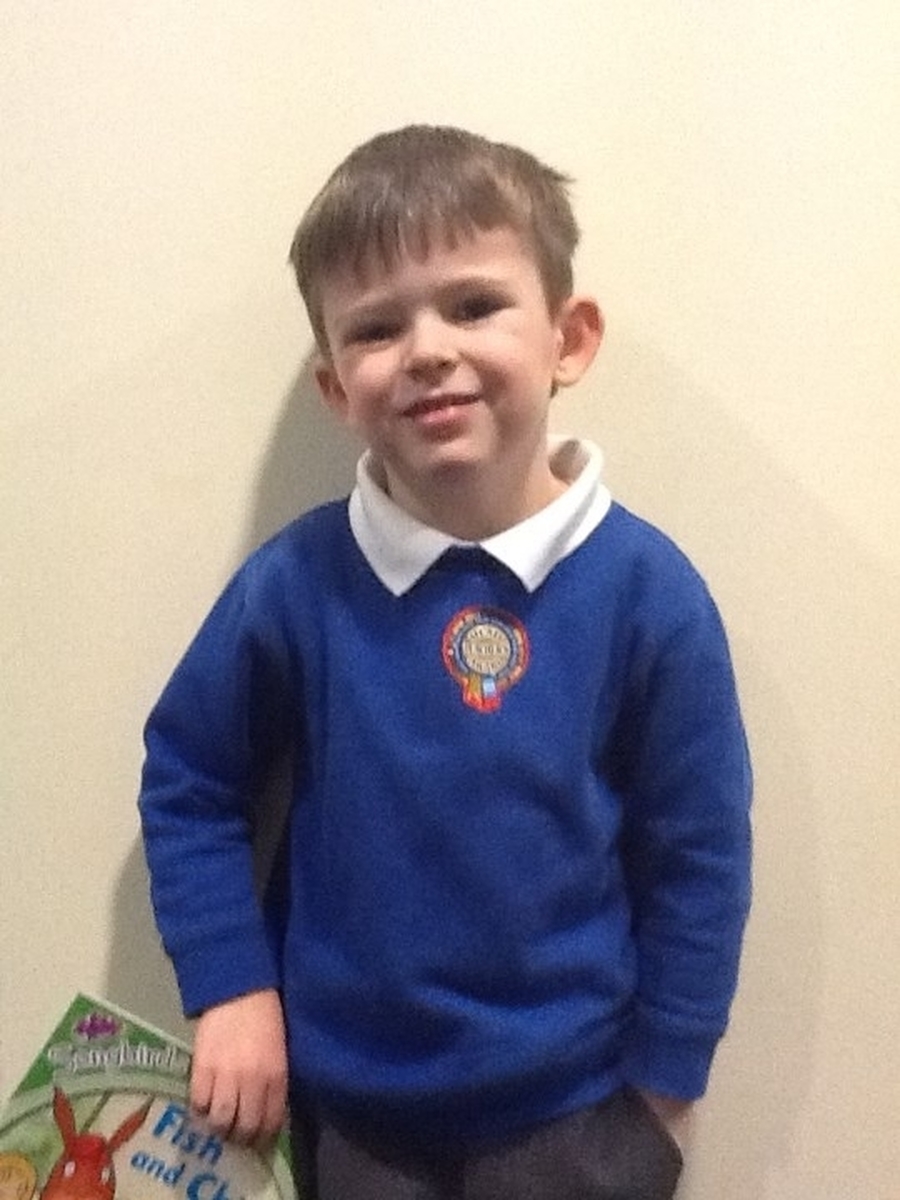 Well done for having an excellent attitude towards learning - Keep it up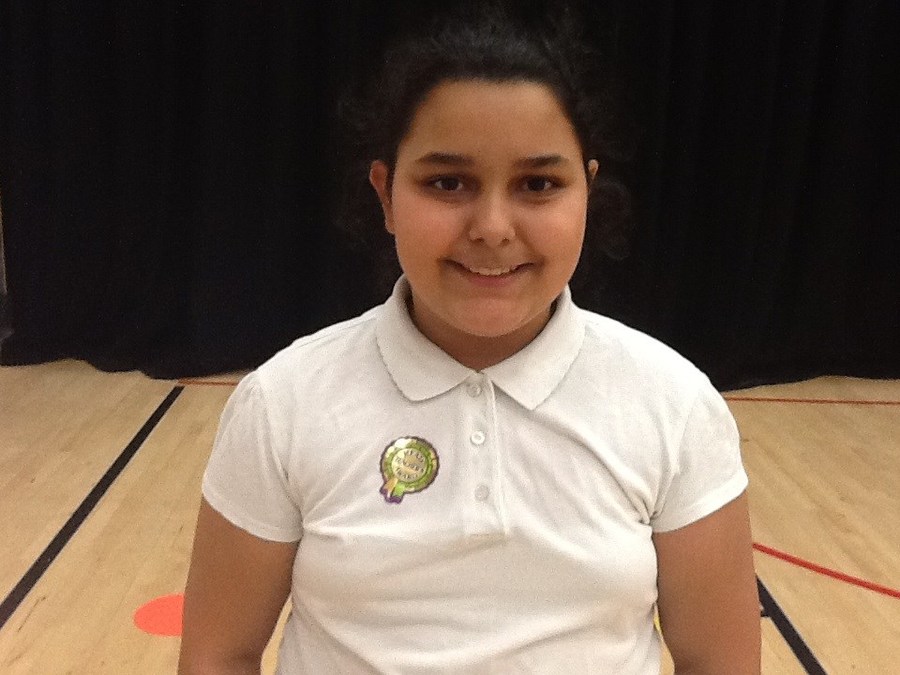 Look at this detailed portrait of William the Conqueror. Brilliant!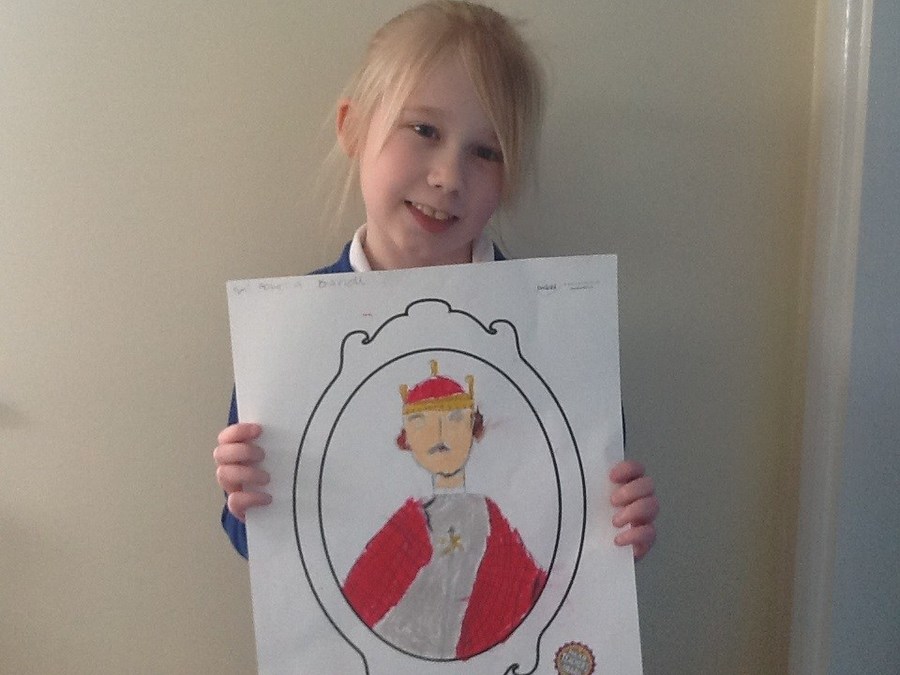 RED NOSE DAY
A big thank you to all the children and staff who helped to raise money for this year's Comic Relief.
The boys have been using division to solve some tricky William the Conqueror maths problems this week.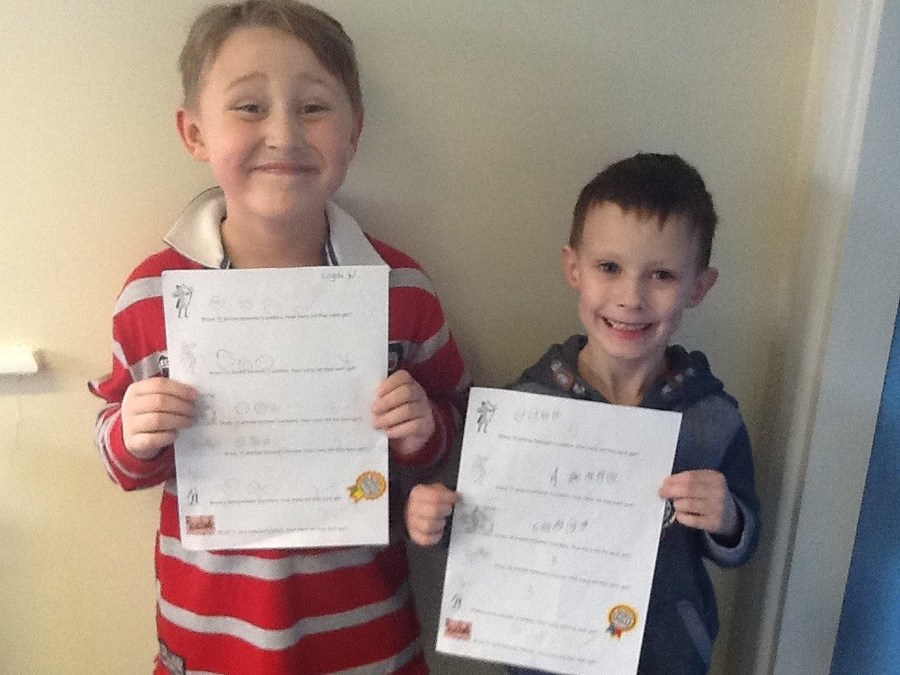 Look at these 3 amazing artists from Class 1. They have been sketching portraits of William the Conqueror. Fabulous work girls!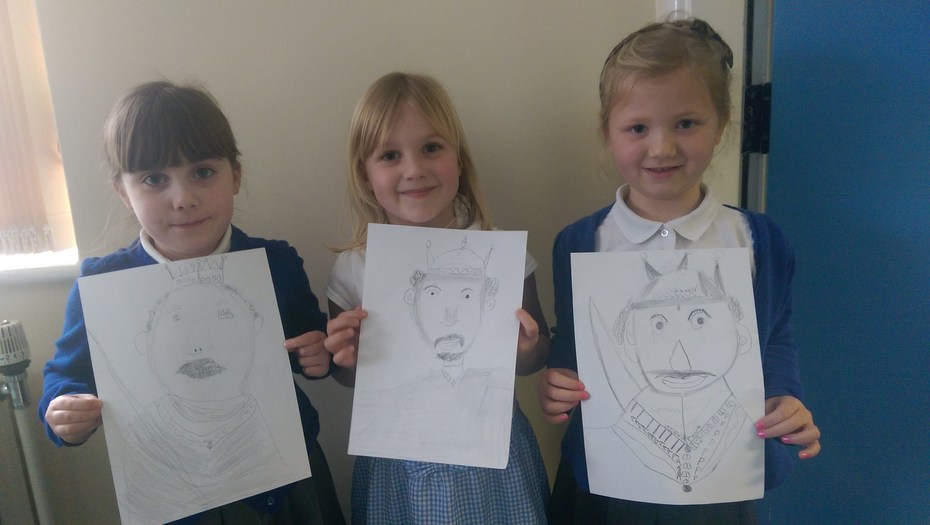 The children at Athersley South help each other. These 'Circle of Friends' children have been especially supportive.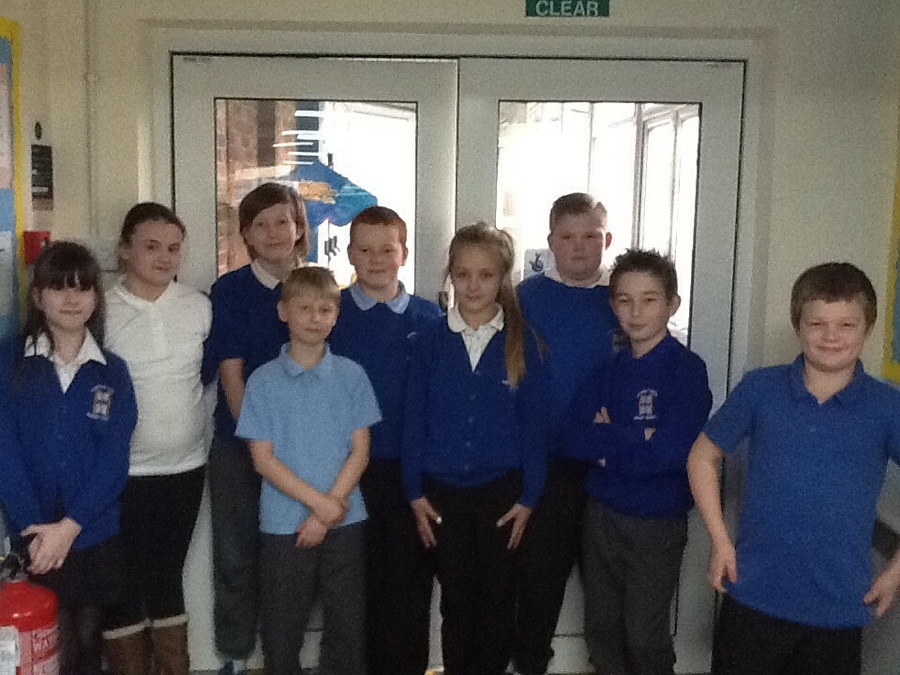 March 15 - Class 8 having been learning how to play the cornet for almost two terms. They all work hard every lesson. Listen to them play.
3rd March - Well done to all the netball players. Our 'A' team won every game and therefore won their league. They will now go on to compete in the Barnsley Finals next Tuesday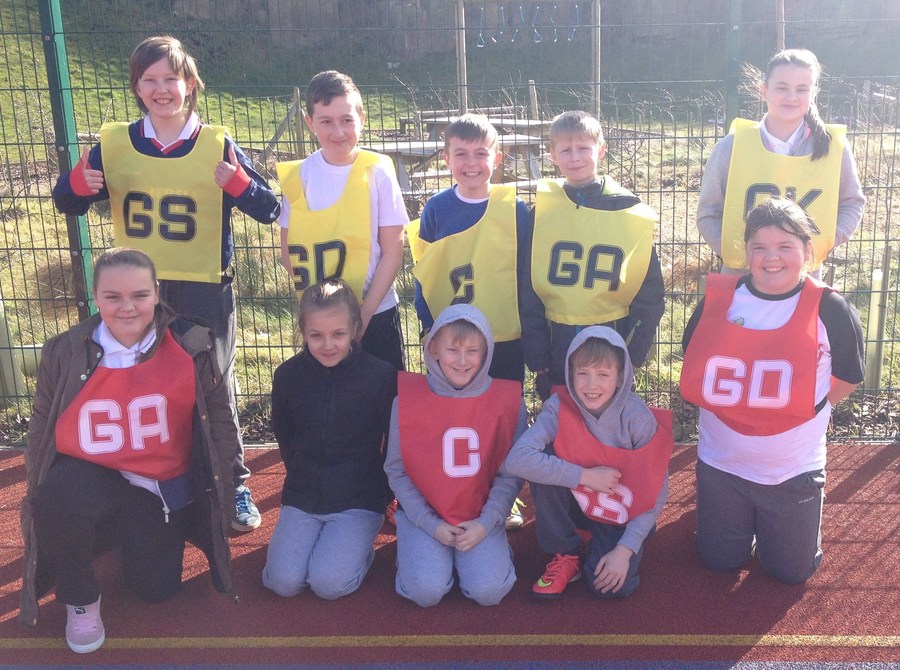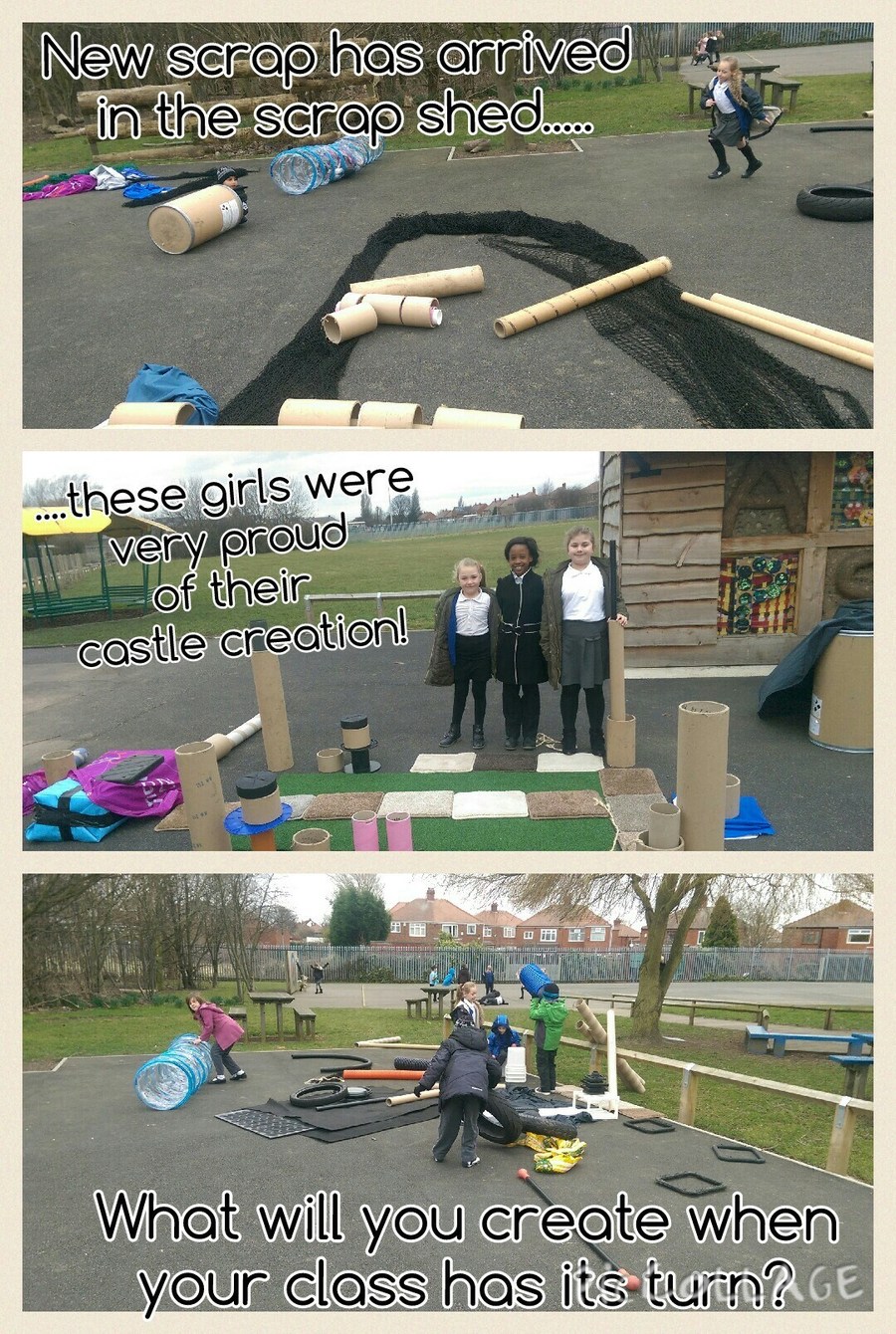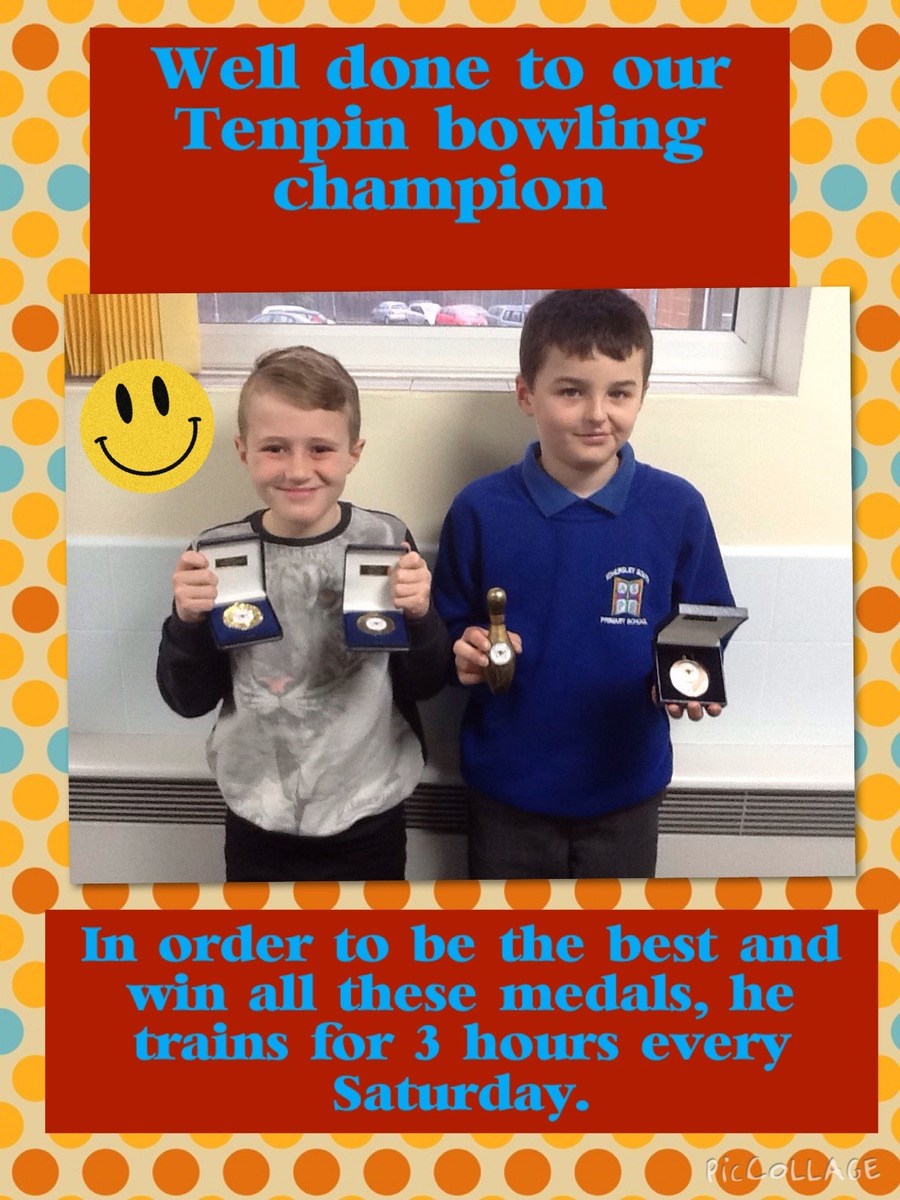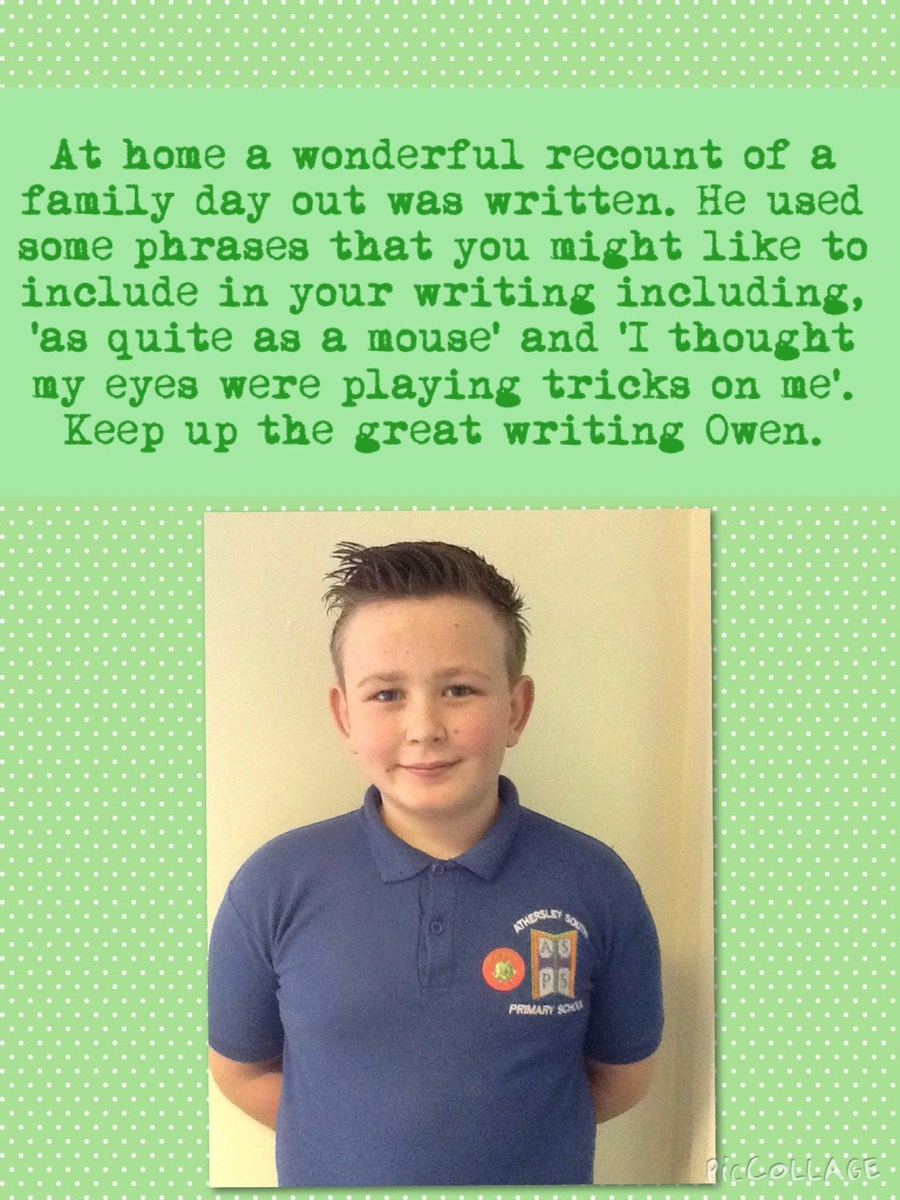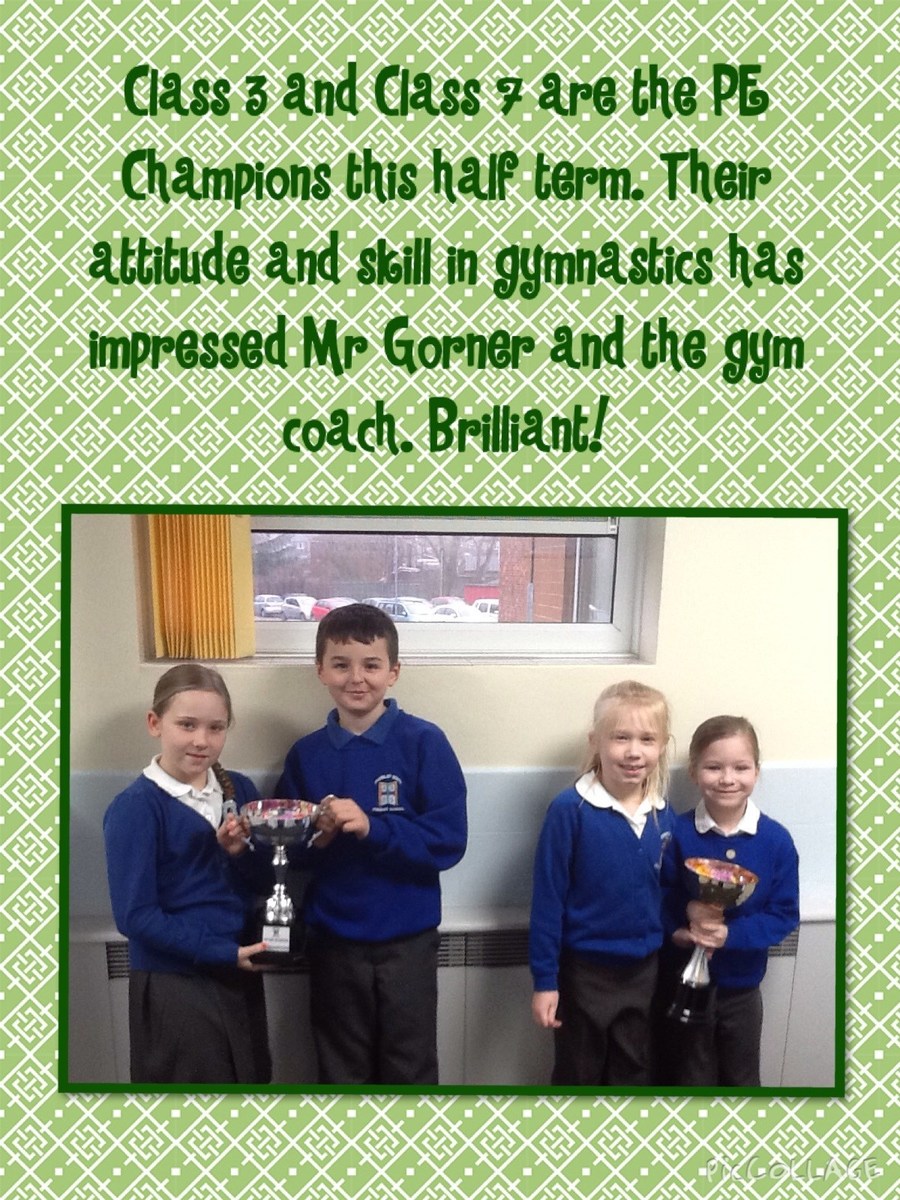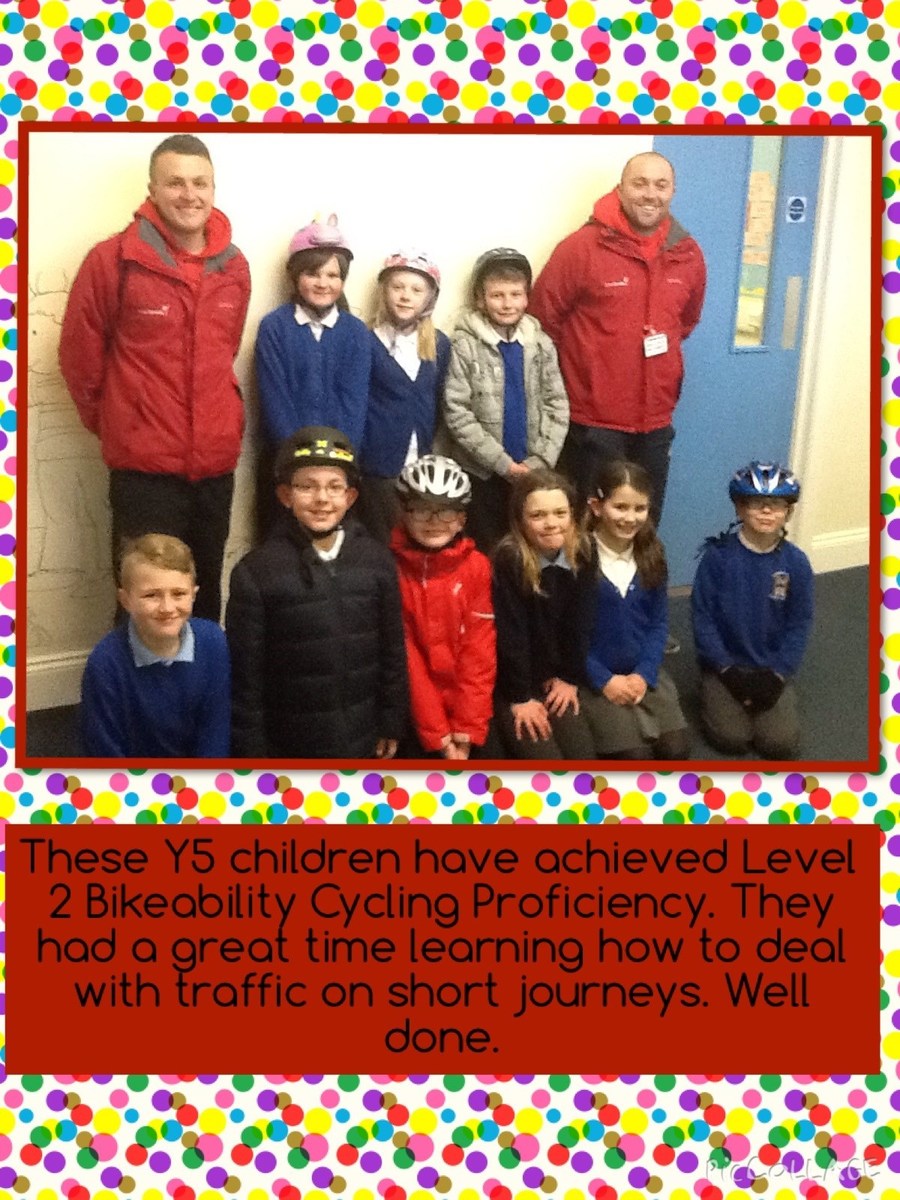 Well done to the Y3/4 children who won the Barnsley indoor athletics final