F1 and F2 2019-2020
We had a great time celebrating books and reading in F2 last week! We dressed up as book characters and shared our favourite books from home with the class.
Supertato!
Last week we found a special visitor waiting for us in FS2...Supertato! We enjoyed listening to the story he had brought with him then used our phonics knowledge to read his letter. It said he had heard that the Evil Pea was on the loose in our area, so he was going to stay in our school to try and catch him, he gave us an important job to make him a secret den. The children quickly got to work creating fantastic dens for Supertato. The next day when we got to school we found he had disappeared! We suspected the Evil Pea so decided to make traps to catch him. Some children also wrote him letters and recorded video messages for him using our iPads. One group of girls even made magic wands and a spell! Last week was also the start of our Eat Them to Defeat Them Challenge at lunch. The children were keen to help Supertato defeat the evil veggies and tried lots of different carrot recipes such as noodles, honey roast carrots and carrot cake, yum!
Last week in FS2 we received a package at our door, it was from Queen Elsa! A letter explained that she had accidentally frozen her friends and needed our help to free them! The children enjoyed exploring the ice and came up with lots of ideas of how to melt it. Eventually we decided the best idea was to put them in the sun outside where we watched them slowly melt over the day. A couple of days later another letter arrived, it was from Elsa again thanking us for saving her friends and giving us a challenge. She wanted us to experiment with different ways of melting ice to find out which was the quickest. We used the stop watch on our tablets to time the different ways we had thought of. We discovered that putting the ice under warm water in the sink was the quickest way. What a great week of exploring and learning!
FS2 Lending Library
We love story time in FS2 so this week we have launched our very own 'Lending Library' for parents and children to take a book home to share and enjoy with their families. The books will be changed and updated regularly so when the children bring their books back they can then chose another lovely story to share at home.
We are very impressed with how many books have been chosen already by the children and their families, the love of books just keeps growing and growing in Foundation Stage!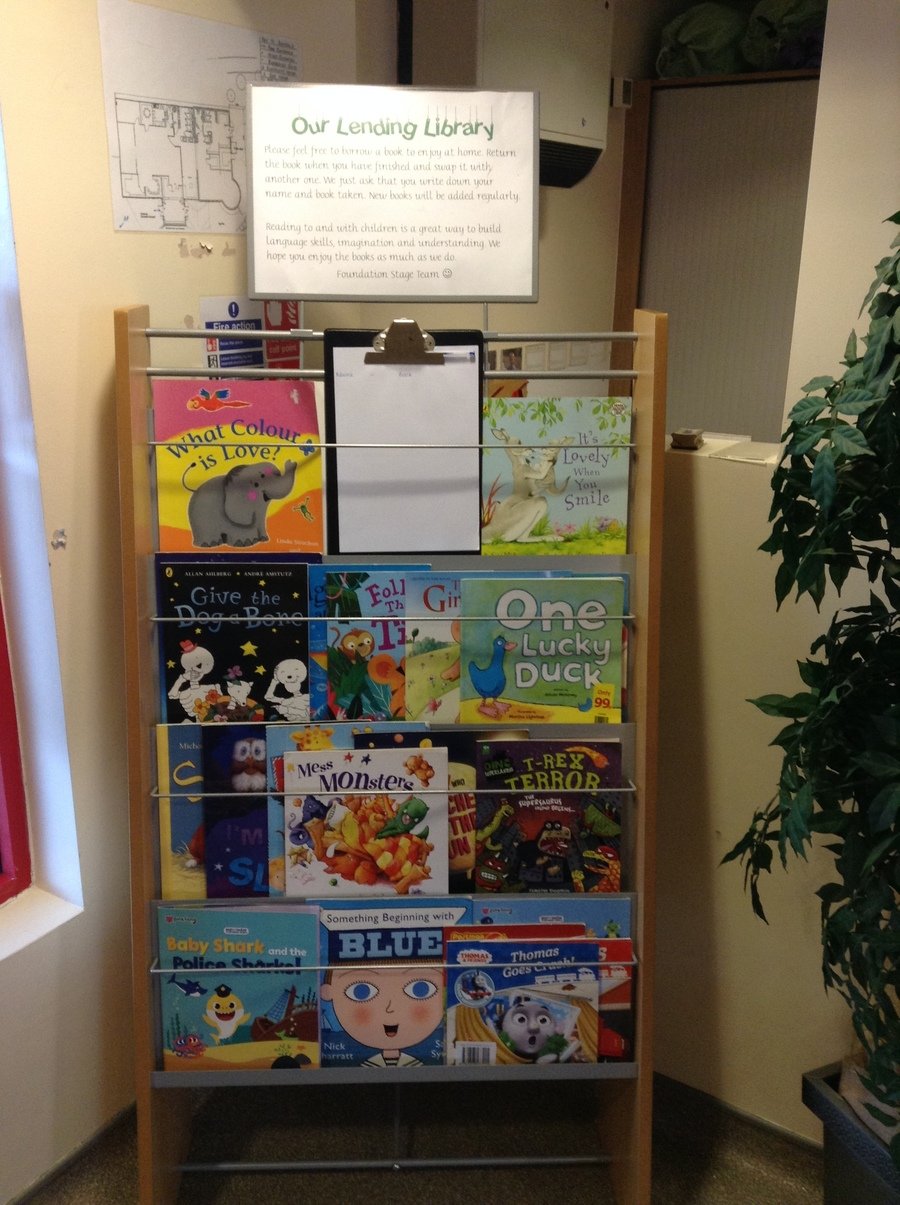 Christmas Celebrations
Today the children have had a fantastic day! This morning we showed off our singing and dance moves to our parents and carers. (The children were fantastic!) Then this afternoon we had party food and played lots of different games, as we sat down for a drink we heard the door buzzer. We went outside to find footprints from the drain pipe to the door and a big red bag....it was Santa!! He brought us all a present.
Look how amazing our children look in their festive outfits supporting the Tiny Hearts Appeal.
We have been getting in the Christmas spirit in FS2. Lots of the children were excited to have put up their Christmas decorations at home so we decided to put ours up at school too. The children all got stuck in building and decorating the tree, I think you'll agree they did a fabulous job! We also dressed up, put on some festive tunes and had a boogie together!
Arborists at Athersley South
We have had some interesting visitors at our school, some Arborists came to cut back some of our trees. Our eagle-eyed FS2 children spotted them through the window and were eager to see what they were doing. We talked about the tools they were using and why it was important for them to use them safely. We also spotted some signs and safety equipment. Some of our children wanted to see what happened to the trees after they were cut down so we went out to the front of our building to find out. We saw a big machine that chopped the trees into wood chippings and one of the Arborists even brought some over to show us. When we went back inside we used the computer to find out more about Arborists and how they cut down trees and some of the boys created pictures of what they had seen. One child gave his picture and writing to the workmen who were really pleased and said they would stick it up in the front of their van!
Fantastic Story Writing
This super star has worked so hard today creating her very own Frozen story. She has spent most of the morning and afternoon sharing and writing her ideas. Mrs Sanderson and Mr Wheelwright were so impressed they asked to have a copy for their wall.
Well done!
Light Discovery
The children have enjoyed exploring the coloured bricks. First we found that when we put two different colours together and looked through them the colour changed. Then some of the children found the light from our projector reflected the colour and shape on to the board. We carried out an experiment to see if the light would pass through other objects. The children found out that the materials needed to be transparent and colourful to reflect onto the board. One child found some cellophane and wanted to see if that would work, when they found out the light passed through they extended their experiment by creating marks with pens on the cellophane and holding it up to the light and guess what....it worked! The children loved mark making, holding it up and seeing it reflect on to the board.
Iggety, ziggety, zaggety, ZOOM!
Since half term F1 have been busy making magic potions and casting spells in our Wizards kitchen and wand shop.
We have been following instructions and using our counting skills to make potions.
In our wand shop we have used our fine motor skills to thread tiny beads onto sticks and we have counted out the right money to pay for them.
And we have also enjoyed designing and writing our very own potions and magic spells.
We even had a special morning where our grown ups came to join in with our amazing learning and play.
Phew... what busy bees we have been!
Bring on Christmas!!
F1 SUPERSTARS!
What a busy first half term we had in F1!
From settling in and making new friends to doing PE in big school with Mr Gorner, we've had so much fun!
We then finished off the half term with lots of pumpkin fun in our pumpkin café and baking pumpkin buns.
We can't wait for the next half term... I wonder what exciting things we will get up to?
Halloween Hamper Raffle
A big thank you to everyone who bought raffle tickets for our Halloween hamper. We have raised £74 for our outdoor learning resources. Thank you all again for your continued support. Love from the Foundation Stage Team x
Sharing Stories
We loved watching the children retell one our favourite stories: We're Going on a Bear Hunt. The children added a little twist to their ending, there wasn't just a bear there was a Gruffalo as well!
Magnificent Team Work
What an amazing castle these children have created. They spent a long time talking and working together to bring their ideas to life. They were very proud of themselves. Well done
Oneness of One
This week we have been finding out all about the number 1. We have been learning about all the different ways it can be used and shown.
Today we have explored a 2D shape and its properties. It has one side that goes all the way round, can you guess what it is called?
To give you a clue have a look at what the children found whilst exploring in all our areas of learning.
Investigating Outside
During our outside time we have been developing our understanding of the World and environment around us.
From exploring we found lots of strange mini-beasts and to find out more about them we used books and the internet. We also did lots of talking about changes and the children were amazed by the rotting of the apples from our apple tree. Towards the end of the week we did a spot of gardening by pulling out the flowers/plants that had died, we talked about how we knew which flower/plant to pull out and the children were fascinated by the all the roots they could see.
Fabulous First Week
What little superstars we have!! The children have all been super busy during the first week back getting used to the routine, expectations and our environments. Here is a sneaky peek of our busy days exploring.