Parent Learning Event
Thank you to all the parents/carers who came to our parent learning event on expressive arts and design this week. We had great fun making our own minibeasts using lots of different media, tools and techniques. We hope you had lots of fun! Here are some pictures of what we got up to...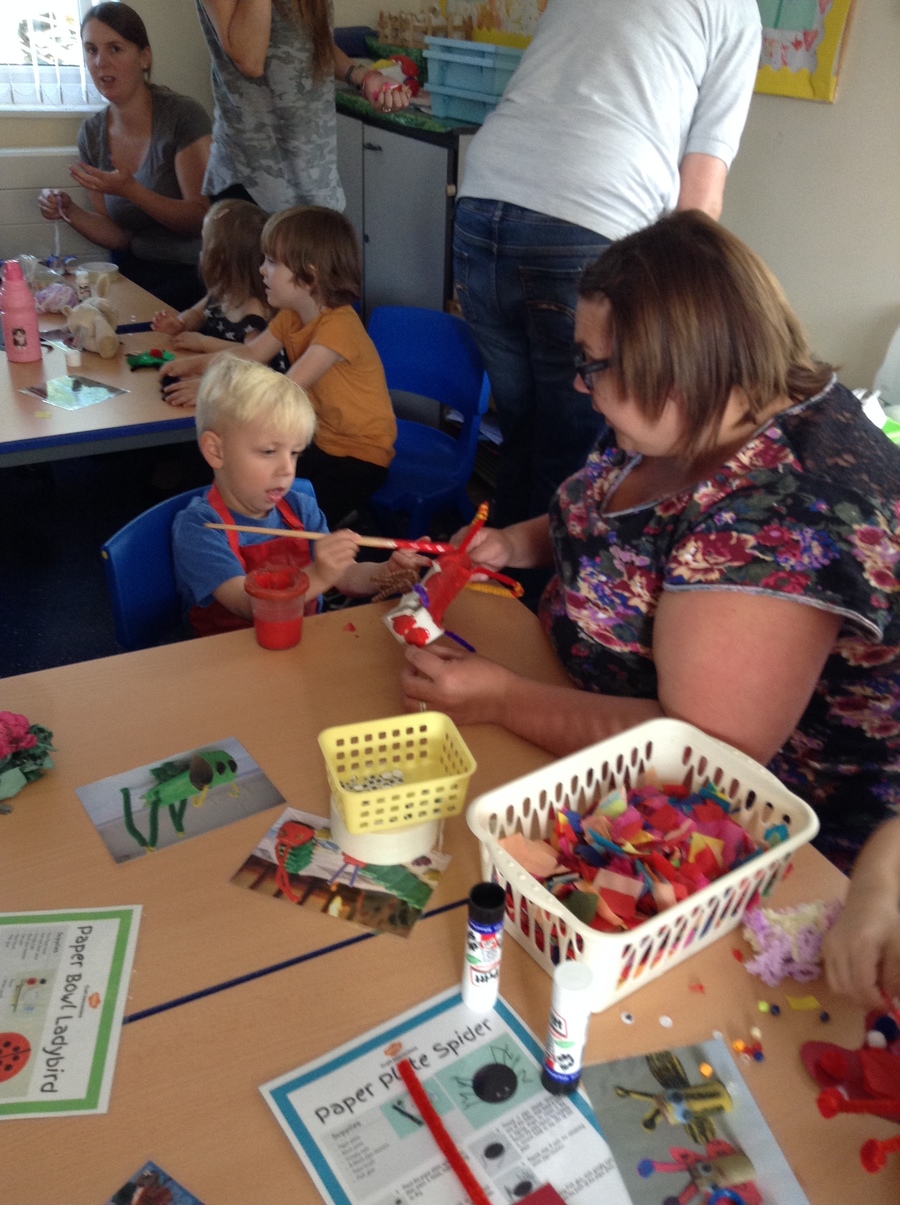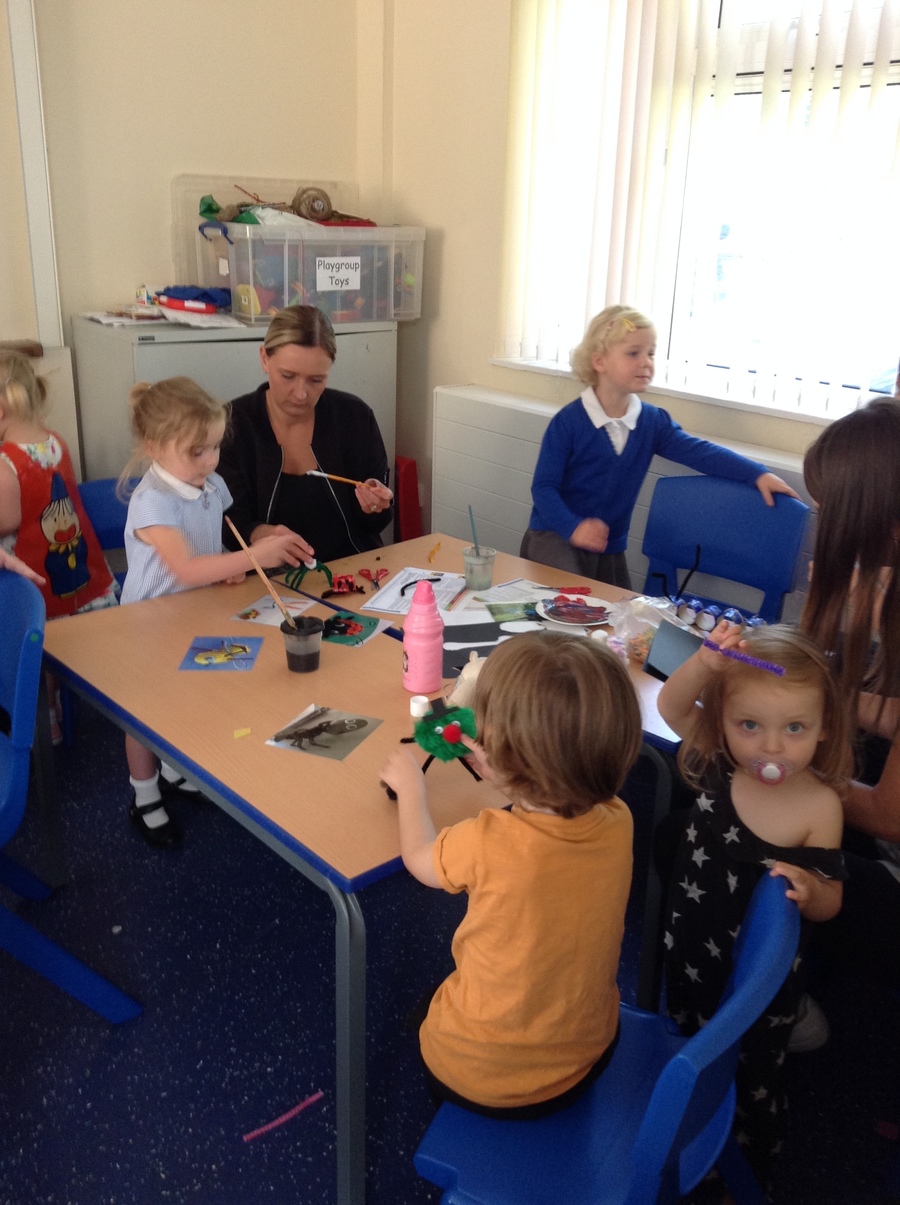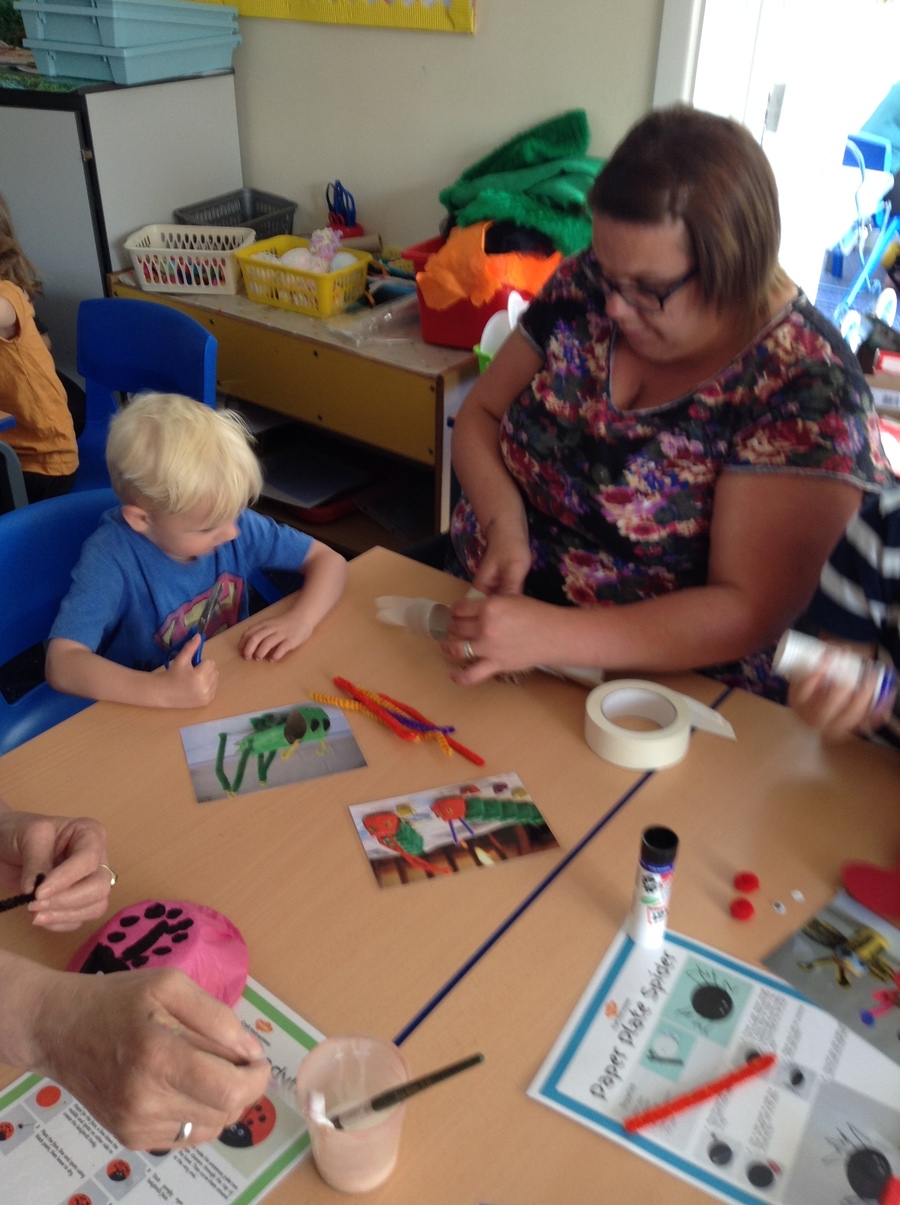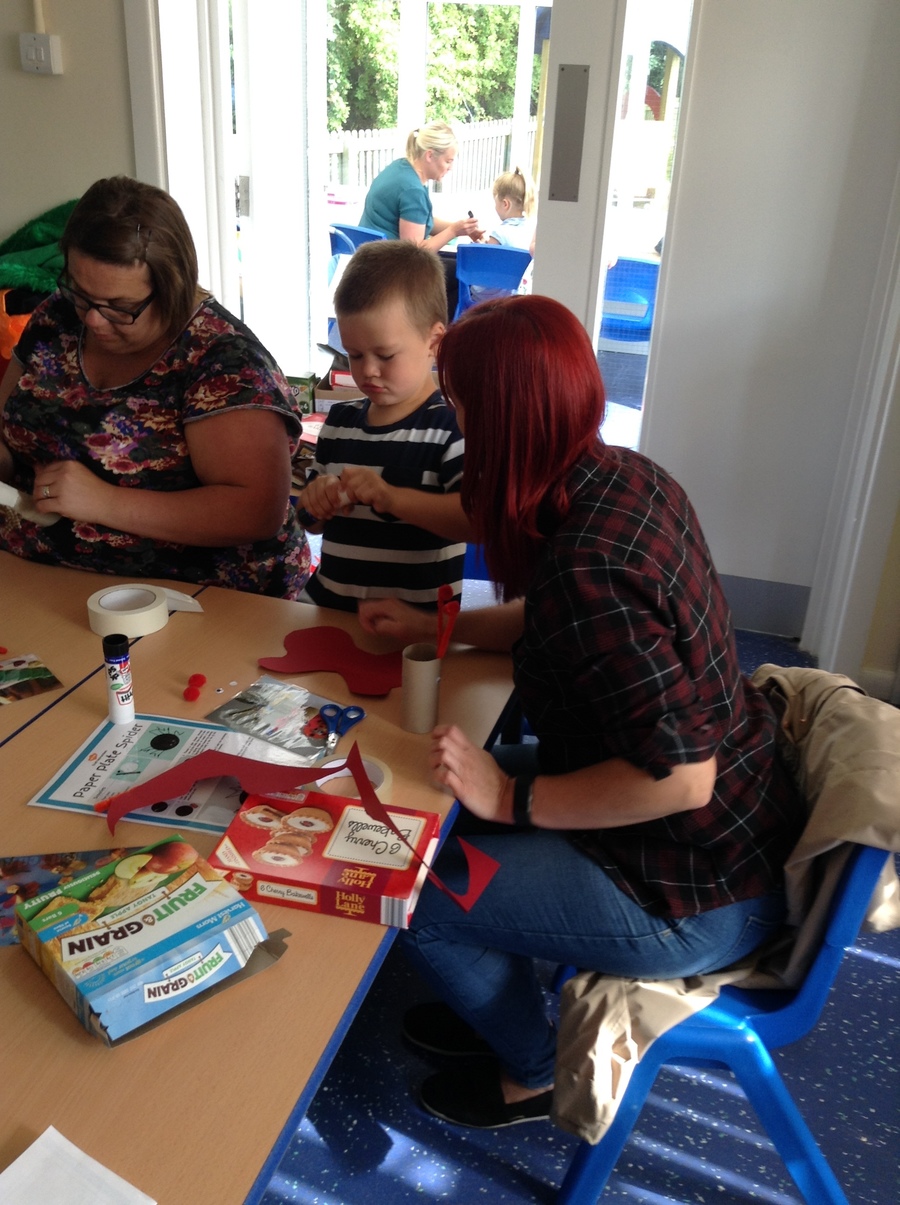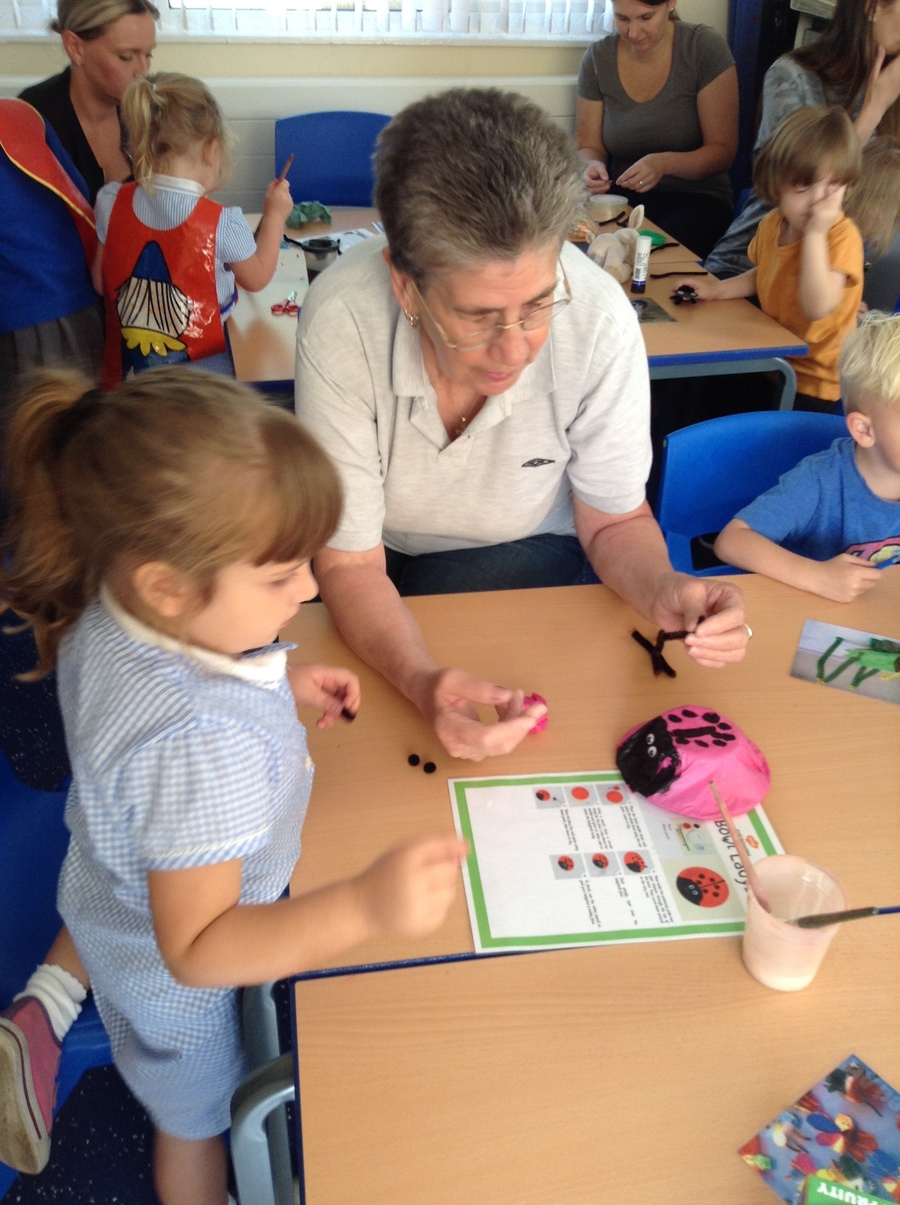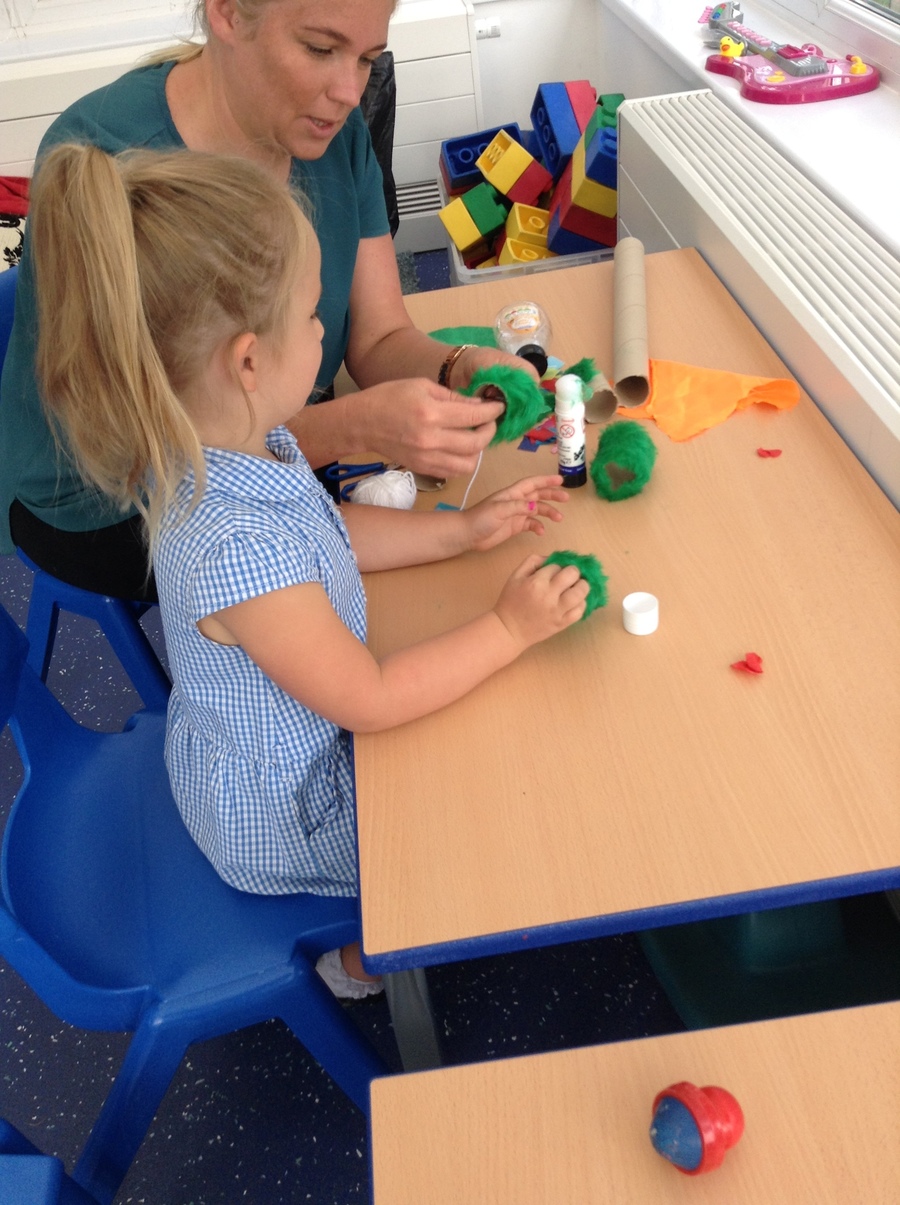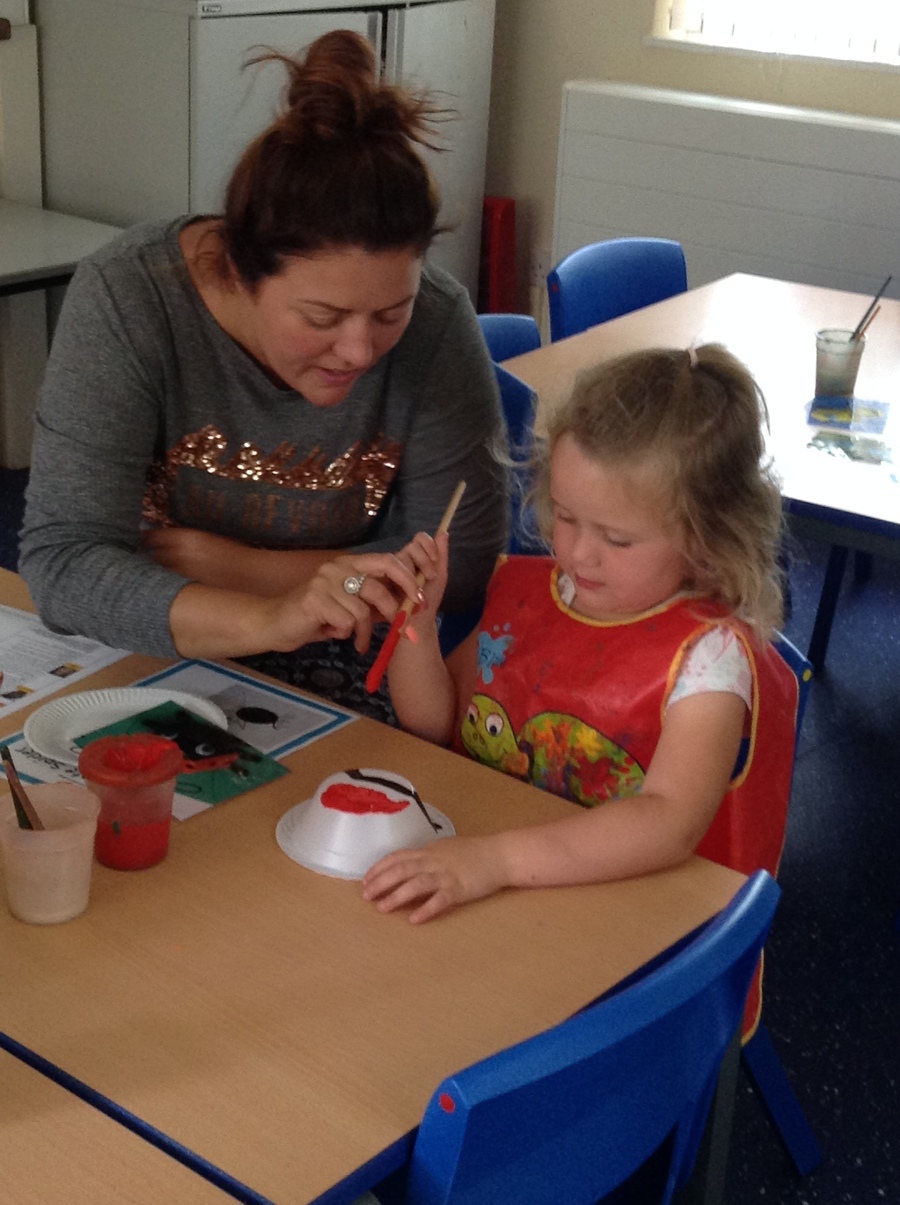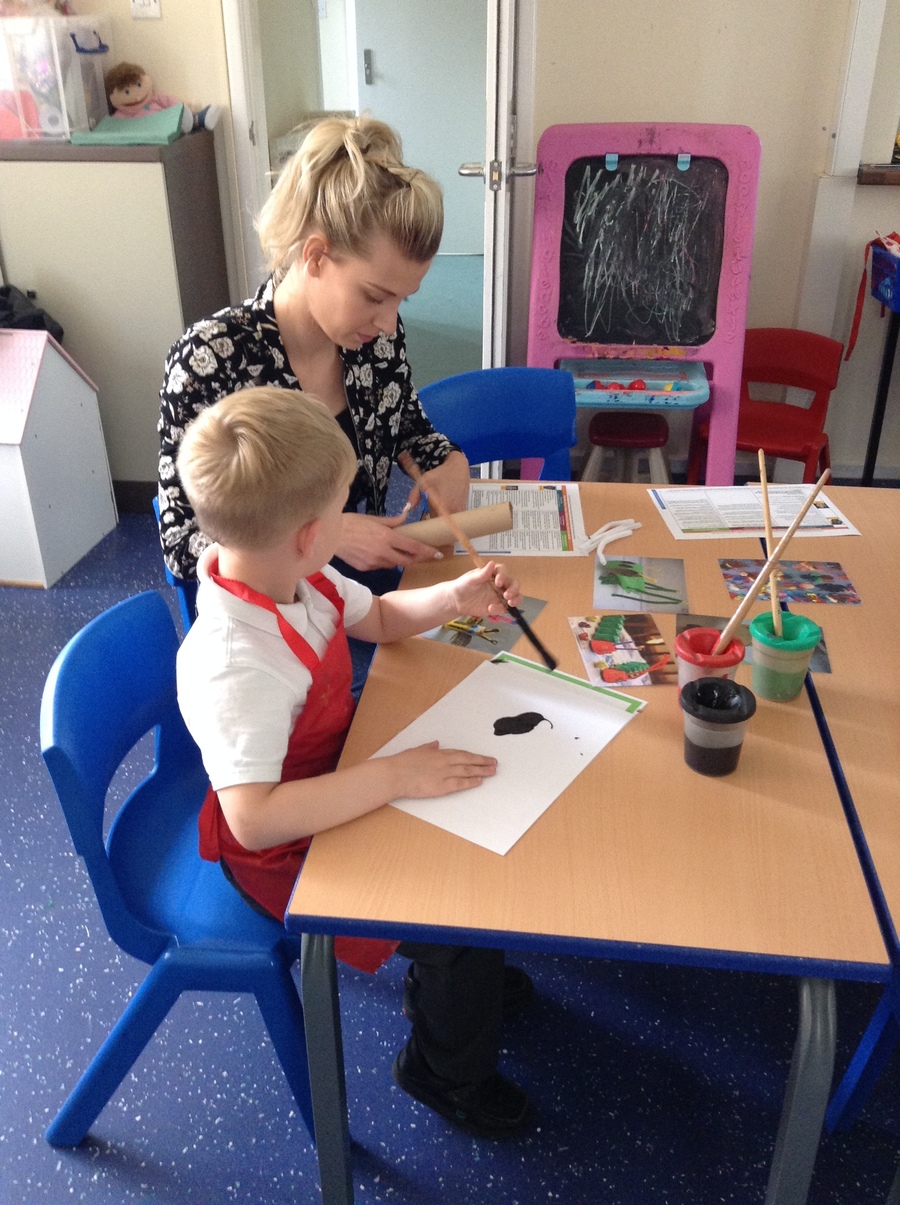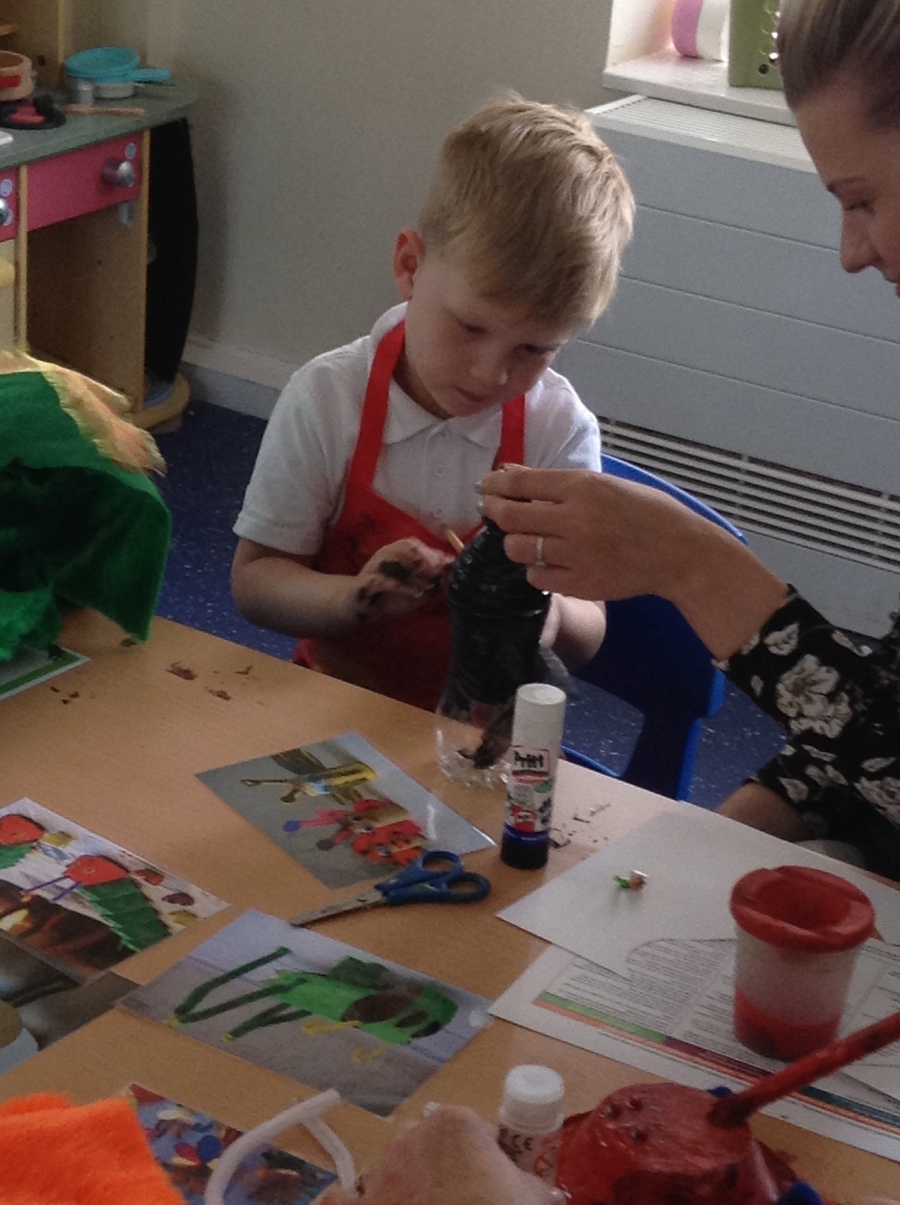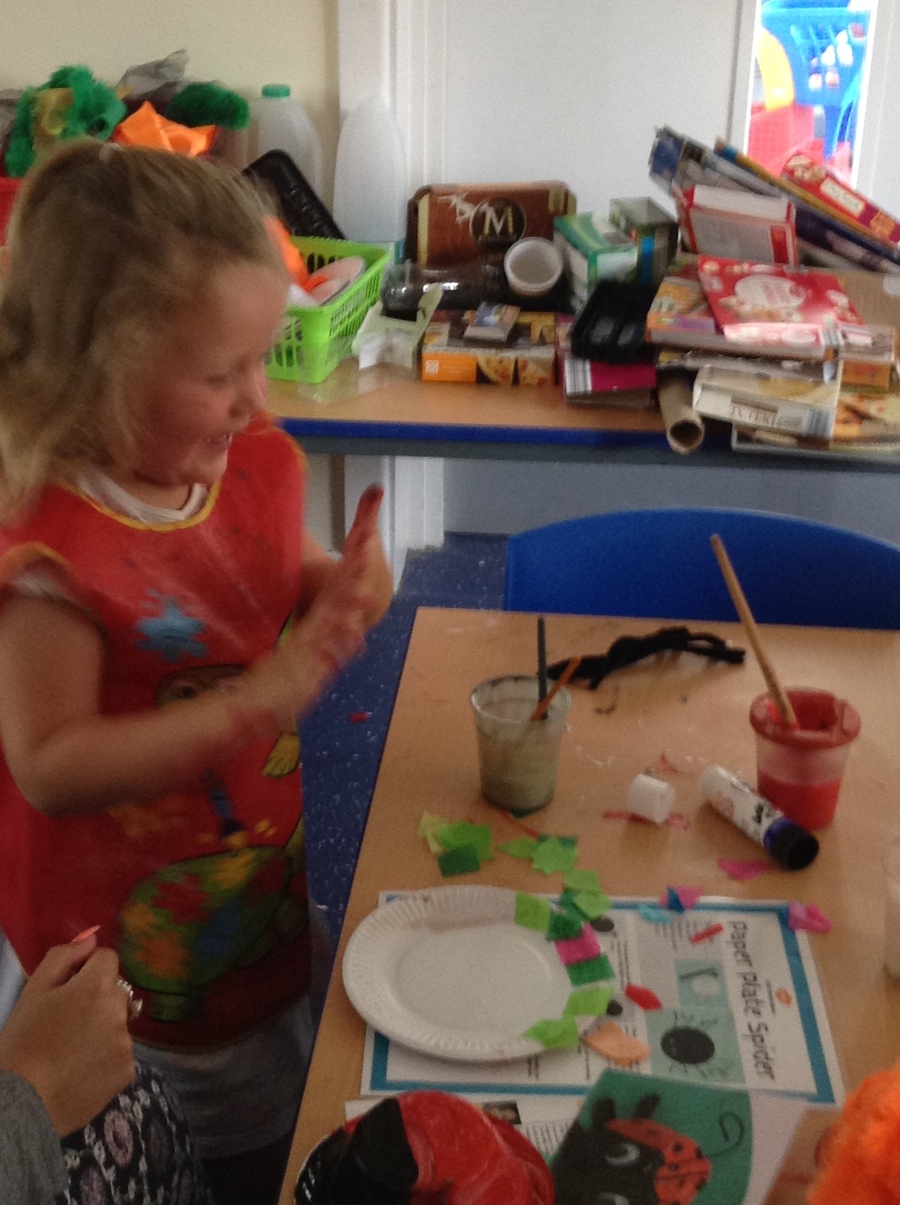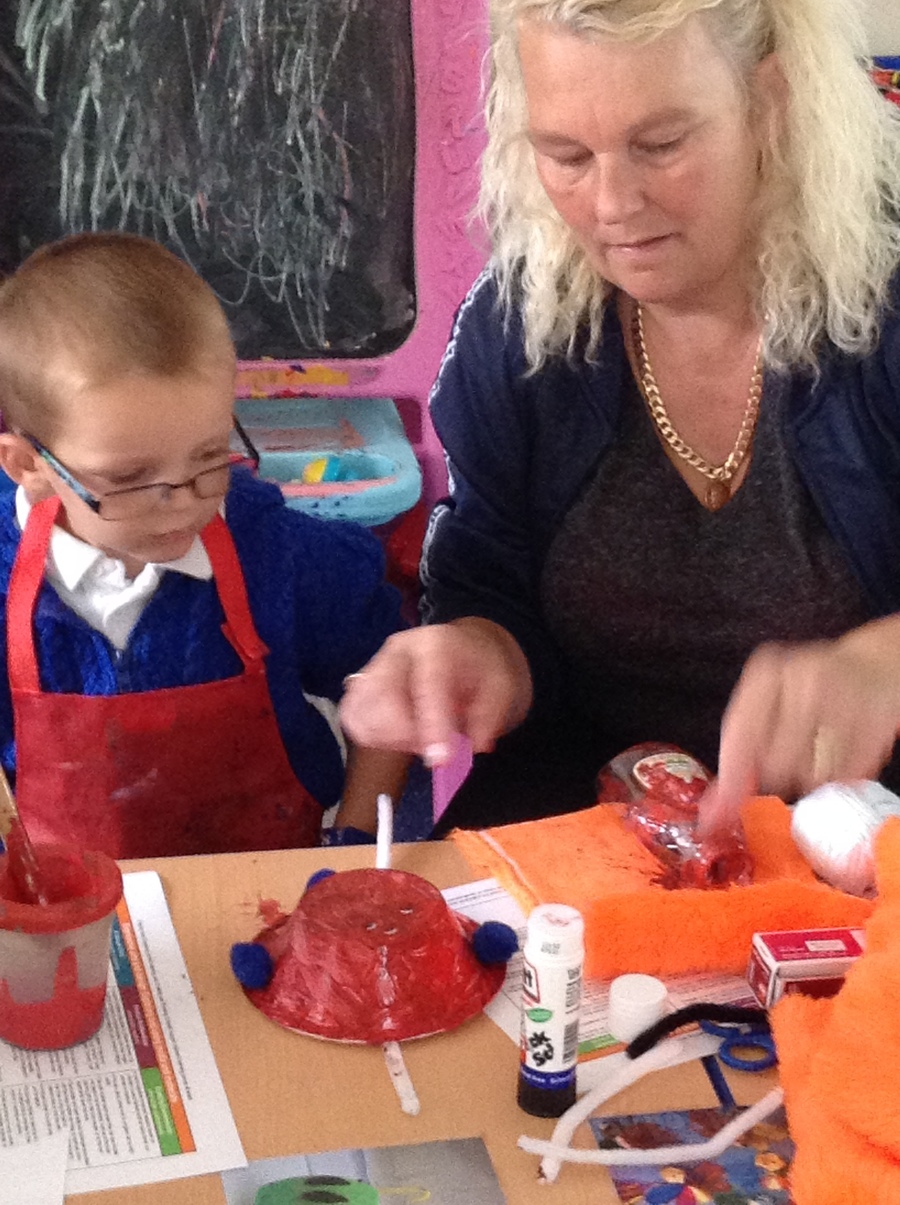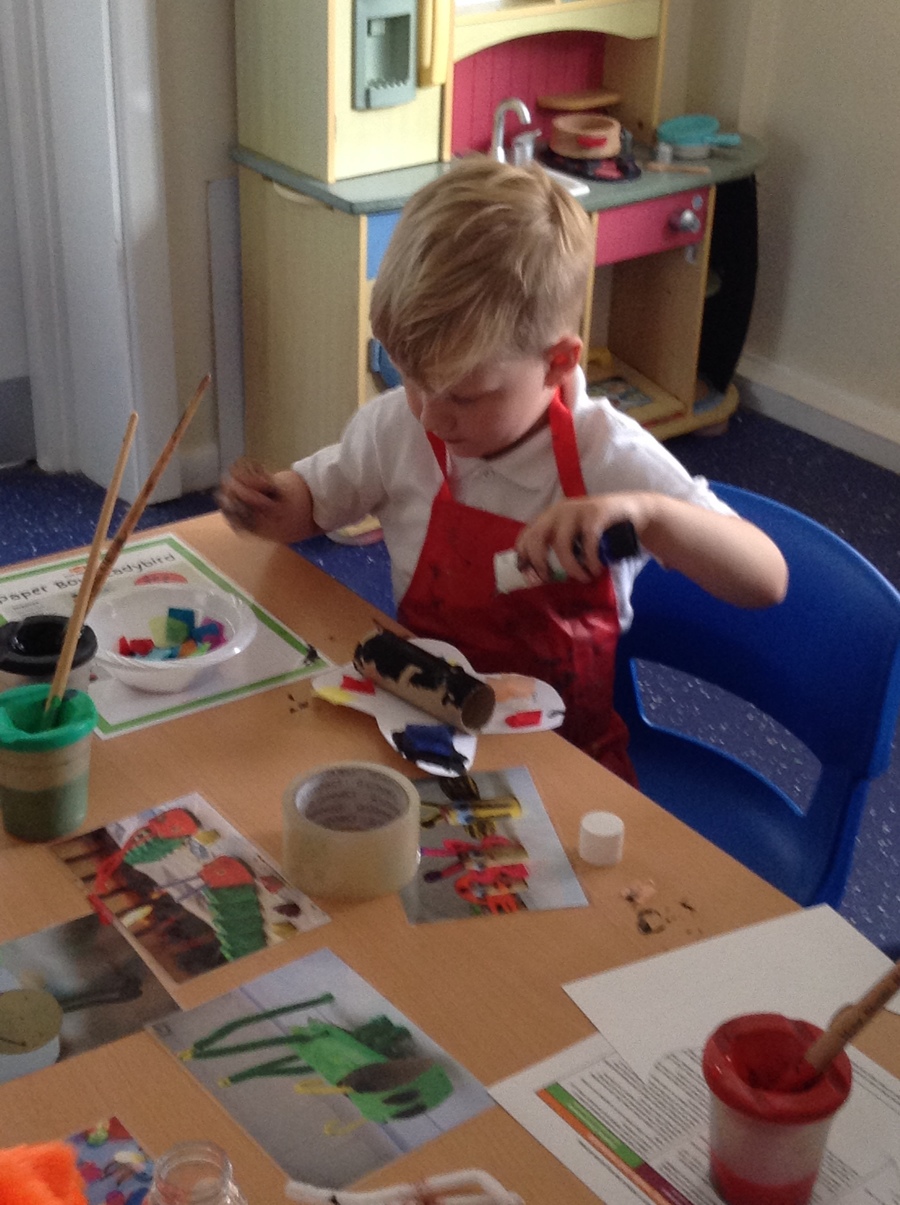 Once our minibeasts had dried they went for a little walk around the EYFS garden. You did a fab job everyone, well done!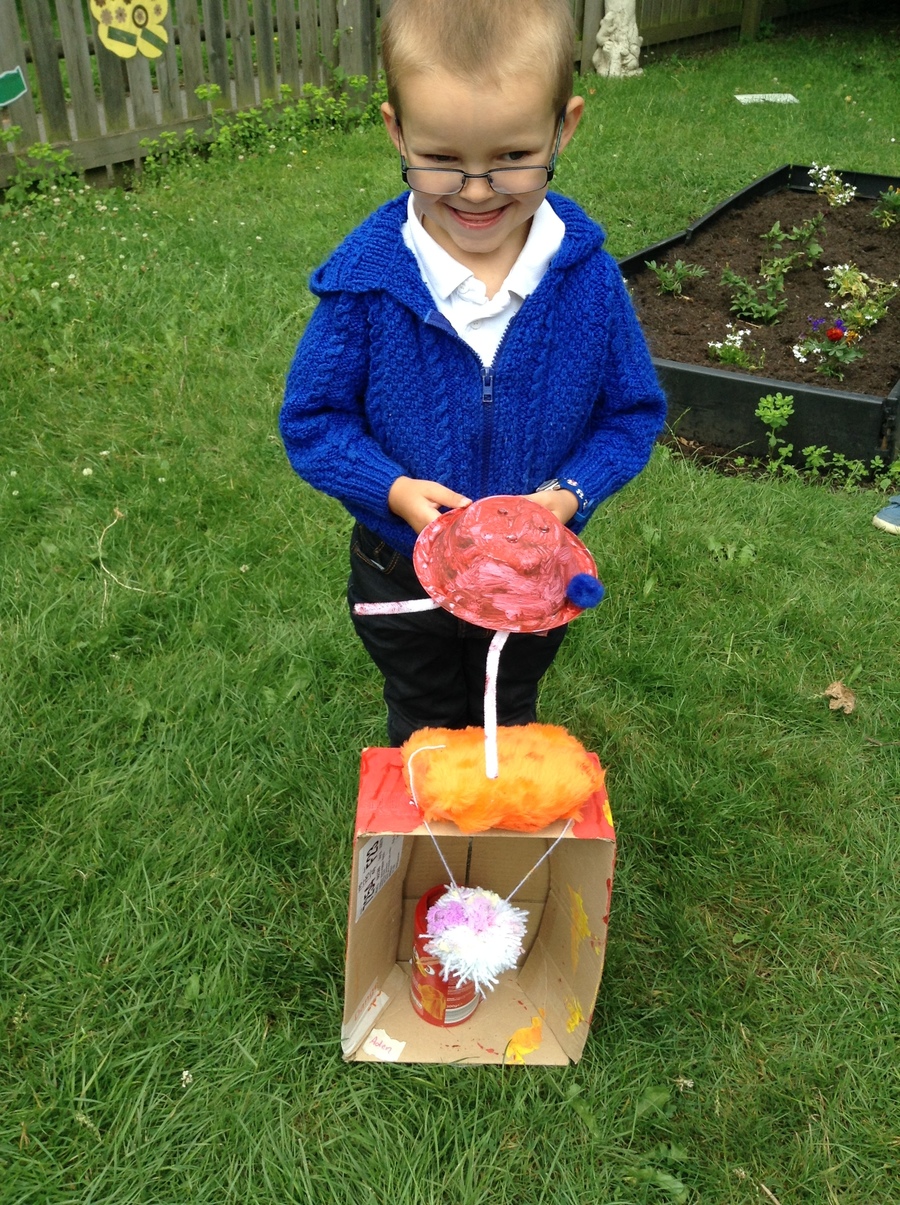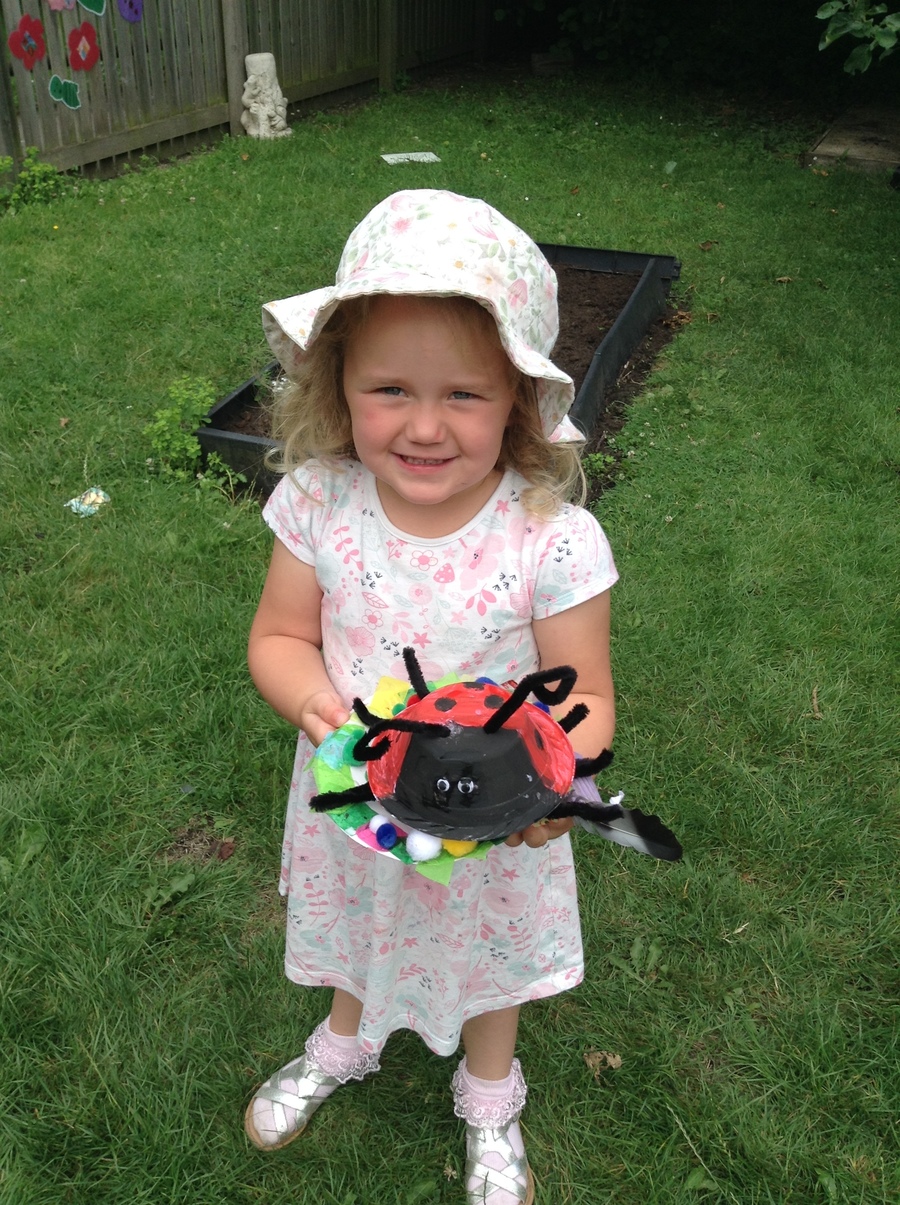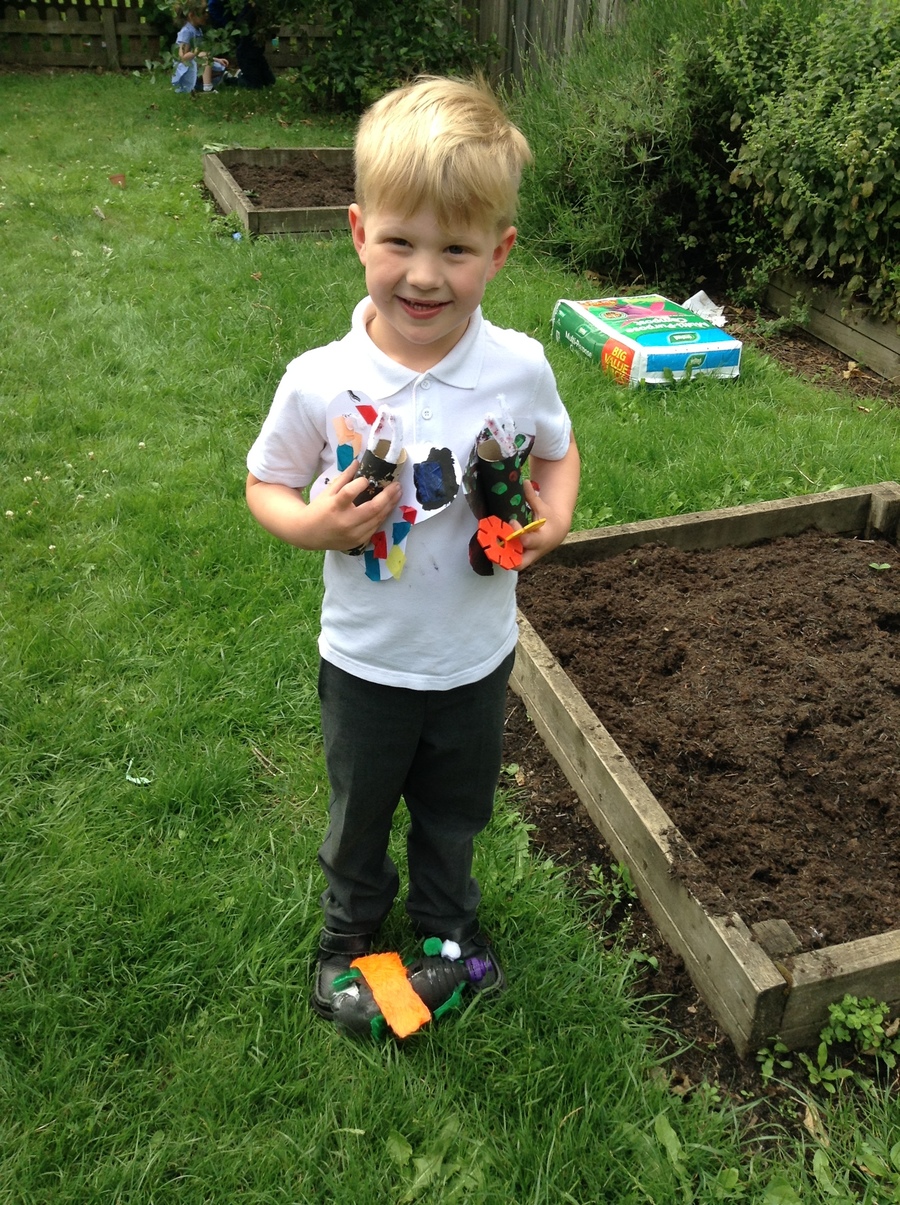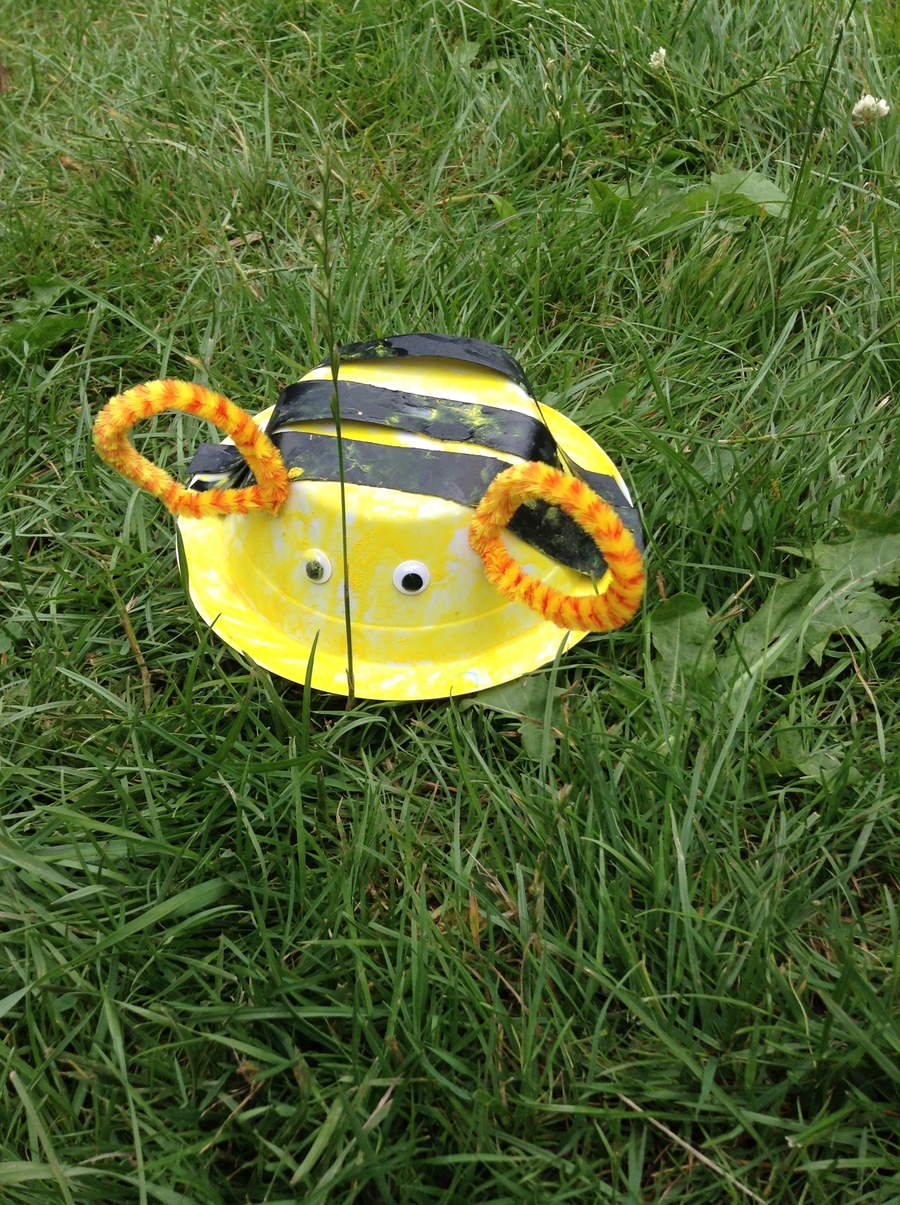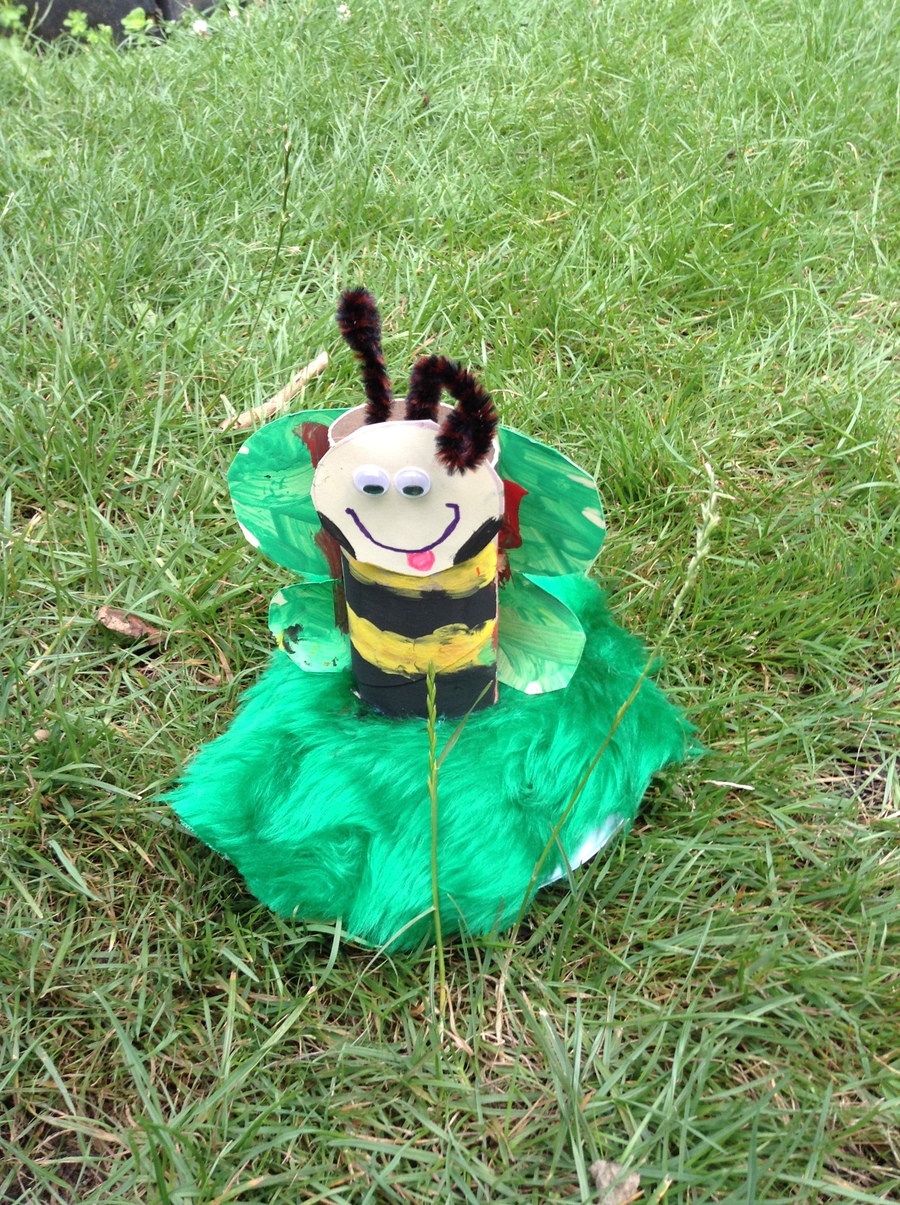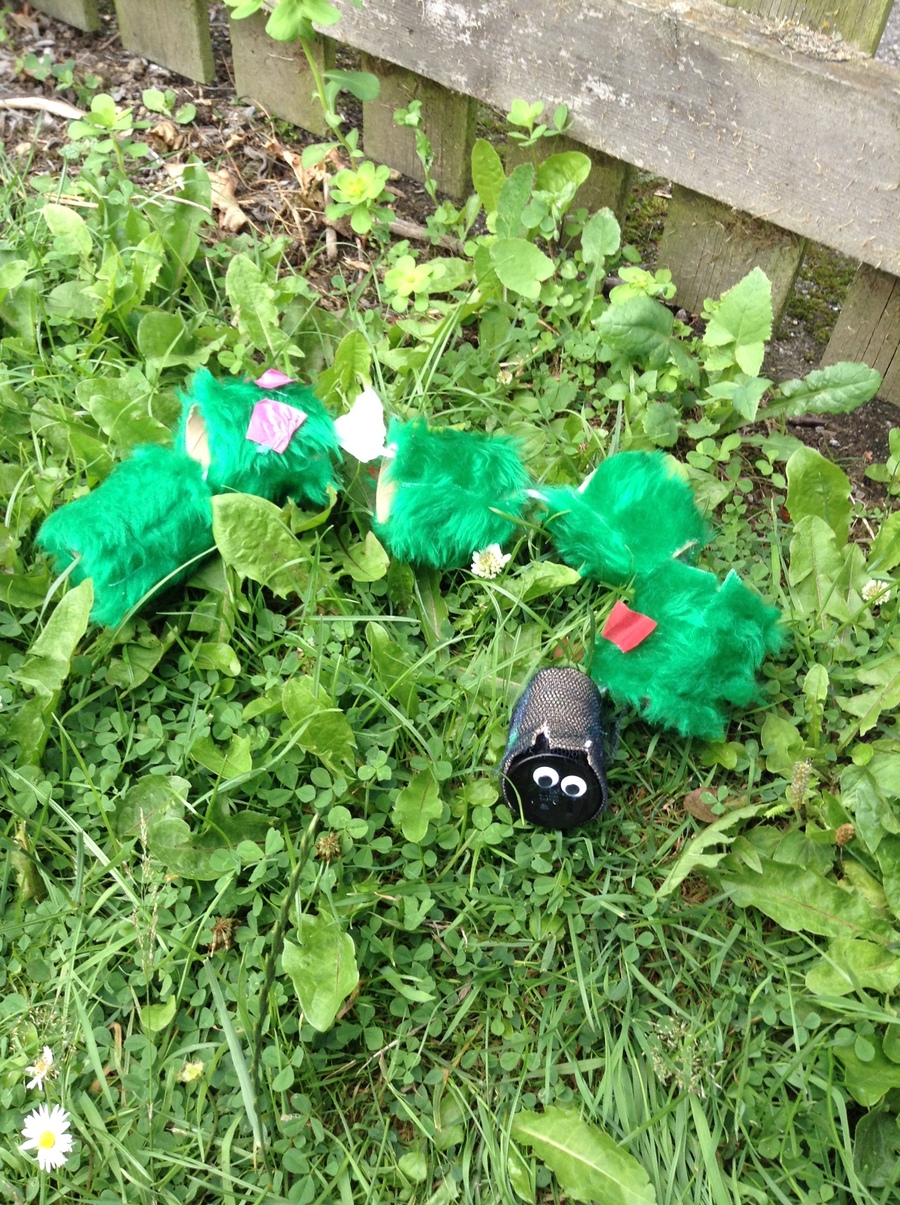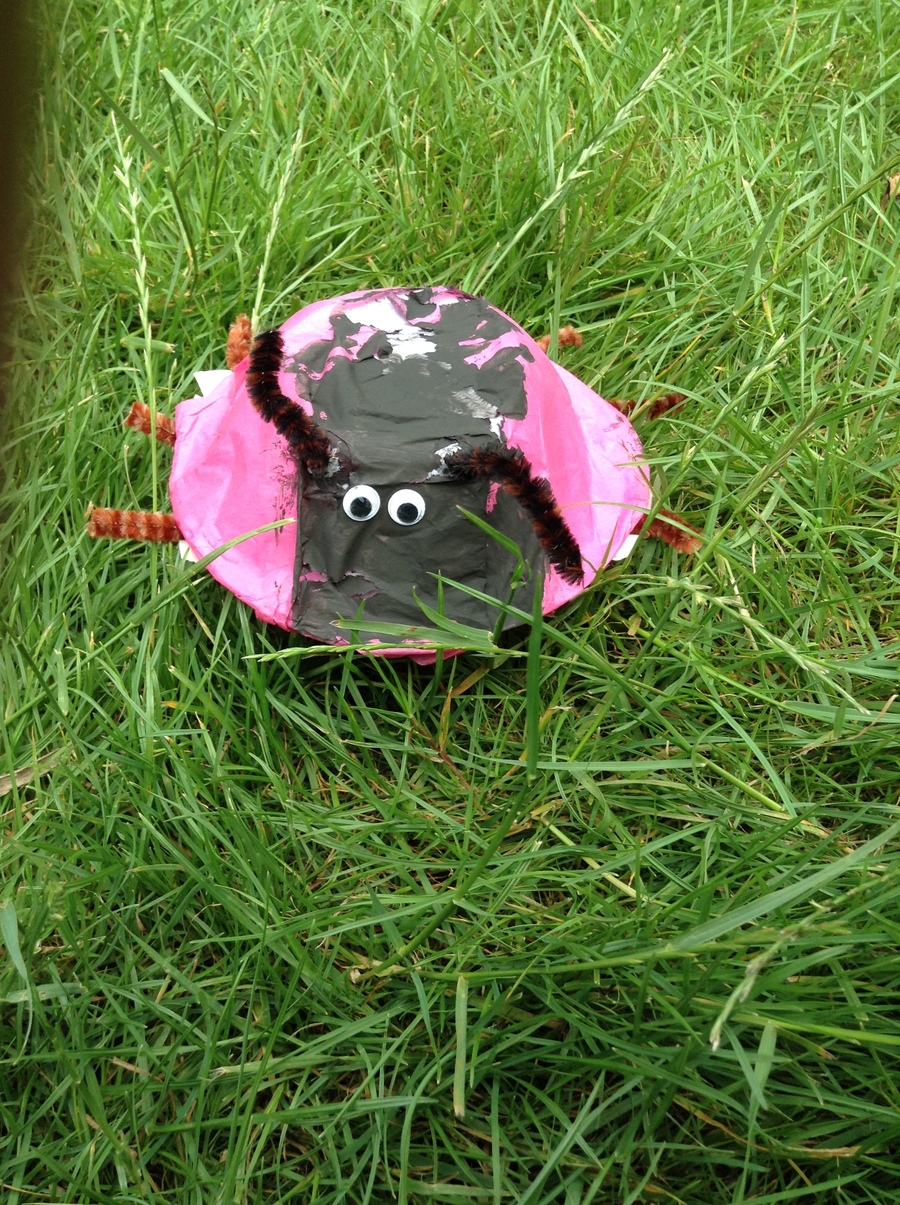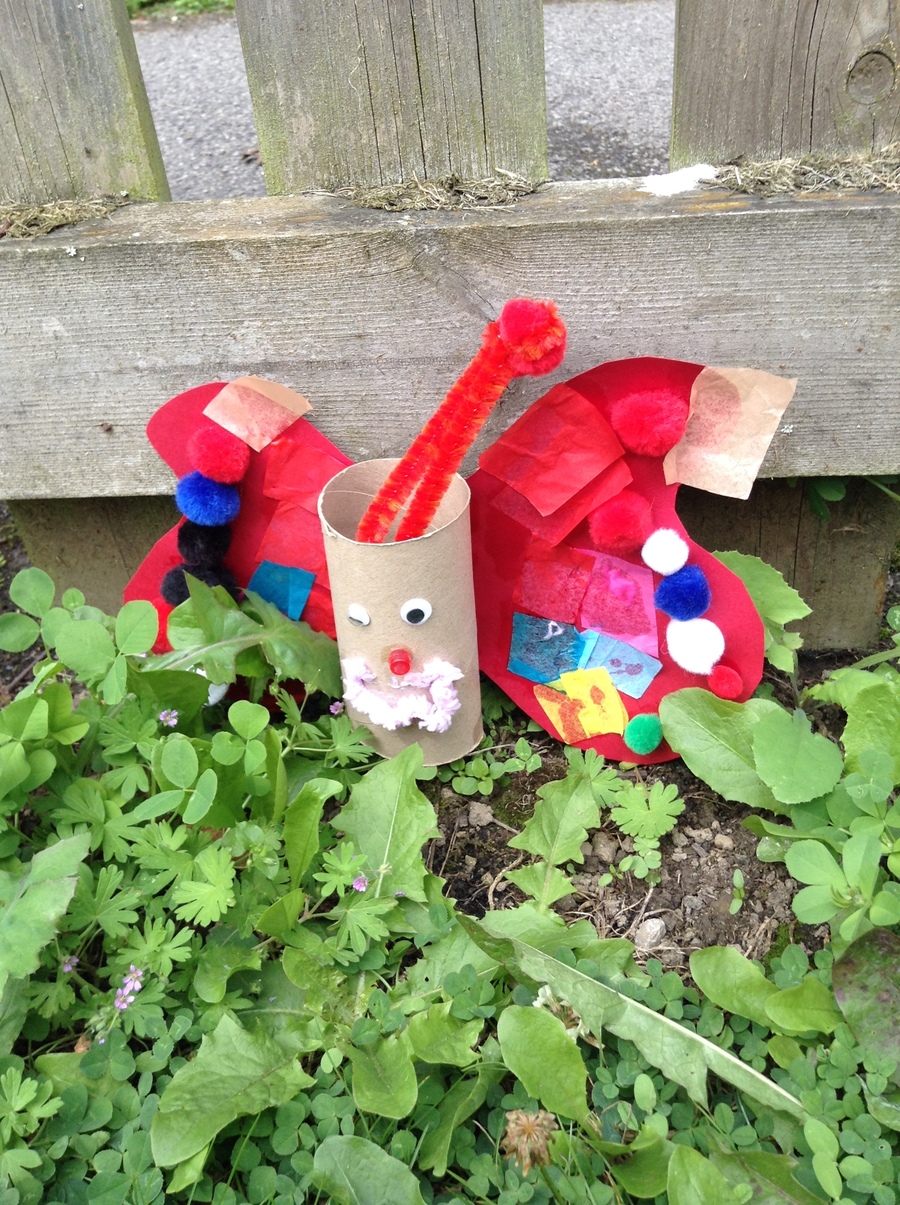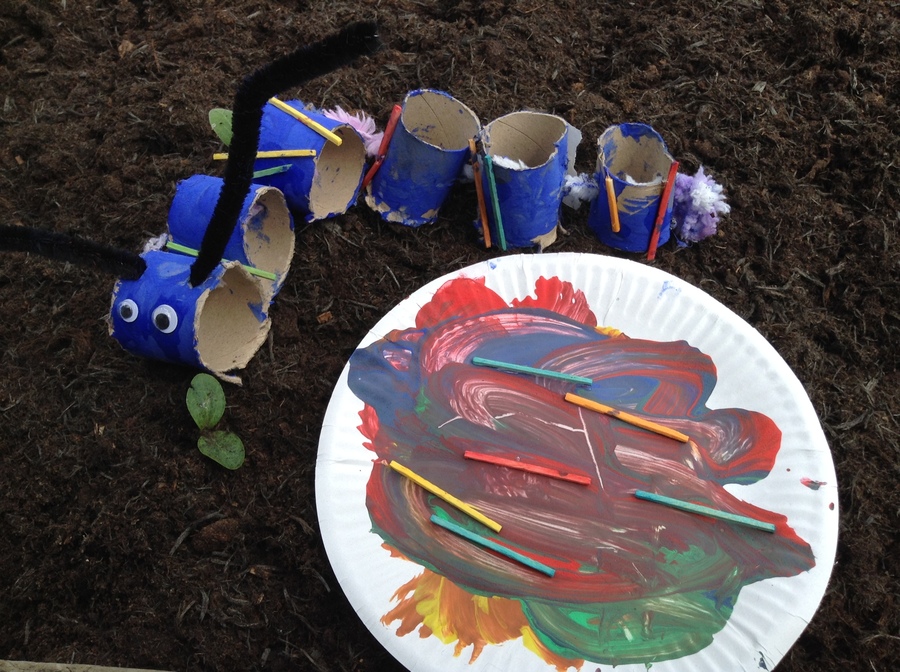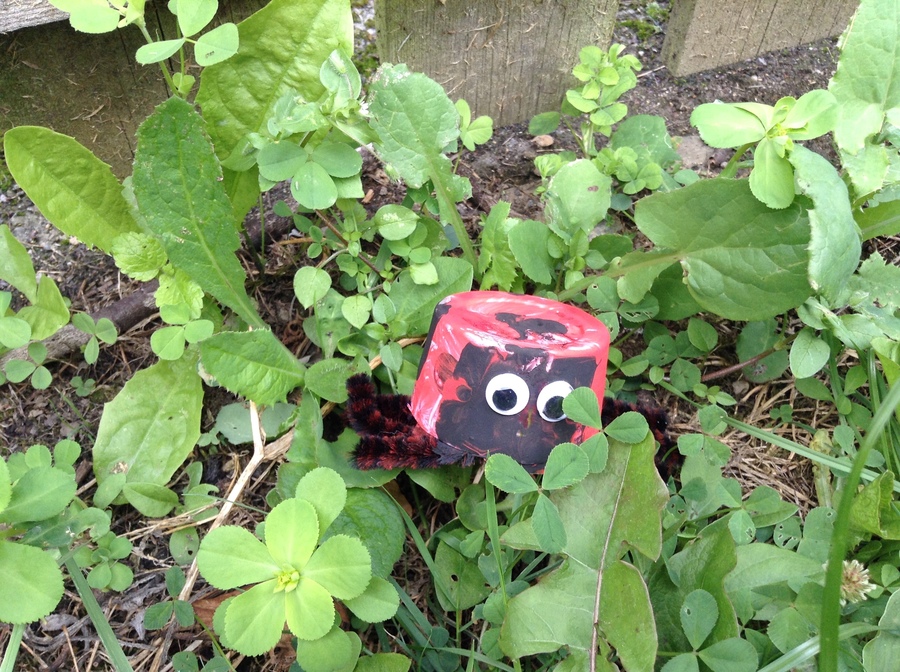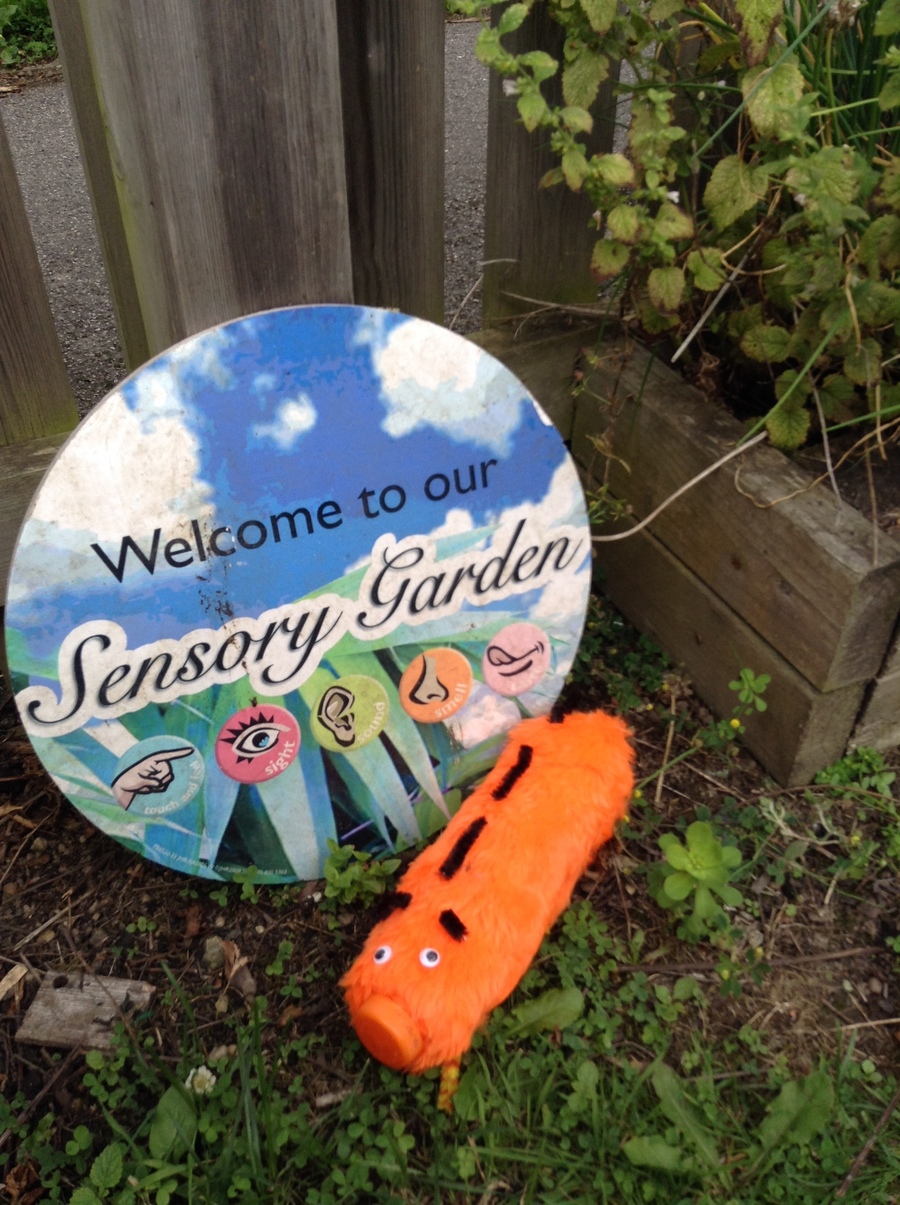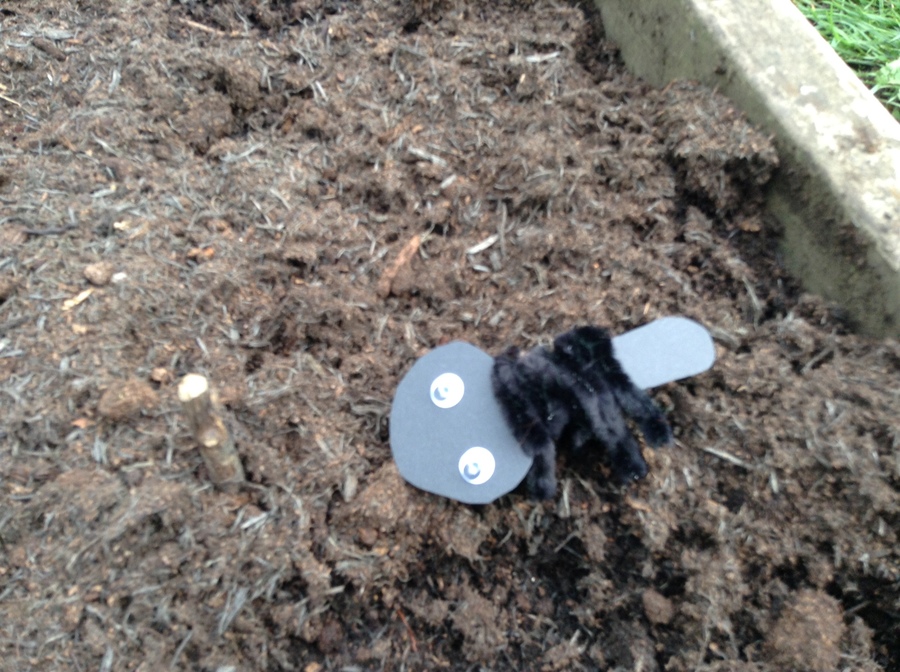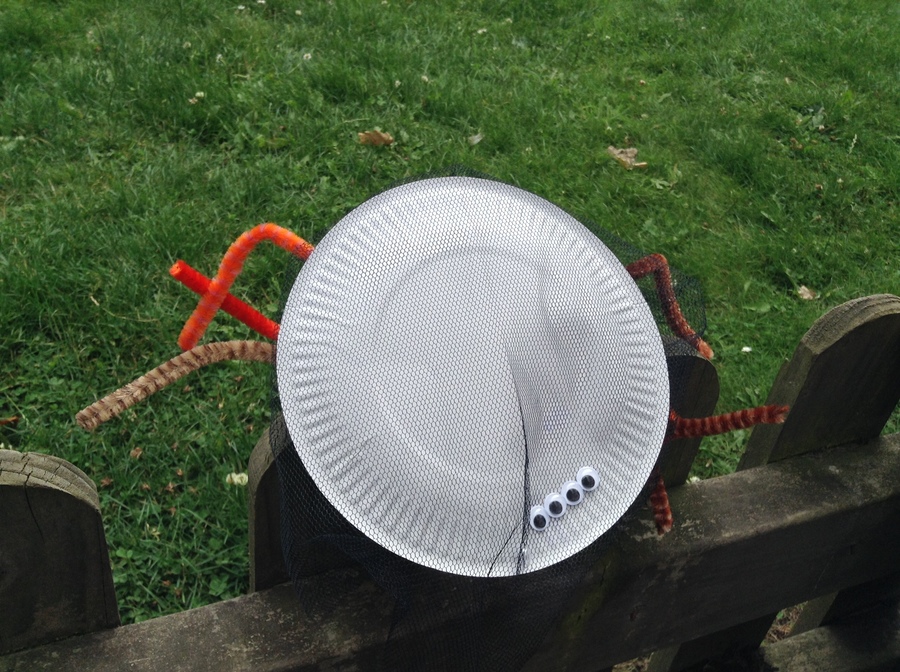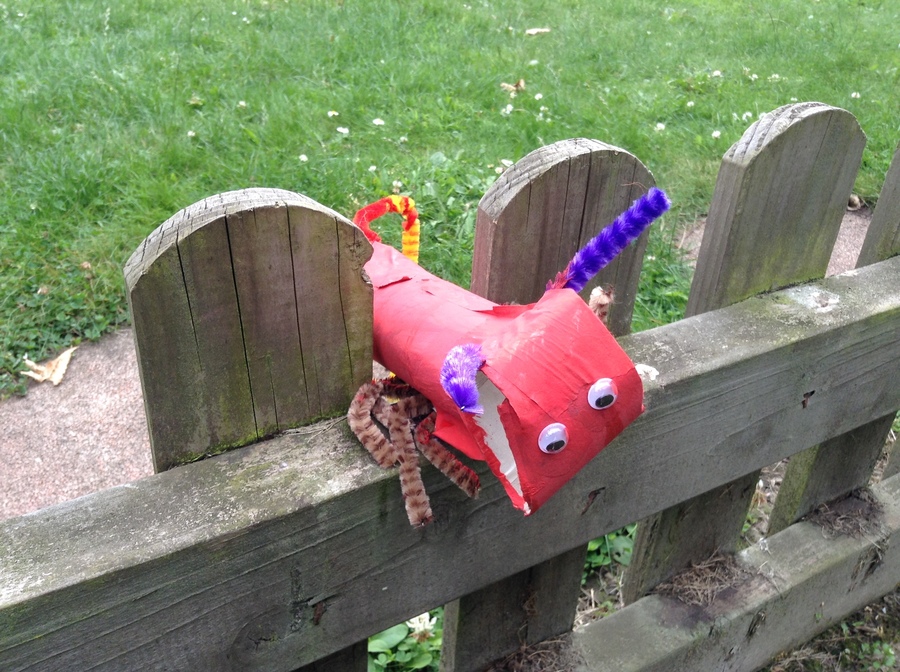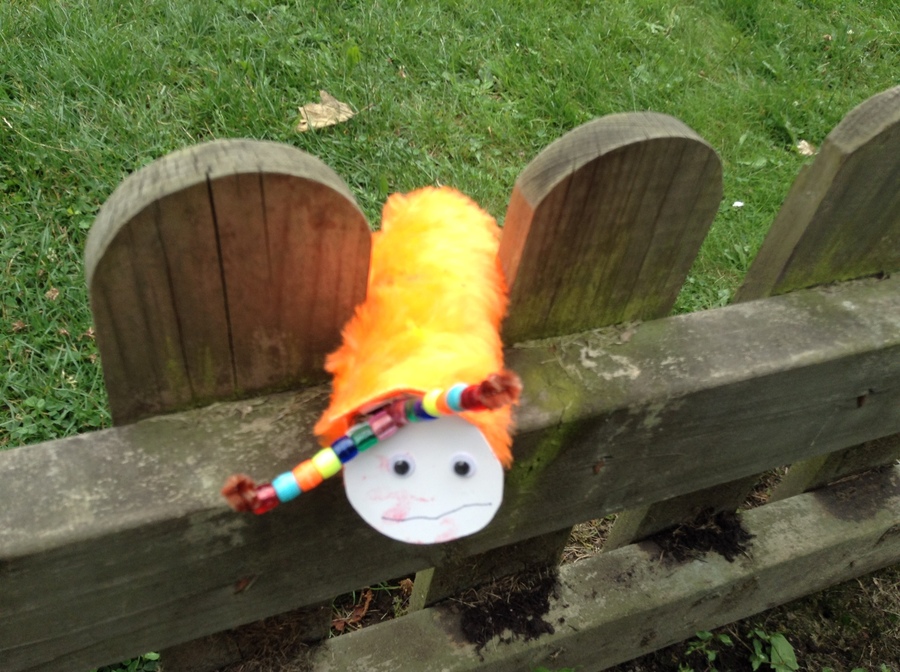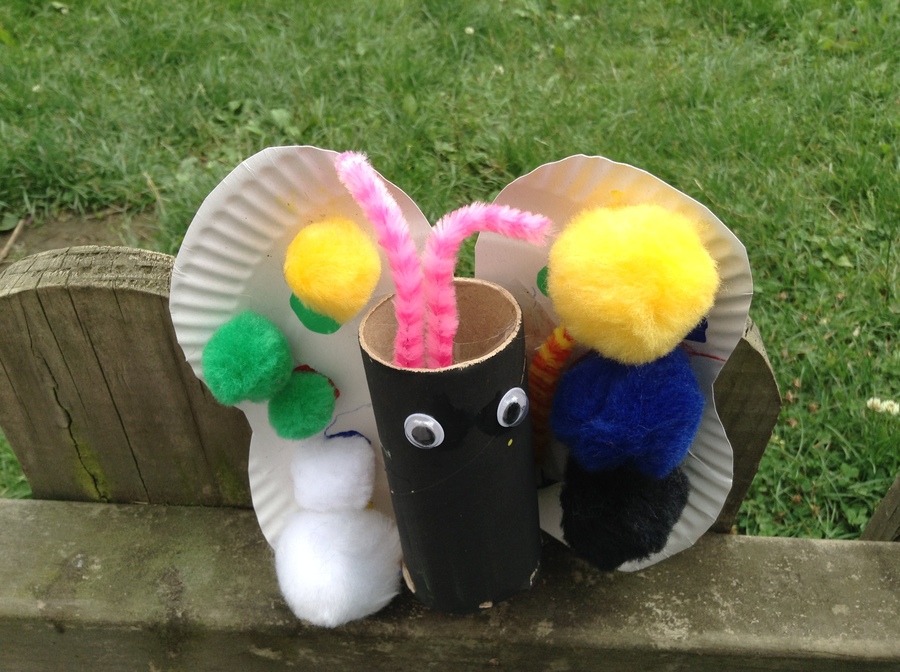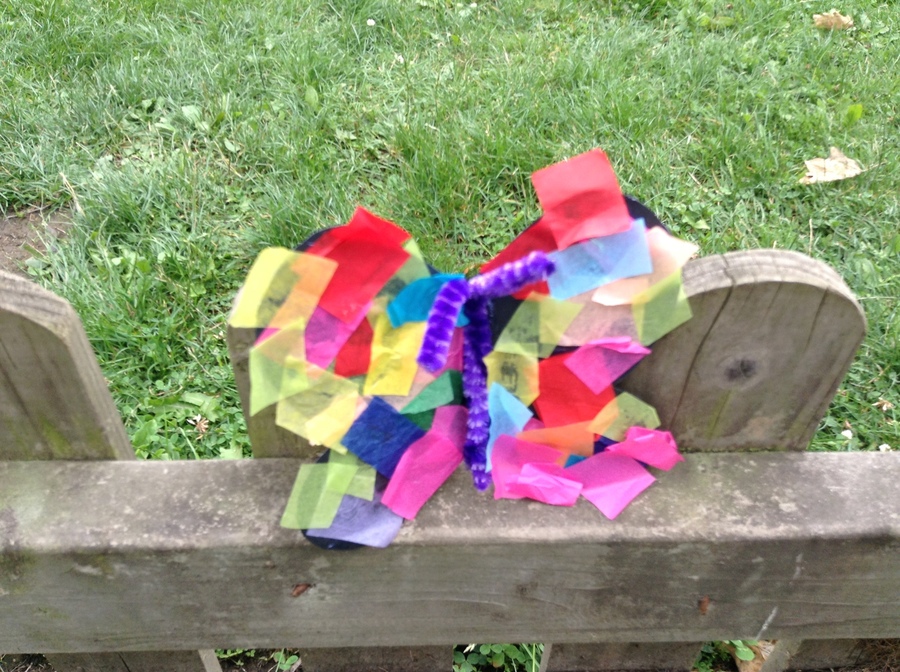 Busy Bees
As part of our learning we found out that bees like to make honey. We tasted two different kinds of honey to see which was our favourite. Both types went down a treat. It turns out that F1 are a bunch of honey lovers! Thumbs up for the bees!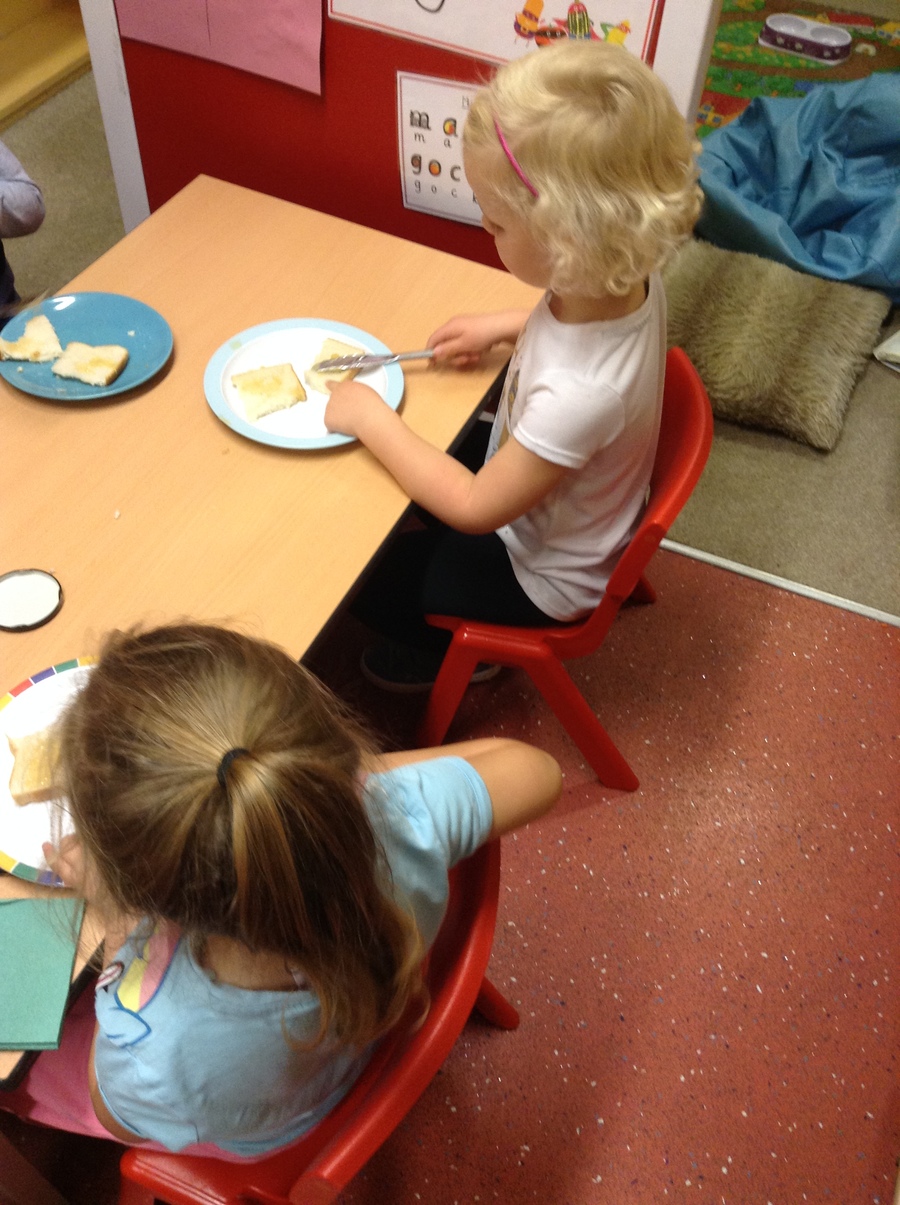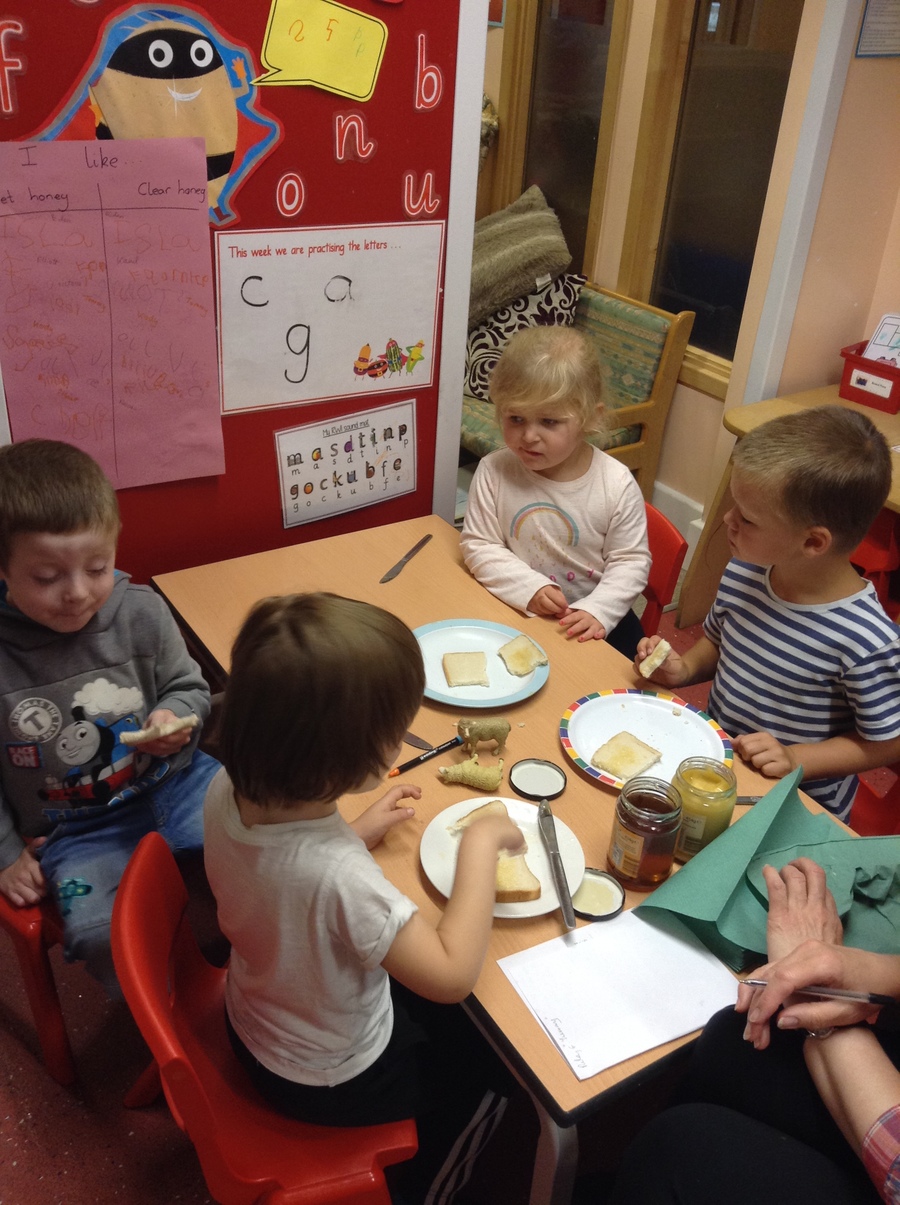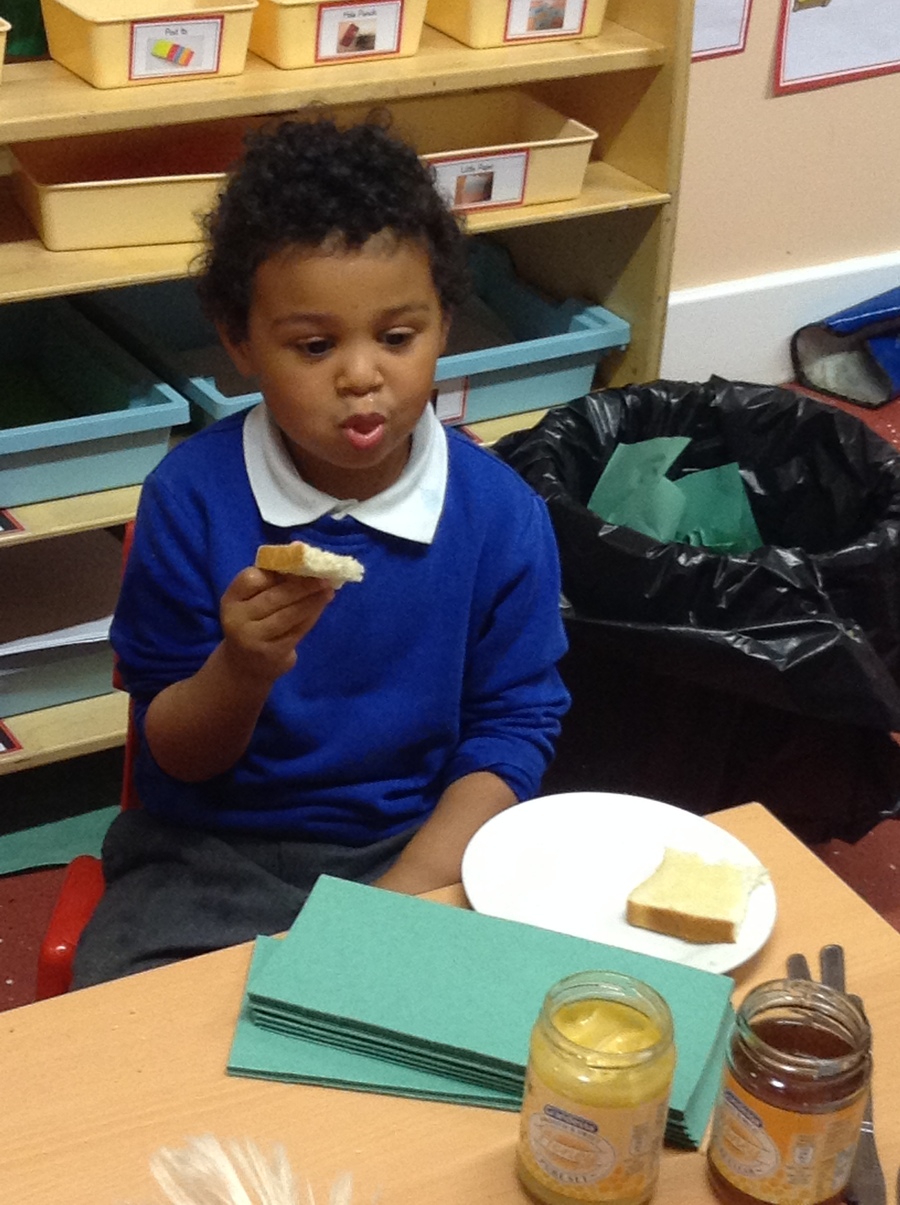 Minibeasts
This week we have started to learn about minibeasts. We have found out about caterpillars, butterflies and bees. Did you know that a butterfly tastes with its feet? Did you know that a bee does a dance to show all the other bees where the tasty flowers are? It looks a lot like it is wiggling its bottom! We found out lots of interesting things. We also had a go at making minibeasts in the creative area using paint and different media. Here are some of our bees and butterflies.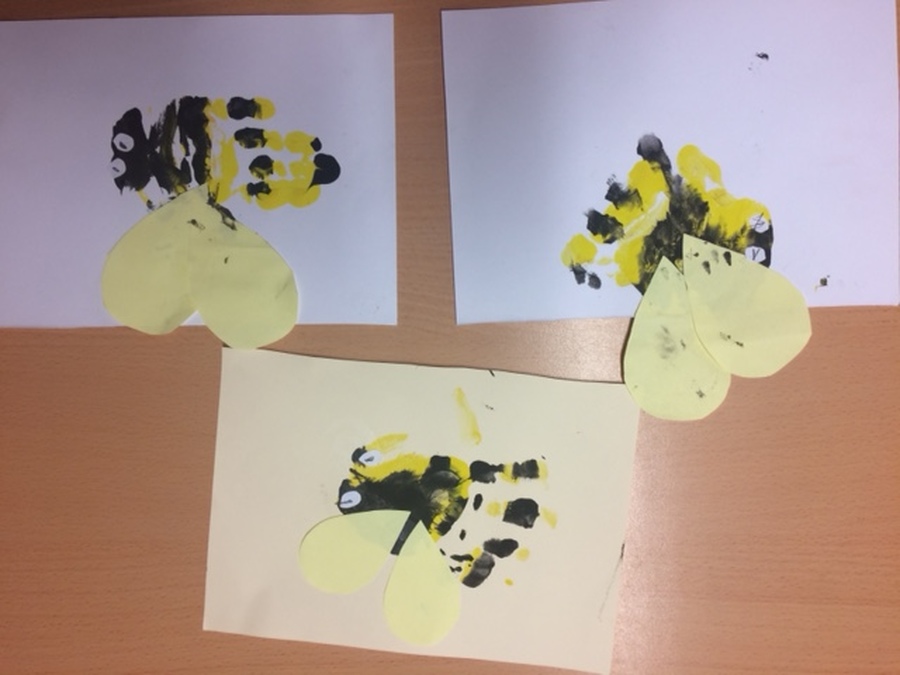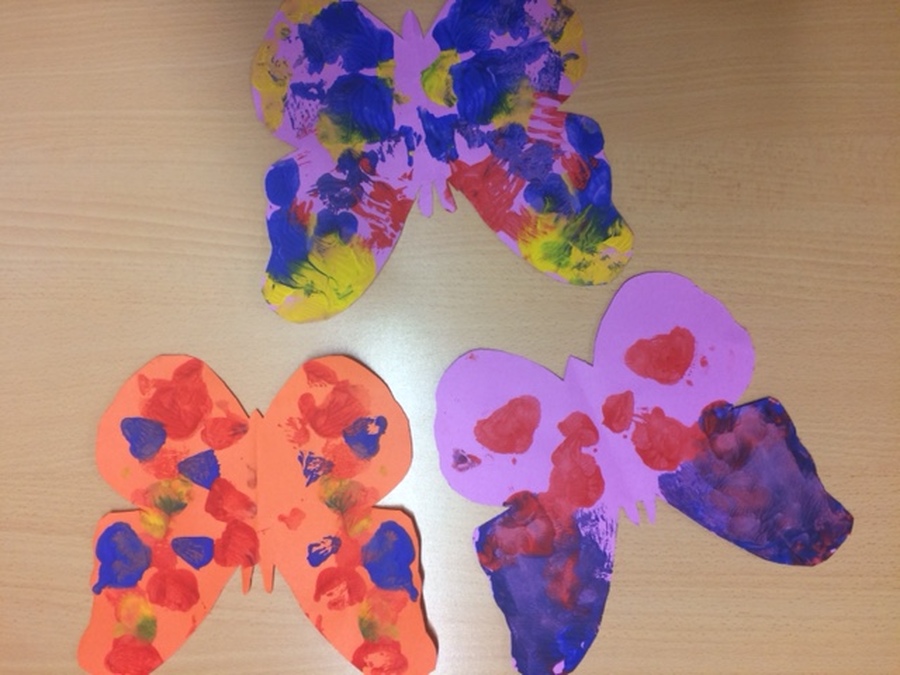 Our Families
As part of our learning about people and communities we have been talking about our families and what we like to do with them. We discovered lots of things we didn't know about our friends. Lots of children have a caravan and like to go to the seaside with their families. Some children go to Bridlington, some children go to Scarborough and some children go to places like Hornsea. We also eat lots of different kinds of food with our families. Lots of us like to have Sunday dinner whilst others like to eat pizza, BBQ food or chocolate rolls with our families. Some of us love eating pasta at home so we had a go at making pasta bolognaise at nursery. Everybody loved it and most people came back for seconds!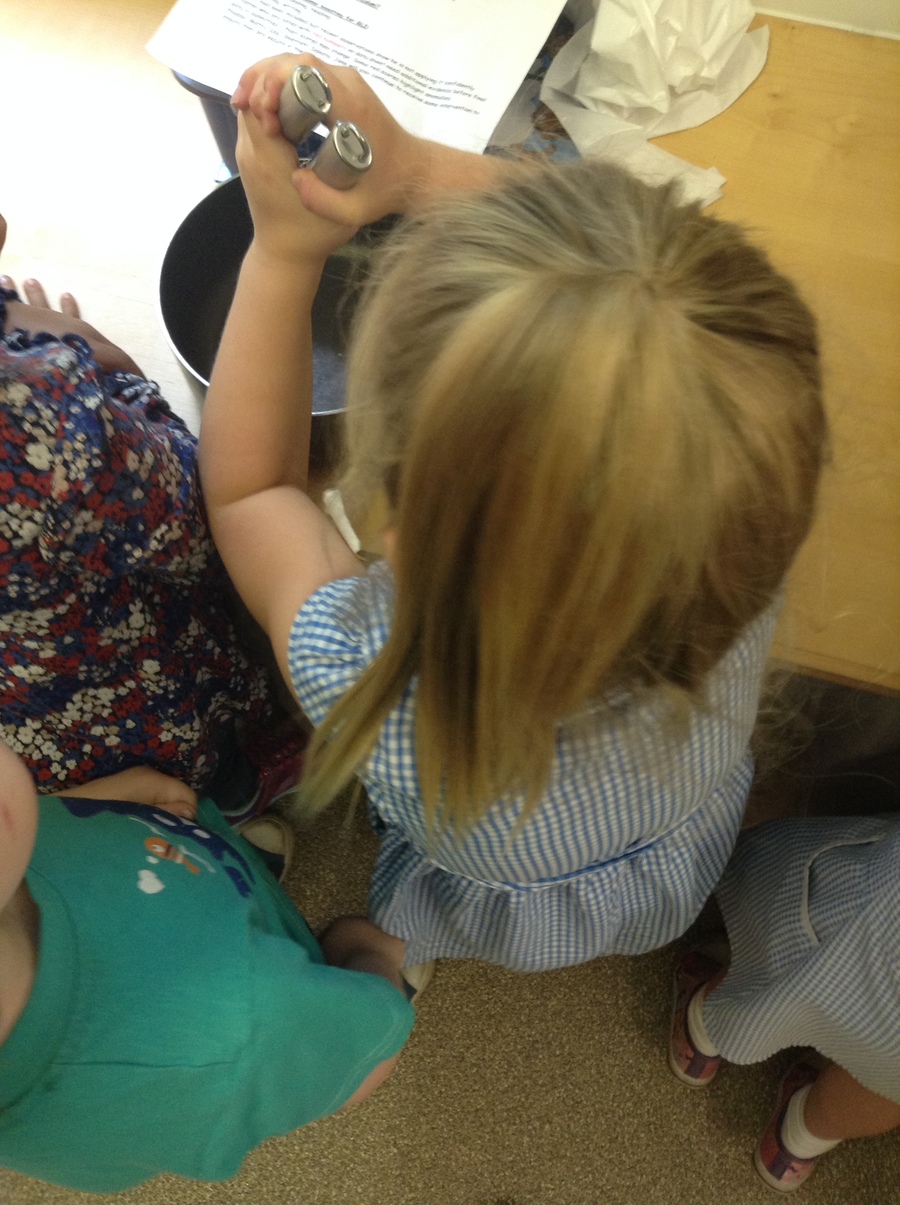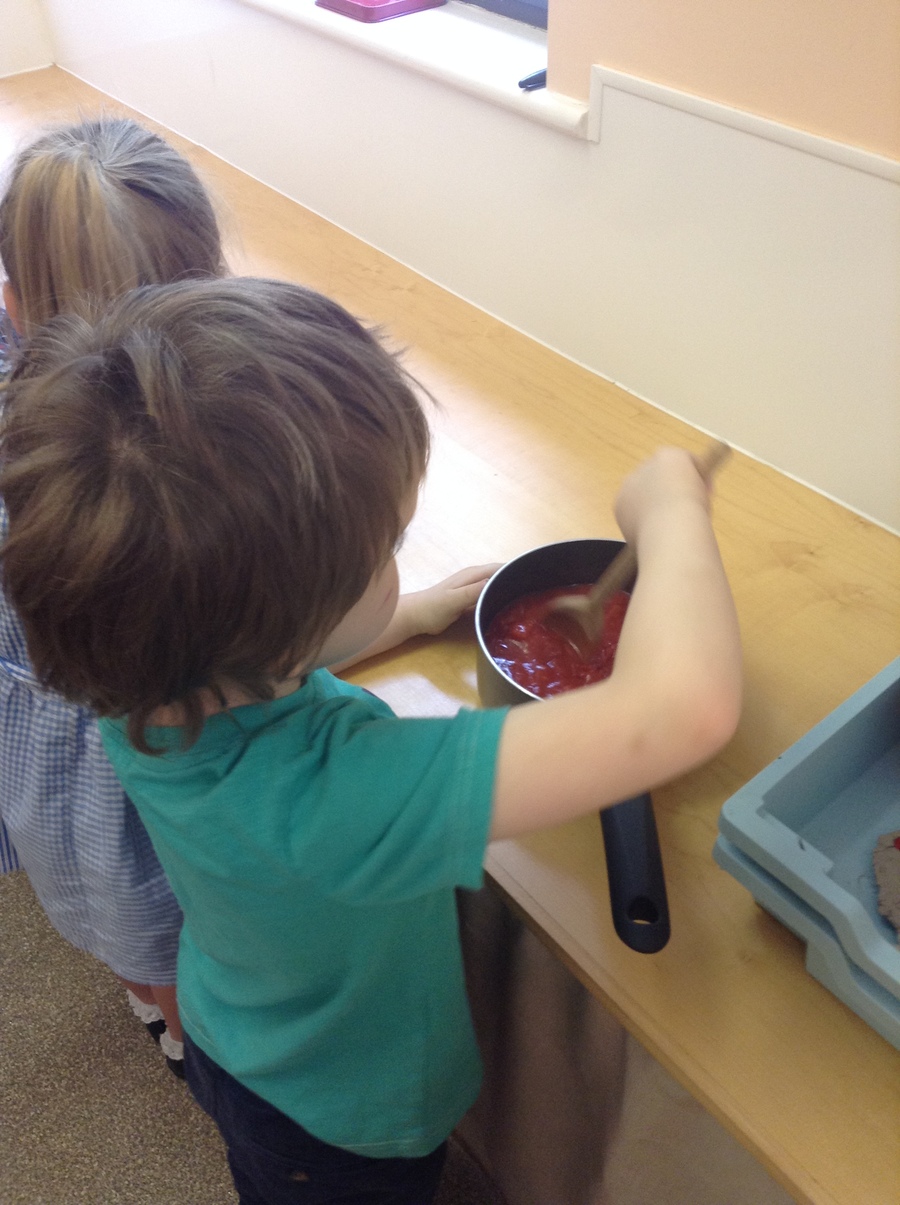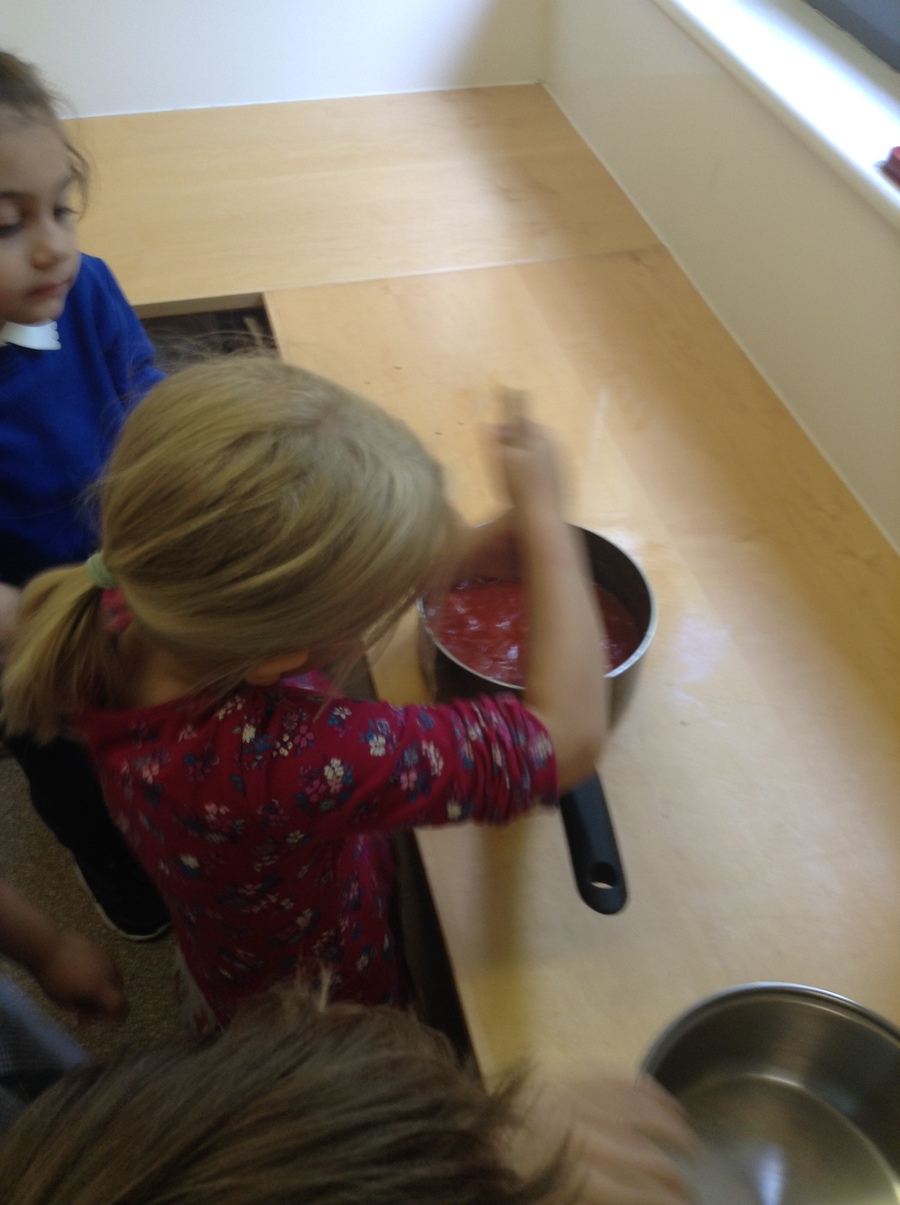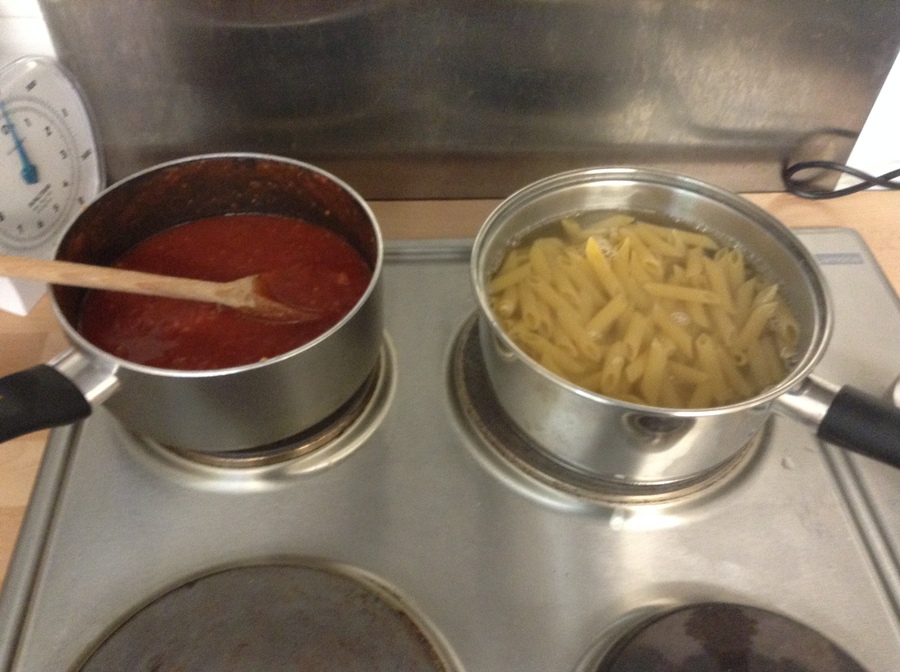 Thank you to all the parents/carers who filled in their questionnaires or sent us photographs of their family. We loved looking at them. If you want to see more please feel free to come and look at our community display in the F1 classroom. We have lots of great family photos and drawings about what we like to do with our families.
People and Communities
Recently we have been learning about people and communities. We have been learning that some things make us the same as our friends and somethings make us different. We don't always like the same things and that's ok. The world would be very boring if we were all the same! Lots of us like the cartoon Paw Patrol but our favourite characters are different. Take a look at the pictures below to see who different children like the best.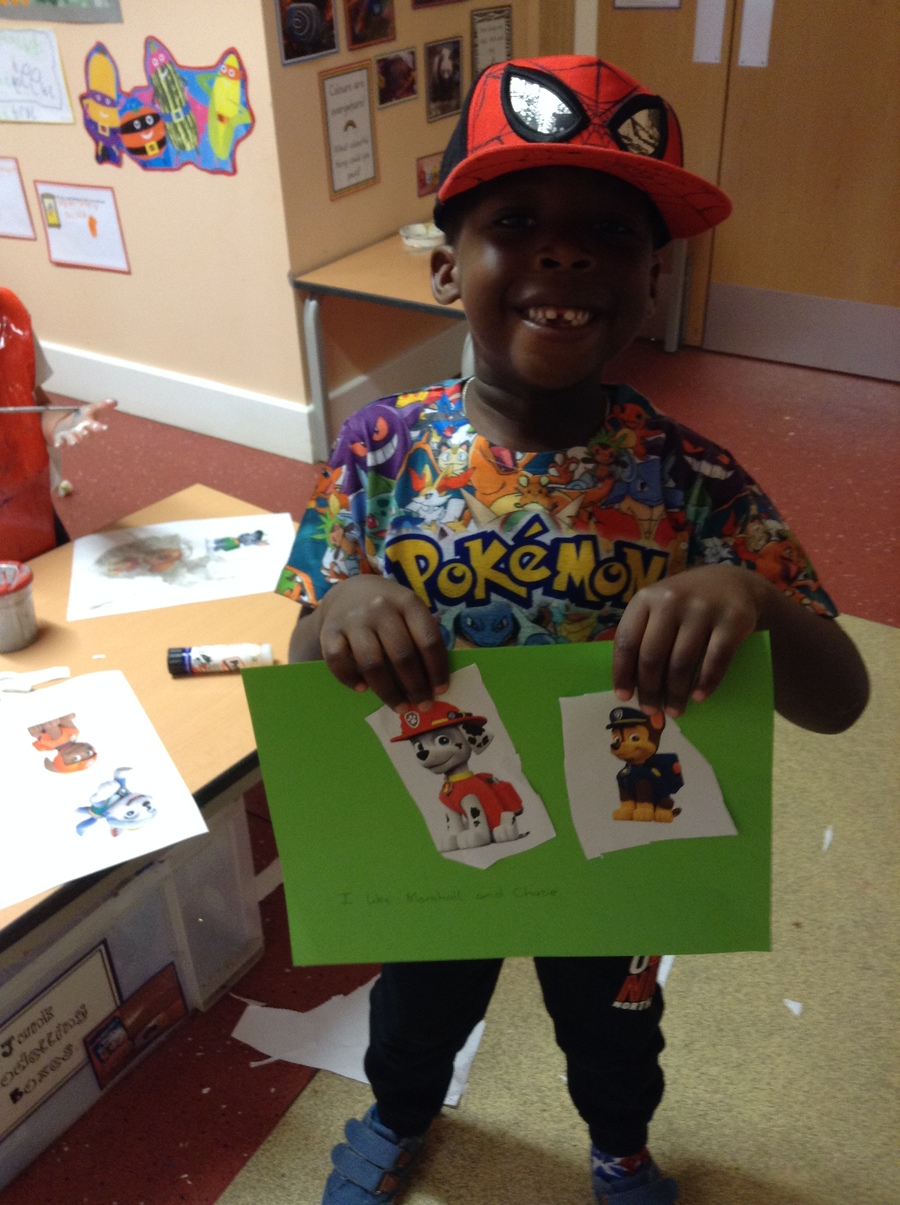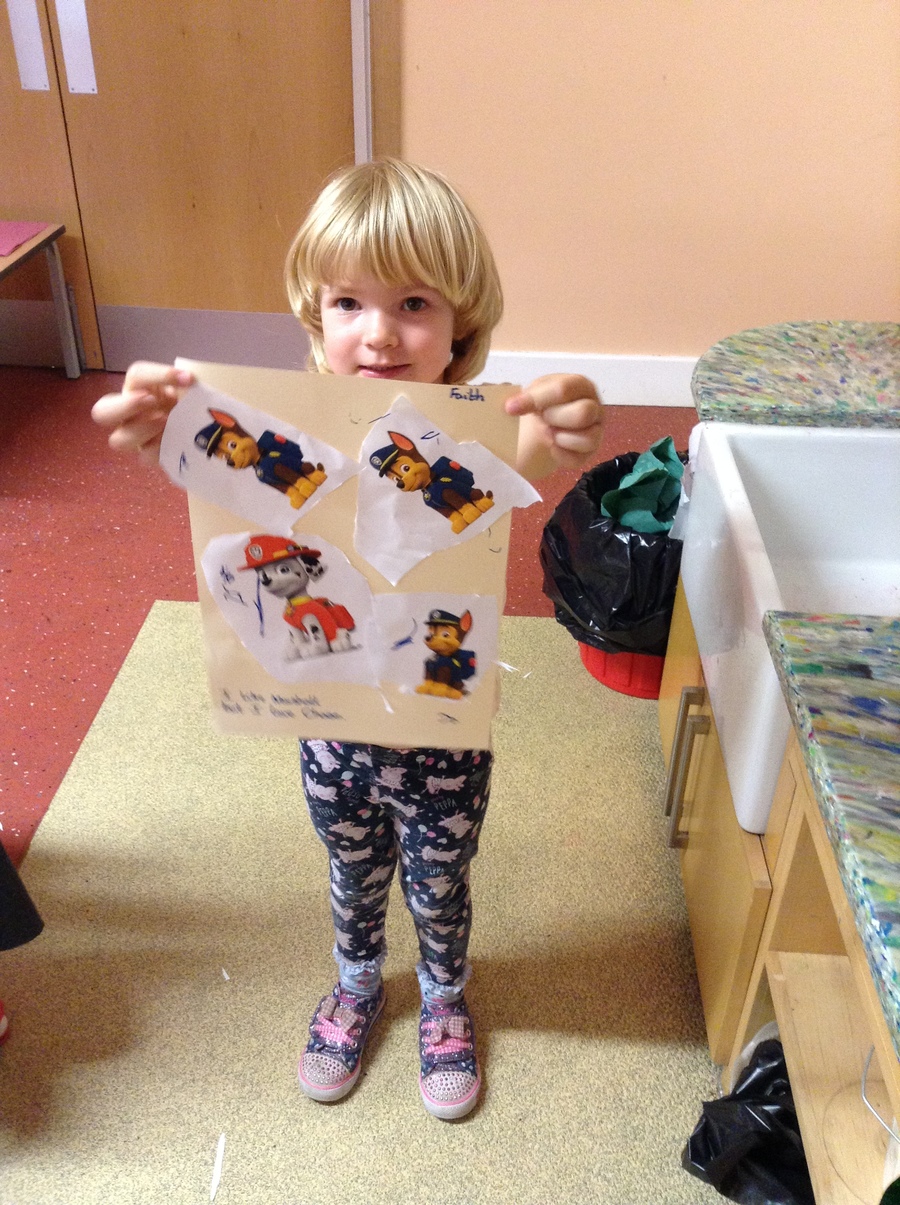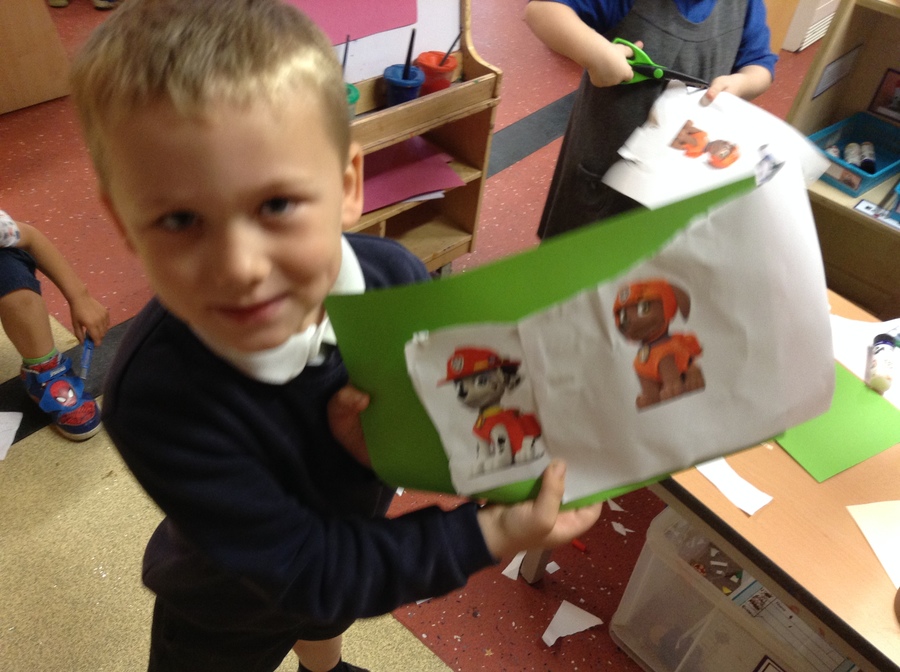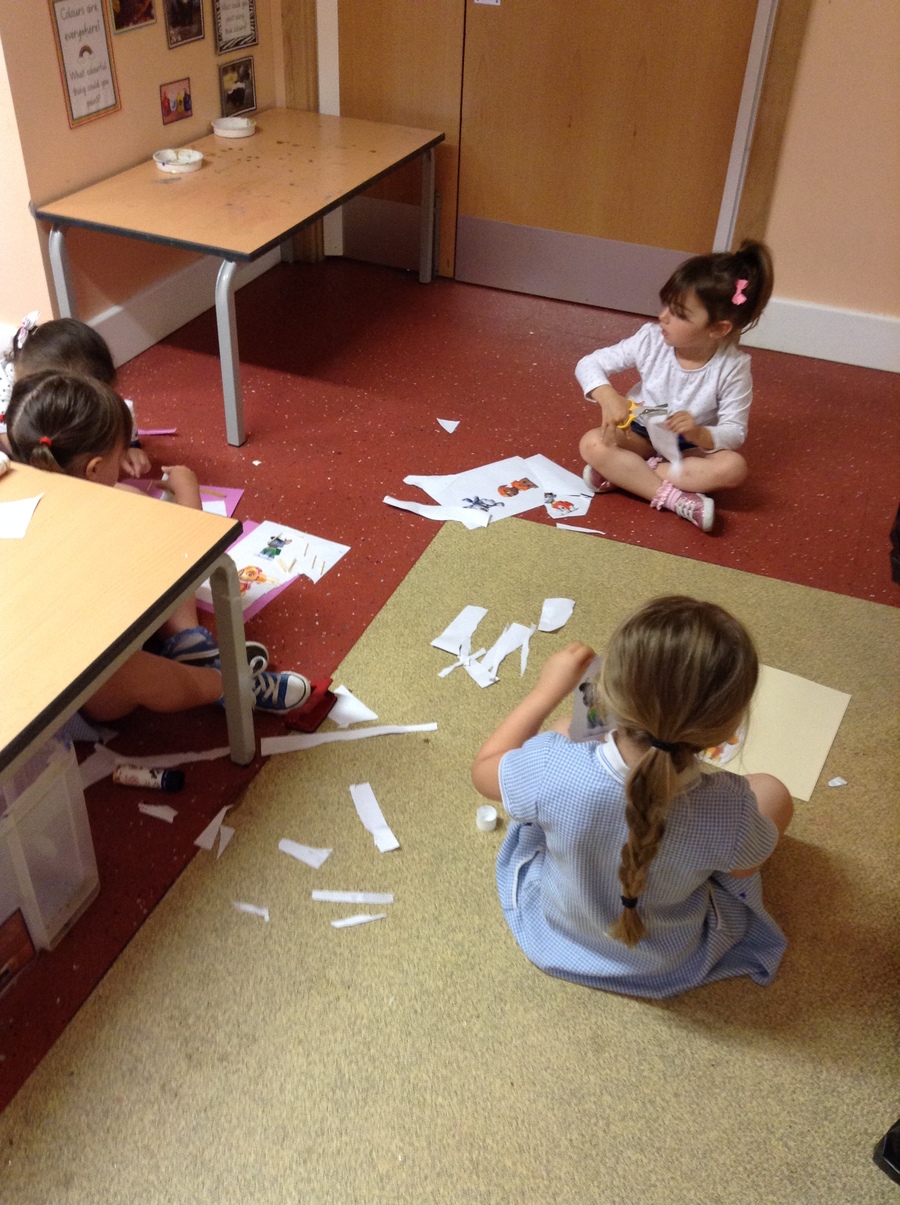 2D Shape
This week we have been looking at 2D shape. We have been trying hard to remember the names of different shapes. They aren't called things like Thomas or George or Scarlett, they have their own special names. We have been calling them circle, square, triangle and rectangle. We have been talking about what they look like, how many sides they have and how many corners. We have been using lots of 2D shapes to make our own pictures, patterns and arrangements making sure we choose the right shape for the job. Take a look at our creations.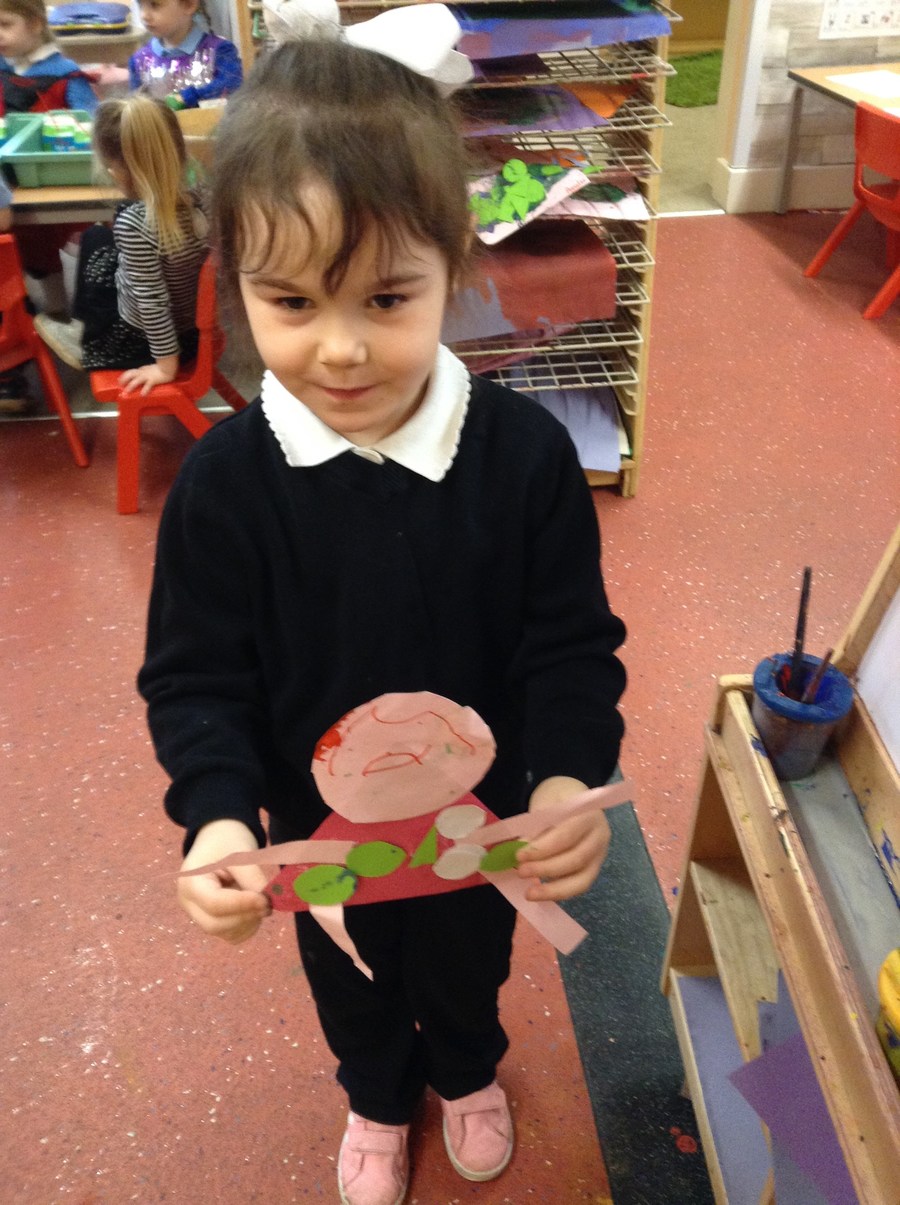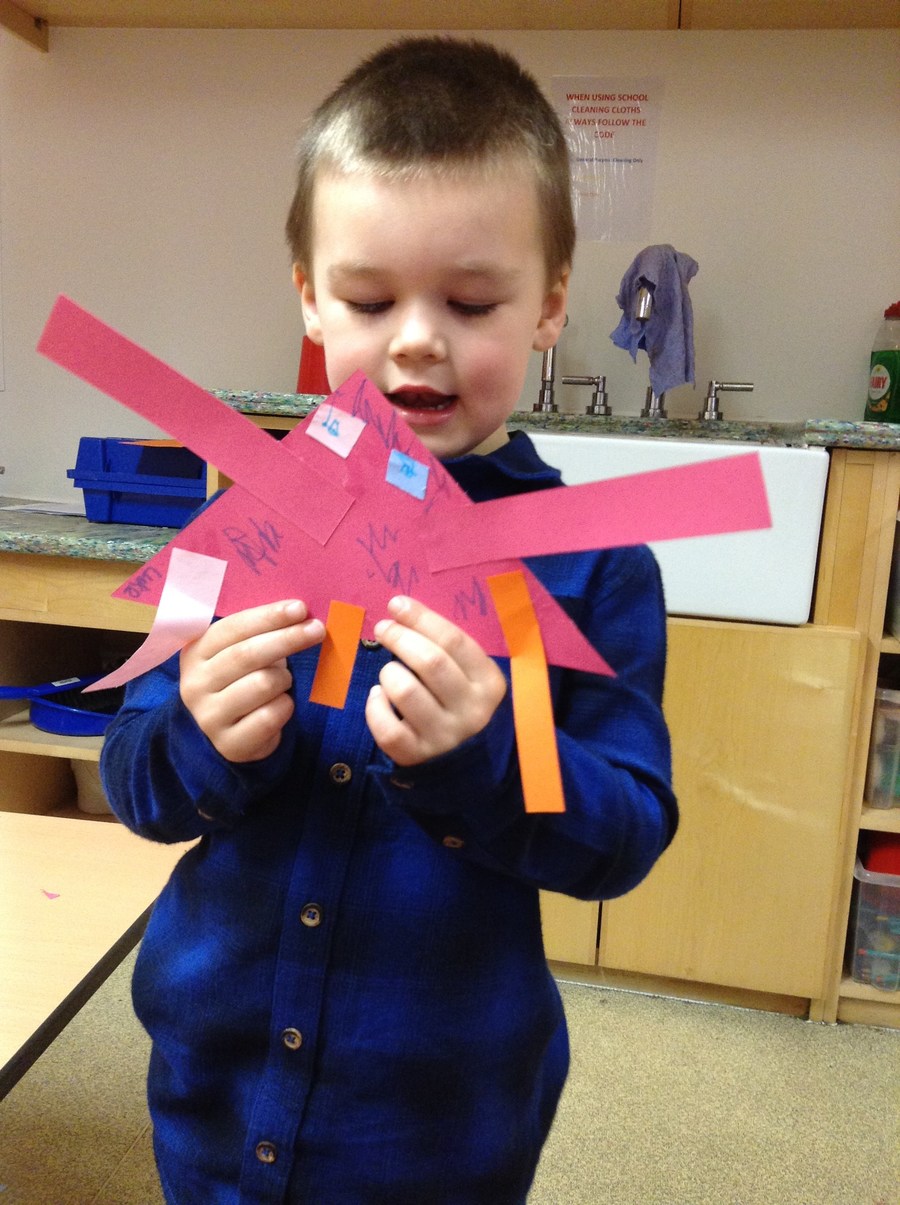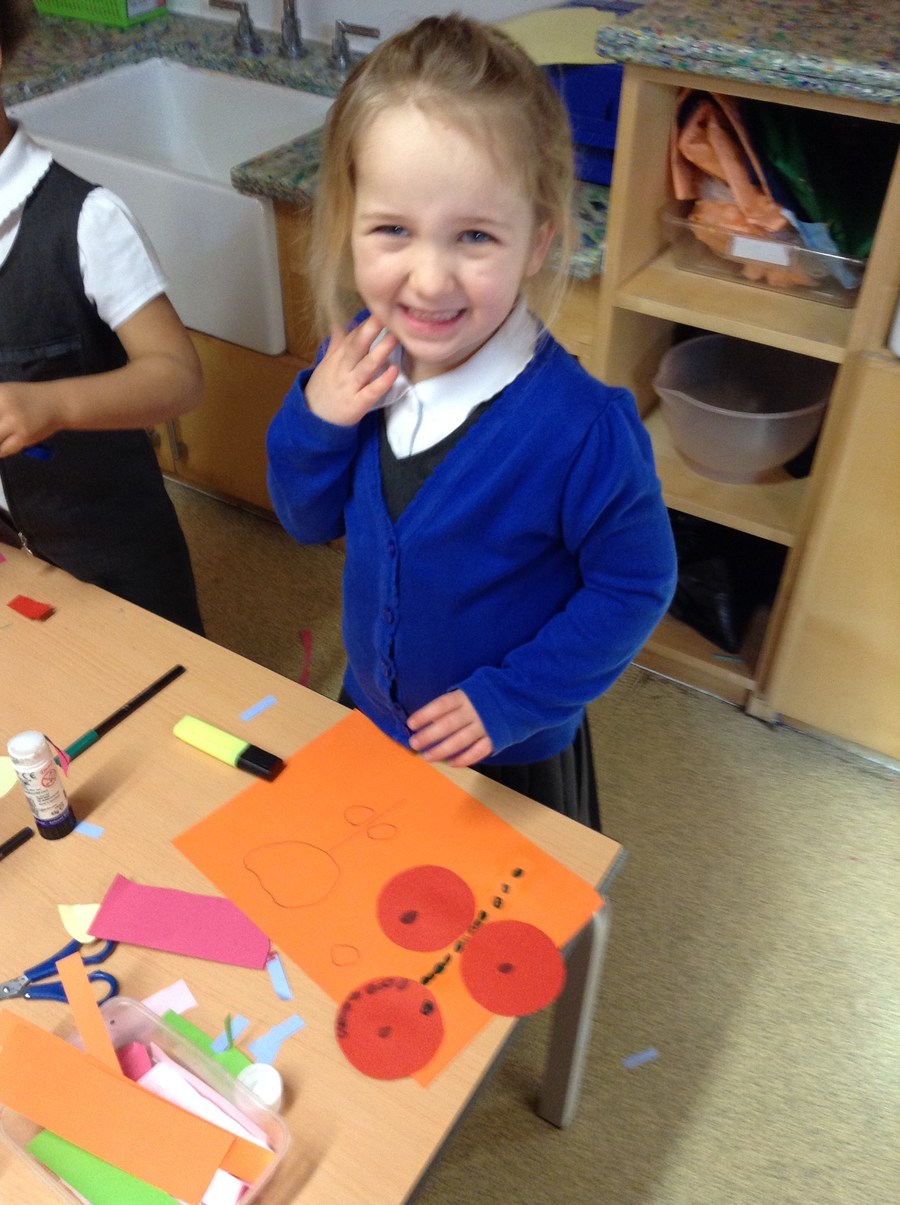 World Book Day
To celebrate World Book Day lots of the children brought in their favourite books to nursery. We had lots of stories about everything from rabbits to princesses and spiders. We loved sharing our favourite stories with our friends during continuous provision time. One of our reading superstars in nursery recommended the story of Little Rabbit Foo Foo. She said "I think that it is really funny and giggle at the rabbit's 'attitude' when he bops people on the head. There are some really funny pictures too." Mrs Lees had to agree, it's one of her favourite books too. We're all so glad everyone in nursery tried hard to make their good choices not like the rabbit in the story! Someone also recommended Stick Man. "I really love Julia Donaldson books. I remember sitting and watching Stick Man with my family at Christmas. I like finding sticks and pretending they could be Stick Man."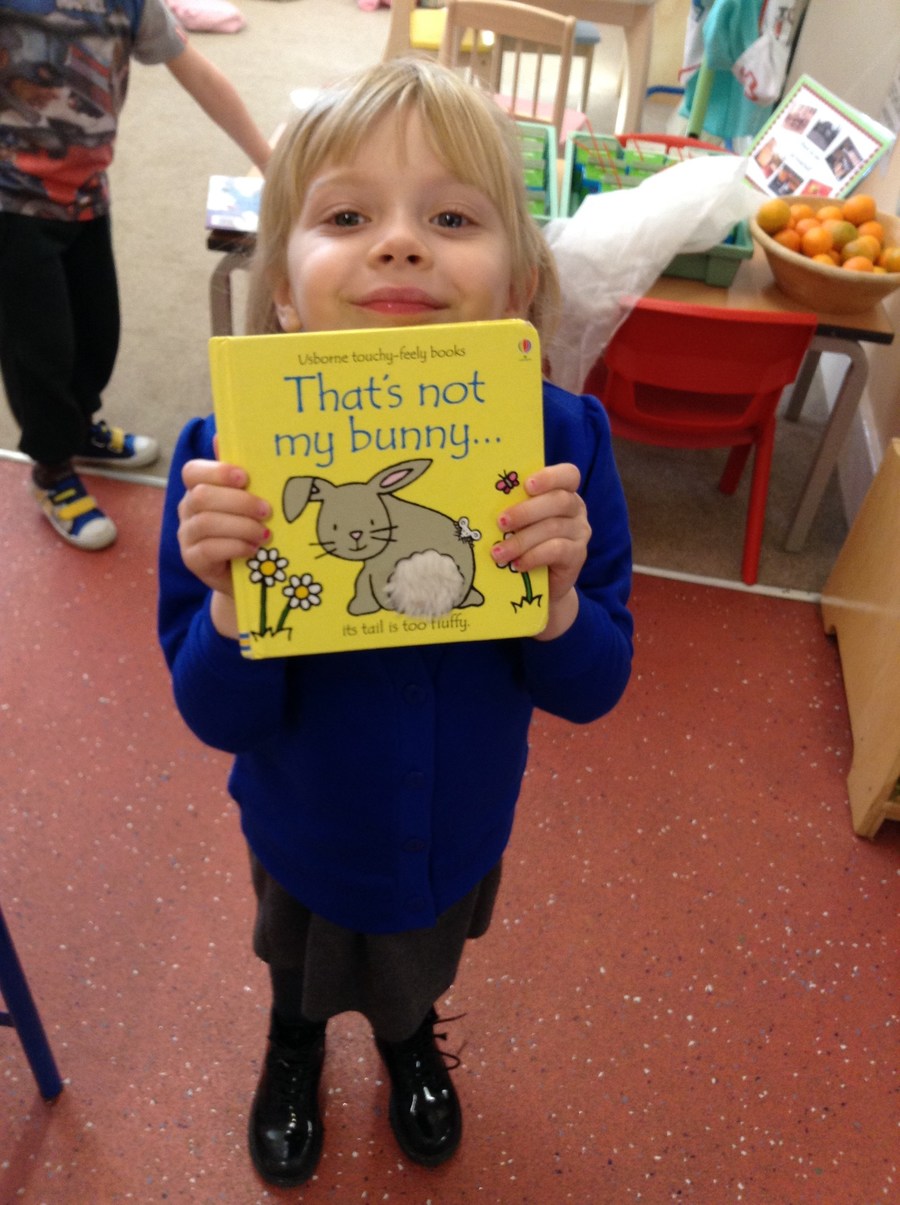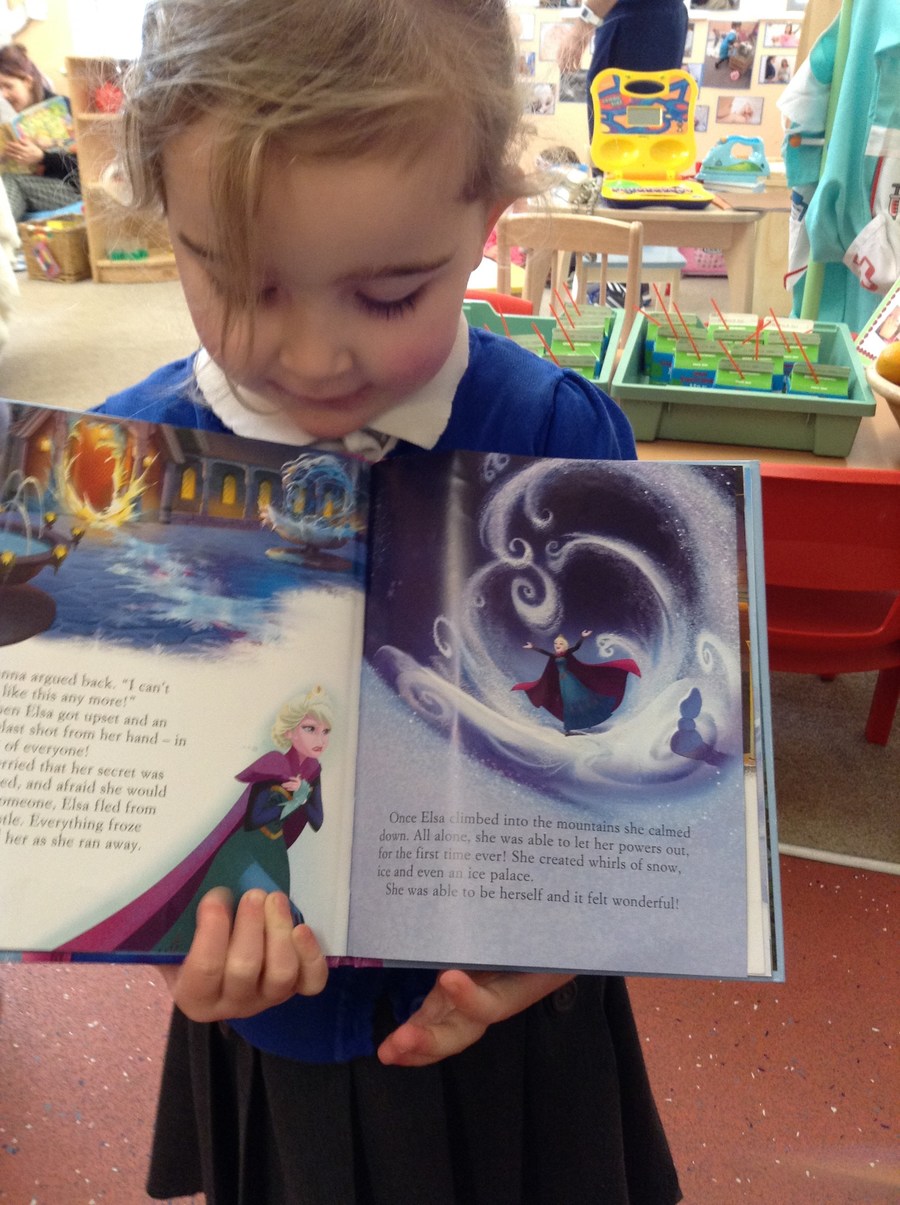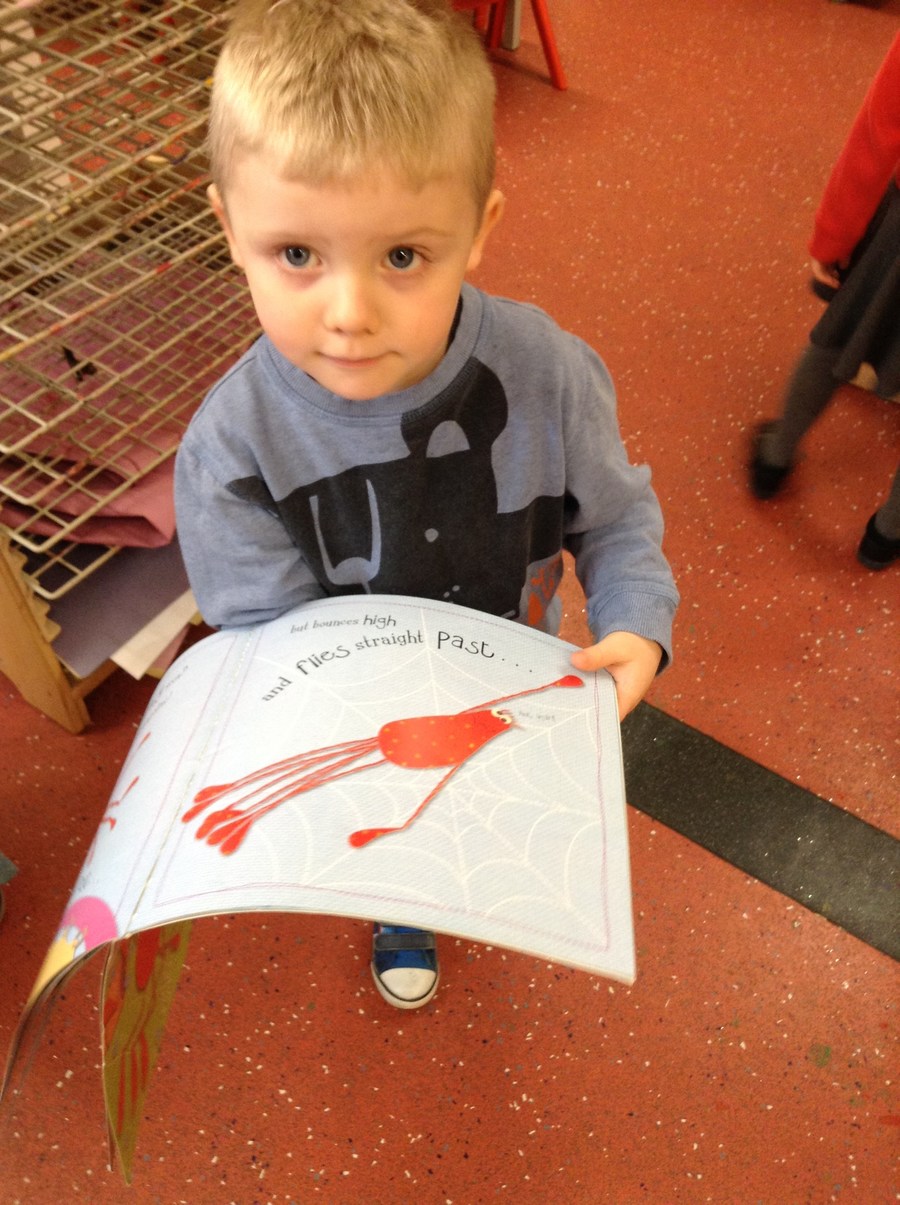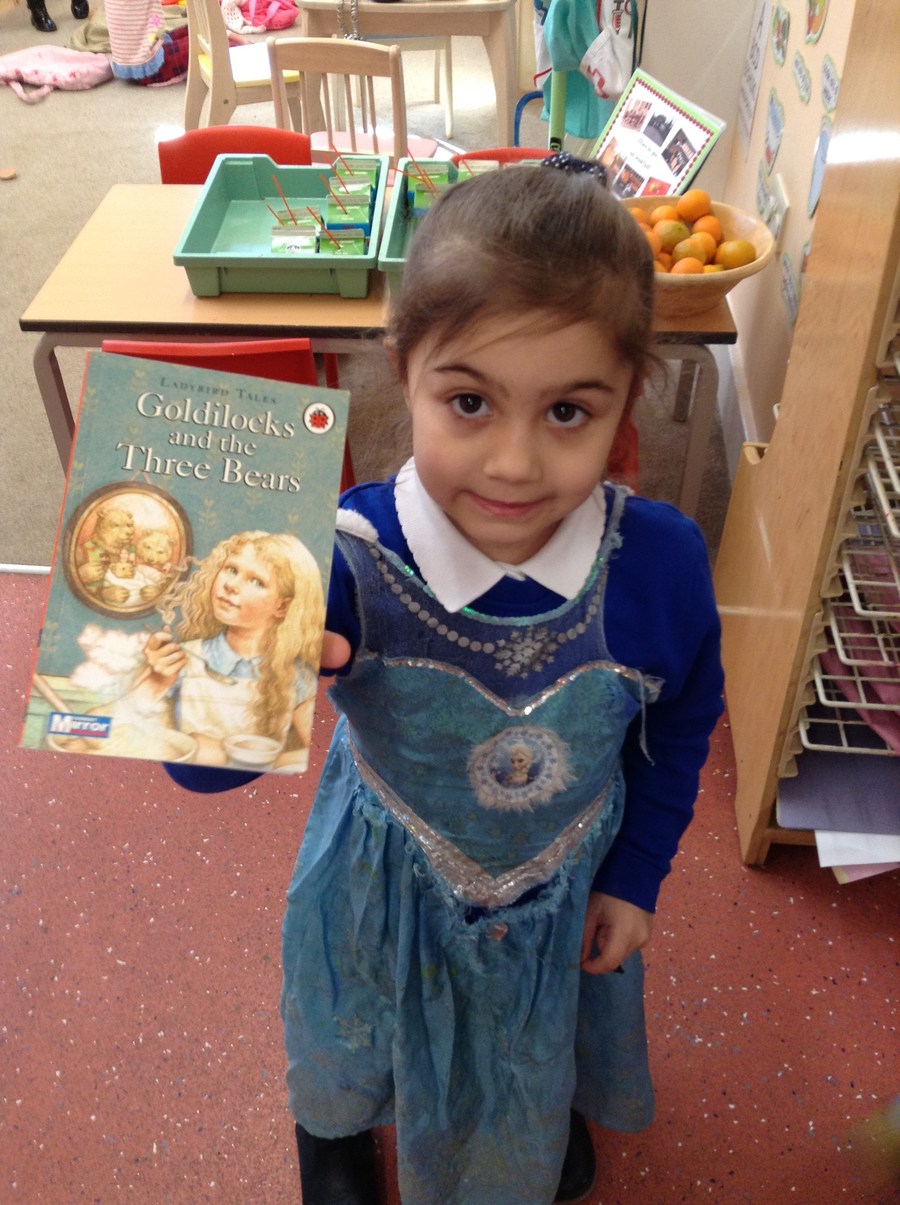 We also read a story called Mrs Wolf's Pancakes. It showed us exactly what ingredients we needed to make some pancakes and how to make them. We decided to have a go at making pancakes ourselves, just like in the story. We mixed flour with eggs and milk and put it in a very hot pan. Mrs Lees was careful to flip the pancakes so they didn't end up on the floor! We chose our own fillings and gobbled them up just like in the story. We enjoyed chocolate sauce, golden syrup and sugar and lemon. Lots of us had eaten pancakes at home earlier in the week for pancake day so knew exactly what toppings we liked the best.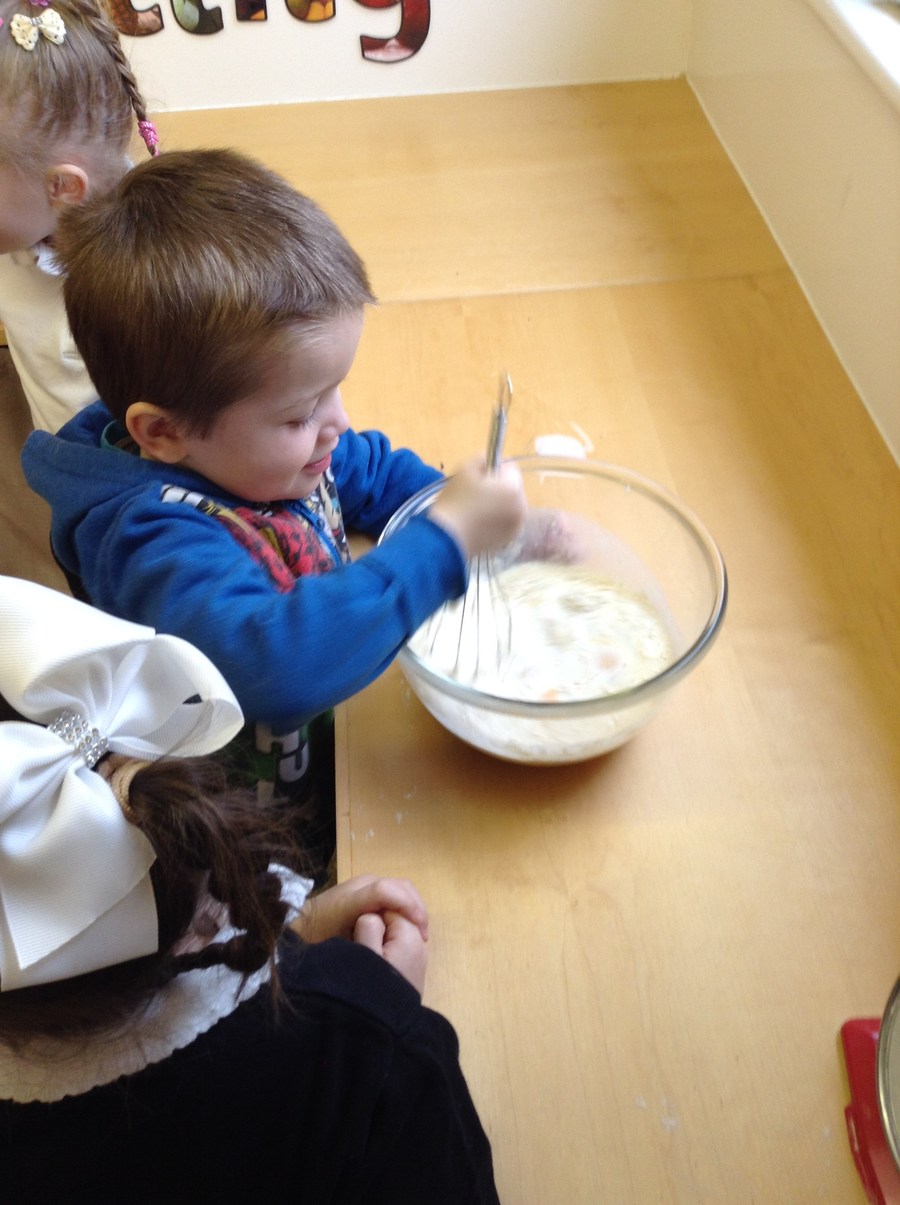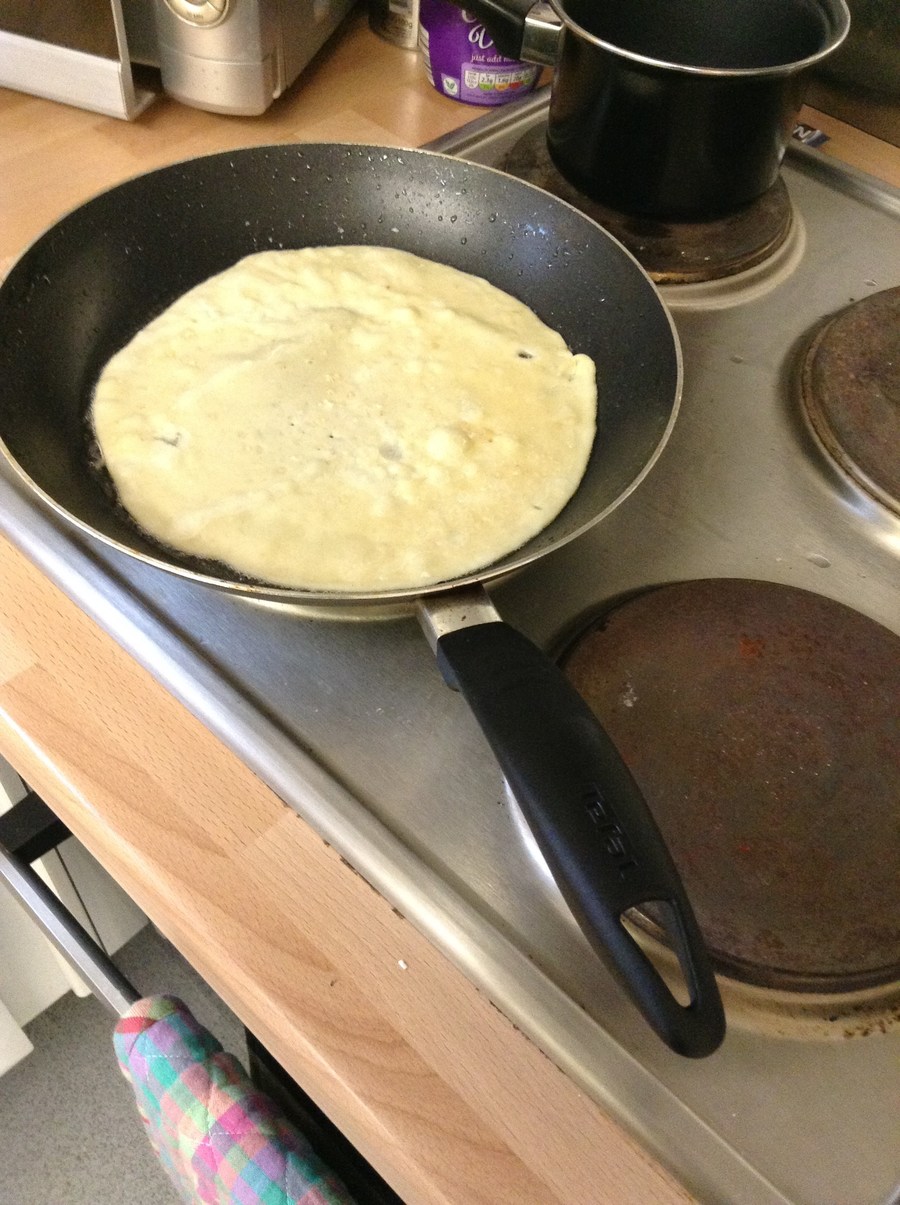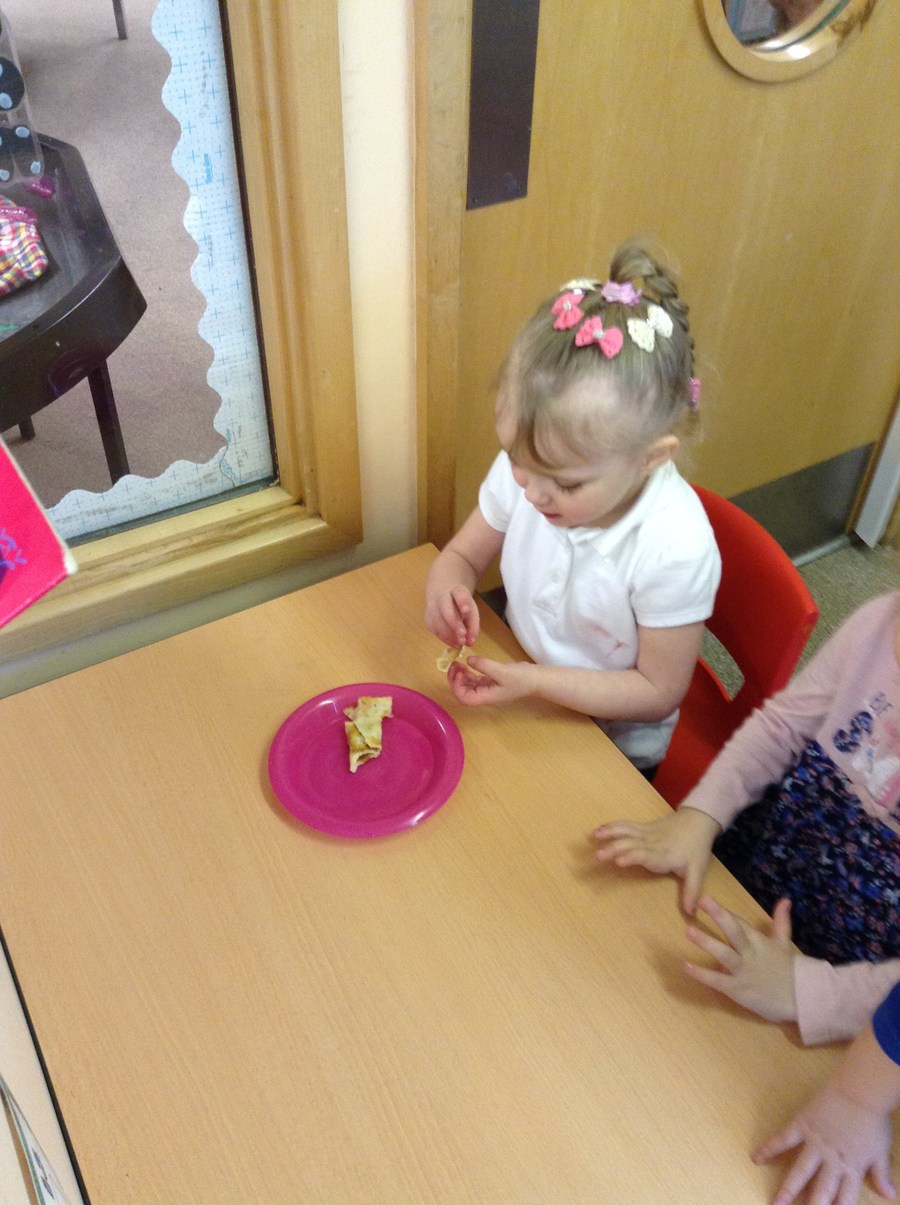 Hospital and Baby Clinic
Alongside role playing shops in the home corner lots of us have been pretending to play doctors and families. Lots of children have been pretending to have a baby or take their babies to the doctors for a check up. With a bit of help from the grown-ups we turned the home corner into a hospital and baby clinic where mums and dads could come to have a baby, have a check up or a stay in hospital if they were really poorly. We have loved looking after each other and learning what different jobs there are to do in hospital. We have learnt lots of new words like stethoscope, blood pressure, ultrasound and injection. Lots of us could talk about our own experiences of going to the doctors or visiting people we know in the hospital. We showed great care and concern, especially for the new born babies.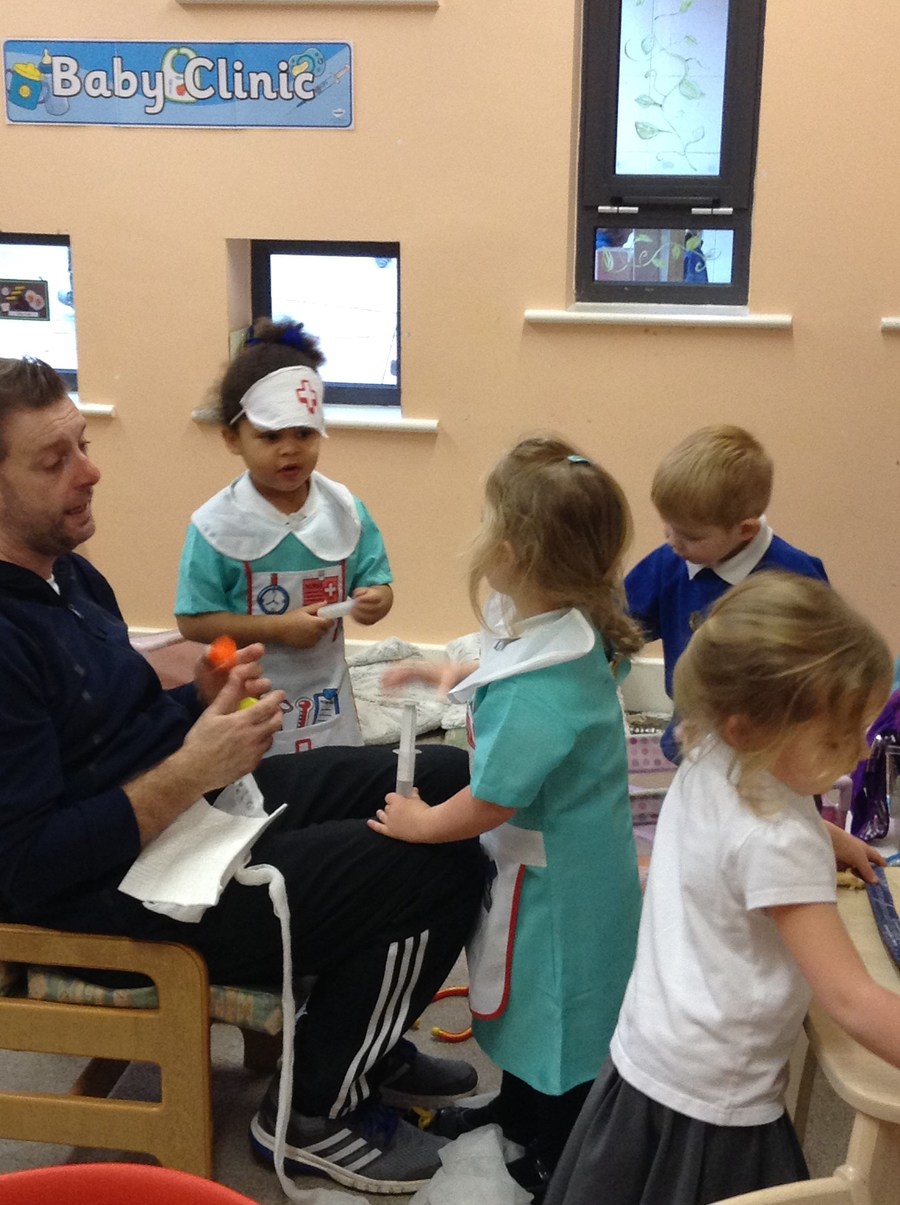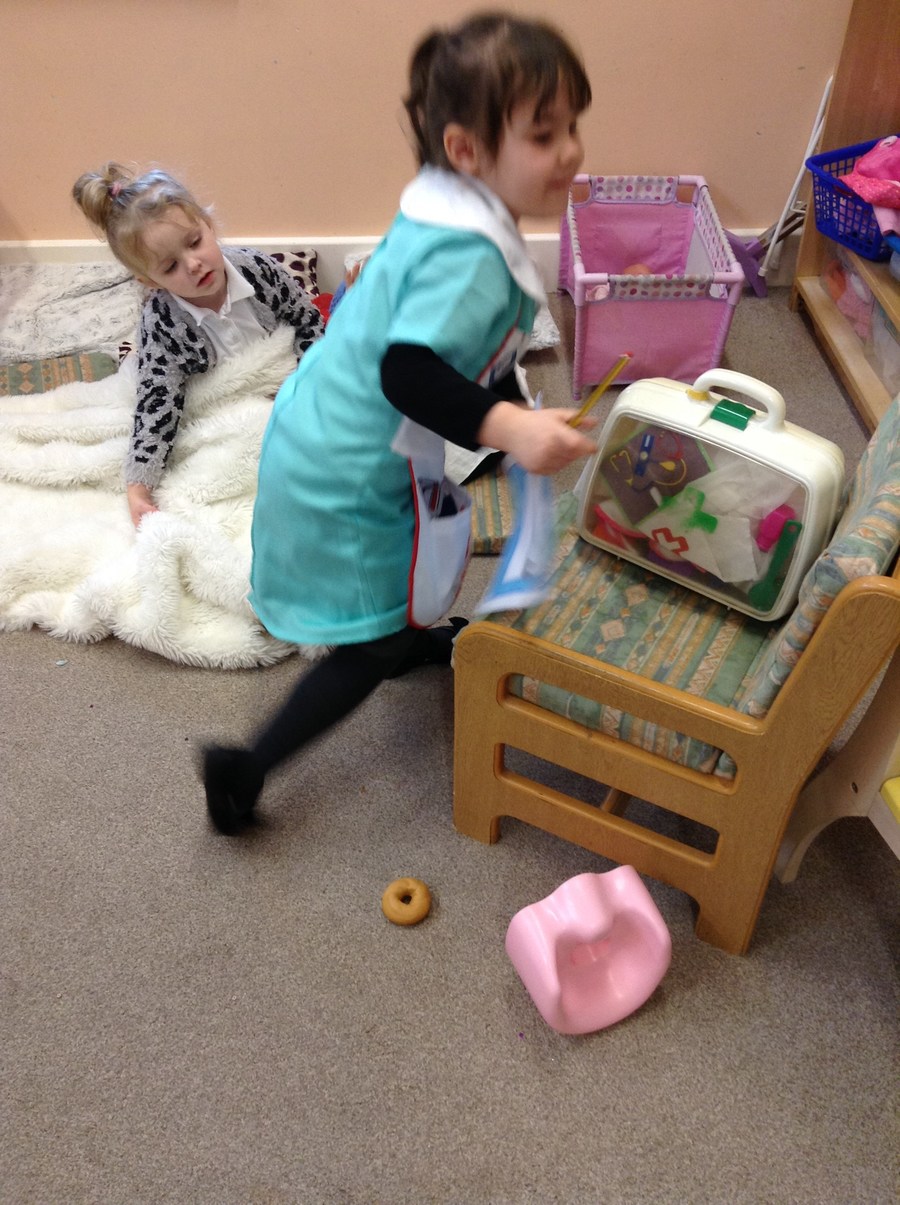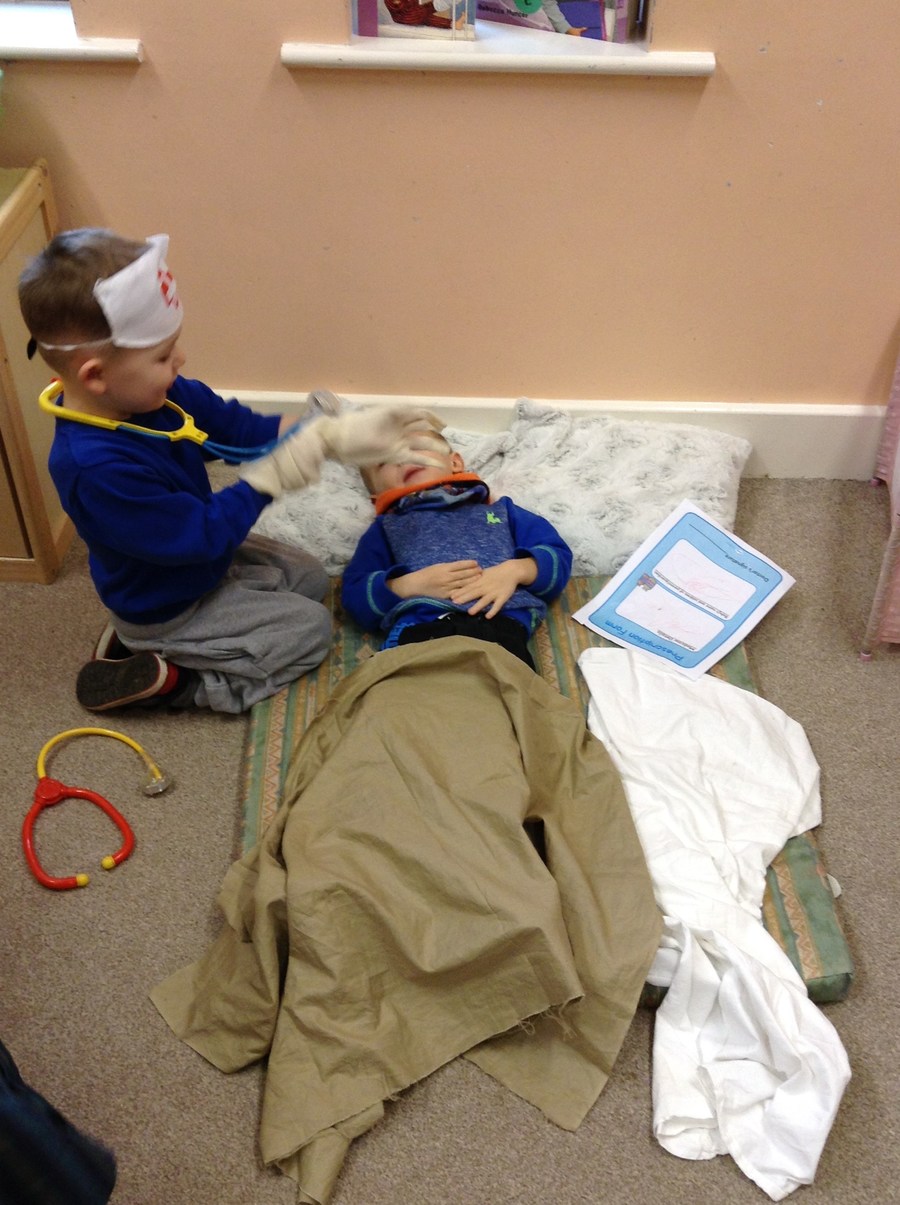 Construction
We have been investigating the range of building materials available in our new construction area. We have been looking at how we can join different materials together to build and balance and how to make enclosures and spaces. We have investigated big blocks, wooden blocks, coloured blocks, nuts, bolts, tubes and fabric. Lots of us have begun to use our creations as a setting for our small world play. Some of us have been making castles for knights and princesses whilst others have made bridges to play the story of The Three Billy Goats Gruff (one of our favourite stories!). Some of the buildings are hard to create on your own so we have had to ask friends to help us. It's always more fun when your friends play too.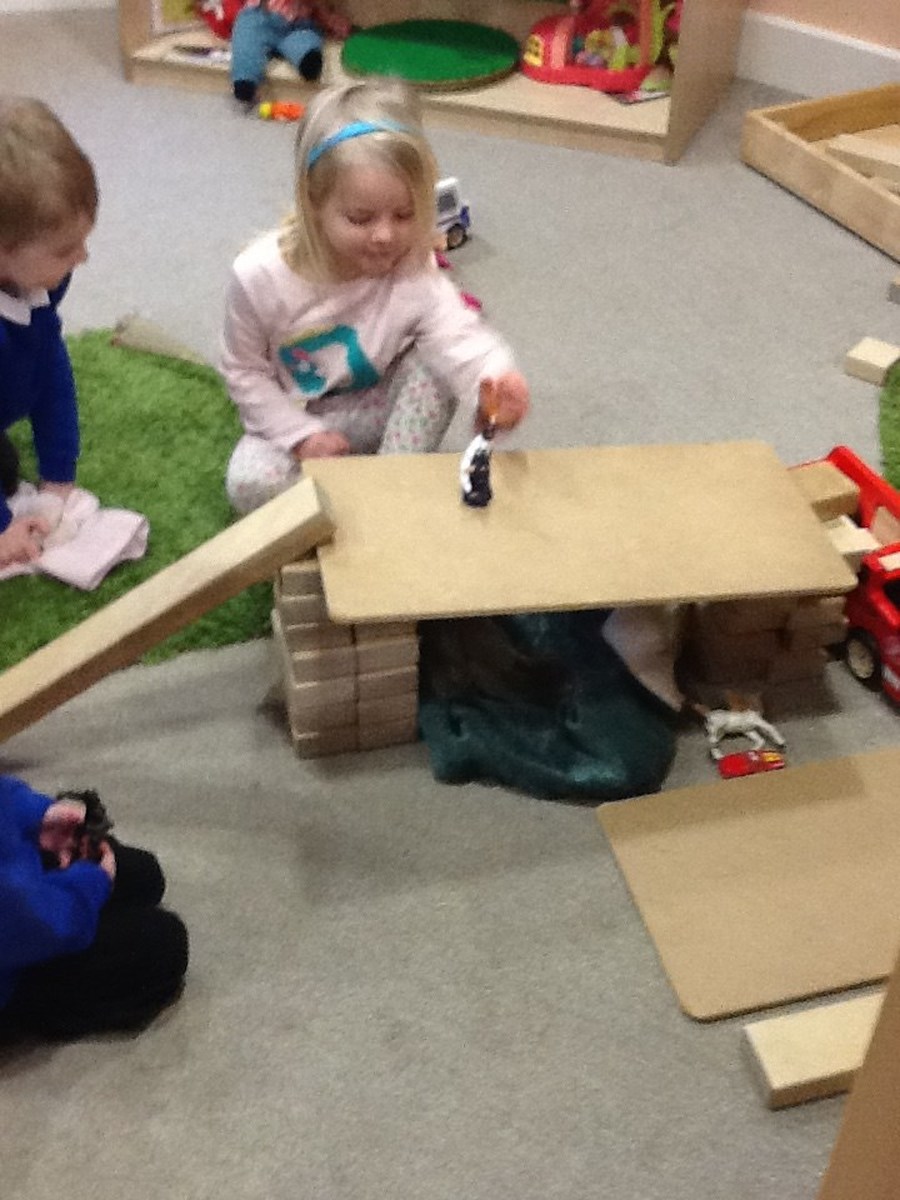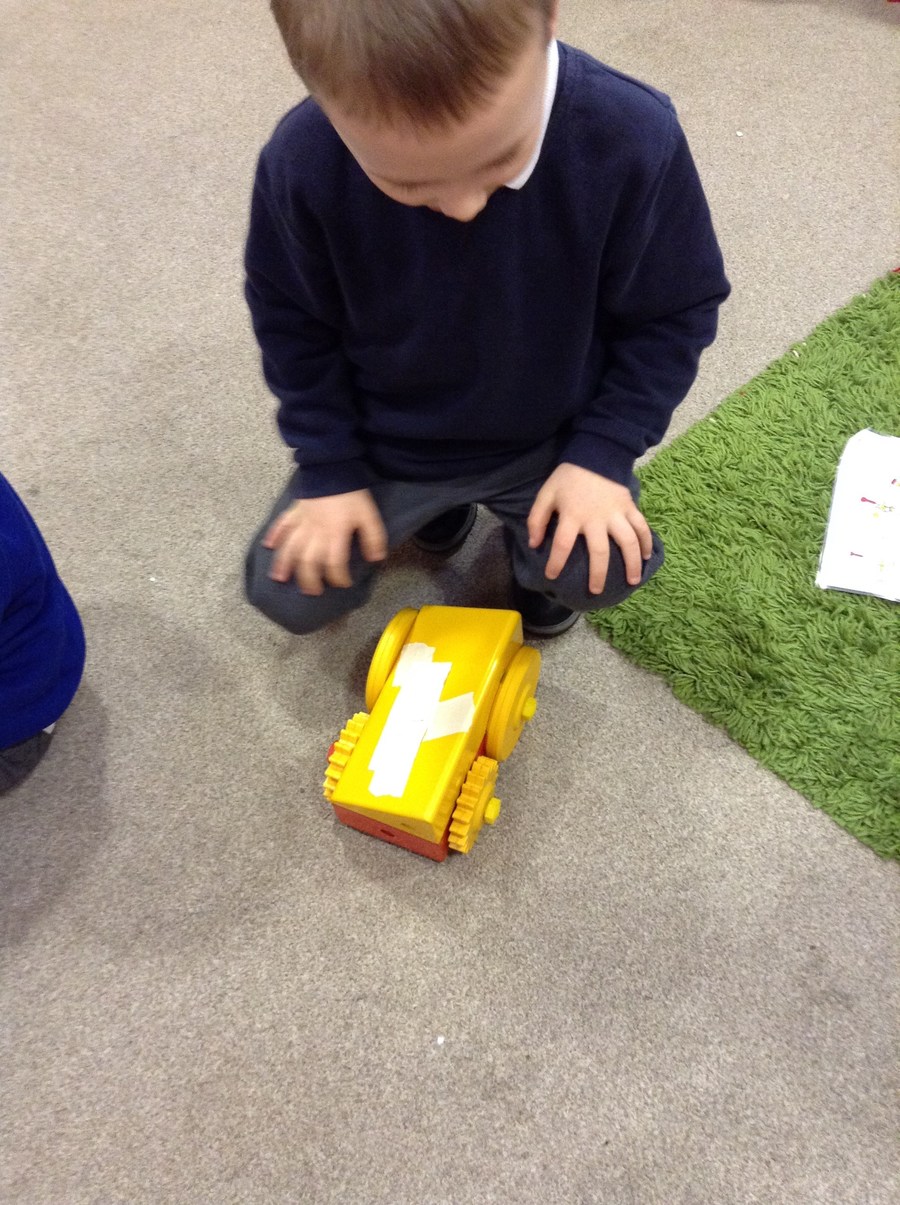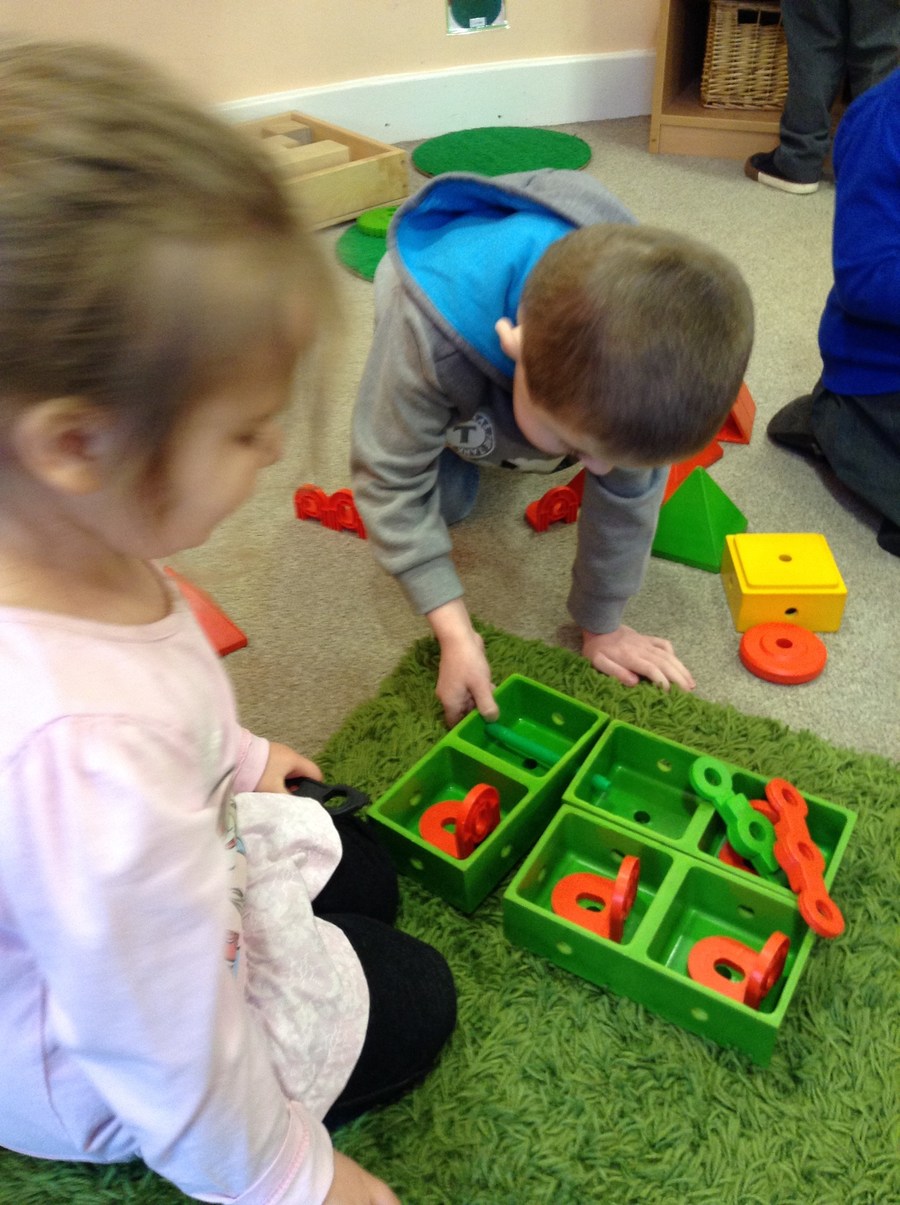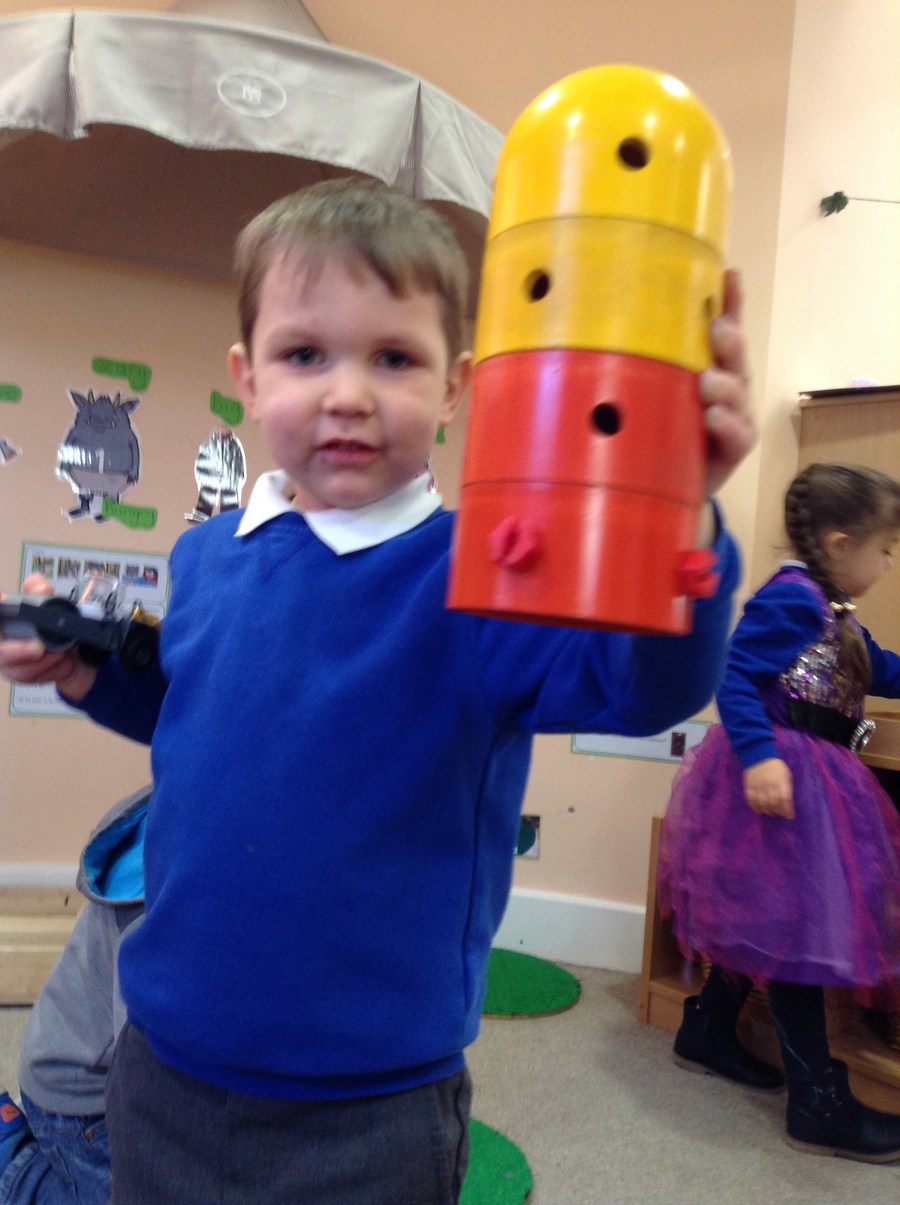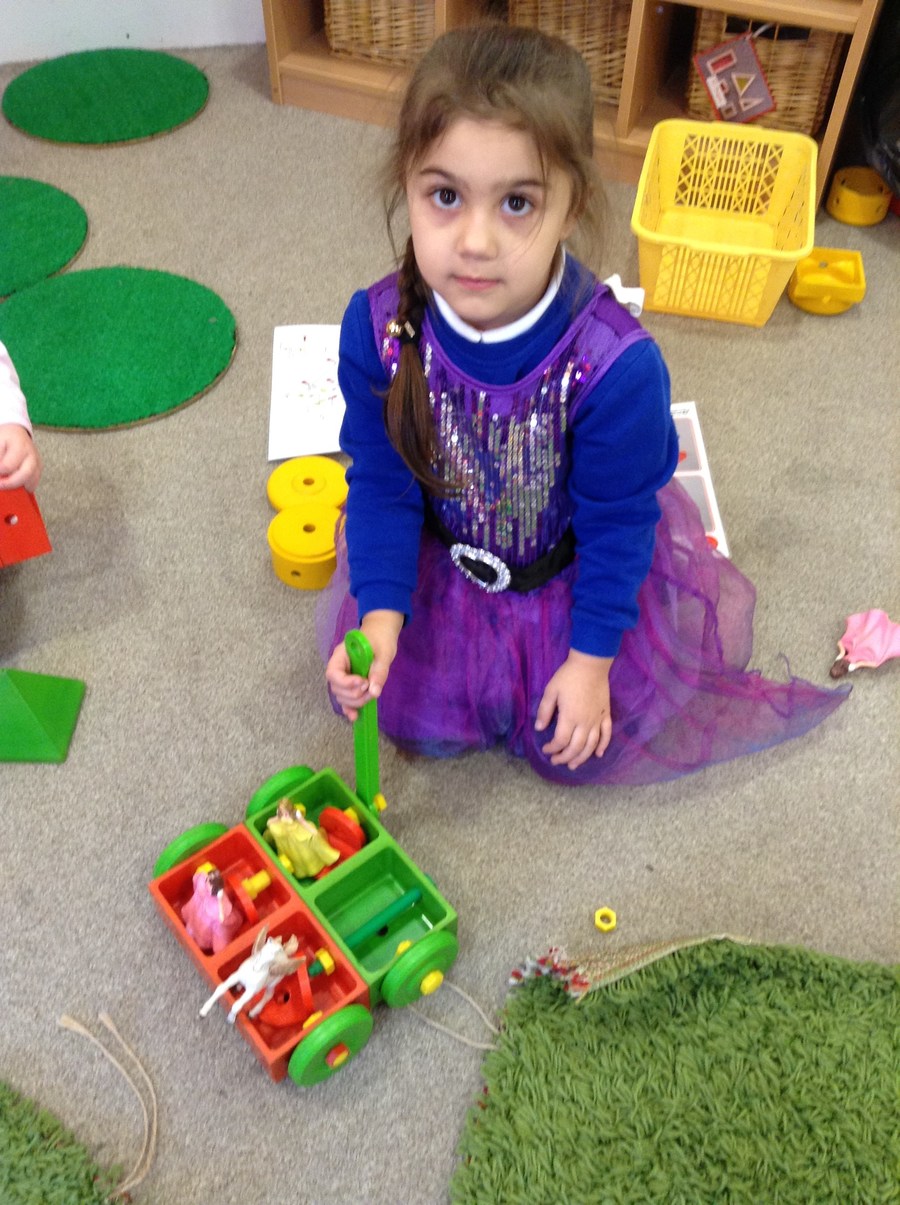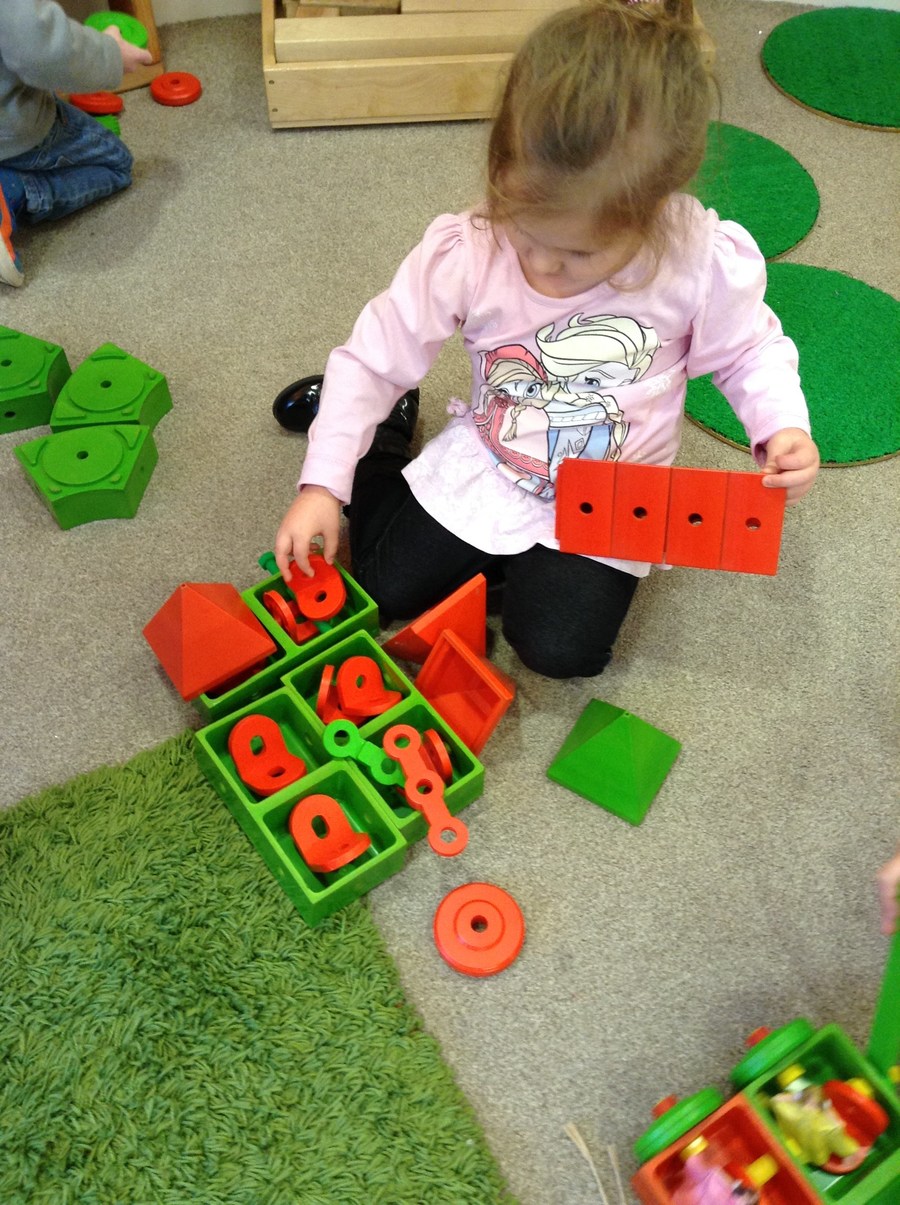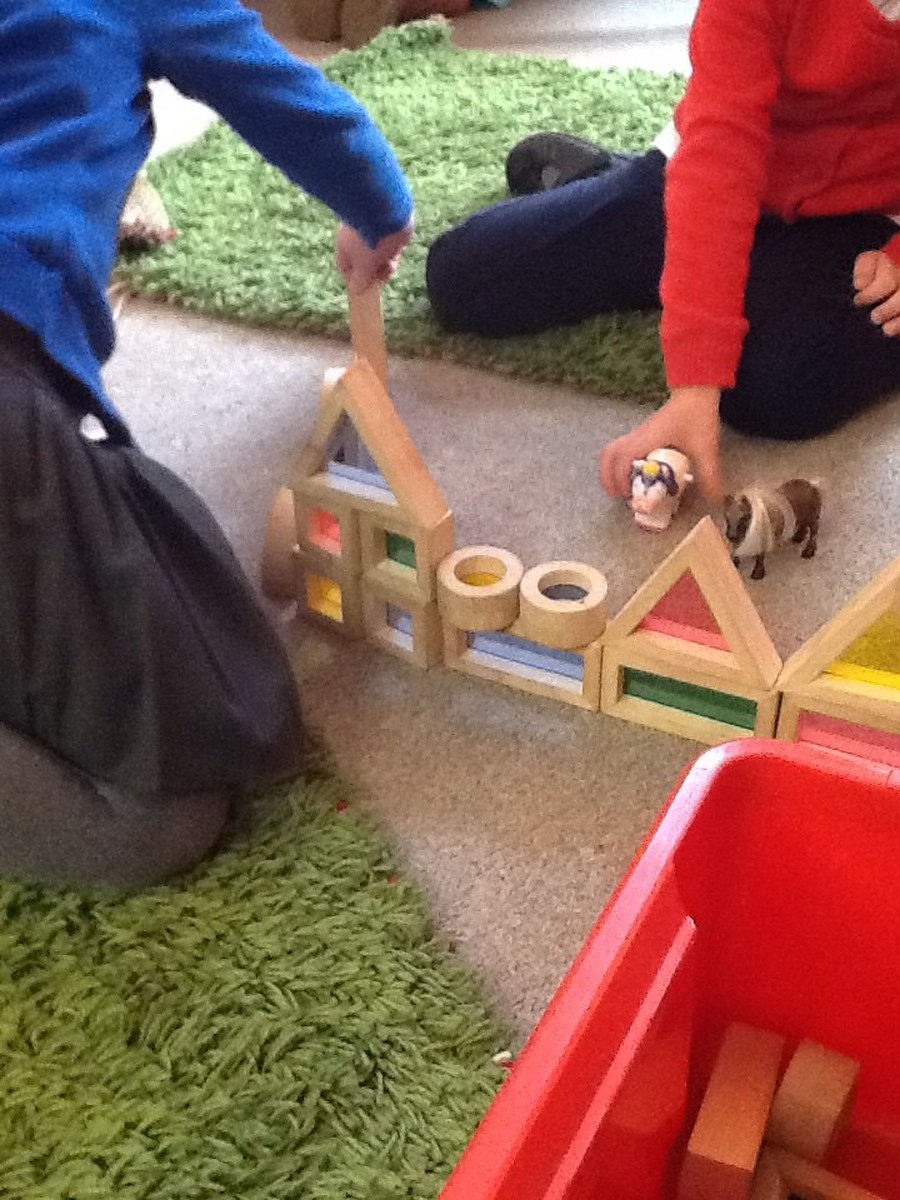 Maths Role Play
We began to role play shops in the home corner using a few baskets, food and till. We showed such an interest that the grown-ups in nursery helped us make a role play shop so we could extend our play further. We had great fun taking on different roles in our play. Some of us have been pretending to be the shop keepers and some of us have been the customers. We were able to use lots of language we have heard when we visit real shops like 'Thank you, next please' or 'put your pin number in' if we are paying for our shopping by card. We always remembered to be very polite and say 'Thank you, have a nice day!' to our customers. Lots of us began writing shopping lists. With a little help we recorded how many of each item we wanted either by writing marks, numerals or pictures. This helped us get exactly what we needed from the shop - just like mummy and daddy do!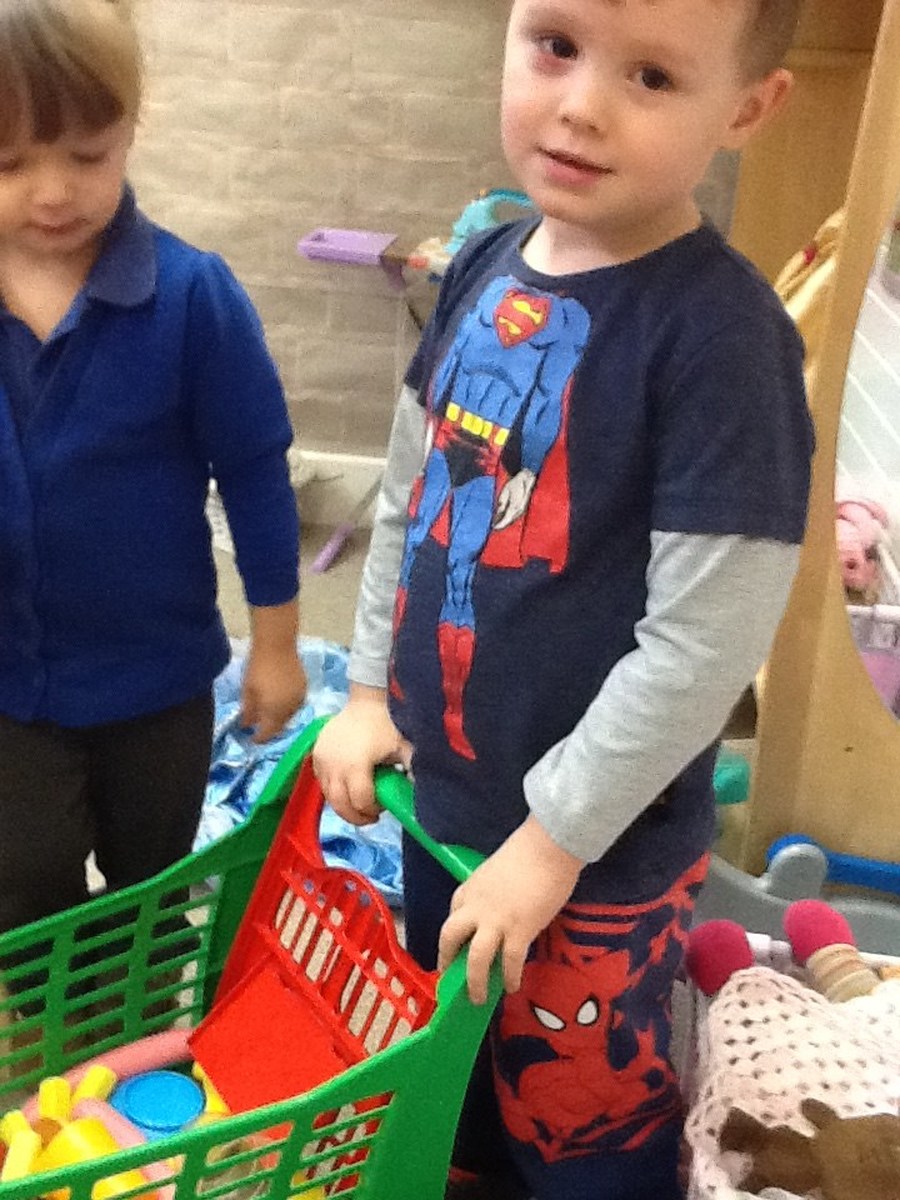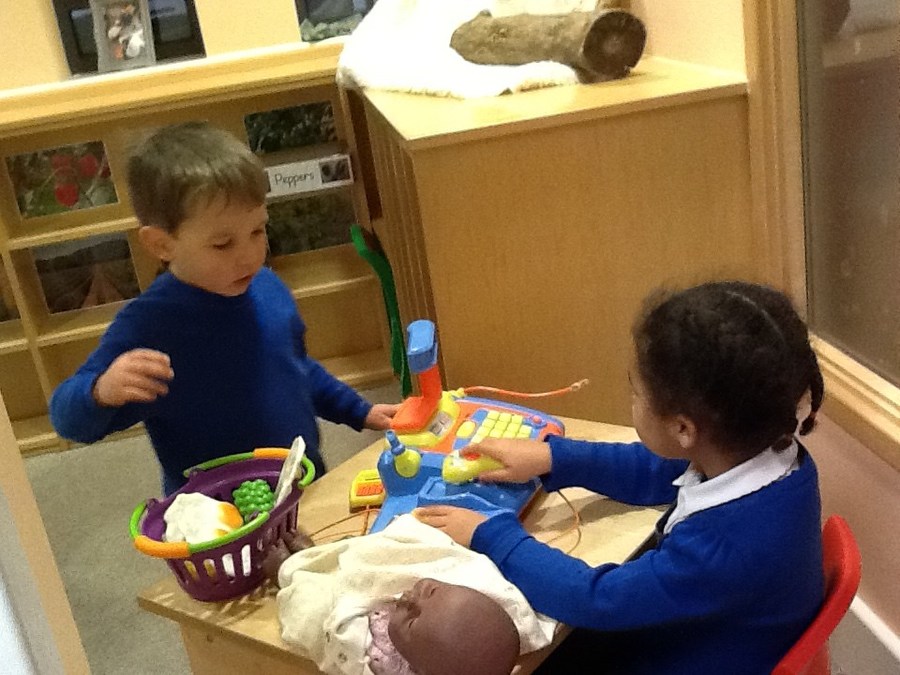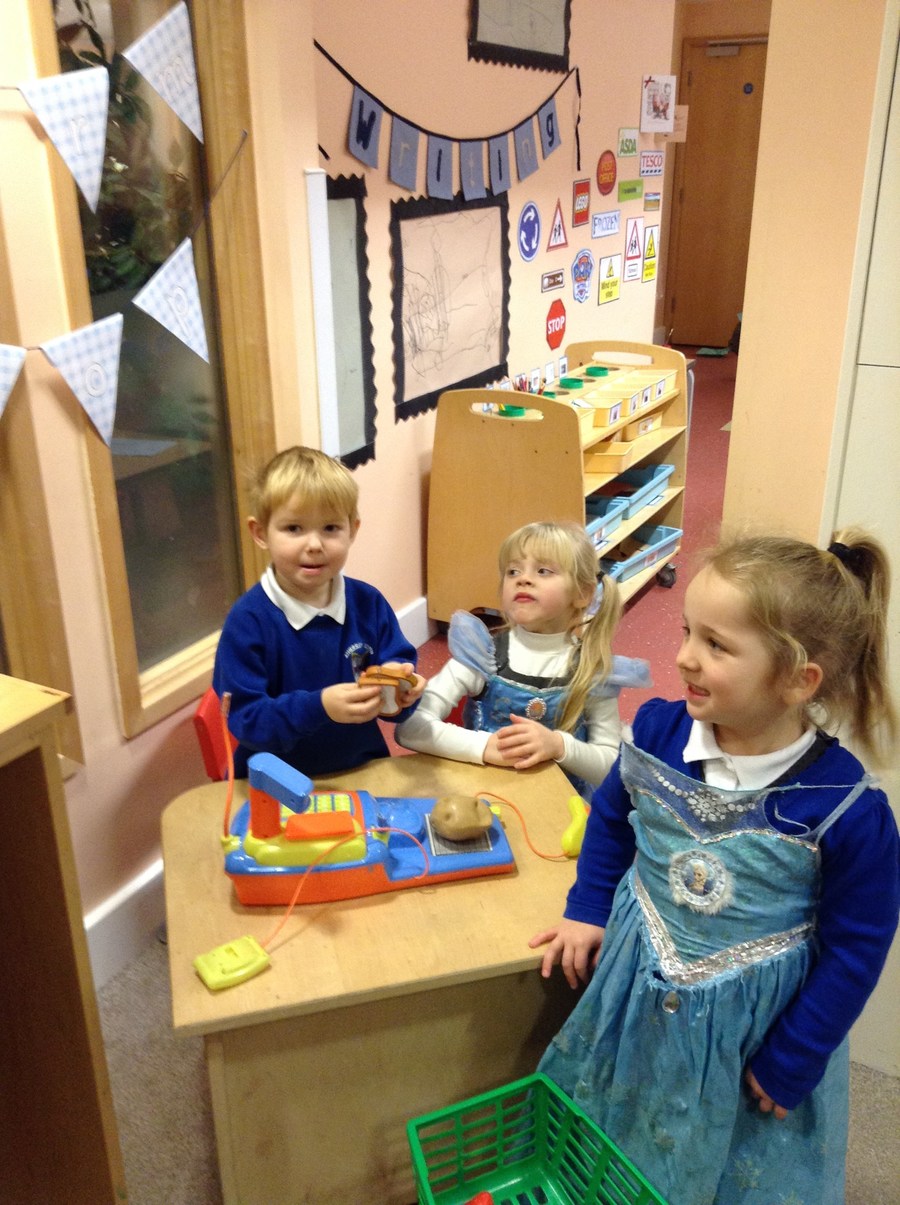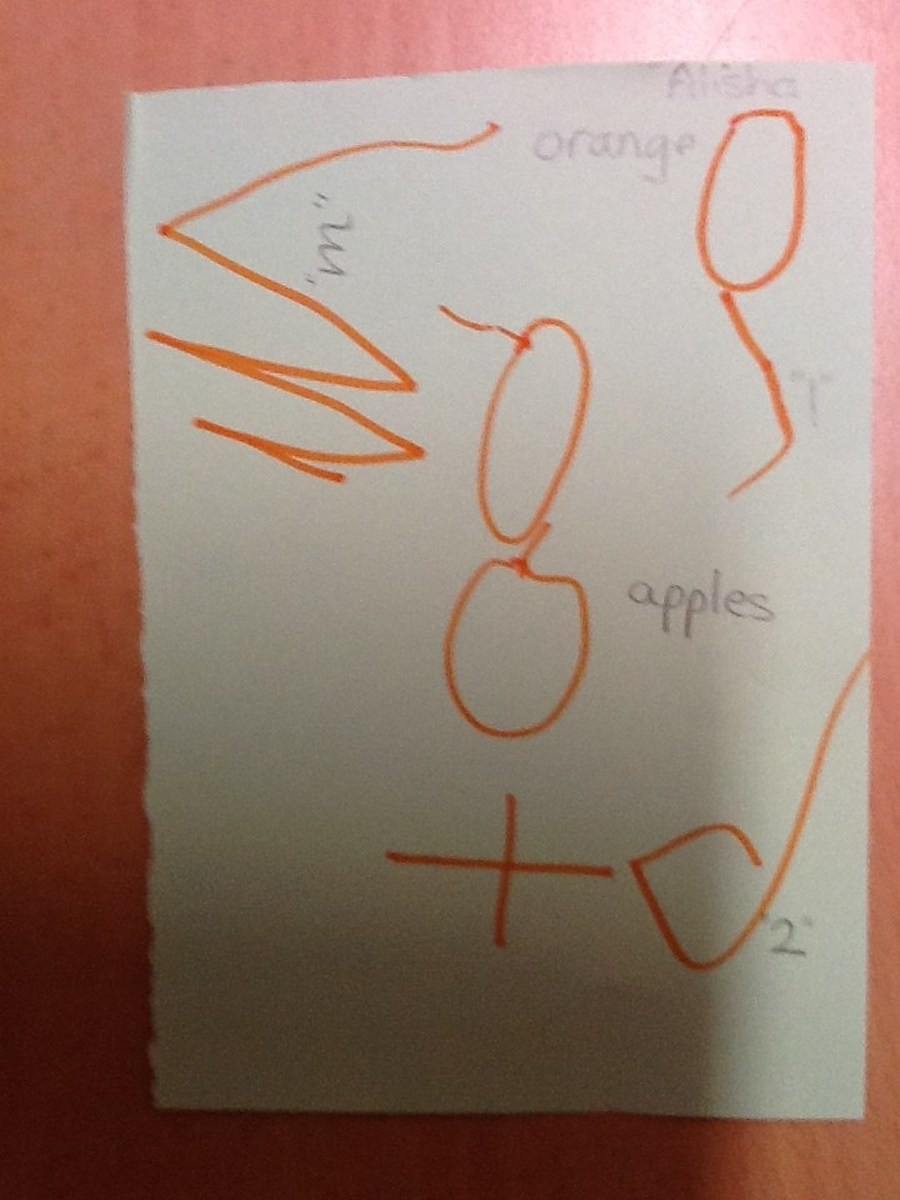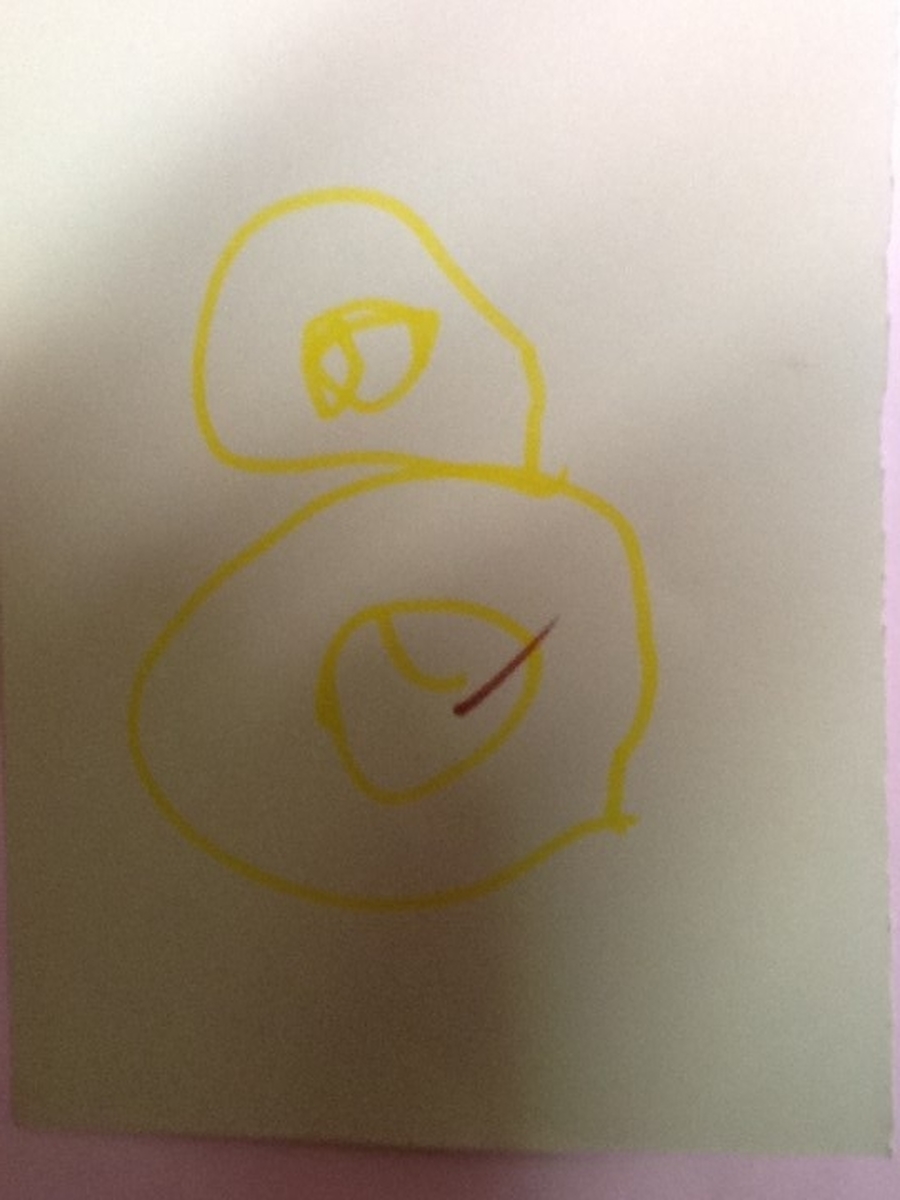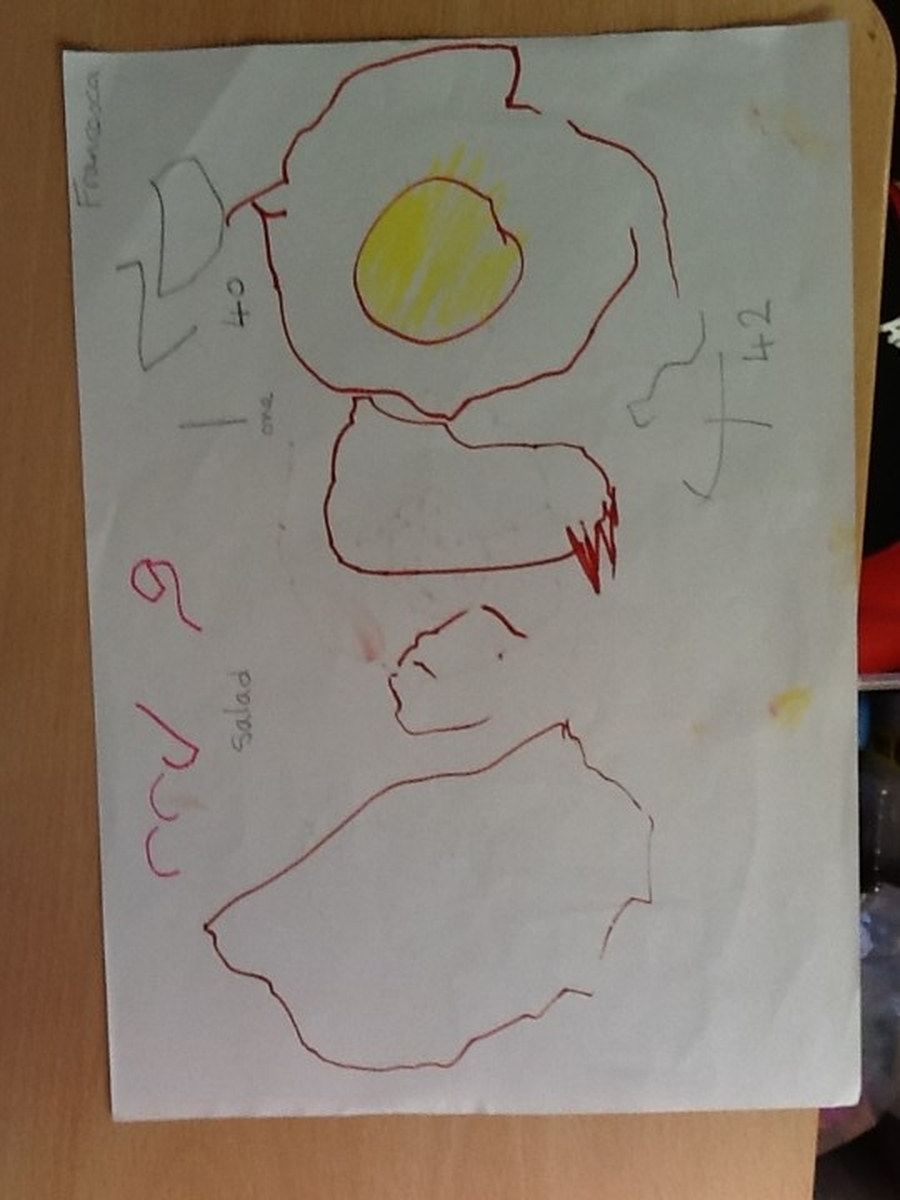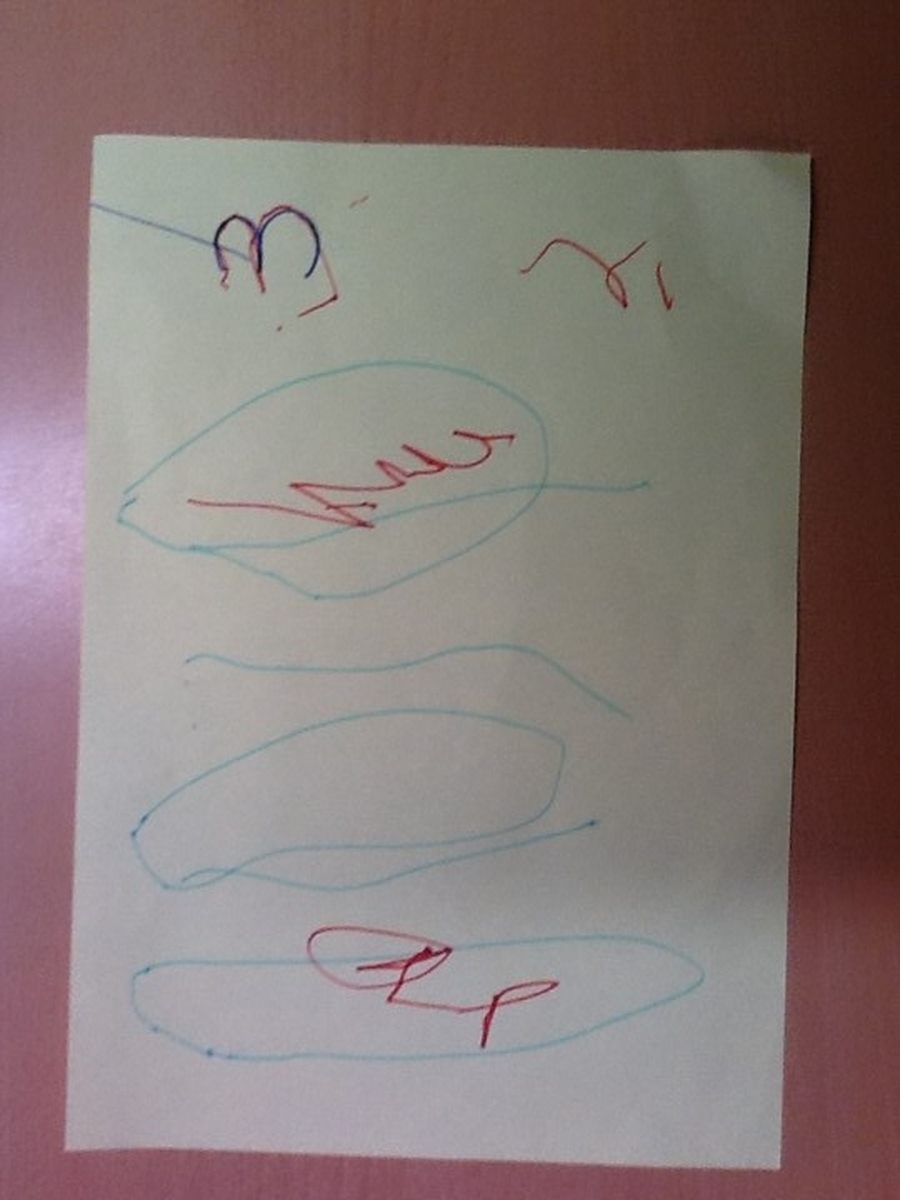 Colour Mixing
Recently we have been developing our creative skills. We have been investigating what happens when you mix different colours together. We independently added paint to our pallets using the paint dispensers and mixed them together to see what new colours we could make. To our surprise we noticed that we could make orange, green, purple and brown depending on which colours we chose. Some of us even experimented with making different shades of the same colour by adding white and black. Some of us are beginning to remember which primary colours make which secondary colours when they are mixed together. We are starting to use this knowledge to help us with our painting.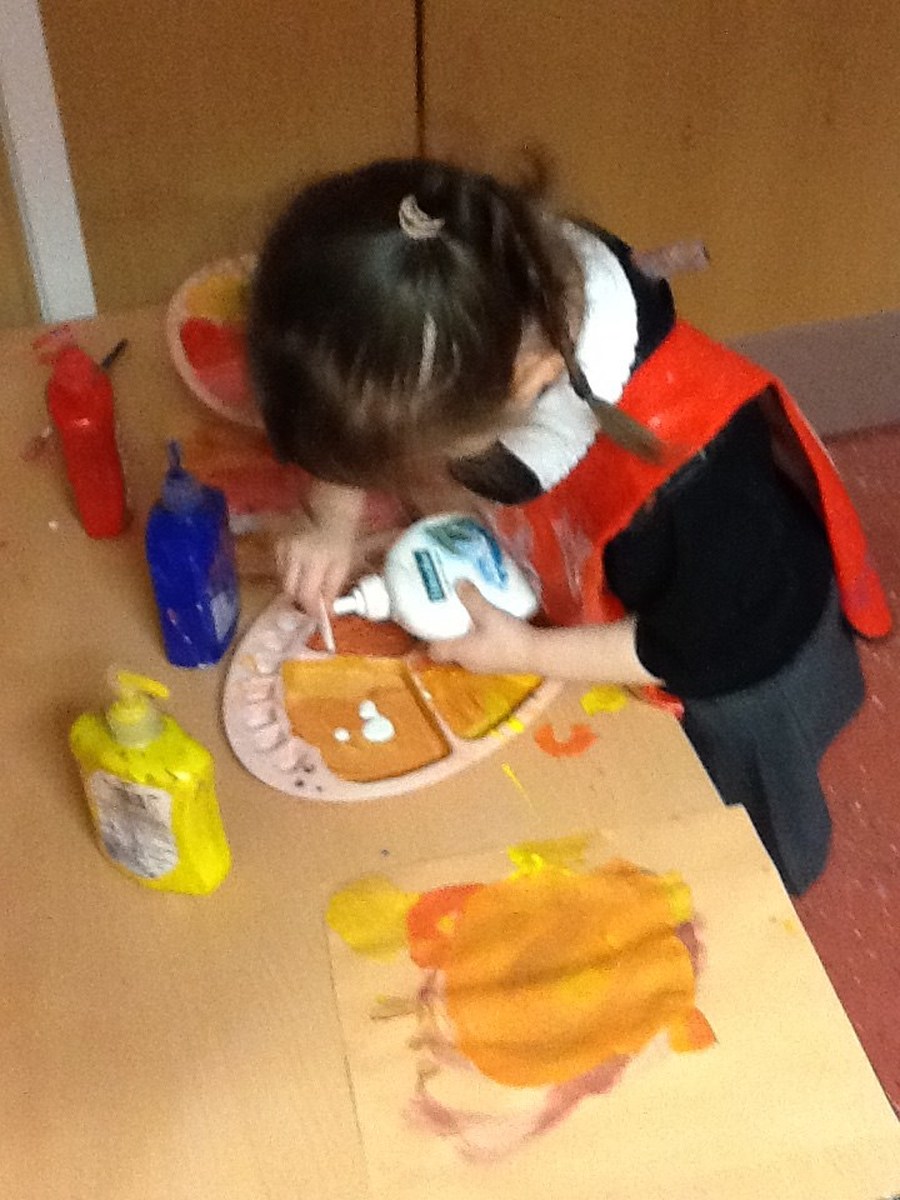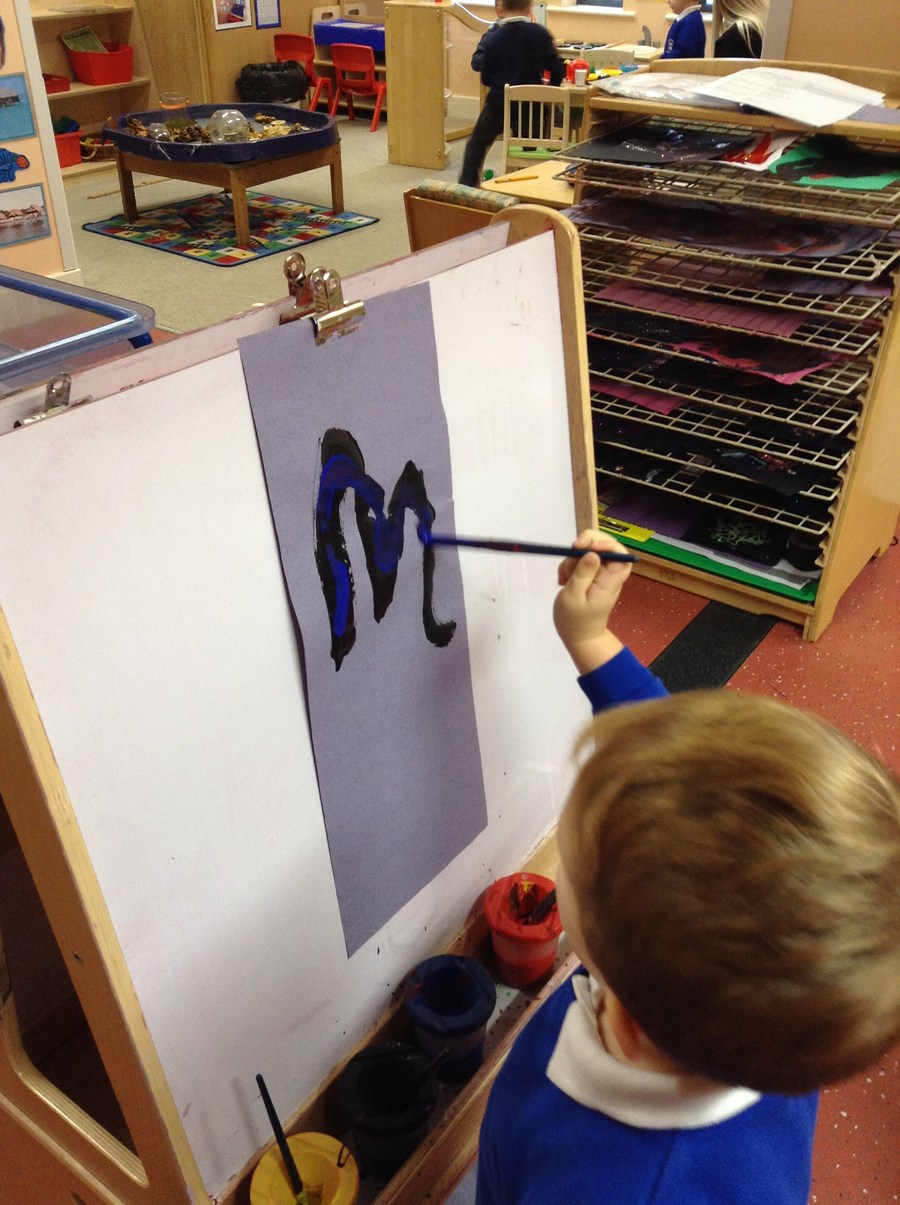 Fairy Tales
Lots of parents have been letting us know that their children have been coming home retelling the stories we have been learning in nursery. Here is a list of the traditional tales we have covered so far…
The Gingerbread Man

The Three Little Pigs

The Three Billy Goats Gruff

Little Red Riding Hood

Jack and the Beanstalk

Goldilocks and the Three Bears

The Little Red Hen

The Enormous Turnip
Try asking your child the following questions to help develop their understanding of story
Who were the characters?

What were the characters like? E.g. bad, good, lazy, sleepy, nasty

Where was it set?

What happened at the beginning?

What happened at the end?

What was your favourite bit? Why?

Which is your favourite story? Why?
Children in Need
On Friday it was Children in Need day. Lots of us dressed up in our pyjamas to raise money. As it was Friday, we baked special Pudsey shaped biscuits in our kitchen. Thank you to everyone who donated money. As a school we raised over £600 which will help make a difference to so many good causes.
Parent Learning Event
This week lots of mummies, daddies and grandmas came to nursery to find out about how we learn maths. Mrs Lees talked to them about all the exciting ways we learn maths including through directed group times and in play. Lots of children worked with their mummies and daddies to explore shape. We made shape monsters, shape pictures and shape buildings. Thank you to everyone who came to the event. We hope it was useful in letting you know how your child learns early mathematical skills. Keep an eye out for letters informing you of future events.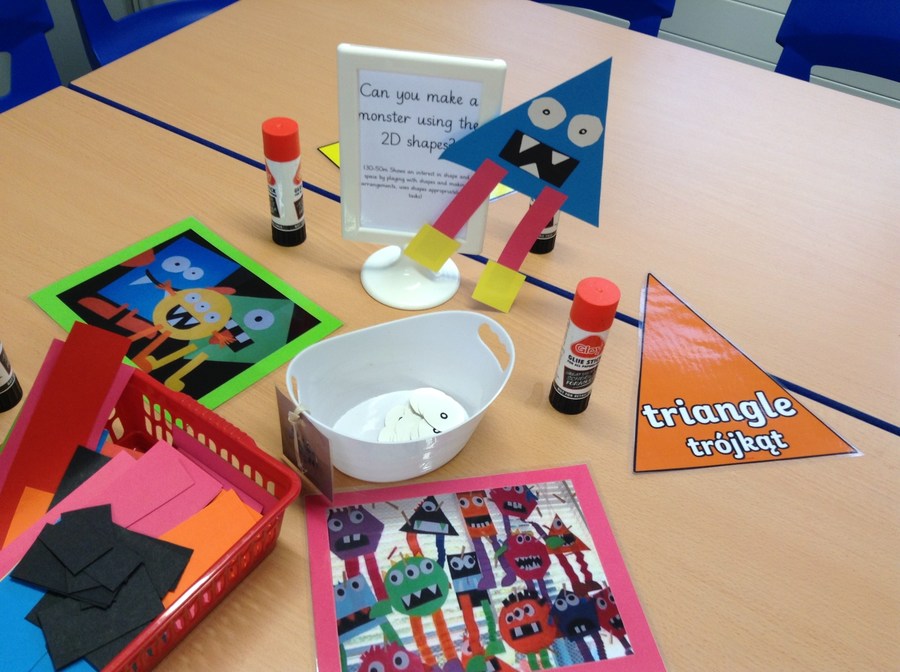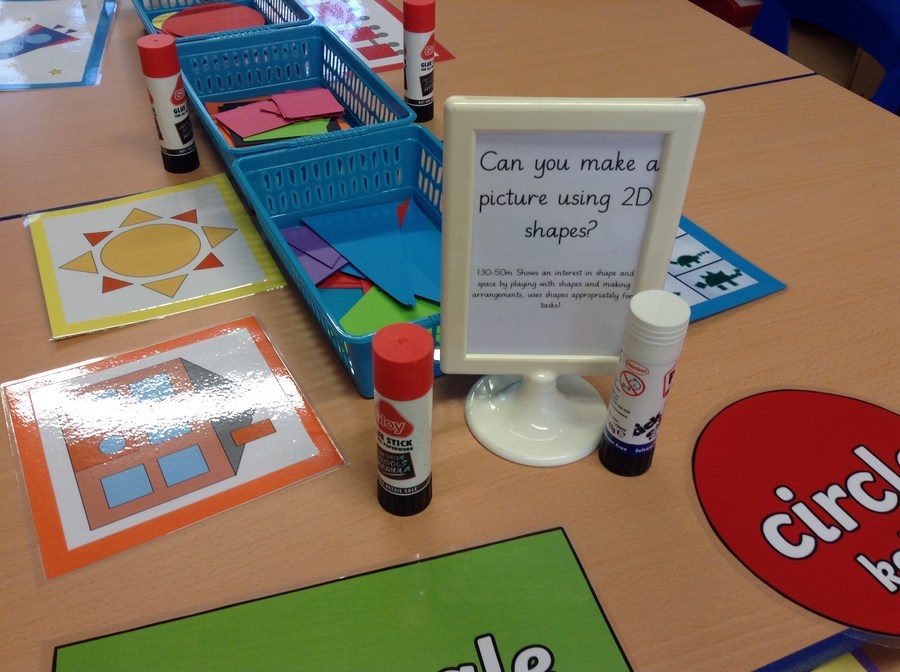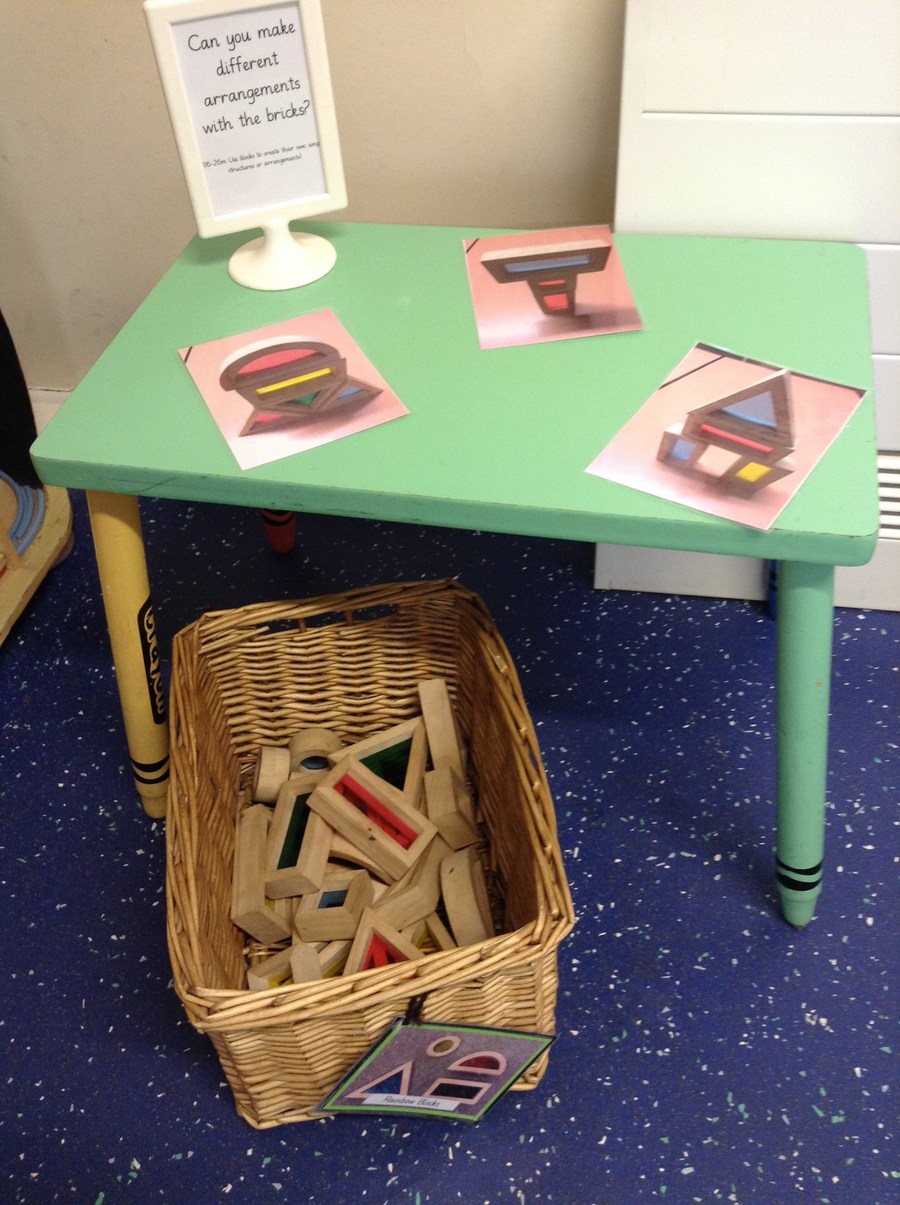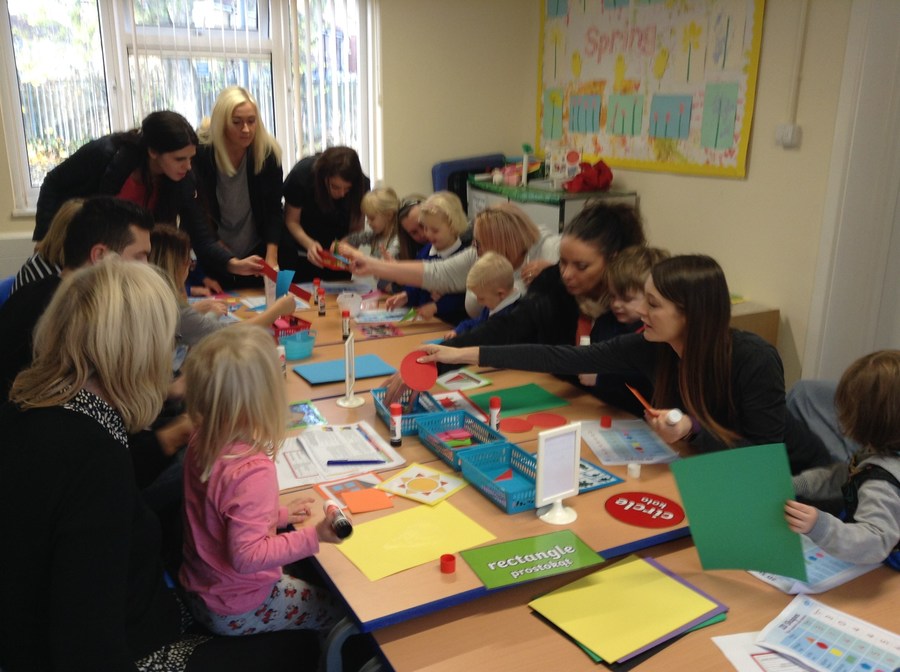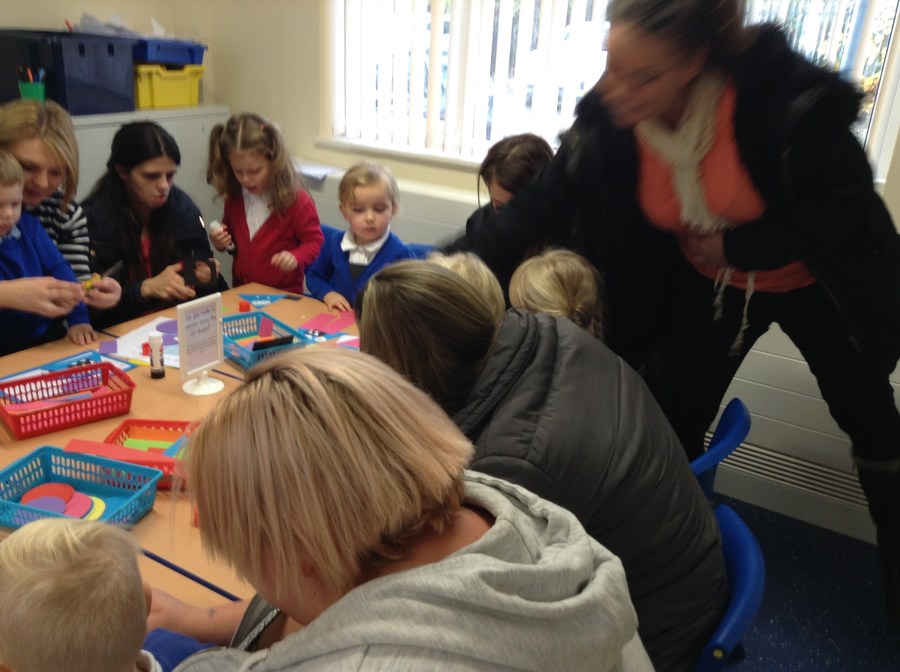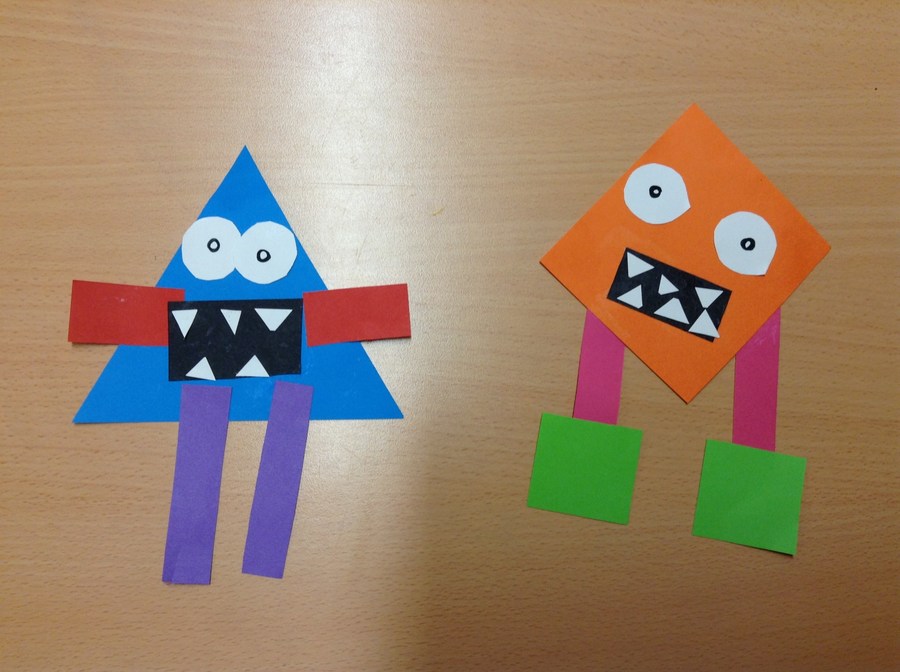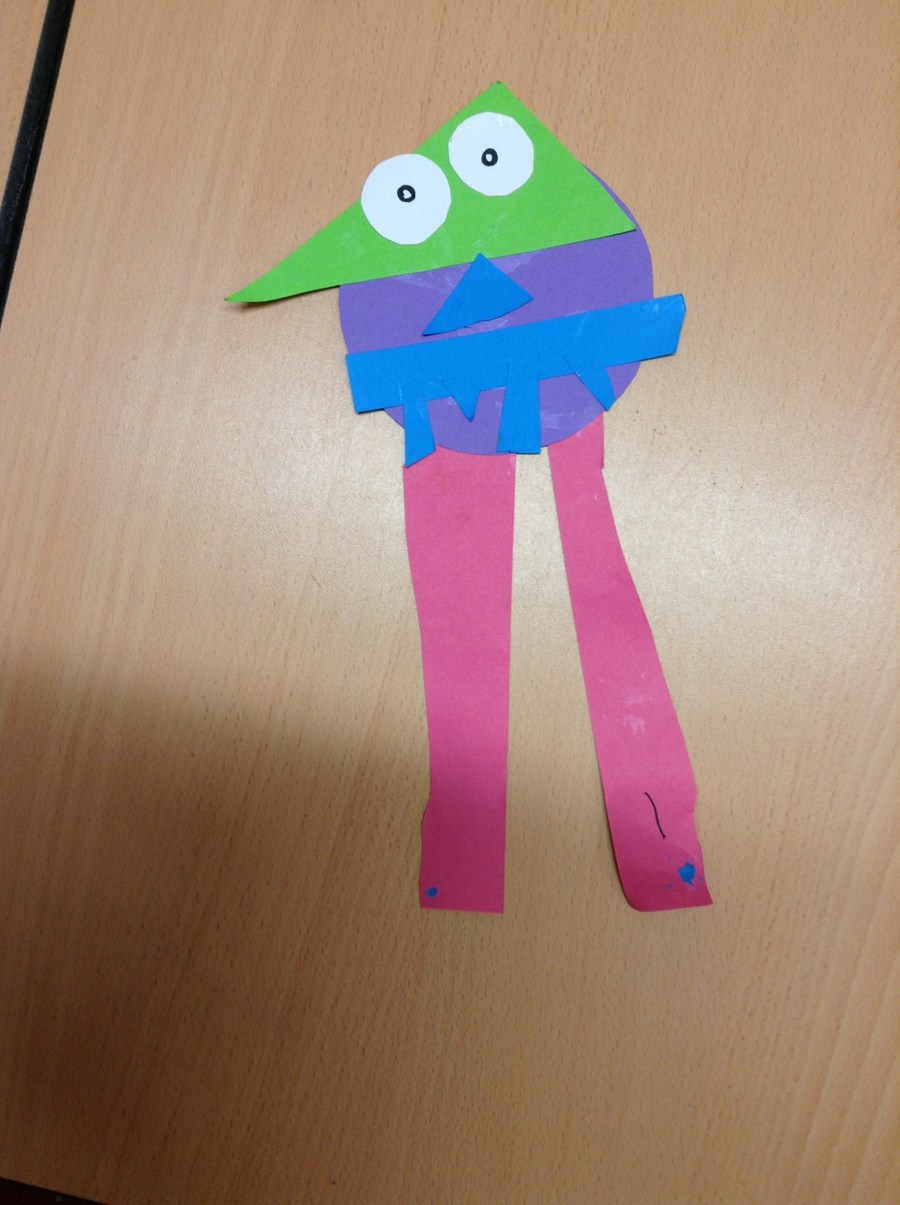 Physical Development
Moving around and developing your physical skills is very important when you are 3 or 4. Once a week Mr Gornor comes to nursery to teach us some very special skills. He takes some of us to the hall so we can practise skills like jumping and balancing using lots of special equipment in the hall. We all love it when it's a Mr Gornor day! We have all been practising since September and have got much better and much braver. We can now use tables, balance beans and mats. Take a look at our photos to see how amazing we are.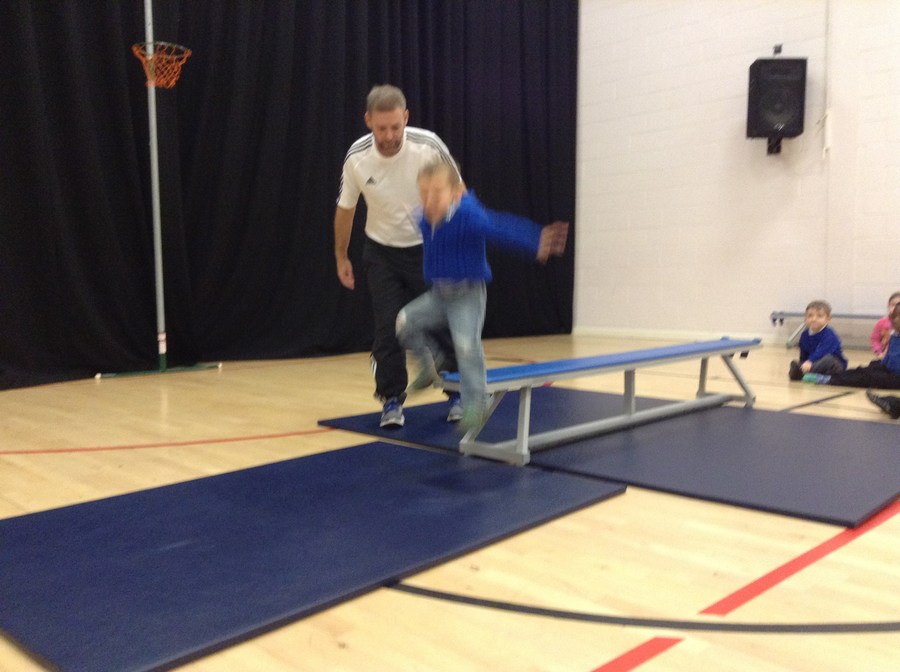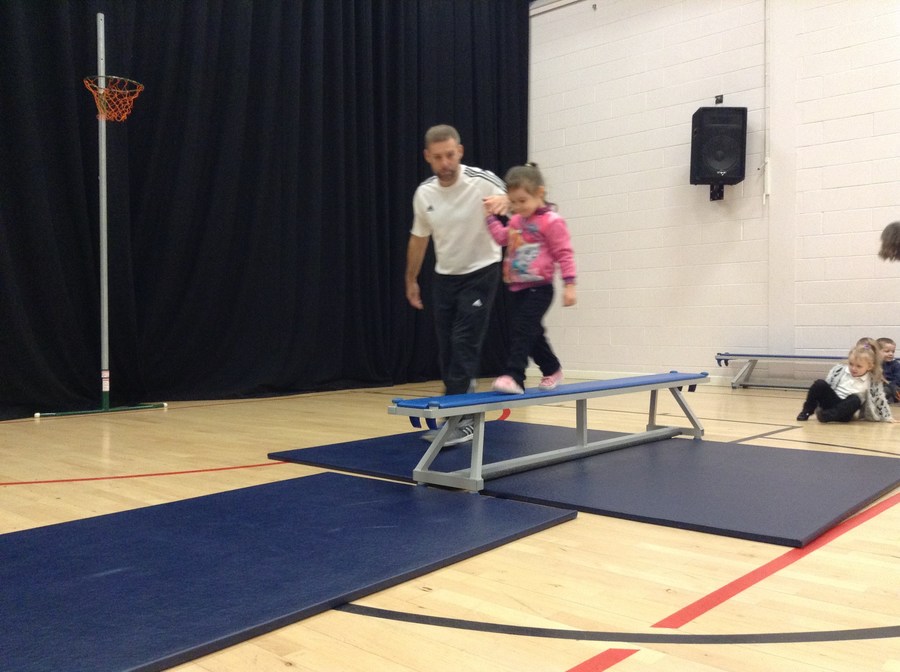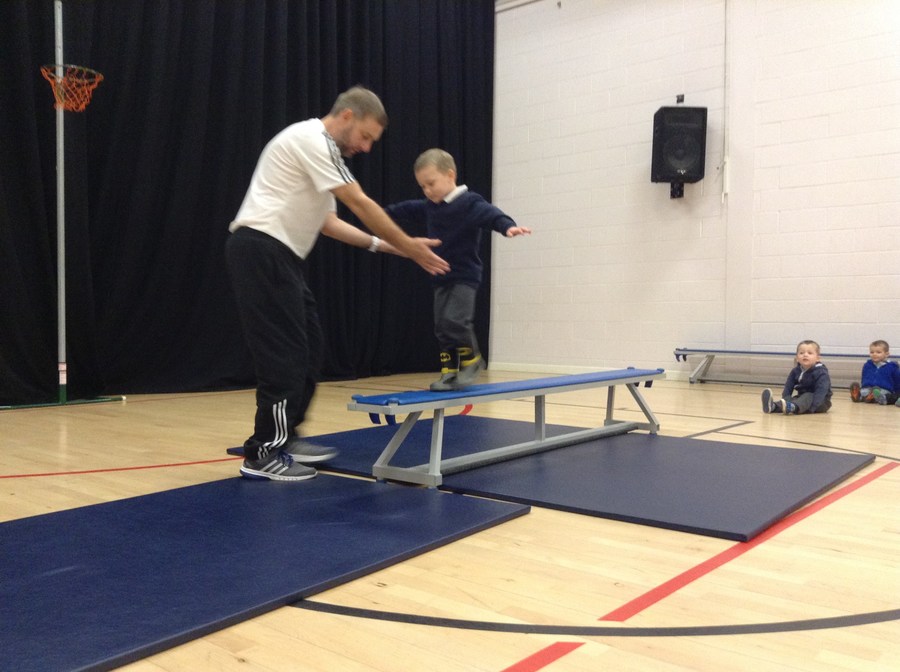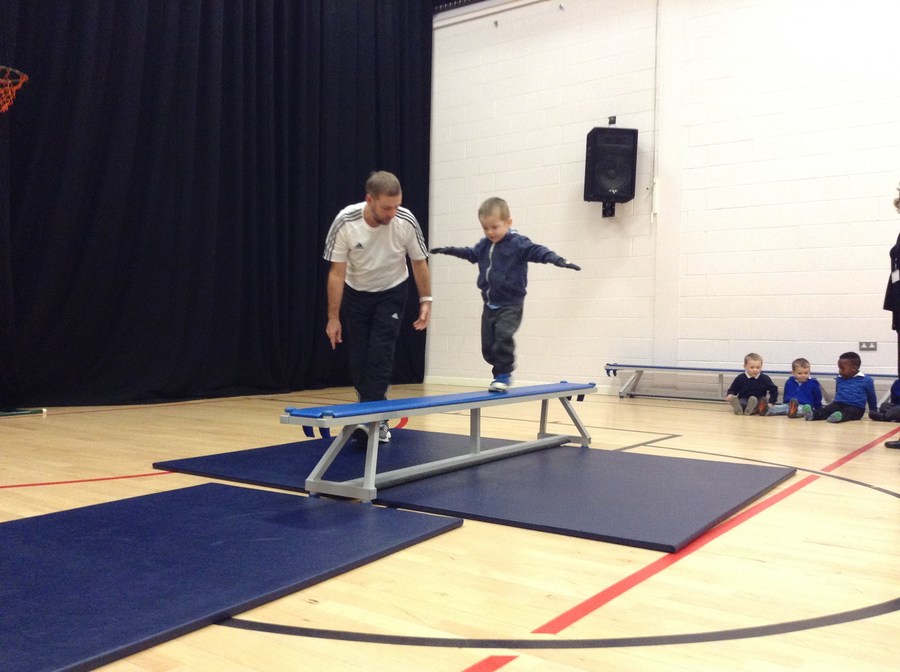 Experiencing Snow
We were all very excited when it started to snow on our way to nursery. Lots of us couldn't wait to get outside, even if it was cold! We wrapped up nice and warm in our hats, scarves, gloves, coats and wetsuits and went to experience what snow was like. Some of us made snow angels and snowballs. Some of us even tried to make a snowman!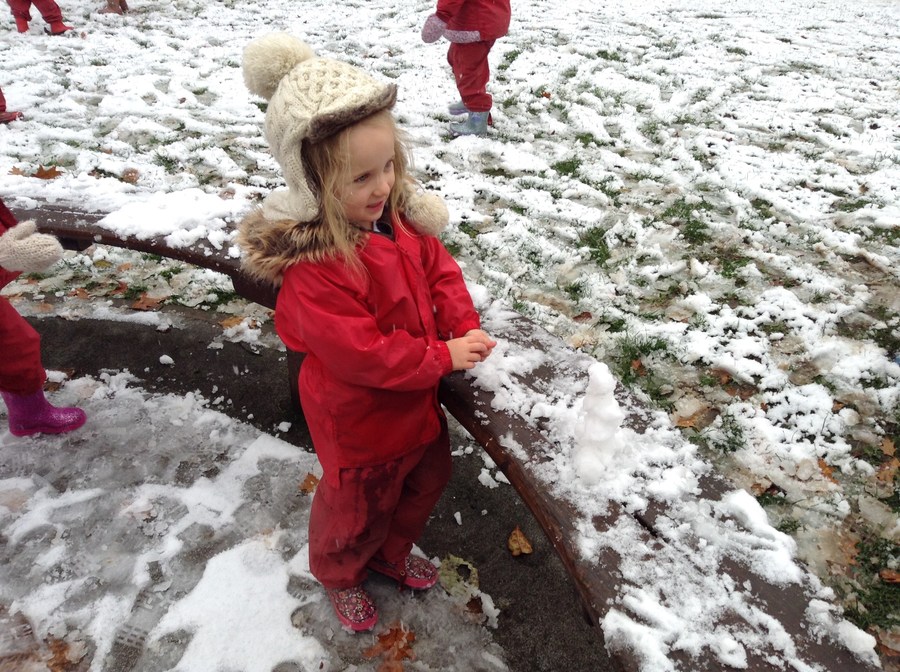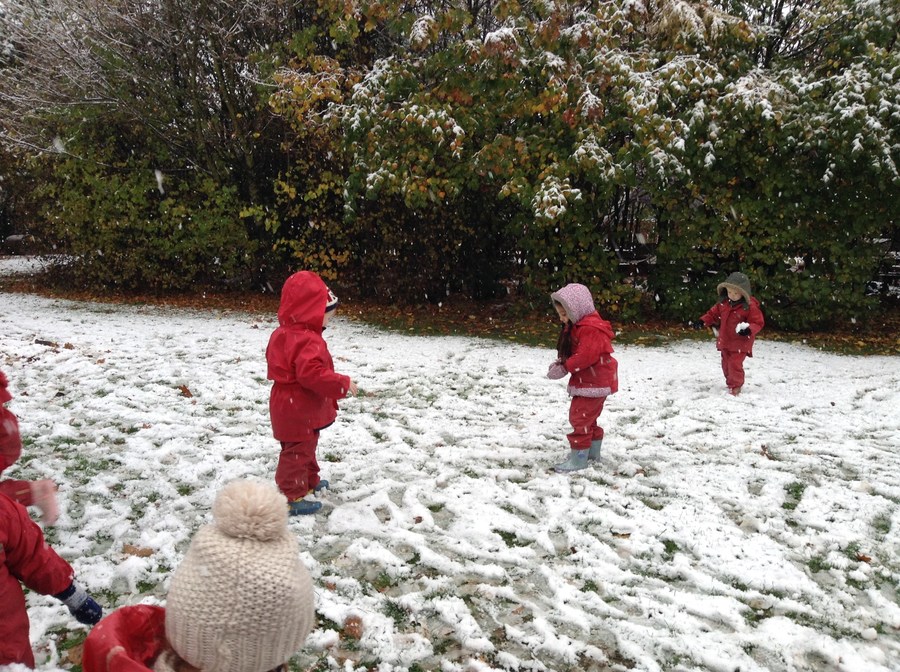 Bonfire Celebrations
This week we have been learning about how to stay safe, especially on Bonfire night. We learnt that only grown-ups can light fireworks and that we should all stand well back when they have been lit. We learnt that it is a grown-ups job to light the fire. We have to stand back so we don't get hurt. After learning how to stay safe we had our own bonfire in the EYFS garden so we could put the rules we had learnt into action. We all had a great time drinking hot chocolate and watching the bonfire. We all kept ourselves safe.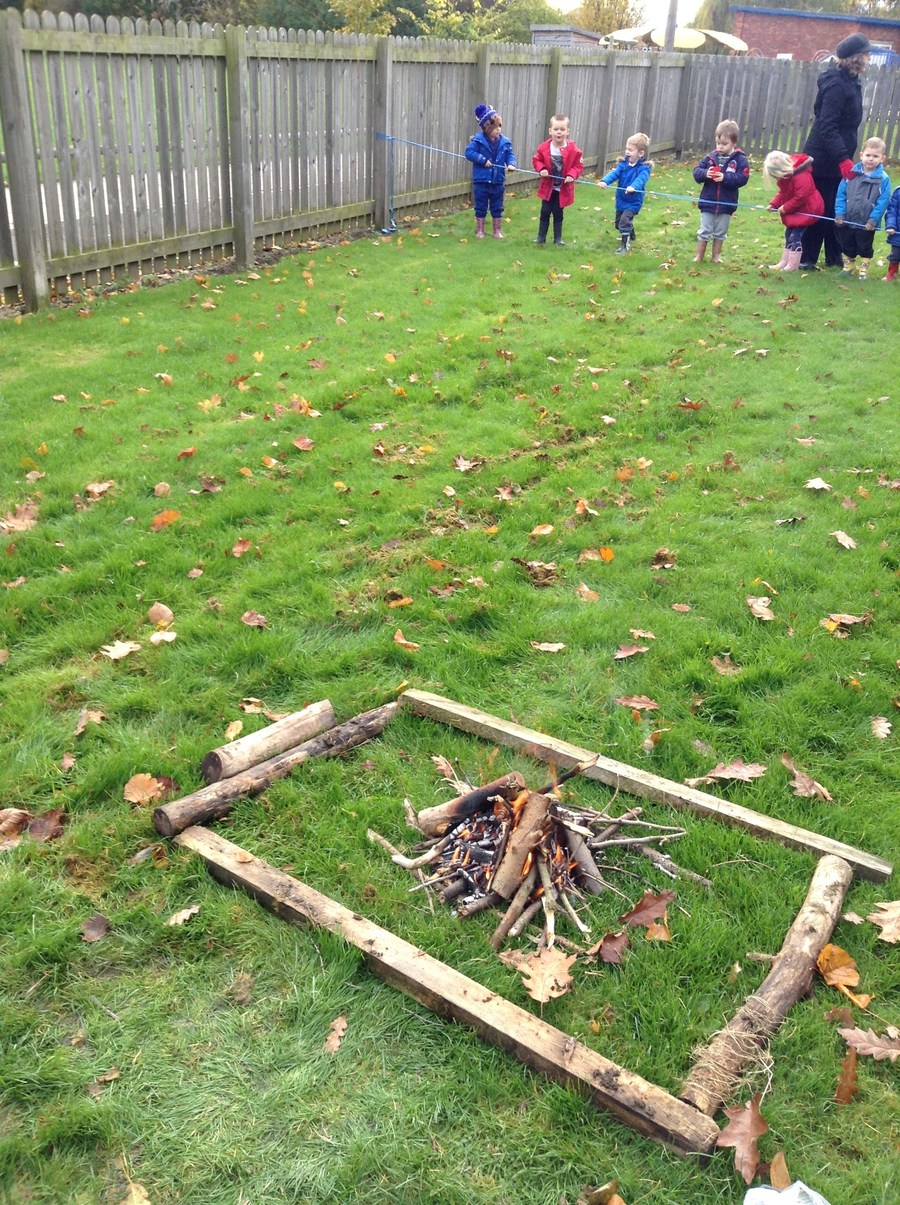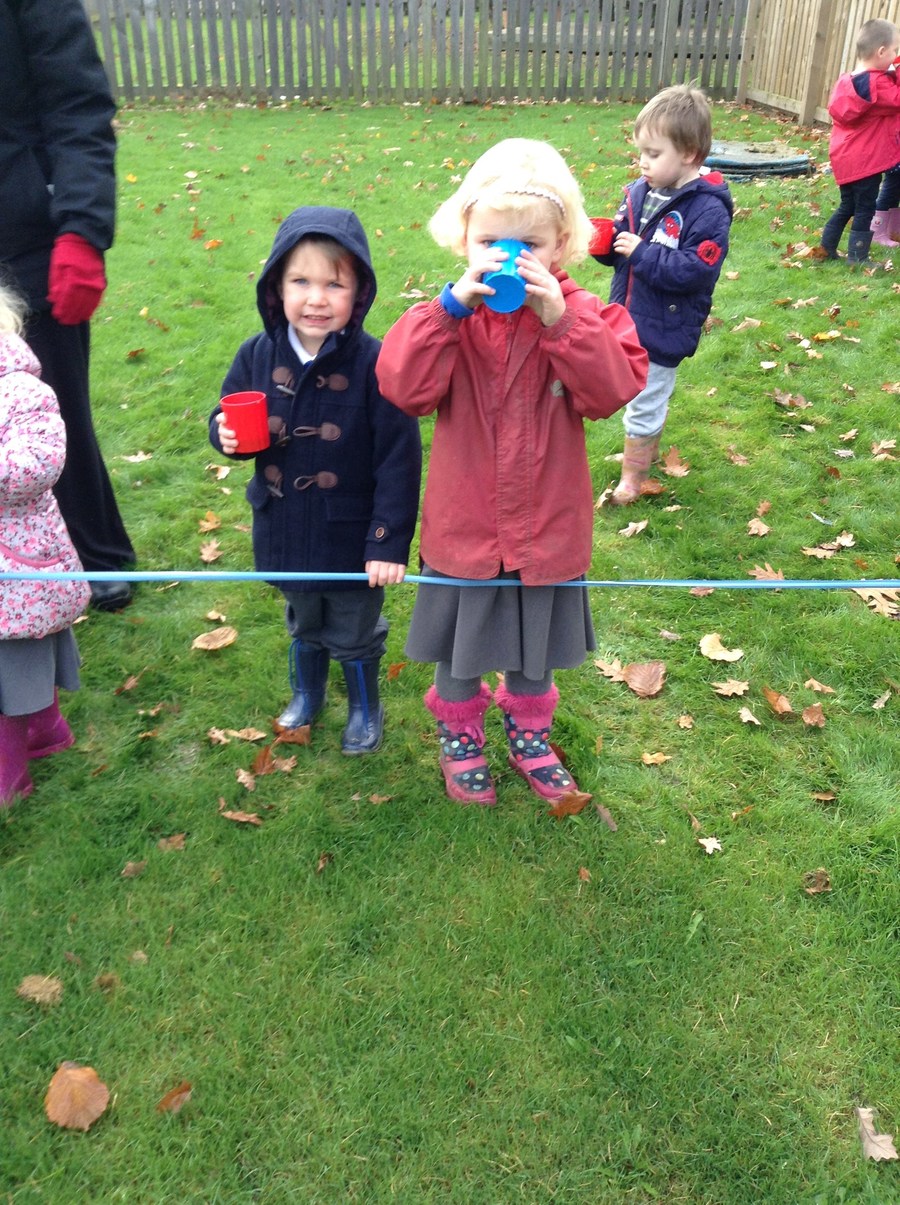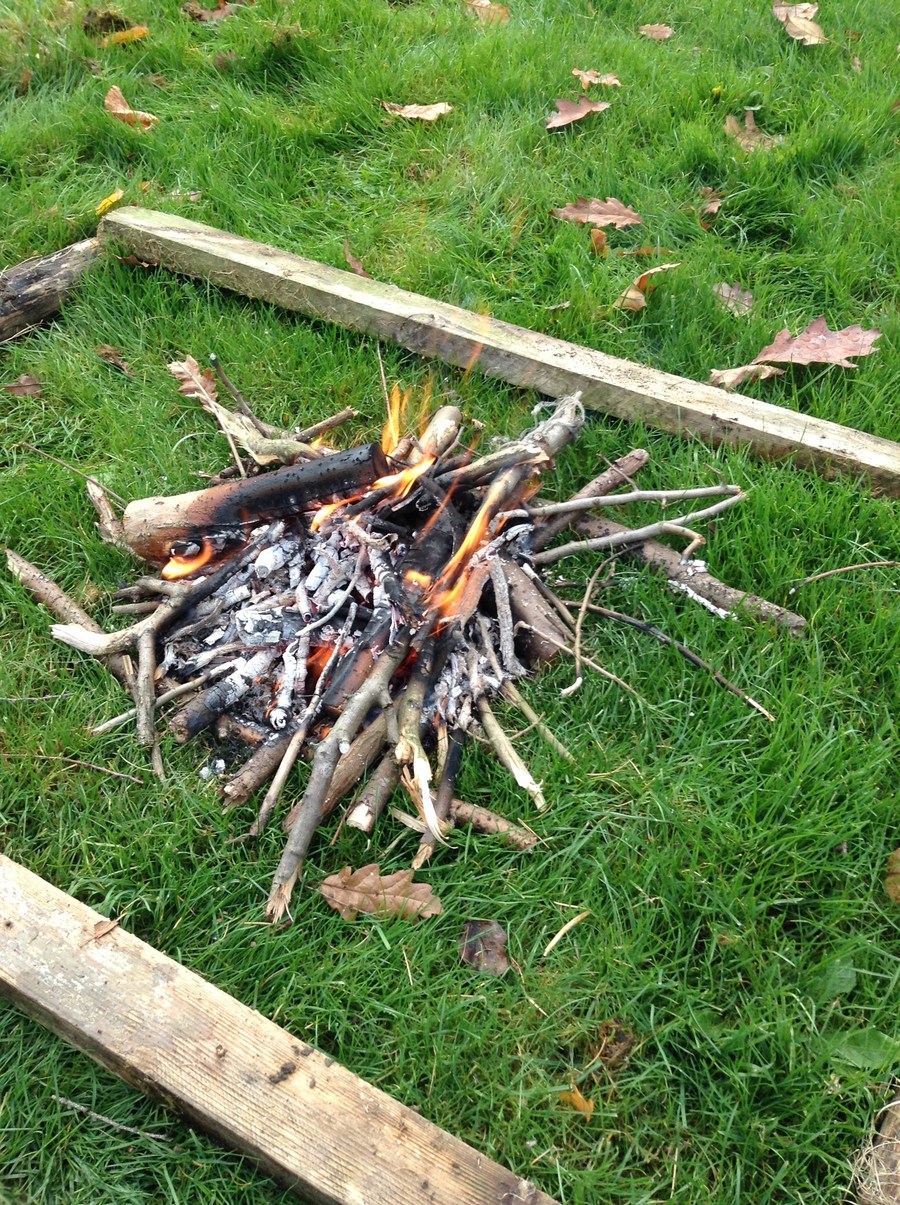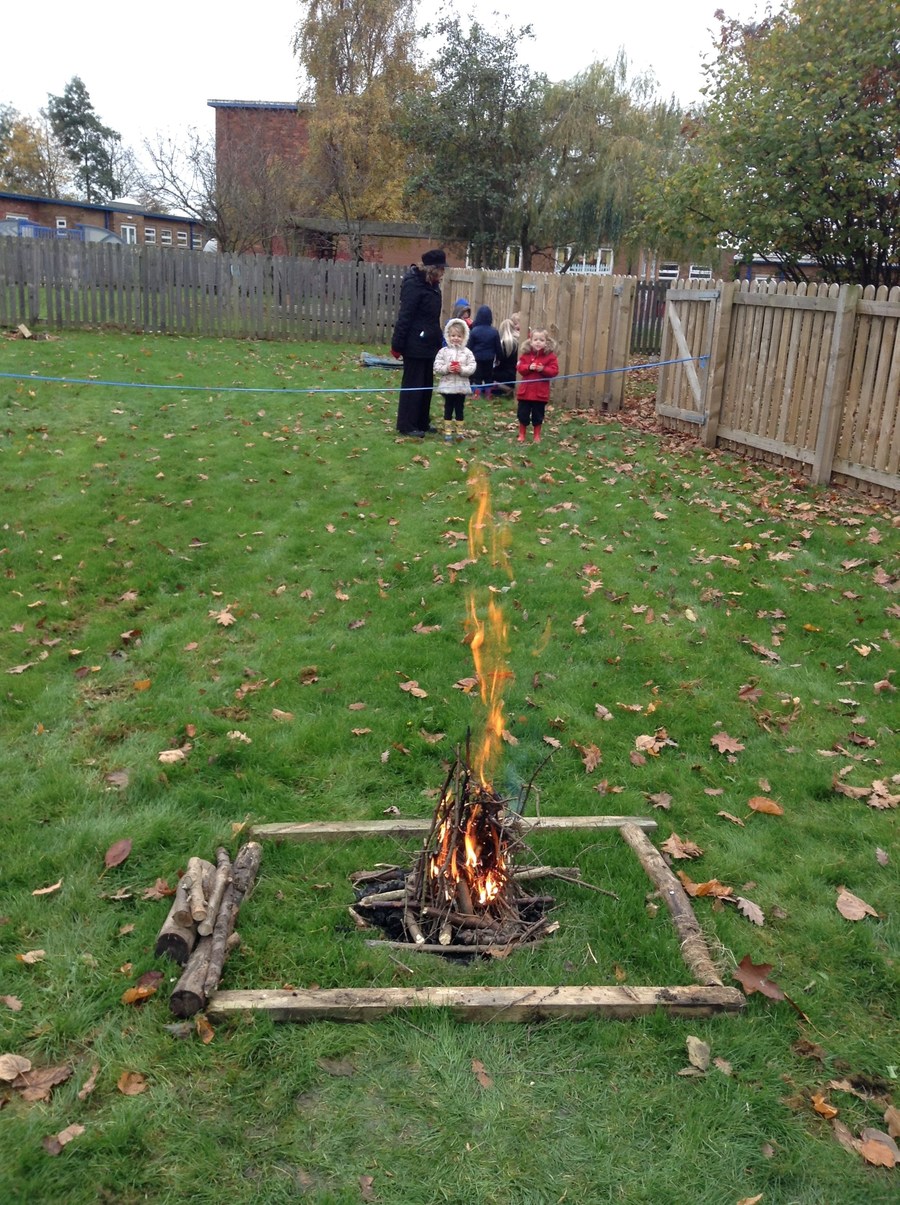 Happy Halloween!
We had a great time at our Halloween party. We played lots of party games including pass the parcel. Some of us had never played it before so it took us a few goes to learn the rules. We loved it! We also played musical statues and musical bumps. It was really hard to stay very still when the music stopped. We had a great time. Take a look at our amazing costumes.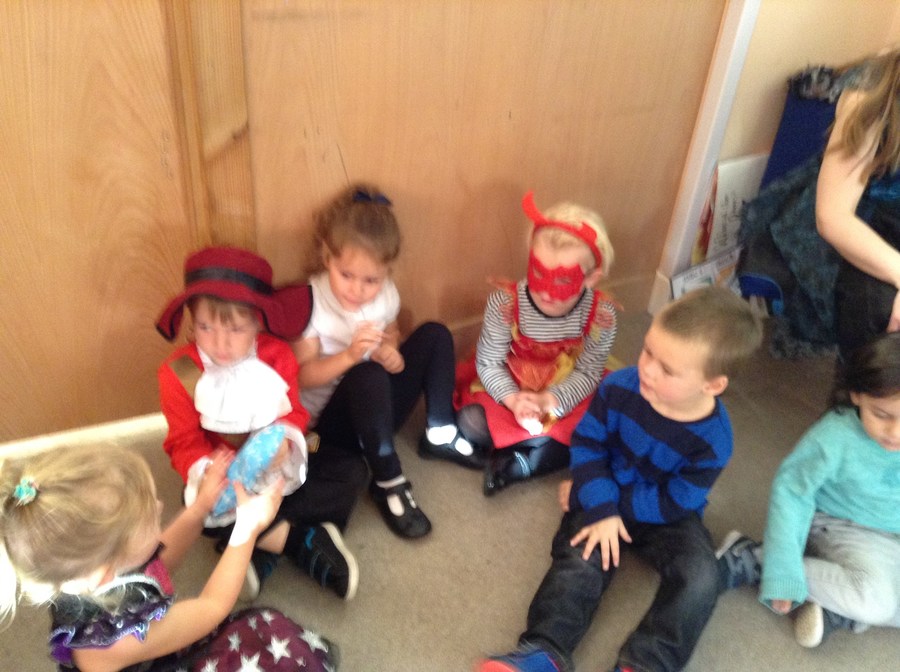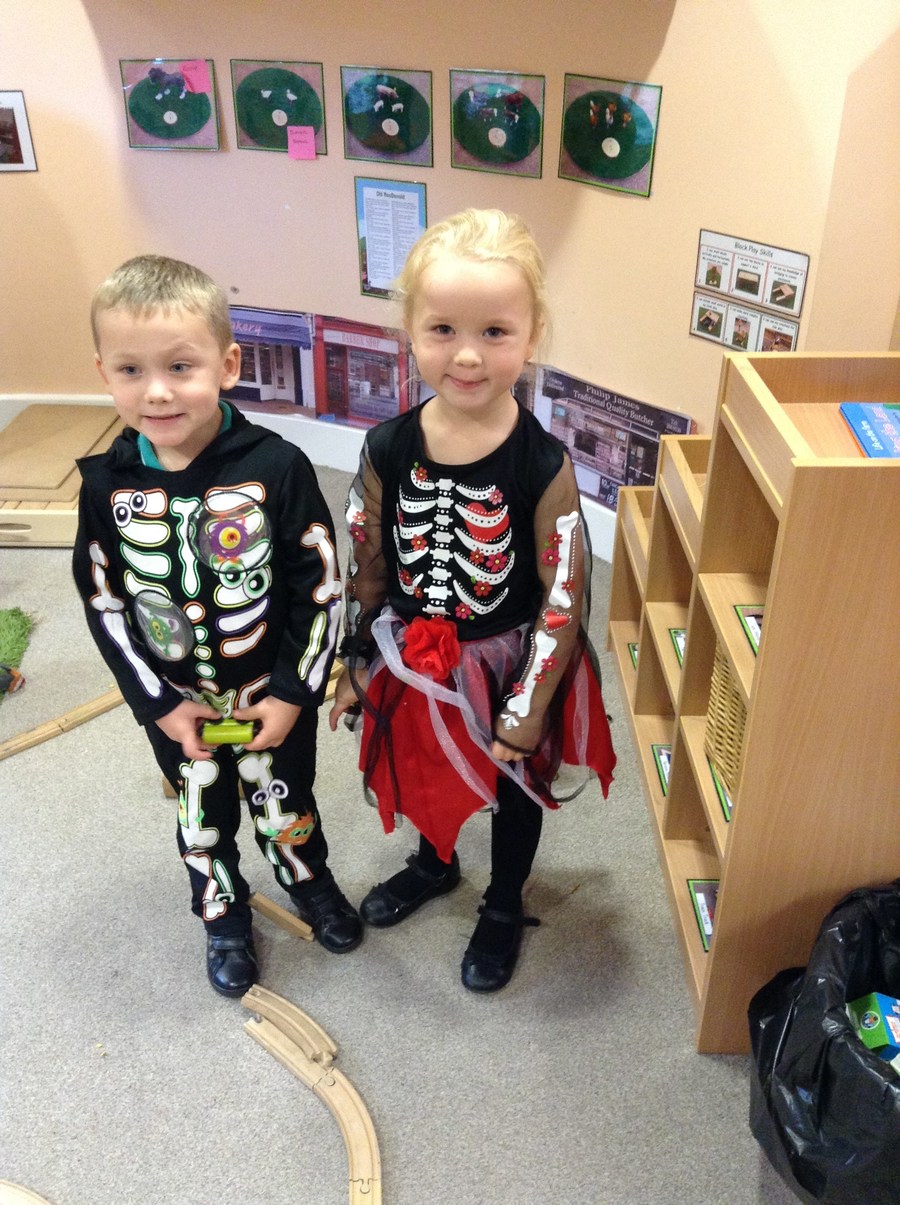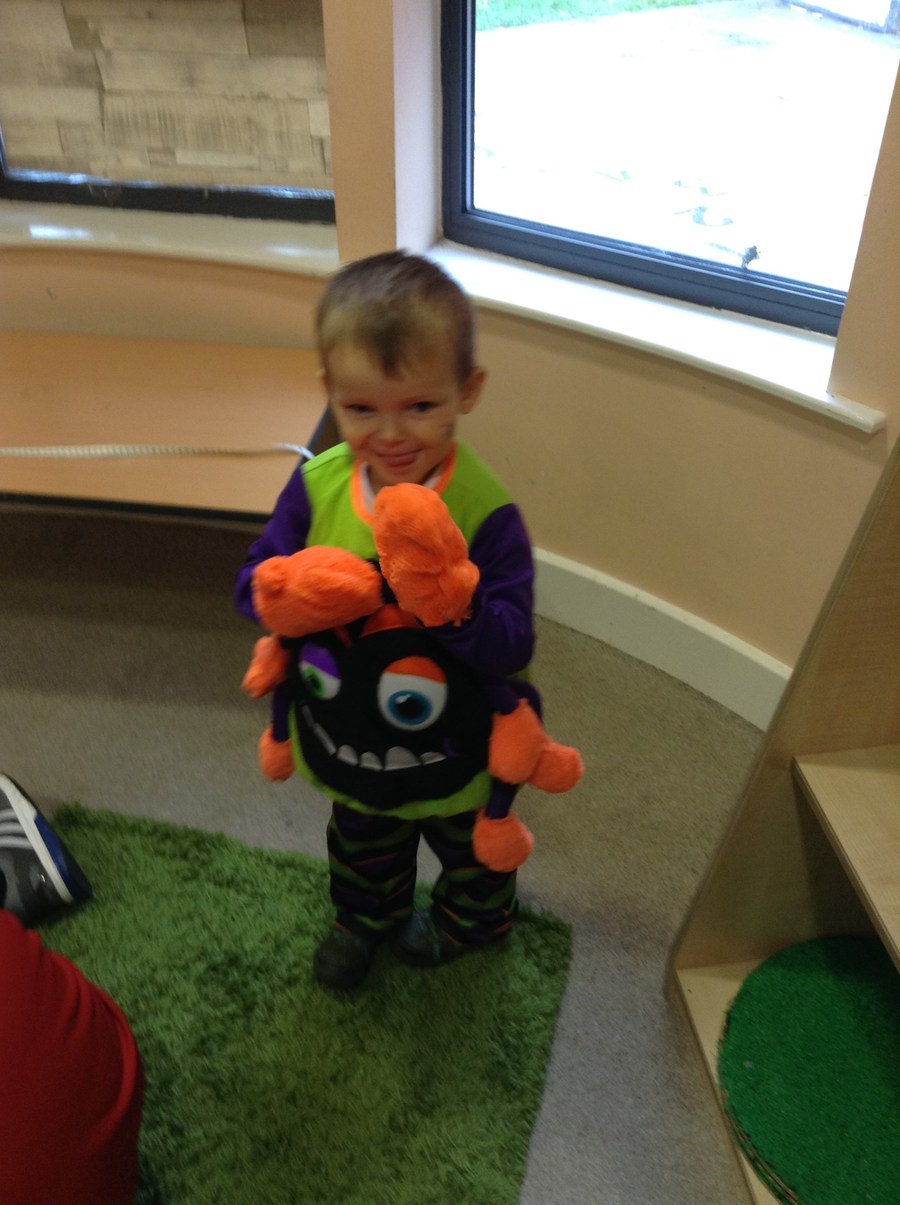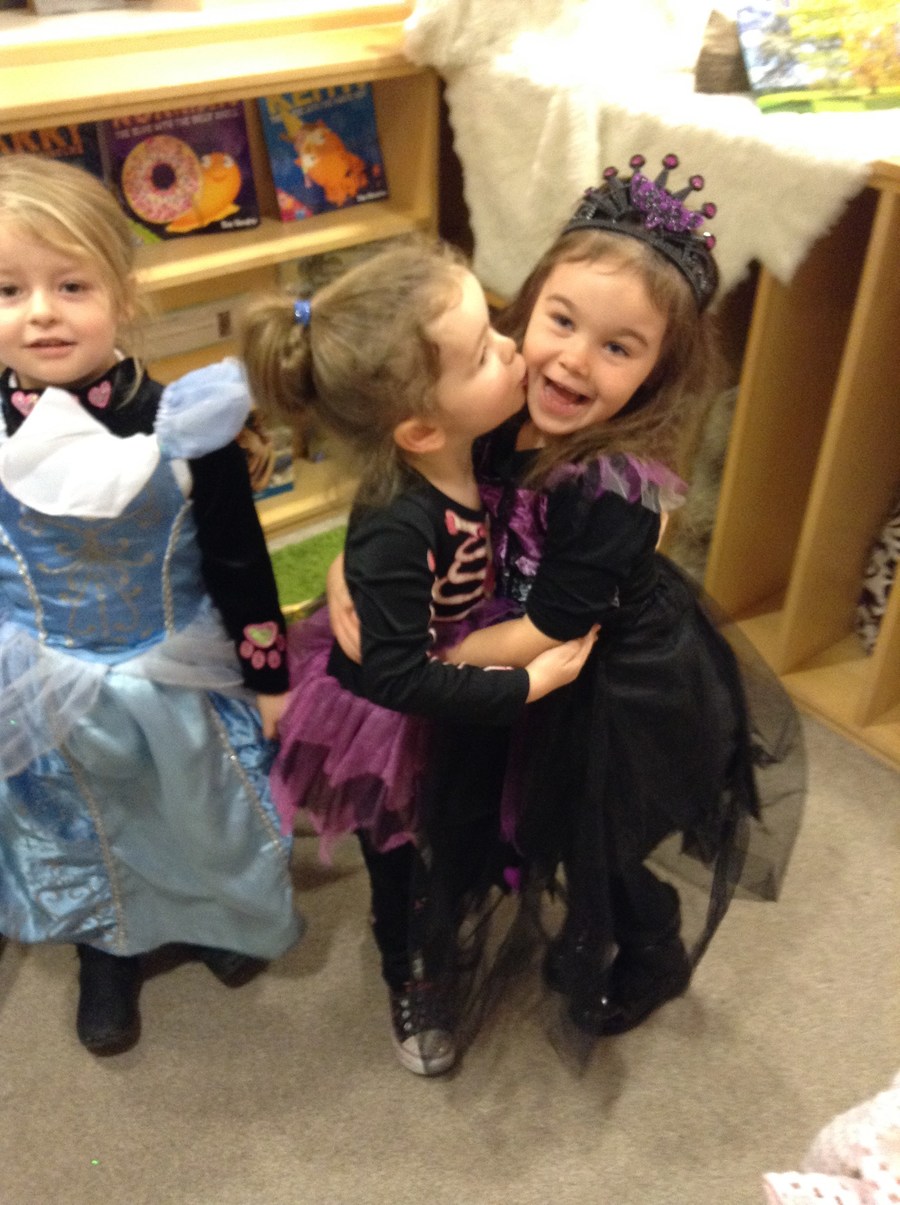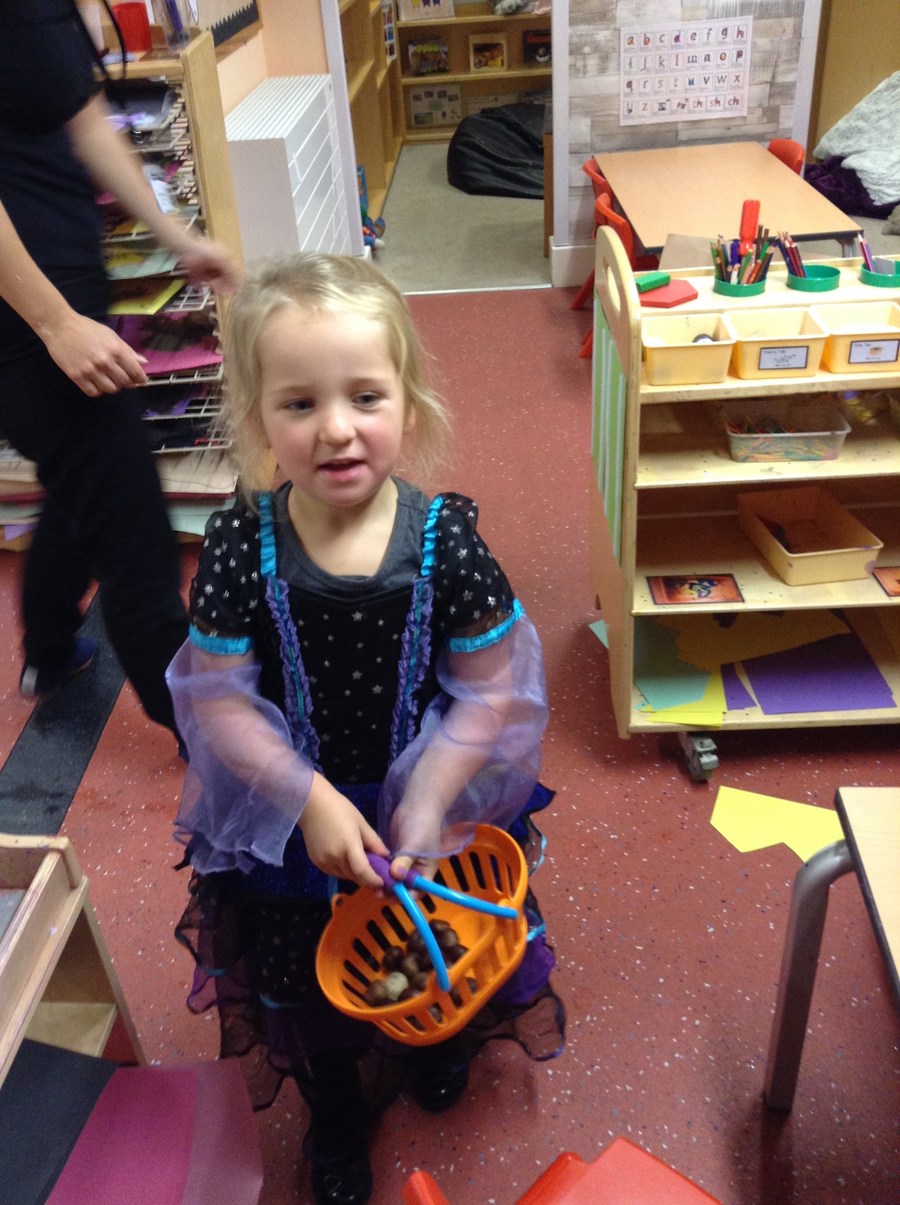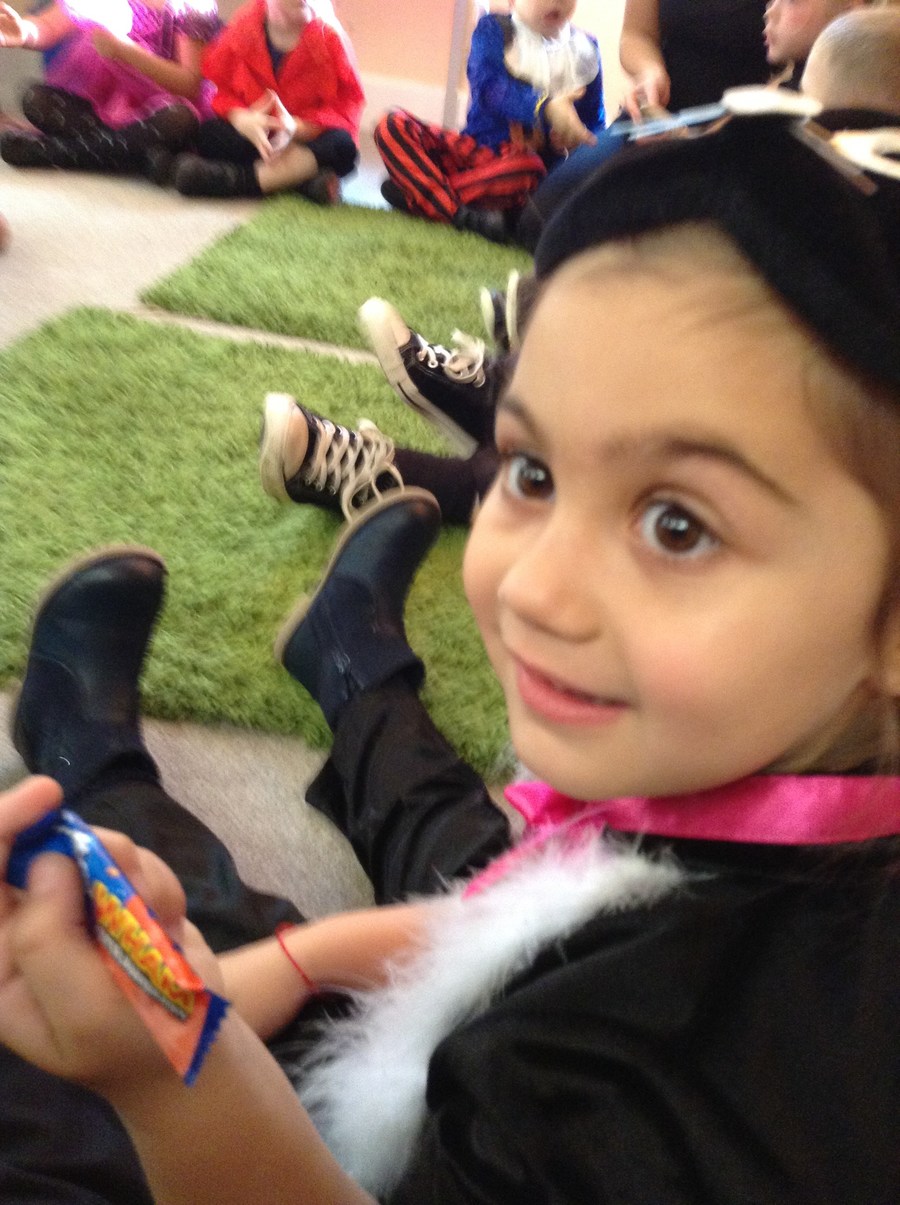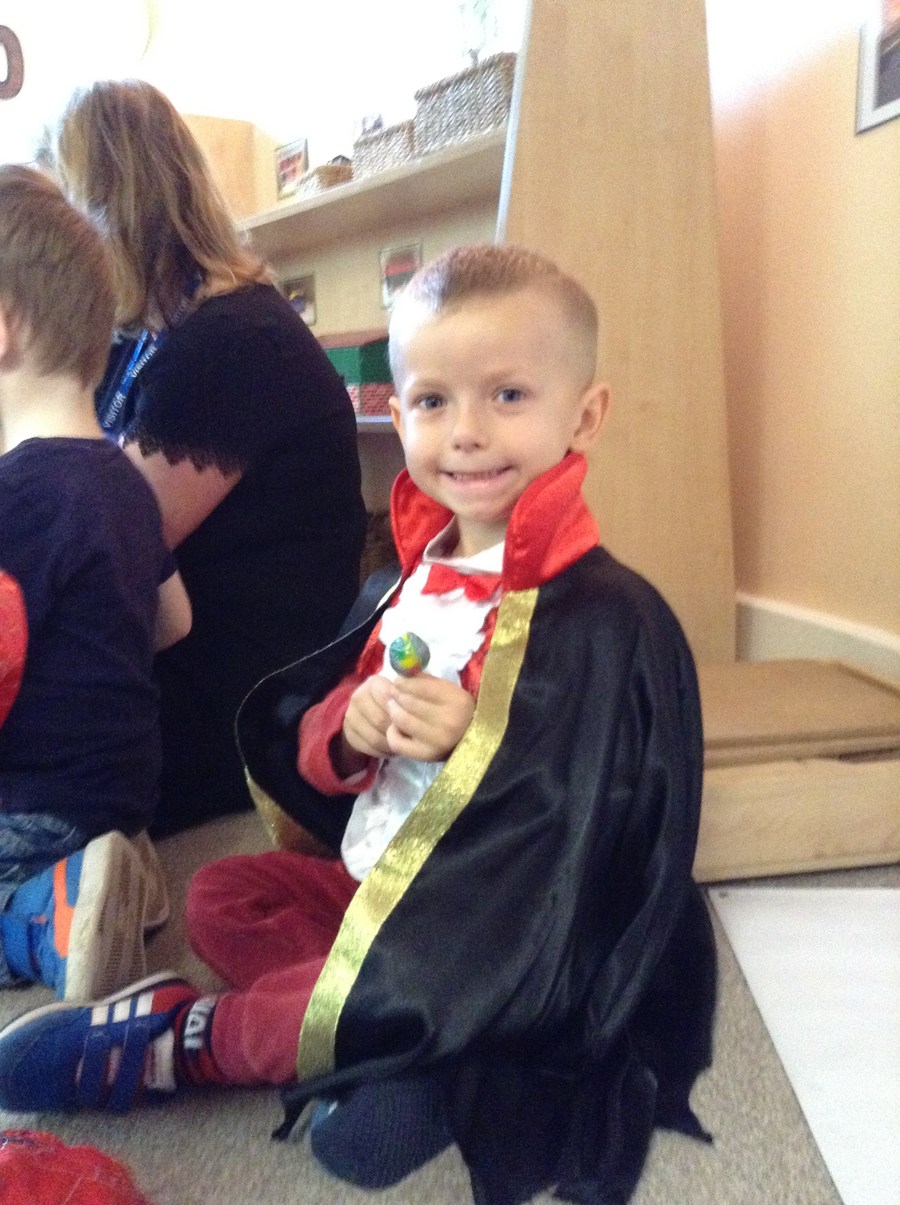 Rhyme of the Week
This week F1 are learning about the number 1. We are trying to recognise the numeral, write the numeral and know how many things you need to make 1. We will be singing lots of songs and rhymes to help us with our number knowledge. Our rhyme of the week this week will be 'One Little Finger'. If you have misplaced a copy of the rhyme we sent home please see a member of staff who will be happy to give you another. Alternatively, you can find the rhyme online using the link below.
https://www.youtube.com/watch?v=eBVqcTEC3zQ
When you're out and about see if you can see the number one on buses, car number plates, house numbers or in the supermarket.
Friday Baking
Our fantastic bakers have been at it again. This week some of the children helped to bake some buns. This week we needed eggs and a different kind of flour to the one we used last week. We still needed butter and sugar though. Unfortunately, our favourite smelling ingredient, golden syrup, had to be left in the cupboard this week because that wasn't in our recipe. Everyone said our buns were delicious!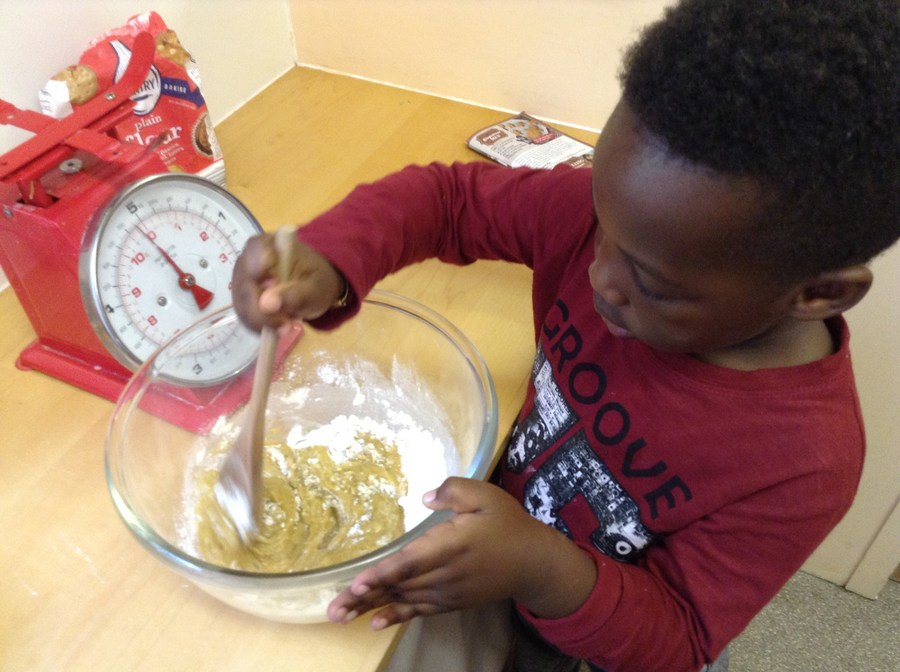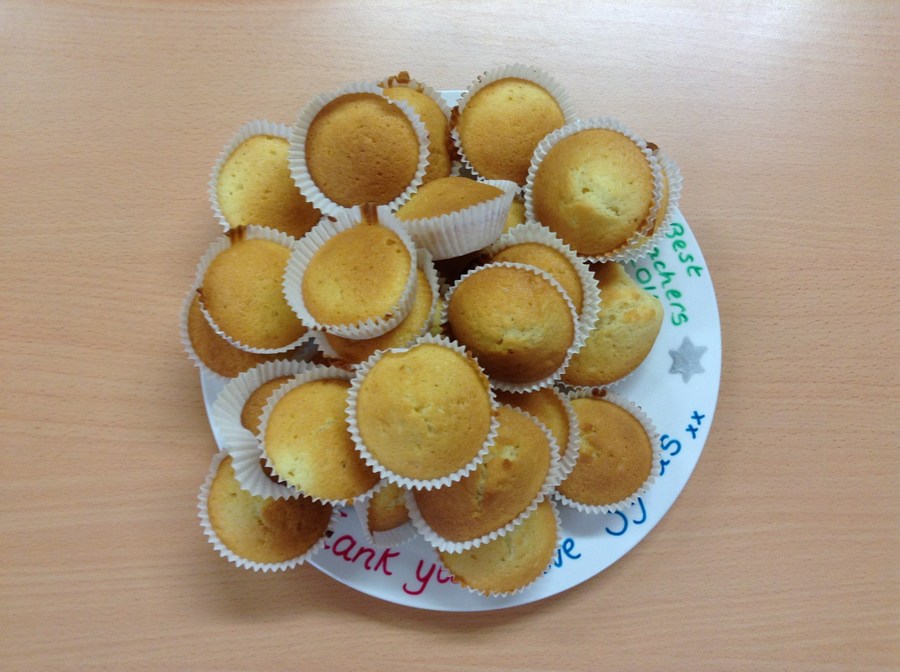 Tim and Tom the Tigers
Hello! We are Tim and Tom the Tigers. We belong to Mrs Lees but for the next few months we will be visiting some of your houses for the weekend (we hope that's ok). We really love travelling, meeting new people and learning about the lives of other people. If we visit you for the weekend make sure you write/put photographs/draw pictures of what we have been up to so we can share our weekend story with all our friends back at nursery. It's going to be lovely to see all the things that are the same about our weekends and all the things that are different. We can't wait to come and stay!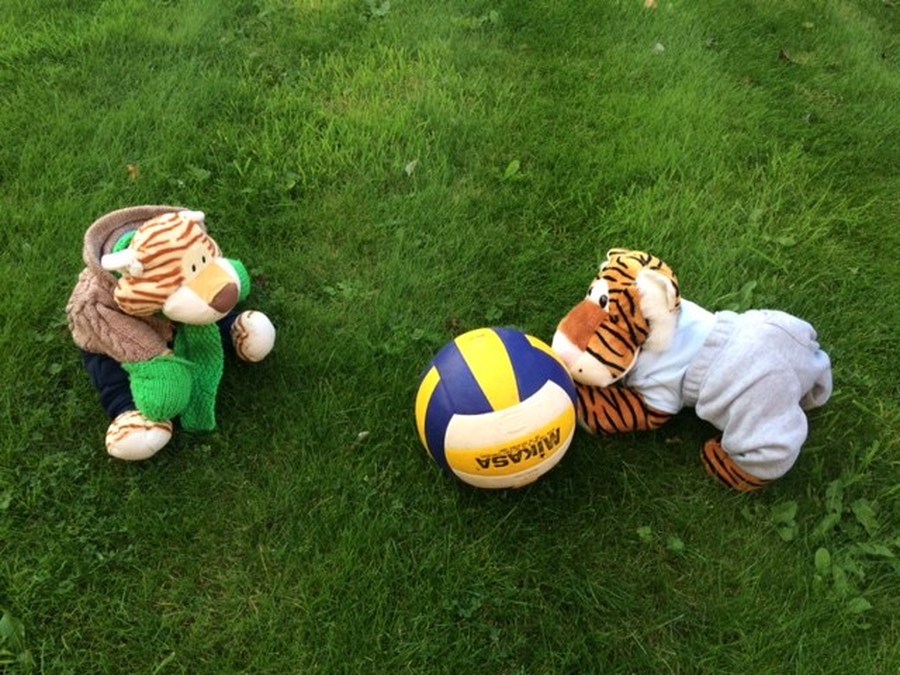 Imaginative Play
This week we have been developing our imaginative play and social skills in the home corner and doctors surgery. We had to use lots of talking to interact with others and draw on our own experiences to help support our play. We loved talking about our own homes, what we do outside nursery, our families and our experiences of the doctors.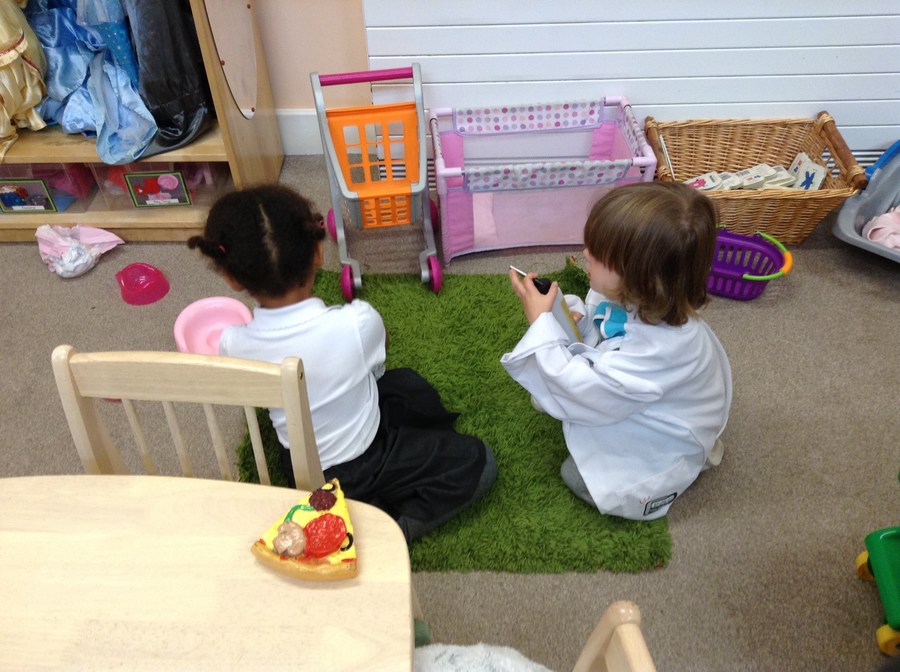 Baking Biscuits
On Friday some of the children helped to bake some yummy moon shaped biscuits. We needed lots of ingredients including butter, flour, sugar and golden syrup. Golden syrup was out favourite because it smelled so good! We mixed everything together, rolled it out and cut out moon shapes using a biscuit cutter. The boys and girls were very good at picking up each biscuit carefully and putting it on the tray without it breaking. We had to cook them for around 10 minutes. When they cooled down we tasted them - they were very very yummy!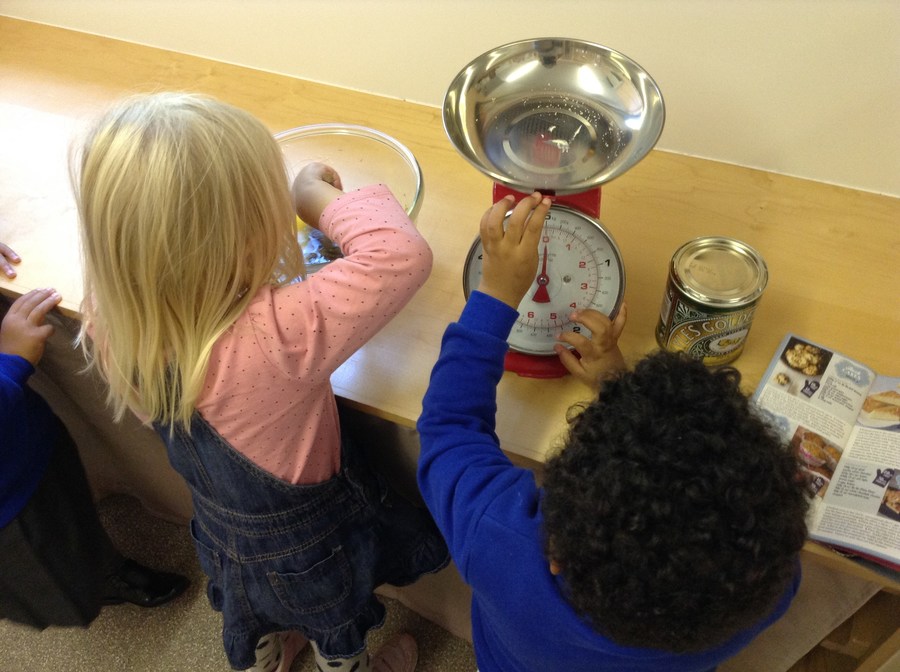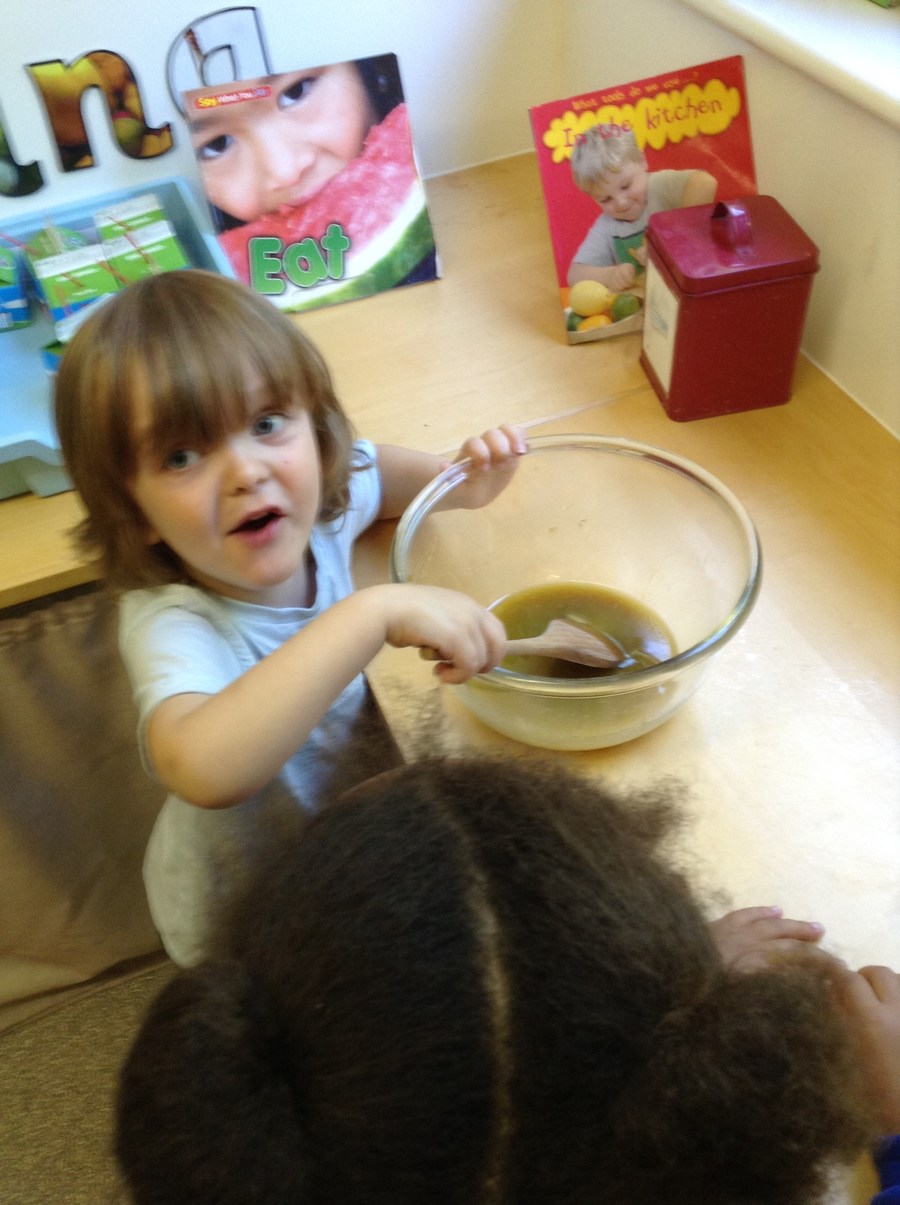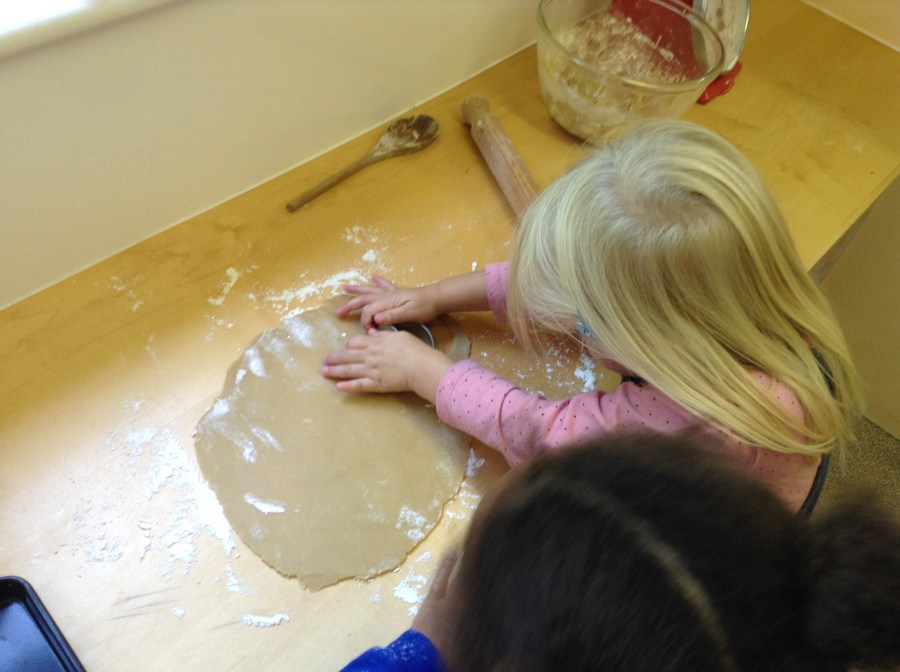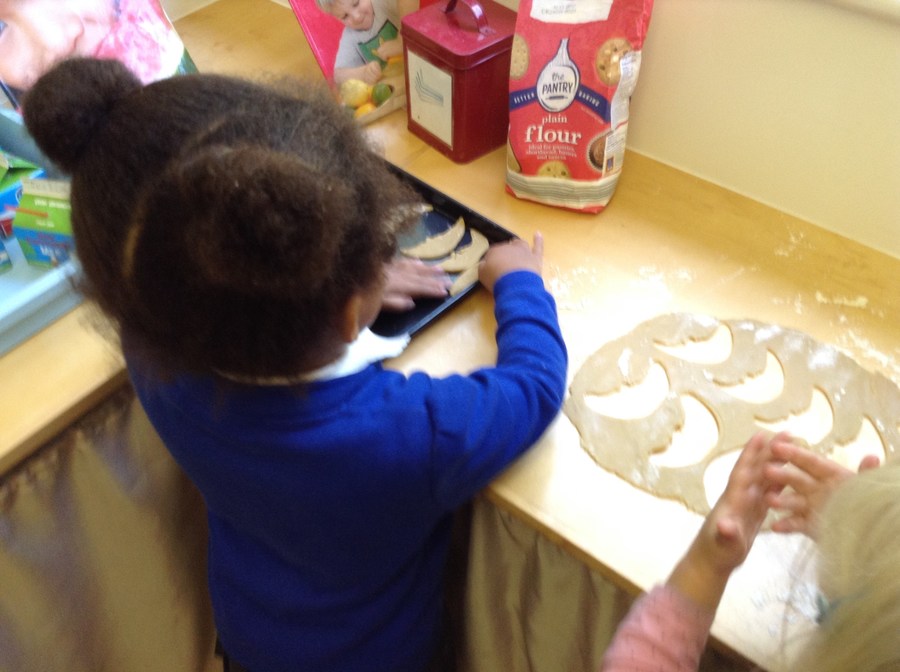 Welcome to Nursery!

During the holidays the nursery grown ups have been very busy setting up areas of provision. We were very excited to welcome all our new children at their first stay and play sessions without their mums and dads. Here are a few photographs of what we got up to.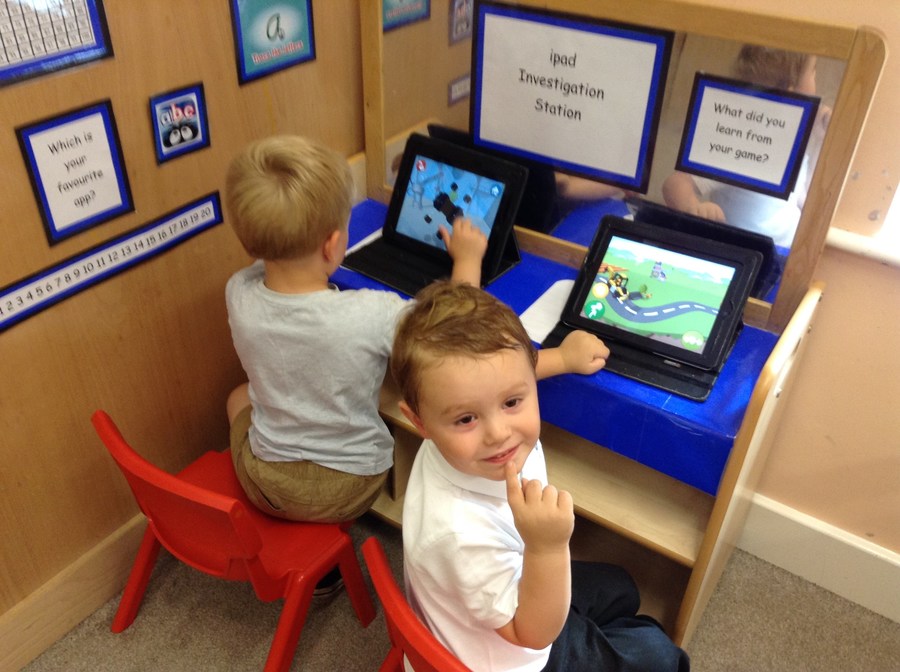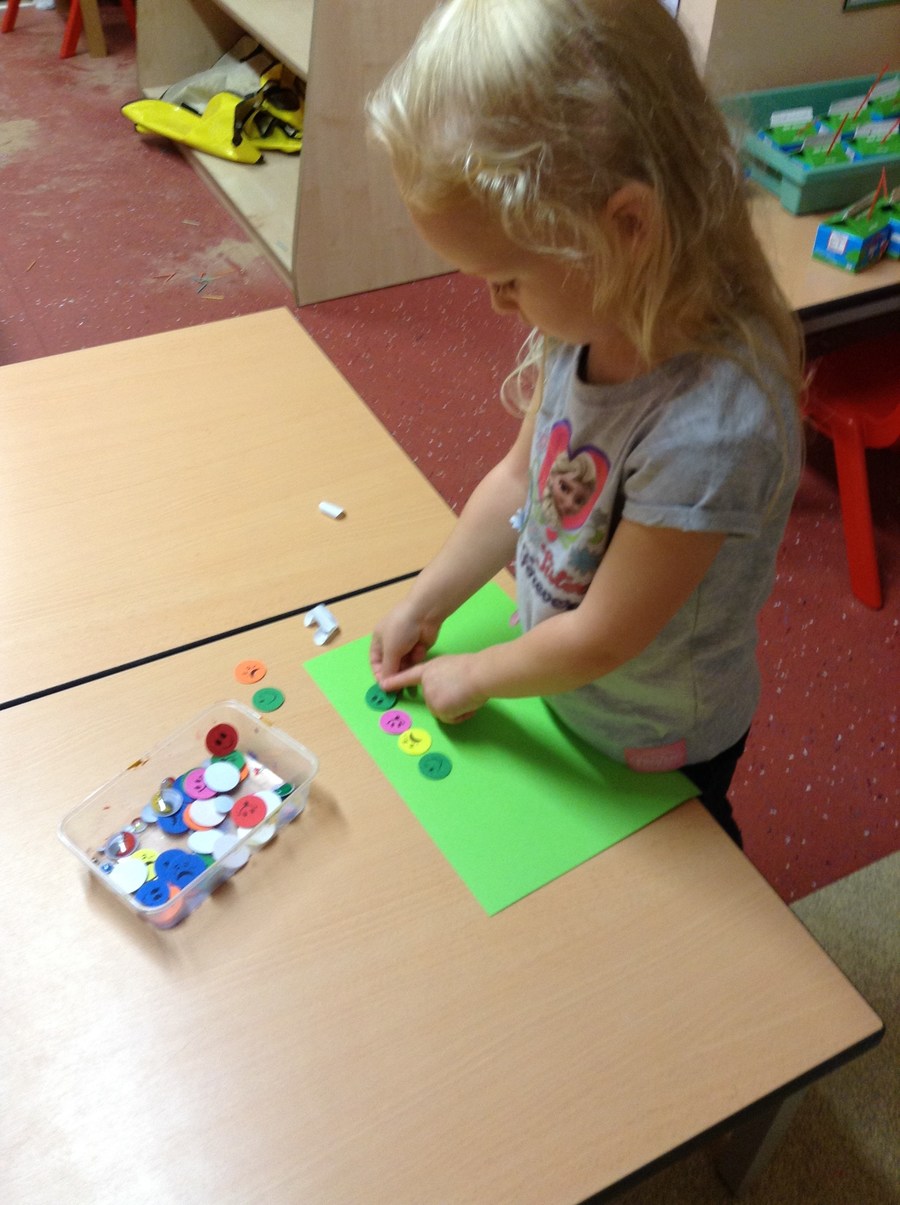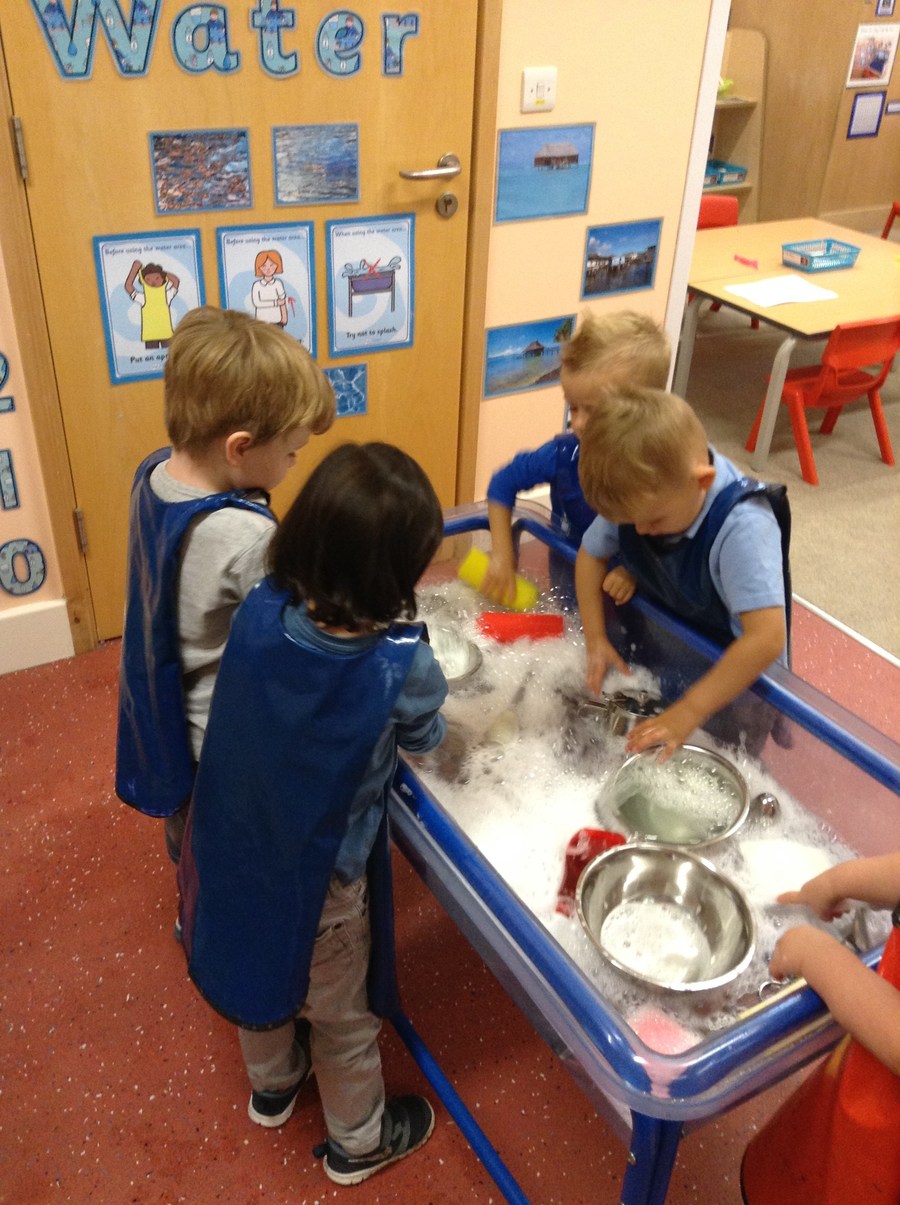 Super Dancing
After nursery this young lady goes to dance class. She has been trying so hard that she has been give a trophy. She brought her trophy to show all her friends at nursery. We were all very proud of her. Lots of children were asking what it was so she decided to make a sign for it. She listened carefully to the sounds she could hear in the word trophy and wrote them down. Great dancing and great writing. Well Done!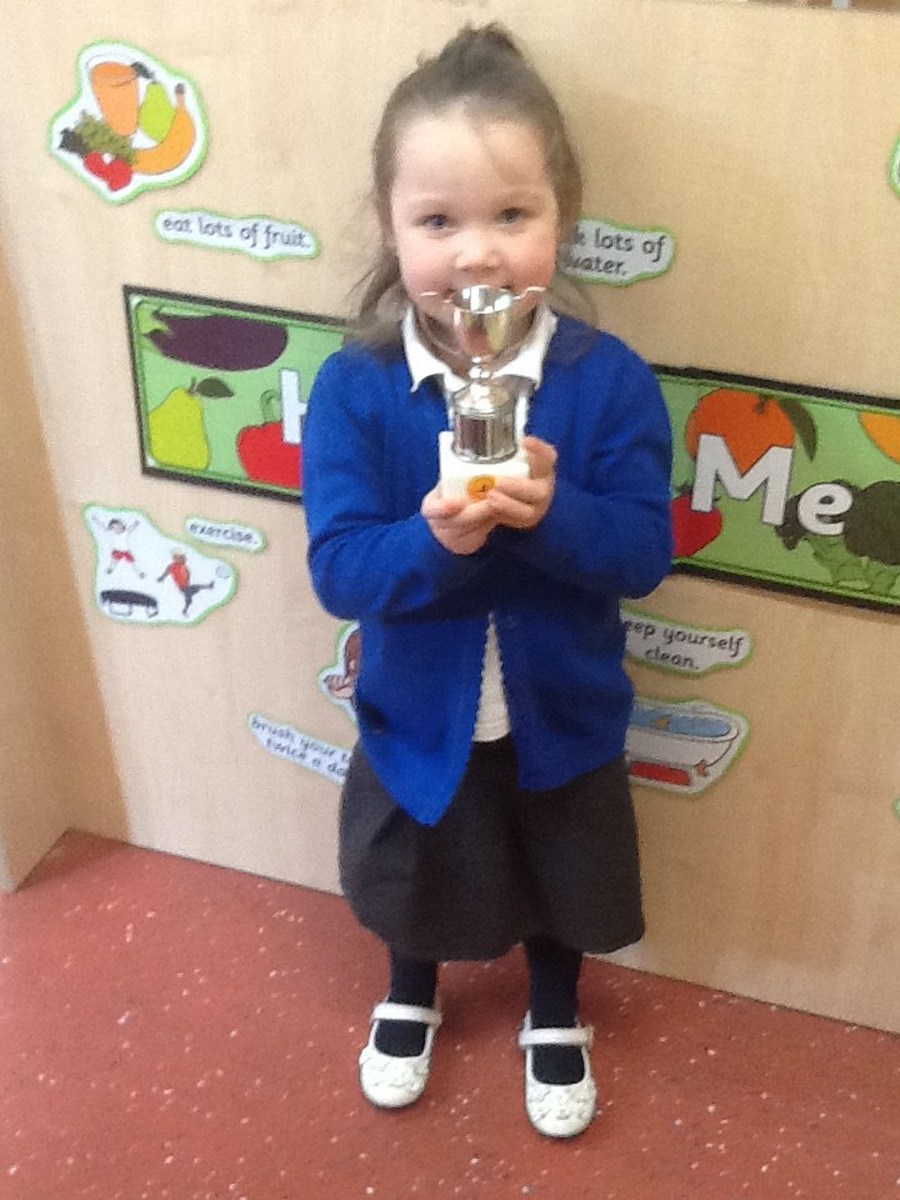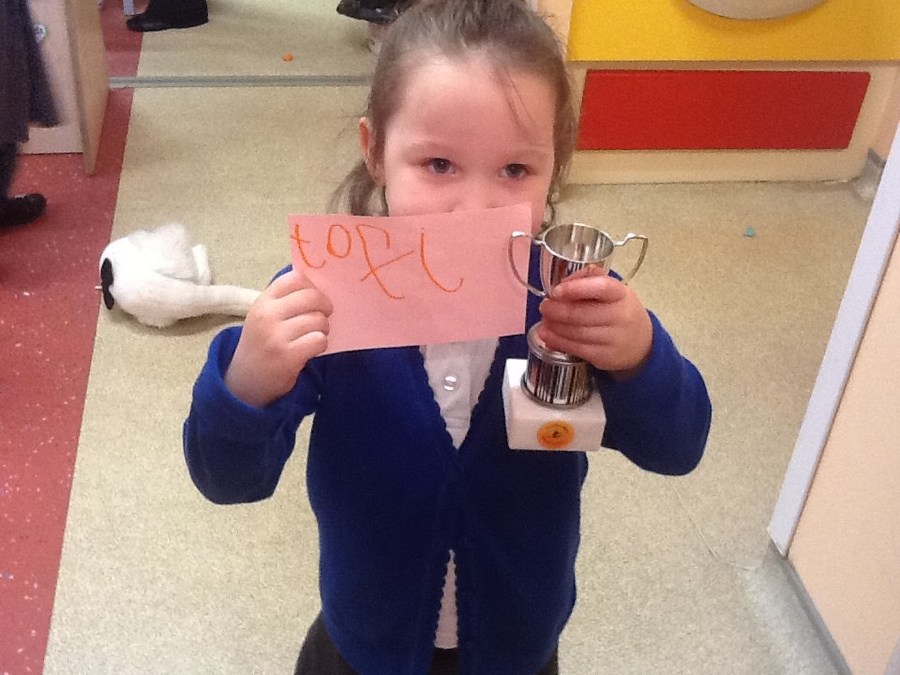 A letter from Mr Wolf
Today was a very exciting day. When Miss Jordan got to nursery there was a letter addressed to the F1 Children waiting on the doormat. Inside was a very interesting letter from The Big Bad Wolf. The children were very excited to hear from their favourite story character. He had seen us playing the story of The 3 Little Pigs outside last week and though we would like a new story with him in. He has kindly let the F1 children borrow one of his favourite stories called Mr Wolf's Pancakes. We loved reading it, especially the ending! We are keeping a look out to see if we can see him watching us role play our new story outside.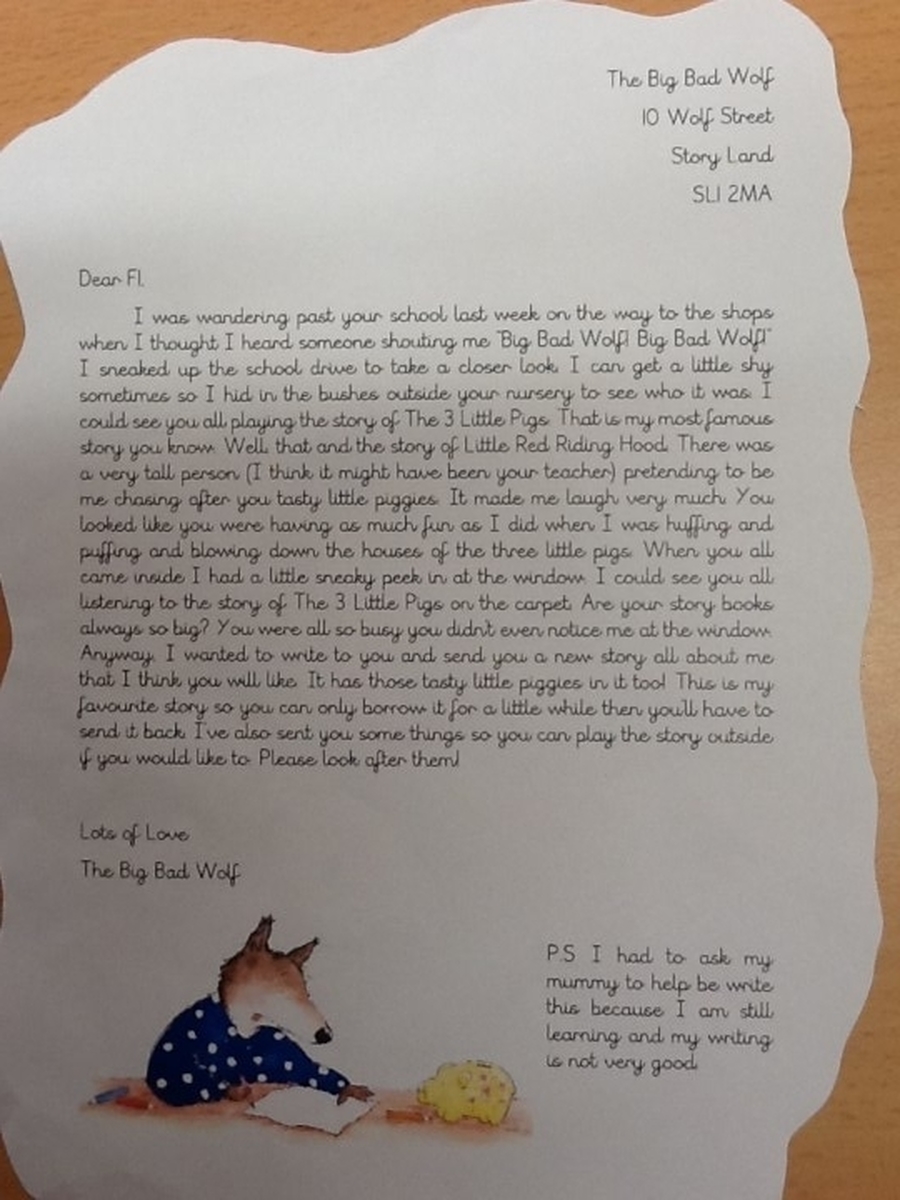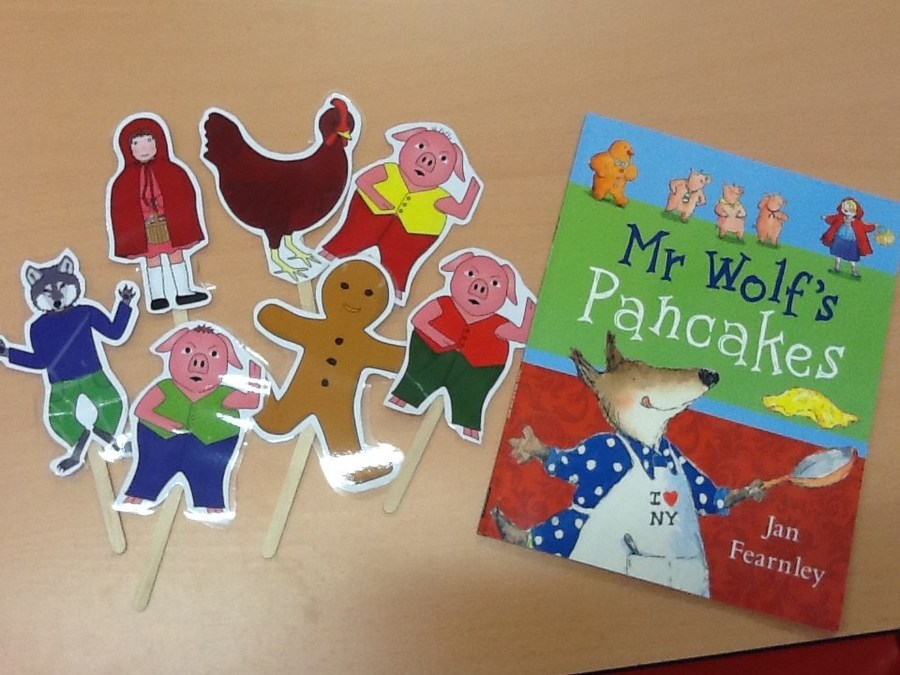 We can write words!
Some of us have been super clever this week and have begun to segment sounds in words in order to write them. We know we have to listen carefully to the first, middle and last sounds and write them down in that order so that someone else can read them. We have also been adding some pictures to help people read the words we write, just like in story books.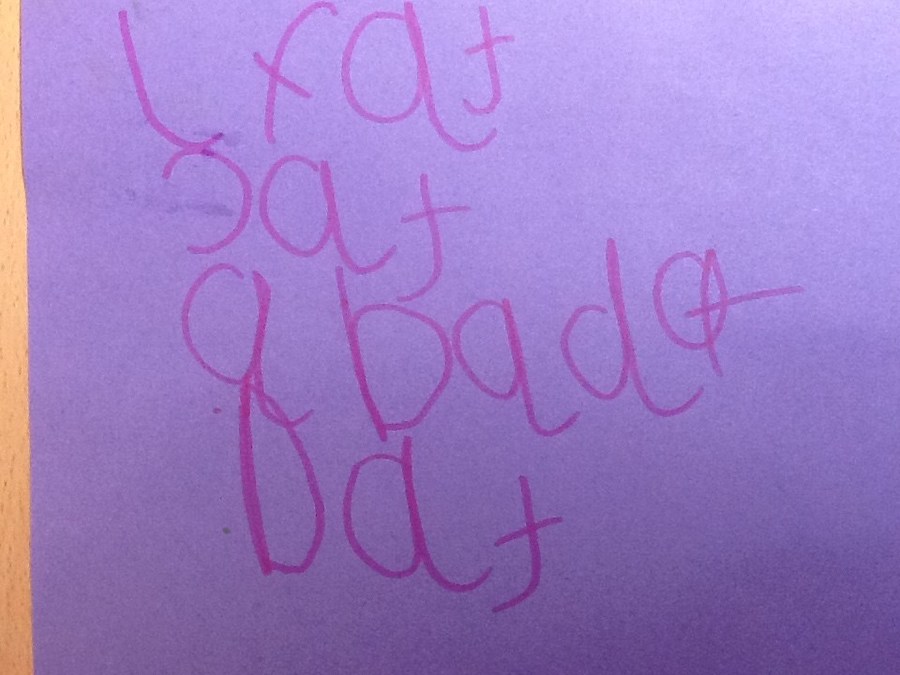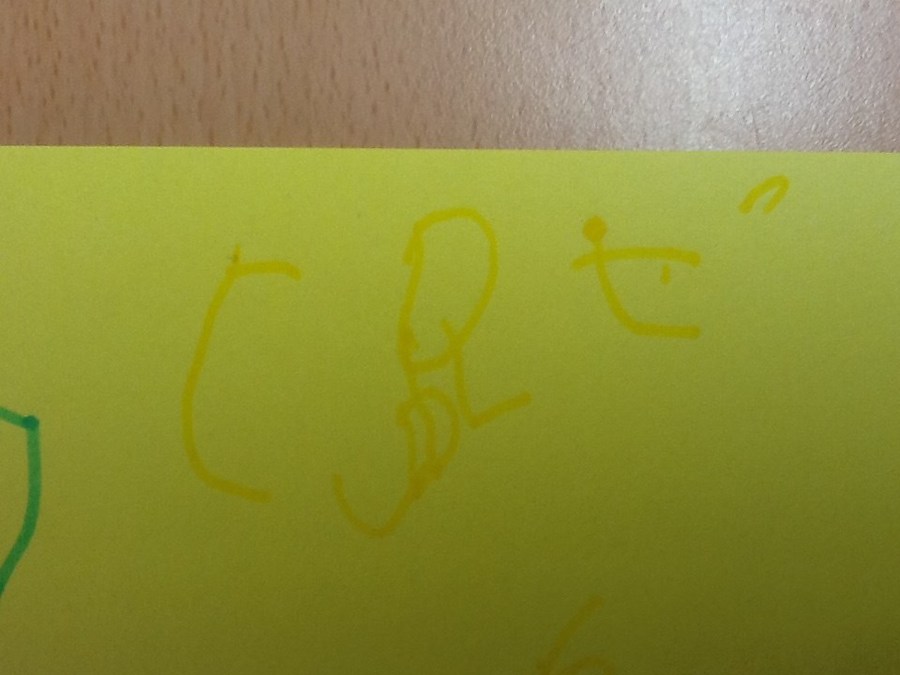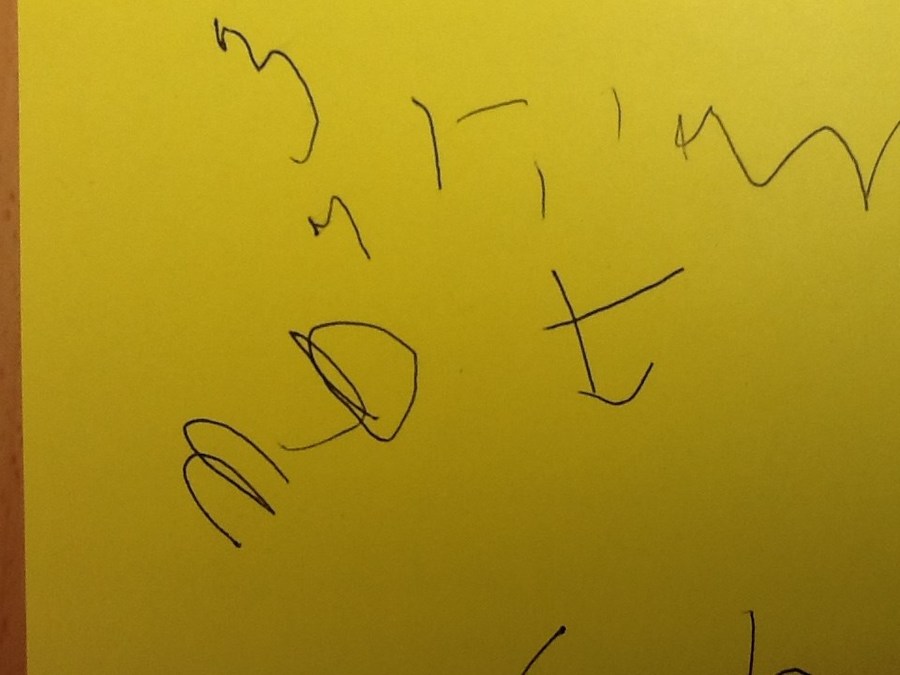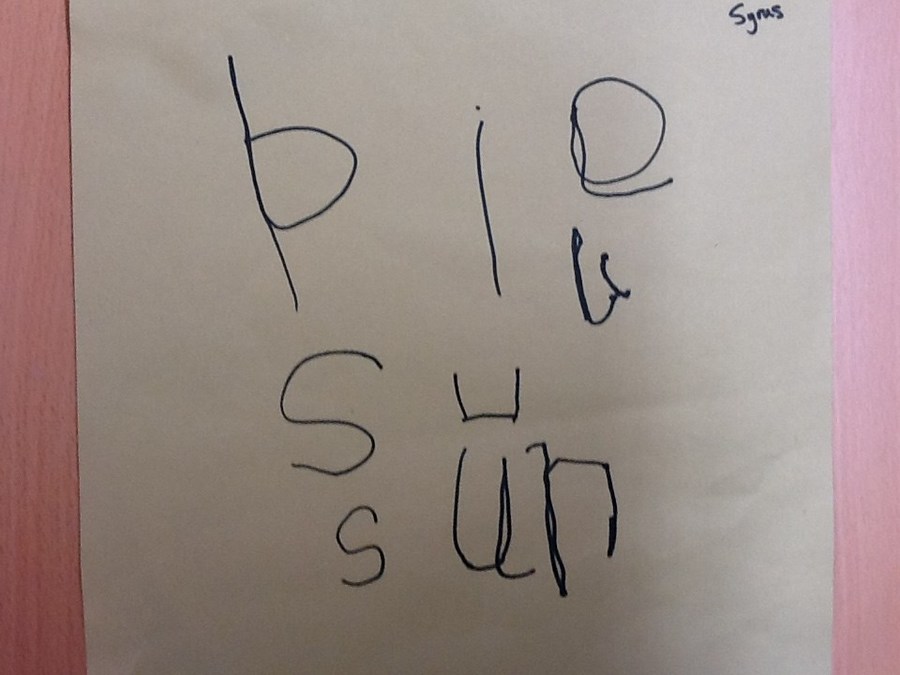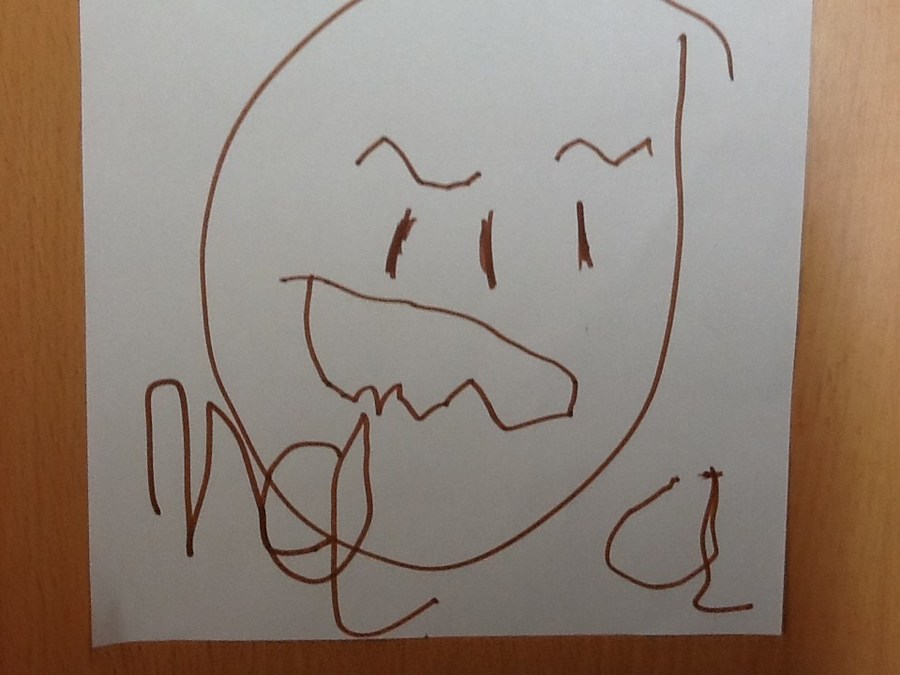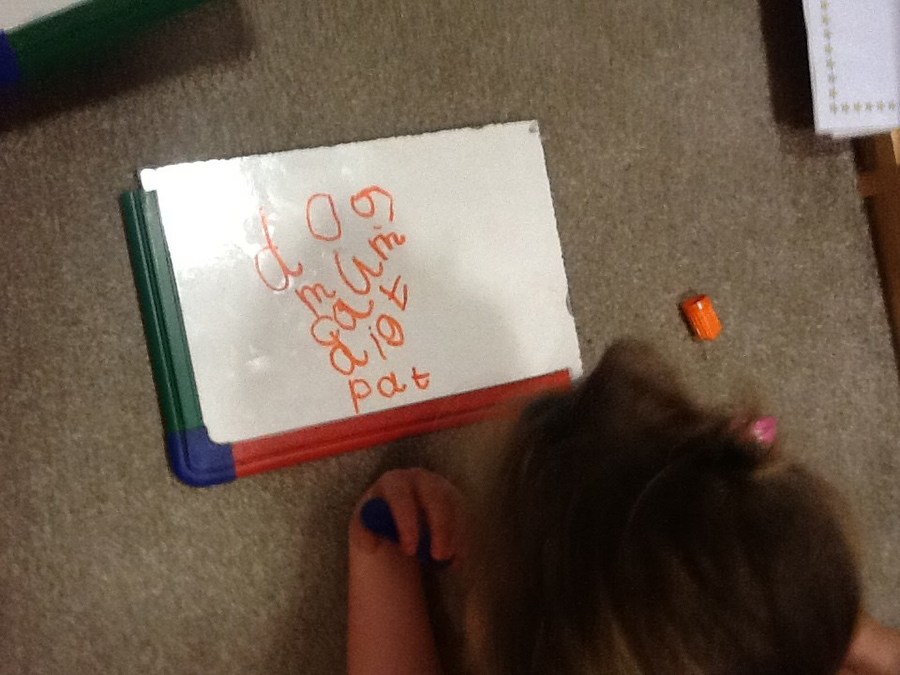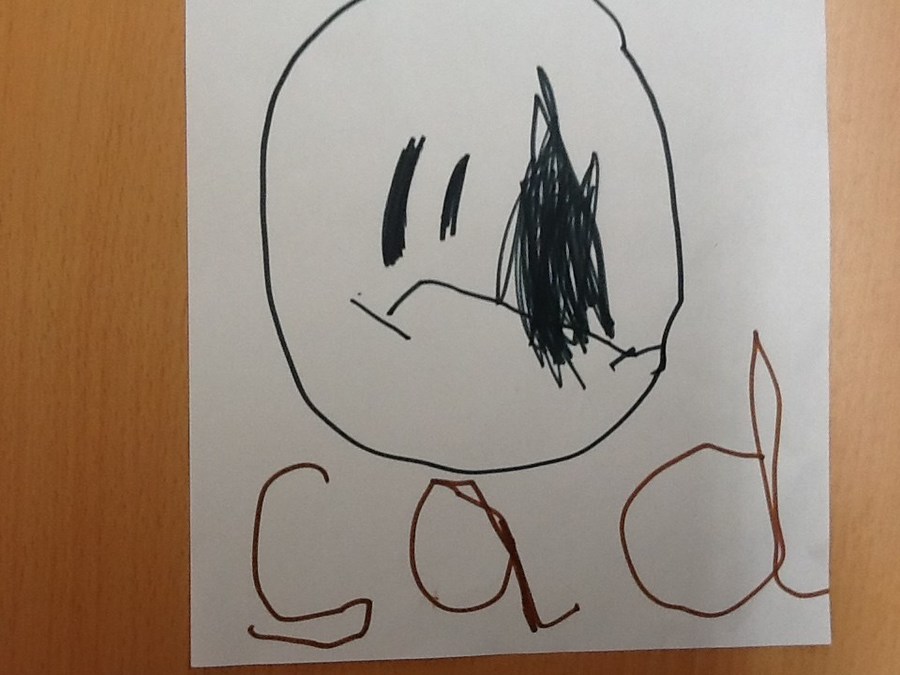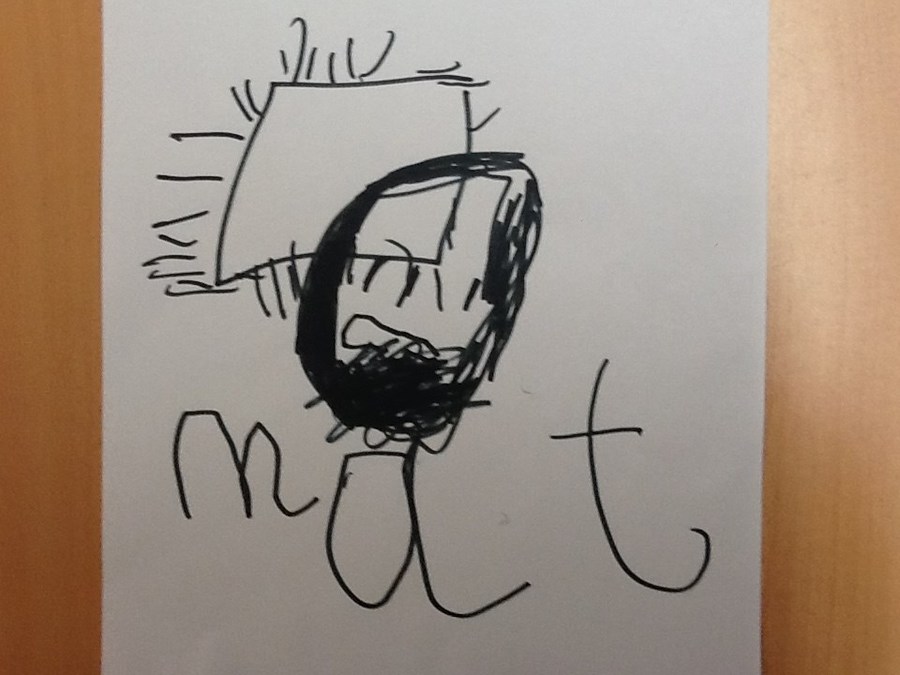 Read Write Inc.
The boys and girls in F1 have been learning lots of new letter sounds recently. They are now all so clever that they can read and write lots of letters. Take a look at our photographs below to see how fantastic our writing is. If you are unsure about how to say letter sounds correctly, please feel free to ask a member of staff or look at 'Geraldine Giraffe' on YouTube.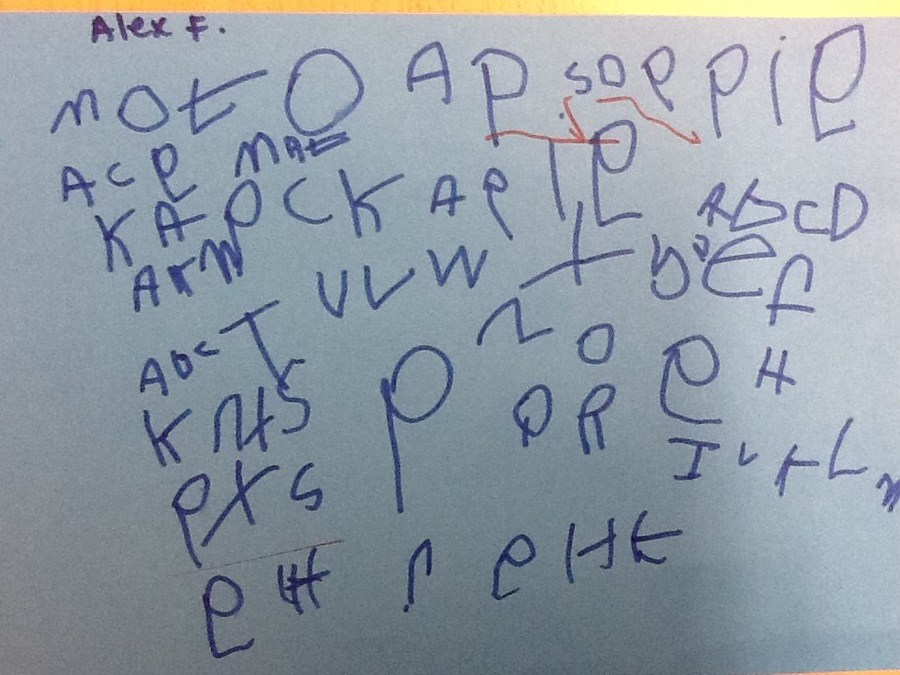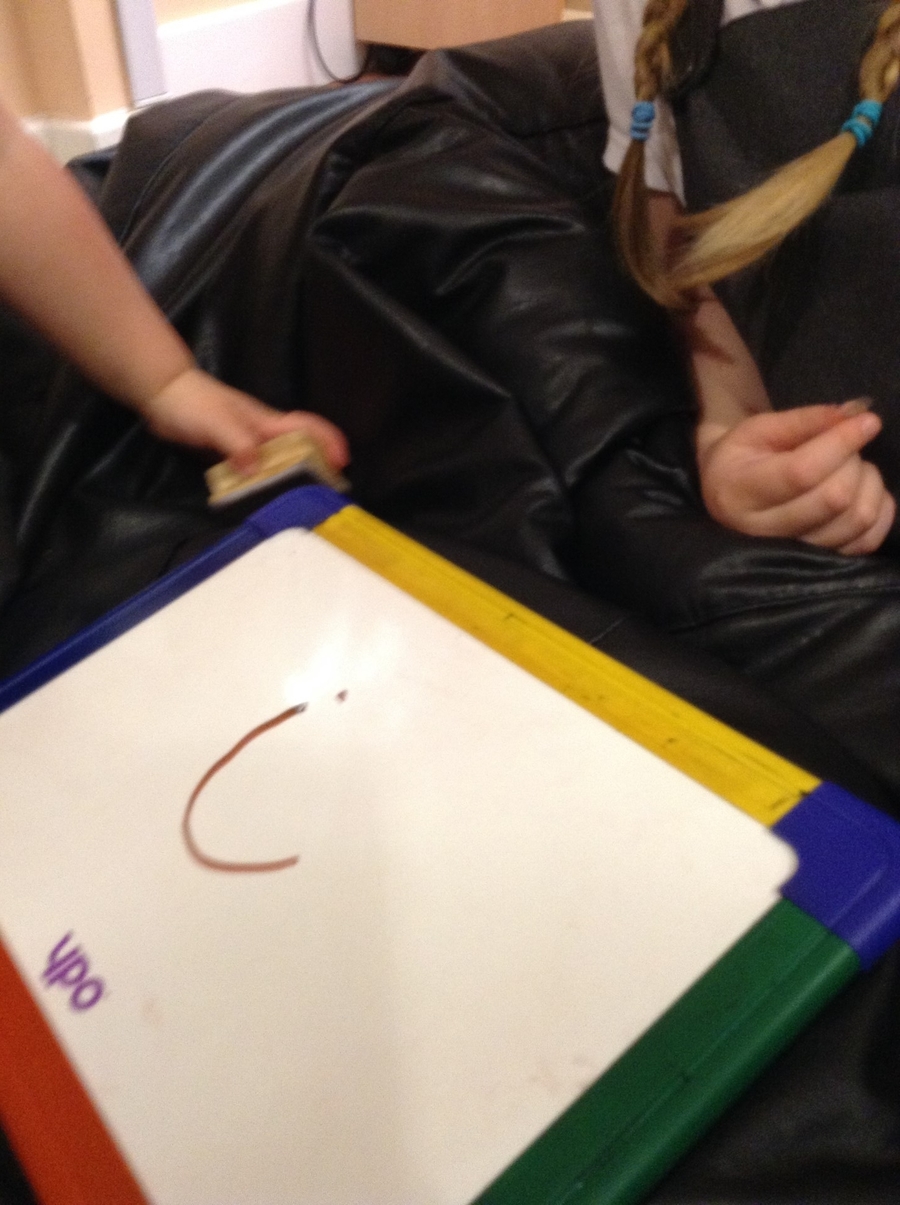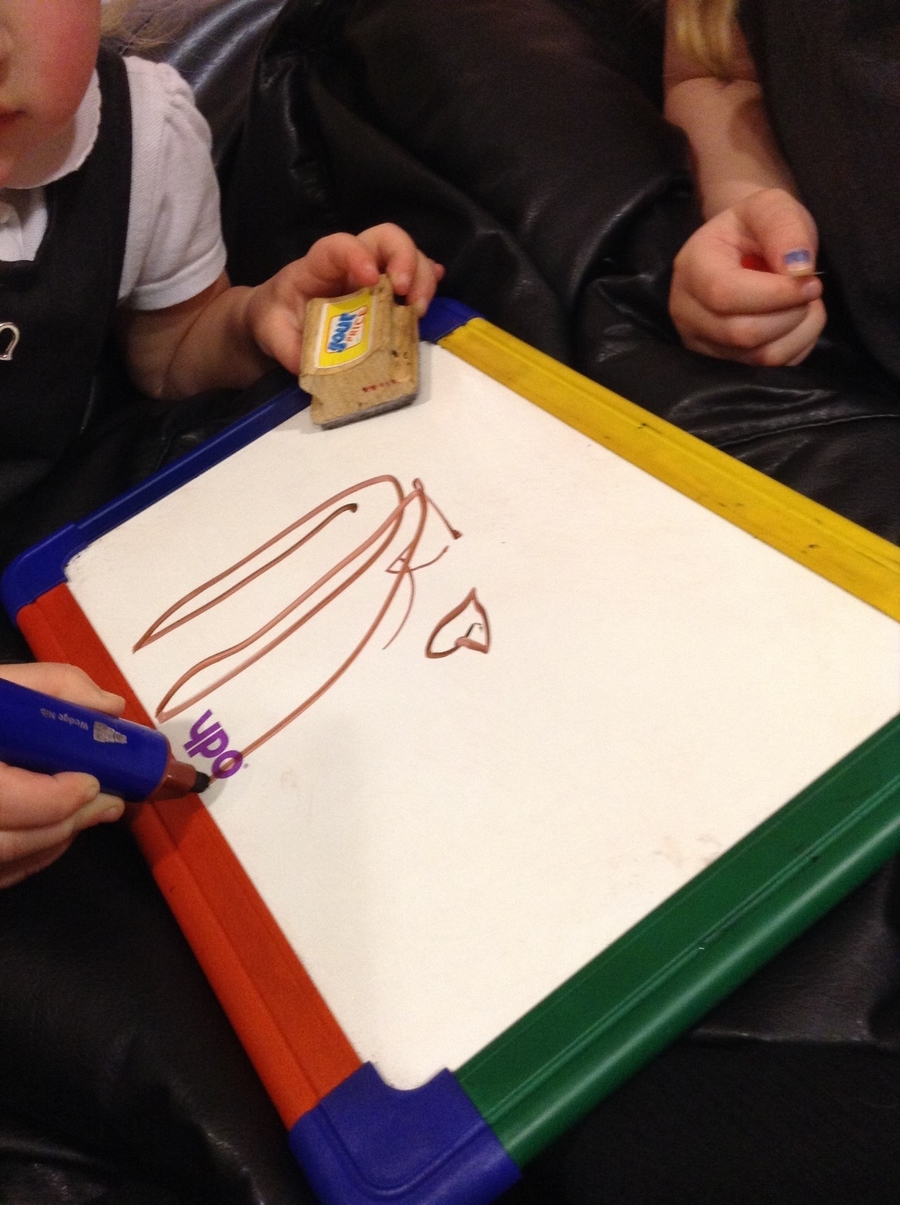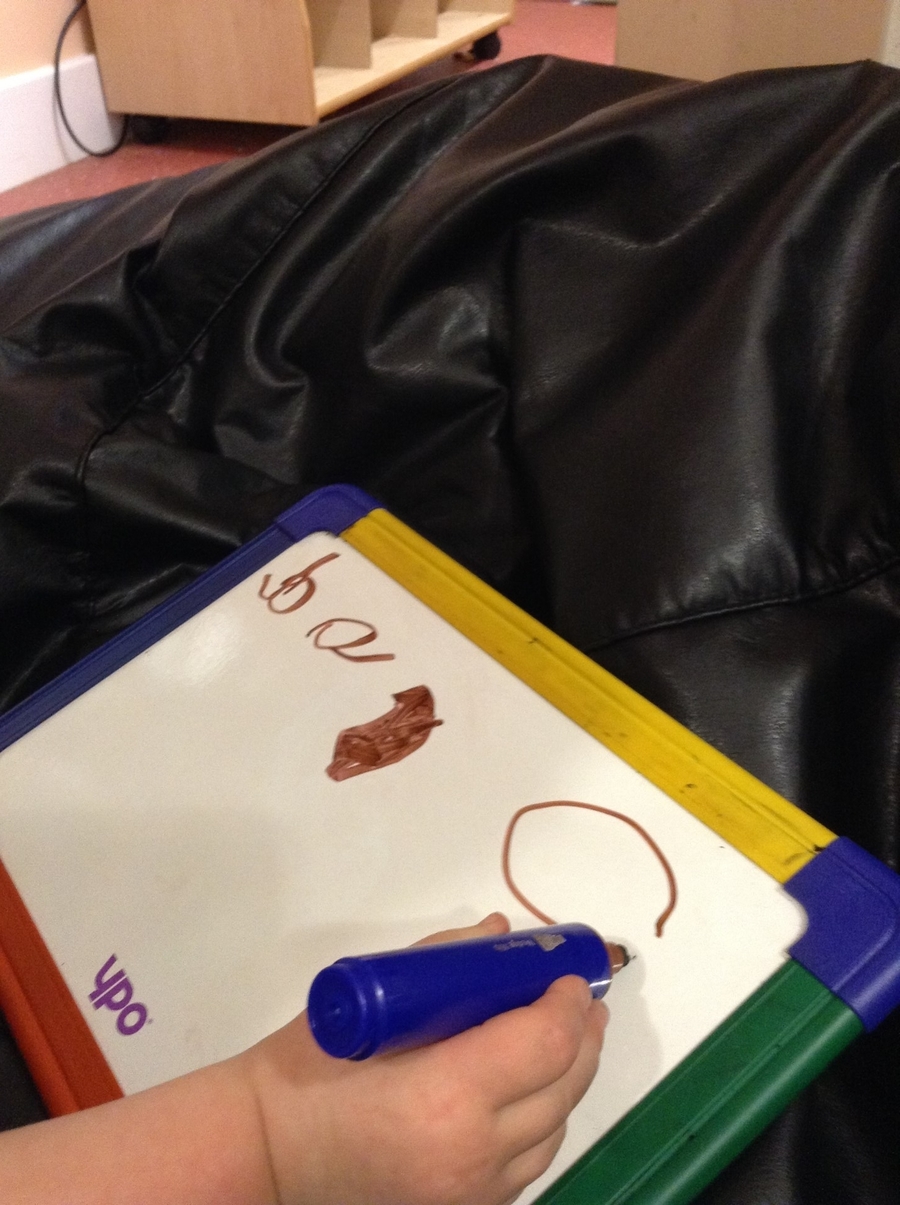 Marvellous Maths
In F1 we have been trying really hard to read and write numbers. Some numbers are easy peasy, like number 1, whereas others are rather tricky (like number 8)! Take a look at our amazing attempts below.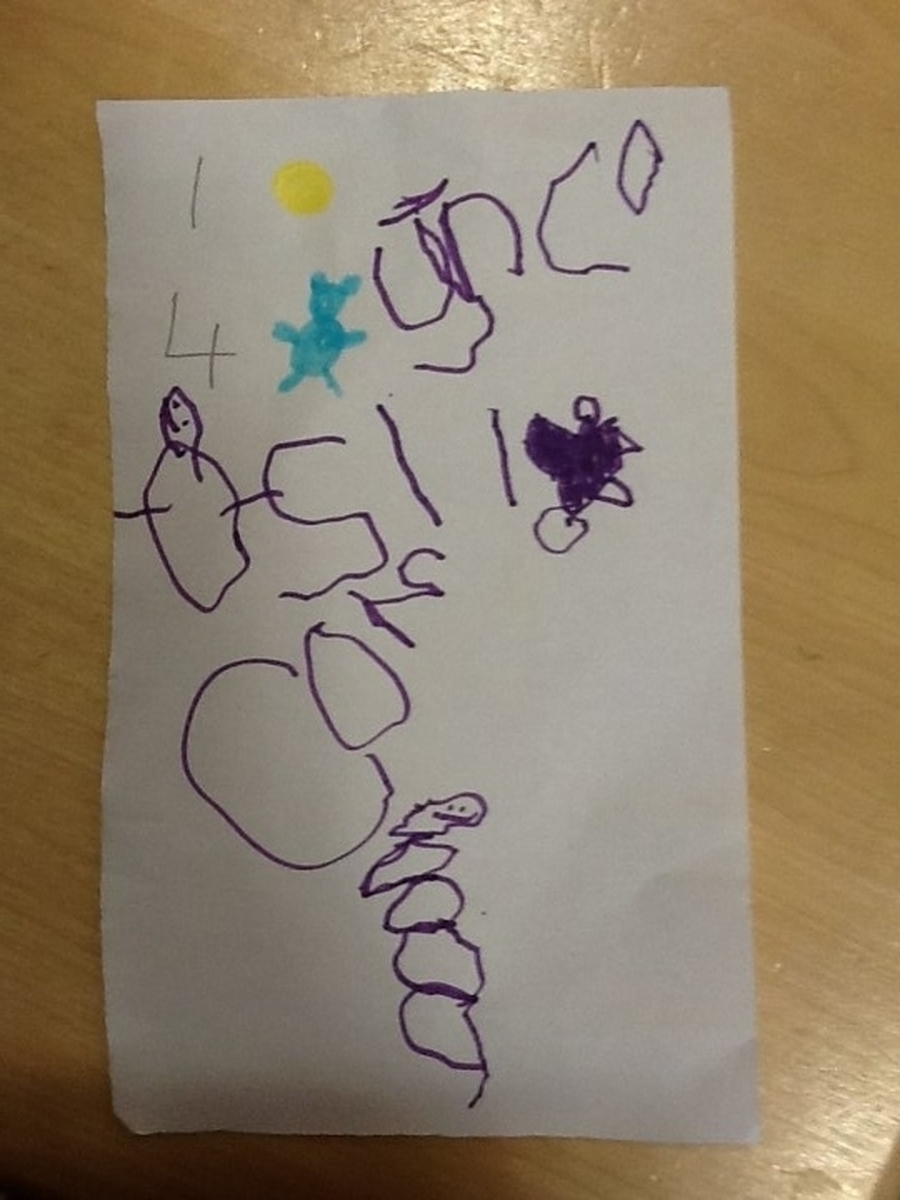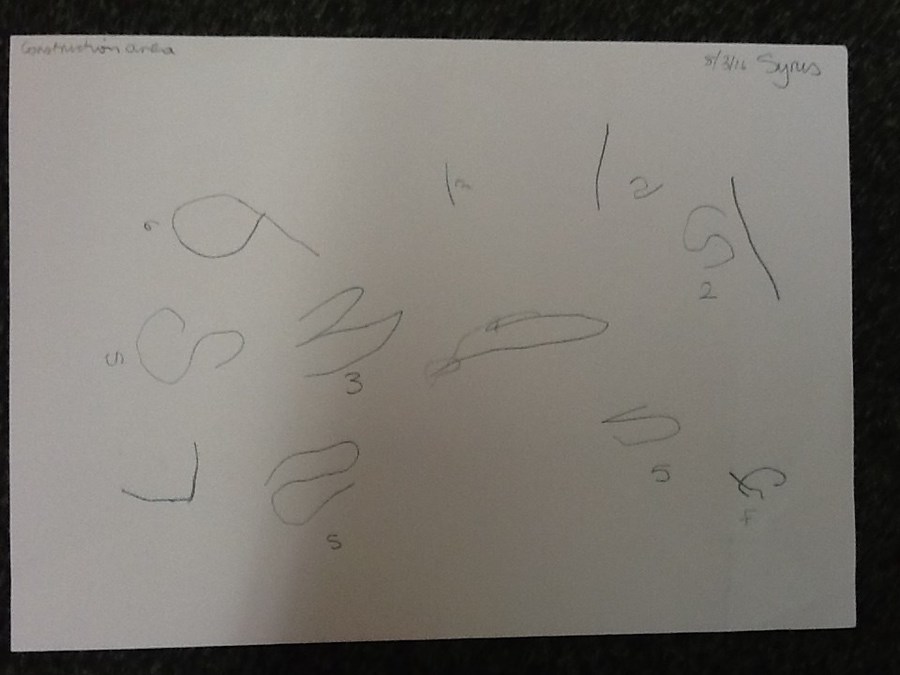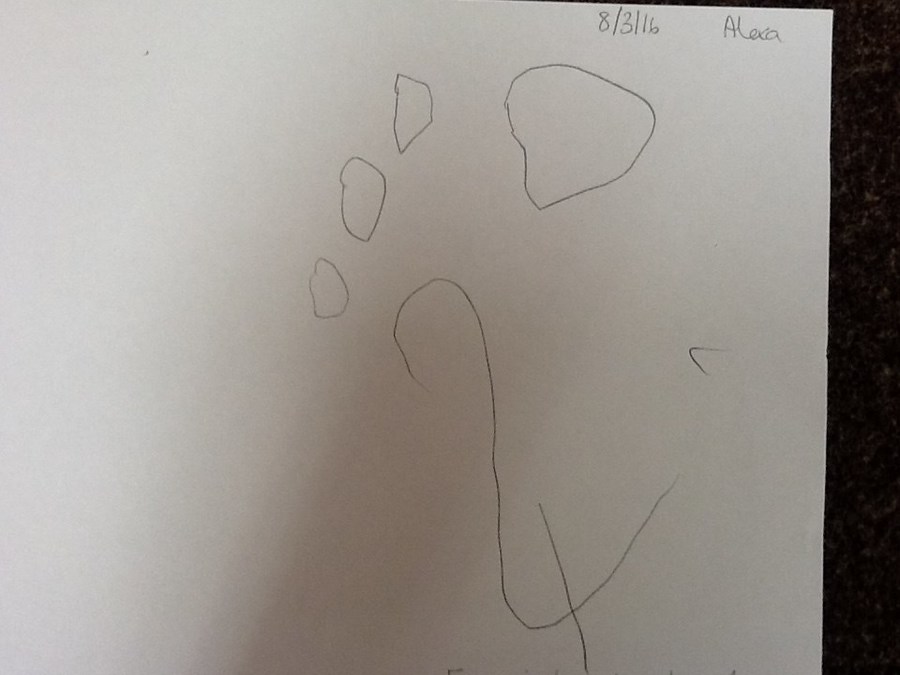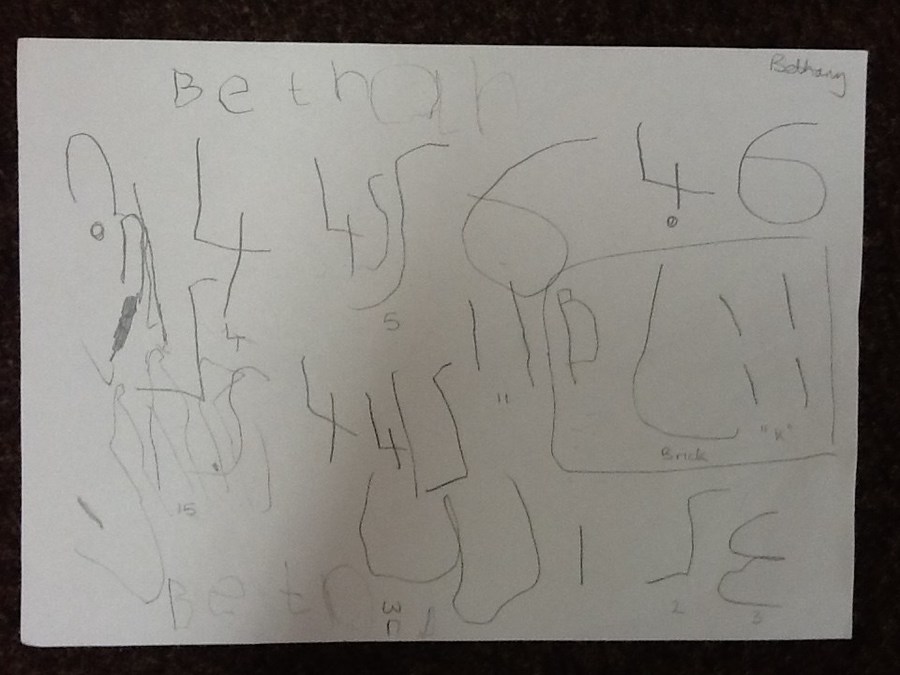 Our New Creative Areas
We have been very busy over the half term holiday making changes to our painting and sticking areas. We have adopted a very 'skills based' approach and there is now a wide range of new resources available for the children to explore. This includes a wide range of joining tools and techniques such as easy peasy glue sticks to more tricky things such as staplers and treasury tags.
In the painting area we now have a range of printing and painting resources such as lino, rollers, stampers, mixing pallets and tools to enable the children to select their own resources and explore their own fascinations in paint.
When you child brings home their creations you may wish to ask what tools, techniques or other resources they have used.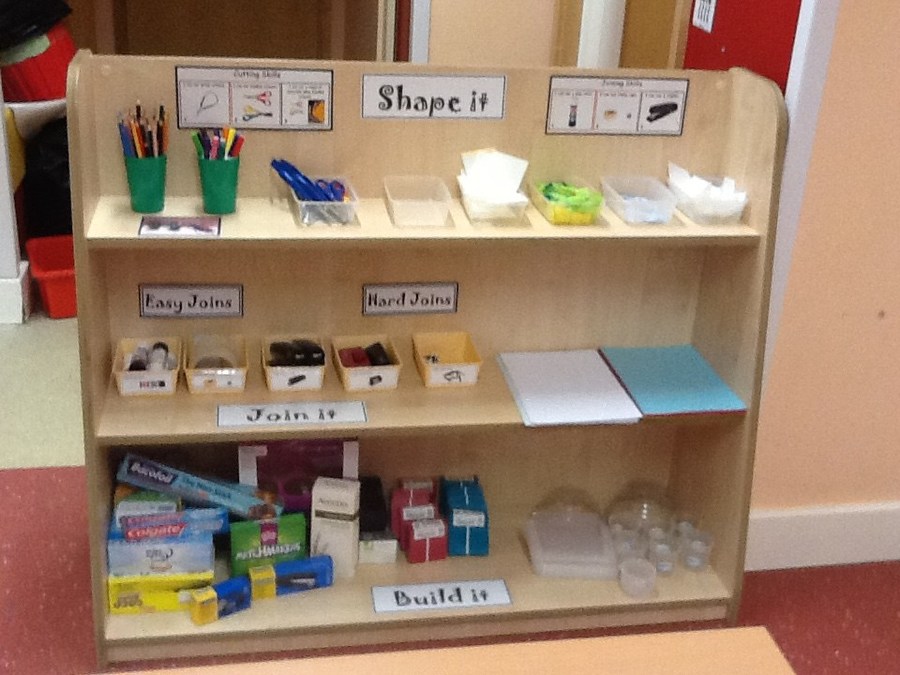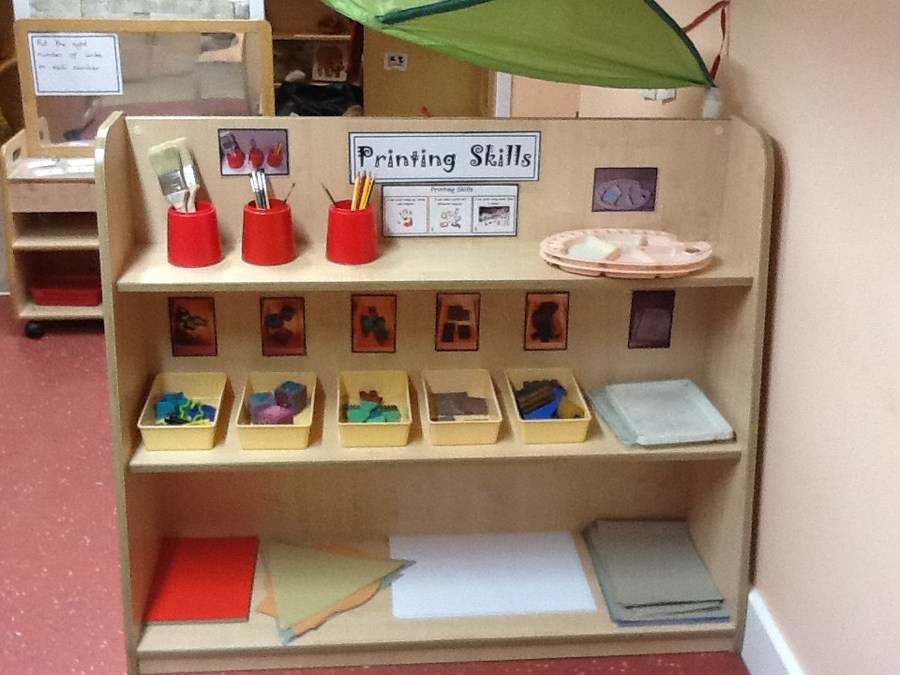 F1
Staffing Changes
Gill, our current Early Years Practitioner, will now be working on Mondays, Tuesdays and Wednesdays. Lindsay has joined the F1 team and will be working on Thursdays and Fridays. The children are making Lindsay feel very welcome and we can't wait to share our fantastic learning with her. Miss Jordan and Susan will still be in nursery every week day. If you would like to share any information about your child please feel free to talk to any member of the F1 team.