Welcome to Key Stage 2 2019-20
Have a look below to see our fantastic learning in Key Stage 2.
Thank you to all of our parents who attended our KS2 learning morning.
We really enjoyed tackling our our team maths challenges in Year 4, 5 and 6; it was great to be able to share our skills with everyone who could attend.
Marvellous Maths in Class 7 today.
We worked really hard solving balancing equations. Not only did we apply our addition and subtraction skills efficiently and confidently, we used our inverse operation skills to then work out the missing numbers in some tricky number sentences.
It was great to welcome everyone back for another fun-filled and hard working half term.
What fabulous team work and problem solving skills in our science work!
Our aim was to use a range of science equipment and household objects to remove a range of different sized particles from water in order to make it as clean as possible.
We found that filtering was not as easy as we first thought and the best results were found when teams used a double filtration system and had a lot of patience.
Check out this talented lady!!
Yesterday, in our history lesson, we were learning about the Picts and how they used to carve Pictish symbols into standing stones. These were used to name places in prehistoric Britain. The Picts also used a writing system called Ogham and we practiced writing our names in this way.
After that, we designed our own standing stone with our name in Ogham on one side and Pictish symbols on the other. We plan to make these tomorrow, but this morning this proactive member of Class 6 showed us that she has made one already at home!
Great effort :)
Last week in Class 6 we have recapped our learning on verbs and adverbs.
Mrs Gollick gave us the challenge of picking a verb then acting it out in front of our friends who then had to guess the verb and the adverb. For example: eating quickly or reading carefully.
Have a look below at the photographs and see if you can guess the verb and adverb that we are acting out.
We had a lot of fun doing this!
Class 5 have been perfecting their straw blowing techniques in order to create some weird and wacky alien shapes! Take a look below.
We really enjoyed learning about Roman Numerals today in maths. Some of us even (secretly) enjoyed joining in the song and actions with Mrs Belfield!
What a super-talented young lady we have in our class!
Great job in your dance gradings, well done.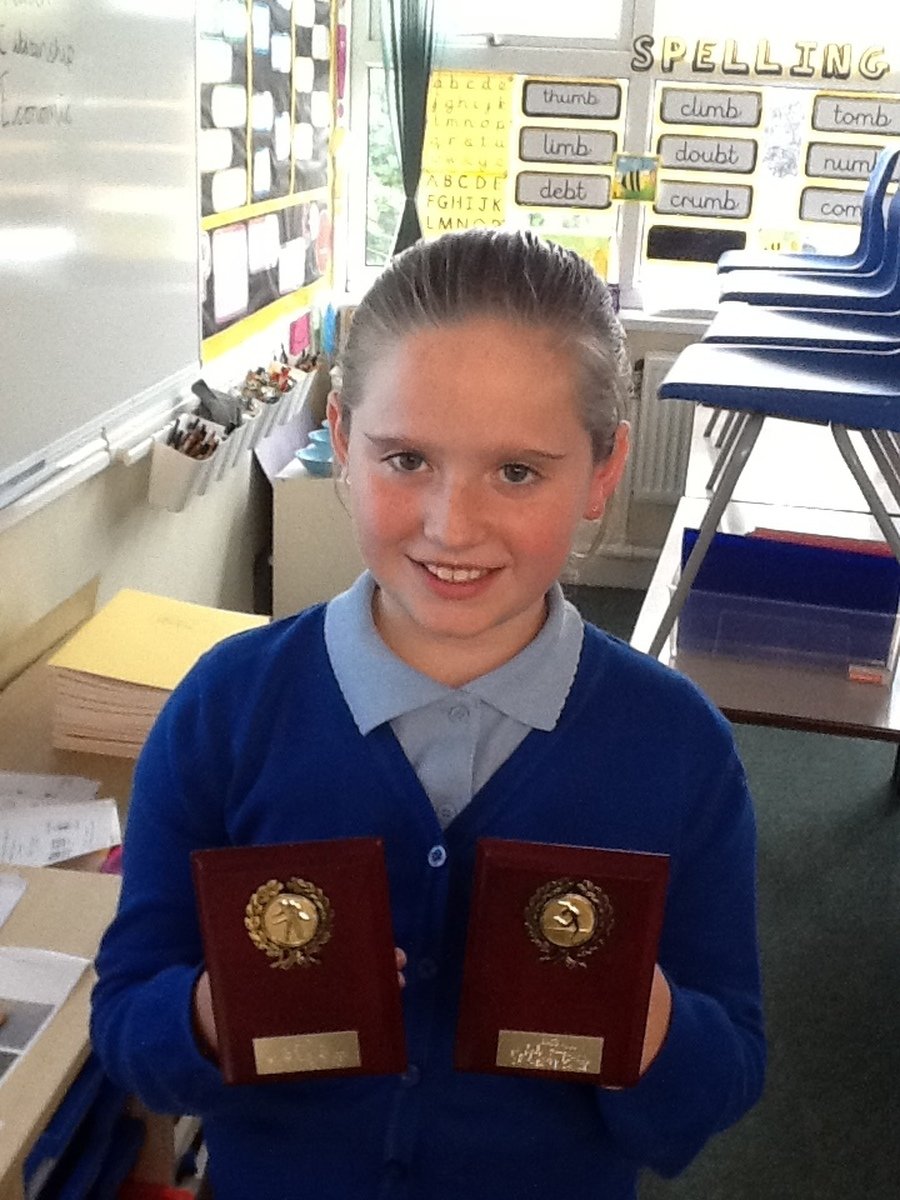 We have thoroughly enjoyed our science investigations about materials over the last few weeks.
After making our predictions about whether we though the material would float, sink, create a solution or react, we added each material (salt, sugar, sand, plaster of Paris, glitter, stock cube, powder paint and baking powder) to the same amount of water and carefully observed what happened.
We wrote up our results and then we left the mixtures in the classroom so the water would evaporate.
We learnt that dissolving materials in liquid to form solutions is a reversible change.
We have had a fabulous time discovering the 'flotsam' that washed up into Class 7.
We have really enjoyed reading David Weisner's book about a boy who discovered incredible secrets held by a barnacle-encrusted camera he found on a day at the beach. We are using the beautiful illustrations from the book to inspire our artwork and our instruction writing.
Take a look at our discoveries and some of our 'flotsam' sketches.